Archive: April 2011
---
Friday, 29 April, 2011
Posted by Jessica at
4:36 am
Tweet
Some people are created to make beautiful little people.  Anna and Hamish are clearly among them.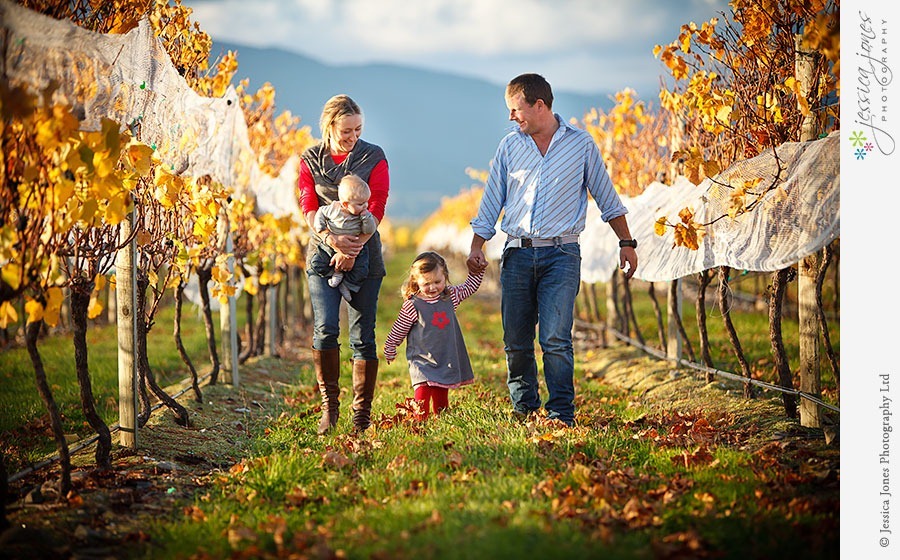 Meet Arthur.  At only five months old, Arthur blows the cuteness scale right out of the water.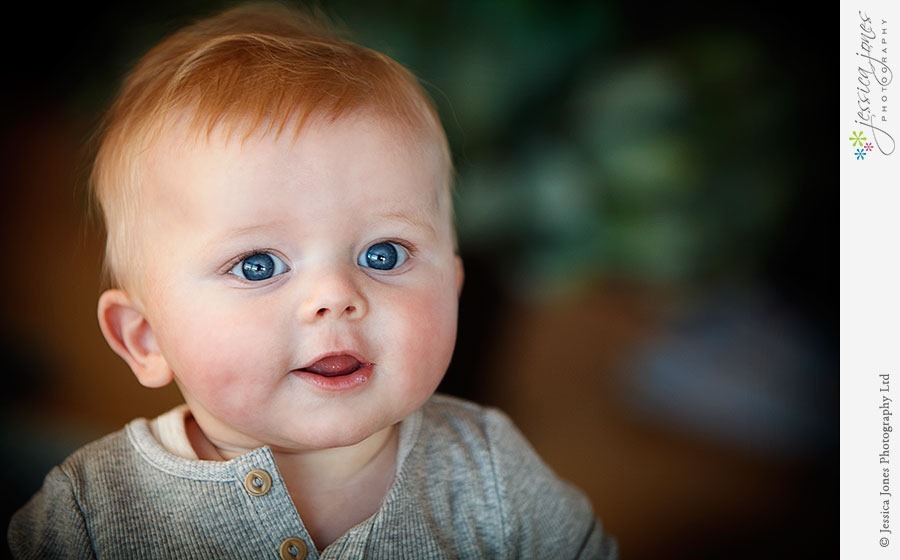 But that's not all.  They also have Alice.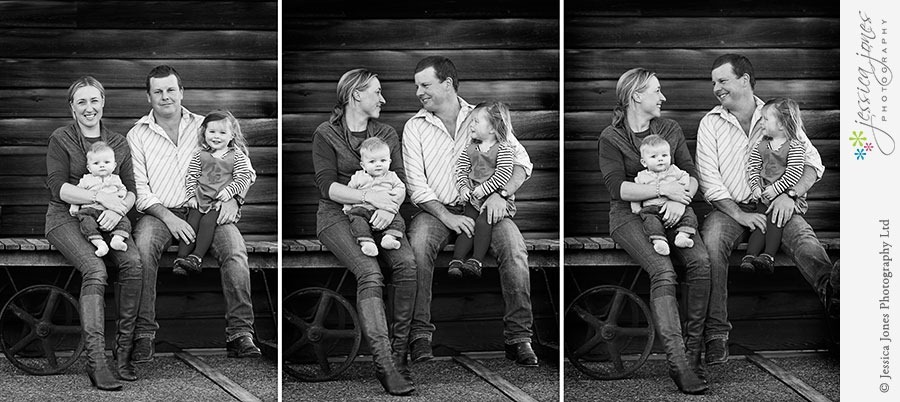 Alice is two and adores her little brother almost as much as she likes having her photo taken.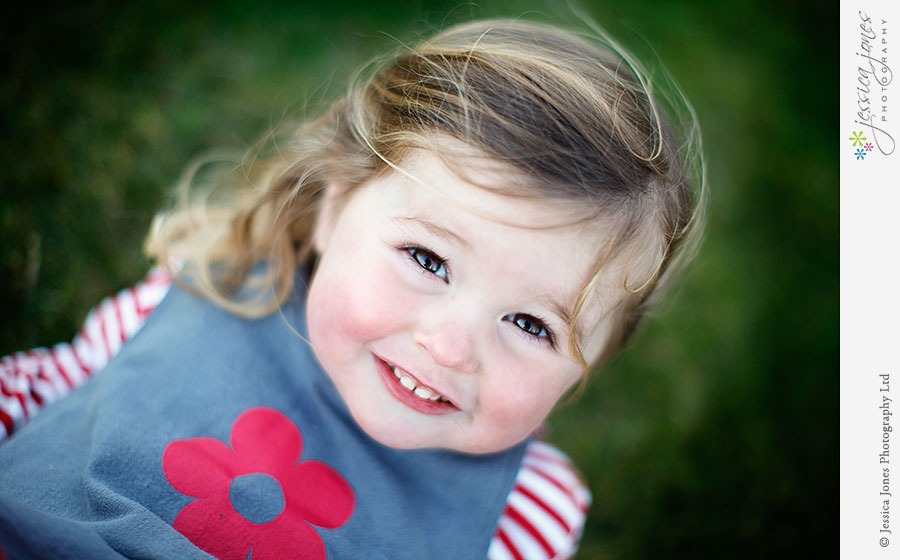 Alice's Dad Hamish doesn't like having his photo taken, like most blokes, but he handled himself splendidly.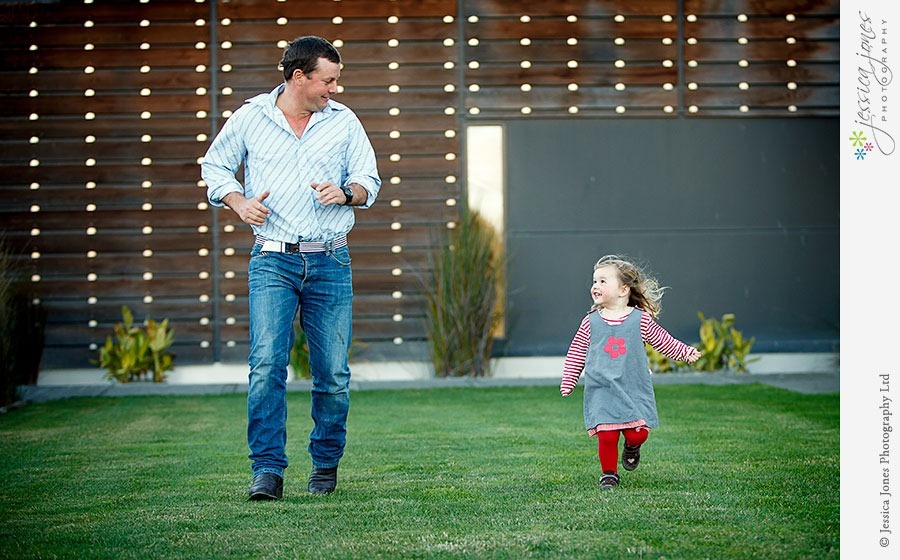 I'm not that great at making boys.  After six tries, I only have one.  So I wouldn't mind keeping this one for myself.  Seems only fair.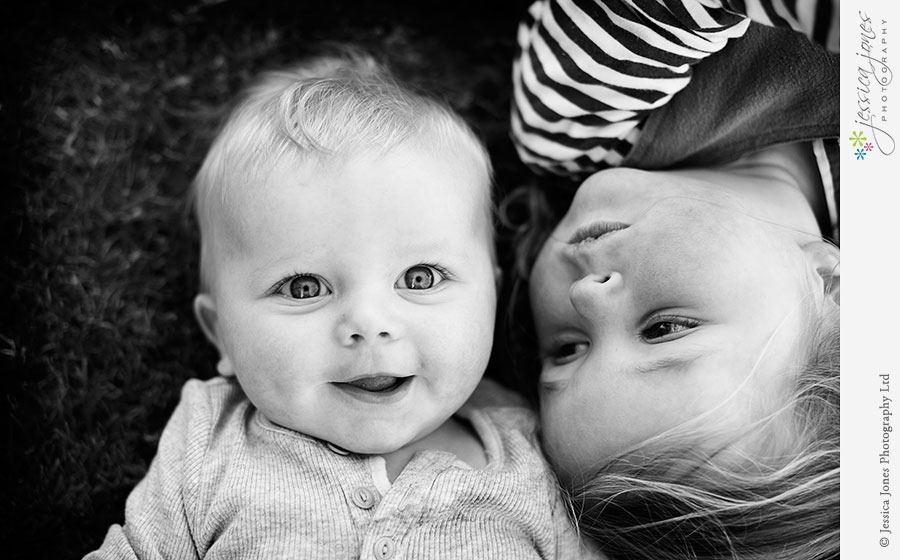 And while we're at it, you can't take one without the other.  I have plenty of girls for Alice to play with.  So Anna, the offer is there.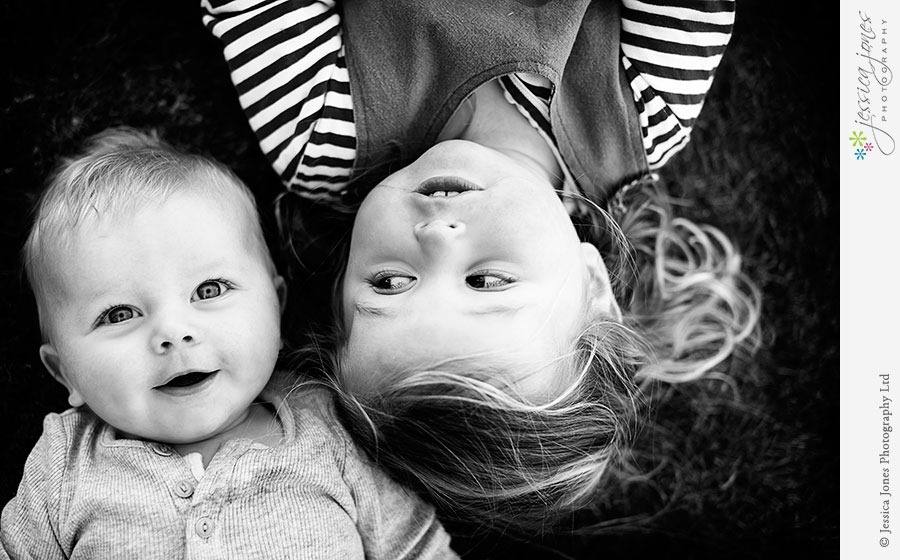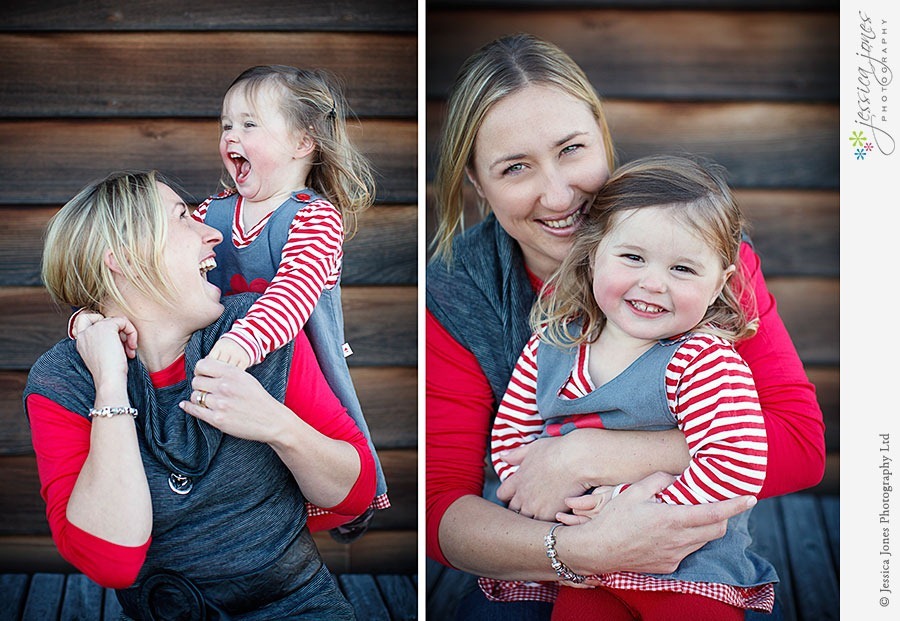 Tomorrow is Frith and Jeff's wedding and Anna will be the bridesmaid. I can hardly STAND the wait. Seriously, the combination of awesome stuff planned for tomorrow is making me just a little bit giddy.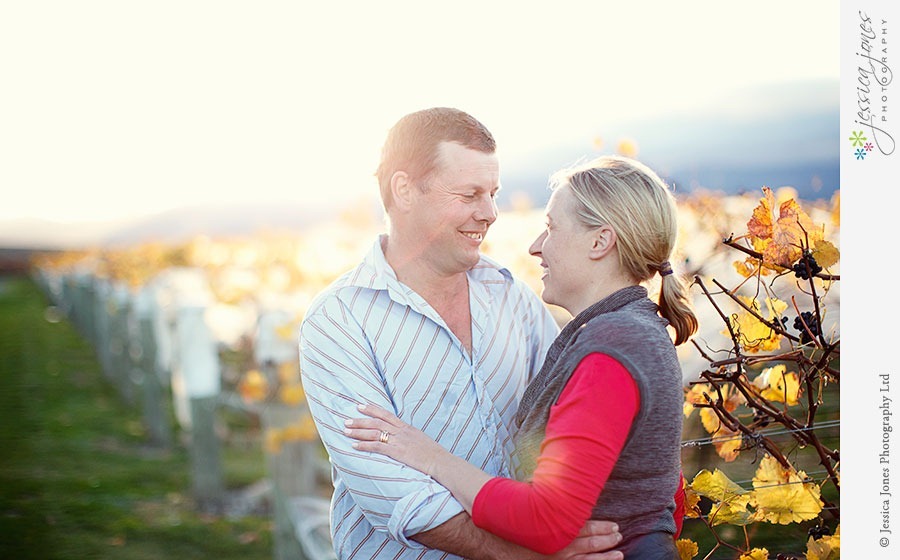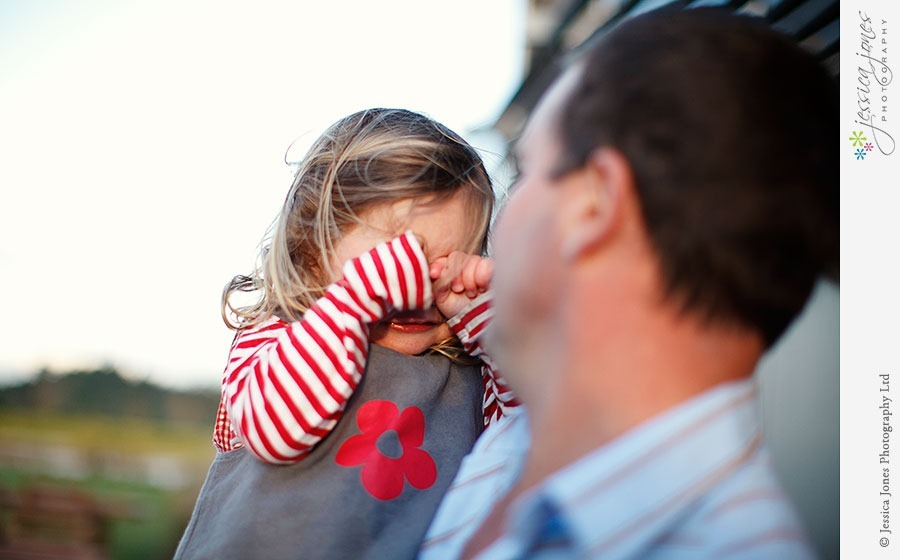 And then, just like that, it was over...
Leave a comment for: The Orbell Family
---
Tuesday, 26 April, 2011
Posted by Jessica at
12:15 am
Tweet
April has got to be at the top of my list for favourite months to have a wedding.  The colours are magnificent, the light is surreal, and it's cool enough to not have your makeup and fake tan melt off.  Sometimes, though, it rains.  That's really the only downside.  And although it does make staying dry difficult sometimes, the photos always always look more interesting.  Adrienne and Sean's wedding was no exception.  The day gave us the odd shower, but the light was magical. 
A recent very wet wedding has been chosen for the cover of a magazine, and although that is another blog post entirely, I think you get my point!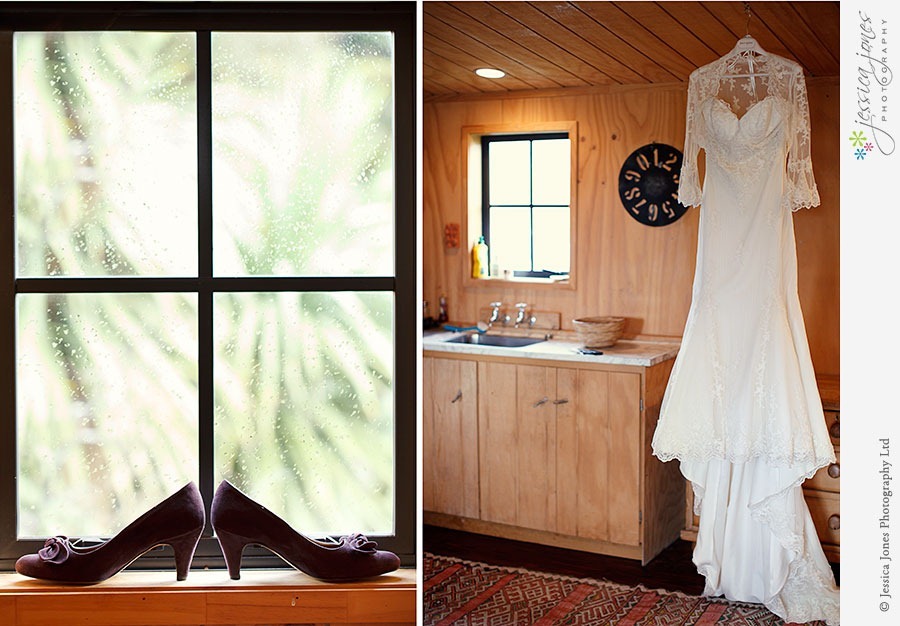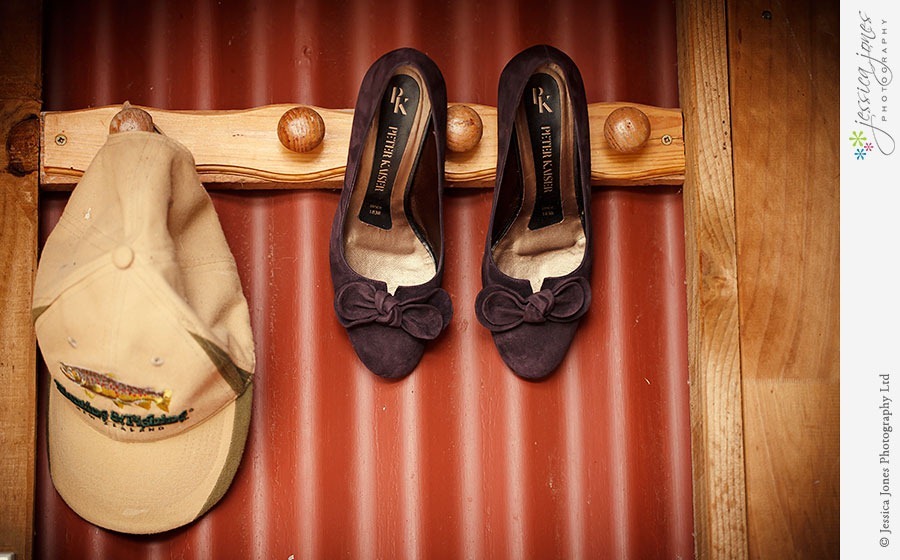 Adrienne was absolutely stunning.  I knew she would be. When I saw her dress I felt like all my Christmases had come at once.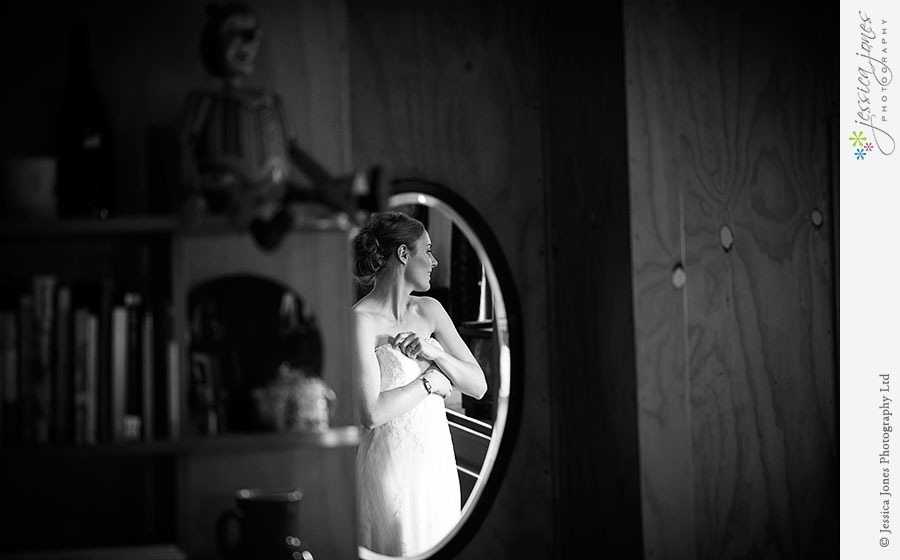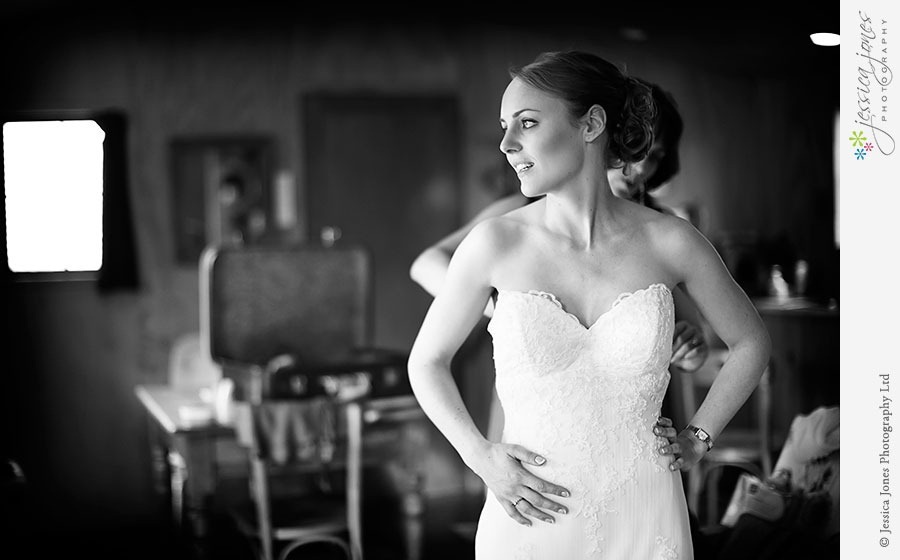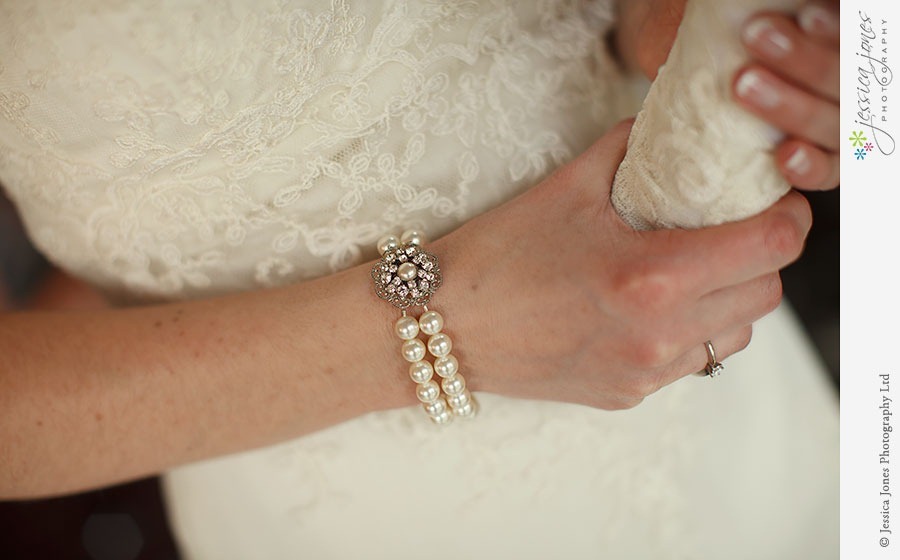 Photos with proud parents always melt my heart.  These are the images that will stand the test of time.  They make me want to cry, and I've only just met these people.  To be fair though, I cry fairly easily.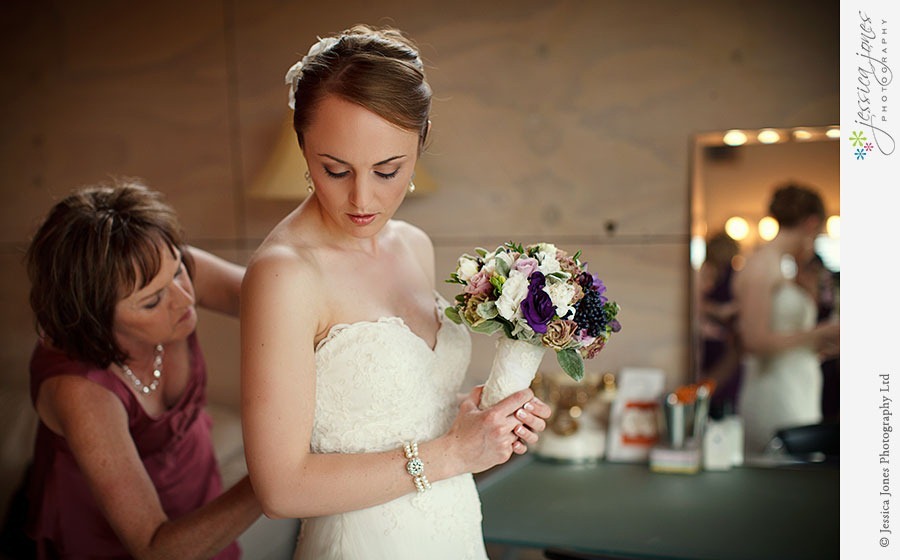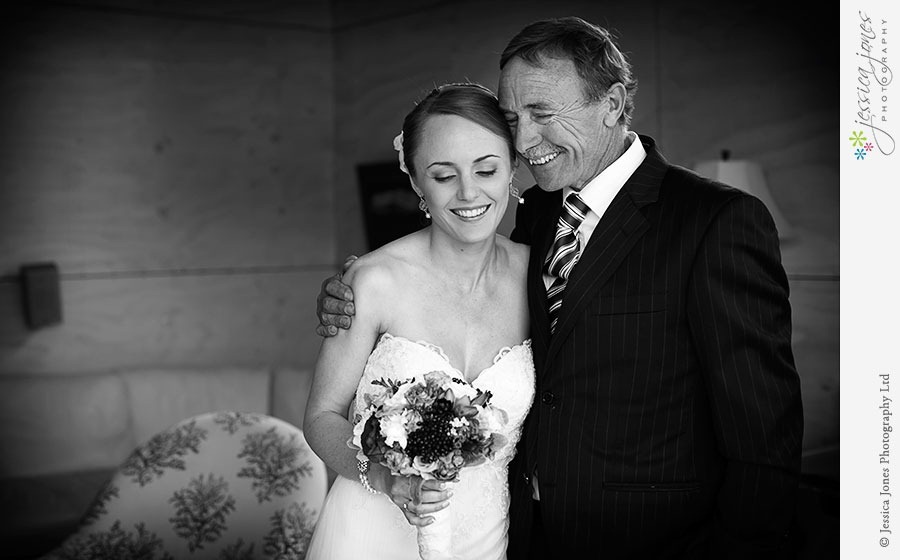 Sean knows how to tie a tie.  You might be surprised how few people know how to tie ties anymore.  It's a dying art. 

With Mum.  Heart.  Melt.  Right.  There.

Then off to Hortensia, where the downside of the scattered showers was the obvious wetness.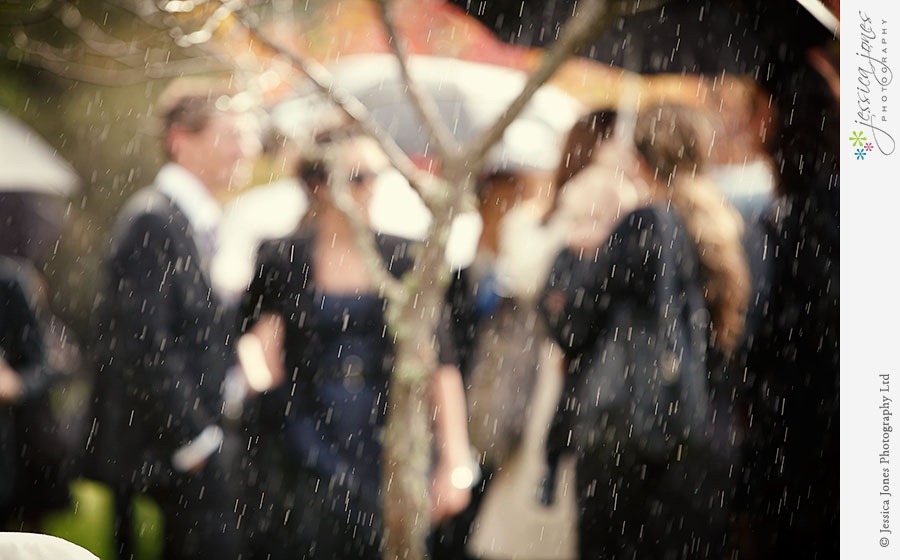 And the upside of the showers was OH MY GOODNESS gorgeousness!  When Sean first saw Hortensia he was totally gobsmacked at it's beauty.  I mentioned that the only thing that could make this better would be a unicorn.  Sadly, no unicorns eventuated, but I figured a double rainbow was the next best thing.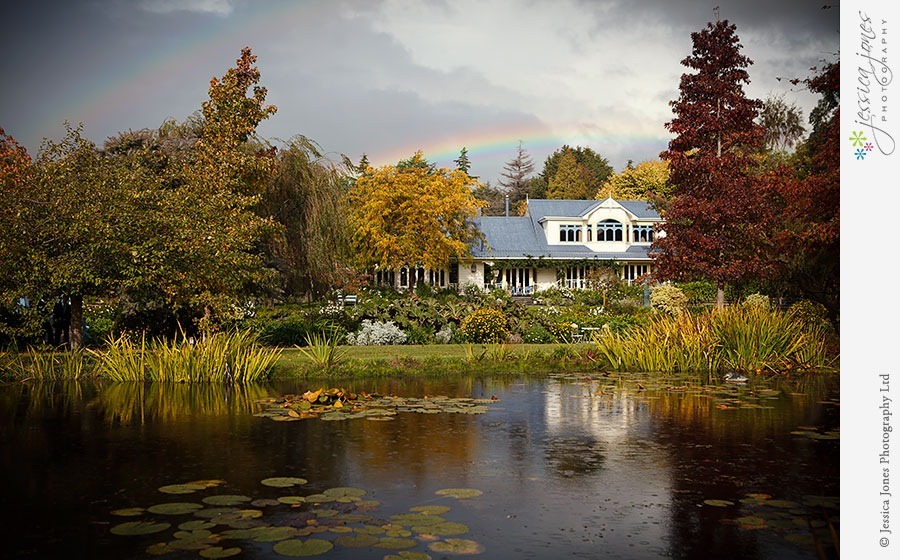 If I were significantly younger, slimmer and singler I would totally choose this for my wedding dress.  Adrienne, you are perfection.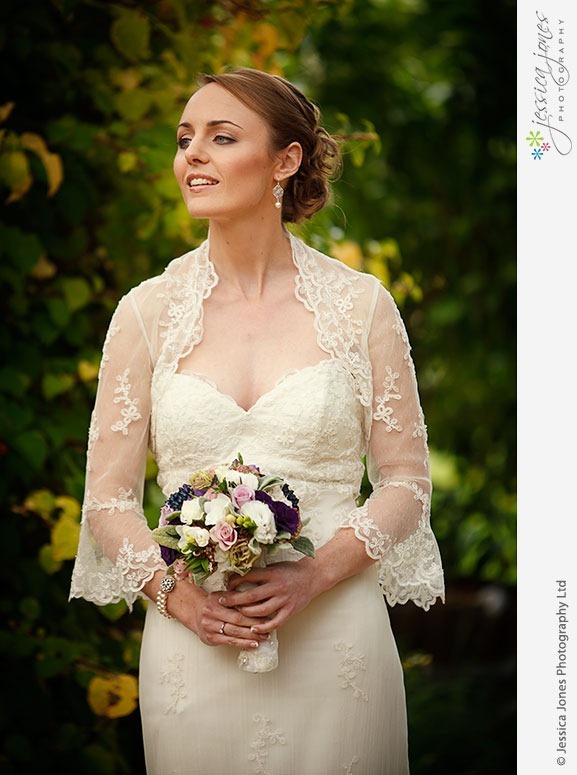 As Sean awaits his bride's arrival.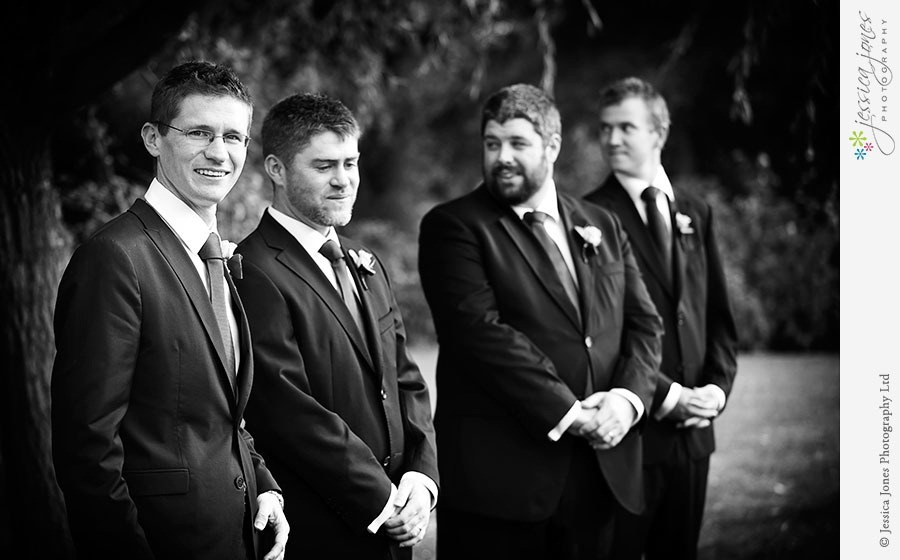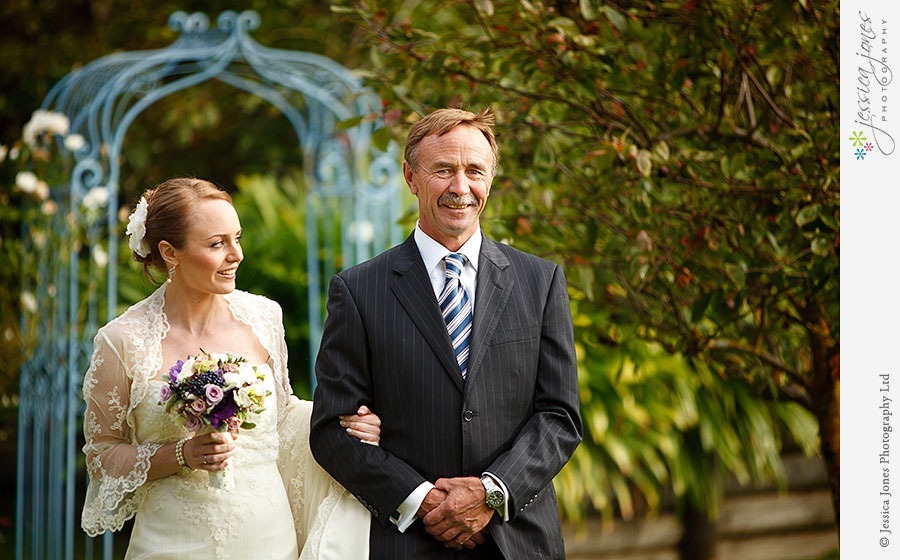 He thinks she's rather stunning too.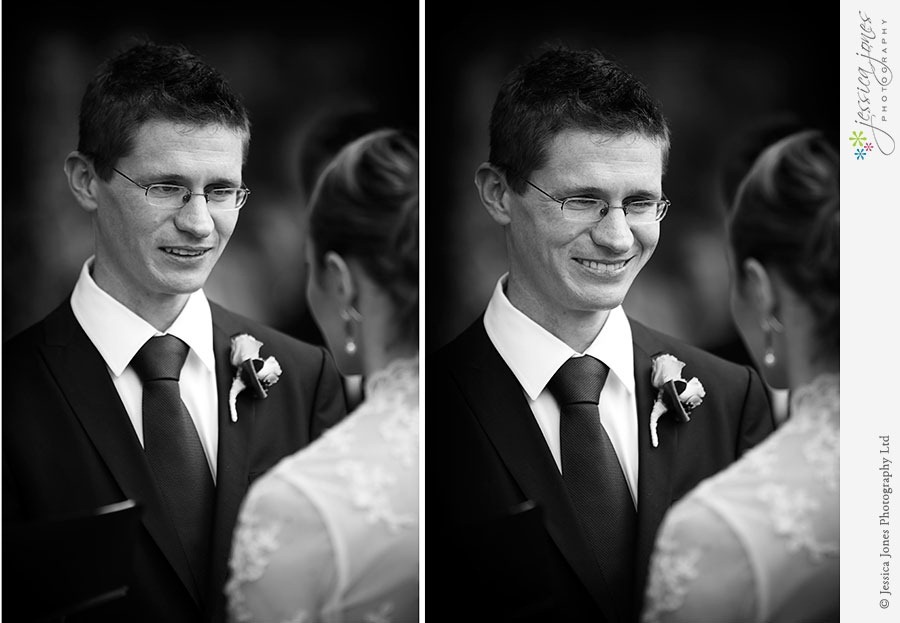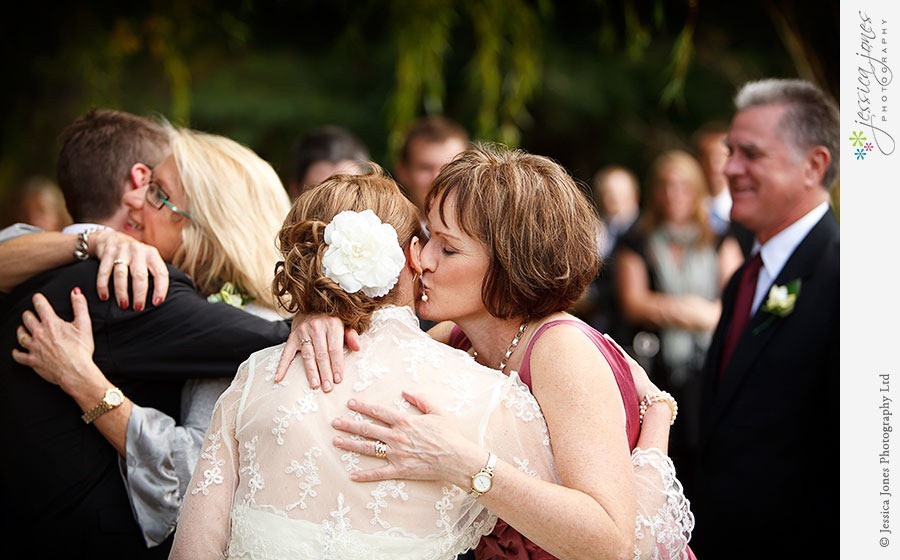 Sean has just been handed his marriage licence and has been told he may kiss his wife.  Bliss.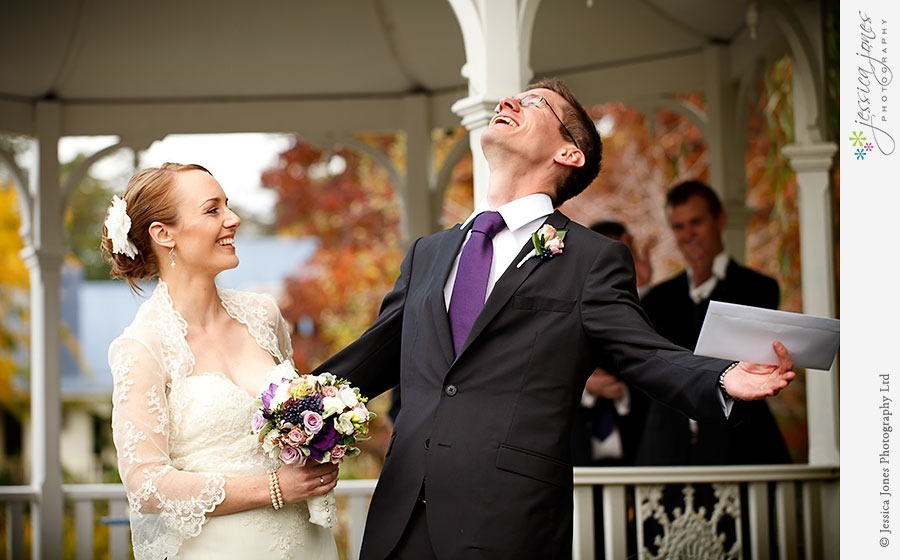 Boyband shot.  I couldn't help myself.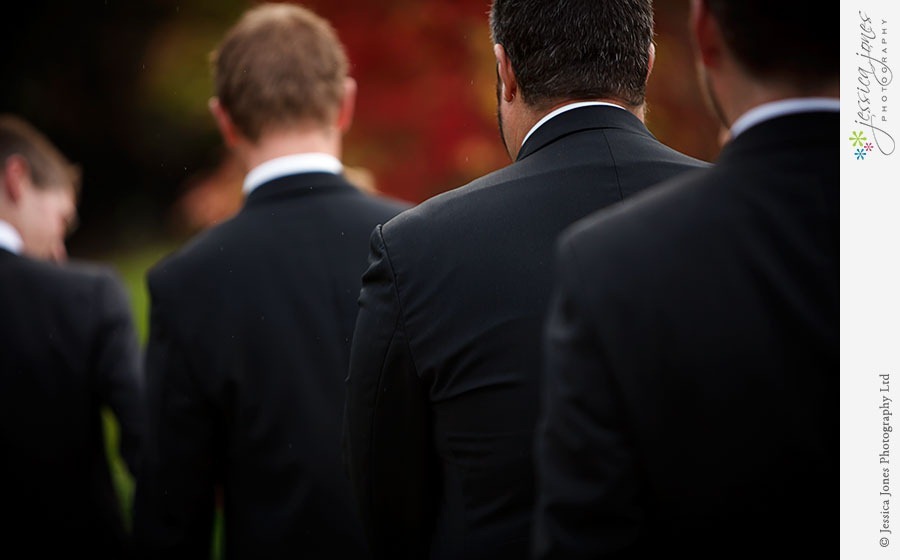 During the family photos Paul would shelter Sean and Adrienne from the rain while we organised the families between the photos.  Notice his off camera flash.  He doubles as a lightstand as well.  That's why I love him.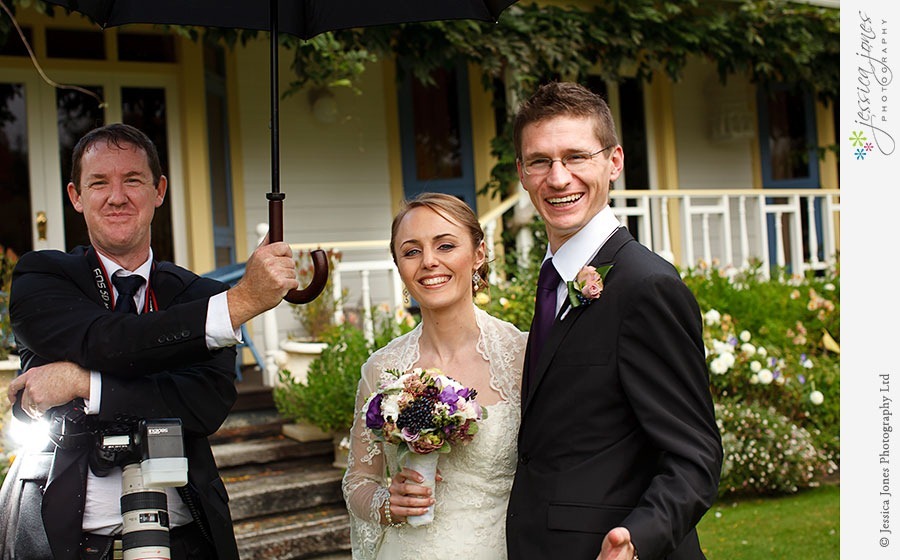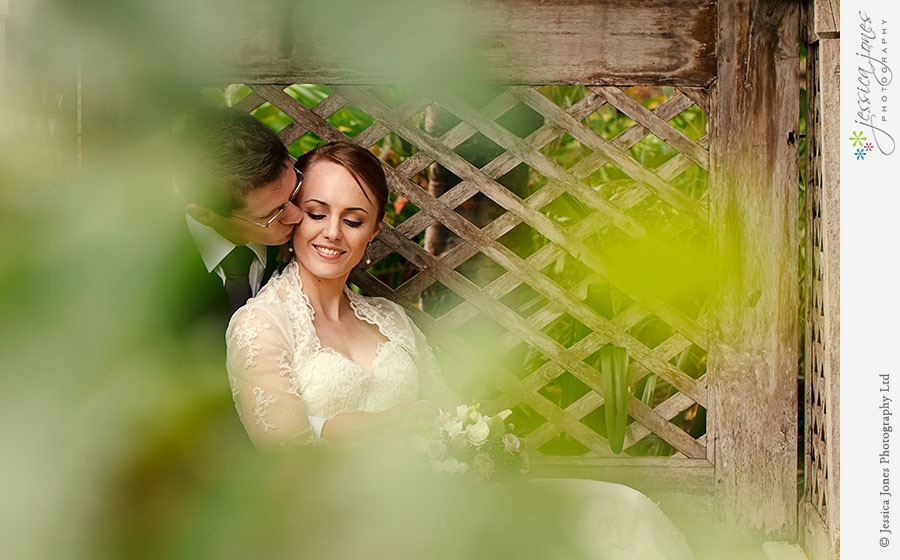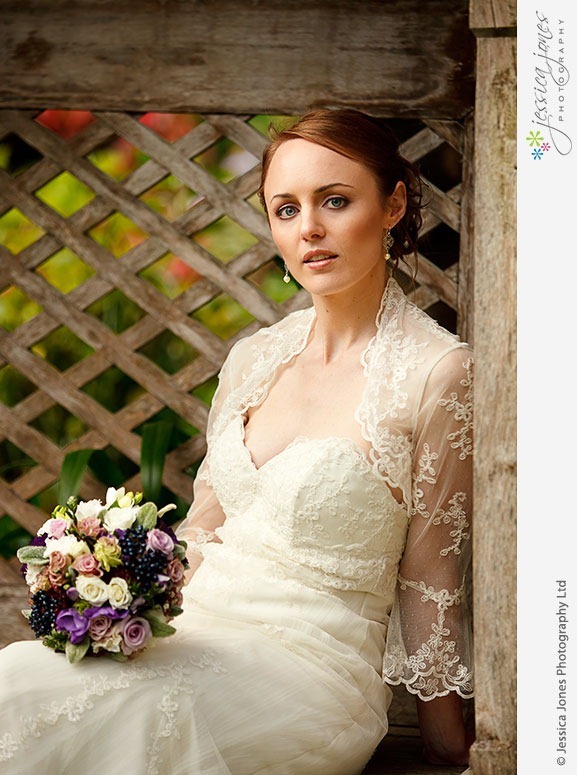 Jaw dropping flowers by Pink Poppie.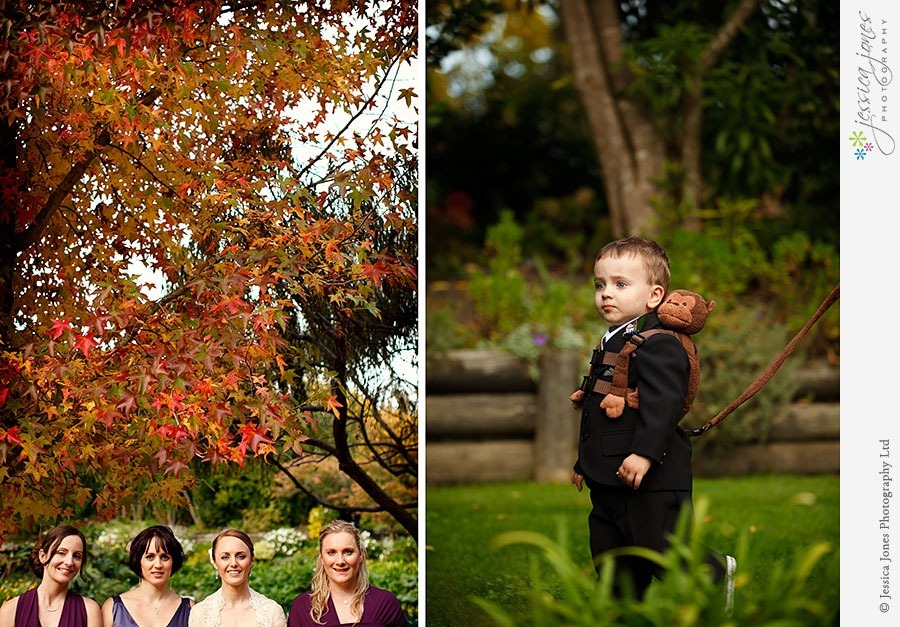 Facial expressions = priceless!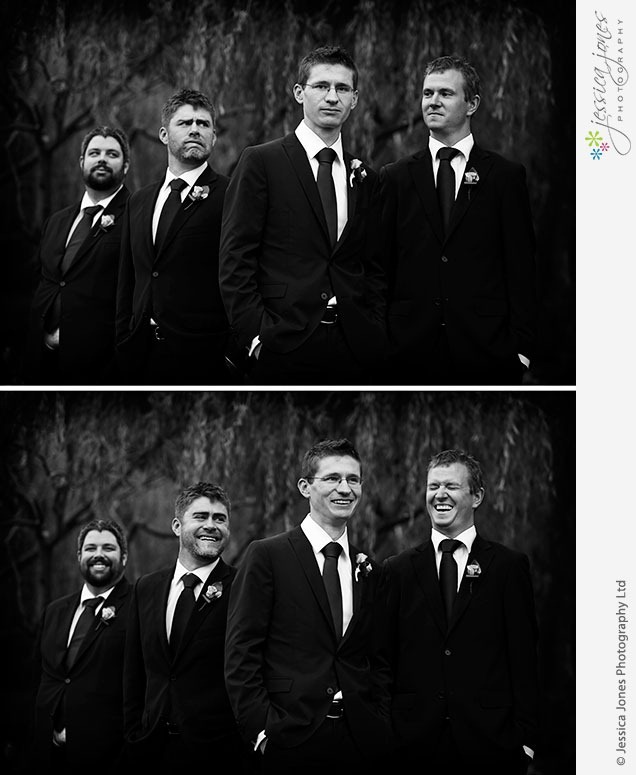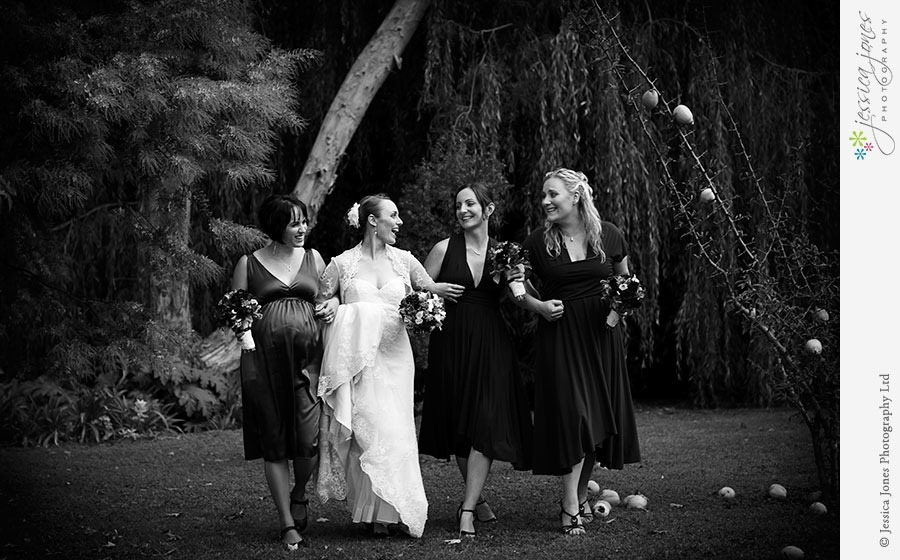 They are so beautiful together, and so very happy to be married.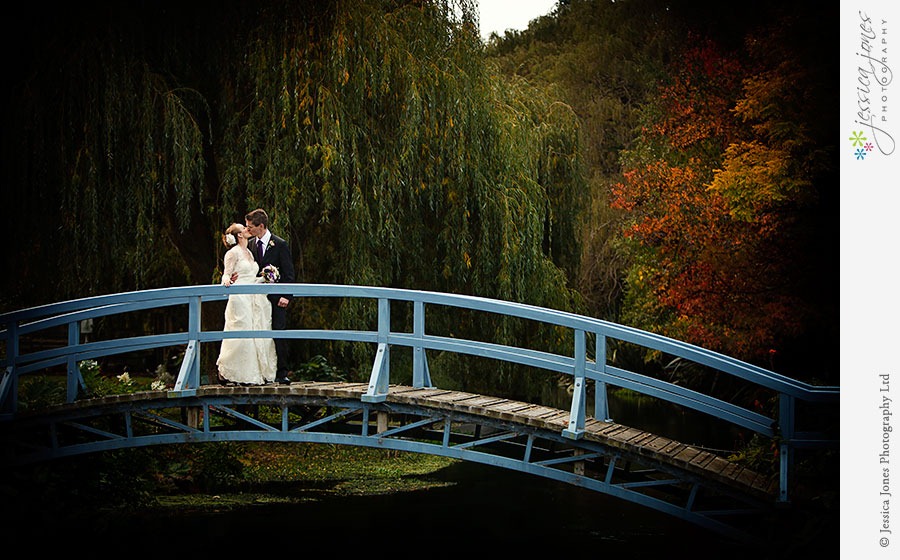 Sean is a runner and during our engagement shoot, he told me how he has a pair of running shoes that fit like toe socks.  Shoes, with toes in them.  I couldn't imagine how that would be comfortable, but I challenged him to wear them to the wedding.  Good thing he listened to his better judgement on that one, I think.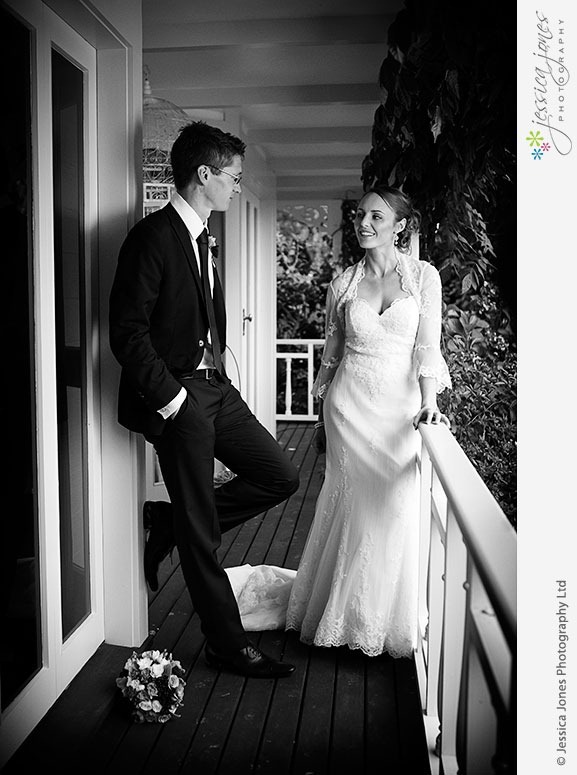 This time I got to be the lightstand.
Then off to Drylands for a lovely reception.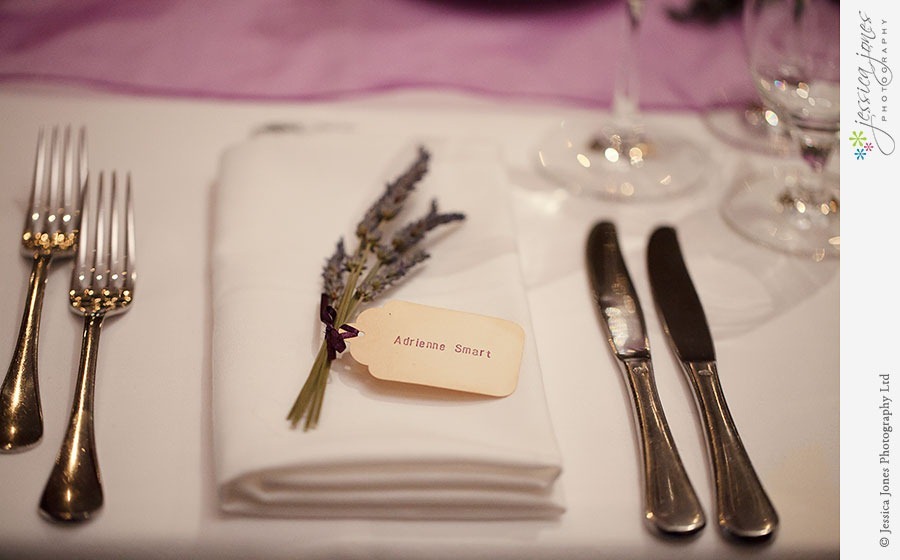 This was one of those 'cute kid' weddings.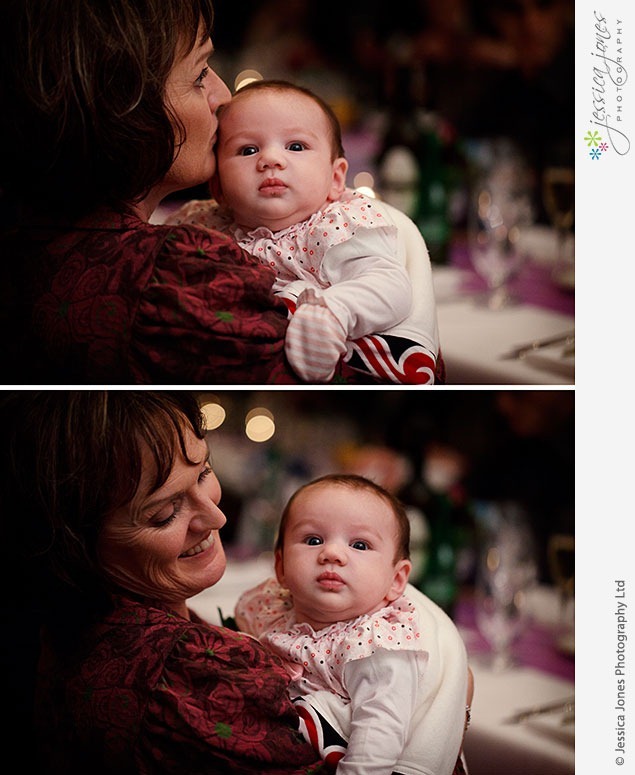 William was asked to give the horseshoe to Aunty Adrienne.  He didn't quite see how that was fair, seeings he wanted to keep it for himself.  Fair enough.  Every small boy needs his own horseshoe.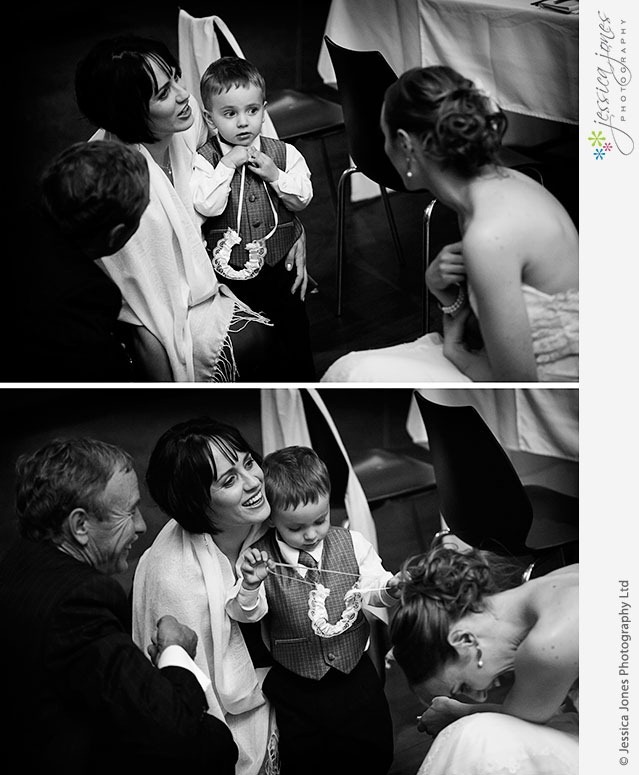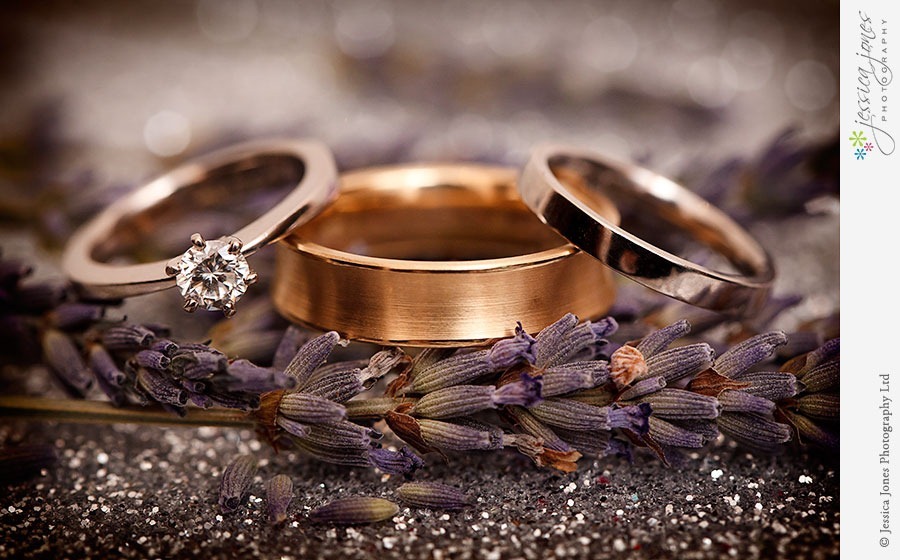 Sean and Adrienne, what a lovely day it was!  Congratulations to you both, and we wish you many many years of happiness together.  Can't wait to show you the rest of the photos!
Vendor Shoutout:
Leave a comment for: Adrienne and Sean - Married!
---
Saturday, 23 April, 2011
Posted by Jessica at
2:55 am
Tweet
Ainsley first spotted Jared when he arrived as the relieving teacher at her school.  A teacher herself, she quite liked the look of him and it didn't take long for her to send a spy to check his availability.  Success!  The PE teacher was single!  But not for long...
Five years later and they're engaged to be married.  And neither of them could be happier.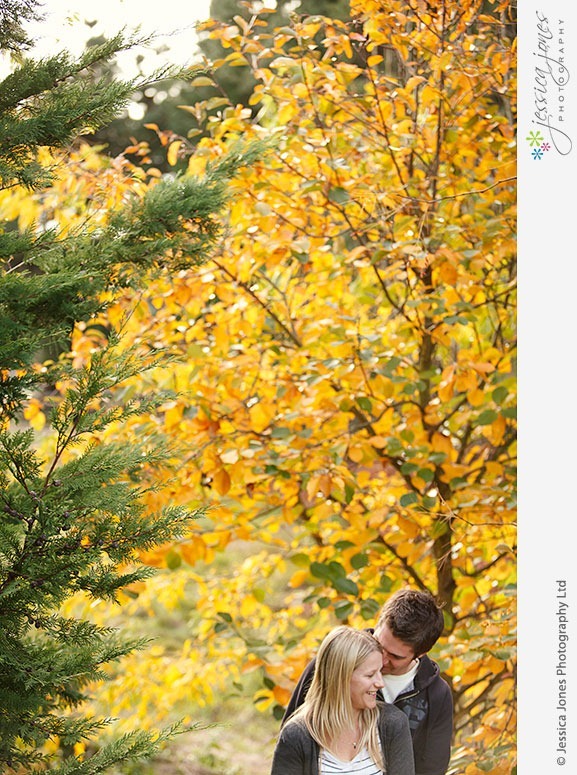 We had our Engagement shoot yesterday on Ainsley's parent's farm.  It has got to be the most picturesque farm I have ever seen.  As soon as I drove up the driveway, I knew I was going to be in heaven! *another photographer happydance!*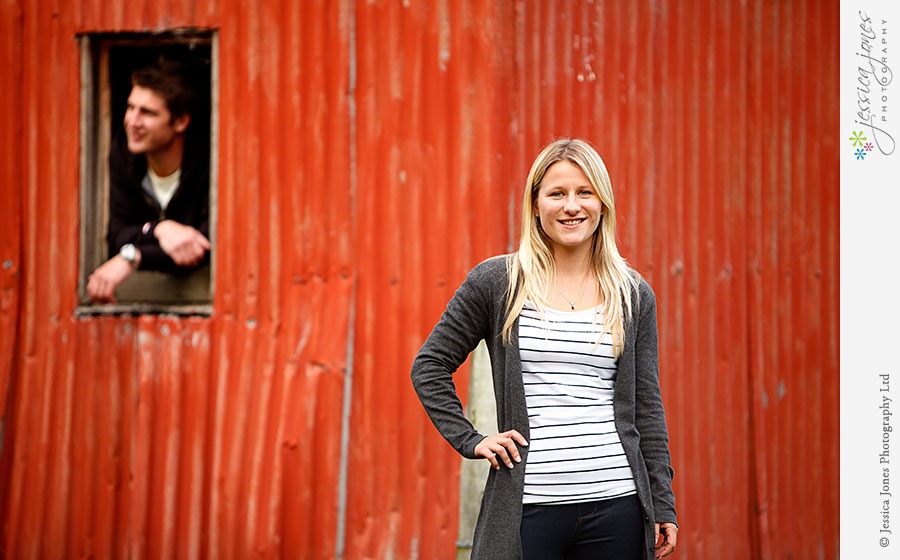 When Ainsley's Grandad came back from the war, he was granted a whole bunch of land.  This land has been in the family ever since.  Her Dad has spent his whole life living there and one day Ainsley and Jared hope to see their little ones running around on the stunning fields.  What an amazing heritage.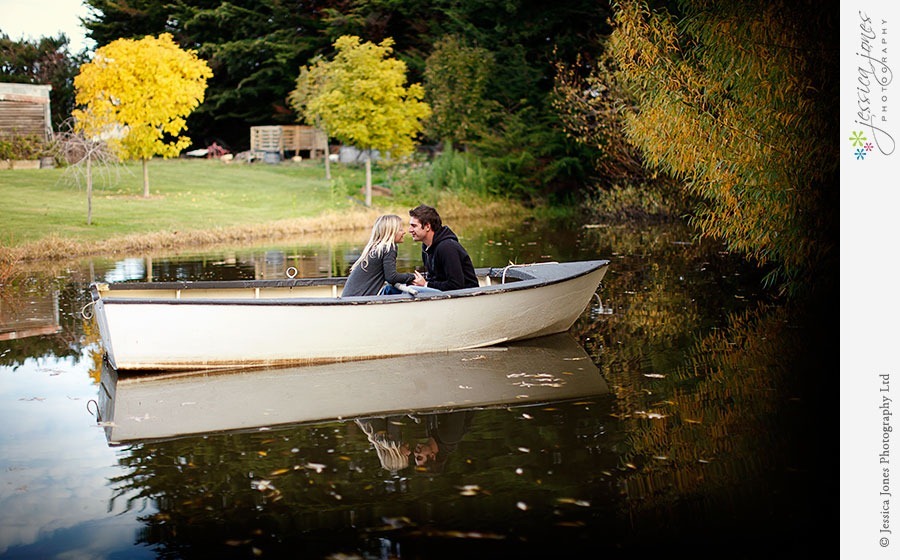 Excuse me Autumn, but I LOVE YOU!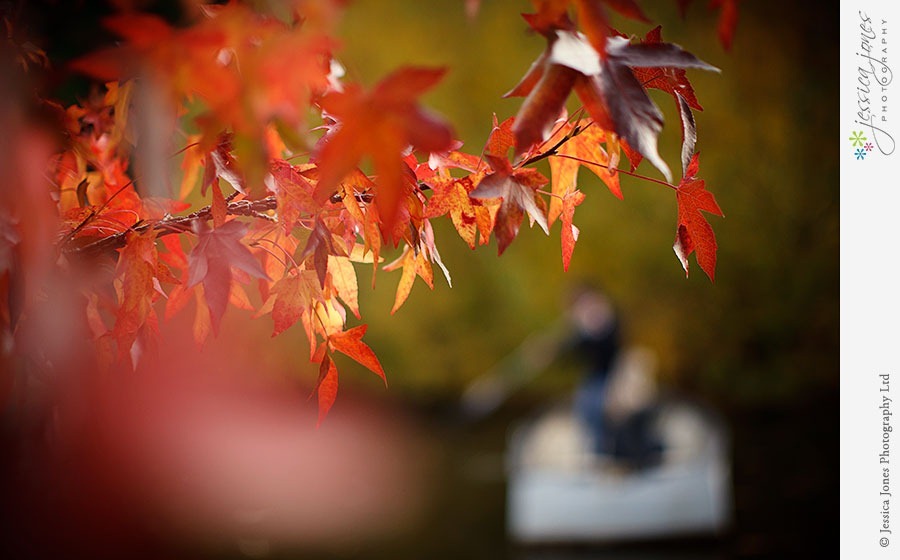 Never work with children or animals, they say.  So to make it work sometimes you just have to get on their level!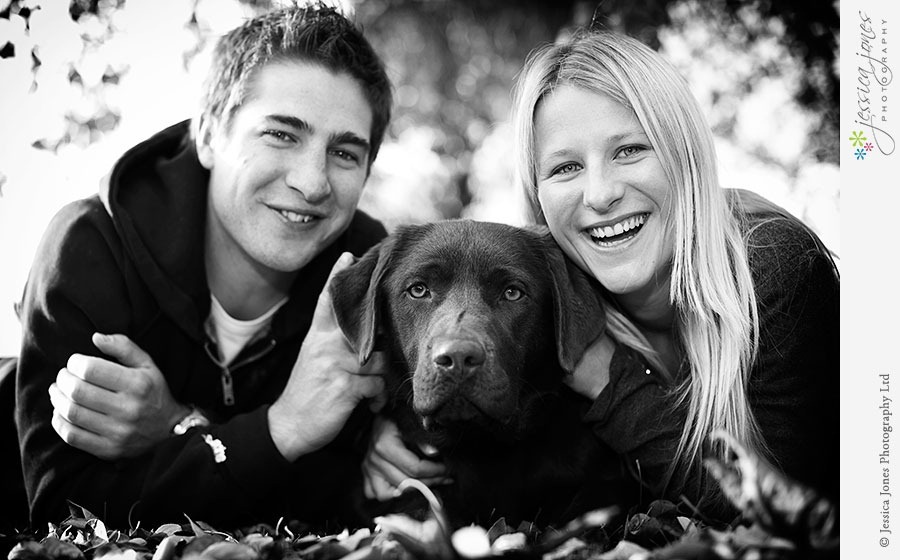 And while we're lying on the ground anyway....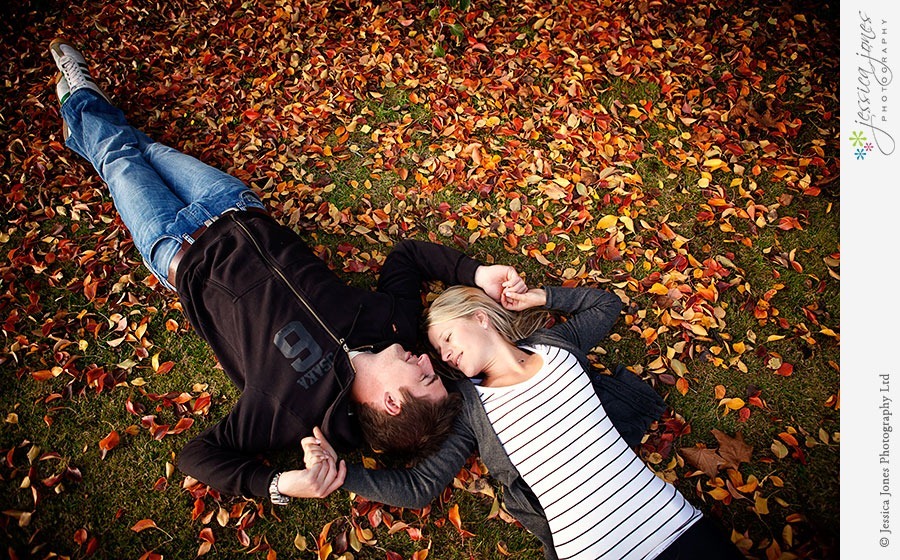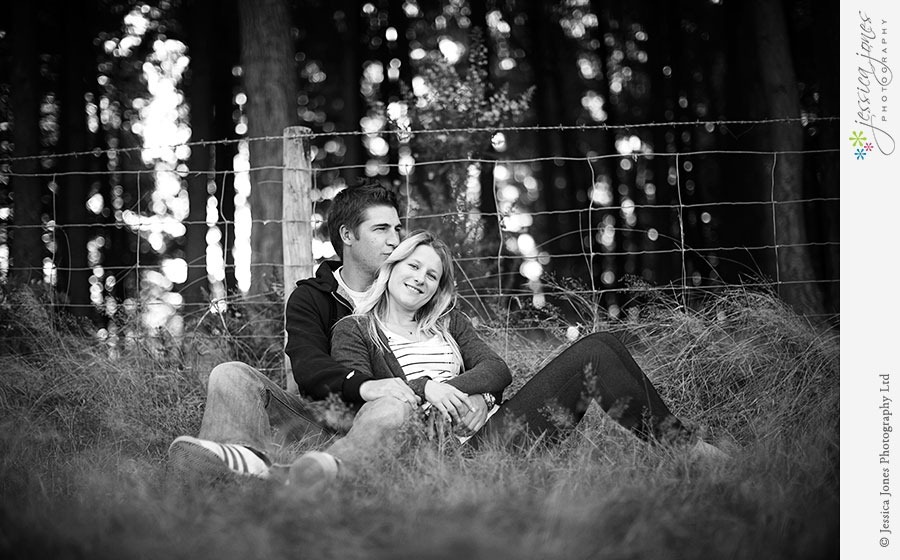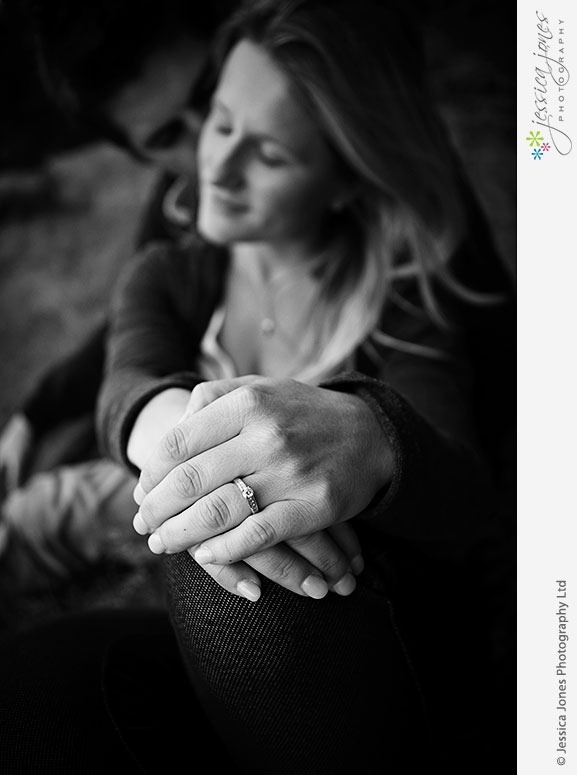 Often I like the 'outtakes' even more than the posed photo!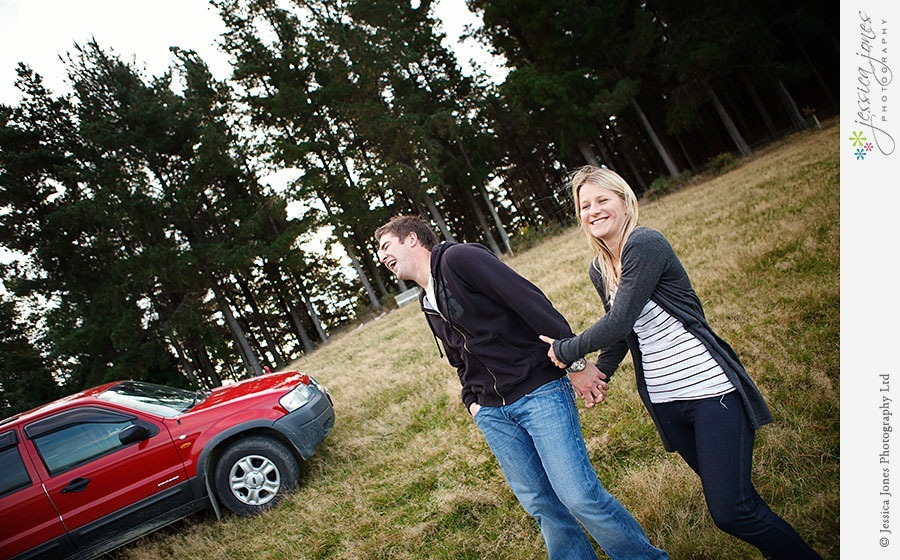 These are the Pinot grapes that Ainsley and her sister worked hard on during their teenage years.  I guess it would have been kind of like when my Dad would make me stack the wood.  Except way yummier.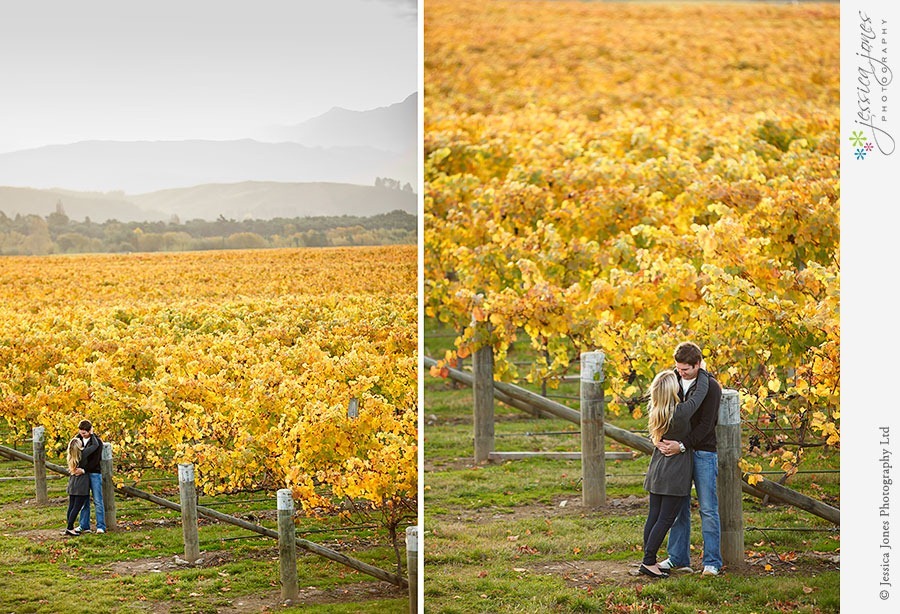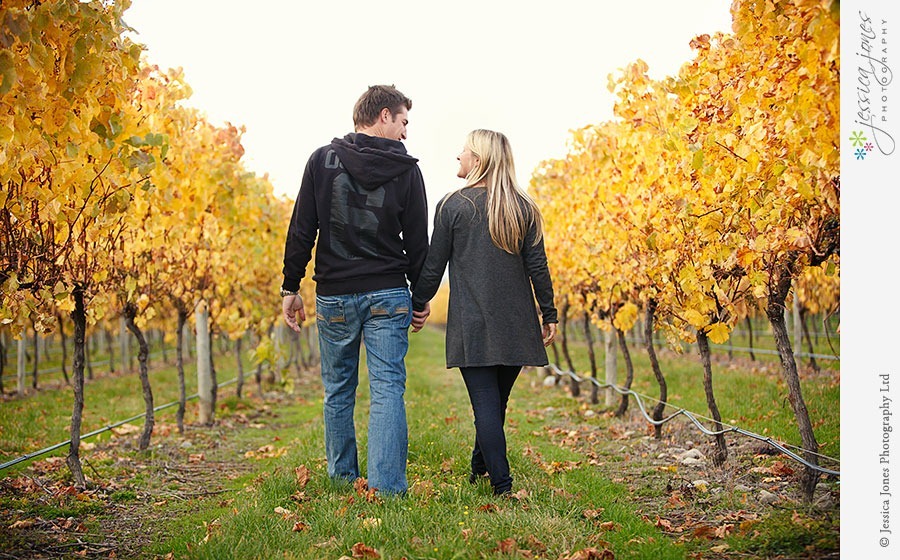 Hands up, who thinks Ainsley is going to make a GORGEOUS bride?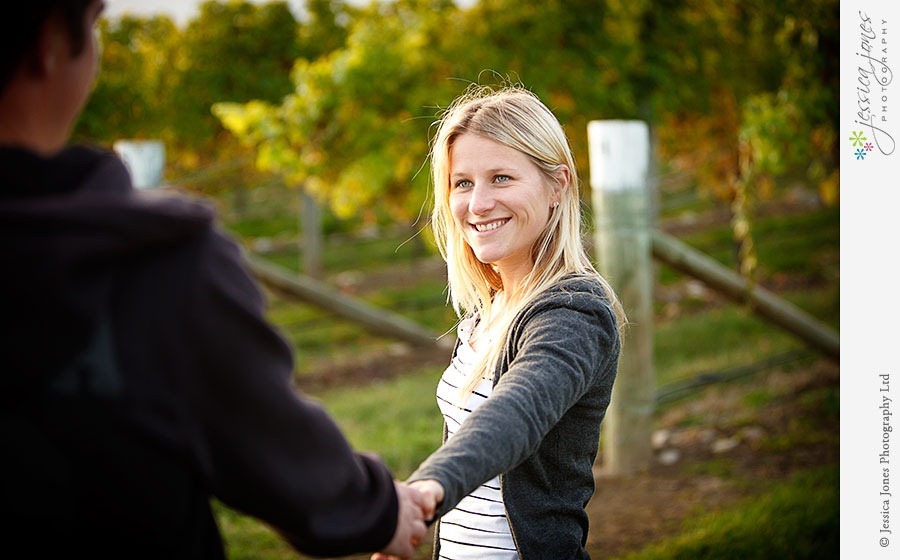 This is Finella, Ainsley's niece.  She is going to be a flower girl.  She's really quite cute.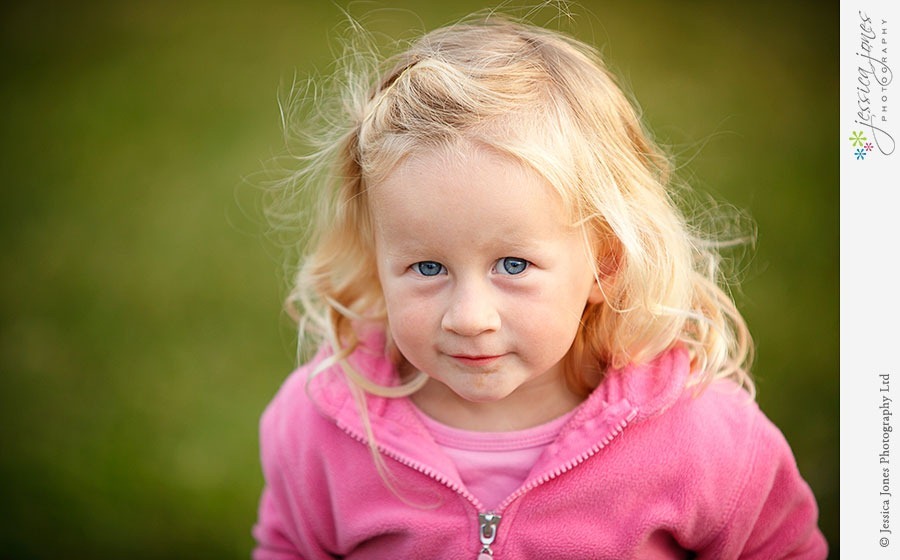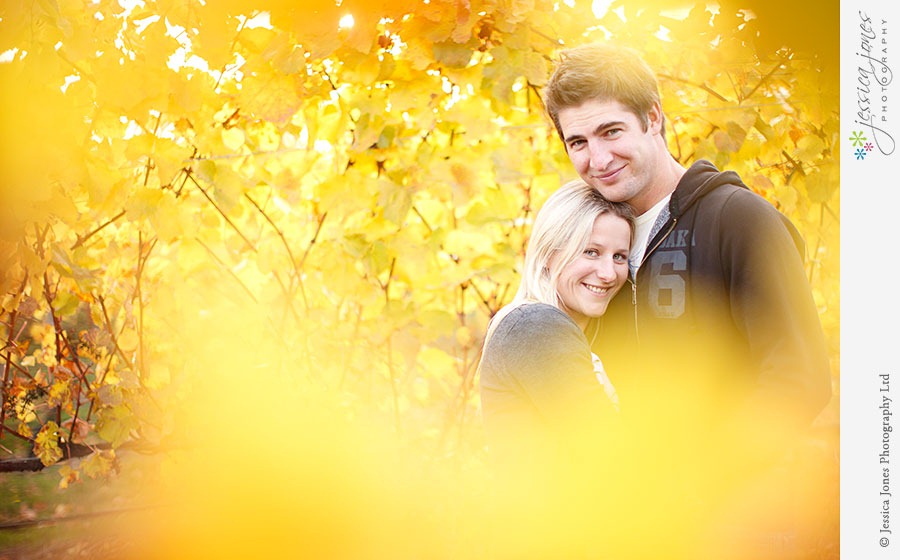 Jared and Ainsley, I hope you love these images as much as I loved taking them.  I couldn't possibly be more in awe of the work that you guys do with kids.  I think teachers totally rock!  Bring on January, when we can take more pictures that will make the kids in your classes go "OOooooooooooo!"
Leave a comment for: Ainsley and Jared - Engaged!
---
Thursday, 21 April, 2011
Posted by Jessica at
10:47 pm
Tweet
Sean and Adrienne met while studying in Christchurch.  Adrienne was the first to fall, although Sean assures me he wasn't far behind.  Since those early days they've travelled the world and settled down in Germany.  Germany!  Major coolness point for anyone who lives in Germany.
Adrienne is a Blenheim girl, and so they've come home to get married. This Saturday, in fact. Like a lot of our couples who aren't local, I did their engagement shoot a few days before the wedding. A brilliant warm up for the real thing.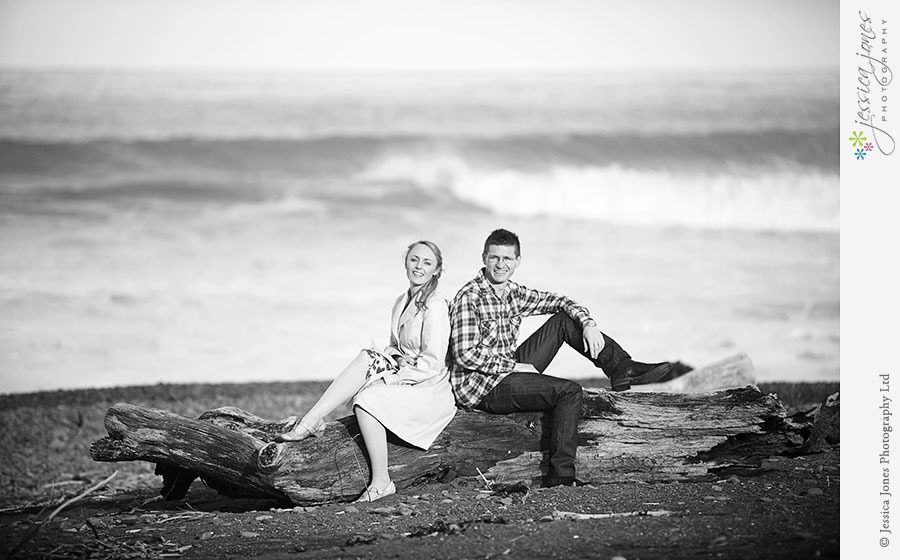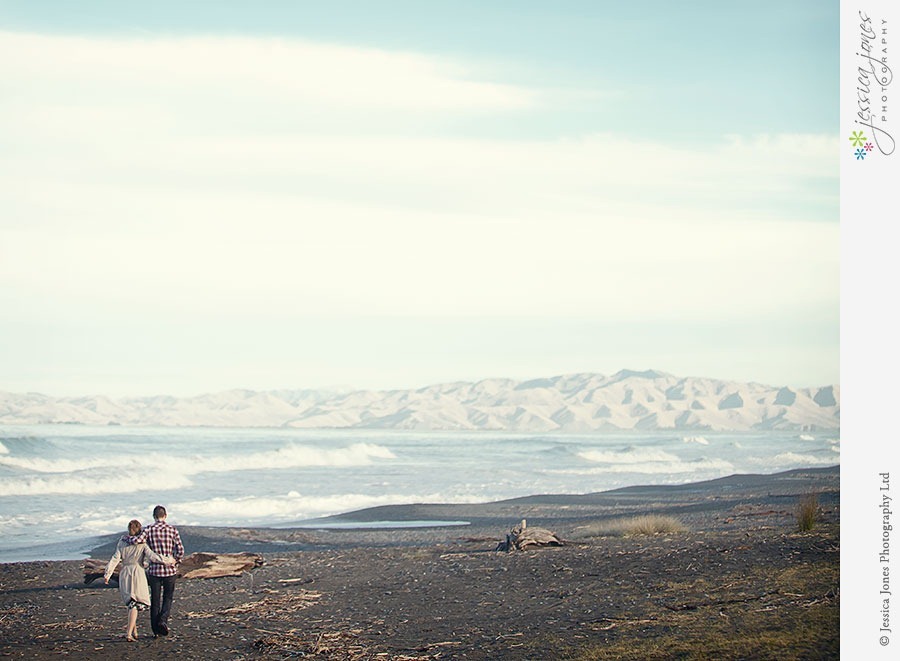 Living in Germany, and being pretty well landlocked, they were really quite keen to get some photos on the beach.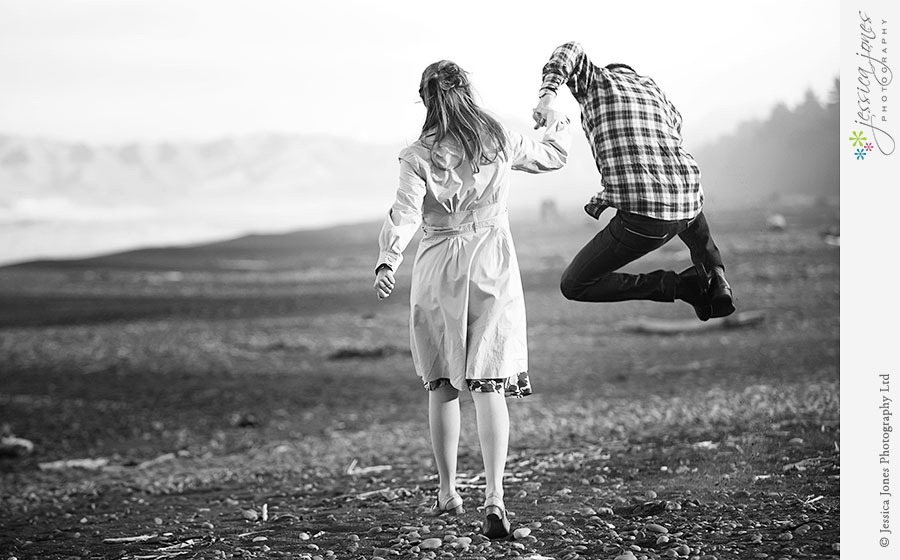 The light was absolutely to die for!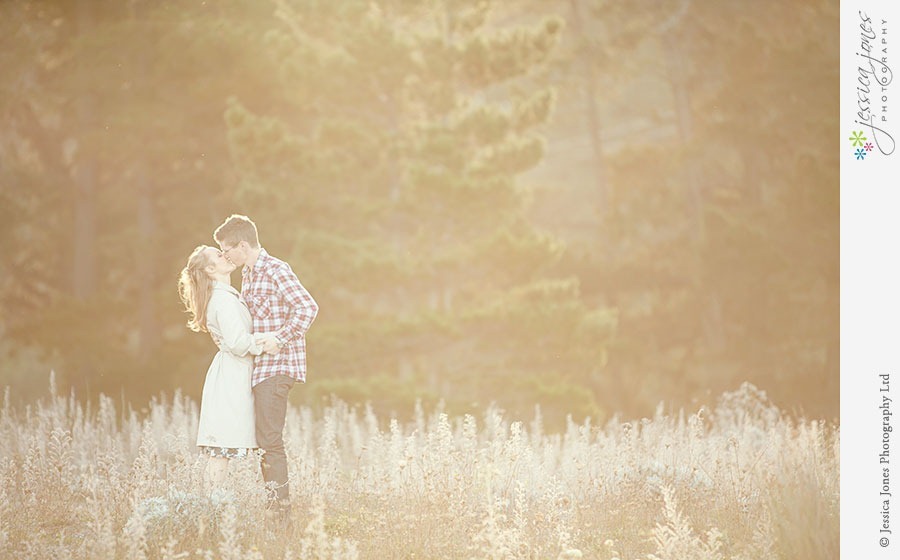 Adrienne and Sean have such a fun and natural chemistry, I can't even begin to tell you how excited I am to be shooting them on Saturday!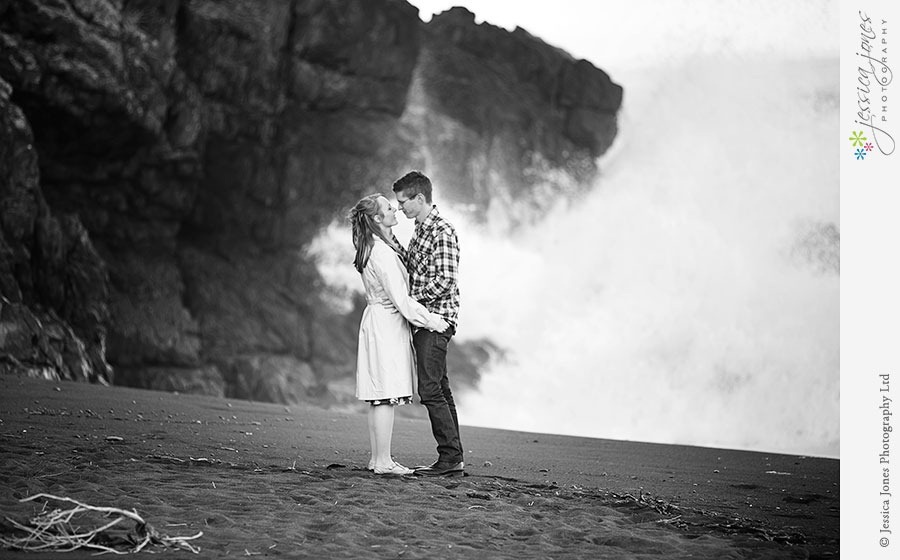 And then, on the way back from the beach, we stopped at Marshlands where the light was equally awesome.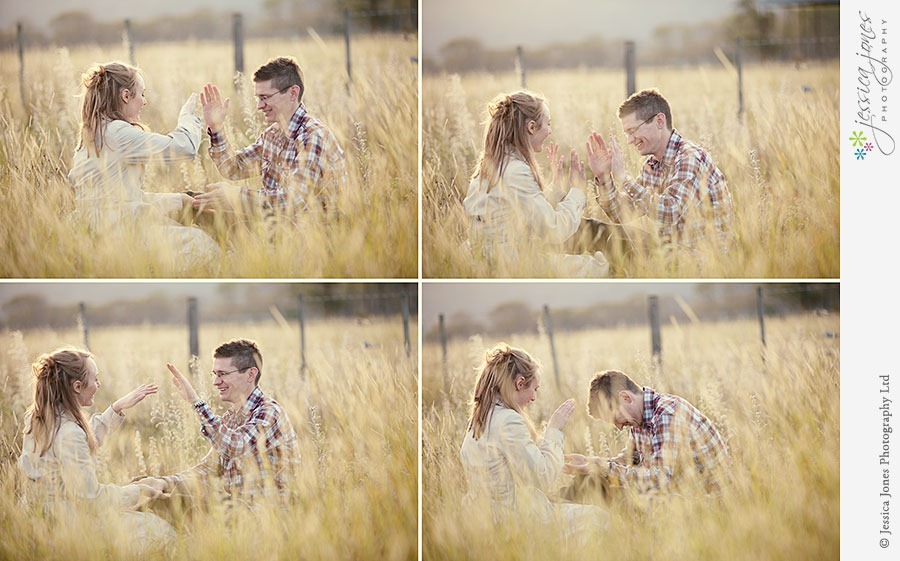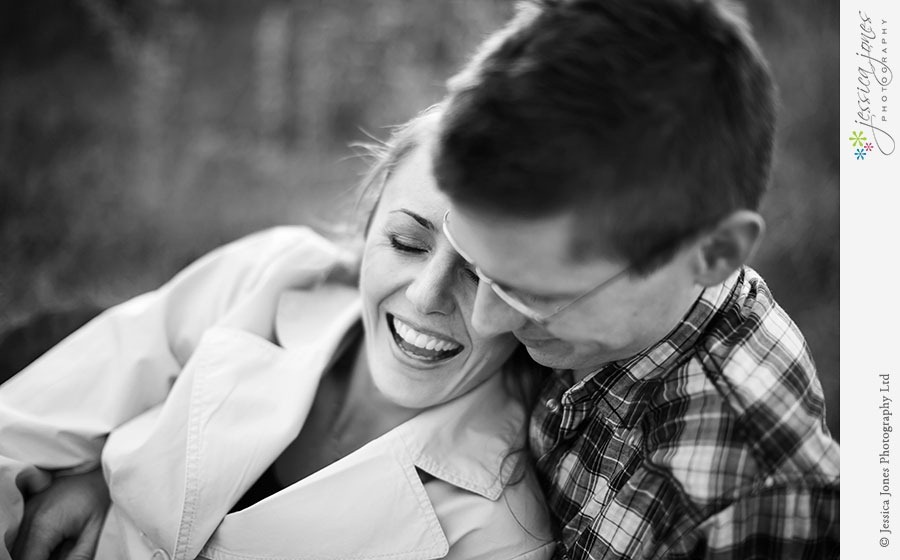 Adrienne, you are absolutely STUNNING!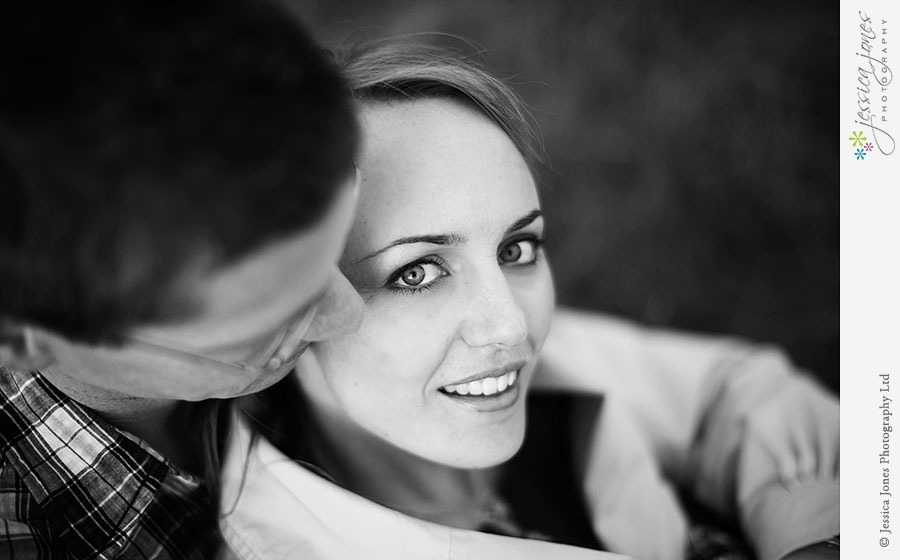 I love this place!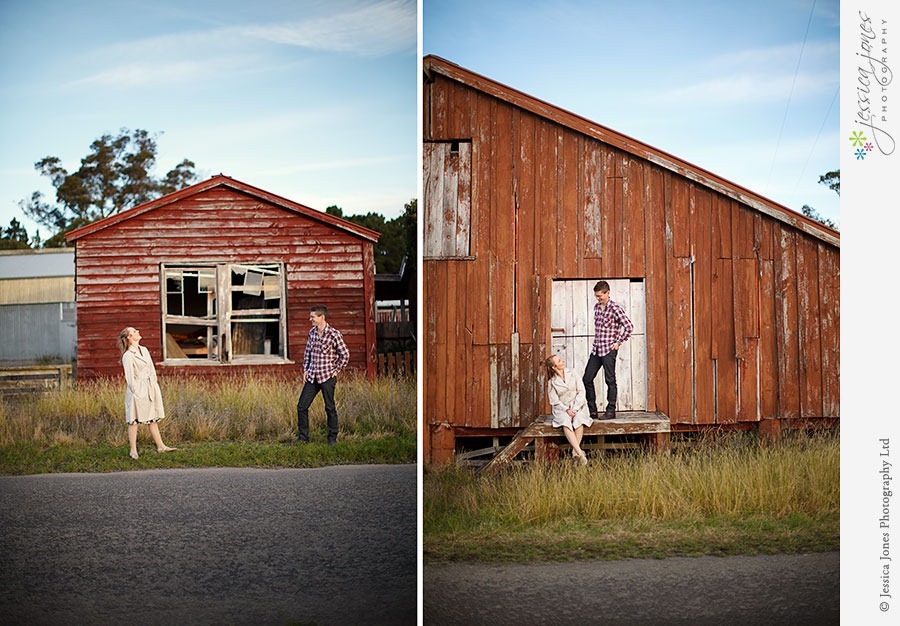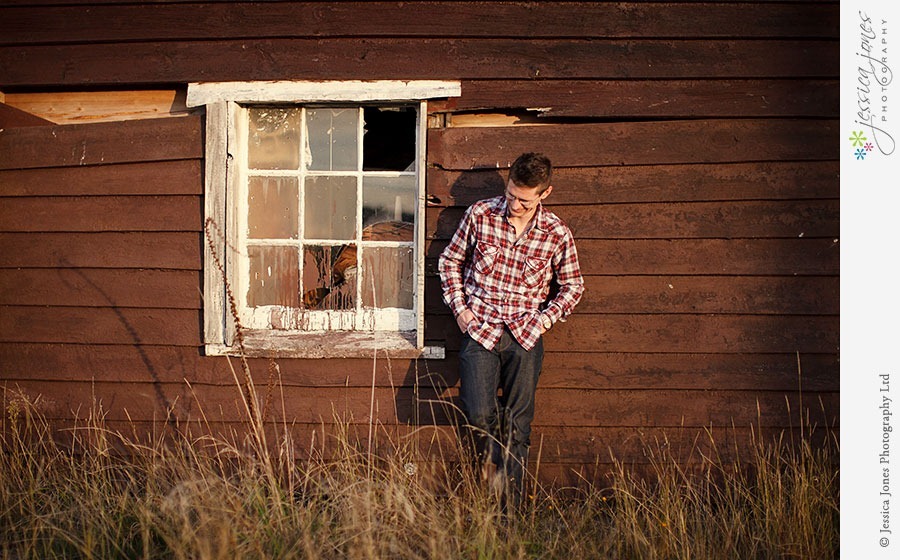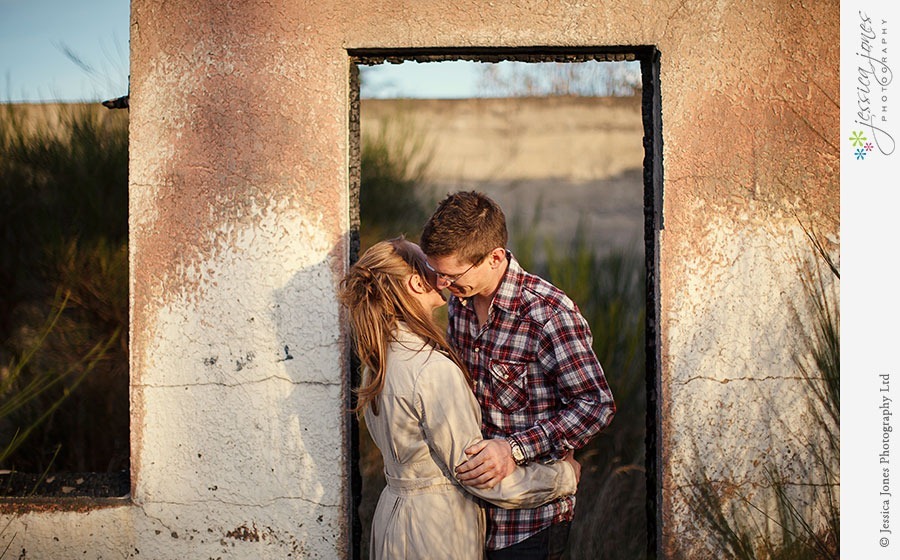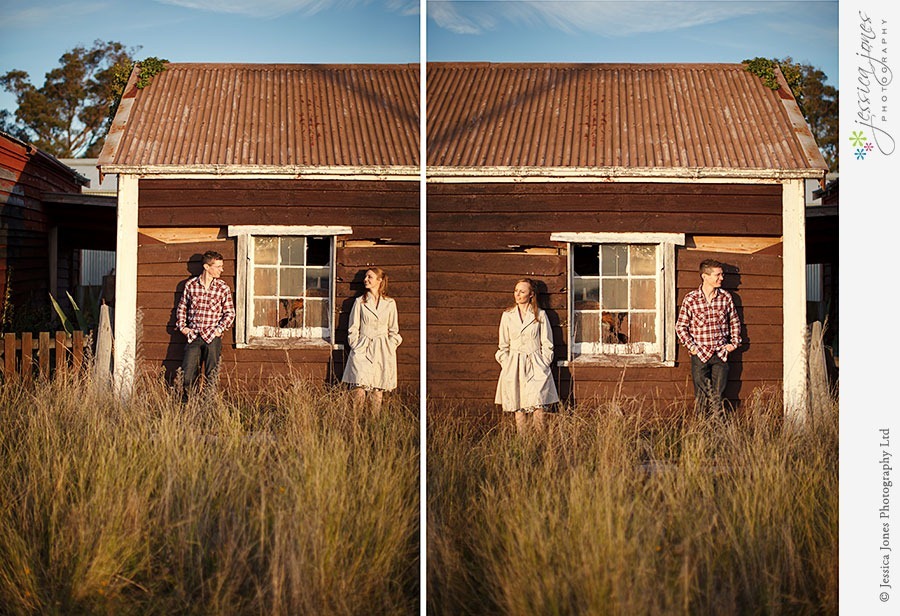 I can't WAIT for Saturday!  It's gonna be great!
In other news: While we were in Christchurch for Doug and Heather's wedding, we finally took the plunge and picked up another car. It's shiny and gold and has a button on the keys to remotely lock it. Don't mock, I've been wanting one of those buttons FOREVER! It's the little things people, the little things! So now our car is respectable enough to take our couples in...YAY!
Leave a comment for: Adrienne and Sean - Engaged!
---
Tuesday, 19 April, 2011
Posted by Jessica at
4:47 am
Tweet
I prayed hard as we drove towards Christchurch.  I couldn't believe what we were about to do.  Two things that are completely out of my comfort zone.  1.  Drive to Christchurch.  But I got over that pretty quickly.  2.  Photograph another photographer's wedding.  That one took a little bit more prayer, another deep sigh, and a swallow.
Come on, harden up!  It's Heather and Doug!  I can do this!  Wild horses couldn't keep me away from their wedding.  So we suited up, and started shooting.  I needn't have worried.  The rain mostly stayed away, the light was kind and the wedding was cool.  Like, really cool.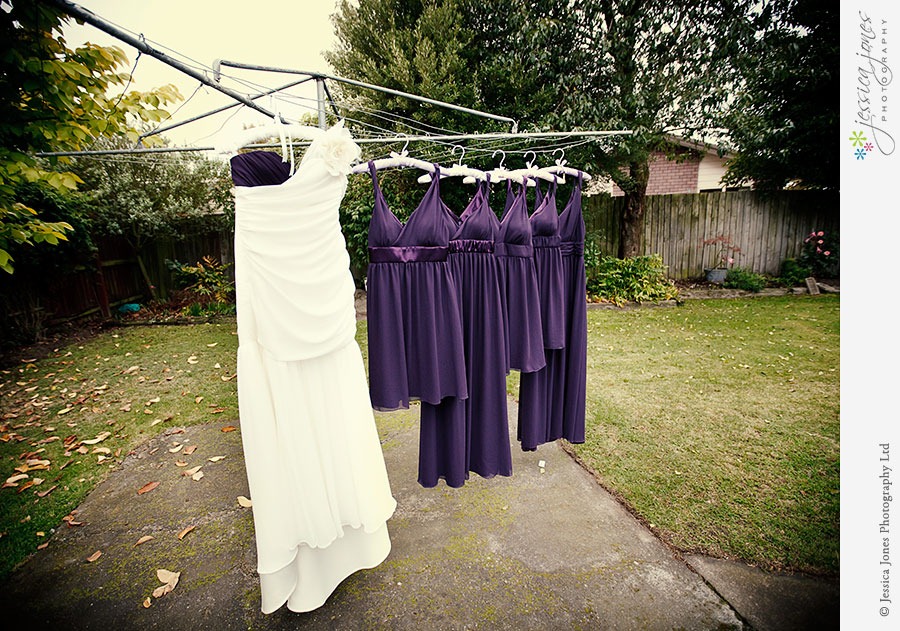 I love Heather.  I love her fresh enthusiasm and youth (ahem, thanks for pointing out our age difference, by the way).  I love how she's not afraid of the camera.  And I love how much she loves Doug, because she loves him loads.  Loads and loads.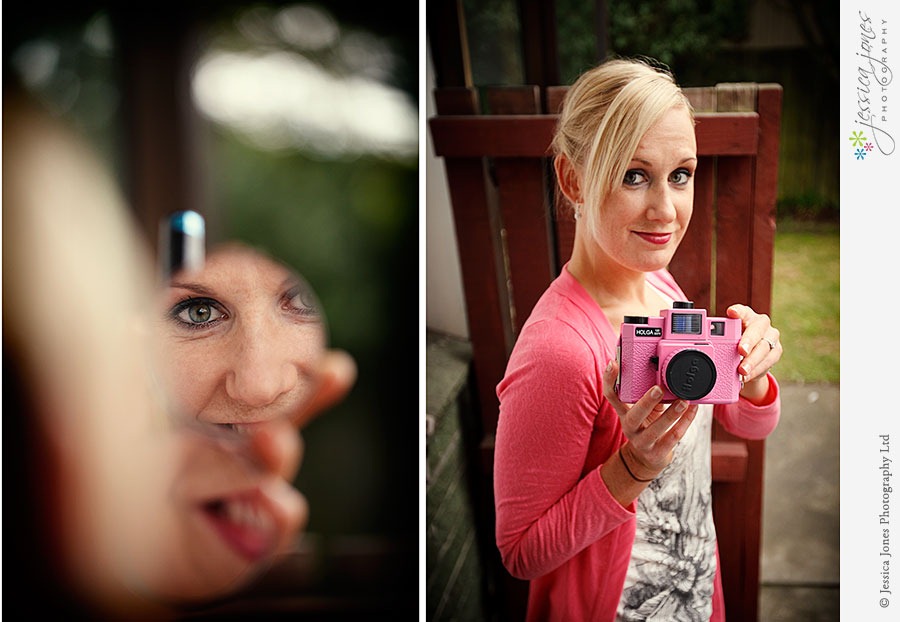 Heather said she's bringing these glasses "Just in case, because no one likes a squinty bride!"  Heather is funny.  I like funny people.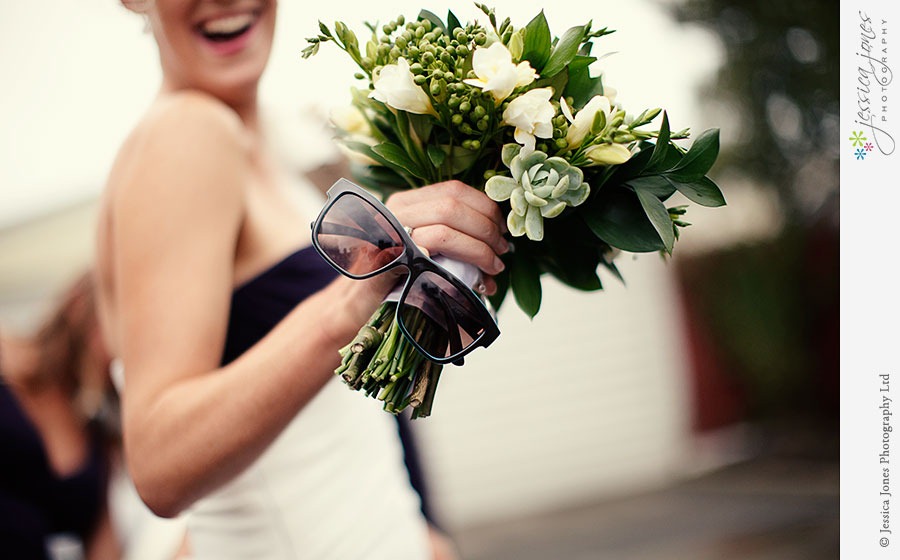 Doug is uber cool.  I mean, seriously cool.  Trained in fashion design he made the last minute alterations on the clothes.

Once all of the boys were dressed, they took a little walk down the road to the bus station, where a double decker bus was to take them to the wedding.  See?  I told you this was a cool wedding! 
Check out the cracks in the sidewalk, thanks to the February 22 earthquake.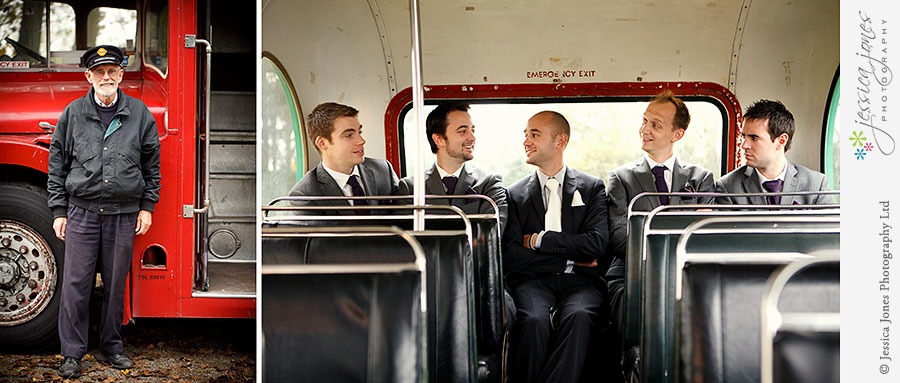 On the way to Trents, Heather decided to stop and grab a bottle of water.  I have no idea what the attendant would have thought of this bride buying water with a photographer following closely like some sort of paparazzi.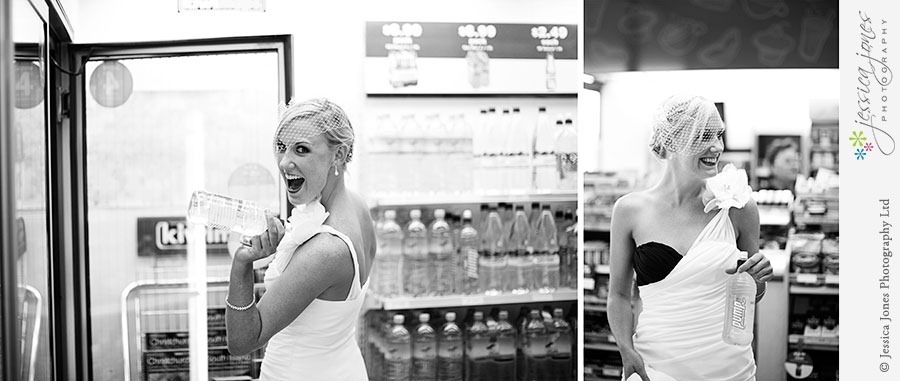 Heather and Doug decided to have a 'first look' before the ceremony.  So secretly they met on the little lane behind Trents.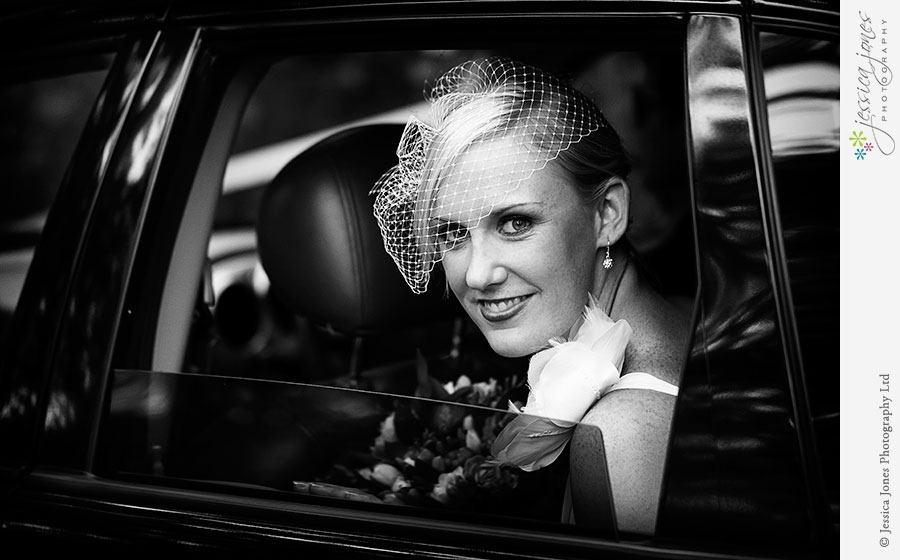 Doug was not allowed to turn around until Heather said so.  I love the anticipation.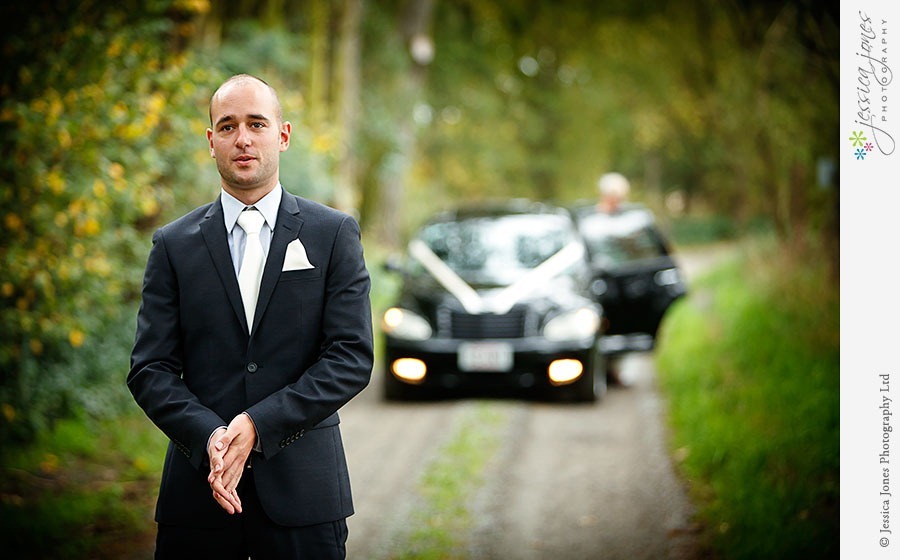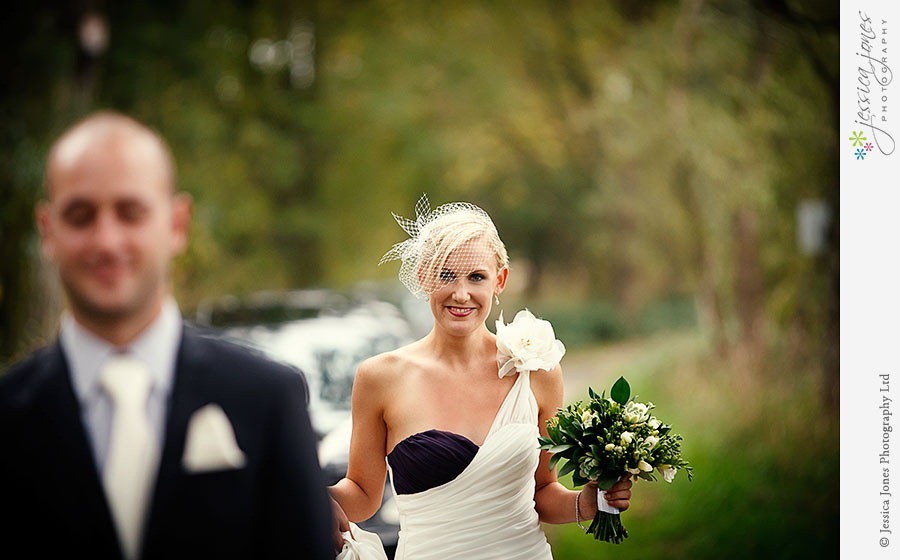 "Boo!"  Priceless.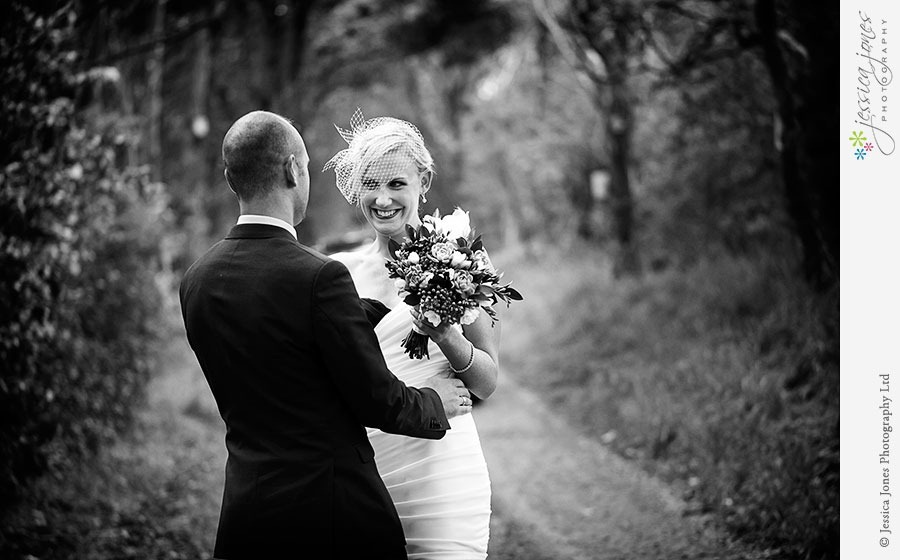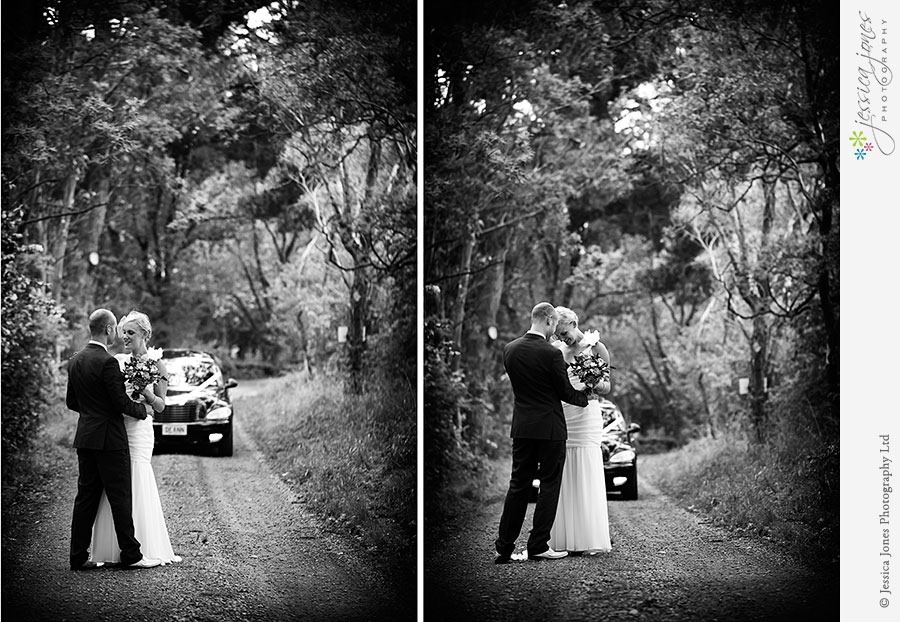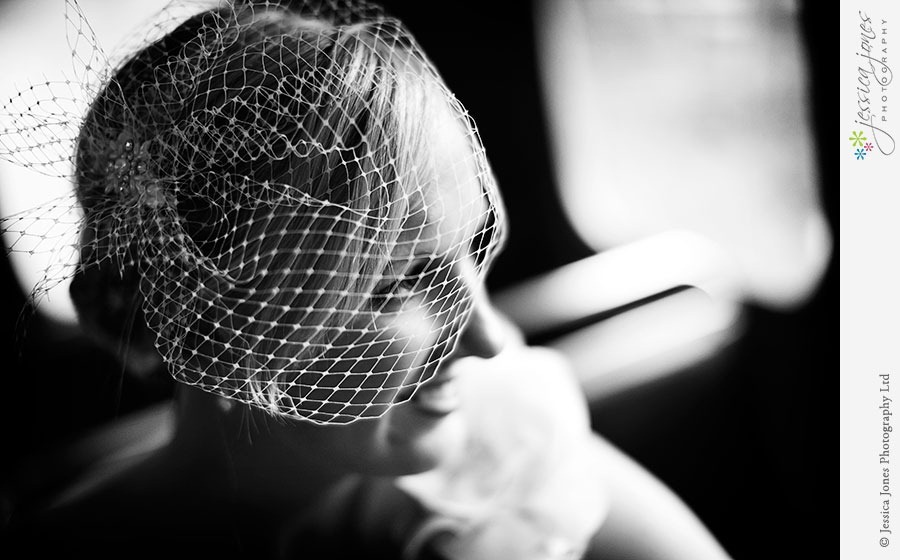 We were allowed to get a few pictures before the bus had to leave again.  I love this bus.  I LOVE this bus!  We didn't feel comfortable letting Heather sit on the seat in her white dress, though, and time was running out.  I desperately wanted a sitting shot.  Desperate times call for desperate measures, so I whipped off my top.  Seriously.  I popped it on the seat and let her sit down.  Thankfully I still had a singlet underneath, but believe me, it still wasn't pretty.  The shot was totally worth it, and no one else was there to see me so scantily clad.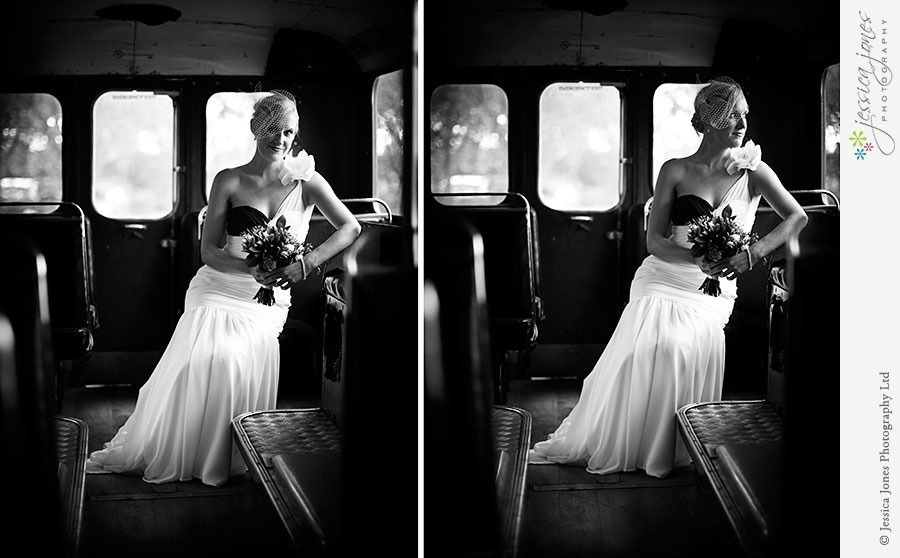 Purple.  Awesome.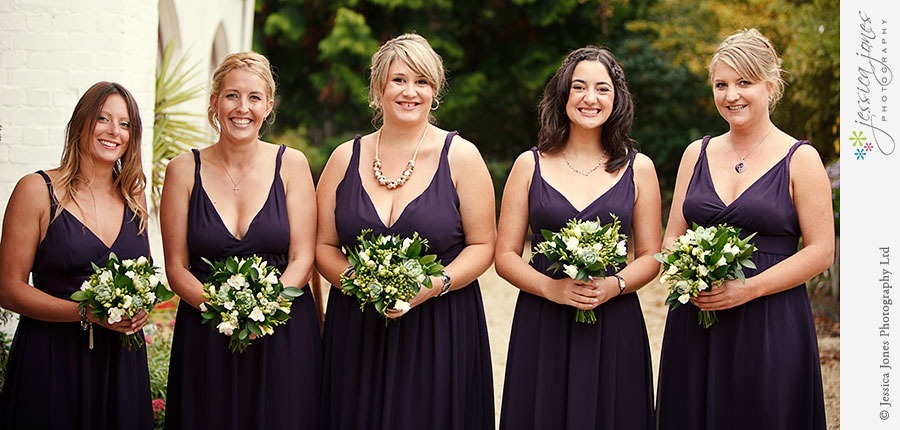 Then it was time for the ceremony to begin.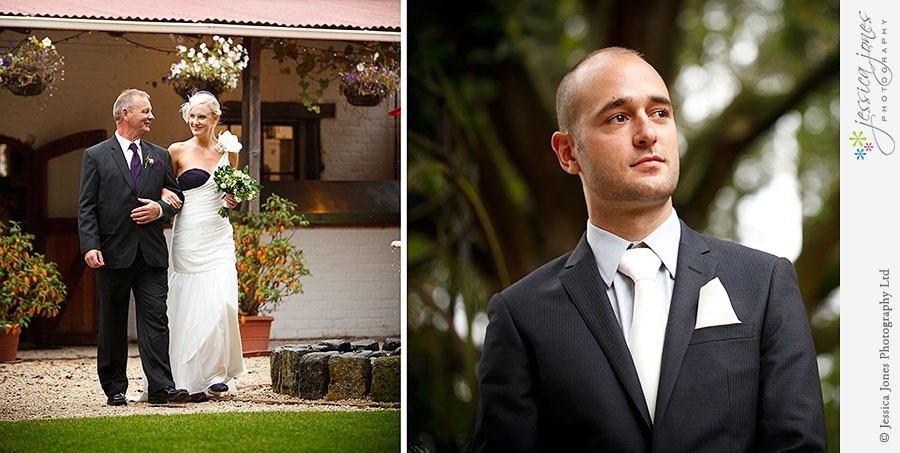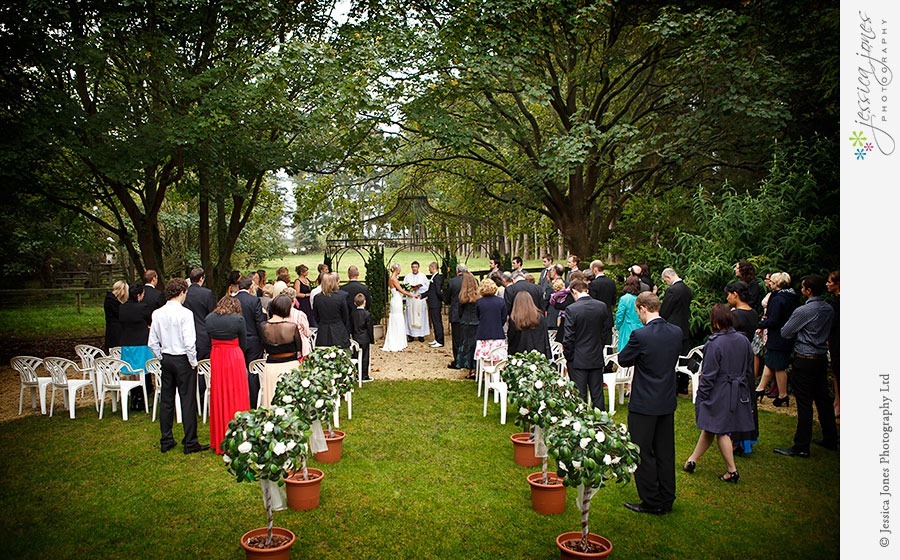 The priest said something that really struck me.  He talked about how Doug and Heather know each other's good points, and bad points.  Yet they still choose to promise to be with each other for the rest of their lives.  There is simply no higher compliment than that.  I guess I've never thought of it like that.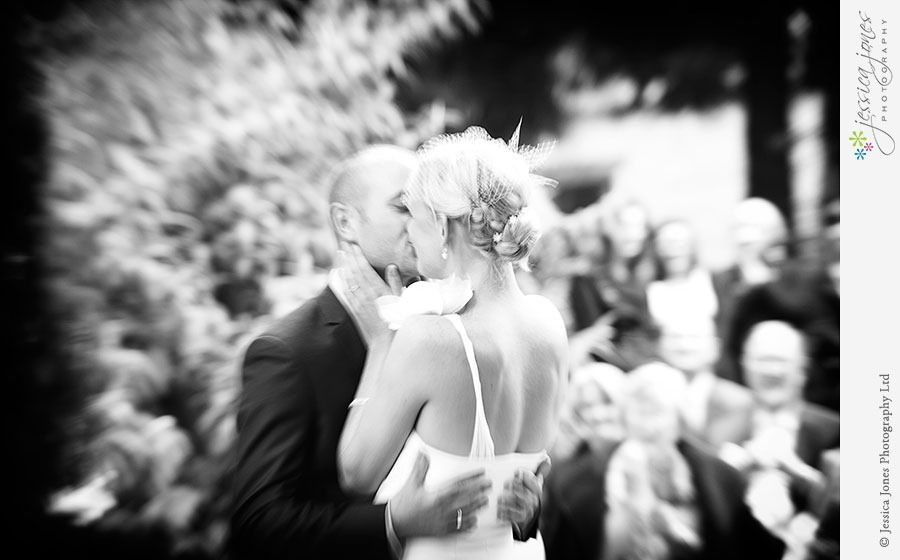 Enormously happy to be married.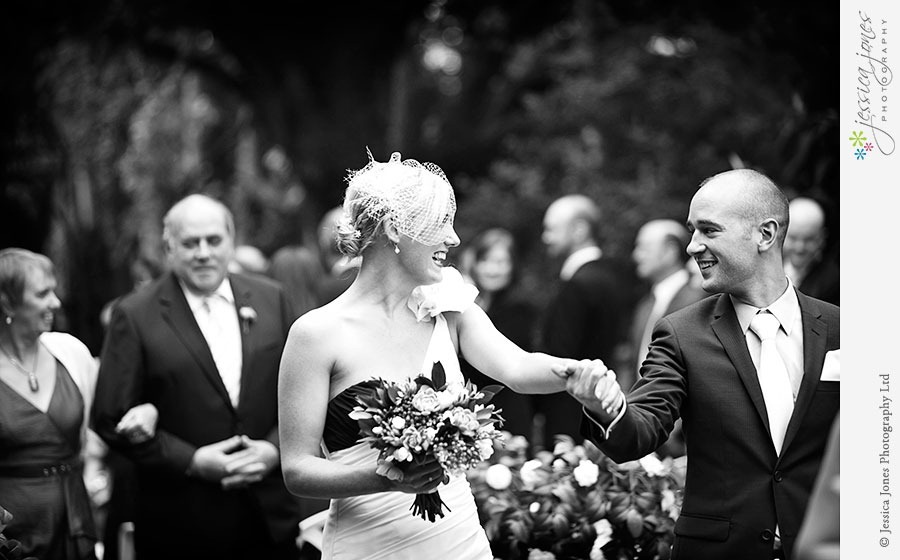 Uncle John.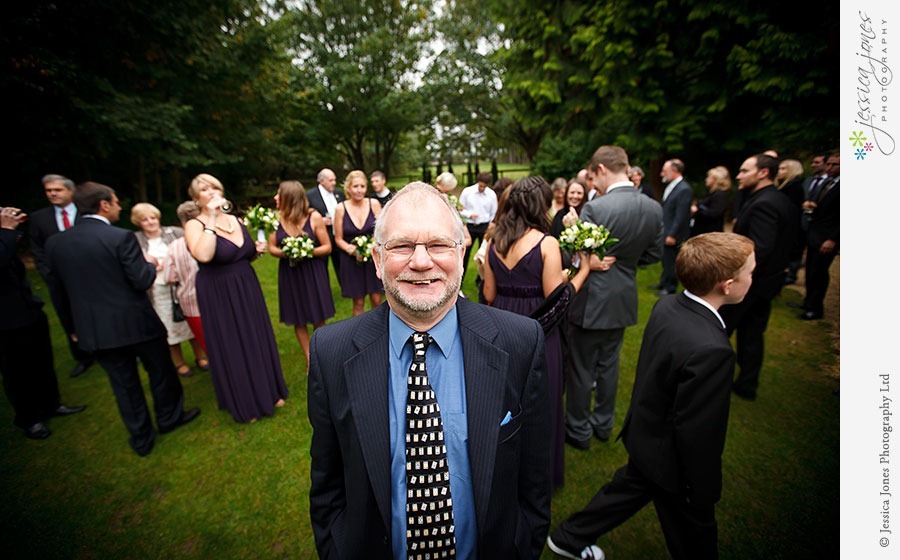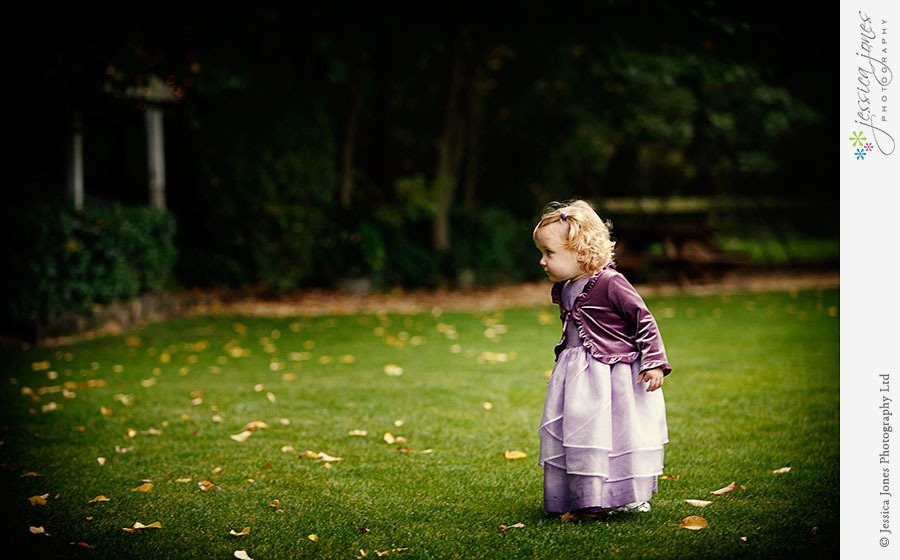 Some of you will remember that during their engagement session I suggested they might like to be a tree.  Poor old Heather got a bit of ribbing from me for not being a great tree.  So I've given them another chance. 
Nope, sorry Heather.  You're still not a great tree.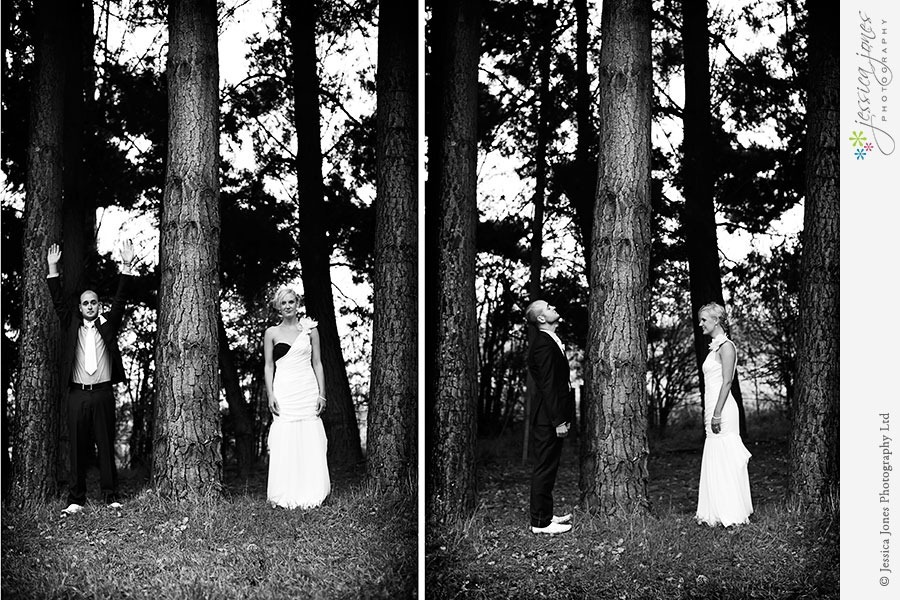 Carefully camouflaged, the bridal party try their hand at being trees also.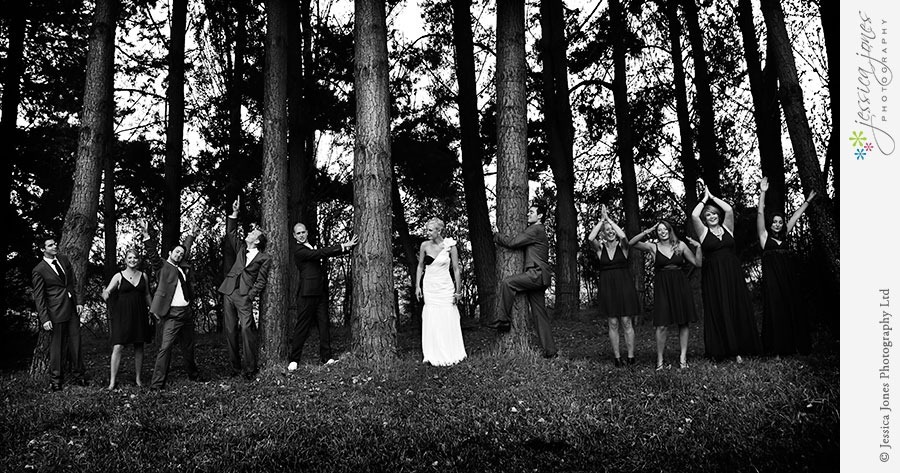 I suggest you stick to loving Doug, Heather.  Because you excel at that.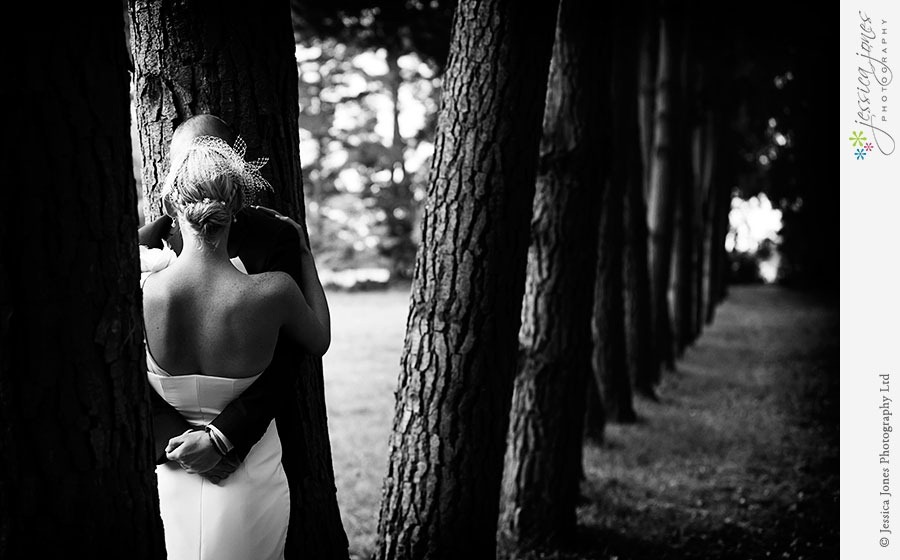 Extreme group hug.
Trents has got the most magnificent grounds.  Oh how I wish it wasn't four hours away from Blenheim!
The Grandads are remembered.  That makes me happy.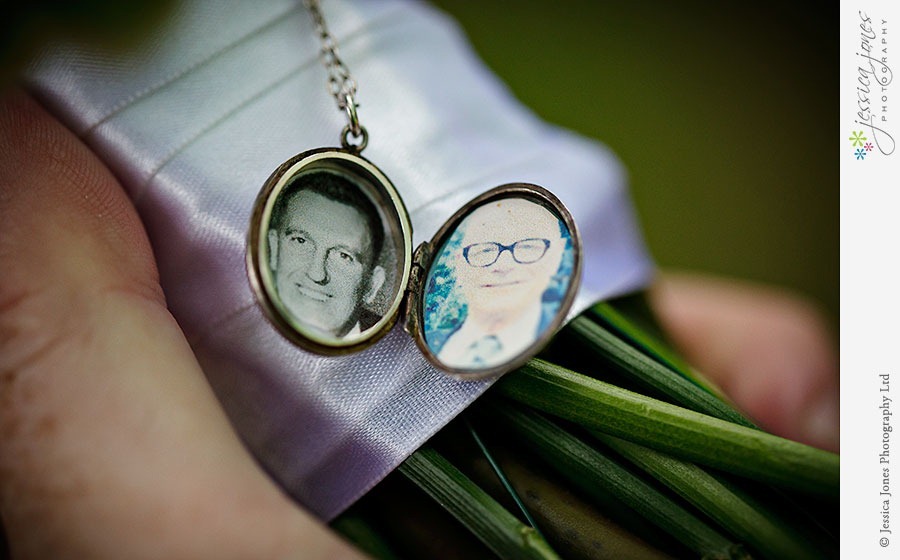 Even when the camera is not pointing anywhere near them, Doug and Heather spend their time hanging out together, holding hands and loving.  They makes my job so easy!

Gasp.  Models.  Right.  There.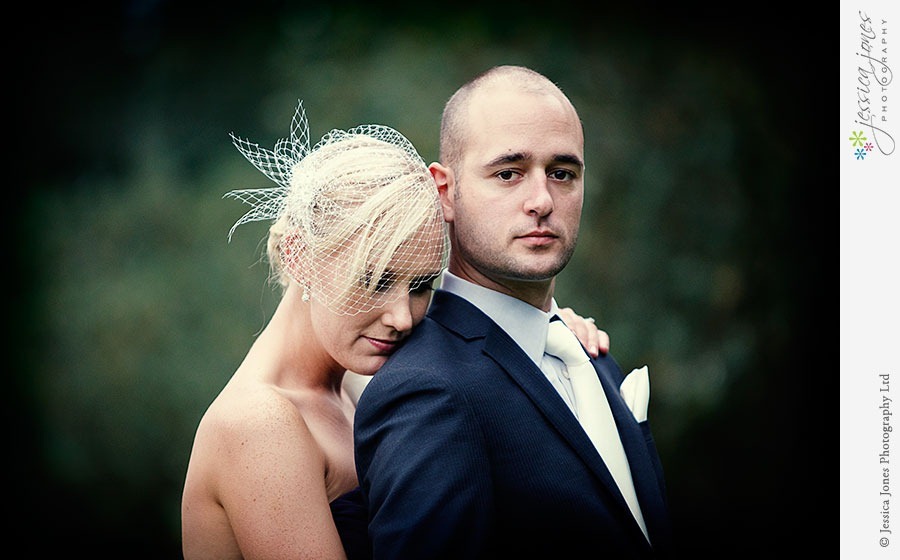 Ok.  Who invited this guy?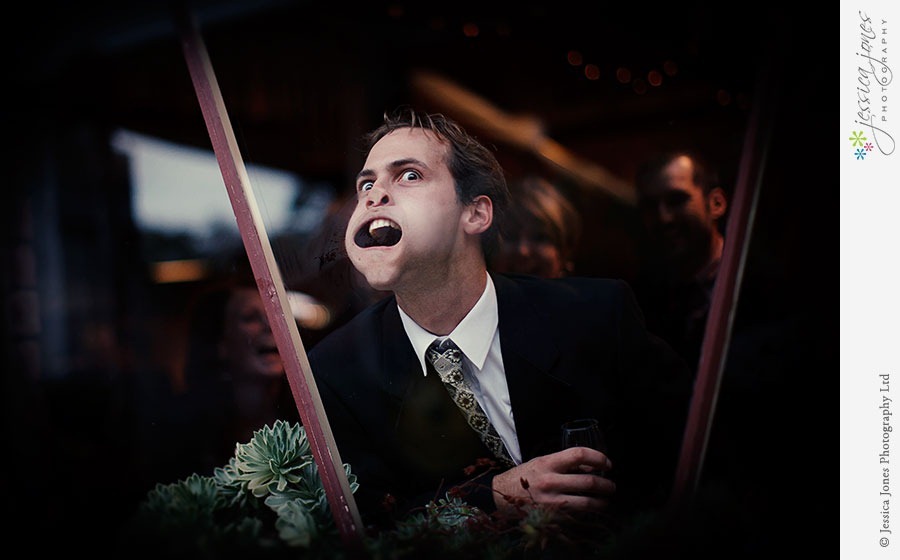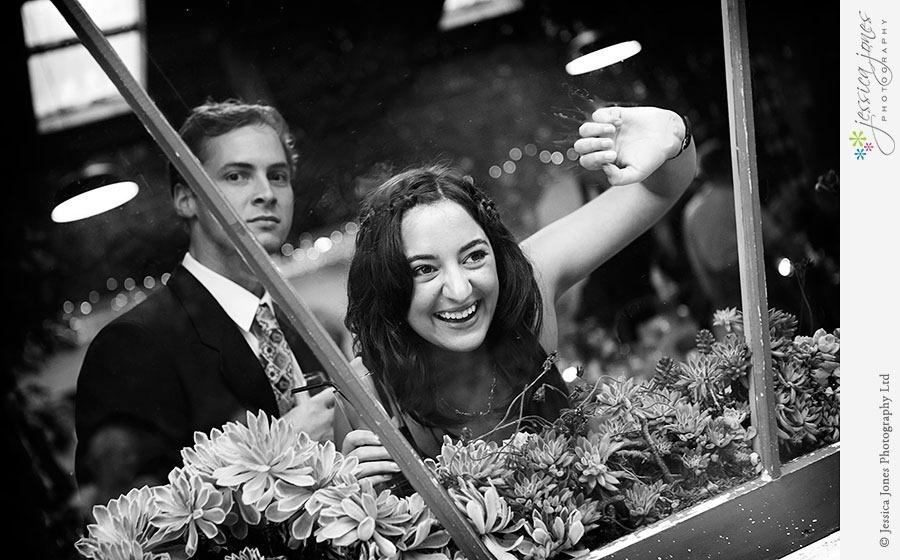 I think there was more of that stone wall before the big earthquake.  Lets not miss a good photo opportunity though!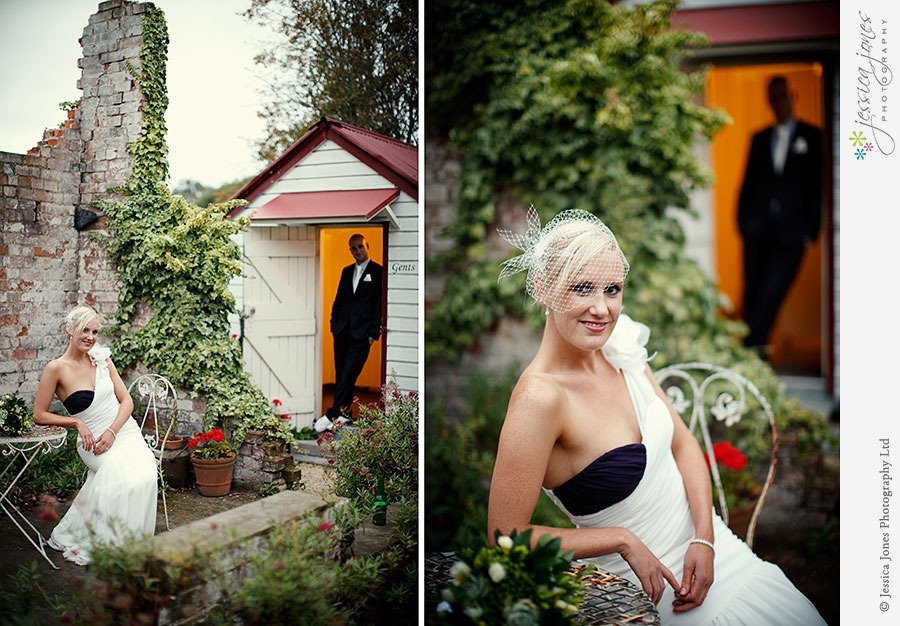 See, Heather?  This is why I told you I like Autumn best!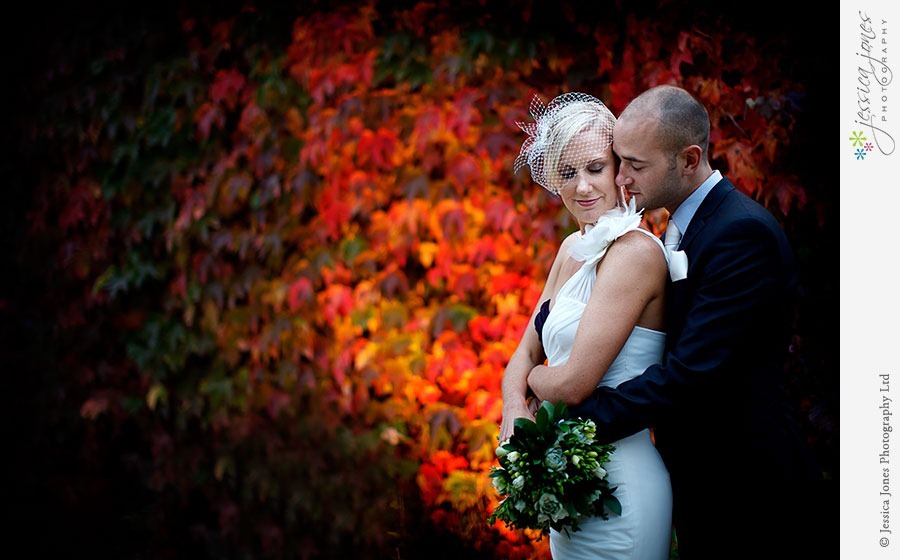 Doug, you funny, funny man.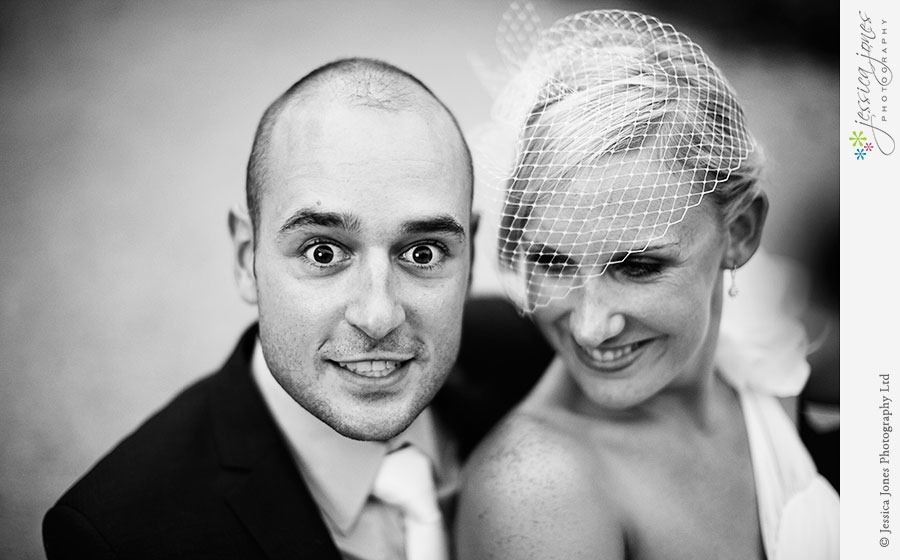 Heather potted all of these succulents in her very own mugs.  This one sums up Christchurch right now I think!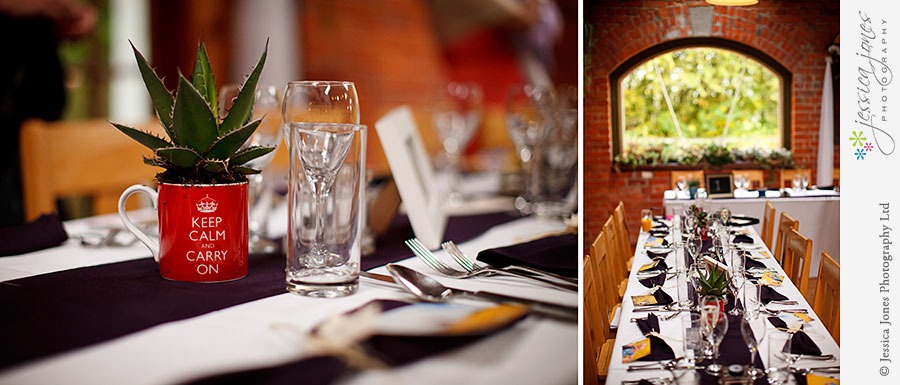 Cutest speech.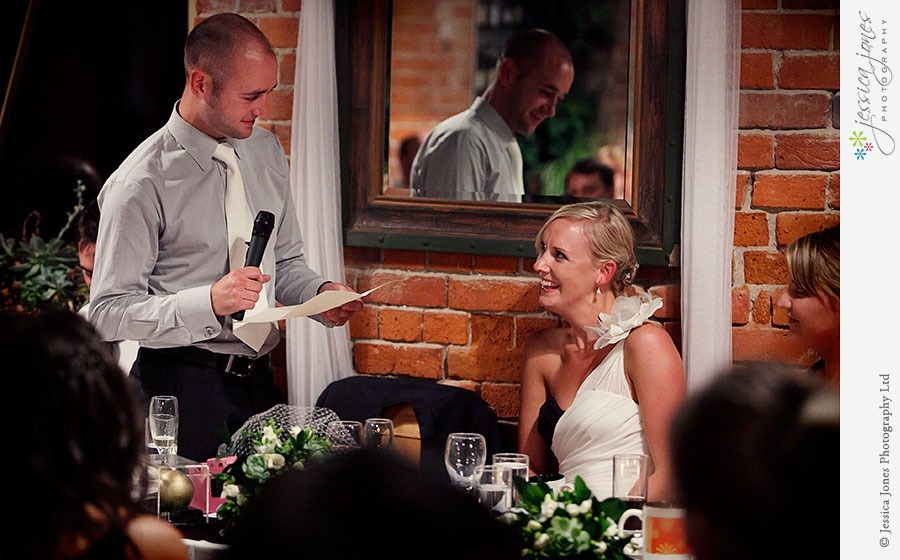 I got into some photos again.  Lucky me!  I'm not sure who these guys are, but they sat next to me and told some great jokes.  This image on the right is of me pretending to dance while Paul tested his settings.  Did I feel silly on the dance floor all by myself?  Of course not.  If only my teenagers were there to see me.

And then the shenanigans began!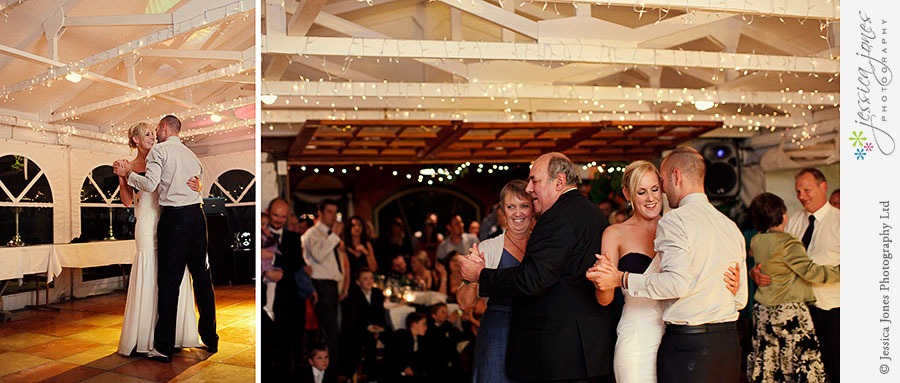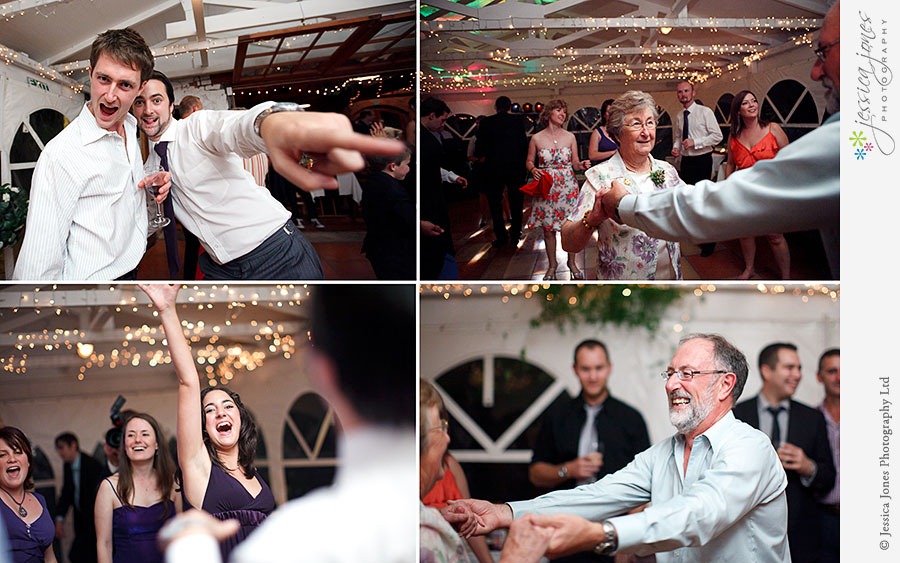 Heather and Doug's car also joined the festivities, by way of shaving cream, party poppers and cling wrap.  A LOT of cling wrap.  I was told to withhold the identities of the clingwrappers until they managed to leave the city.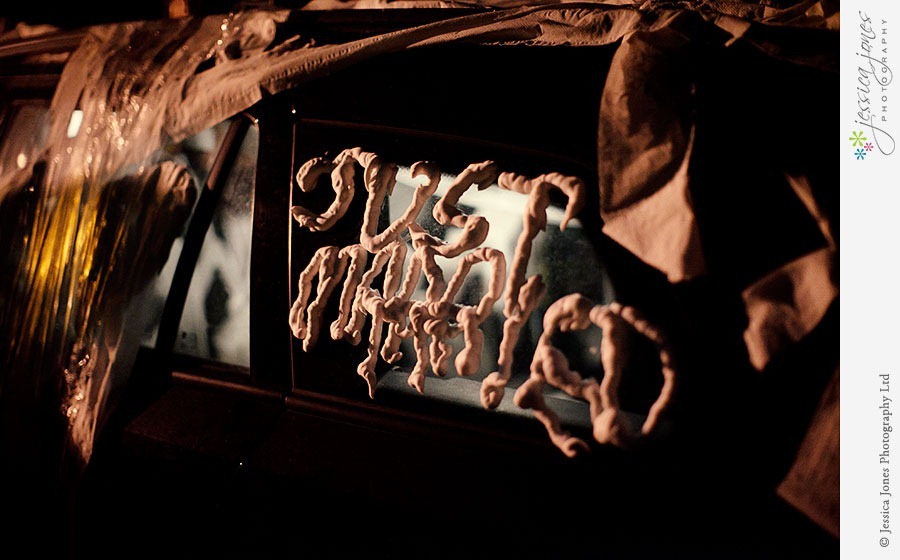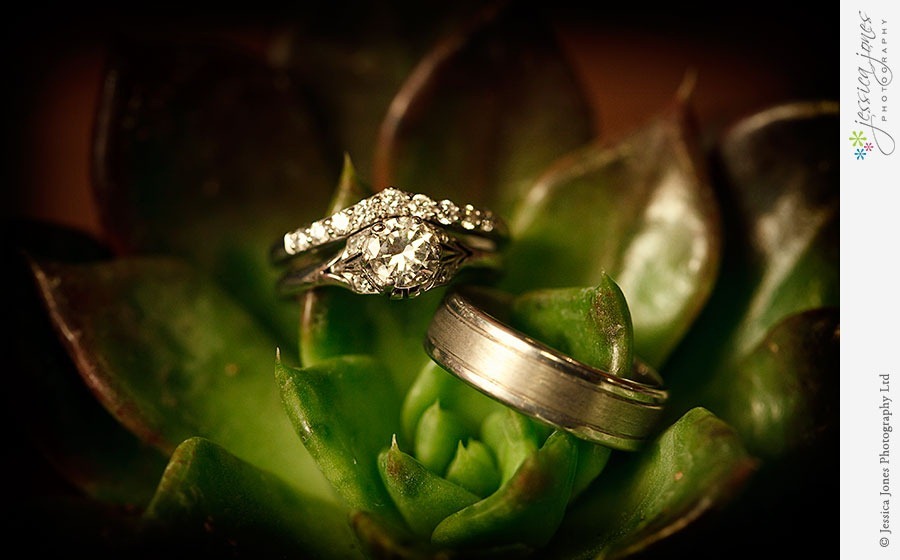 Heather and Doug, you guys are inspirational in the way that you love each other.  I can see how much you treasure each other, and that makes me even more grateful for being invited into your big day.  I can't wait to show you the rest of the photos.  Have a great honeymoon!
Vendor Shoutout:
Hair: Lauren Lincoln
Make up: Lauren Lincoln and Carol Schimanski
Bride and Bridesmaids Dresses: Maire-Louise Richardson
Cake: Shelley-Anne Avisenis
Venue: Trents Vineyard Estate
Florist: Ilam Florists
Leave a comment for: Heather and Doug - Married!
---
Tuesday, 12 April, 2011
Posted by Jessica at
5:55 am
Tweet
I was greeted with this smile.  Gorgeous.  Michelle assured me that she wasn't nervous, simply excited.  She was right of course, what was there to be nervous about?  She was about to marry her best friend.  Michelle and Kris have been through thick and thin together, and after their harrowing time at Pike River Mine last year, life has lead them to new jobs and a new life in Australia.  The future is looking bright and today they get married.  What's not to smile about?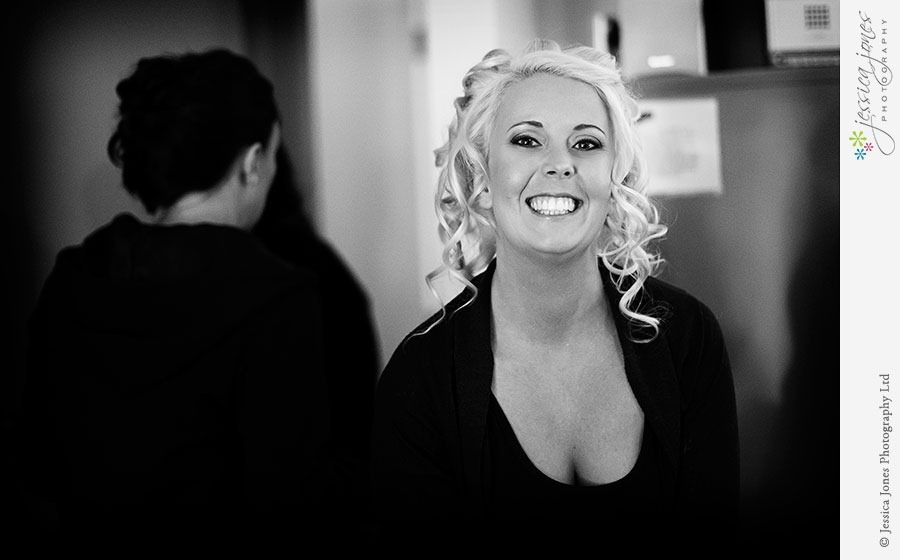 The water was as still as could be, there was the slightest hint of moisture in the air, but not enough to scare anyone inside. Michelle and Kris's wedding was held at the beautiful Te Mahia resort, which I am really beginning to bond with more and more.  One of the things I love about it, is that they don't book anybody else in during a wedding weekend. This means there's no other guests to have to keep quiet for.  Not that I usually get all that rowdy anyway, but if it were my wedding, I think it would be a real bonus!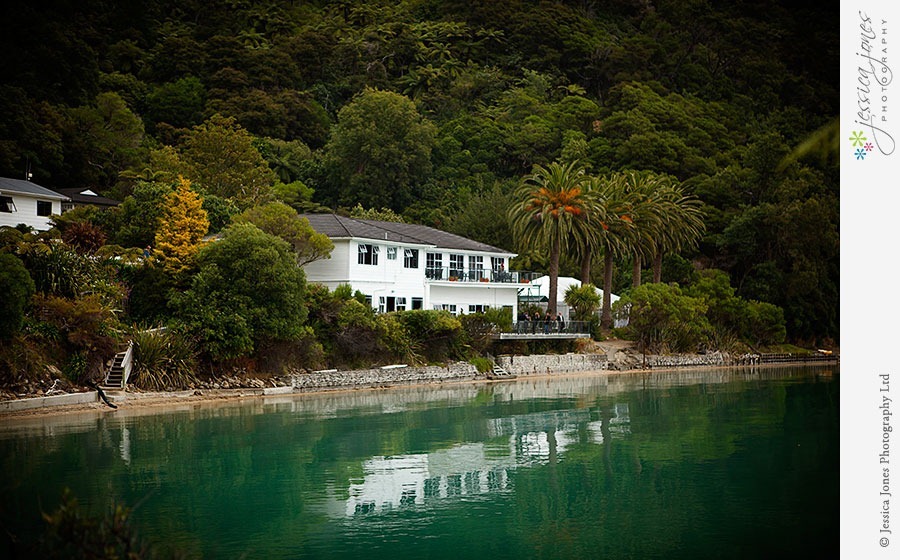 Everyone got ready onsite, which makes for a very relaxing day!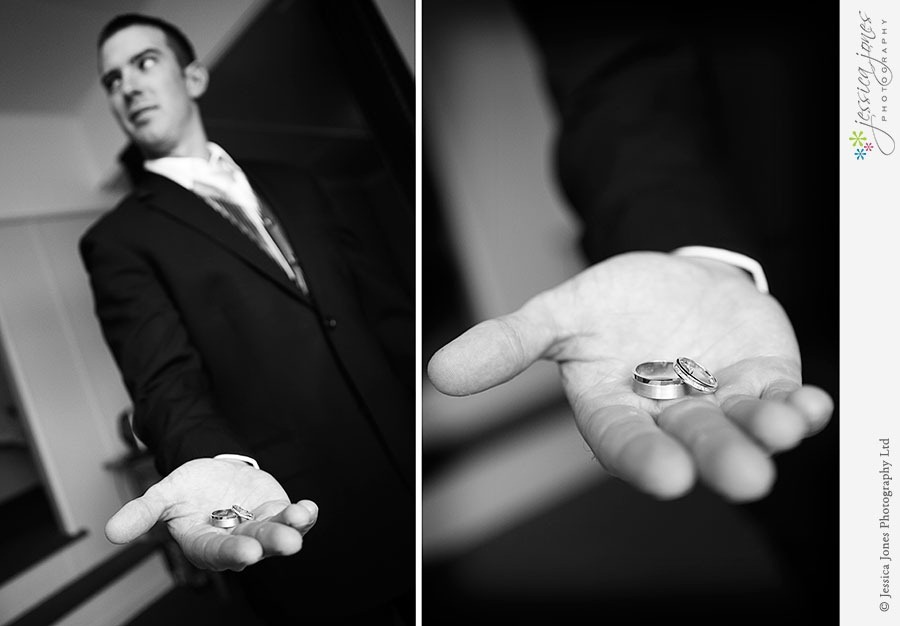 Michelle was looking stunning, and it was clear that we had dealt with her camera shyness at the engagement shoot.  Not a trace was left!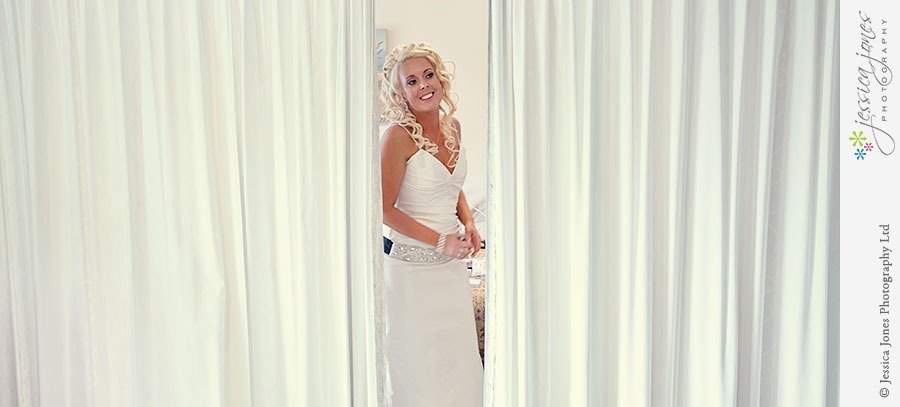 There were six bridesmaids at the ready to help with any little chore.  I wish I had that many people running after me on any given day.  I do have six kids, but I'm not sure they're all an asset just yet.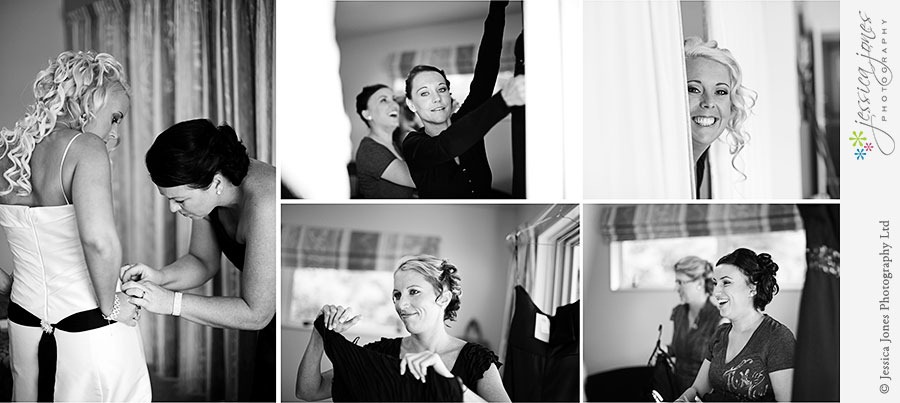 Gorgeous details!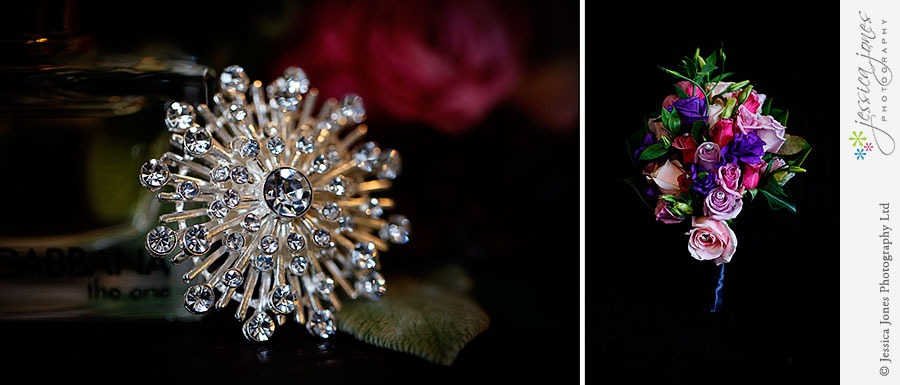 Mums know best how to fix things like button holes.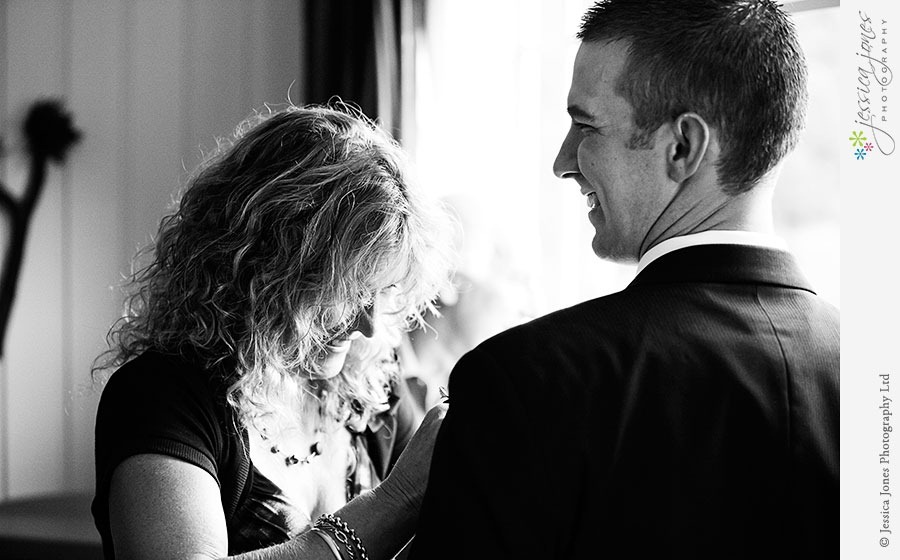 Kris and the six guys.  Looks quite impressive, doesn't it!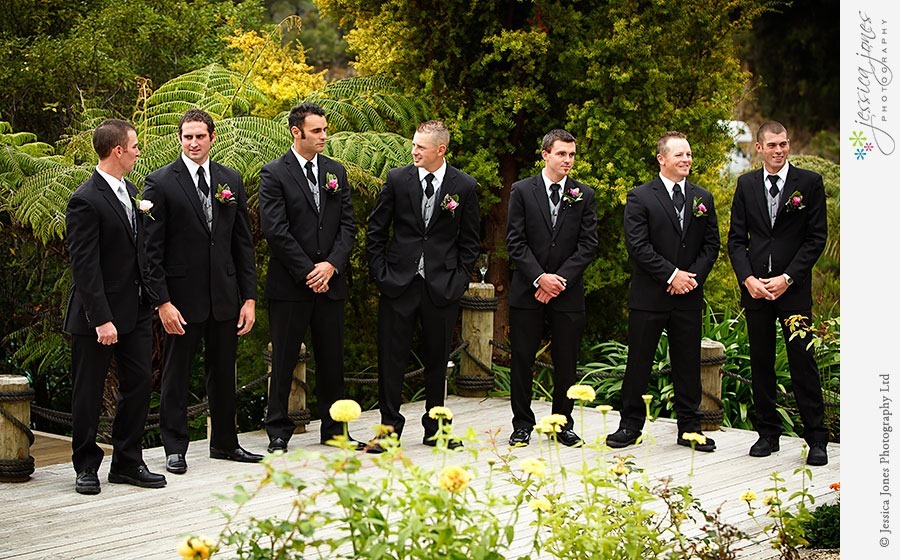 They had the cutest little girls throwing petals.  I liked them a lot!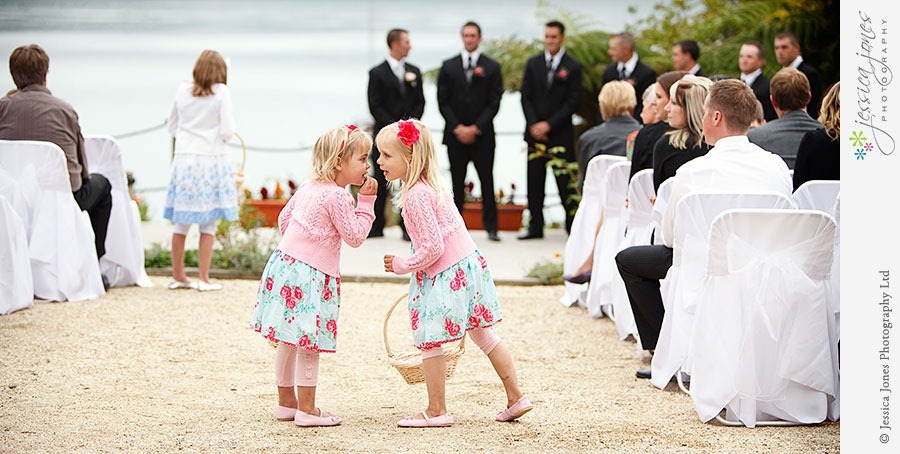 One really great thing about our job is that we are continually reminded of how important marriage is.  It never gets old hearing about making the little things count, because, you know, the little things are the big things.  Paul and I have been happily married for 16 years and sometimes I just want to call out and say "It's true you know!" during a good bit in the ceremony.  But obviously I don't, because that would be awkward.
Pastor Brent Pickworth said some really great things.  He said that marriage is nothing like a box of chocolates, you actually do know what you're gonna get.  You get out what you put in.  He spoke about a marriage being like a beautiful garden, it takes effort weeding out the small things before they become large, and planting beautiful things.  Maybe I'm just a sap, but I like all of that stuff.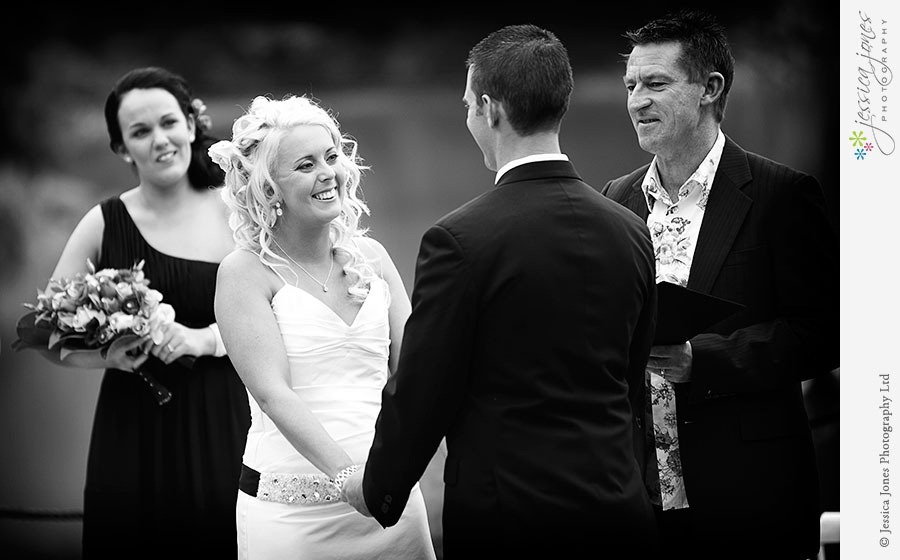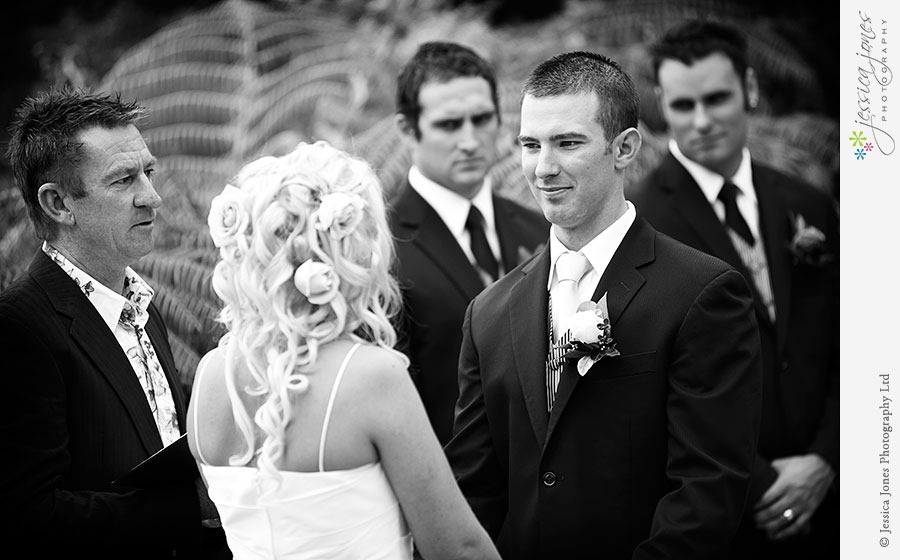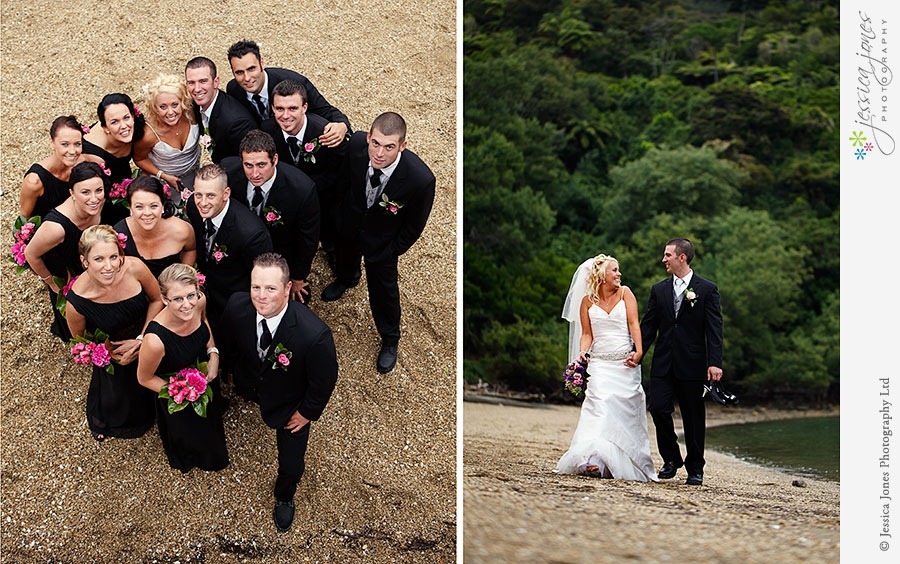 While I was photographing the girls, this kind gentleman offered me sushi.  I like sushi.  Well, I like sushi without that green stuff on it.  That green stuff makes it hot.  So hot, in fact, that your nostrils start burning and your eyes start watering while you're trying to act all cool and photograph people.  I find it difficult to be cool at the best of times.  This was not the best of times.  Major coolness fail right there.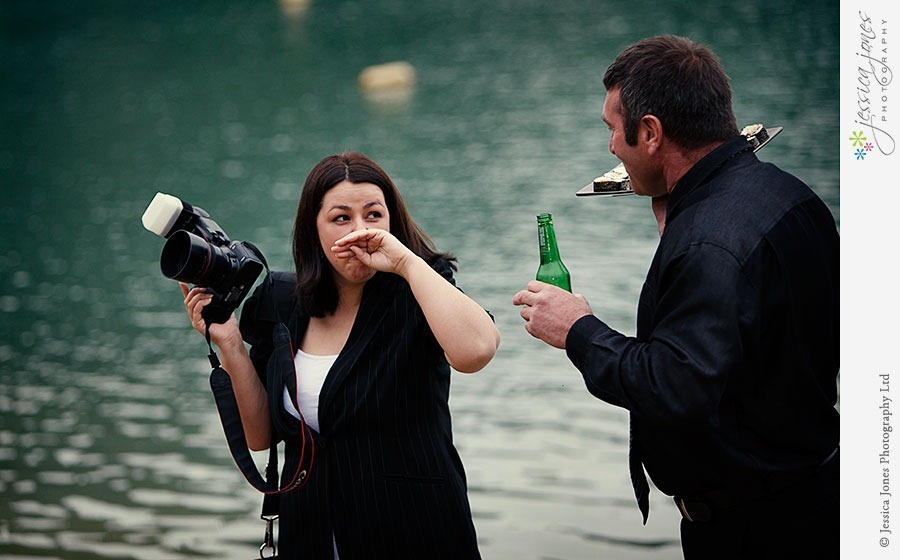 This shot is Paul's.  I was getting what I thought were ok shots, and then when I downloaded Paul's versions they were much better than mine.  Much better!  Ugh, hate it when that happens.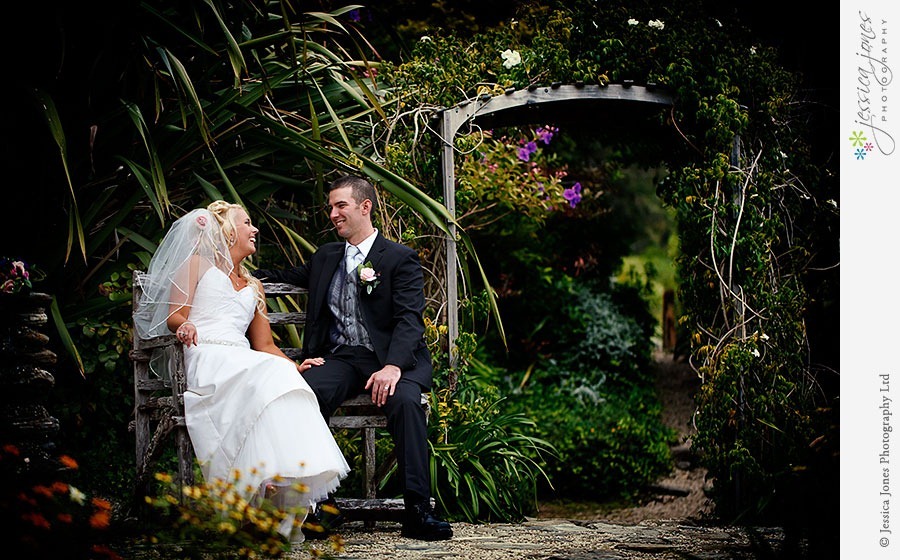 I reckon these were mine though, and even if they weren't, let's just say they were.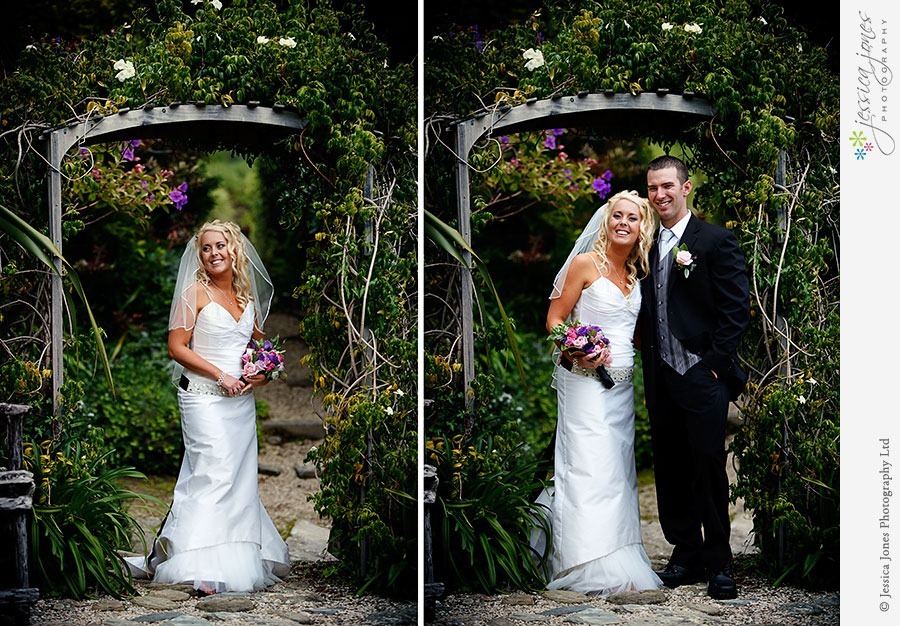 I love this area in Te Mahia!  Michelle is radiant, and just for the record, that's Paul's shot on the left, mine on the right.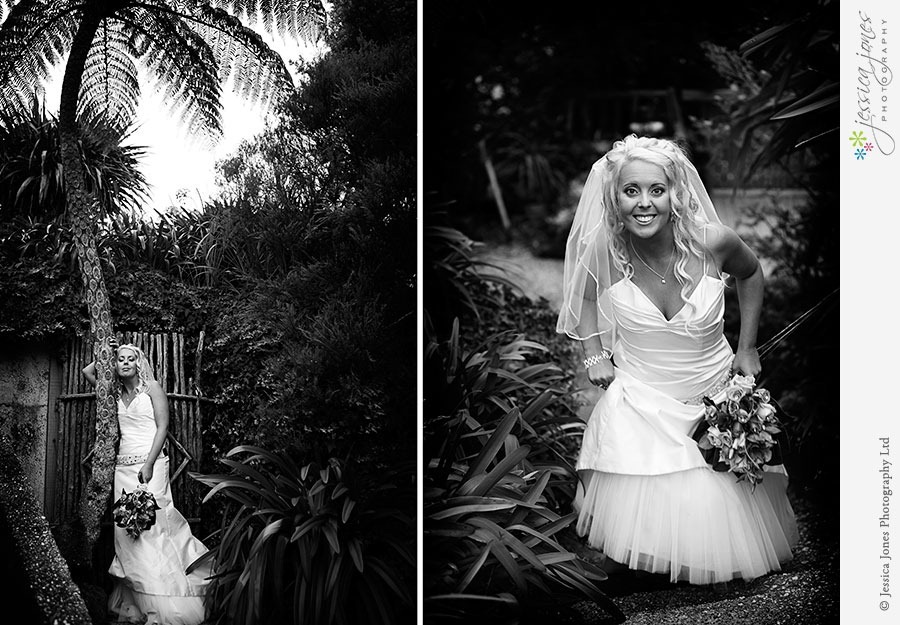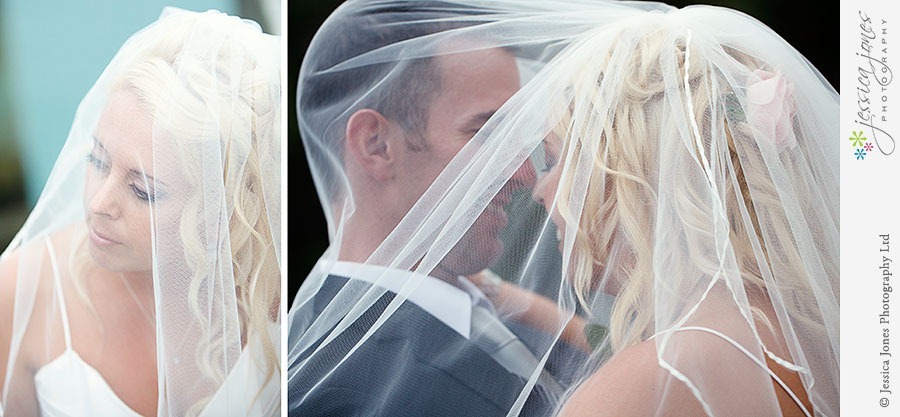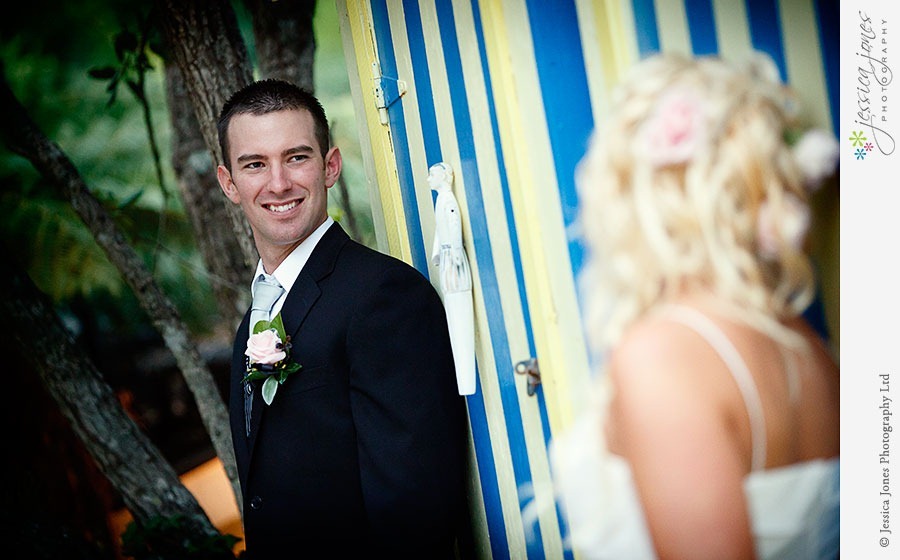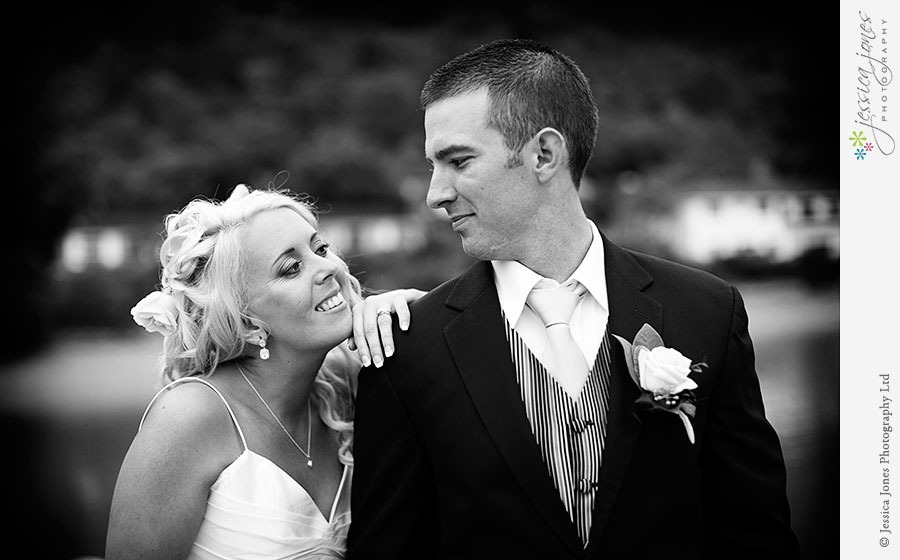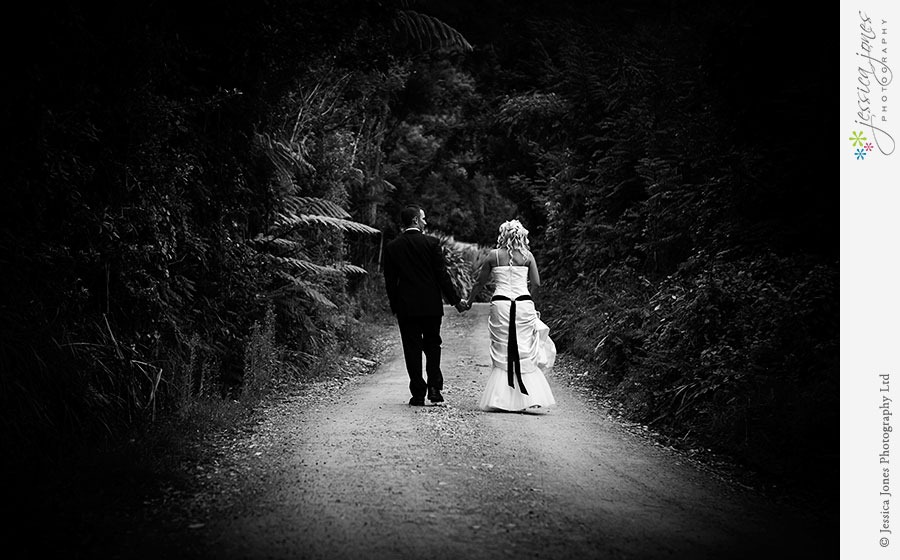 The marque was decorated stunningly!  Beautiful details everywhere.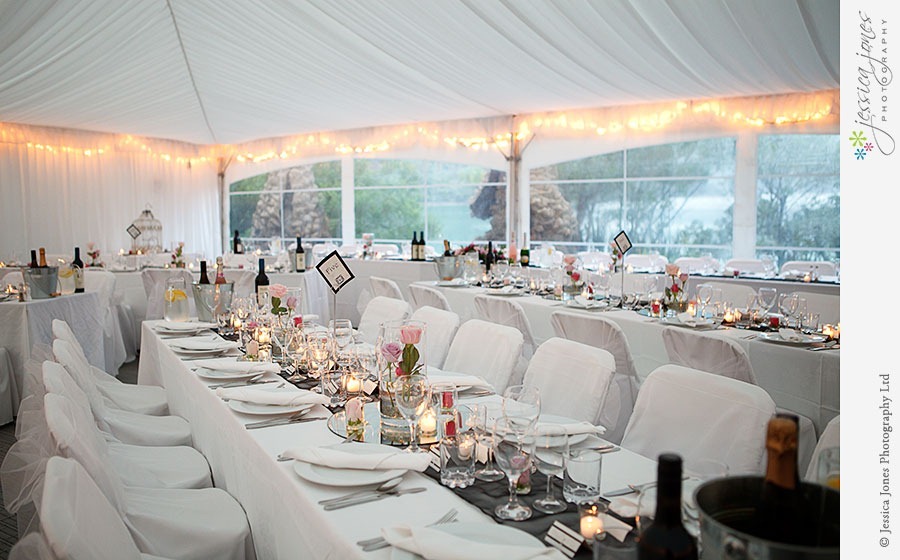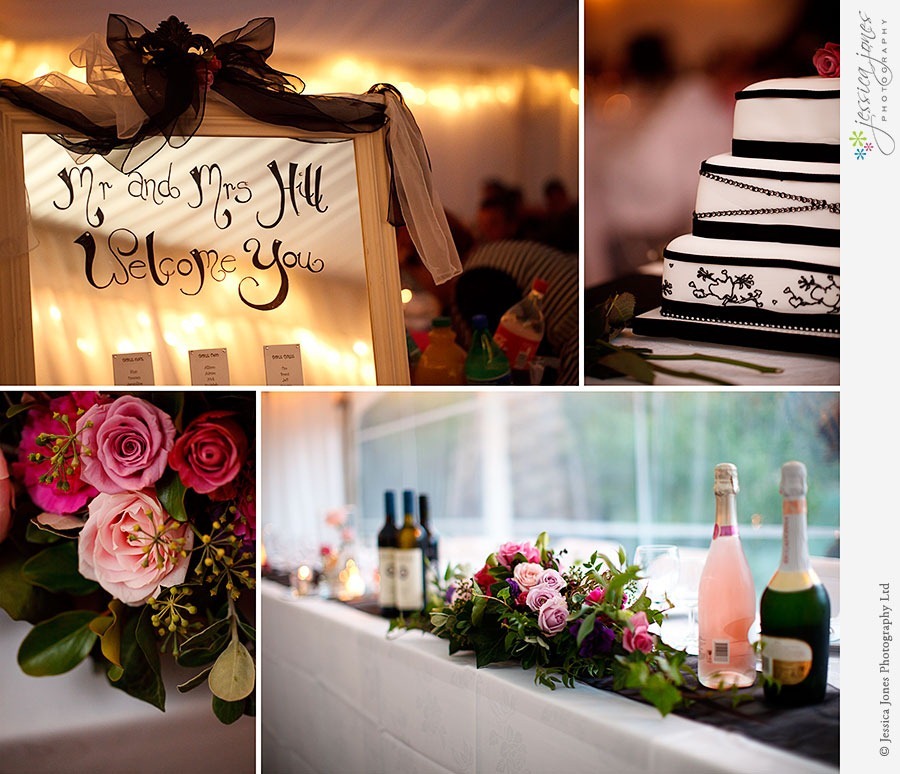 Kris and Michelle, thank you so very much for letting us capture your beautiful day.  We wish you guys all the very, very best in your new exciting life together in Australia!
Vendor Shoutout:
Leave a comment for: Michelle and Kris - Married
---
Sunday, 03 April, 2011
Posted by Jessica at
9:44 pm
Tweet
Leanne makes beautiful things.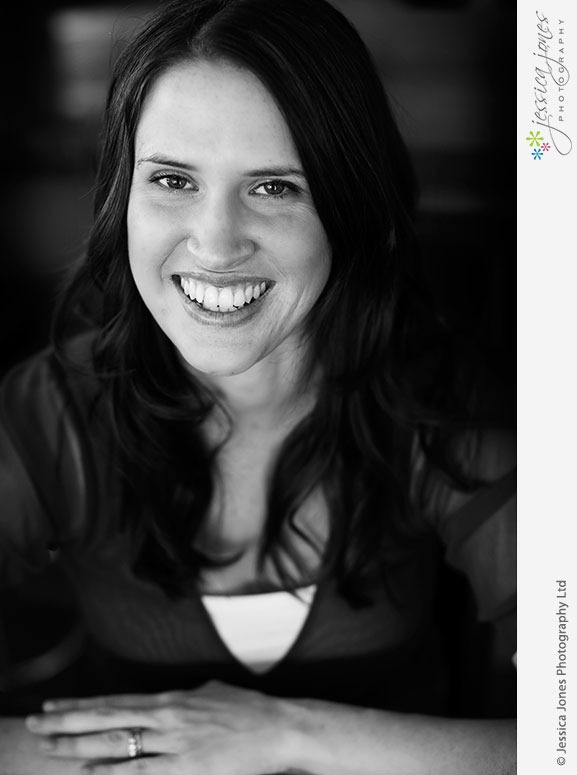 Her most beautiful creation so far is Kobe.
When we first met Kobe he was a brand new squishy newborn.  It's hard to believe it's been six months.  But it has, and my my what a cute little man he is becoming!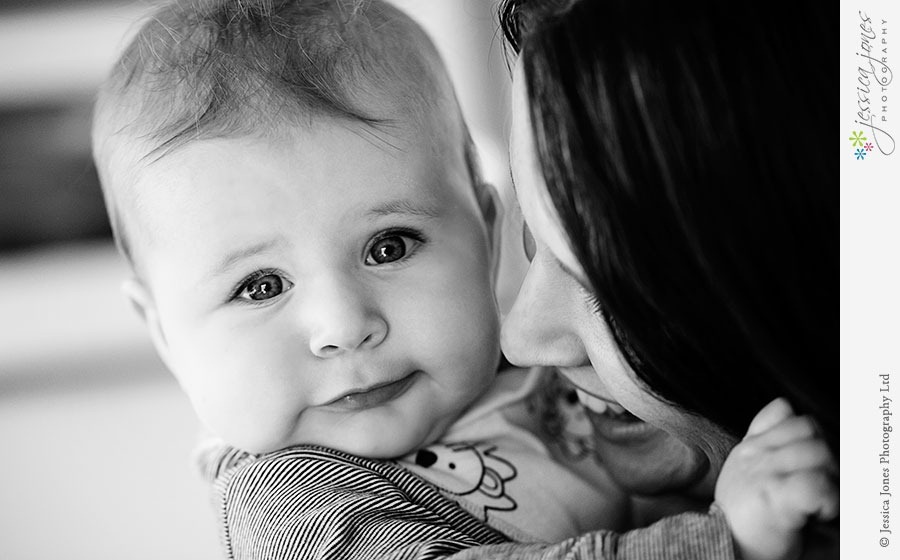 But as yummy as this baby is, this post is not actually about him.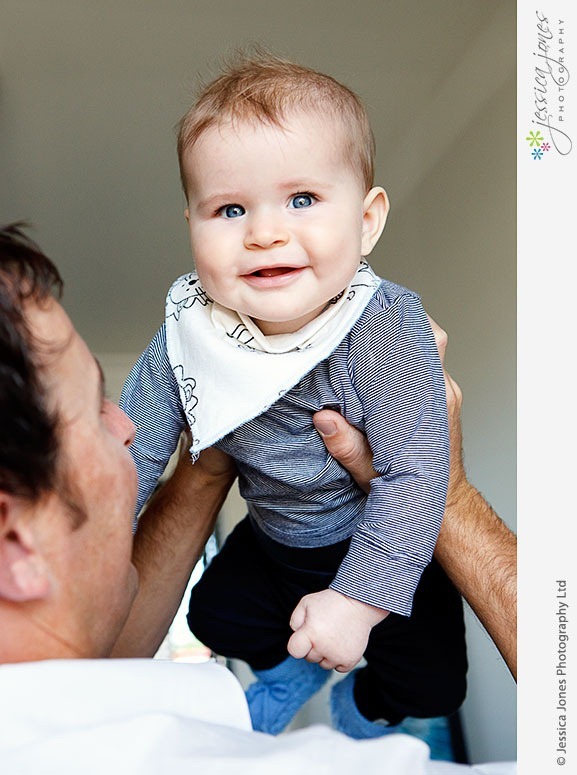 Or Aaron, for that matter, as nice as he is.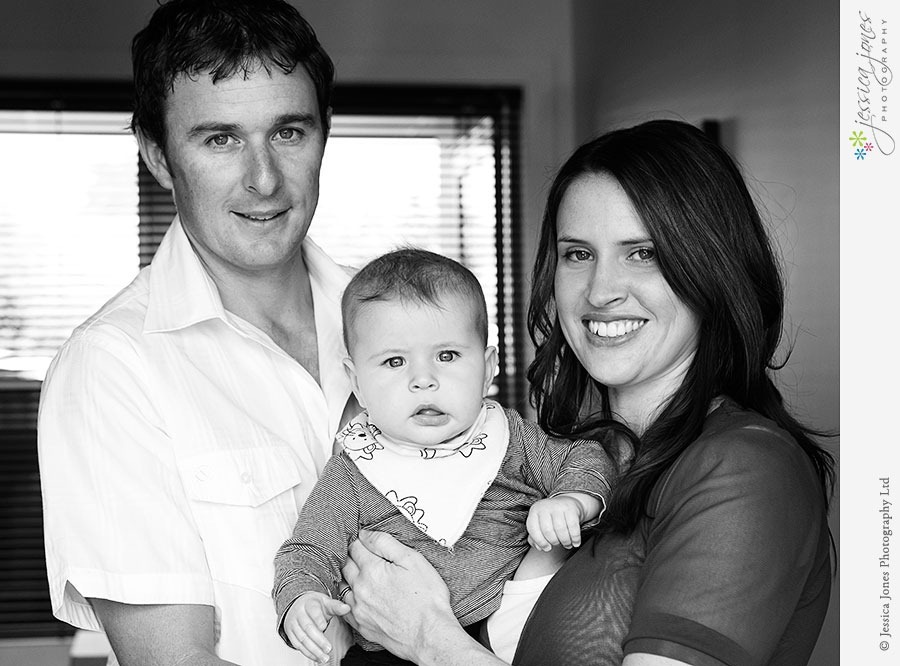 It's not about Kobe's cute-as-anything smile.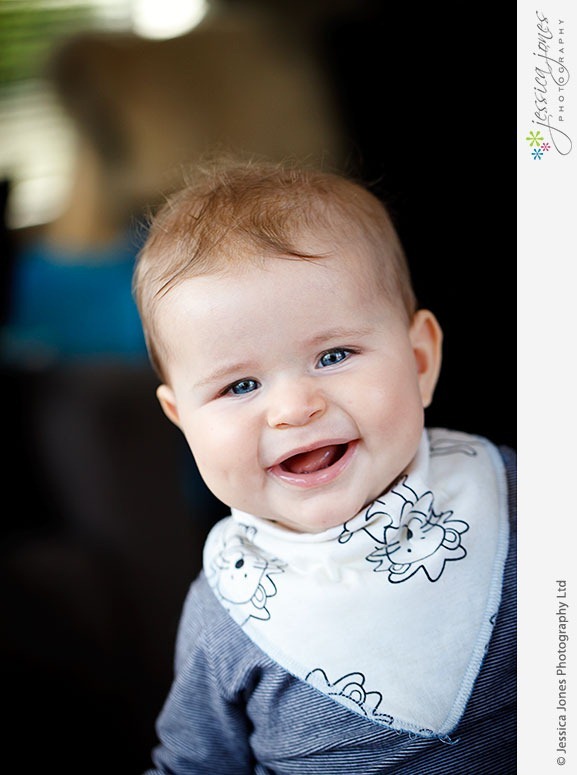 Or his puzzled and slightly grouchy face at the crazy woman with the camera making the strangest animal noises you ever did hear.
It's not about how cute he is when he cries.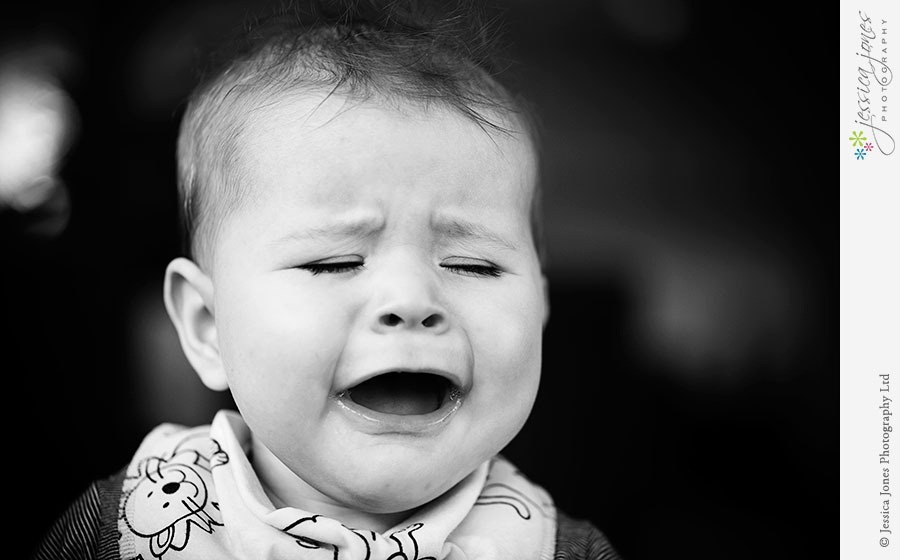 No, this post is about Leanne.  Leanne who makes beautiful things.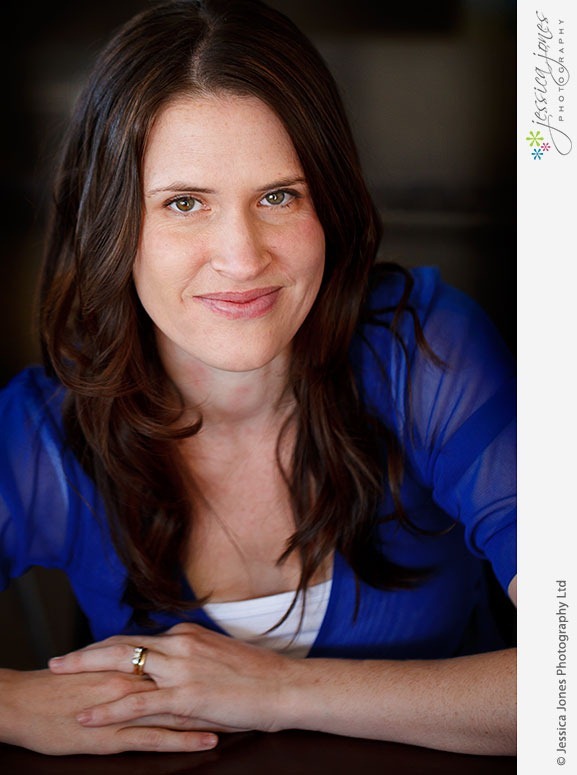 Leanne runs Vanilla Hayes, and she makes this: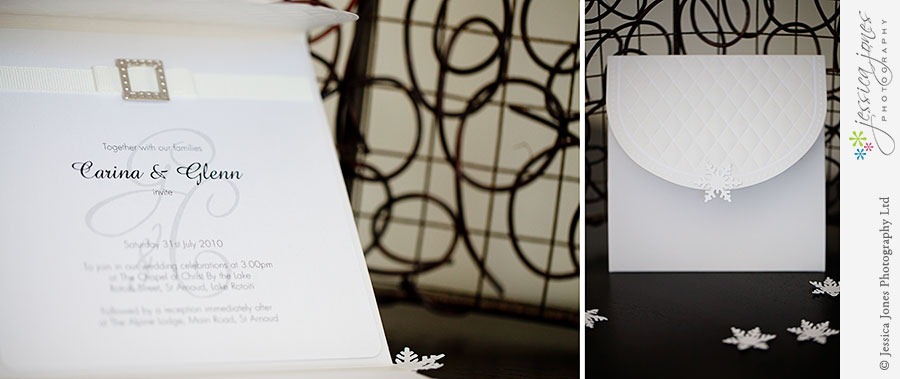 and has ideas like this: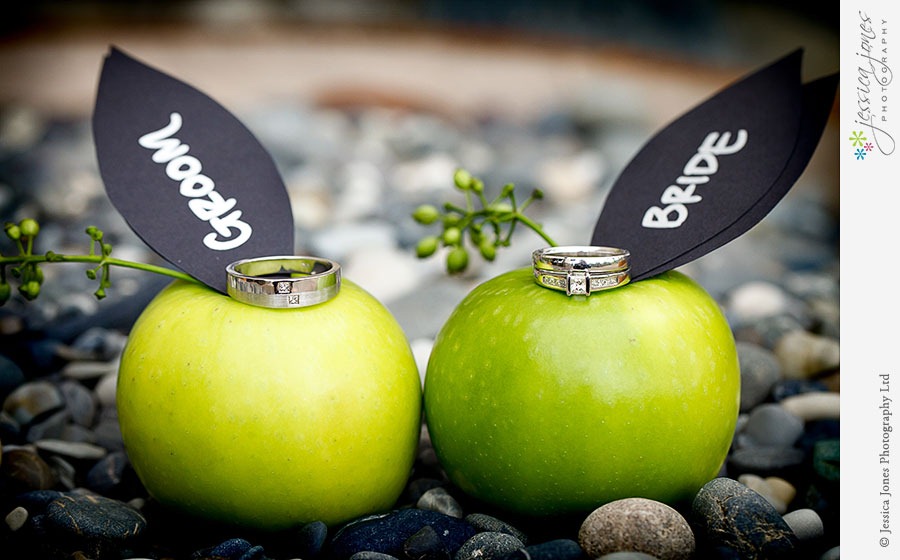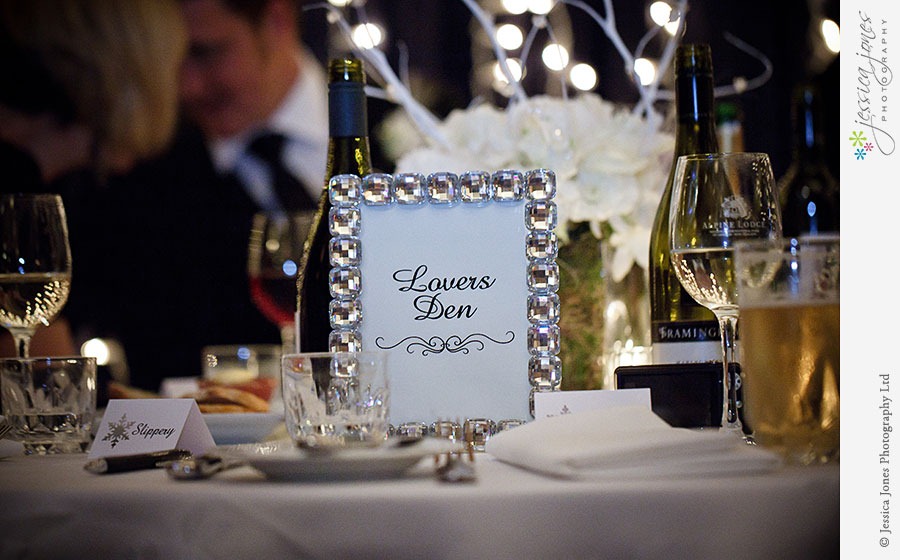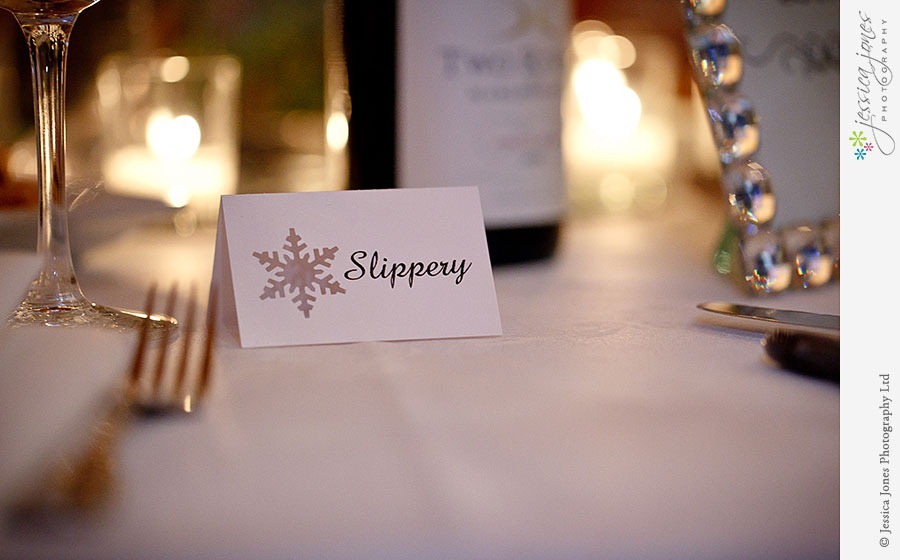 So, when I started feeling overwhelmed with life recently and started stripping back all nonessential activities, I began rethinking the way we do our Queensberry Albums.  I'm all for delegating if someone can do the job better, prettier and faster than I can.  So we proceeded to woo her one evening with chocolate and treats, and pitched the idea that she might want to become our design department.  We didn't have to try too hard, she was in!
The following week she brought us homemade muffins (one for each member of our very large family!) and we were truly wooed in return.
So we now excitedly announce that Leanne, from Vanilla Hayes, who makes beautiful things, will now be designing our Queensberry Albums.  When she agreed to do it for us, I felt a HUGE weight go off my shoulders.  I don't even mind saying that I DID dance a little jig.  So when you order your Queensberry Album from us, it is Leanne who will be sharing her amazing talent with you.  For this I am extremely grateful. 
She will continue creating invitations, seating plans and all thing wonderful for your wedding, baby shower or party, so if you're wanting something custom made for you, don't waste anymore time.  Drop her an email!  Go and like her facebook site too.  Share the love.
Ok, so let's be honest.  This post was kinda about Kobe too?.. and why not.  Just LOOK at him!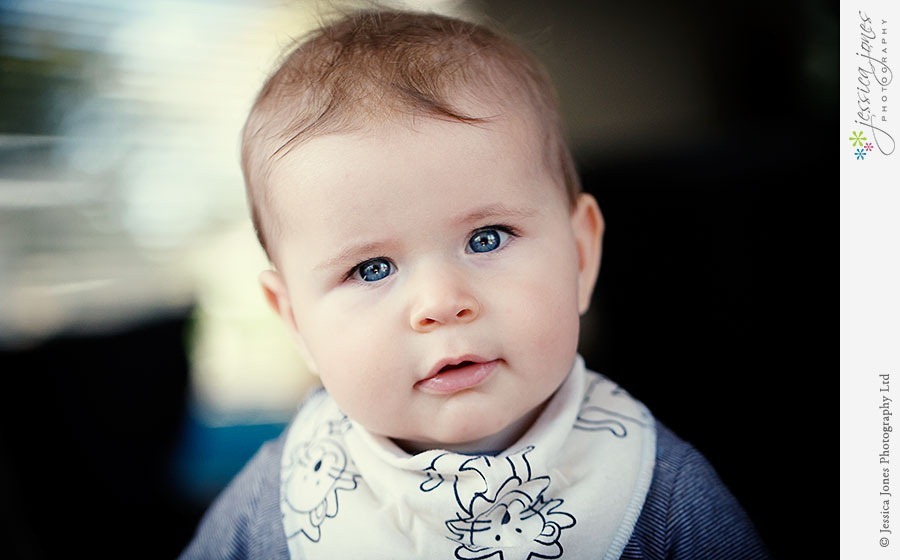 Leave a comment for: Leanne makes beautiful things.
---