Archive: February 2012
---
Tuesday, 28 February, 2012
Posted by Jessica at
6:39 am
Tweet
Duncan proposed to Lorna at her favourite place in the whole entire world, Loch Lomond in Scotland.  A couple of years later and 12,000 Miles away, Lorna said "I do" in the place that means the absolute world to Duncan, Homewood Bay in the amazingly beautiful Pelorus Sound.  That, my friends, is love. 
Duncan and Lorna's day was as special as they come.  It was filled with friends, family, heritage and beautiful smiles.  The biggest smiles belonged to Lorna and Duncan, every time they looked at each other they lit up.  This, of course, meant that we had endless opportunities to make beautiful images. 
Lorna and her girls arrived at Locks and Lashes bright eyed and bushy tailed and super excited about a most eventful day ahead of them.  Deirdre and Mary Anne did the most spectacular job of their hair and makeup!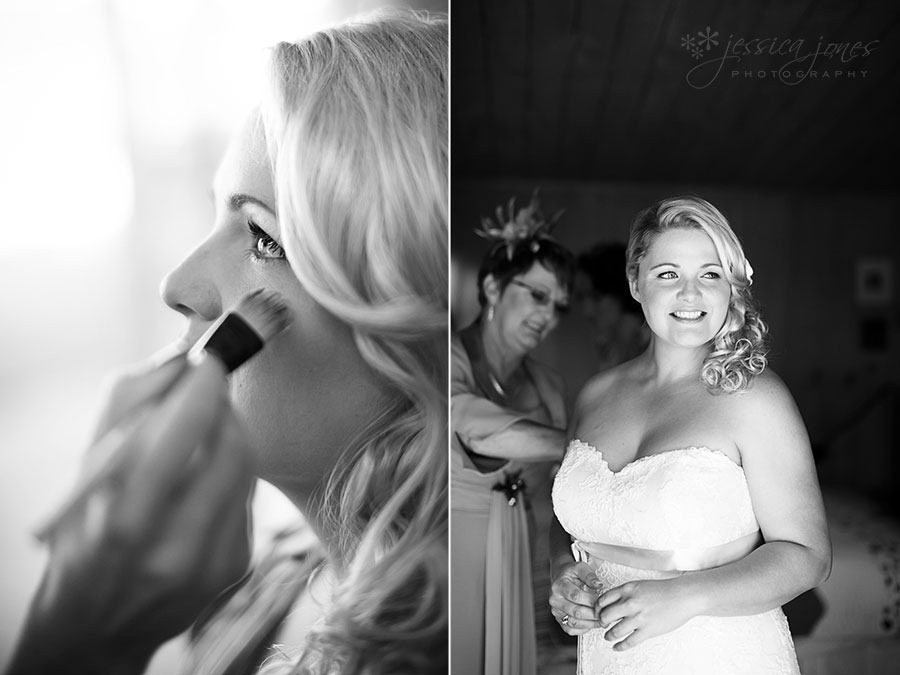 Lorna, you are so beautiful, I can barely stand it!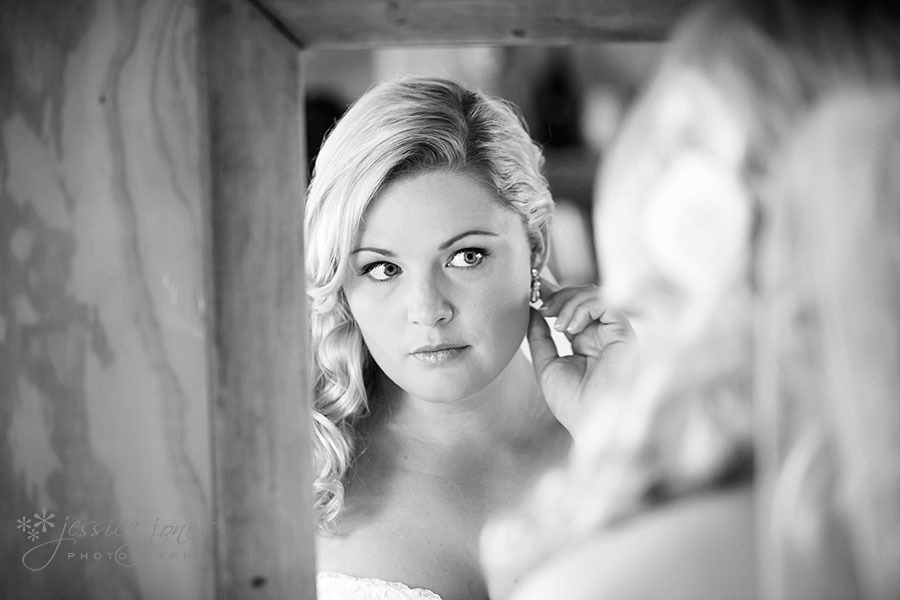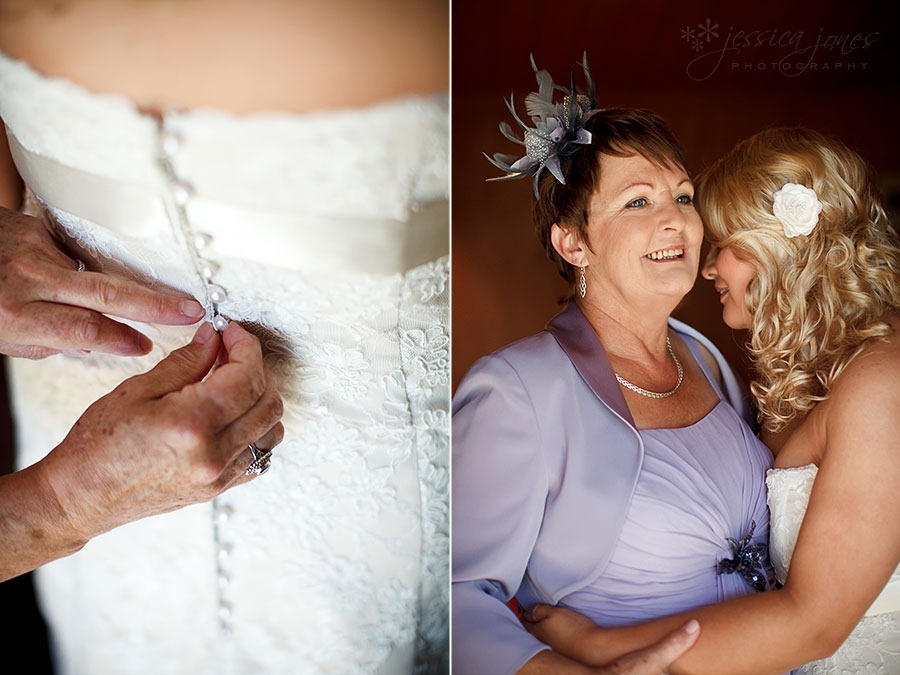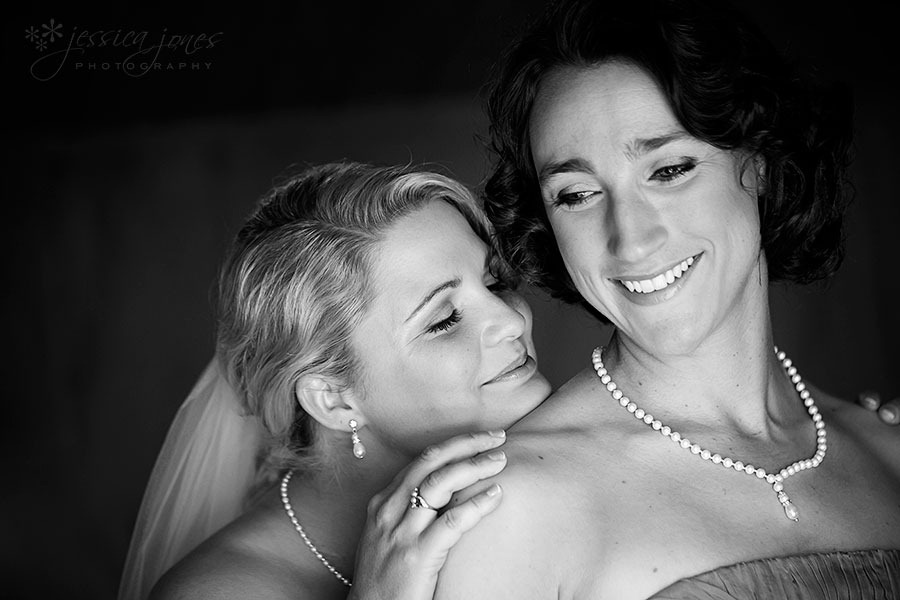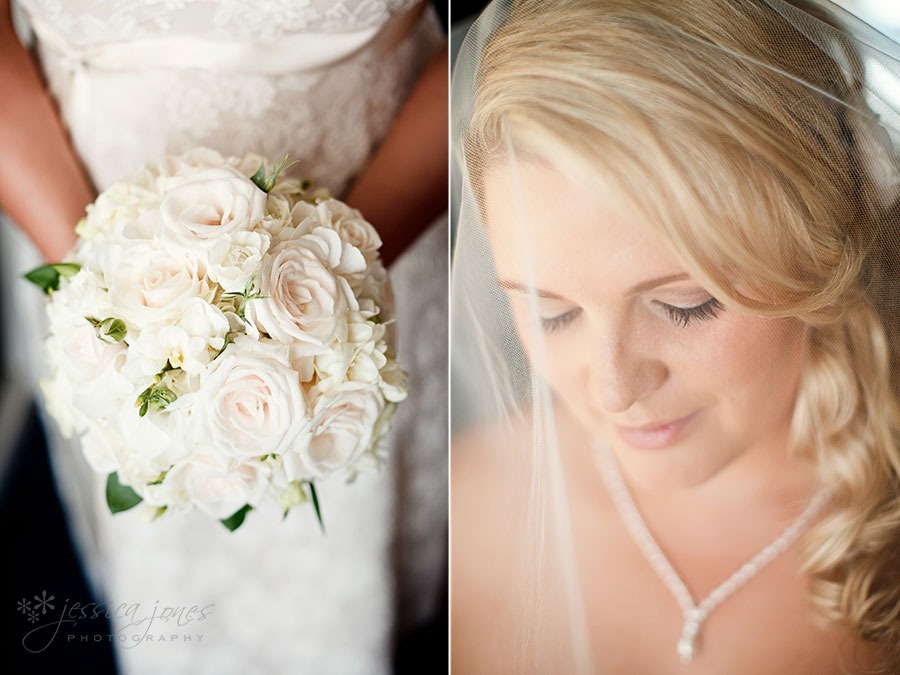 Lorna's Mum and Dad came all the way from Scotland, and brought with them some beautiful family heritage.  The sword has the words "Si Je Puis" inscribed on it, meaning "If I can".  This is the motto of their family's clan.  The ring belonged to Lorna's Great Grandmother.  It was her engagement ring and it has now been passed down to Lorna.  How special!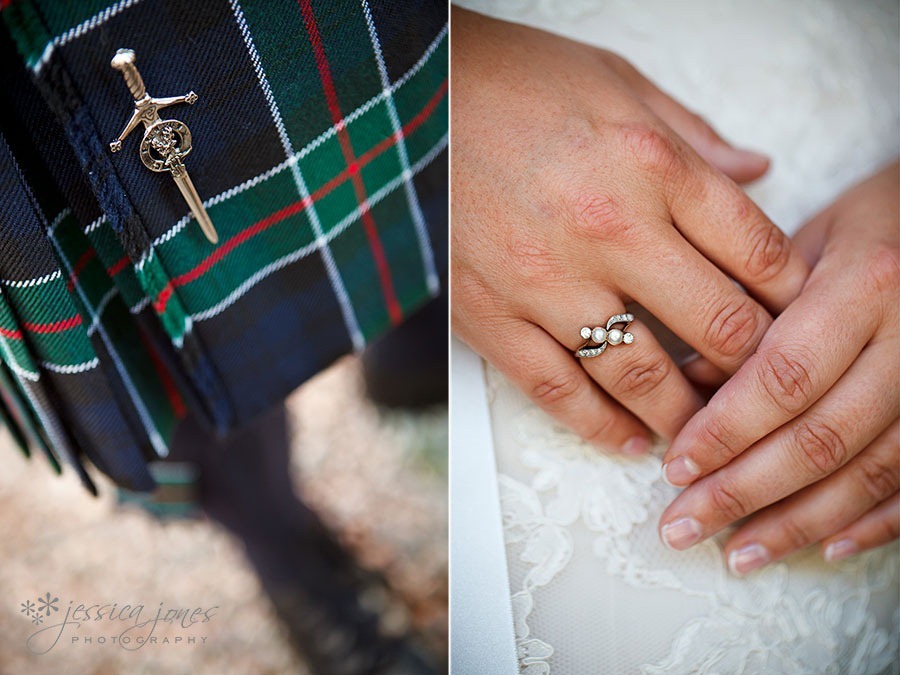 This is the moment that Dad gets to see his little girl as a bride for the first time.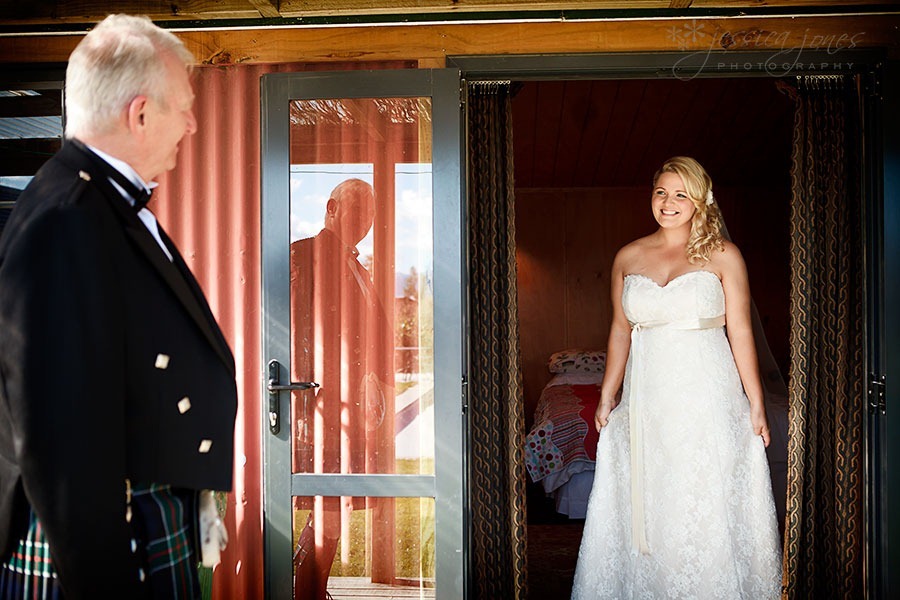 Heart.  Melt.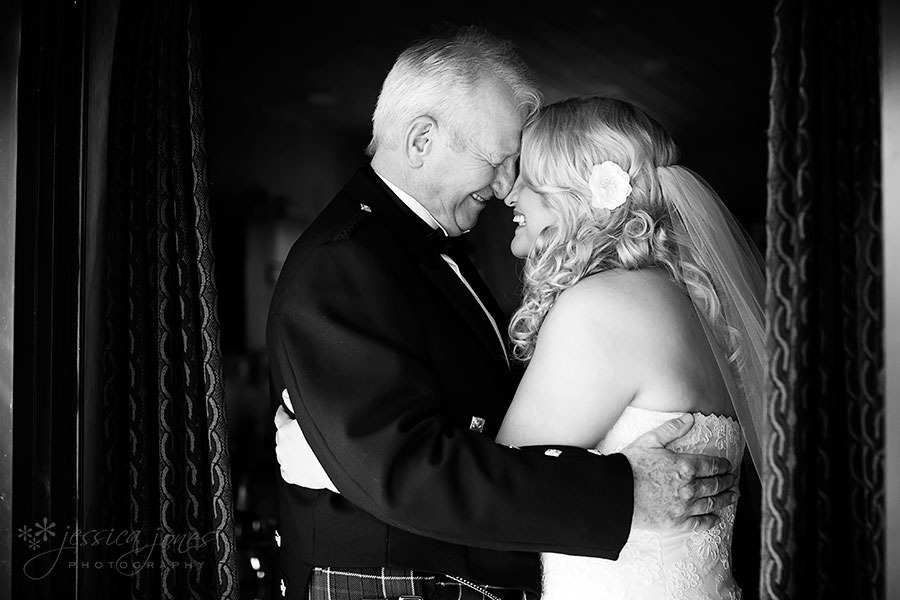 Meanwhile, Paul was with the rest of the wedding guests in Havelock boarding the Odyssey and travelling towards Homewood Bay.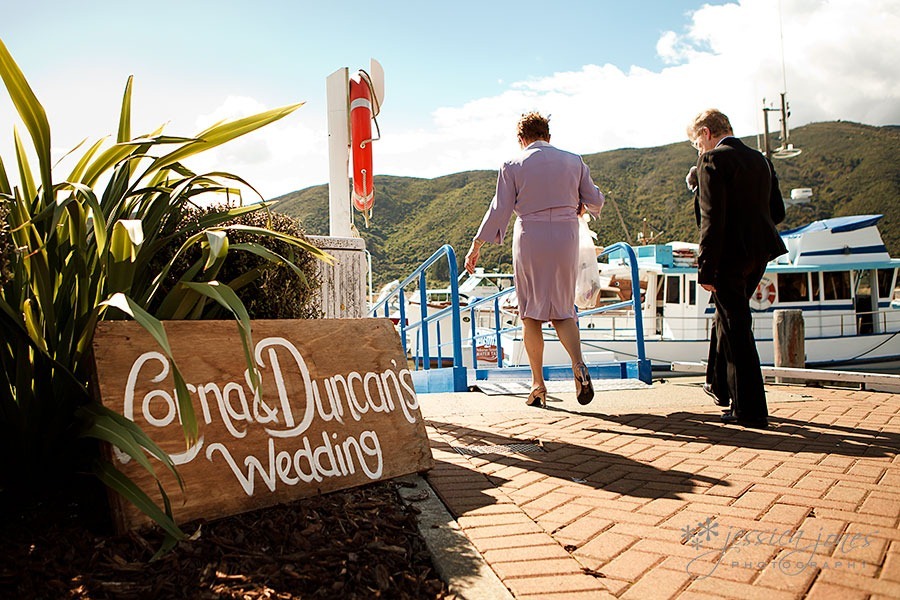 At least one of the guests had a knife in his socks.  I figure that because he also wore a kilt that it must be a Scottish thing, and he's not necessarily a random off the street...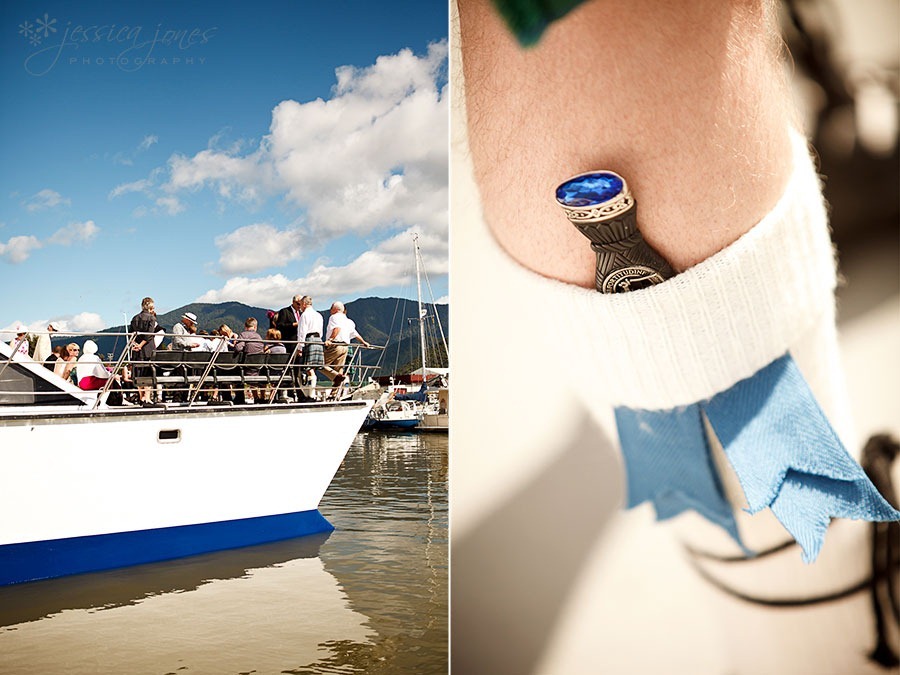 We followed along behind, plenty far enough behind for no one to spot us.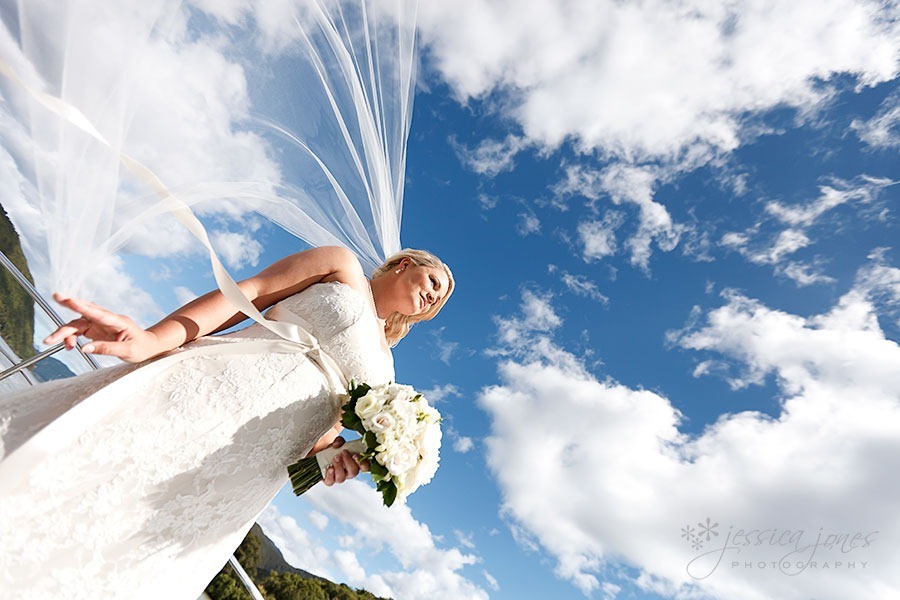 We passed the time by driving the boat....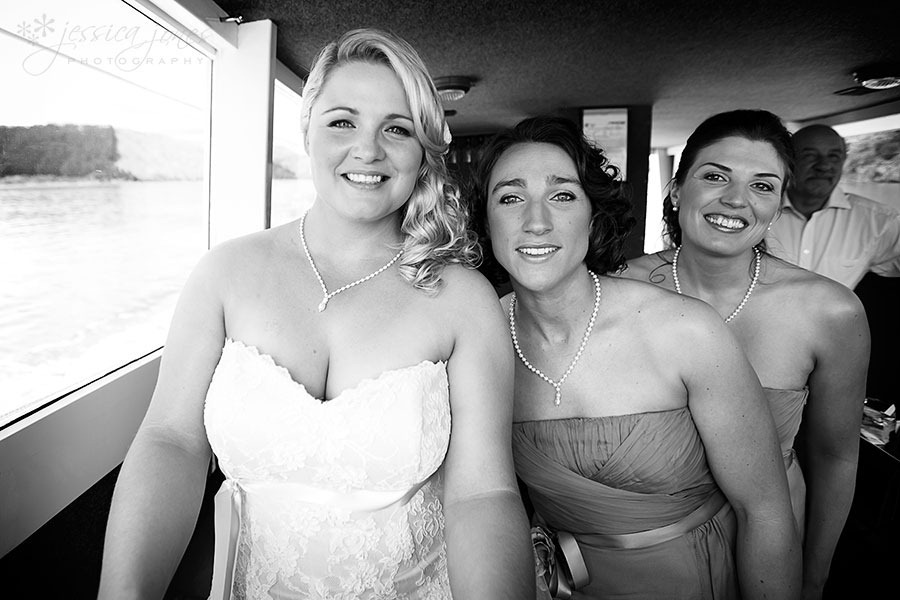 and taking pictures of each other.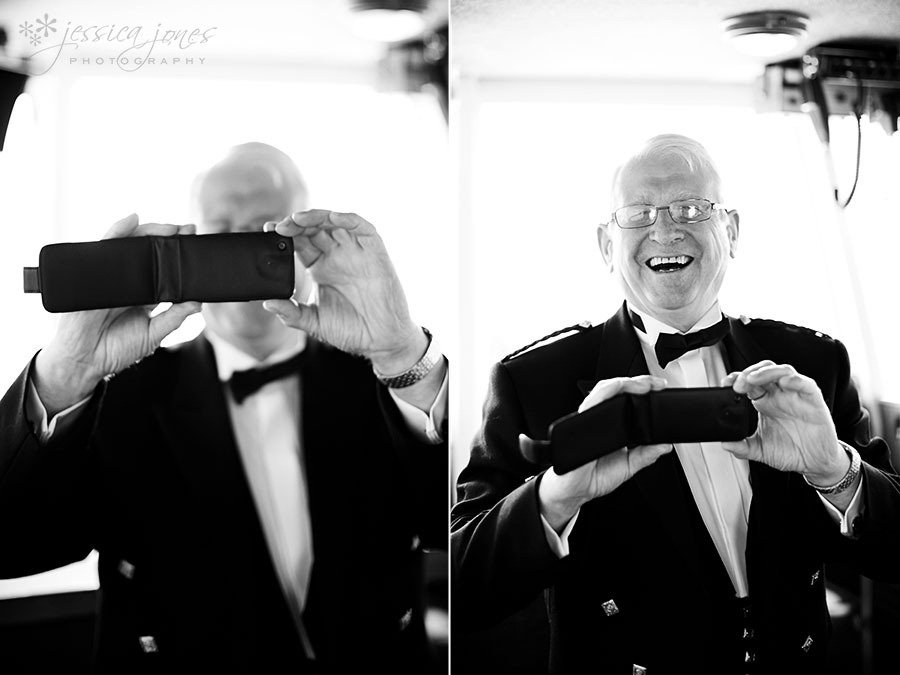 Finally, the guest boat reached its destination - Homewood Bay.  This has been part of the Humm family for over 30 years and I can see why Duncan loves it so much.  It is gorgeous.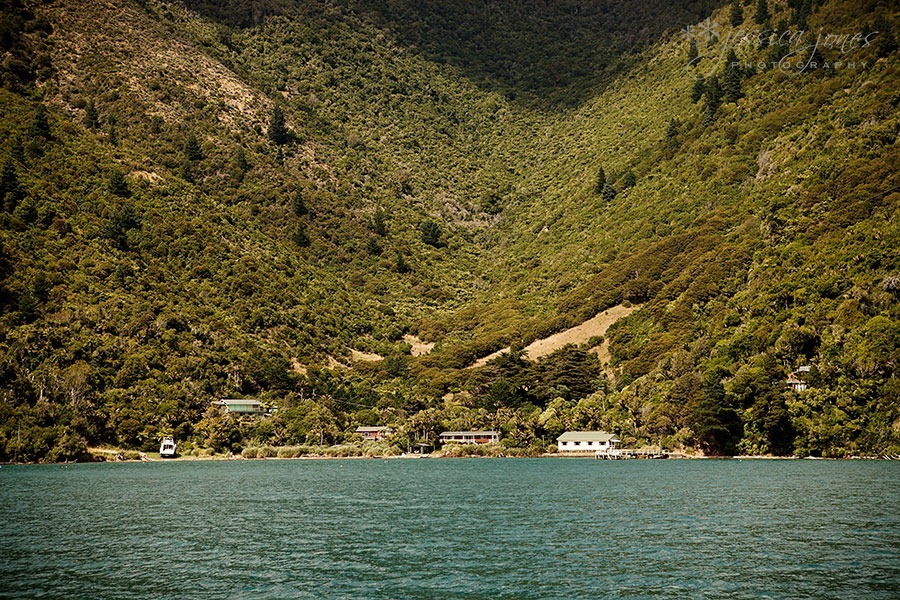 The welcome party.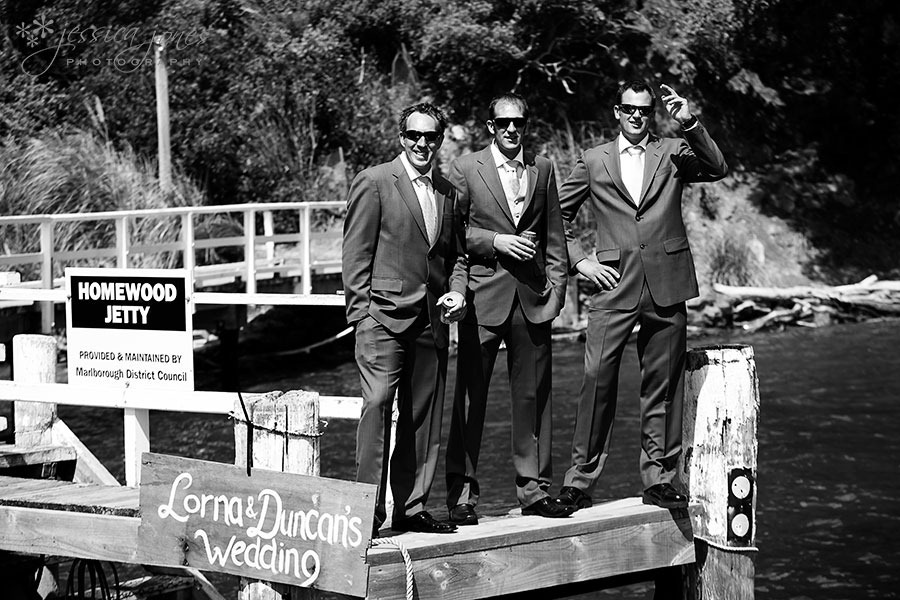 As our boat arrived Lorna's Uncle Jim piped us in.  It was beautiful.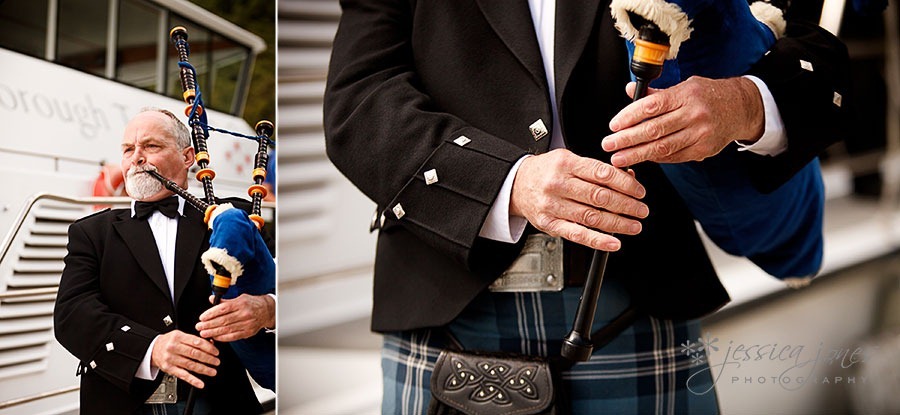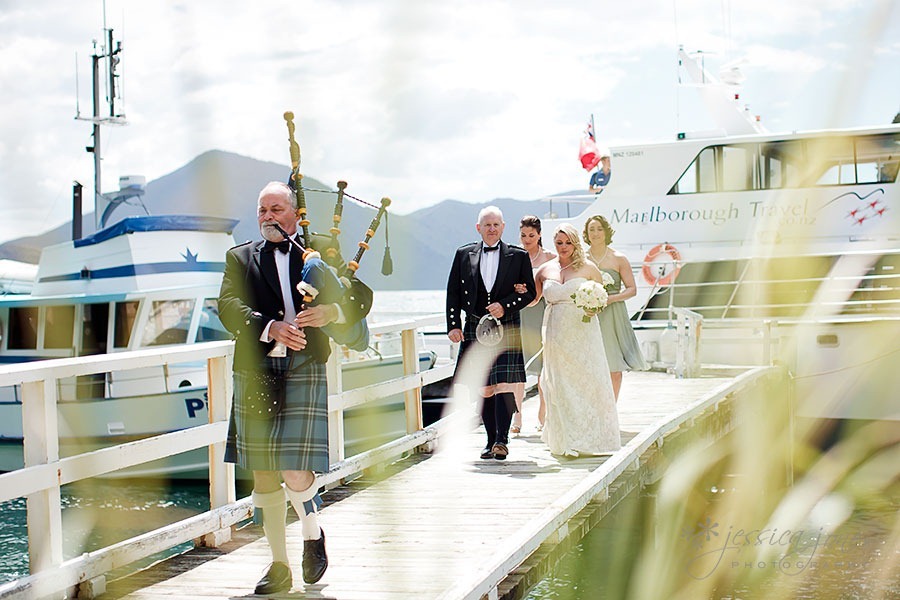 What a fantastic setting to get married in!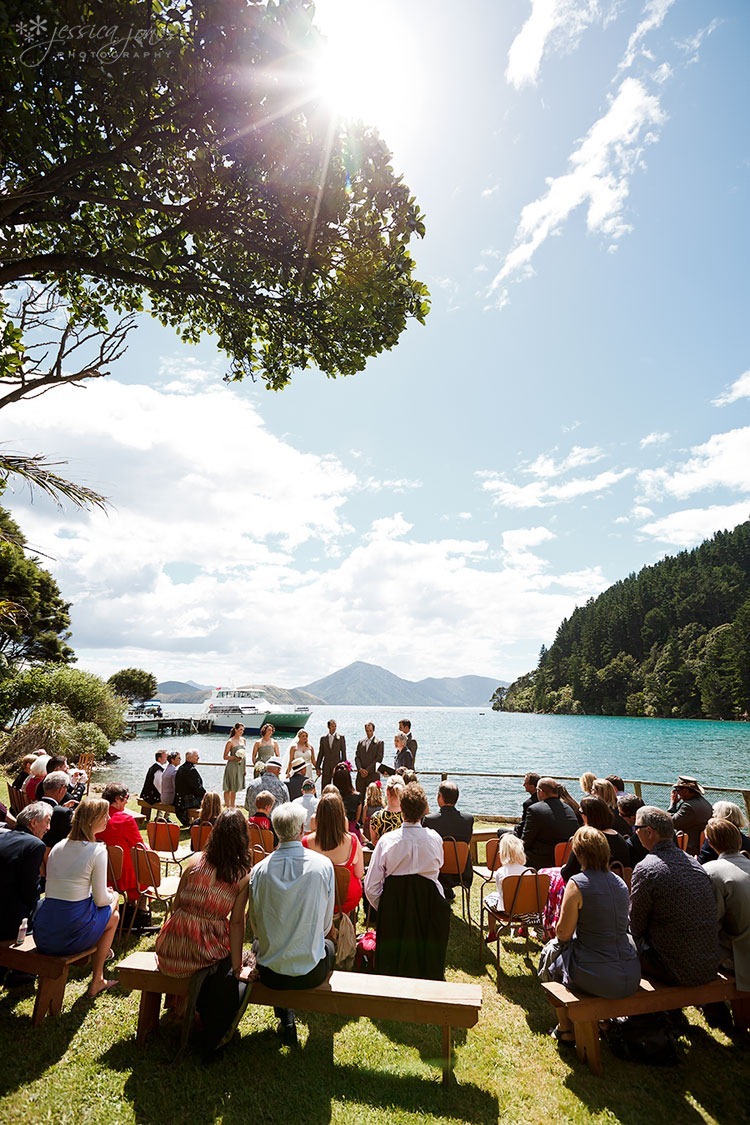 And just look at how they look at each other.  It's almost like no one else on the planet exists at that very moment.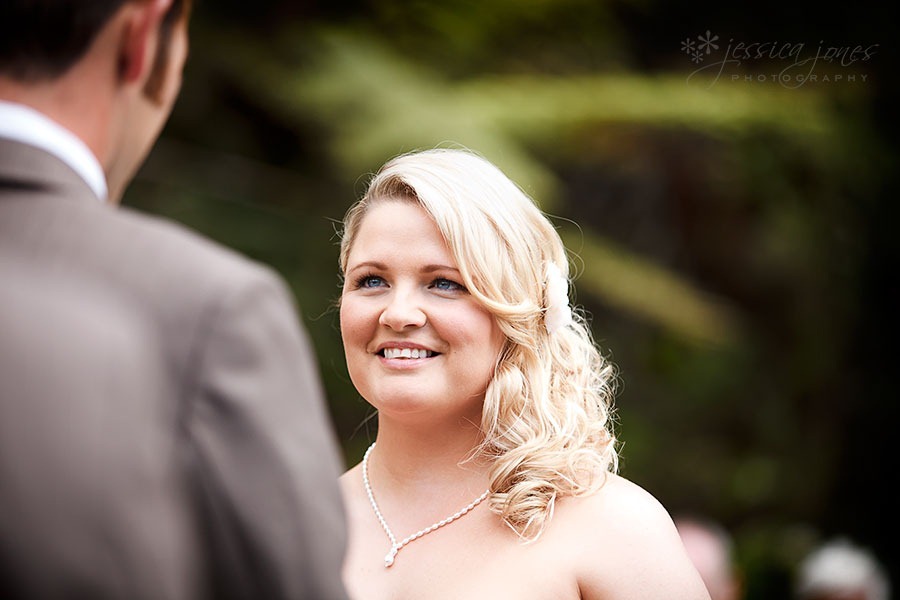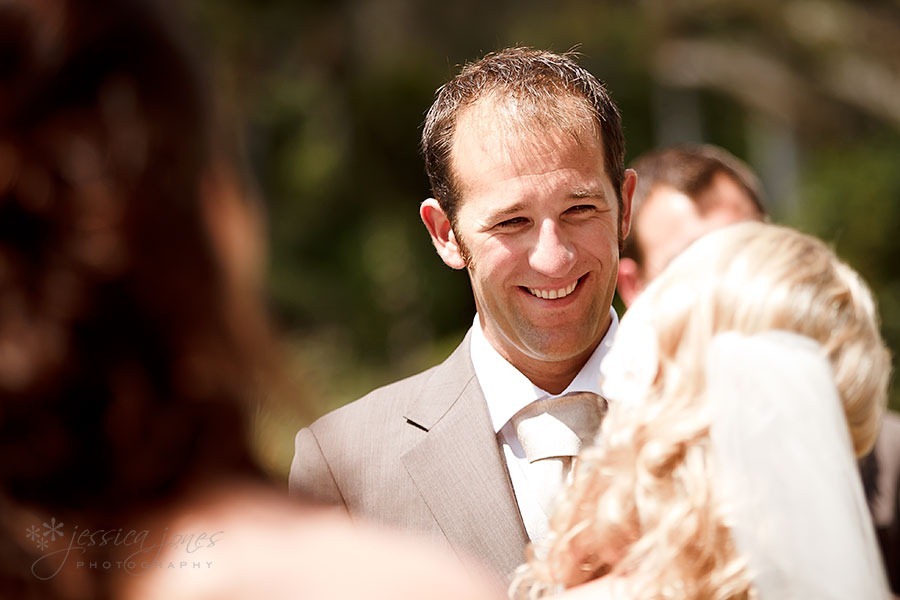 Best view in the place!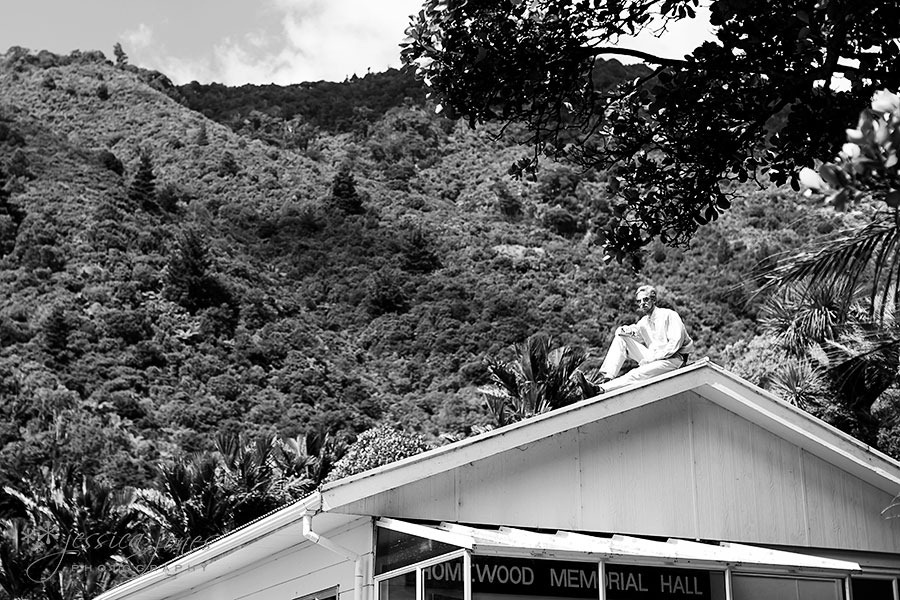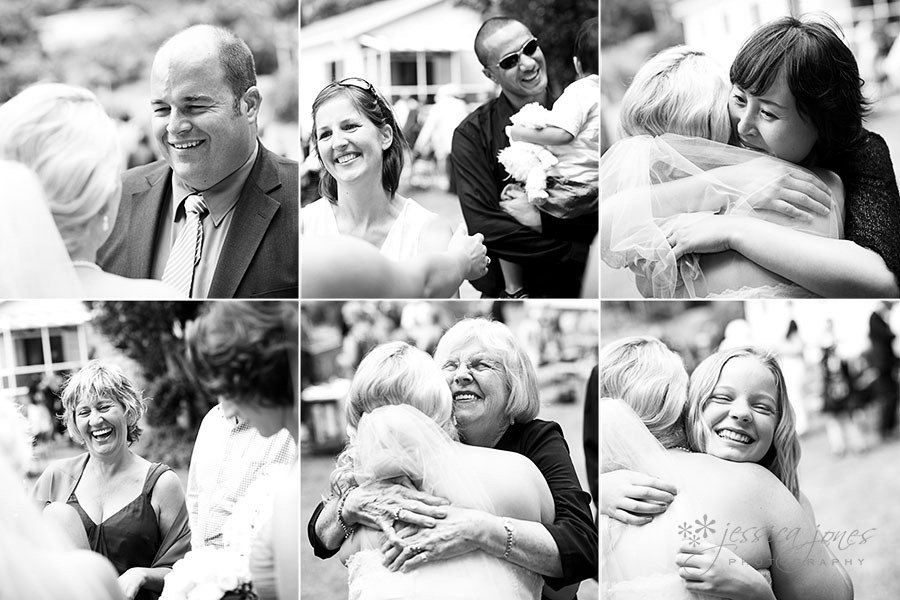 Inside the batch were old images from Duncan's family.  So much history and I can't help but be grateful that we were able to contribute to the on going story of Homewood Bay and the Humm family.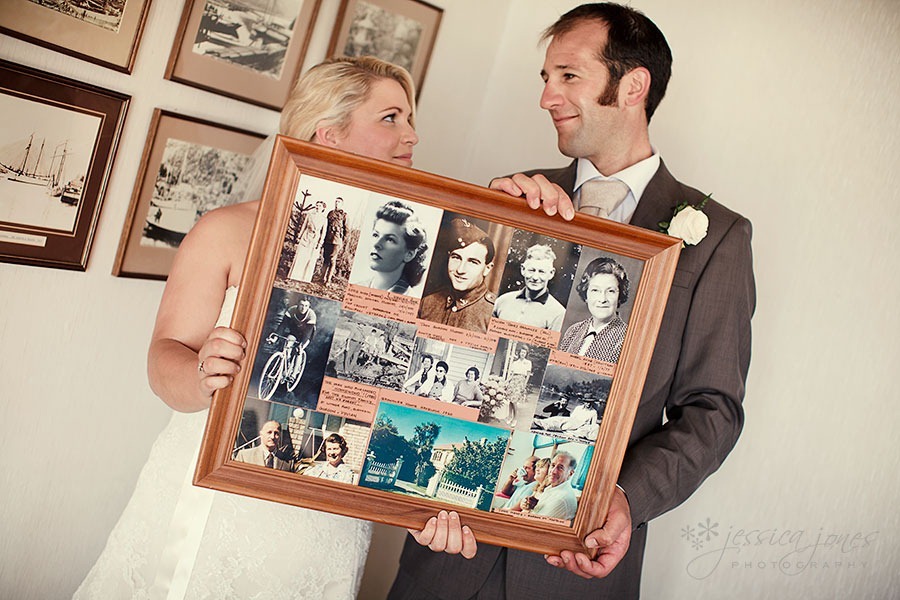 You can't find a nicer couple than Lorna and Duncan.  You just can't.  I dare you to even try. They are up there with the super heroes of niceness.  If there was a hall of fame of nice couples, their photo would be hanging there, right on the top row, and they would look awesome in that photo.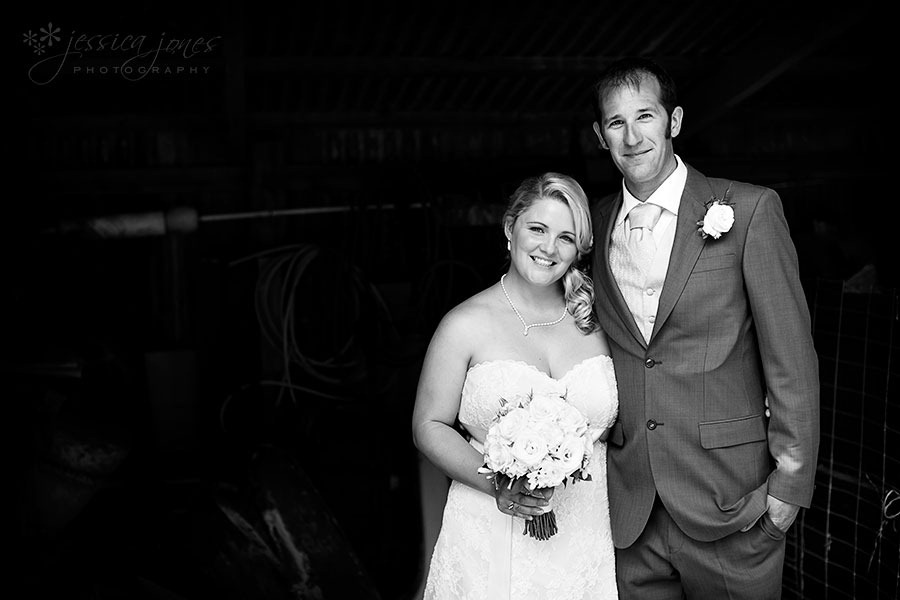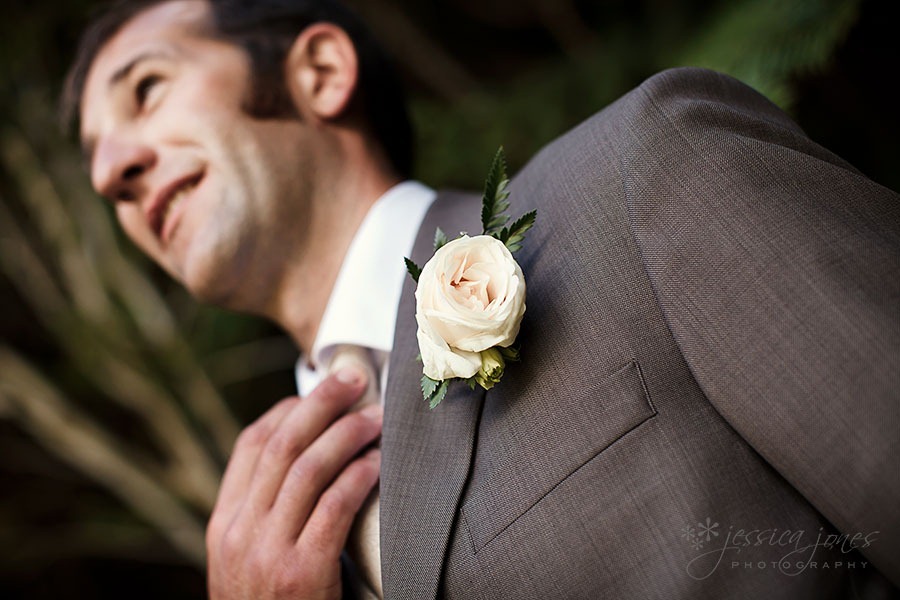 We continued on our adventure of a wedding day and everyone hopped back on the boat and headed back to Havelock.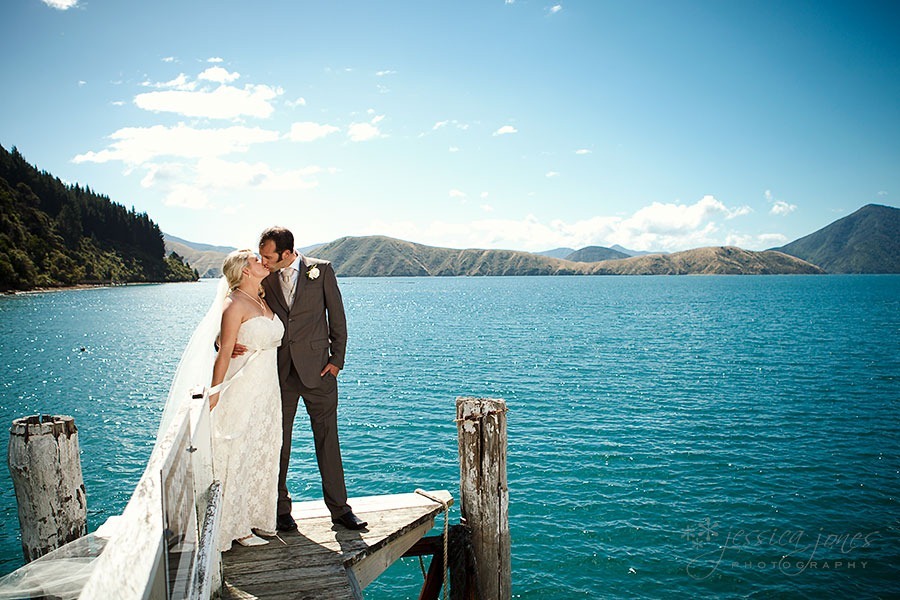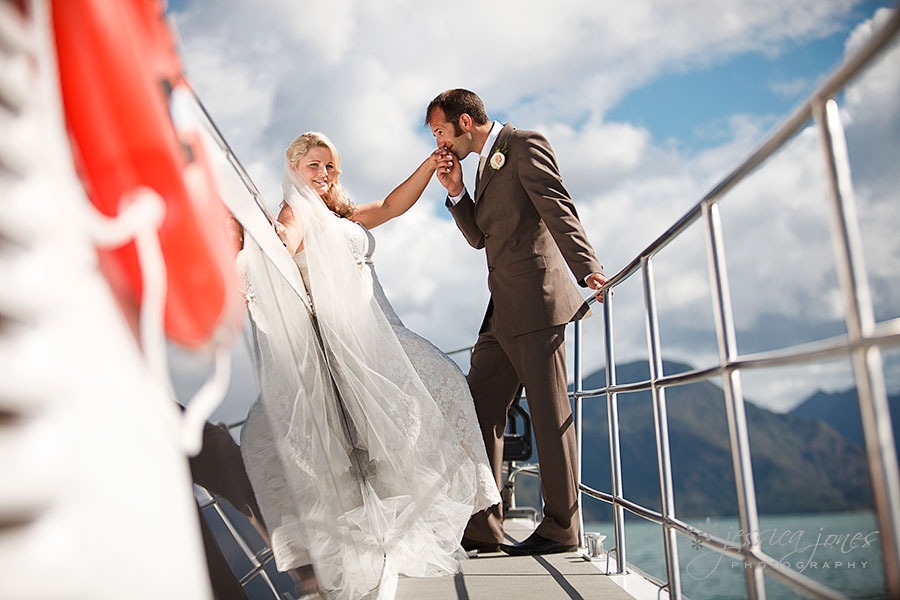 This was Paul's shot and I think he may have done an internal happy dance when he took it.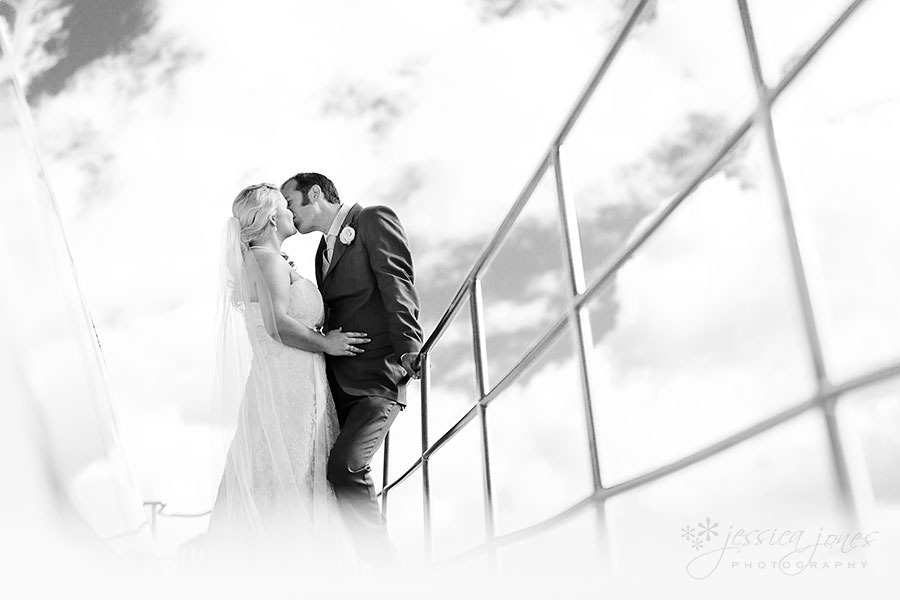 The next stop in our adventure took us to Brownlee House.  Duncan's Great Great Great Grandfather (I think that's enough greats?) built it in the 1880s.  It was the first house built in Havelock and owned and loved by the Humm family for many, many years.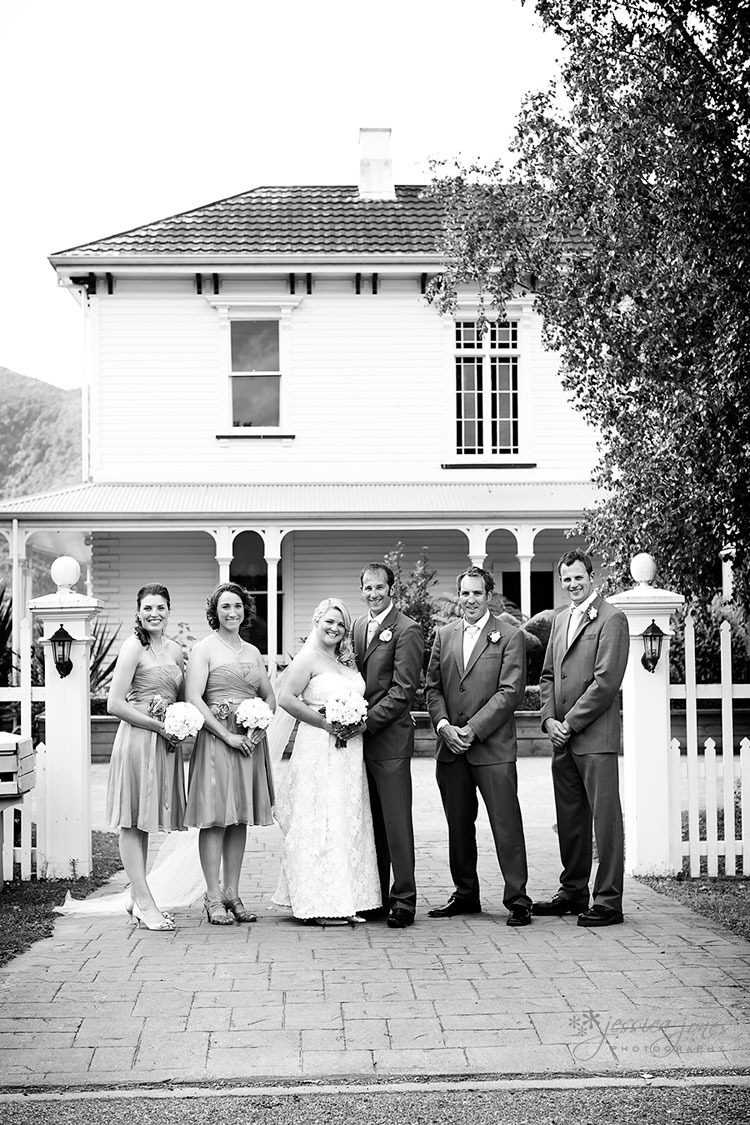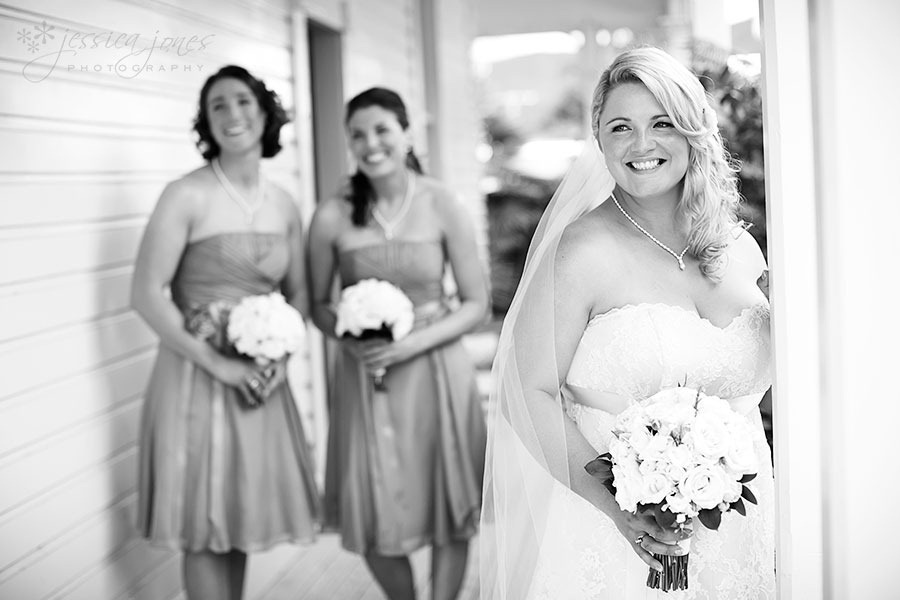 Flowers by Nina at Pink Poppie.  Perfection.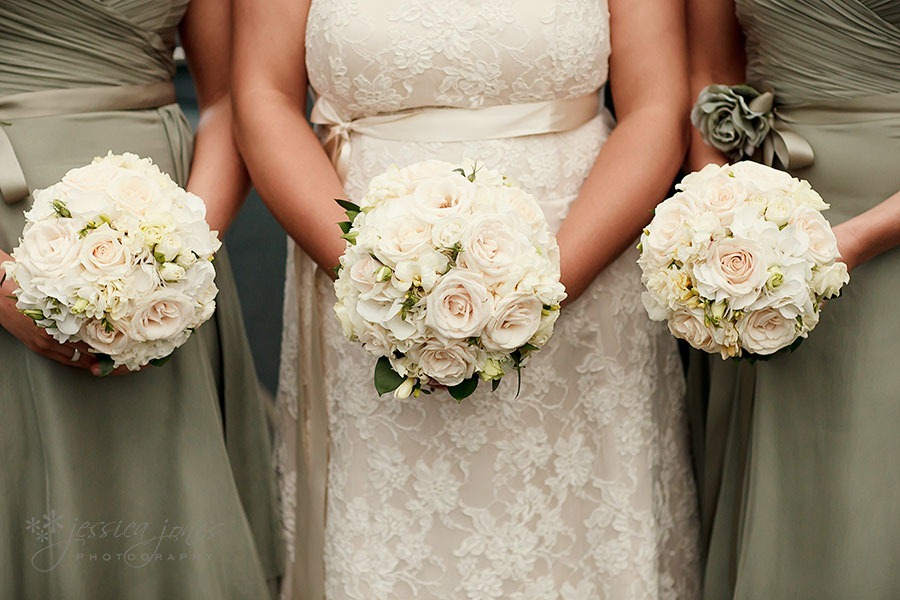 Duncan and Guyon (on the right) are twins.  Their dear Mum didn't realise that she was carrying twins until she was already 8 months pregnant.  At that stage they figured that they'd just wait to surprise everyone with the news after the birth.  So when they called their friends to say they had had a wee baby boy, they followed this with "But wait!  There's more!"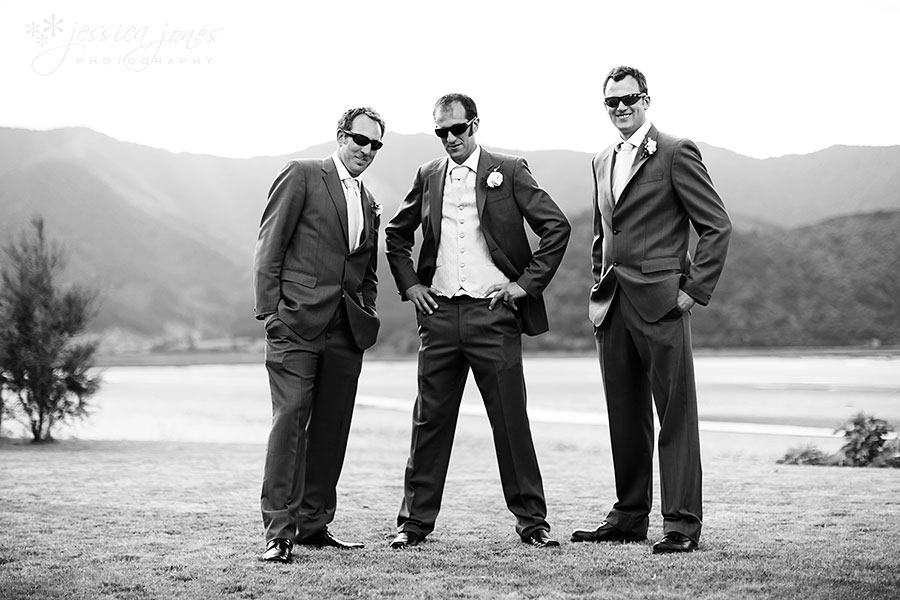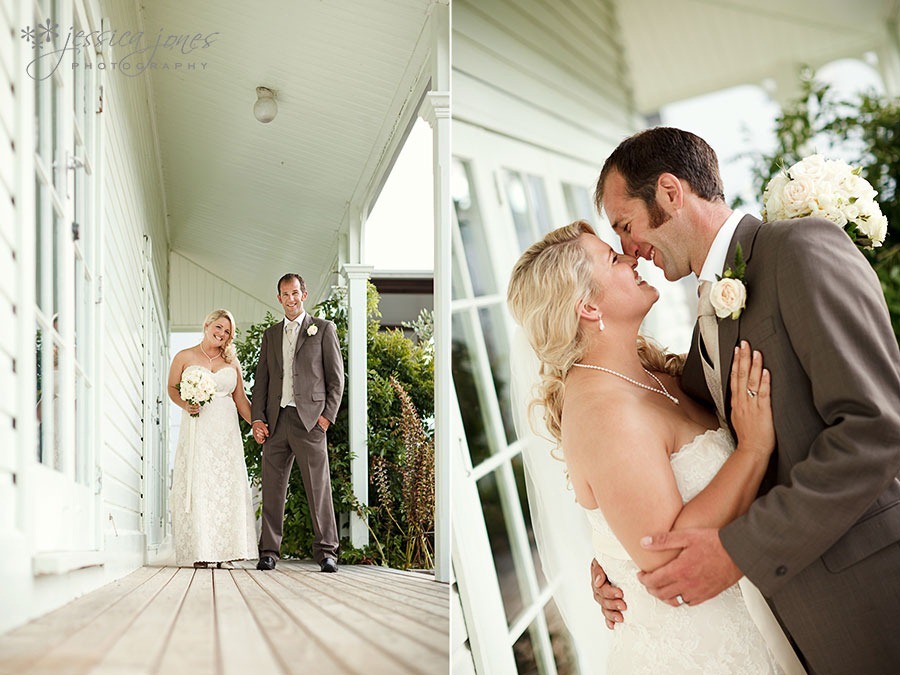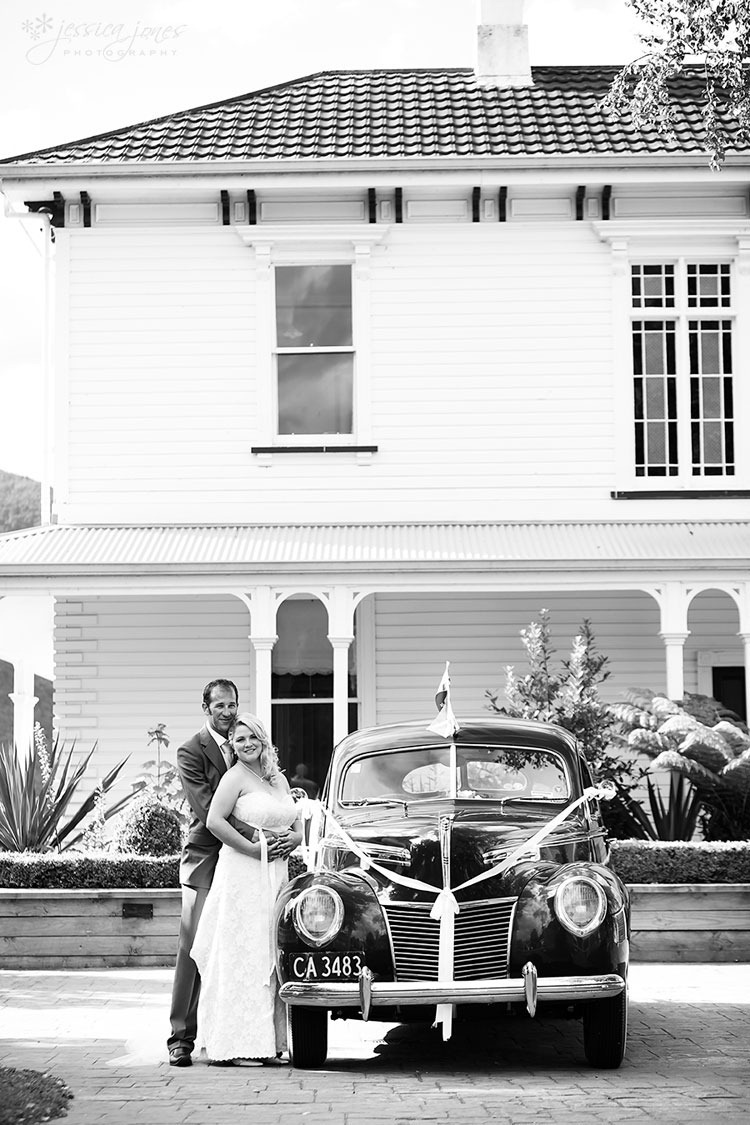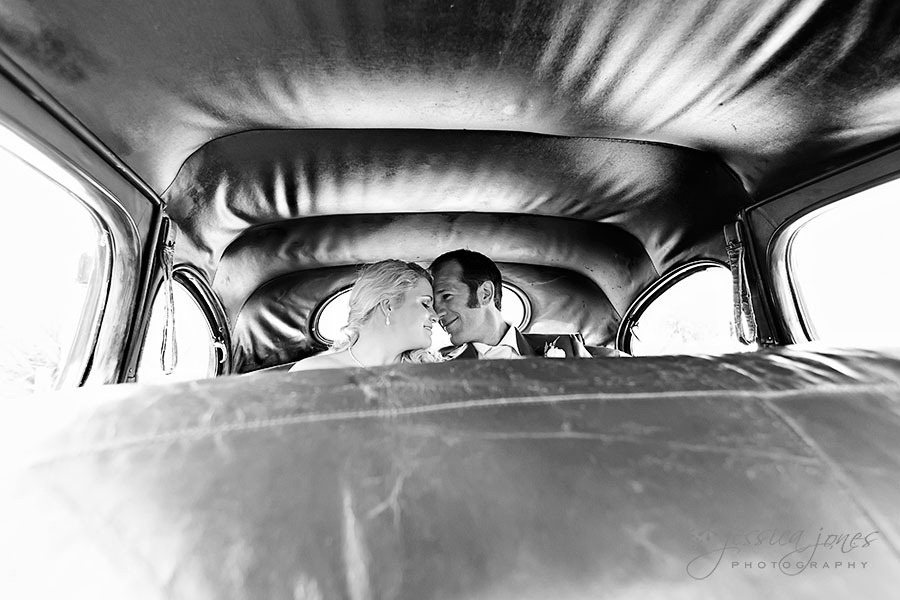 Another quick stop on our way to the reception at Drylands.  How could I resist?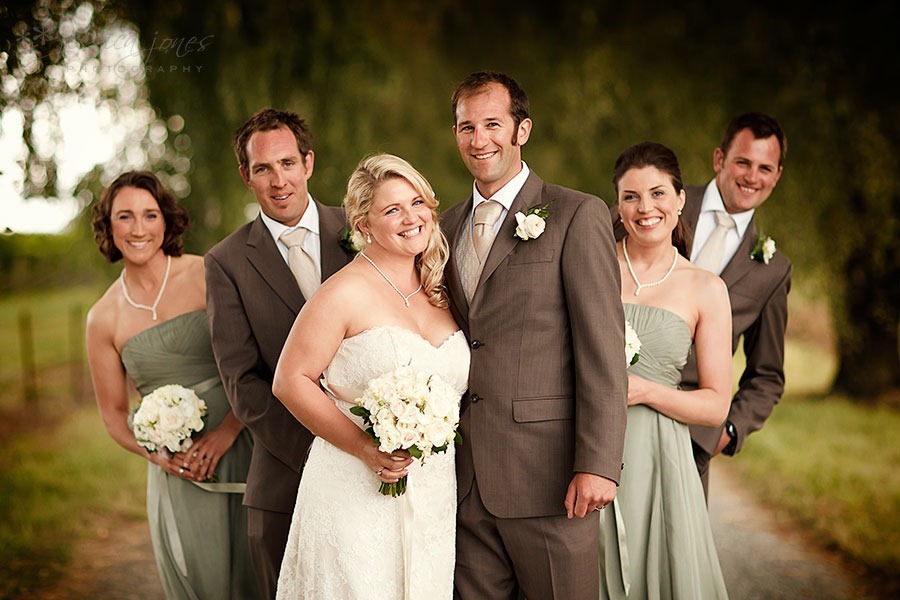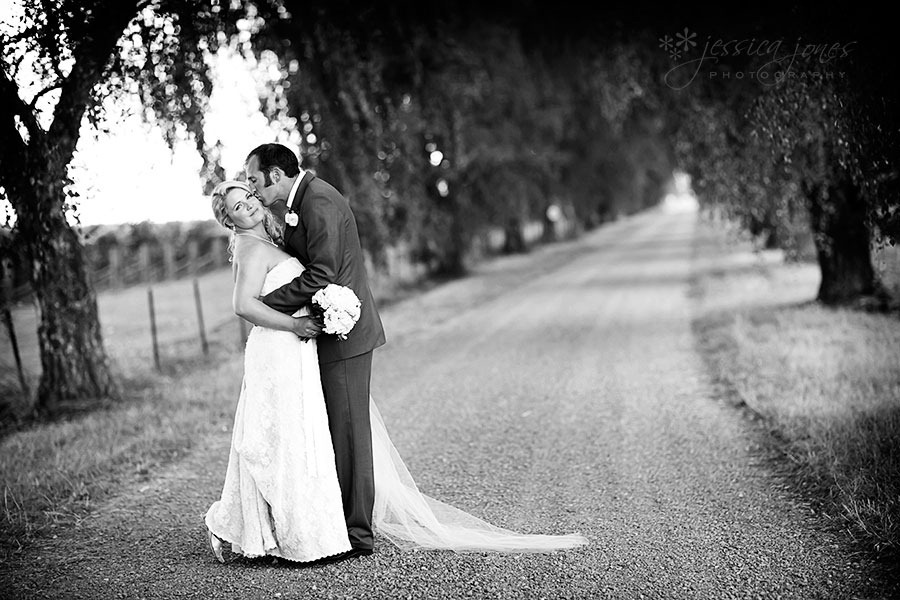 The light at Drylands was amazing.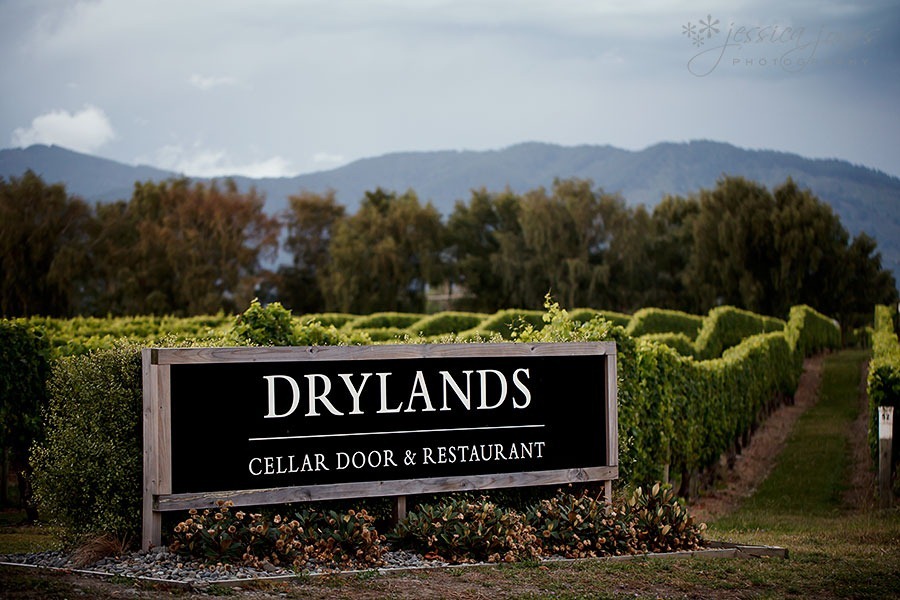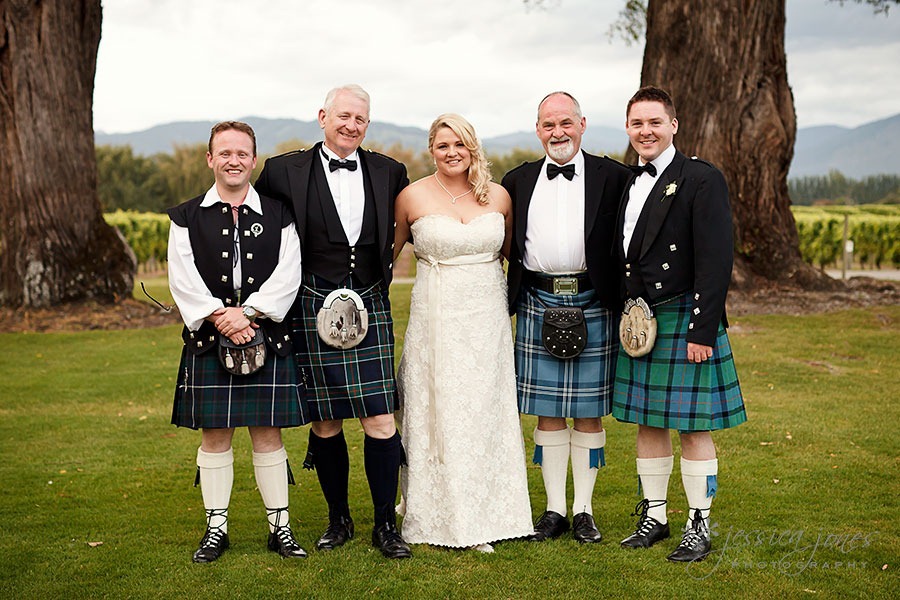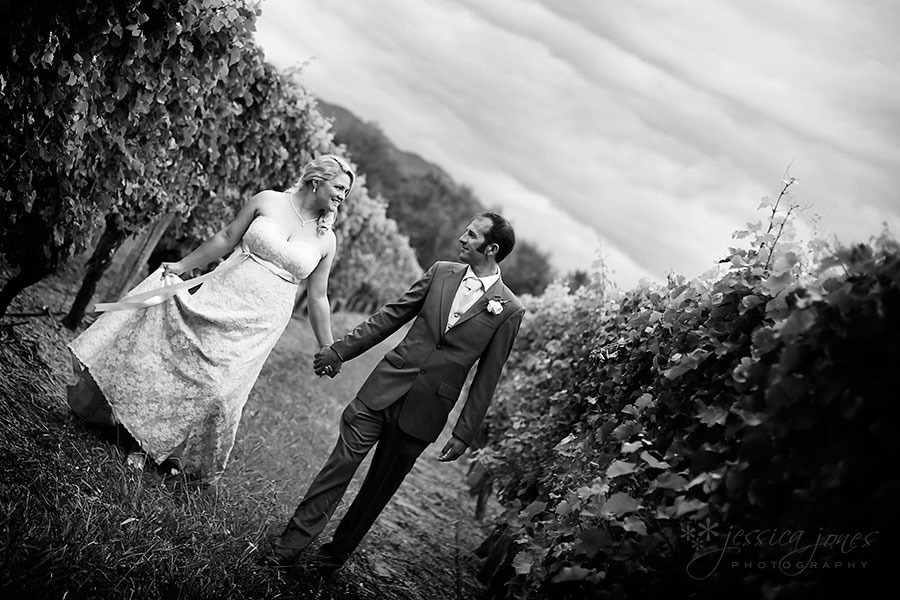 We generally like to think of ourselves as 'available light' photographers.  We generally like to use the light available to us at the time.  Sometimes we consider our softbox and strobes available, and so we use those too.  Paul tends to love doing this kind of thing, so I let him loose from time to time and watch the crazy stuff he produces.  I think I like it.... a lot.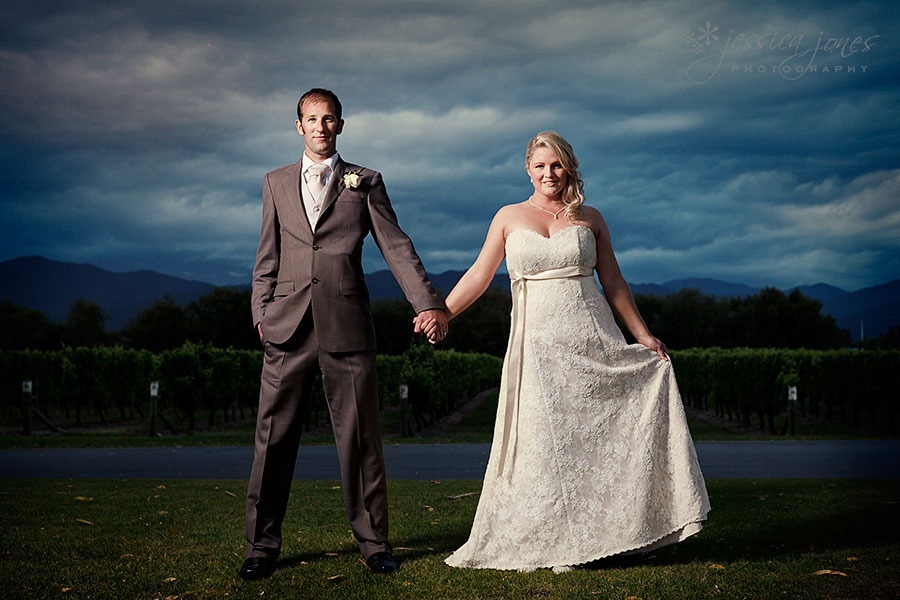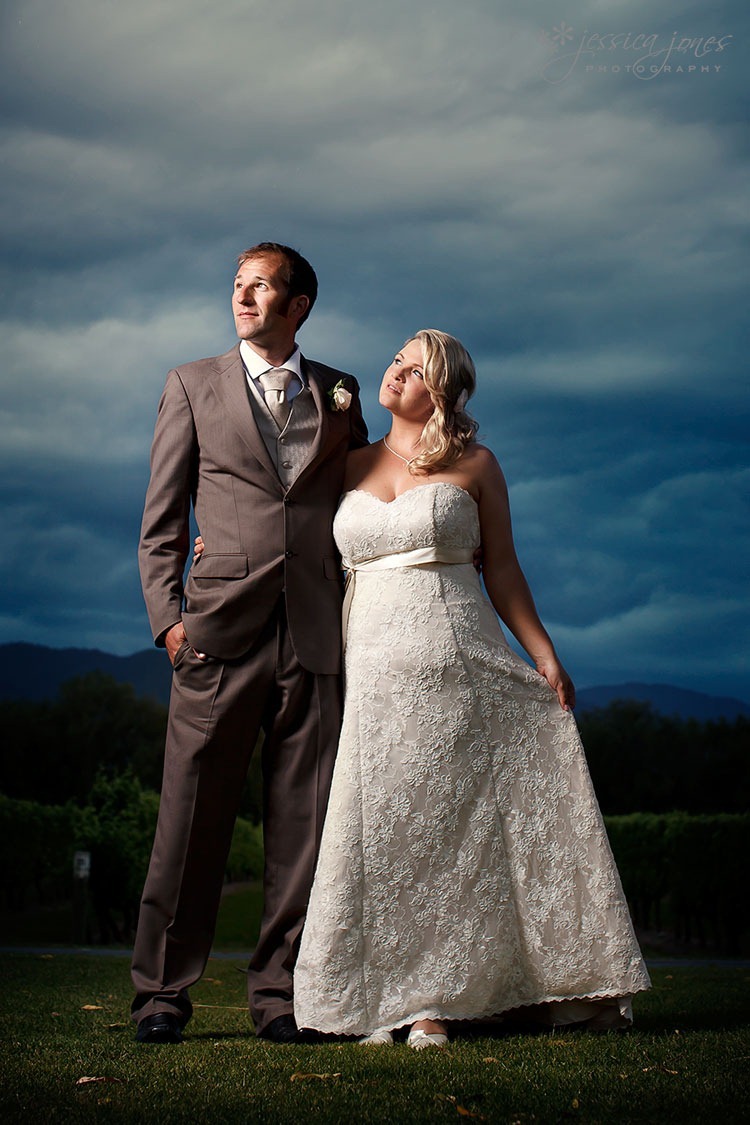 Back inside Drylands, and a beautiful reception takes place.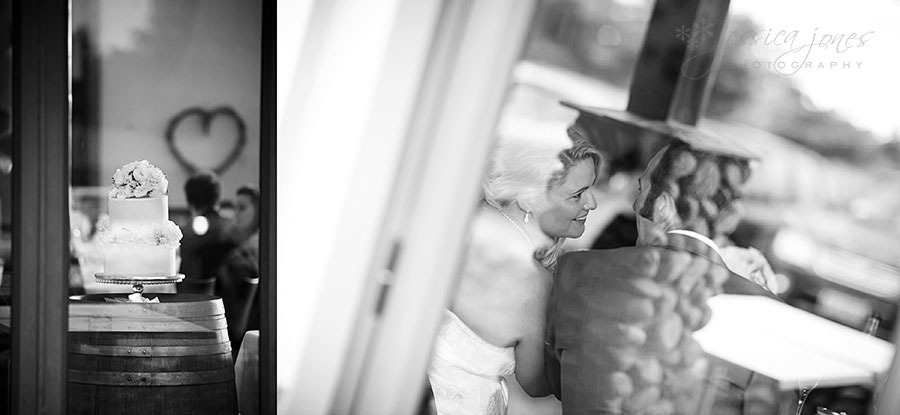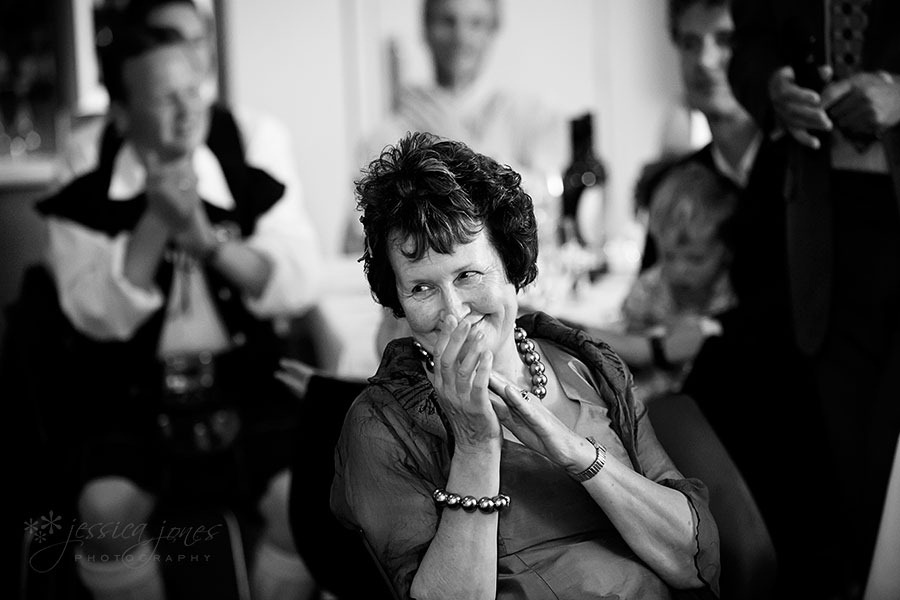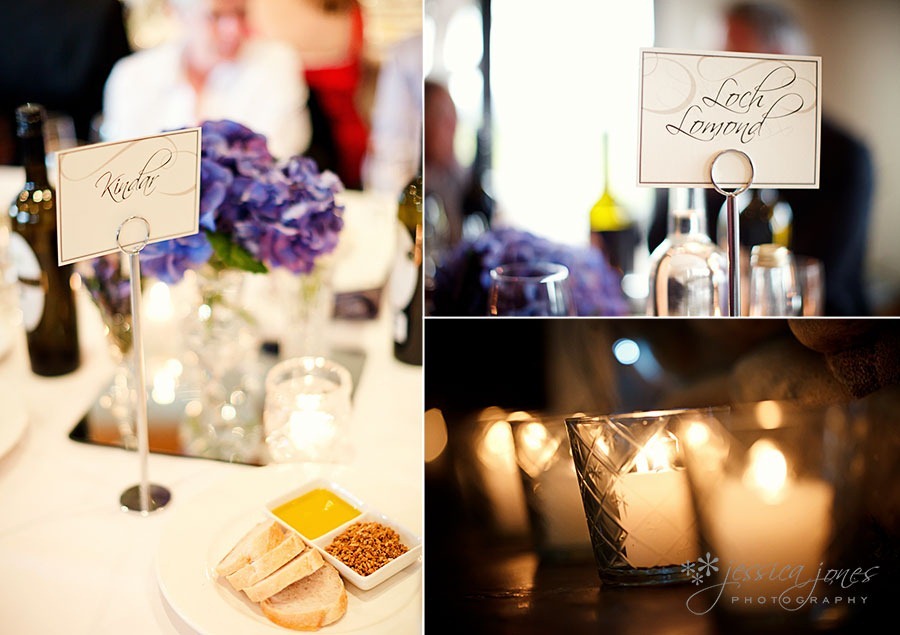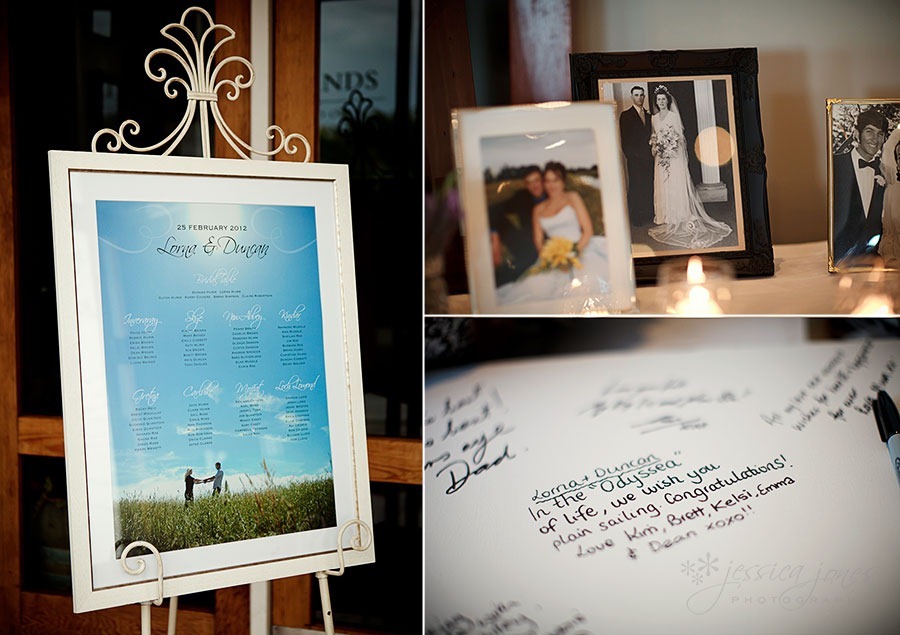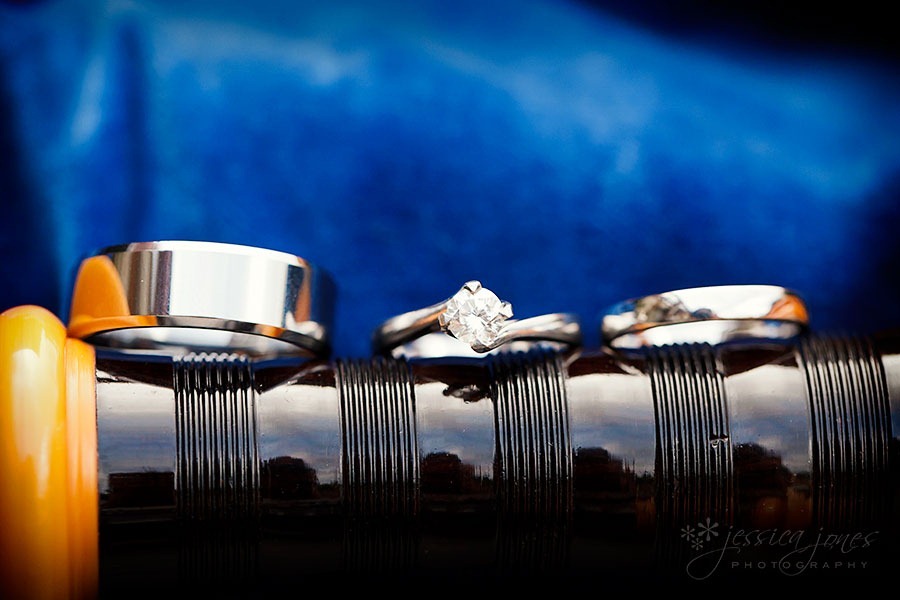 Lorna and Duncan, I have to stop here.  I could go on and on because your day was just so lovely!  Thank you so much for inviting us in and letting us play! 
---
Tweet
Vendor Shoutout:
Leave a comment for: Lorna and Duncan - Married!
---
Tuesday, 21 February, 2012
Posted by Jessica at
4:46 am
Tweet
If you asked me what is the most important ingredient to getting awesome wedding photos (go on! ask!), I wouldn't initially say anything about the dress, or the shoes, or the weather, or the venue, or the details.  The one thing that we look for and LOVE about our couples is when they adore each other.  When they can't take their eyes off each other.  When all they want is to get married.  Welcome to Kim and Hayden's wedding.  It was all of the above, and I was in heaven.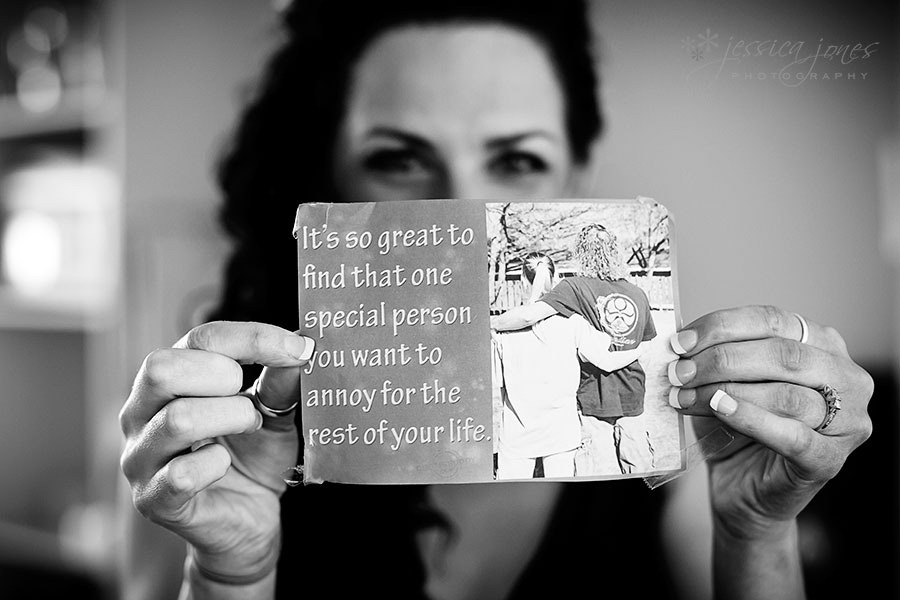 It just so happens that Kim is super funky and fun and organised some pretty awesome stuff for me to photograph as well.  Check out the shoooooooes!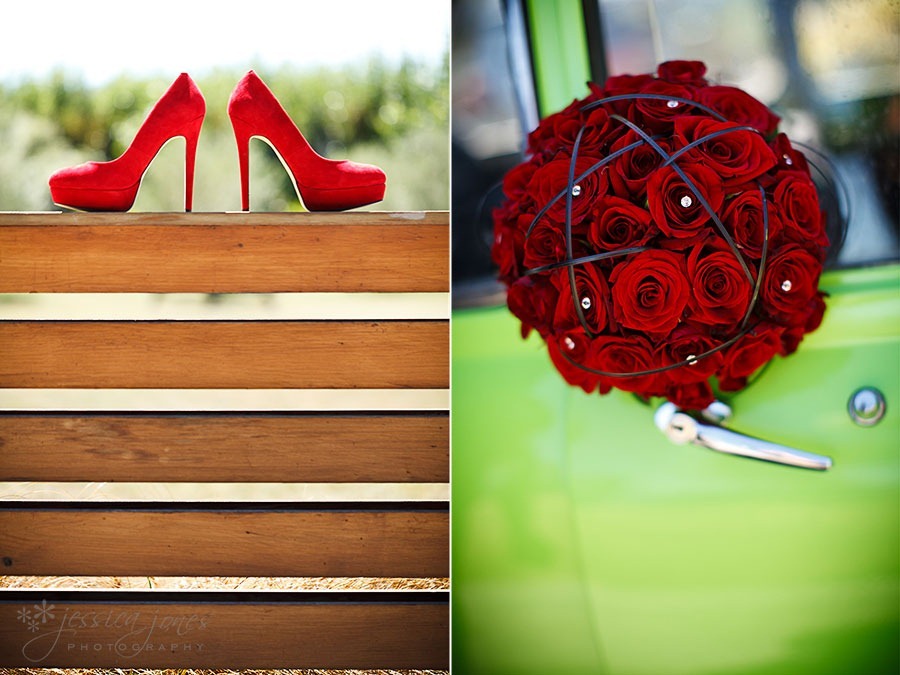 We're often asked about Bridezillas.  Do we get them?  How often do they appear?  I keep waiting for this famed monster to come creeping out of one of my beautiful brides, convinced that American TV is telling the truth and that I should be afraid.  Very afraid.  Well, it's been over 100 weddings now and apart from a very few jittery nerves before the ceremony, my brides tend to be as cool as cucumbers.  I think it must be a kiwi girl thing.  Kiwi girls are easy going and relaxed, and their wedding day is just an extension of them.  Kim was one of the most relaxed brides I've seen.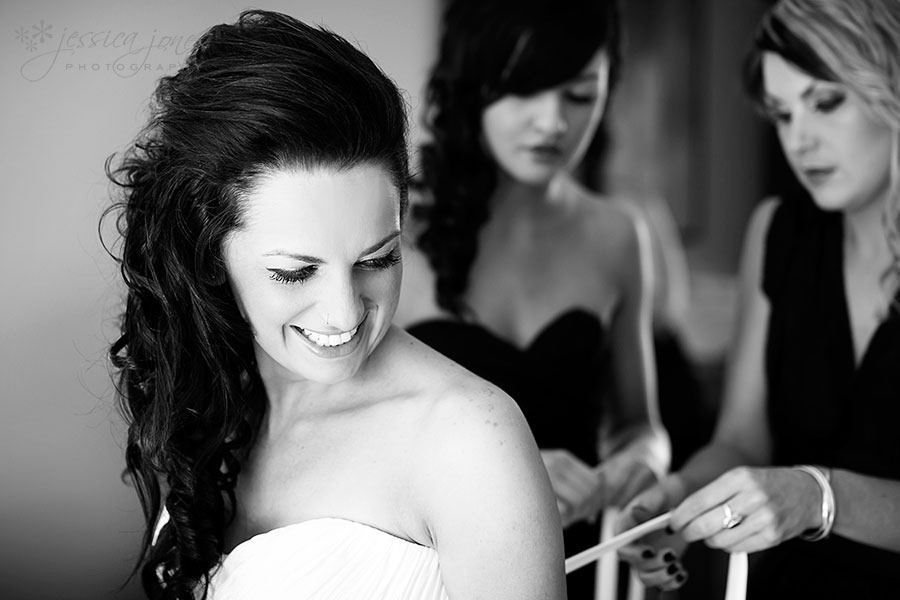 Y'all know I've got a soft spot for Mums at weddings.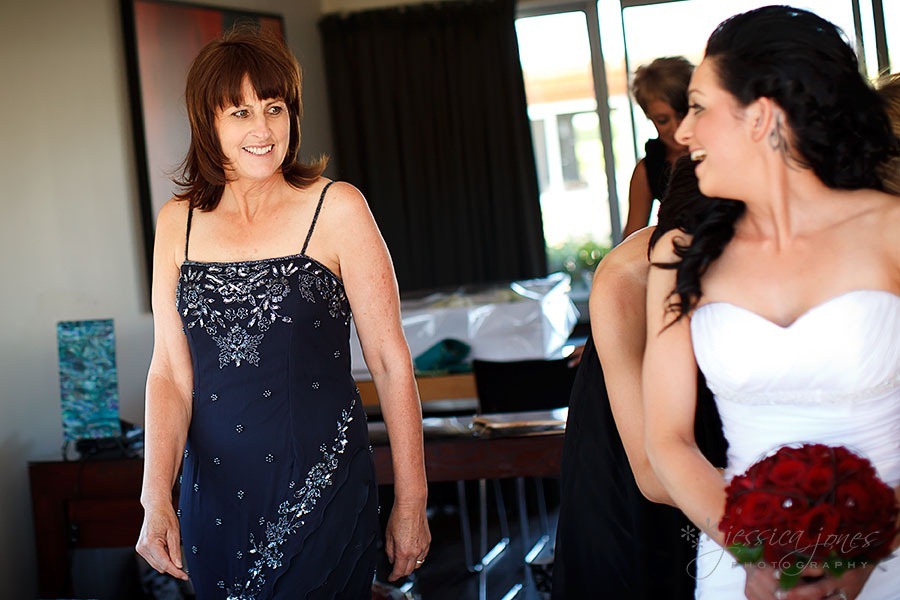 Kim, you are absolutely stunning.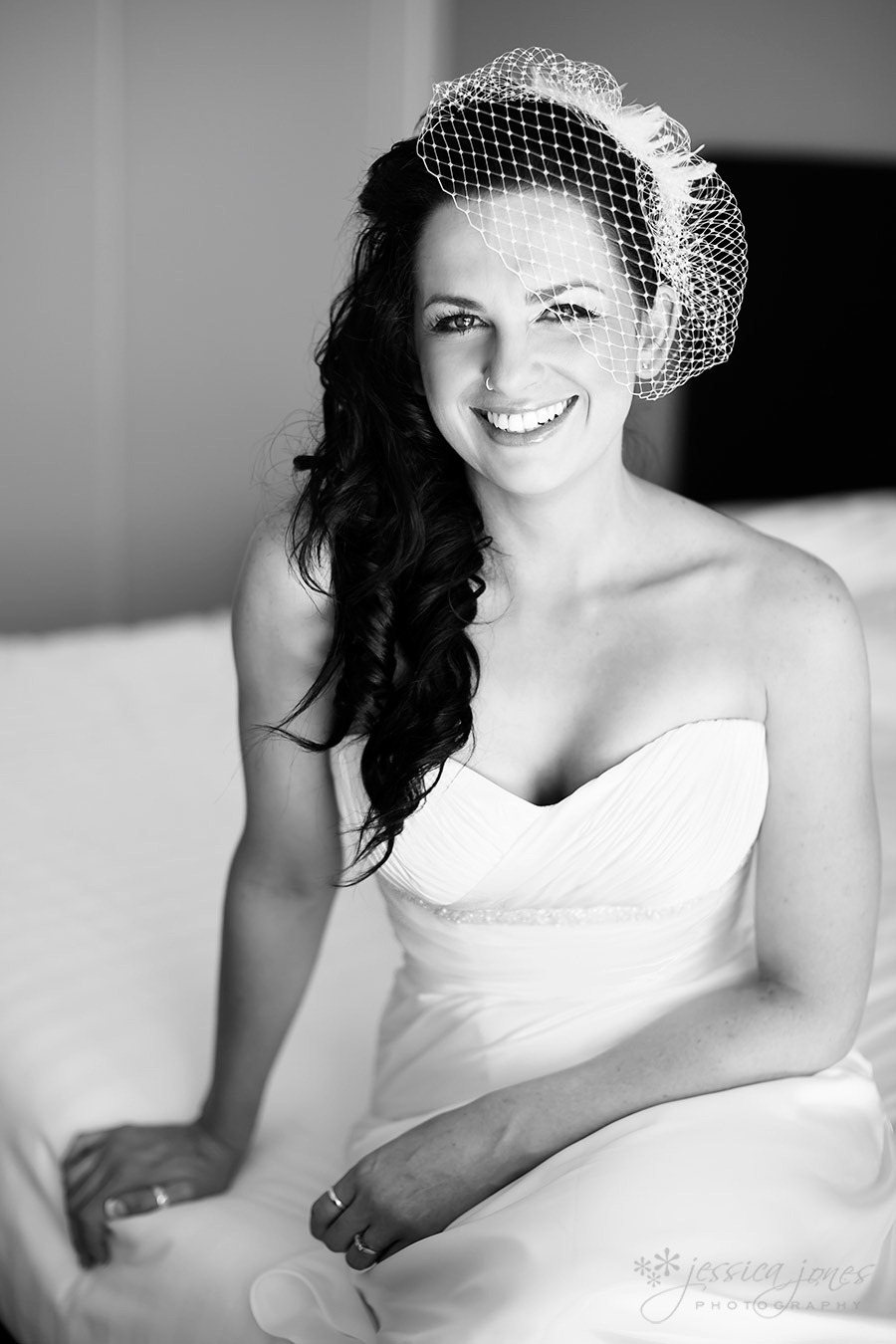 Hayden is busy getting ready with the boys, he couldn't be happier.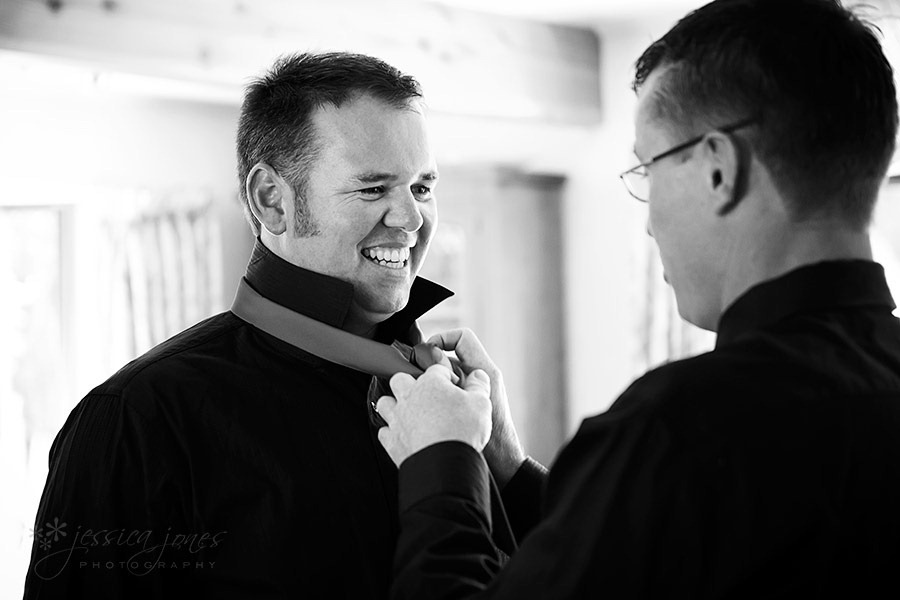 You can't forget the hip flasks!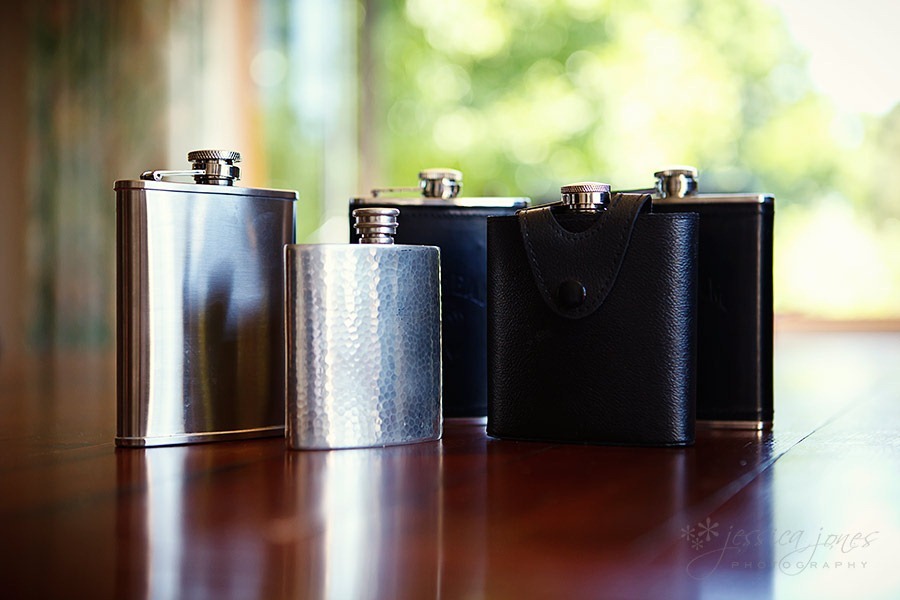 Gorgeous wee Mea.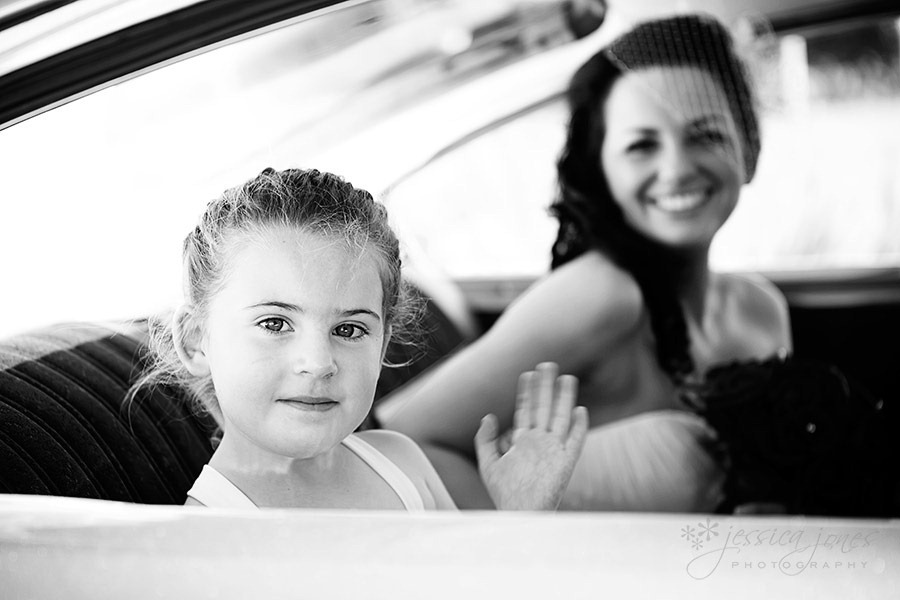 Kim's Pop walked her down the aisle.  Kim spoke so warmly about him, she told me how much she loves him and how special he is to her.  These are the priceless moments, the moments you just want to put in a bottle and keep forever.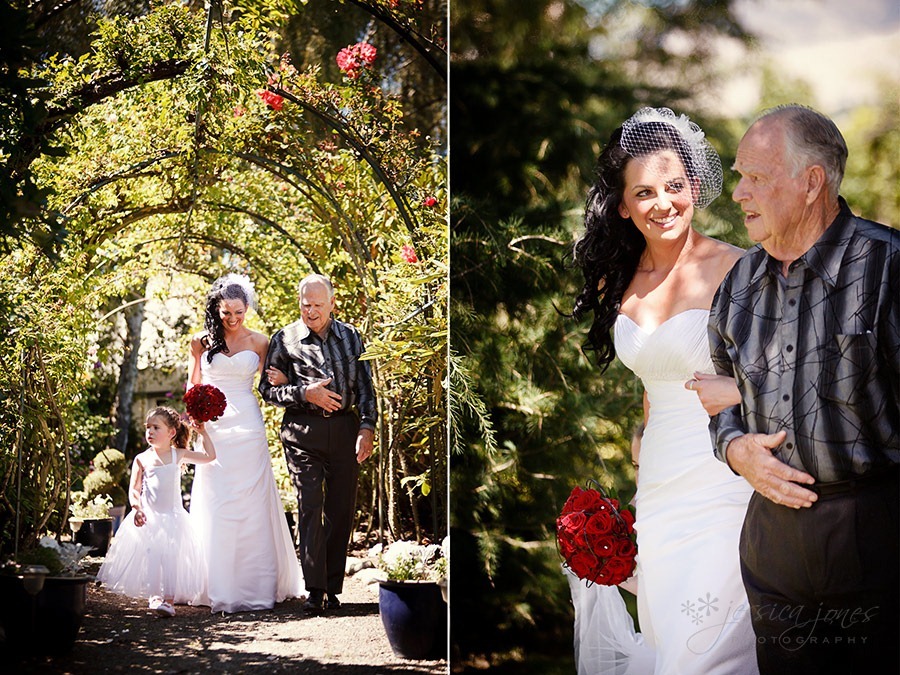 This is what real smiles look like.  They were there all day!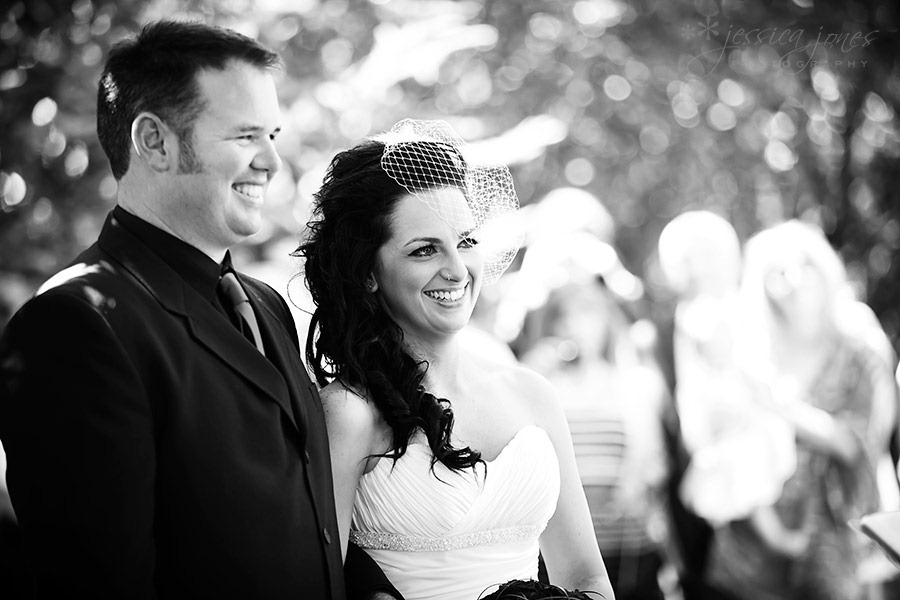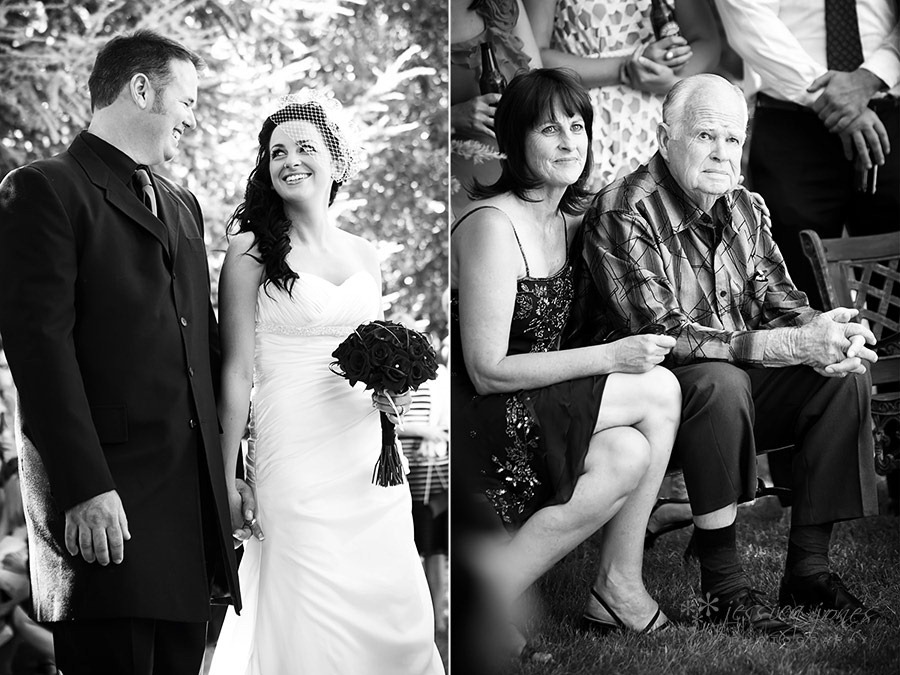 Did you know that married people are statistically more likely to live longer, healthier and happier lives?  Did you know that children are far more likely to succeed in their lives and relationships if their parents are married?  Call me old fashioned, but I think getting married is one of the best choices a couple can make.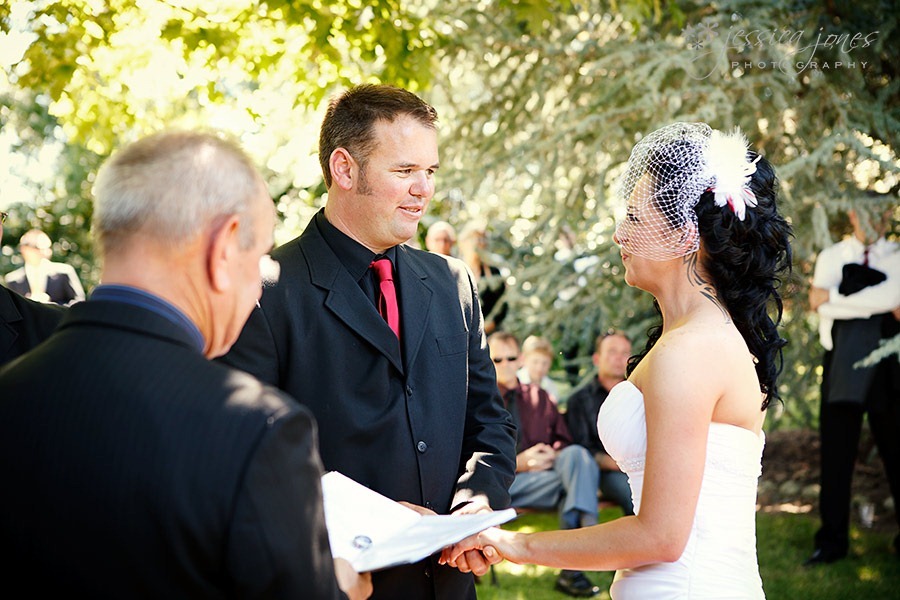 Clearly Kim and Hayden think it's a pretty good idea too!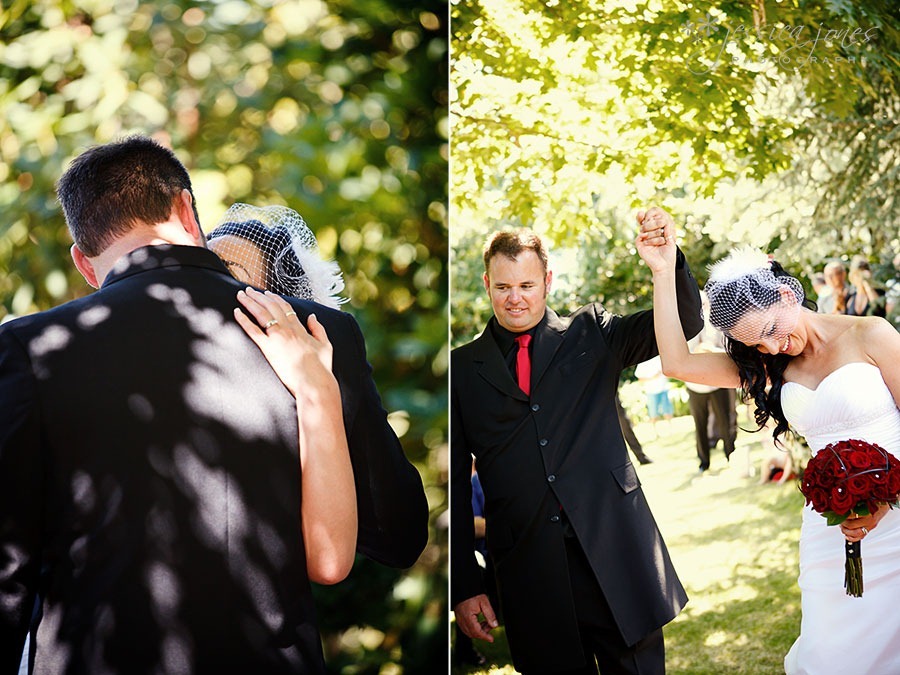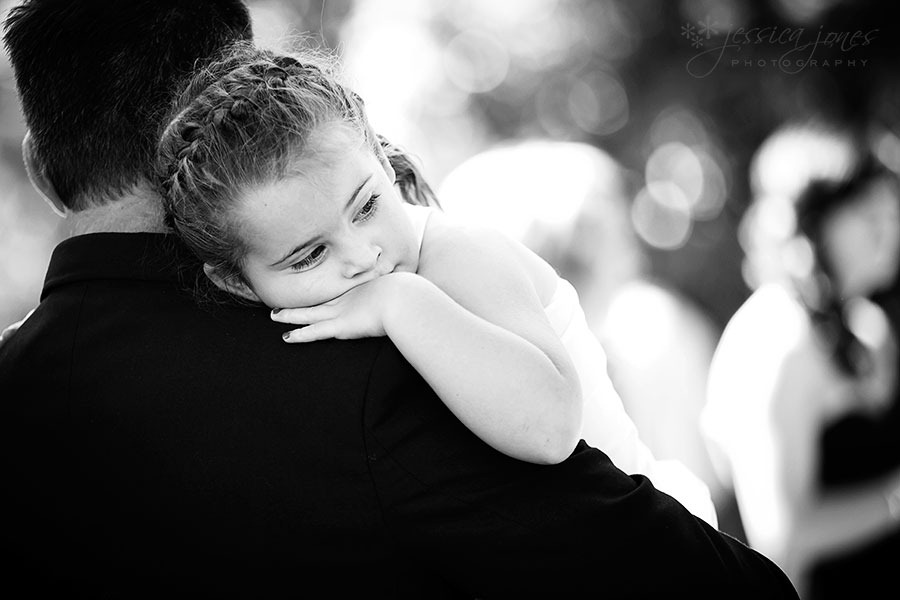 The wedding was held at the gorgeous Rocenvin Estate Vineyard.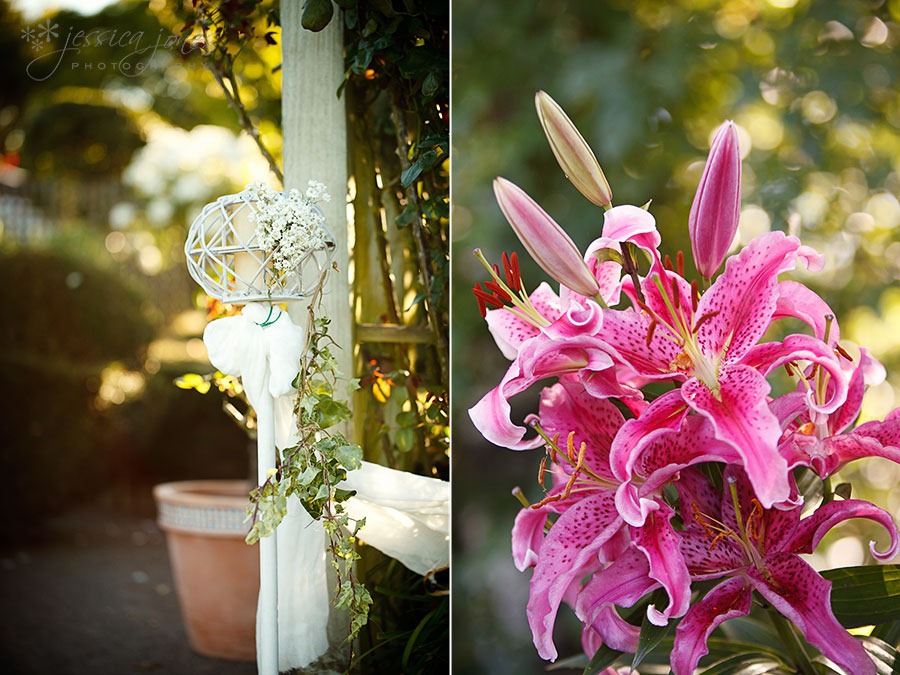 So.  Much.  Love!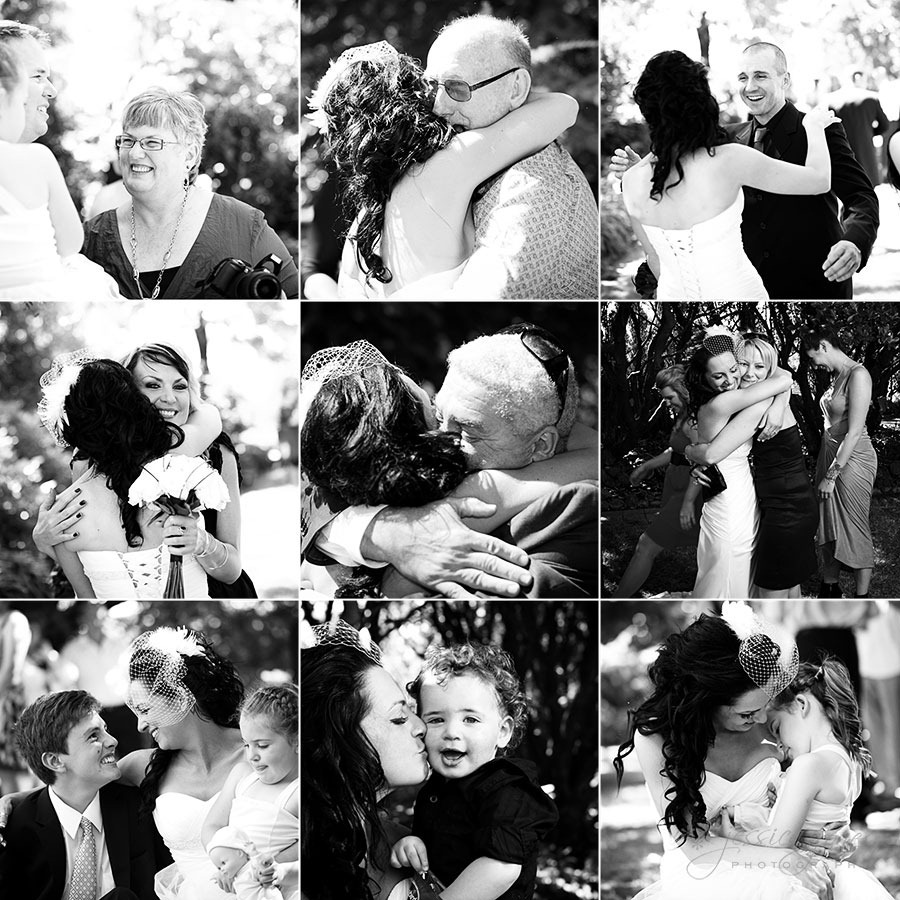 Kim warned me when I first turned up that she will undoubtedly develop photo tourette's.  The uncontrollable urge to pull silly faces.  Turns out the entire bridal party came down with the same condition.  This suited me just fine!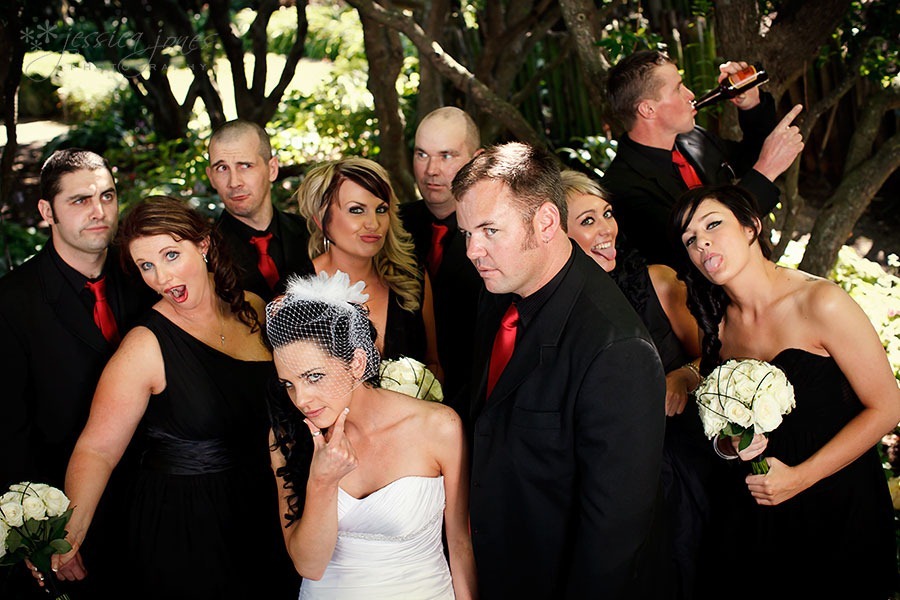 Kim and most of her bridesmaids are hairdressers.  Why do I always have a bad hair day when I'm around hairdressers?  It's kind of like seeing my dentist on the street, and being overcome with guilt that it's been far too long between visits!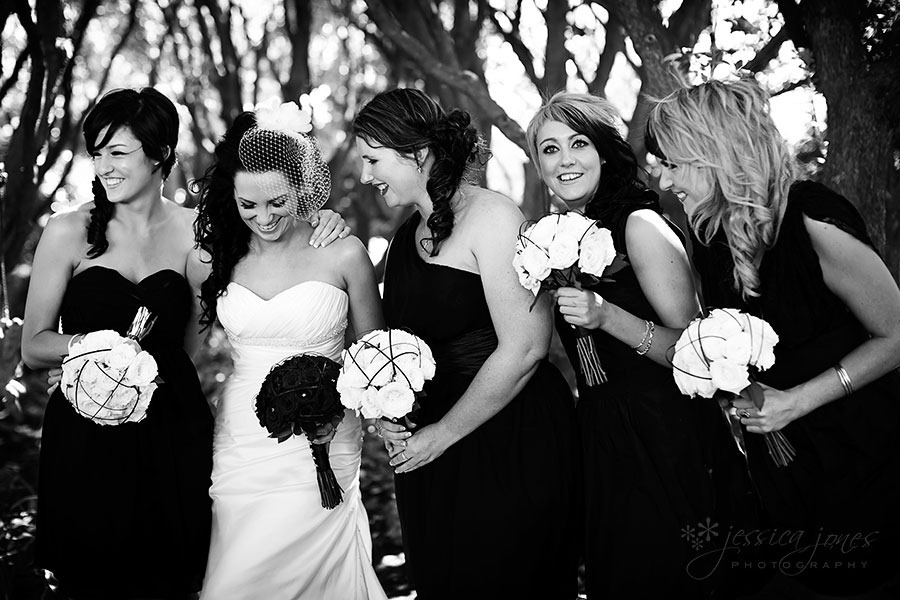 The boys were a laugh a second.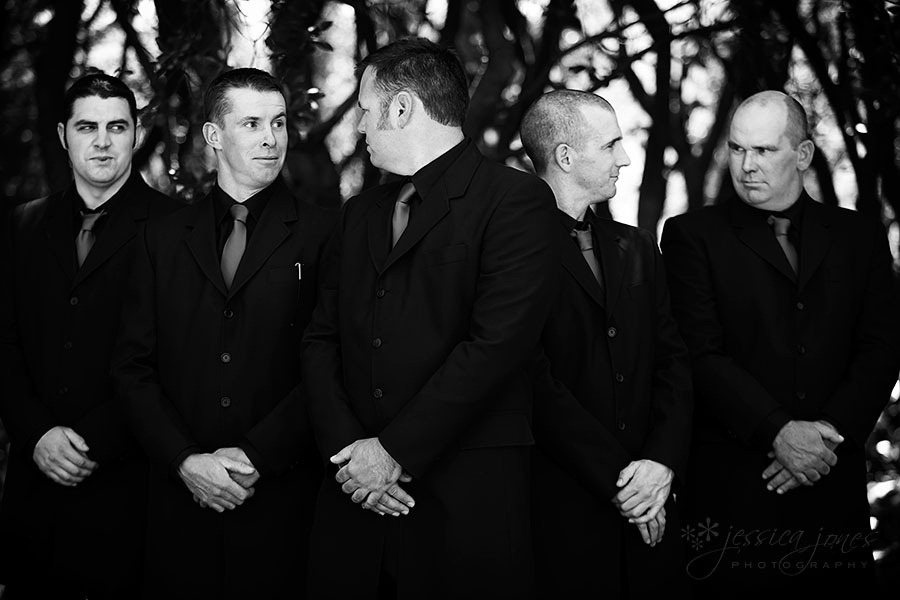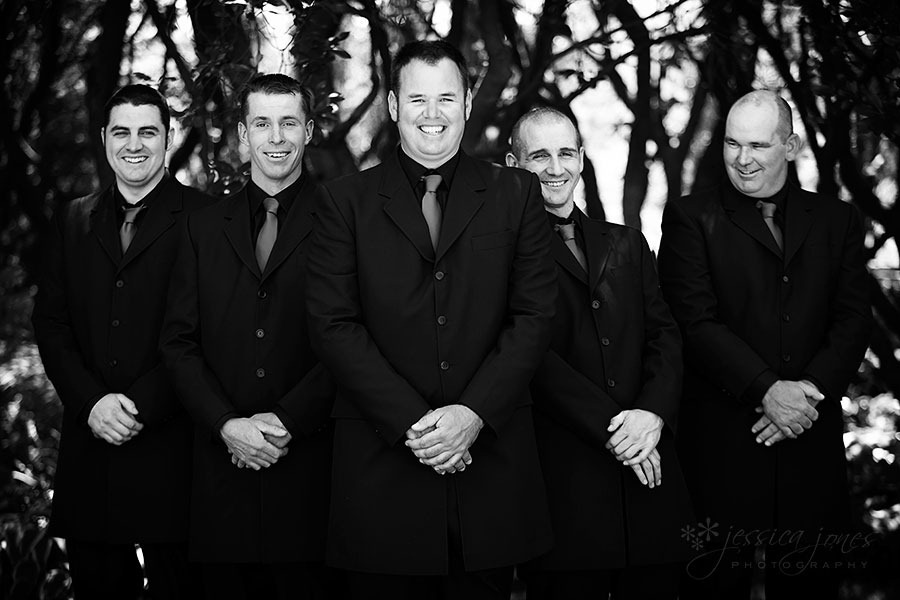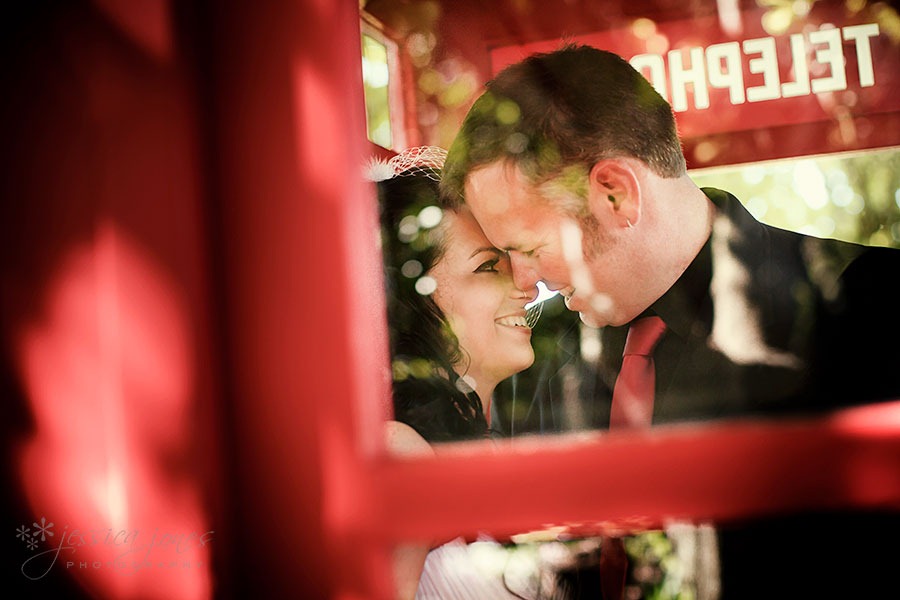 Kim and Hayden left the the choosing of the portrait locations to us.  We knew it was going to be a scorcher of a day and that shade was needed more than anything else.  We also knew that Kim and Hayden are fun, funky and fully up for anything.  So we got permission to go into this old abandoned building and I think it was just right!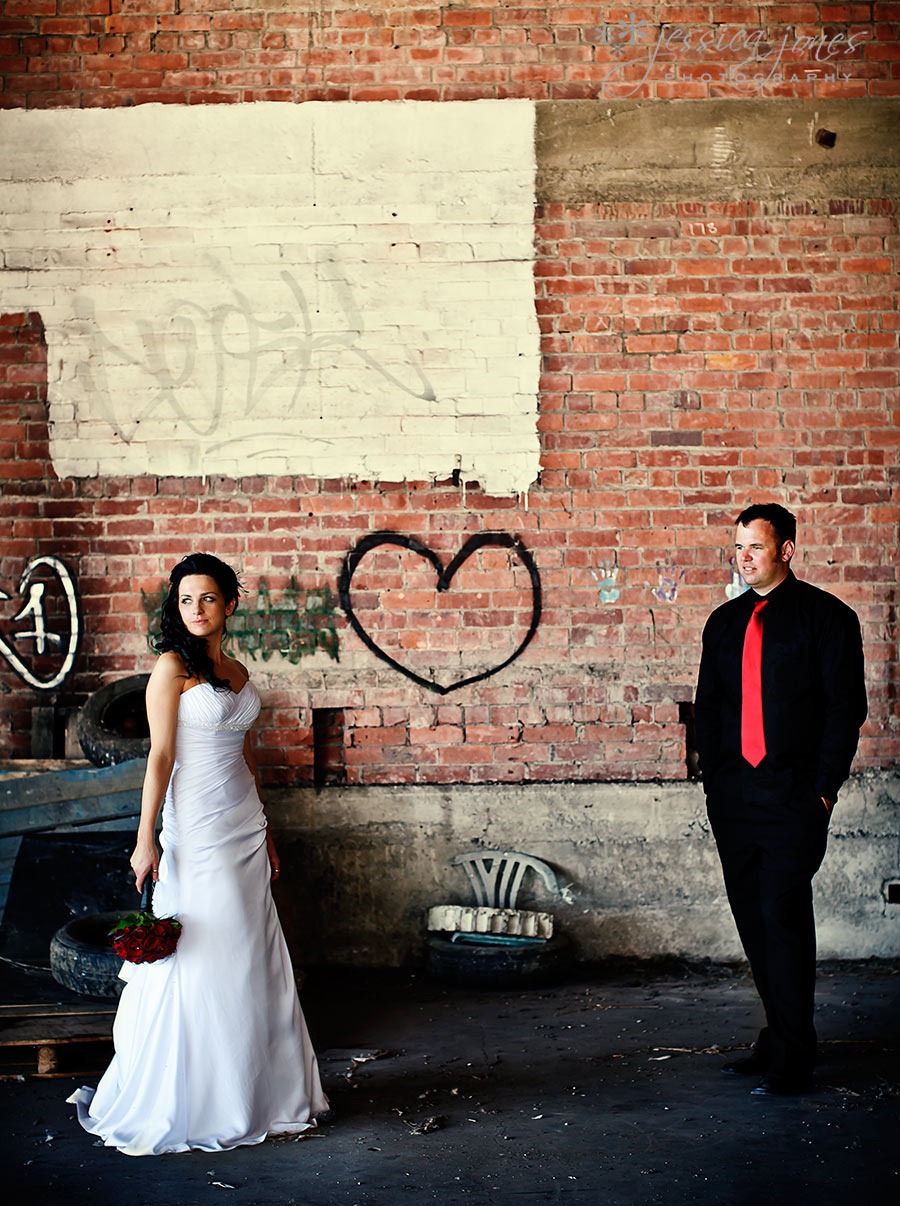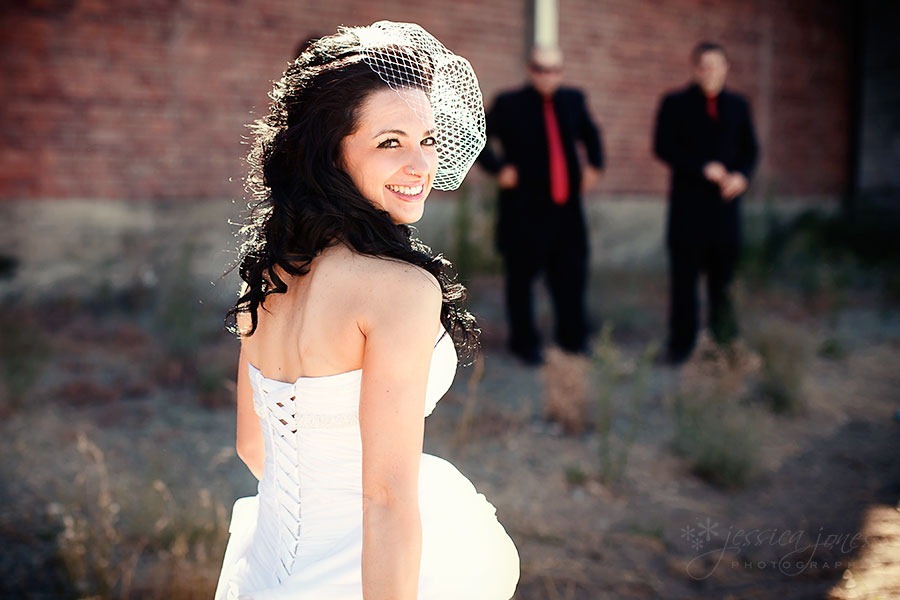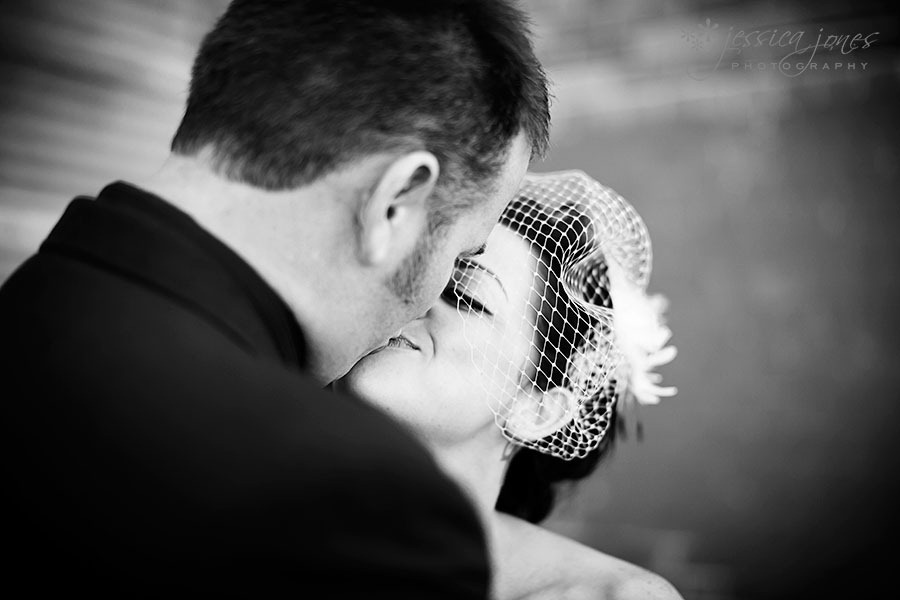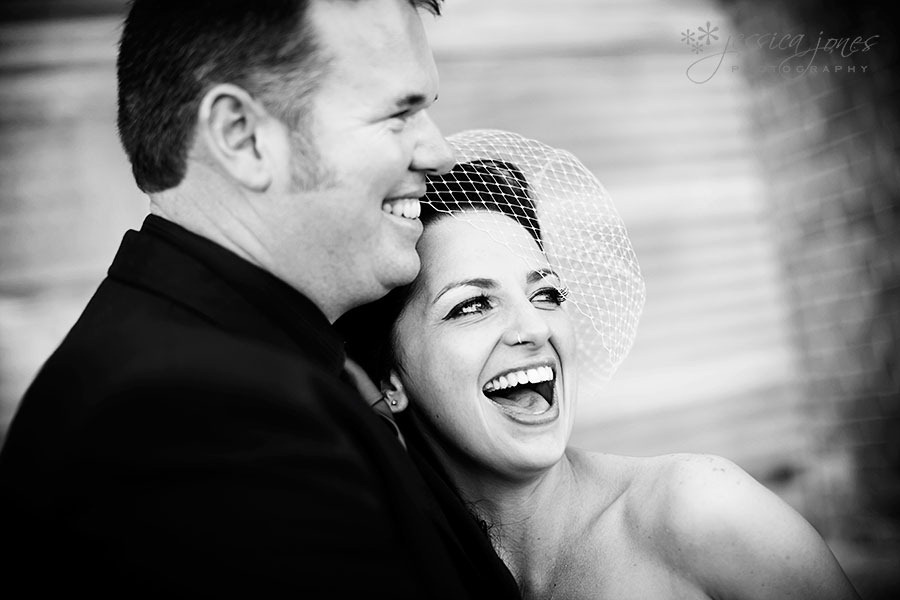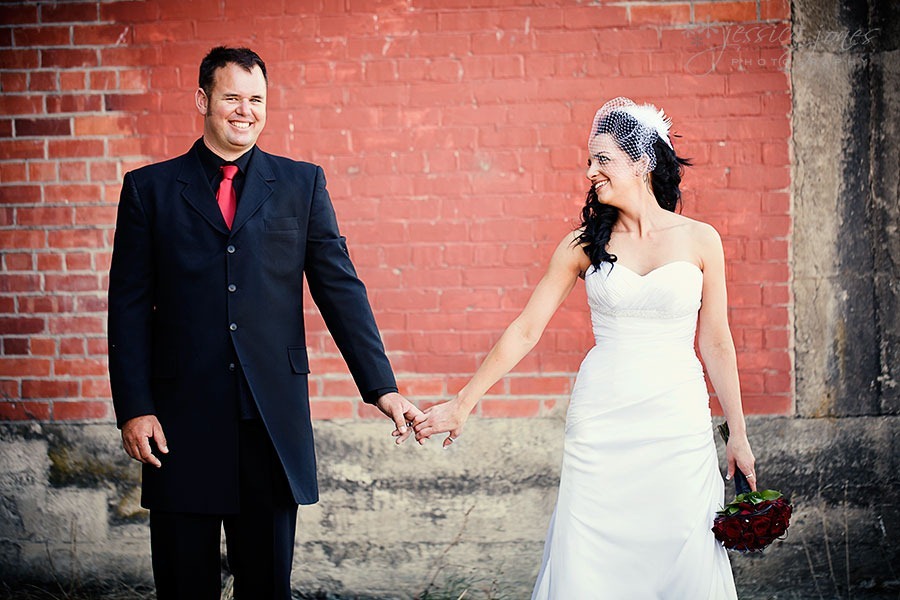 Oh Hayden, you stud muffin you!!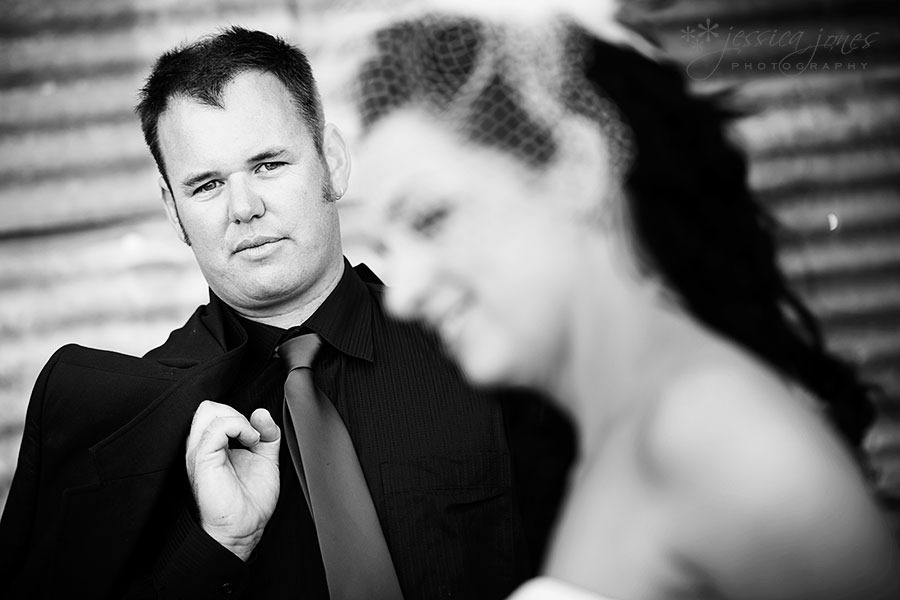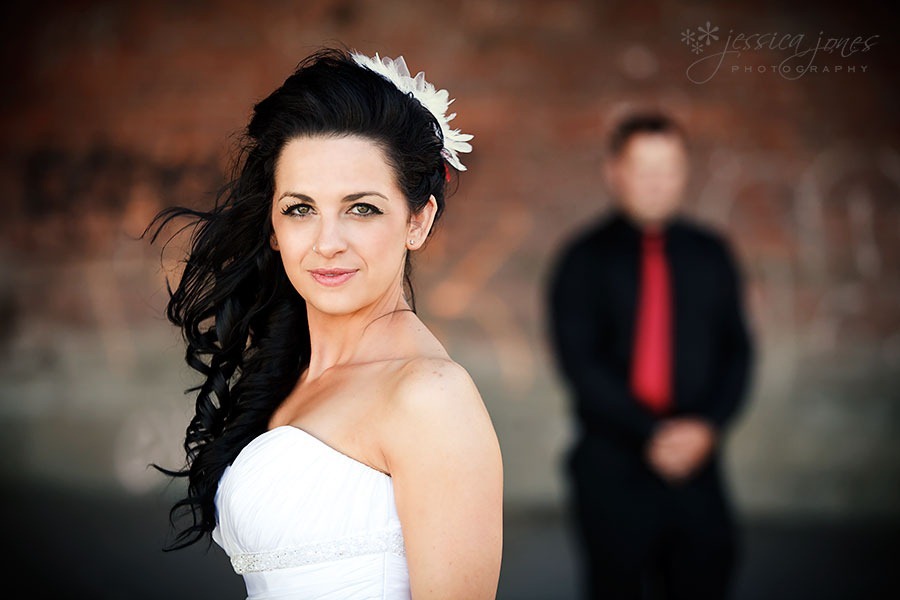 Excuse me awesome shoes!  Thank you for coming!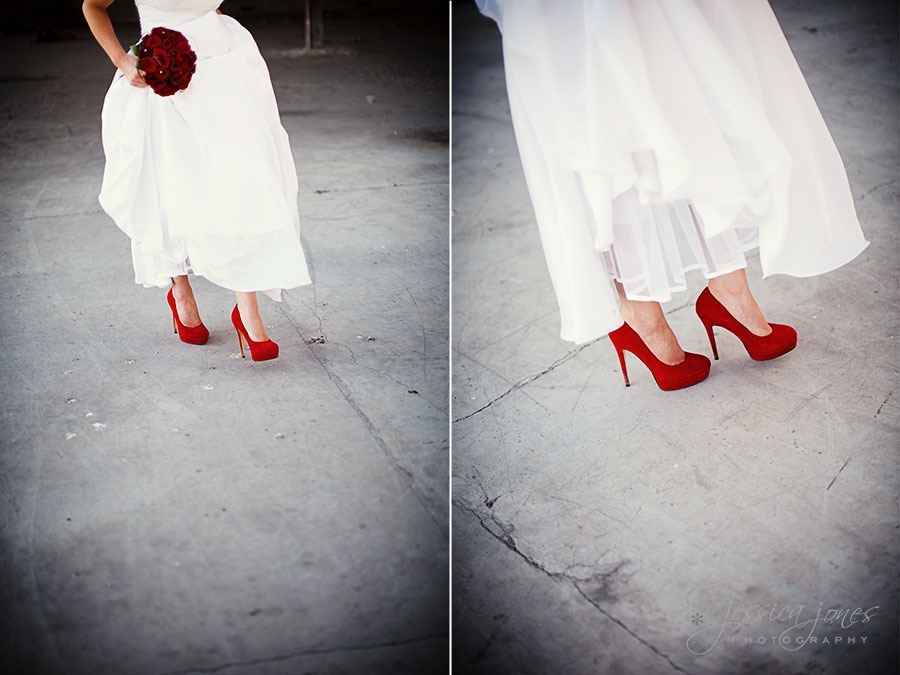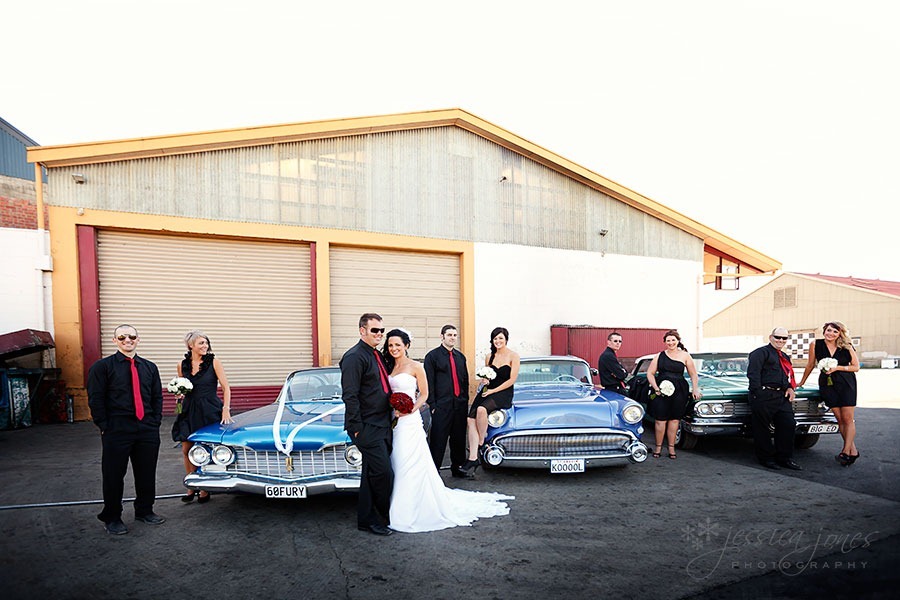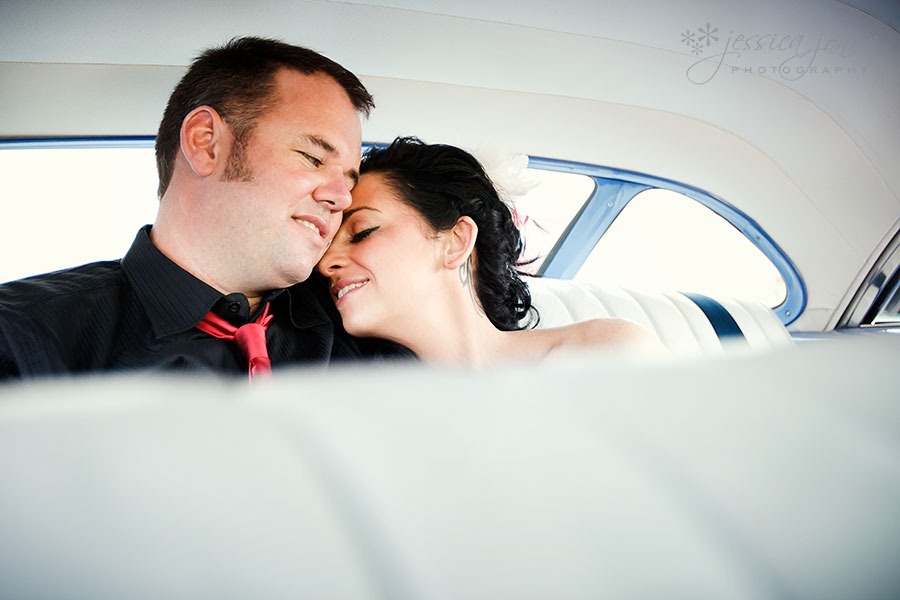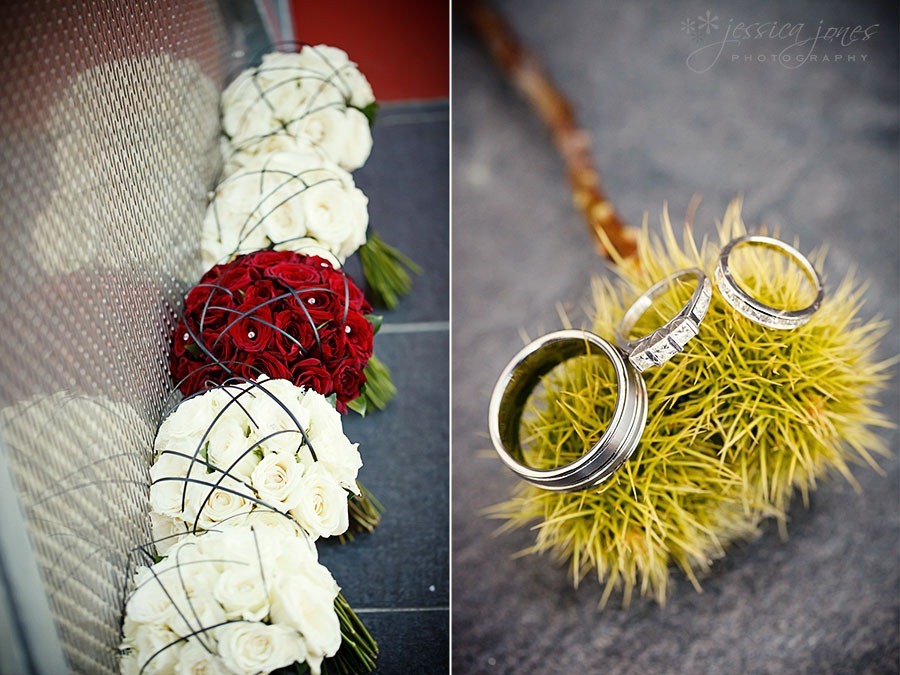 Kim and Hayden, I can't even tell you how much we enjoyed spending the day with you.  You are so perfectly suited to each other, it was a joy to capture the moments for you.  See you soon!
---
Tweet
Vendor Shoutout:
Celebrant: Terry Terrill
Flowers: Nina, Pink Poppie Designer Florist
Hair: Illusions Hair & Beauty Salon
Makeup: X'foliate Beauty Salon
Dress: Brides on Thorndon
Bridesmaids Dresses: Dianne Burrow
Cake: The Chocolate Shoppe
Reception: The Clubs of Marlborough
Leave a comment for: Kim and Hayden - Married!
---
Tuesday, 14 February, 2012
Posted by Jessica at
2:29 am
Tweet
I have to start by exclaiming the obvious:  Dear Summer, are you TRIPPIN'?  It's February.  It should be hot.  Uncomfortably hot.  The kind of hot that has you longing for winter again.  Blobbing out in the pool and having bbqs with friends.  Instead we're all inside wearing long sleeves and walking around shaking our heads.  Yesterday I had to sneak out of church to pop home and get the little ones some cardigans, to both keep them warm and make sure I didn't look like THAT mother.  You know, the one that never dresses her children warmly enough?  Well, yesterday, that was me.  Because it's February, and it's cold.
Te Mahia might have been a little bit chilly in temperature, like the rest of the country, but it was warm in heart.  Filled with over one hundred people, all there to celebrate Andrea and John's wedding day with them.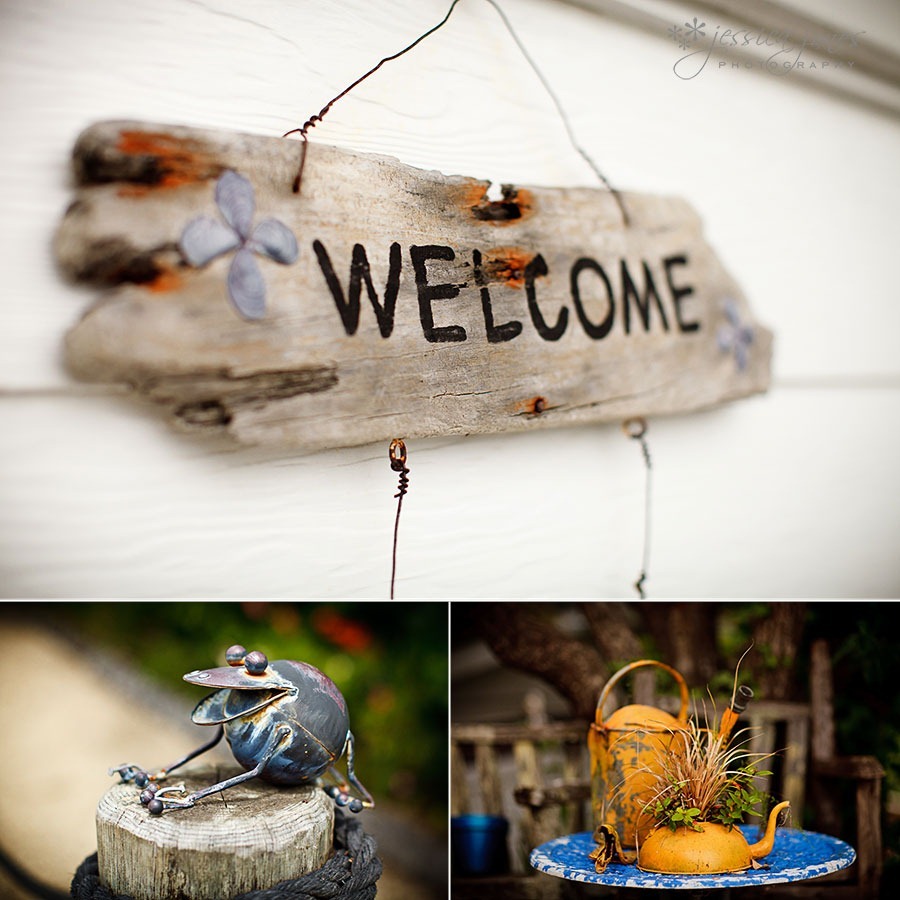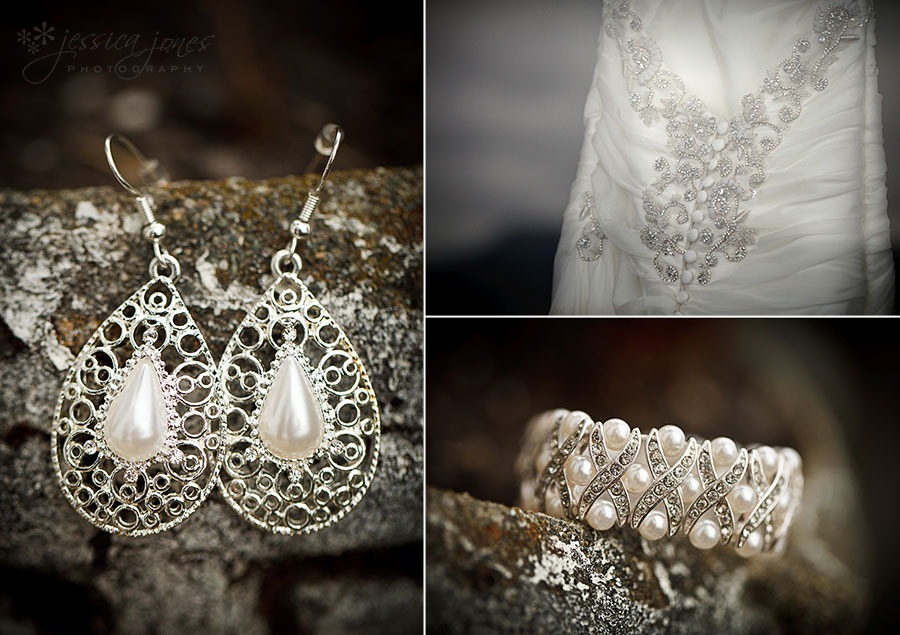 Andrea was so Superwoman in her preparations, she should have worn a cape.  They did so many of the preparations for the day themselves, and OH MY GOODNESS, they did awesome!  Among other things, she had only just put the finishing touches to the cake when we arrived.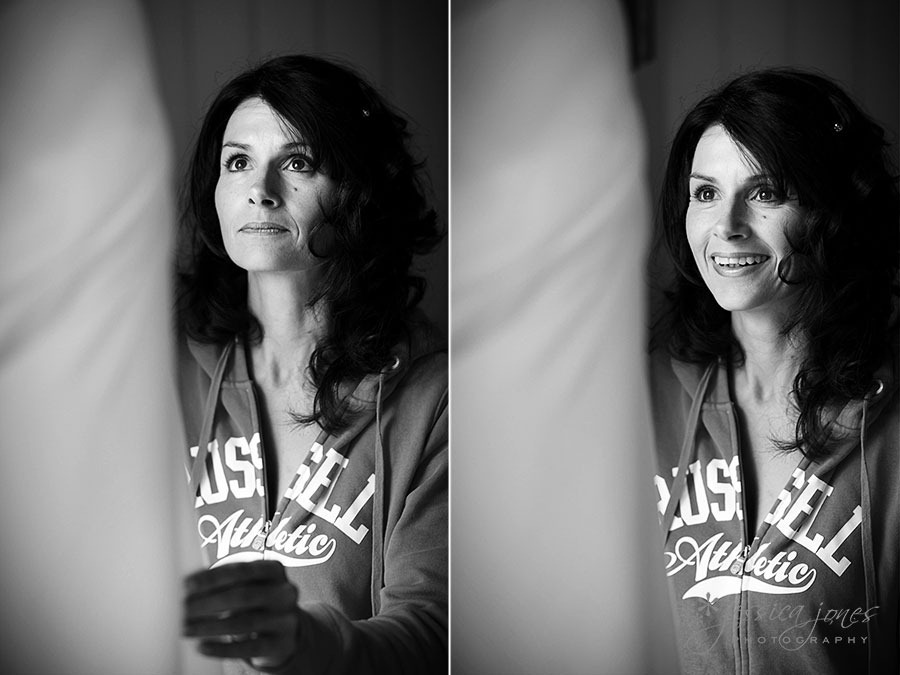 The last time I saw Holly was in 2009, during their family shoot.  She's grown up so much, but is still ridiculously cute!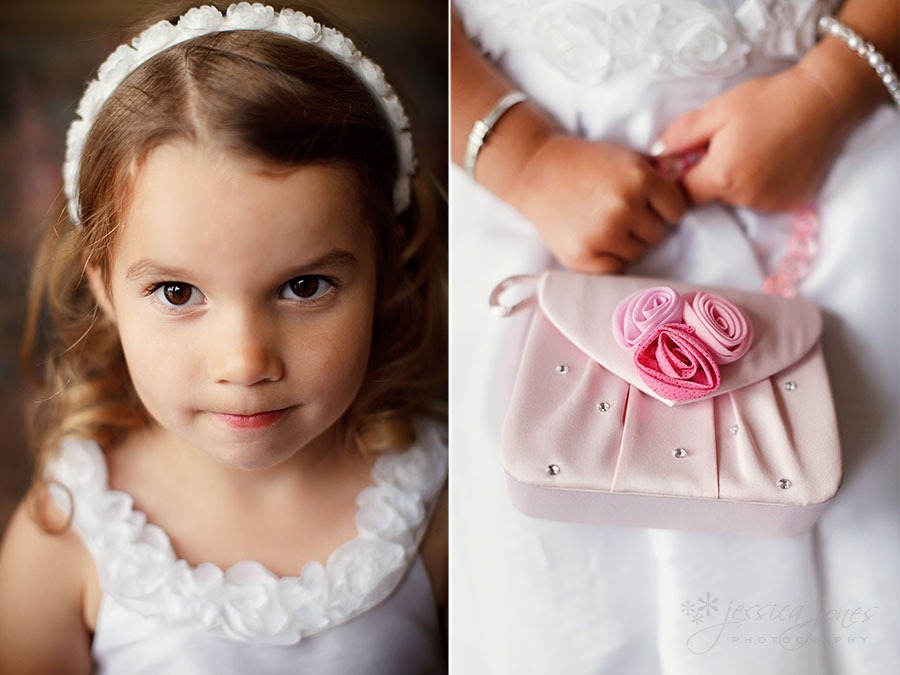 Getting the dress on was absolutely hilarious!  Sometimes it's not as easy to work out as you might think.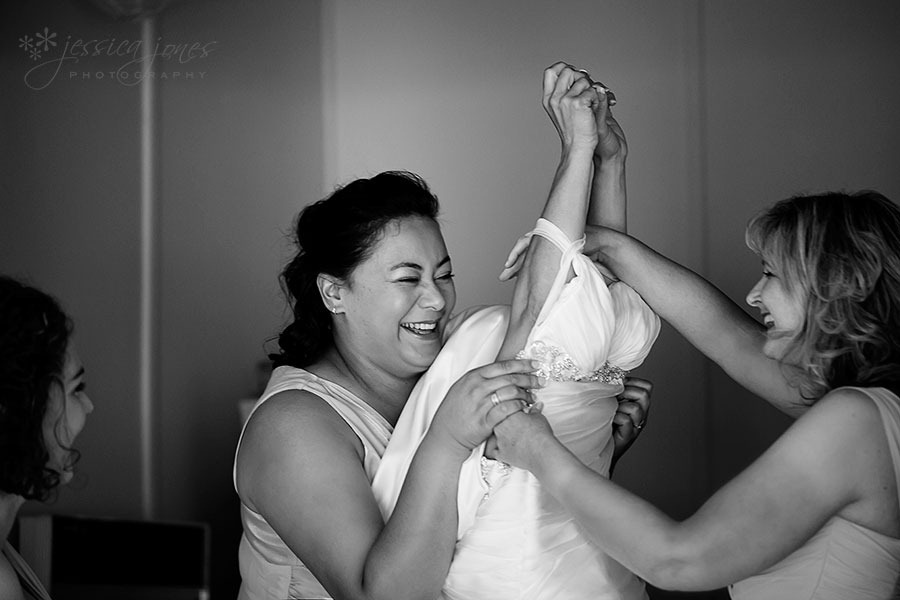 Andrea, you are smoking hot.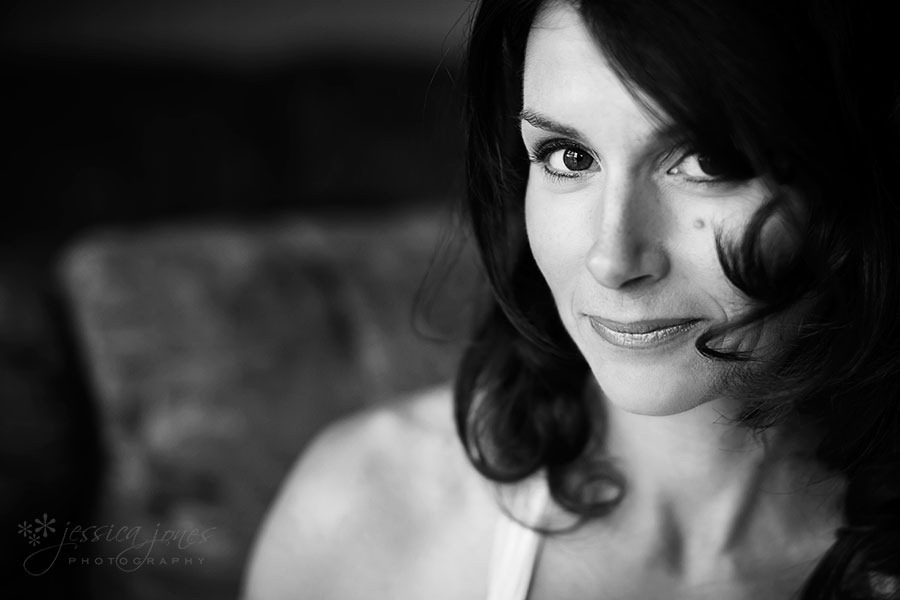 The boys arrive to Te Mahia in style.  Wait, isn't that....toilet paper.... on the front of the car?  Why yes it is!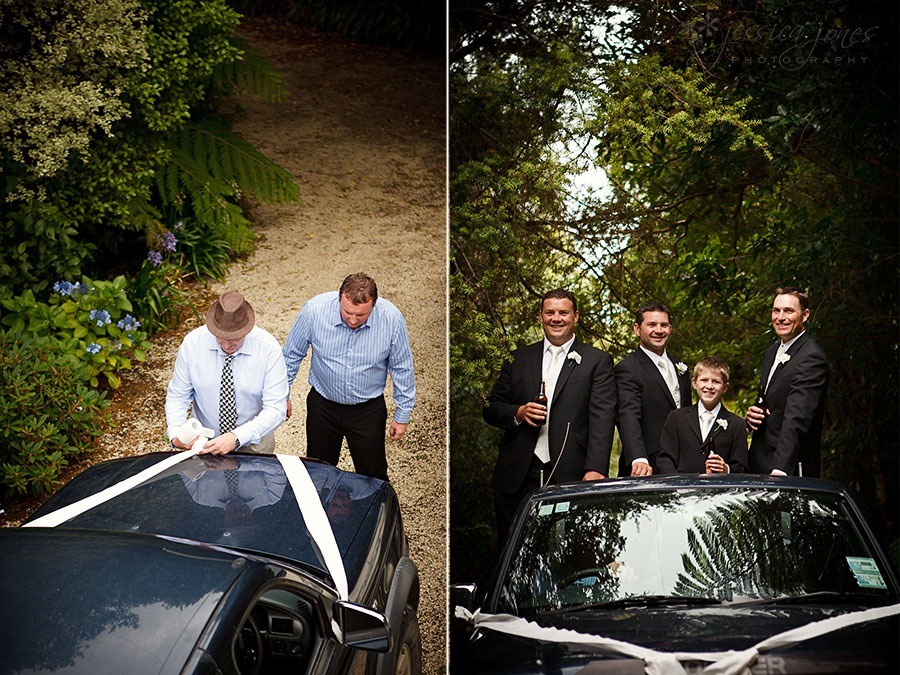 Richard, Andrea's brother, proudly walks her down the aisle.  Dad's memory was ever close, however, as she carried a picture of him with her flowers throughout the day.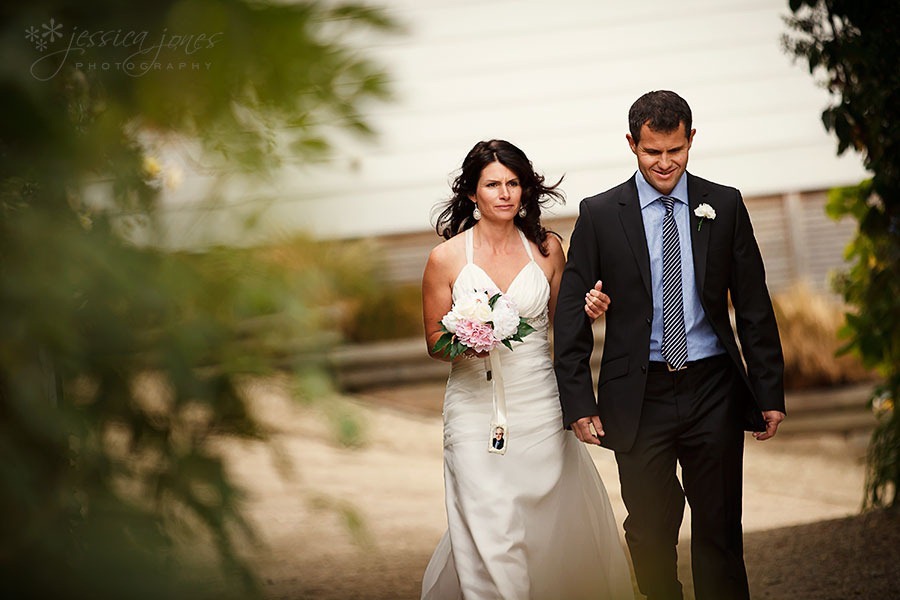 And John sees his bride for the first time.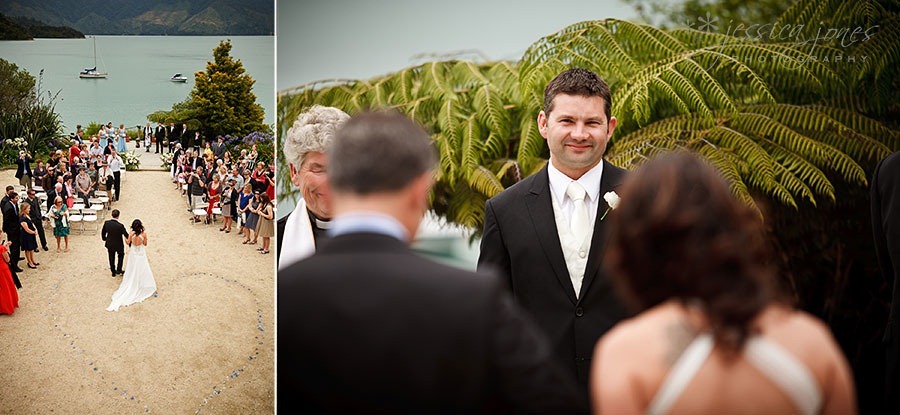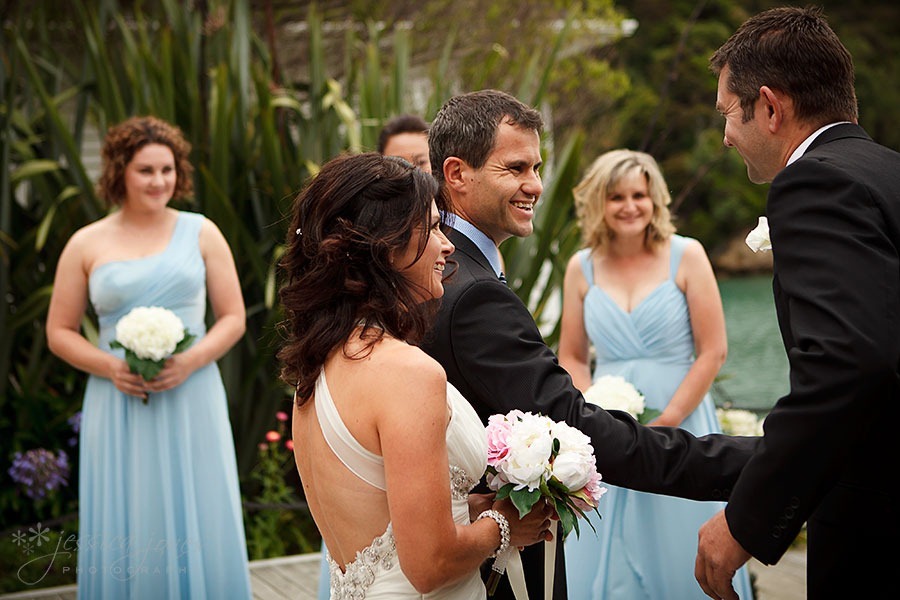 Jordan looking fully awesome.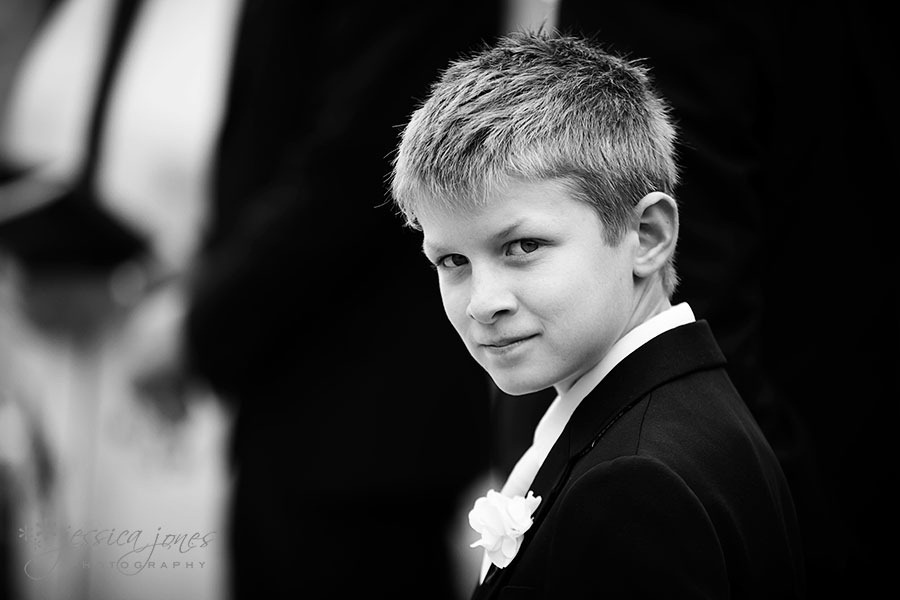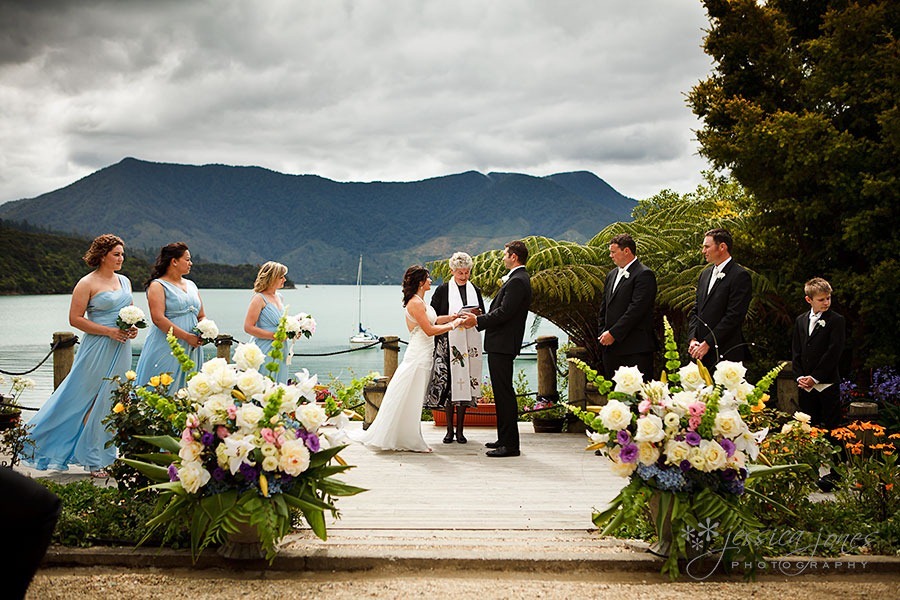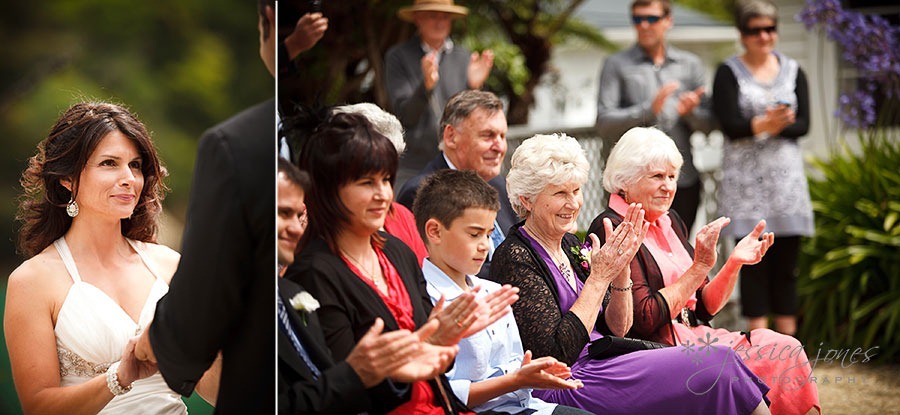 John and Andrea were given a bible by Reverend Miriam Taylor during their wedding ceremony.  What a beautiful gift.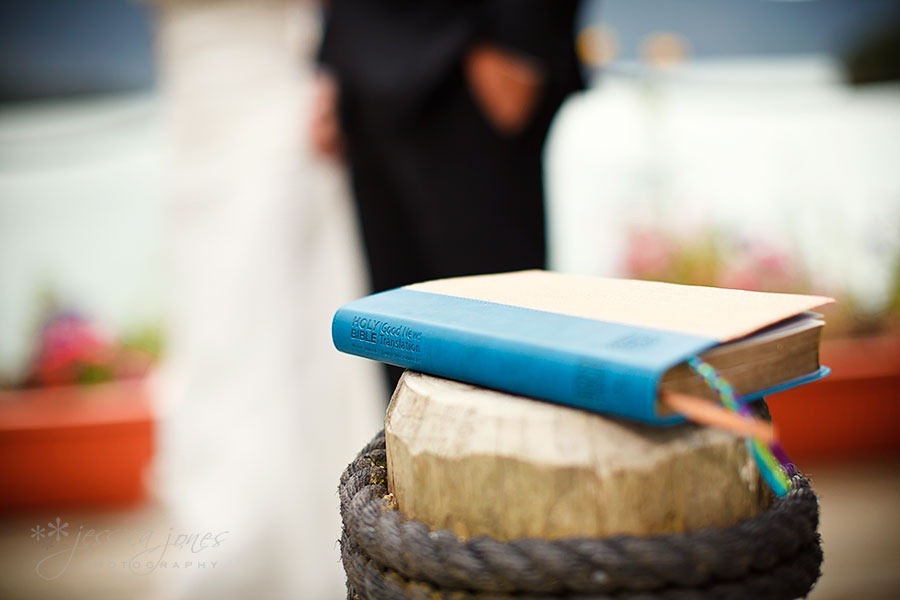 Then it was time to open the bubbles....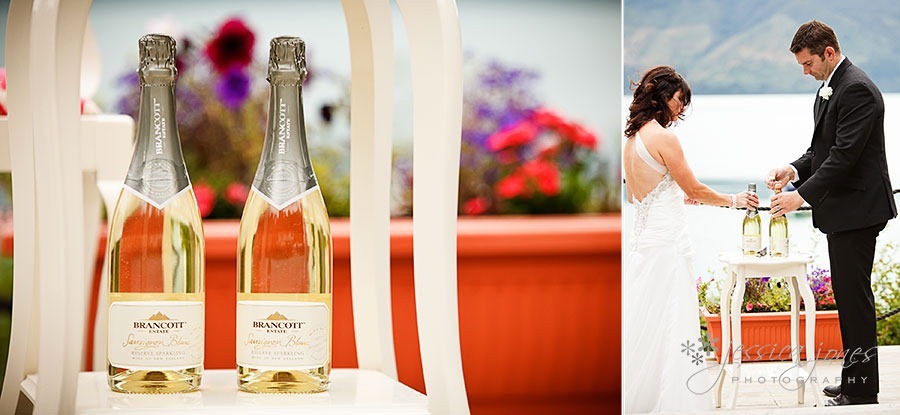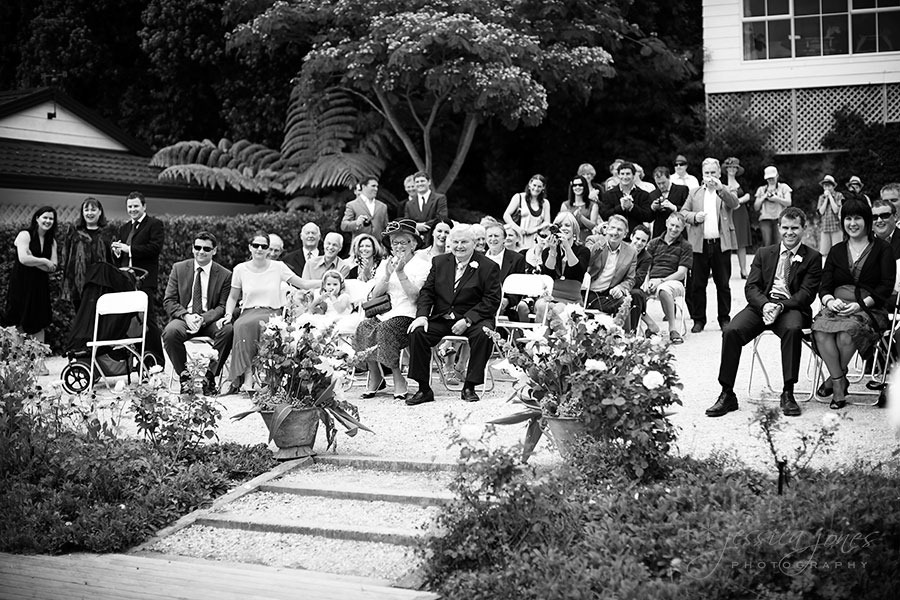 Married!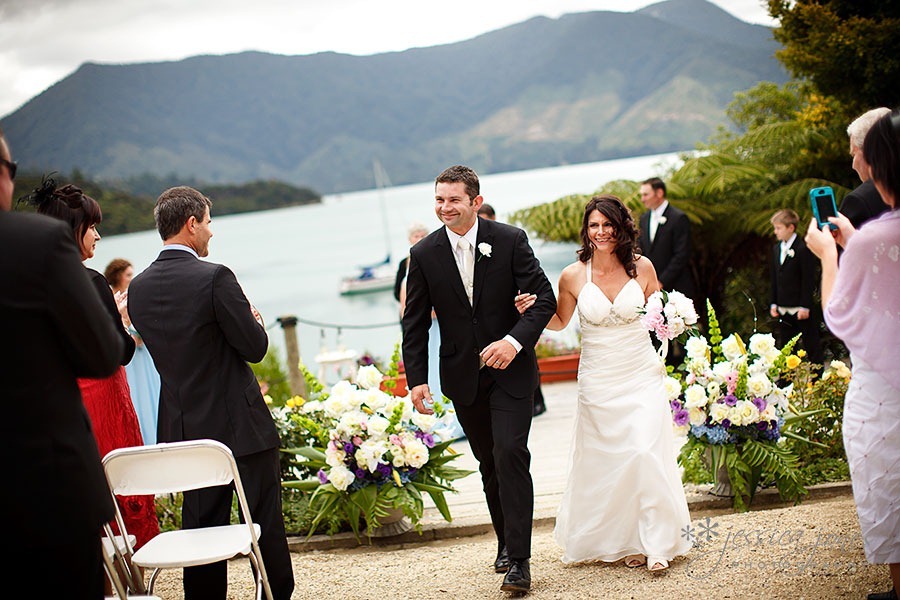 Te Mahia is a really fantastic place to get married.
John not only made our day a delight because he looks like THIS in photos, but he's also a really nice guy.  I can see why Andrea adores him so!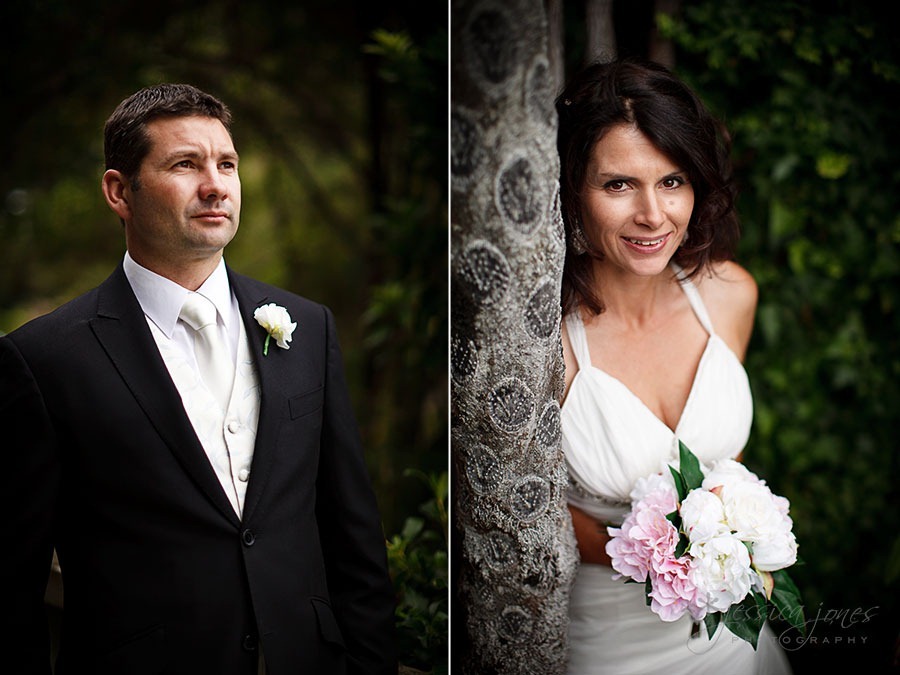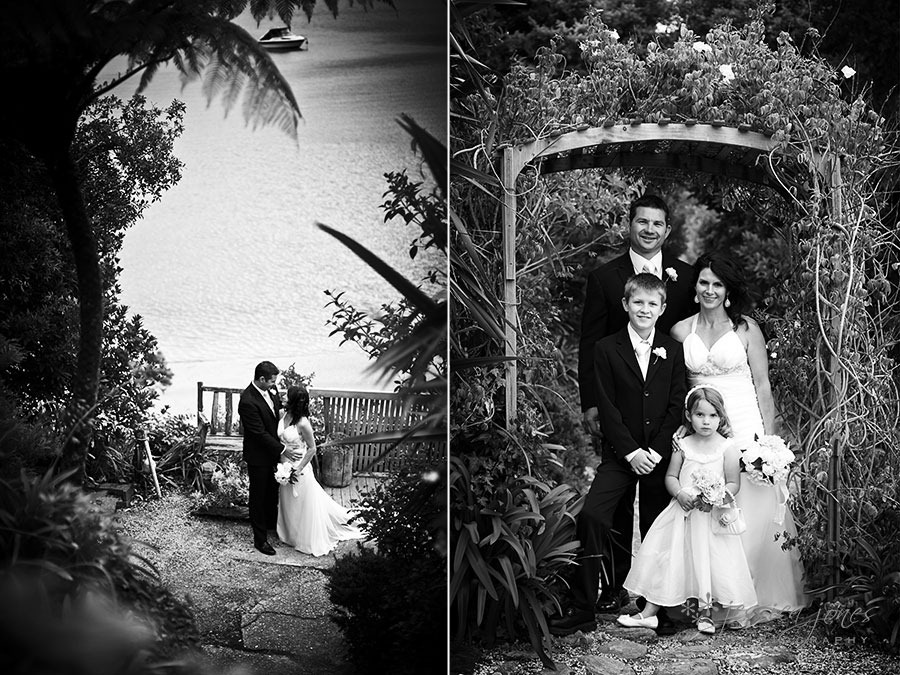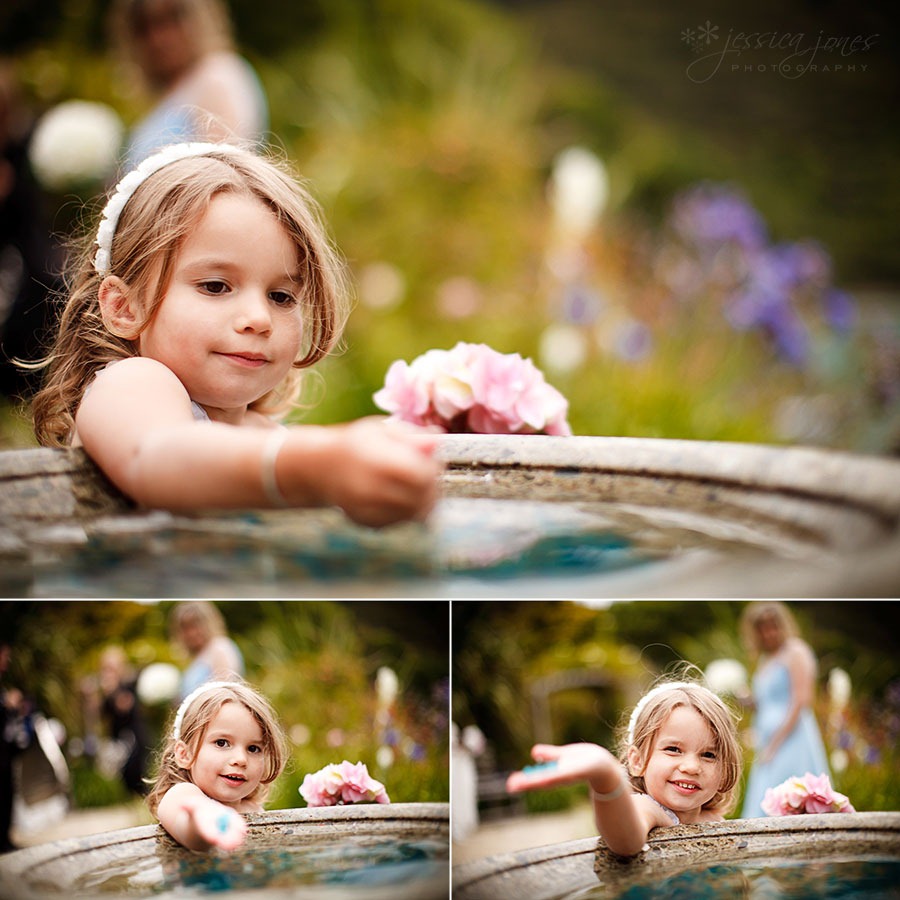 John was absolutely thrilled to be marrying Andrea, walking around smiling just like he'd found a treasure.  John has a way of finding amazing things.  When he was a boy, he dug up a fossil on their farm.  His Dad figured it was an old Rabbit bone, probably about 30 years old.  However, a friend took it down to Otago University where it was examined by a professor who declared it to be pigeon that they didn't know had ever existed in New Zealand, and according to Prof Fordyce it was gazillions of years old.  It's now sitting in a draw at the university and known as the Hickman Exhibit.  Pretty cool.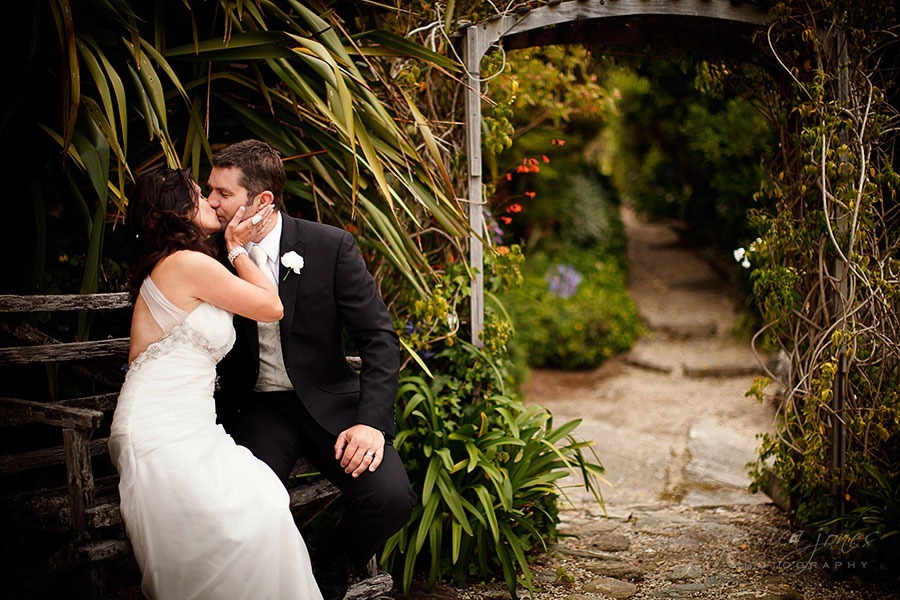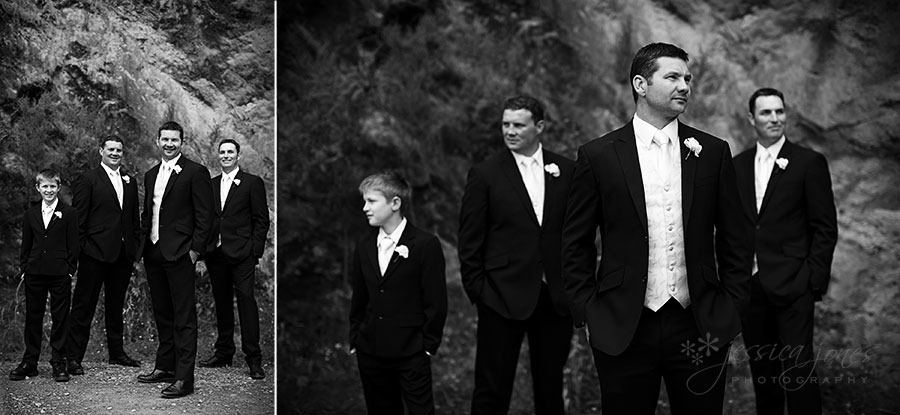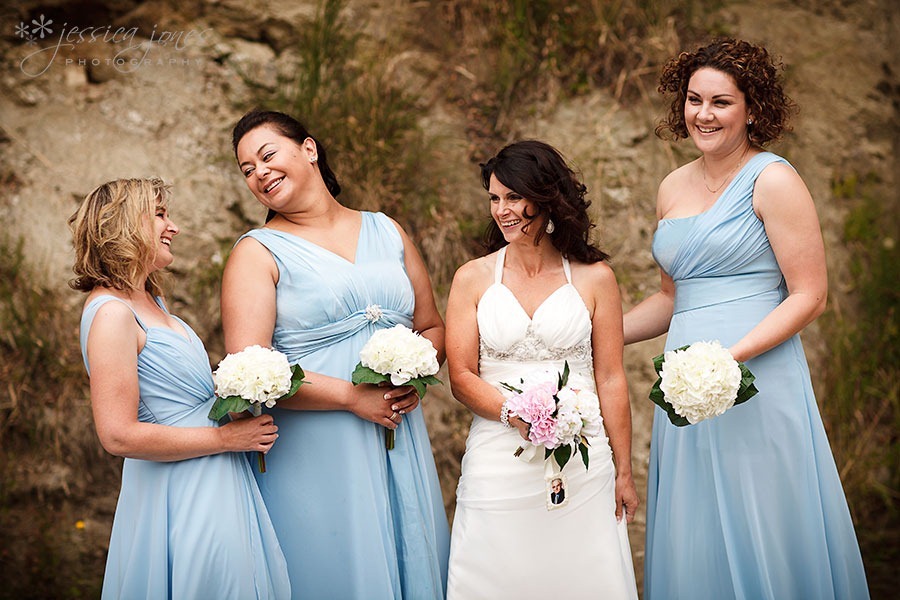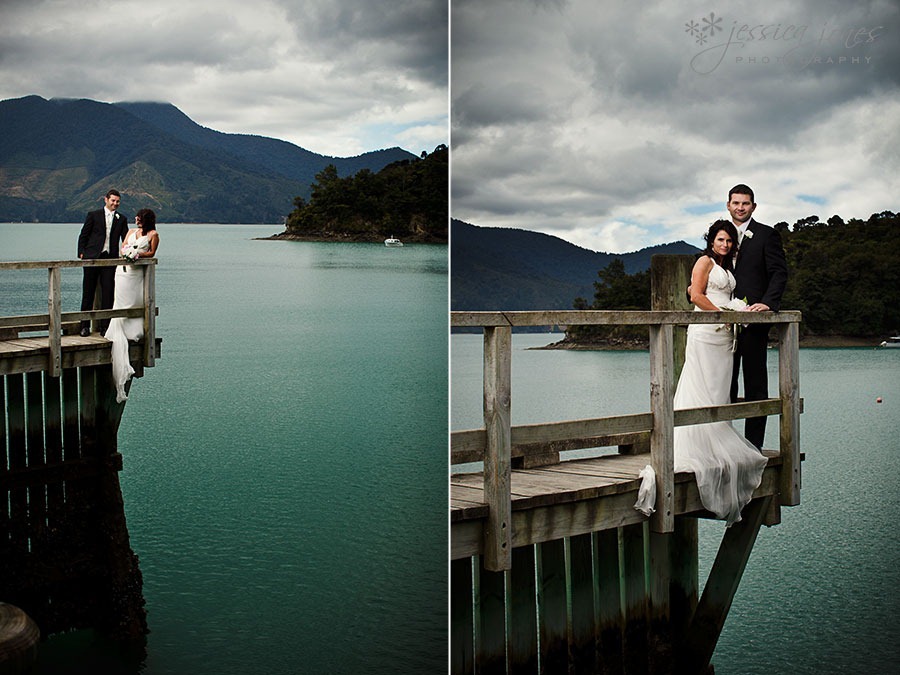 John and Andrea look like they belong in the pages of a sports and fitness magazine.  Andrea is a personal trainer and she looks amazing!  Just being around her makes me want to suck my belly in!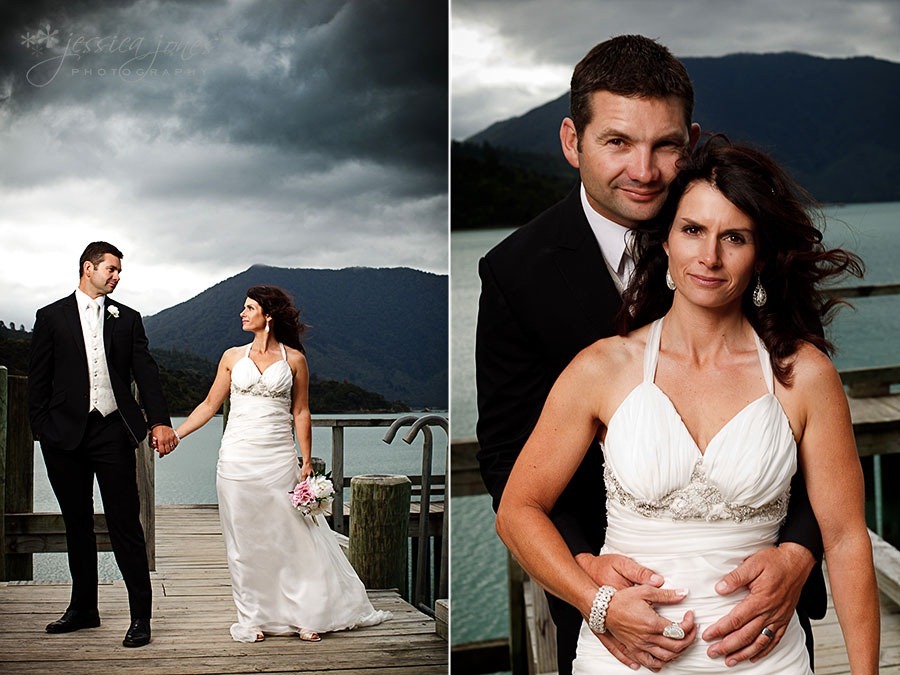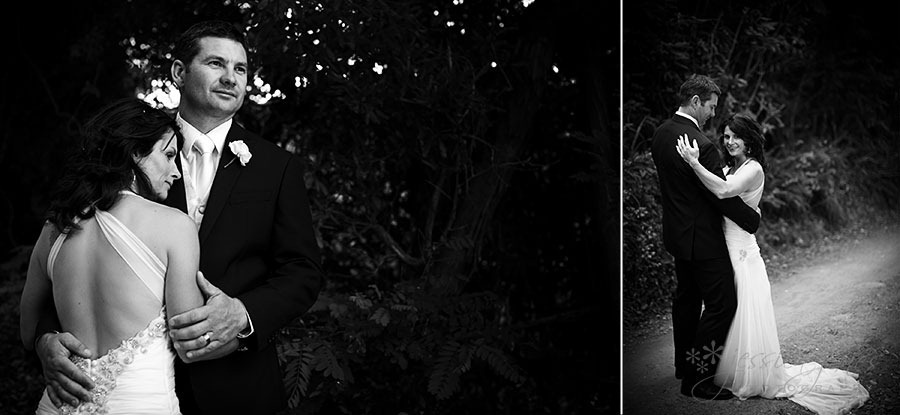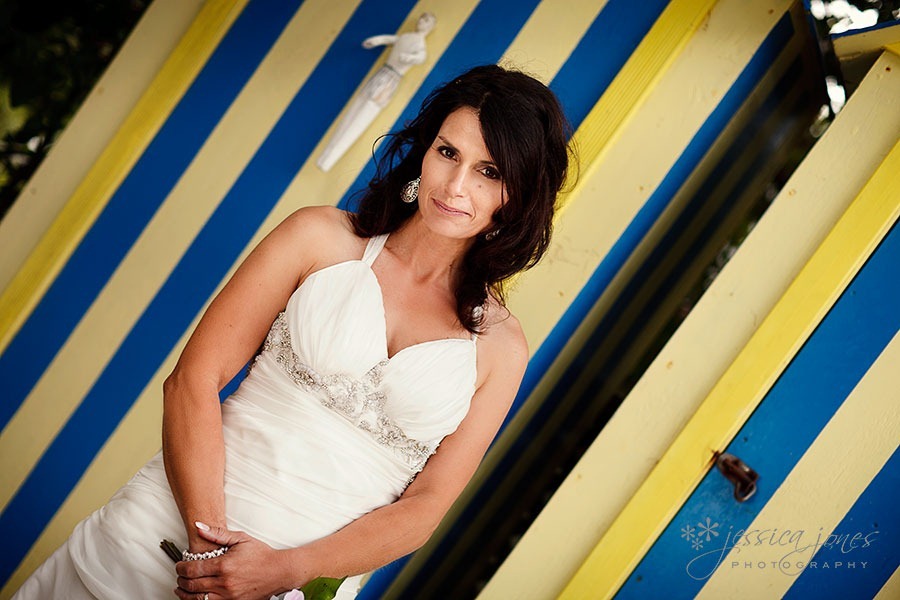 And THIS is the cake!  How fantastic a job did Andrea do?!  As well as the gorgeous topper by Grannys Sweet Tooth.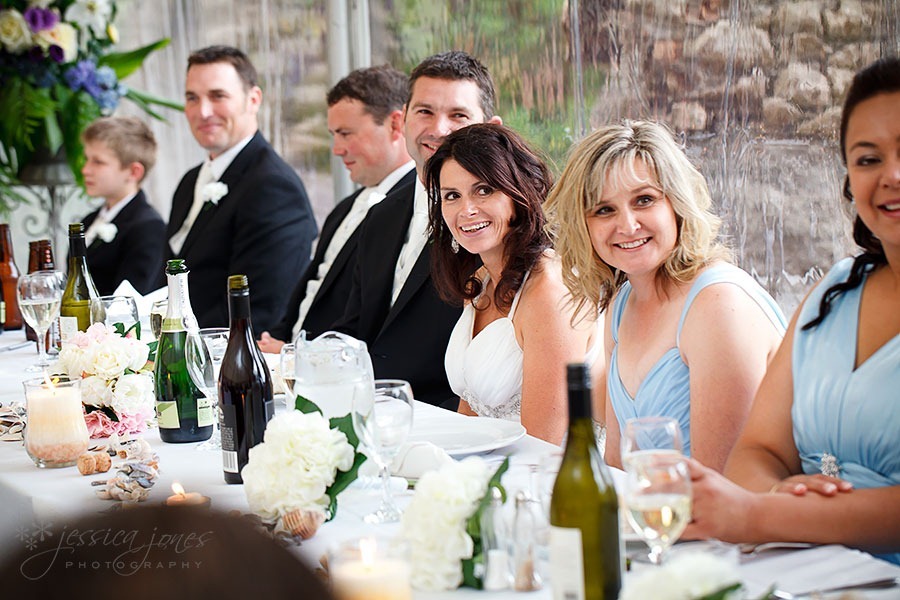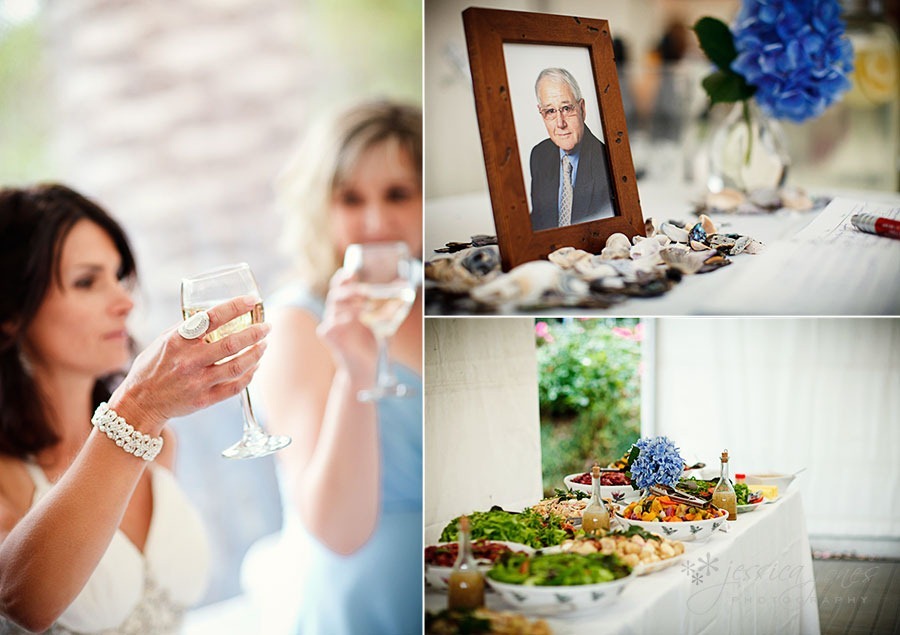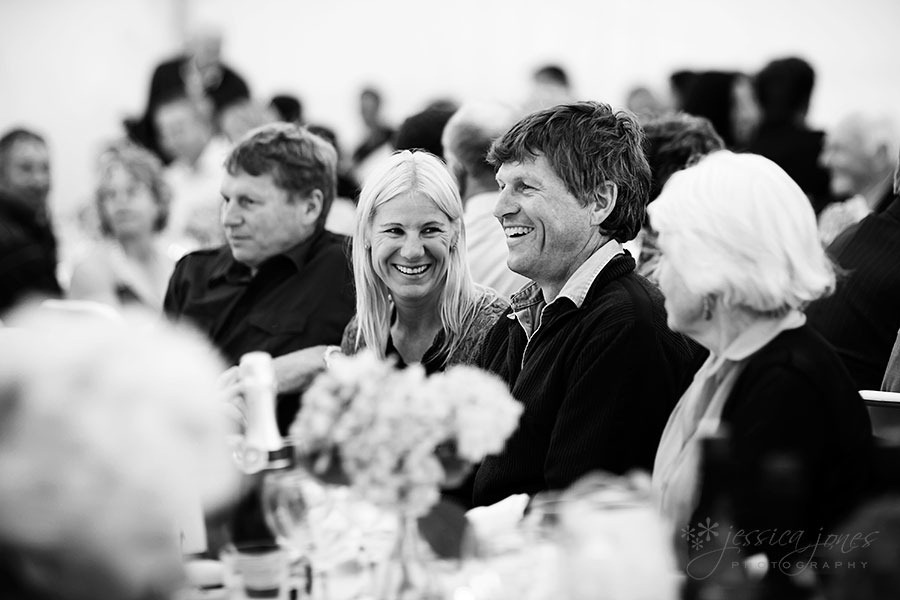 The speeches had us absolutely cracking up.  I could listen to John's Dad speak for hours!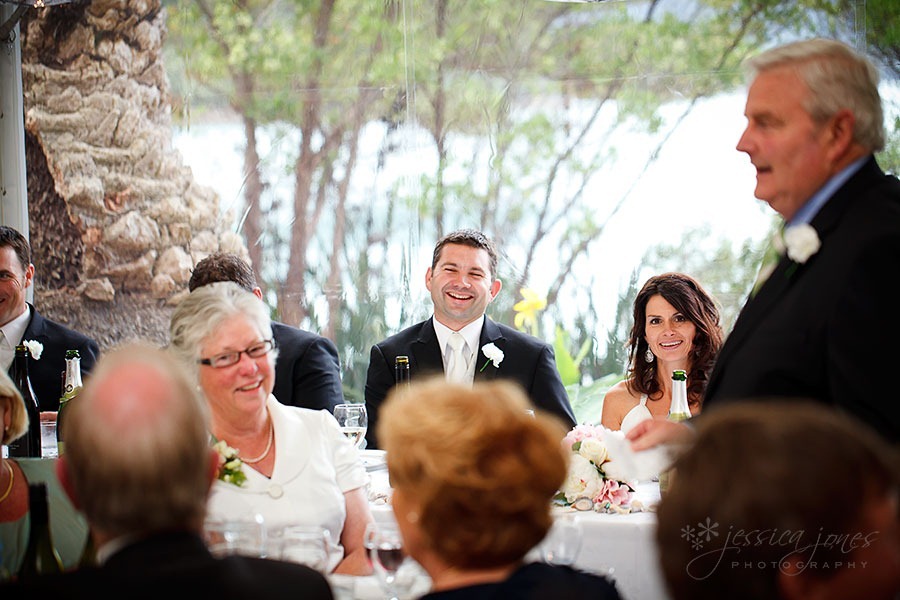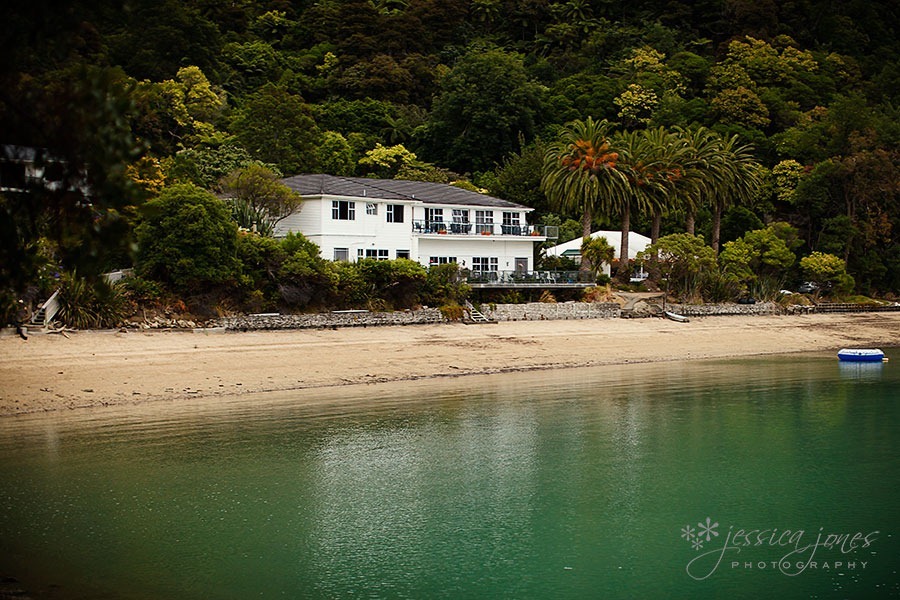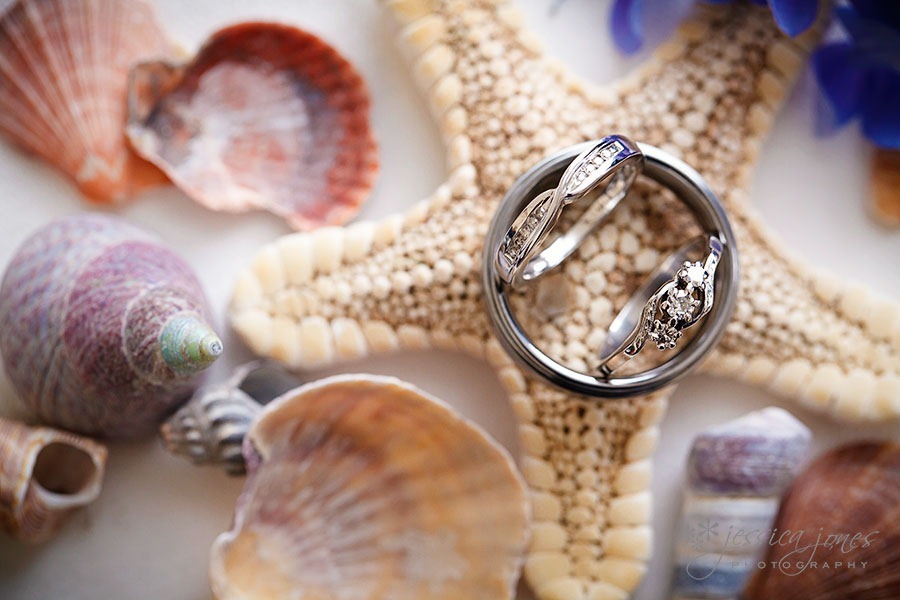 John and Andrea, you guys are a fantastic couple, and we're so thrilled to have been part of your amazing day.  We can't wait to show you the rest of the photos!
---
Tweet
Vendor Shoutout:
Leave a comment for: Andrea and John - Married!
---
Wednesday, 08 February, 2012
Posted by Jessica at
2:58 am
Tweet
Julie and Paul are so much fun and seriously likeable.  If there was a likeability scale, from one to ten, they would be a strong 10.  They laughed at my jokes, and that gets them bonus points.
This was a wedding so full of love, laughter and tears, by the end we almost felt like family.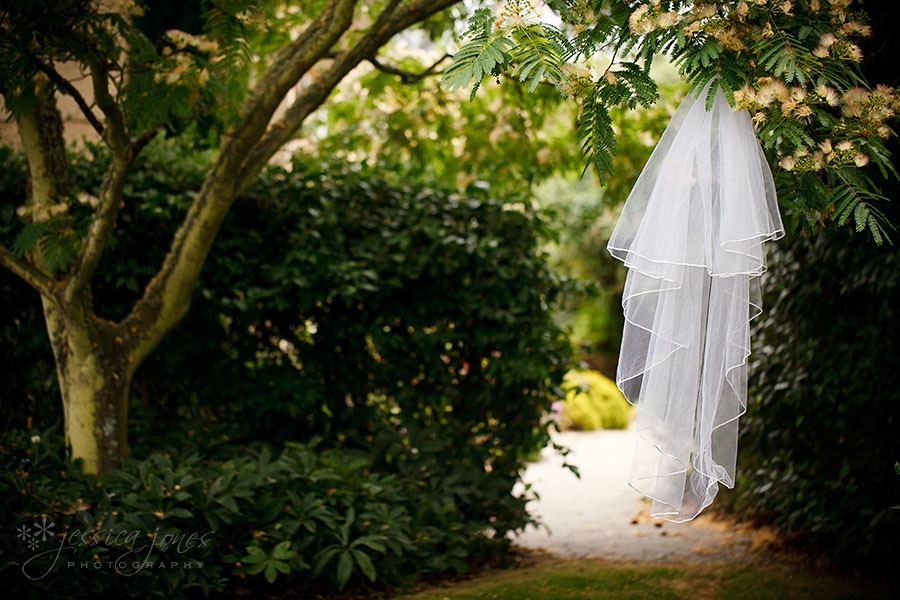 Julie's veil was the one her Mum wore decades before, with a little bit of bling added.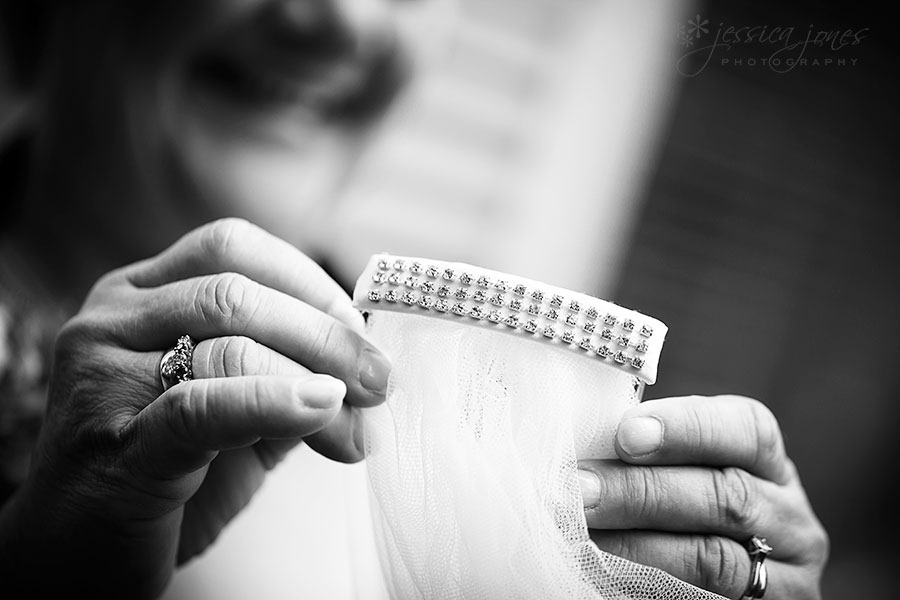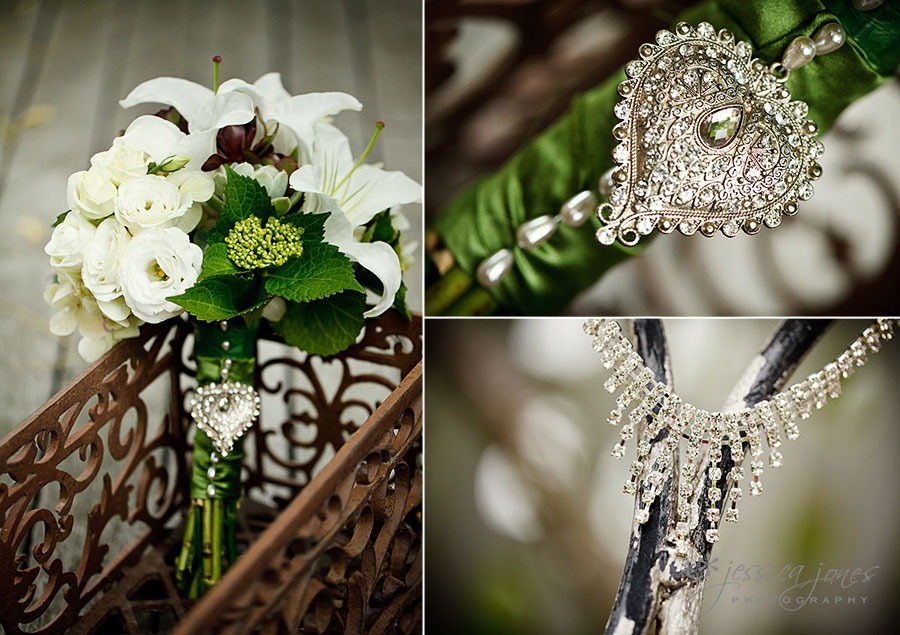 This was the happiness and enthusiasm that made us fall in love with Julie from the start.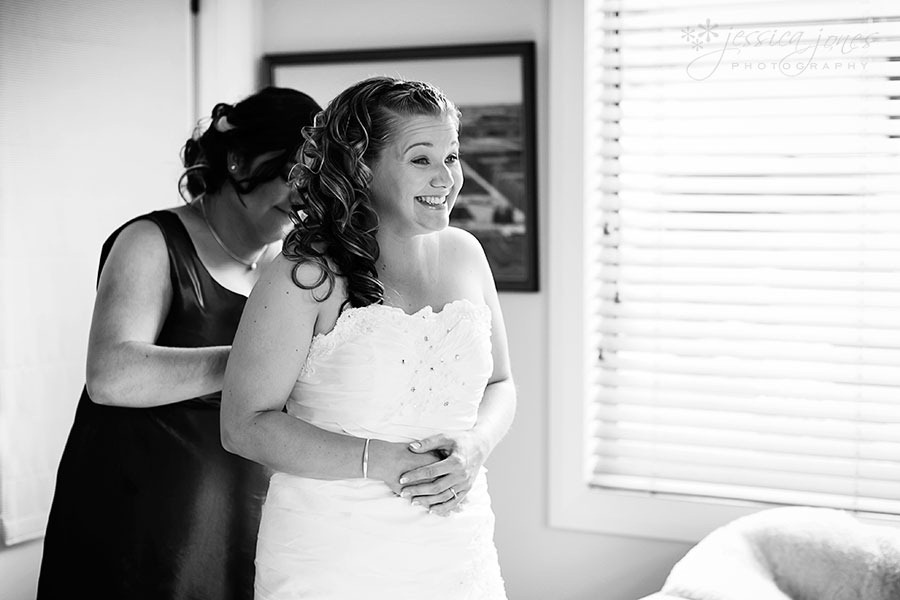 Some months ago, in the meat section of the supermarket, I found myself being hugged by a complete stranger.  Not just a little hug, a BIG heartfelt LONG hug.  And as she hugged, she explained that she was Julie's Mum (whom I had just spotted) and she was so thrilled that we were photographing Julie and Paul's upcoming wedding, and that she loved their engagement photos.  Right then and there, next to the chicken pieces in the chiller, while still being hugged, I felt fully appreciated. 
When the wedding day arrived, I knew that there would be more hugging, but this time I hugged Sue first!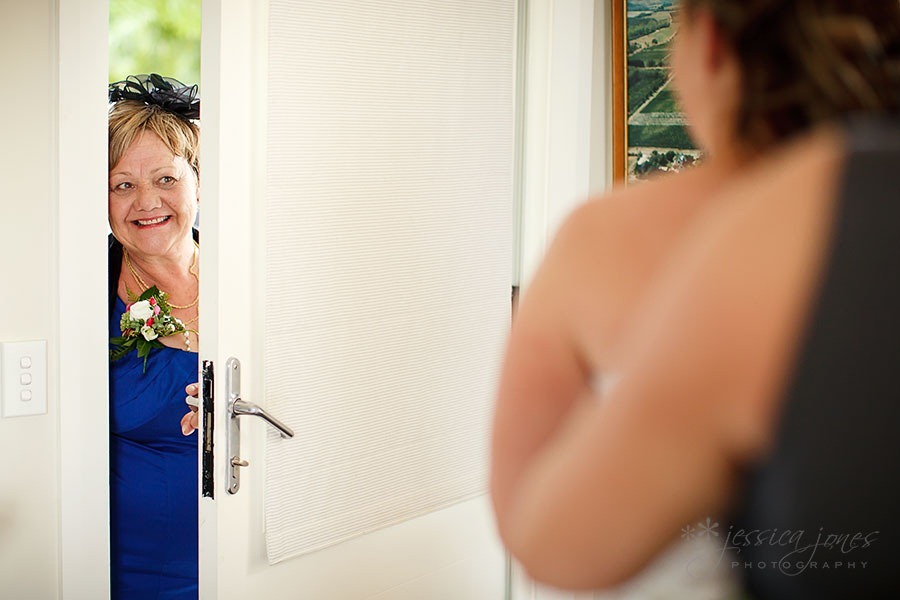 You are gorgeous Julie!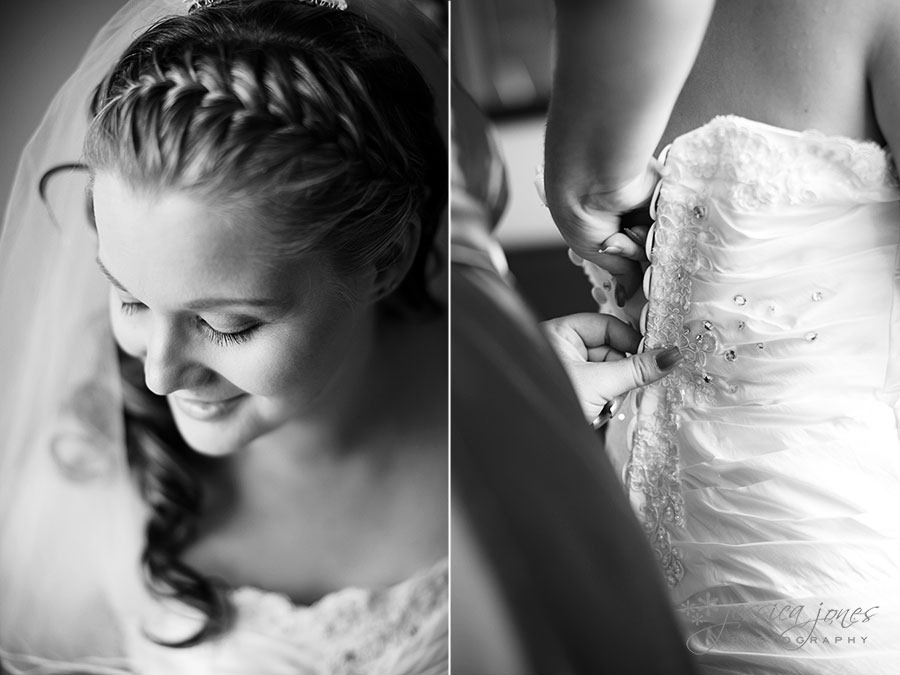 Once again, (my) Paul went and hung out with the boys.  These guys were rock stars!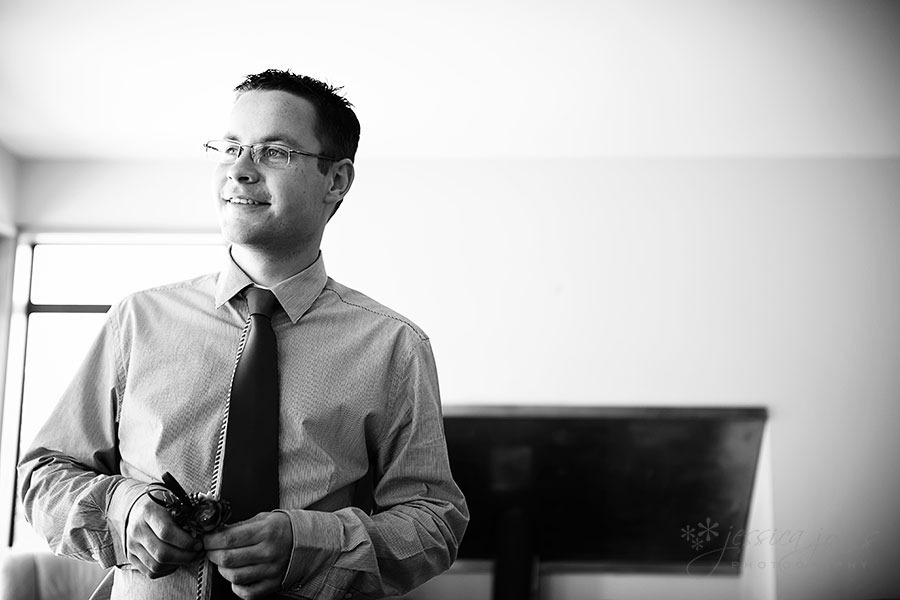 Both the wedding ceremony and reception were held at the ever accommodating Drylands Restaurant, and once again Dietmar was right on hand making sure everything ran perfectly to plan.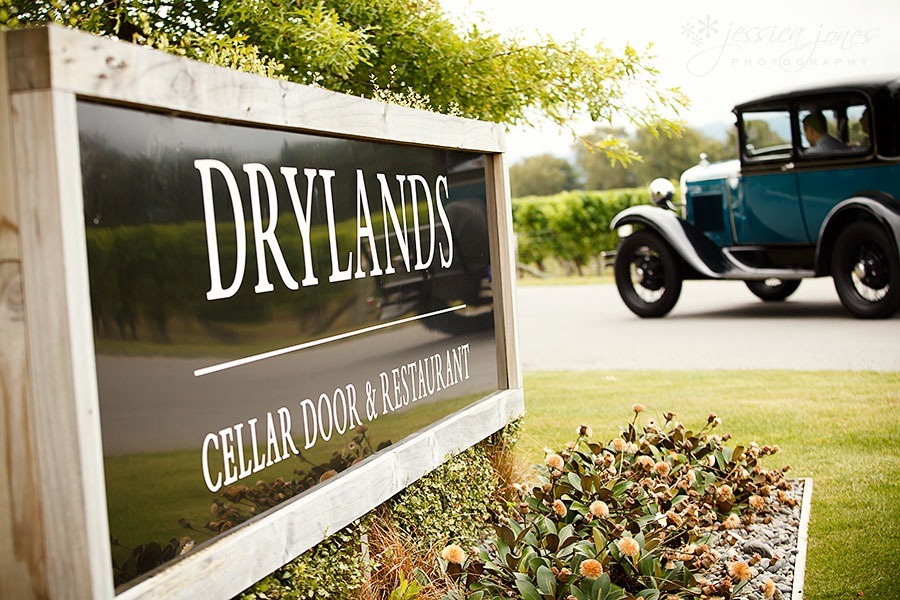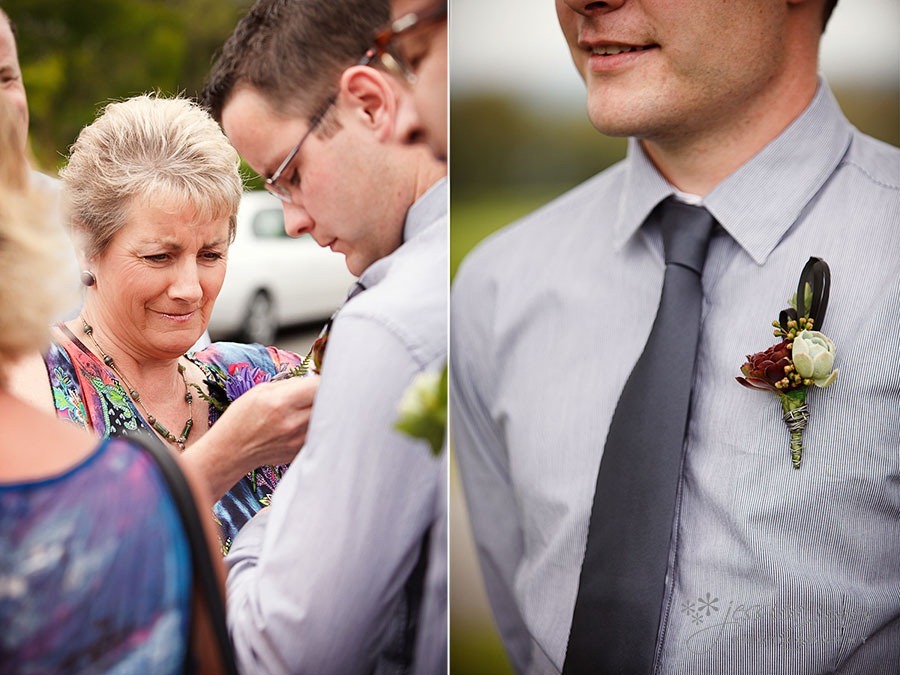 Paul looking as cool as a cucumber as he waits for his bride to arrive.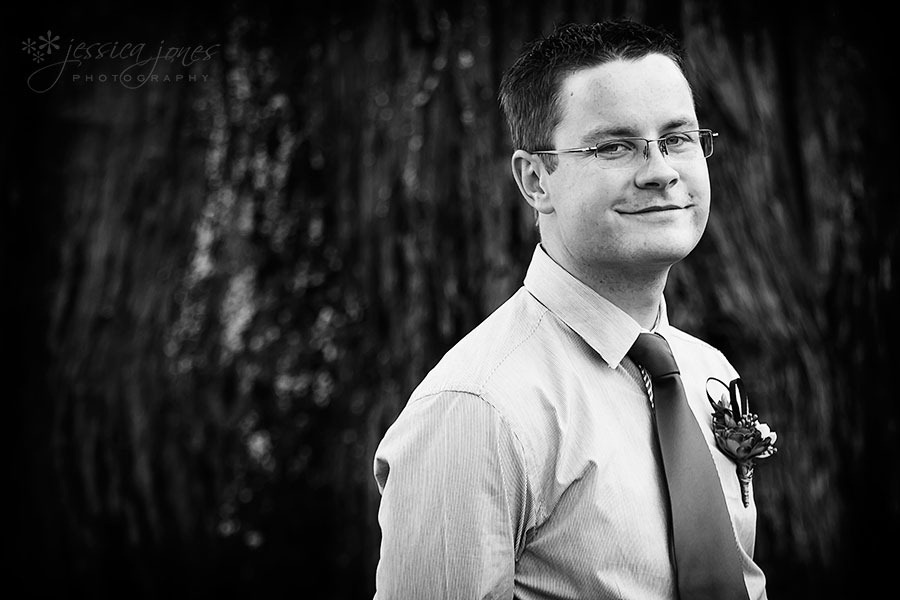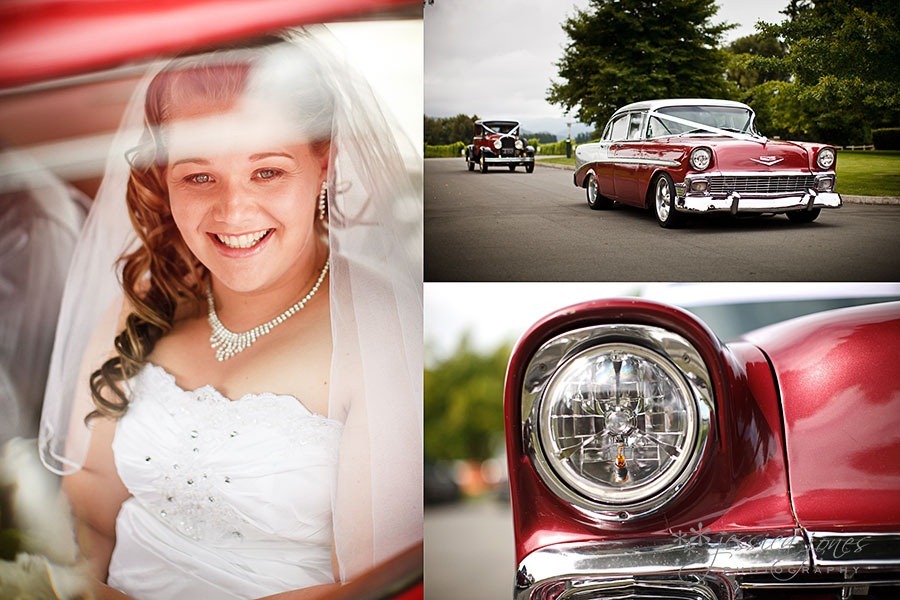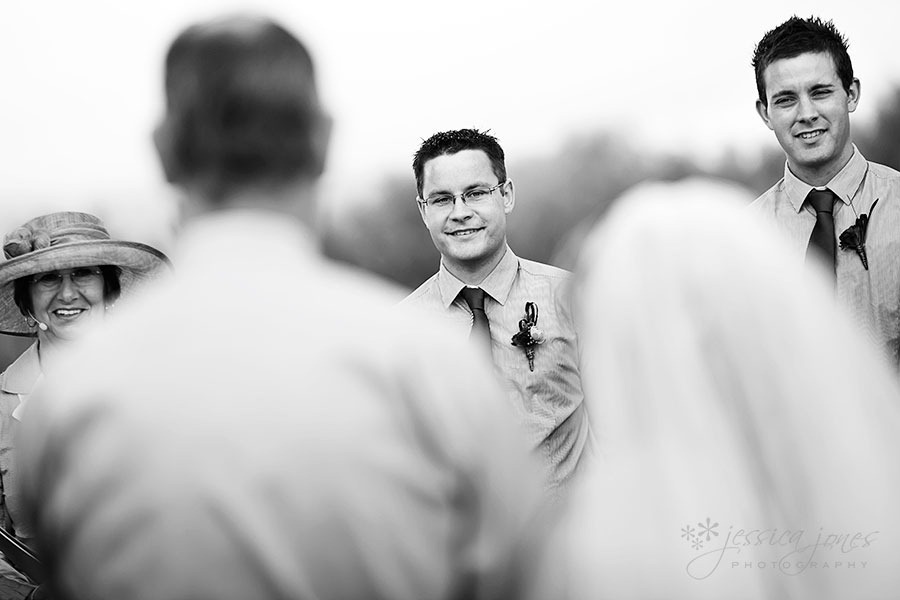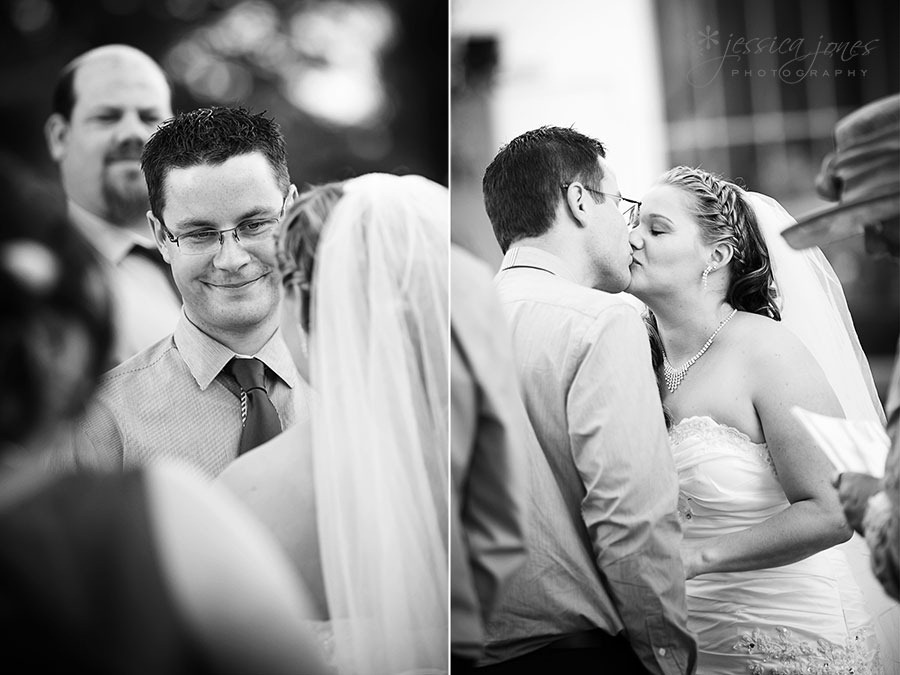 Paul and Julie's boy Rhyan turned on the charm.  What a darling!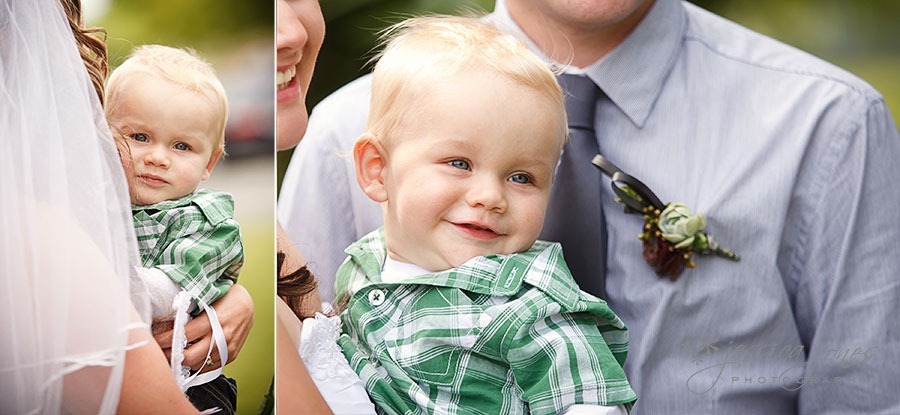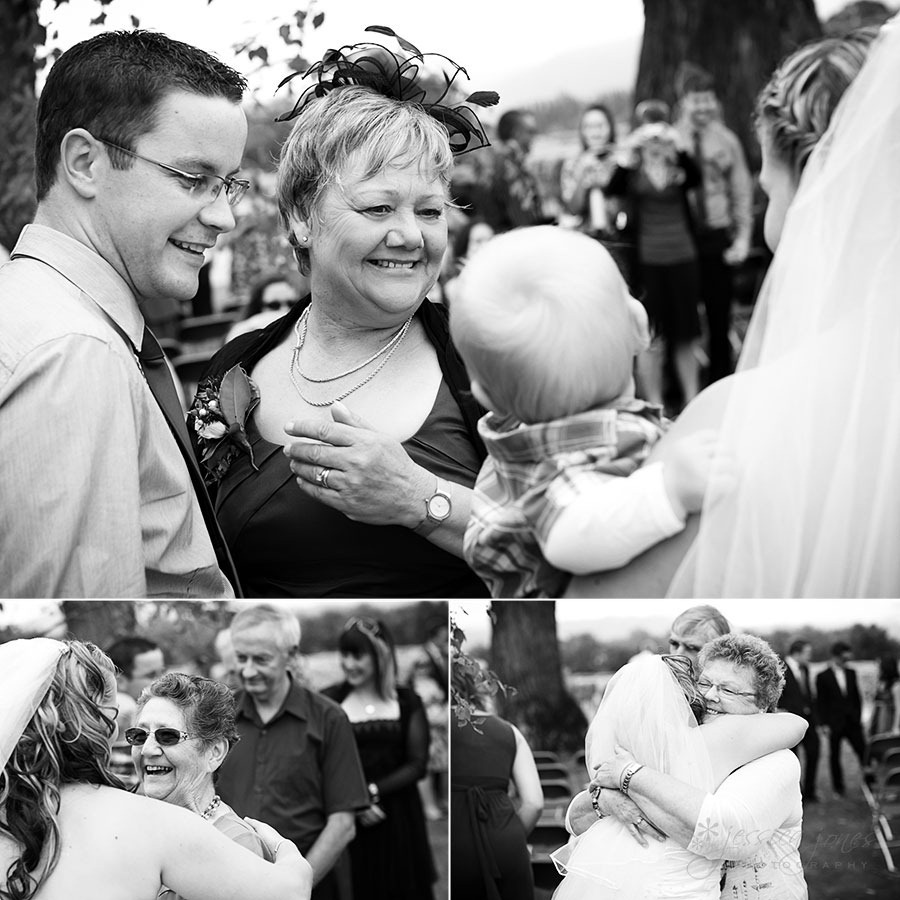 This bridal party was super fun.  They were full of energy and enthusiasm and willing to do anything I asked of them.  Even if that meant looking down at me in the foetal position at their feet...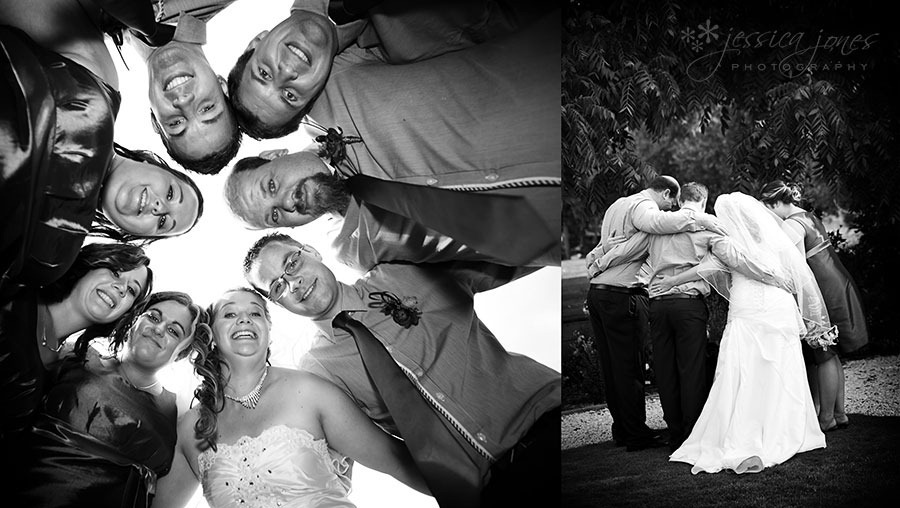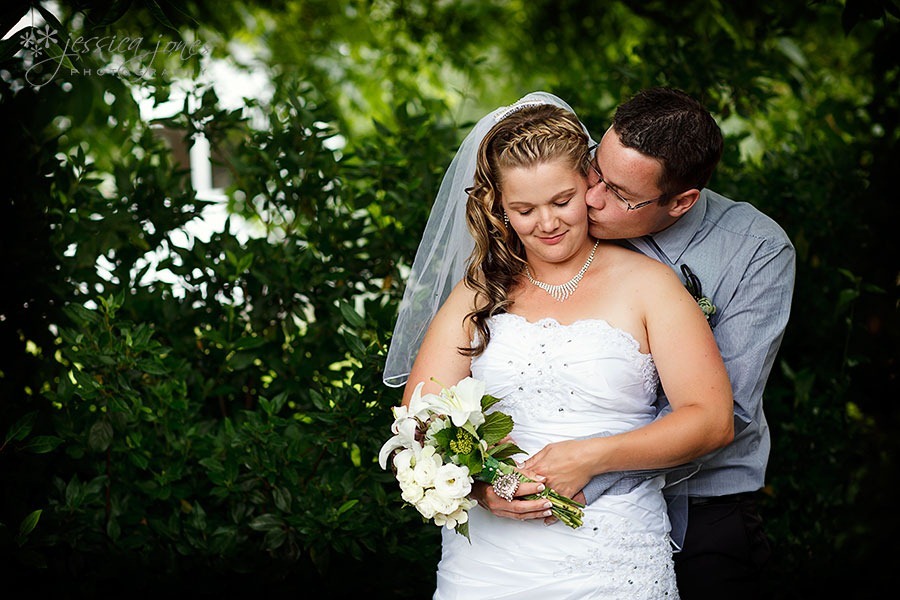 ***FUNNY STORY ALERT!***
We were having a wonderful time getting photos at the beautiful Hillsfield House B&B when we spotted their paddock near the river and headed on over there.  The paddock right next to it contained a few Alpacas (or Llamas? Who knows the difference?) and so we simply shut a gate to keep them contained away from us.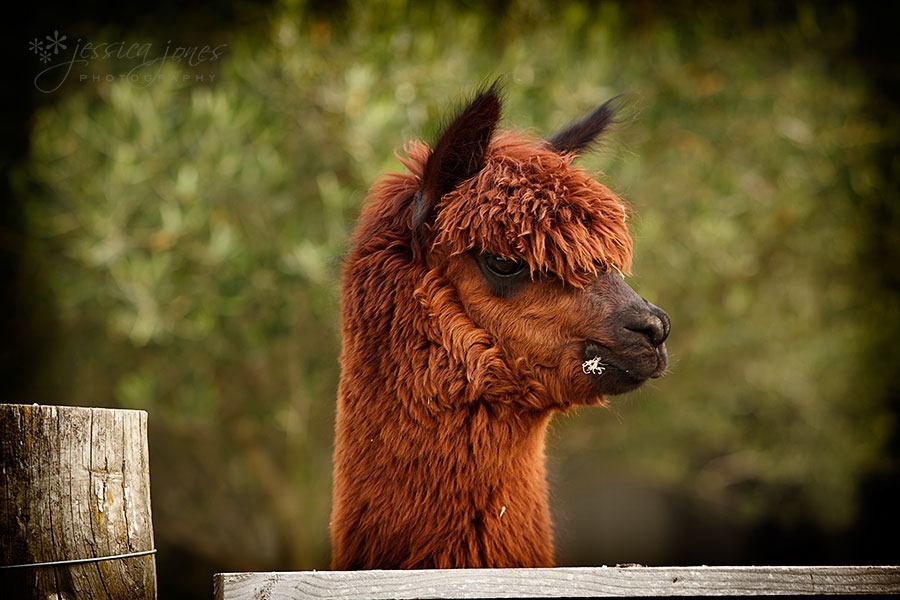 When we were ready to head away again, (my) Paul stayed by the gate and waited for us all to reach safety before opening the gate back up again.  Nobody really knew anything about Alpacas (or even if they are called that?!) so we all hightailed to the nearest exit, just a little bit nervous about how they might have felt about us invading their paddock.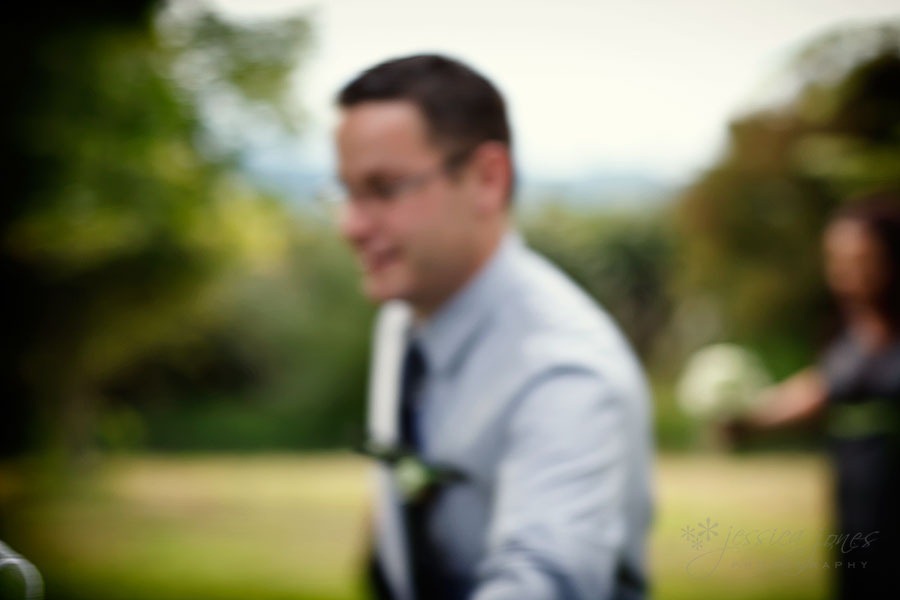 As I turned around to see how far away (my) Paul was, I noticed that the largest of our furry friends was head down and butt up and charging at him. I don't know that he had seen what was behind him during the taking of this photo. A large percentage of me wanted to run and distract the creature to give Paul more time to get to the gate where we all were. The other part of me wanted to take pictures. So I left him to his own devices and took pictures...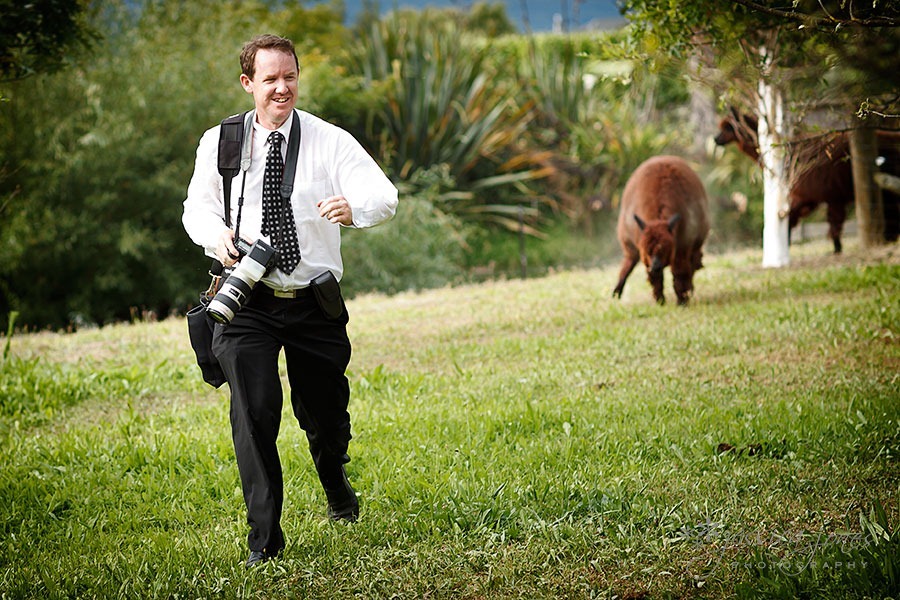 I think this is the moment that he spotted them coming, and his gentle jog turned into something a lot more like a run.  Within seconds he realised that he would not outrun the beast as the gate was too far away, so he stood his ground and scared them back as the rest of us roared with laughter for a very, very long time afterwards.  All in a day's work...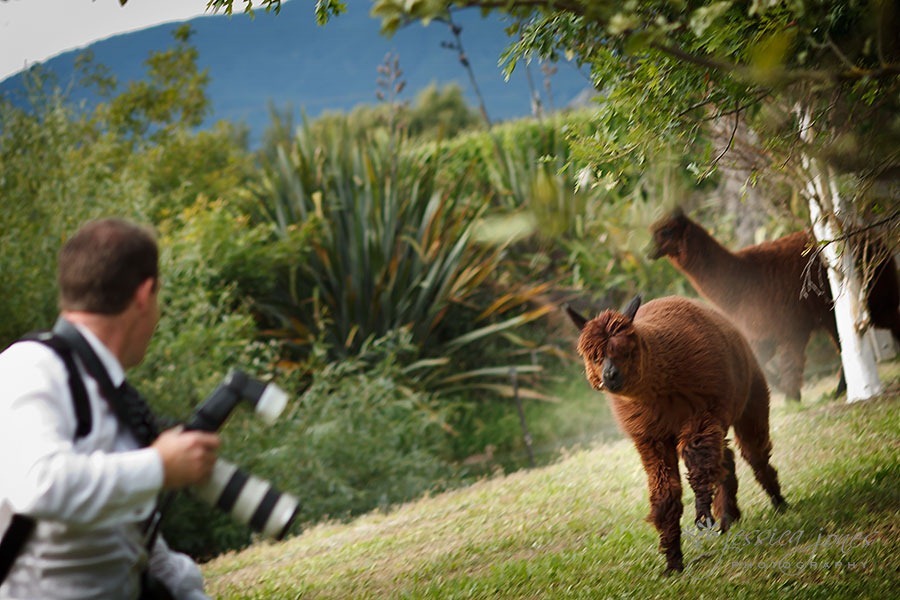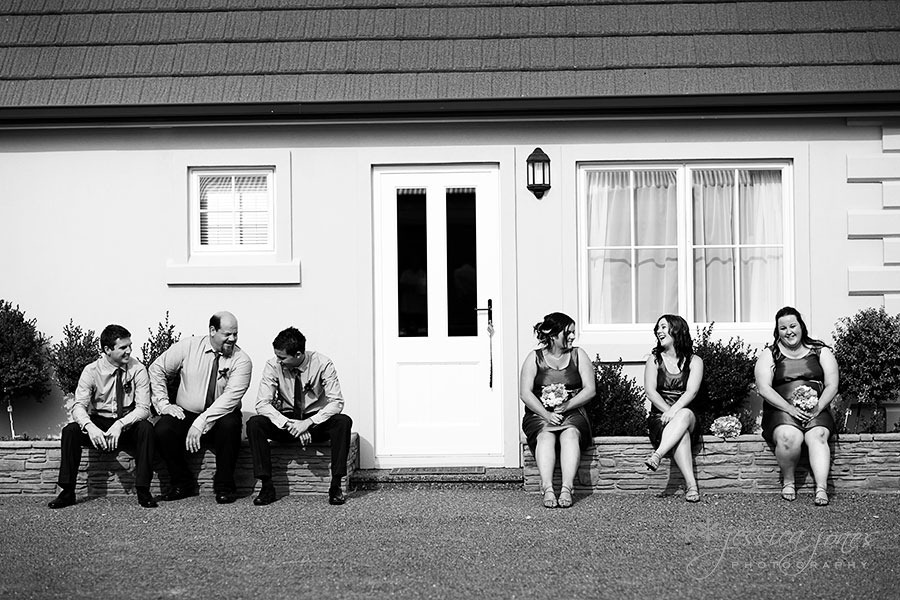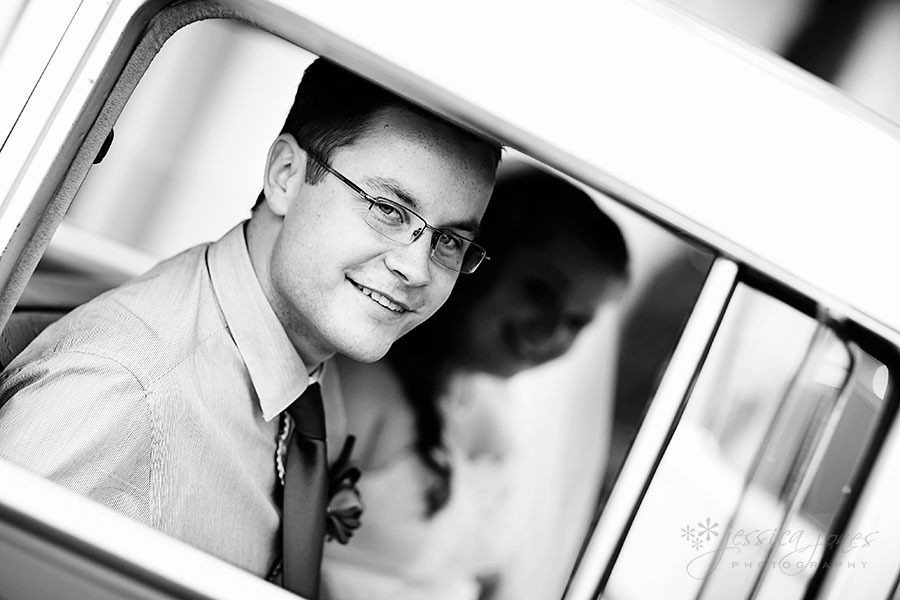 Then, before we arrived back at Drylands, we had arranged to stop at this barley field.  More happiness!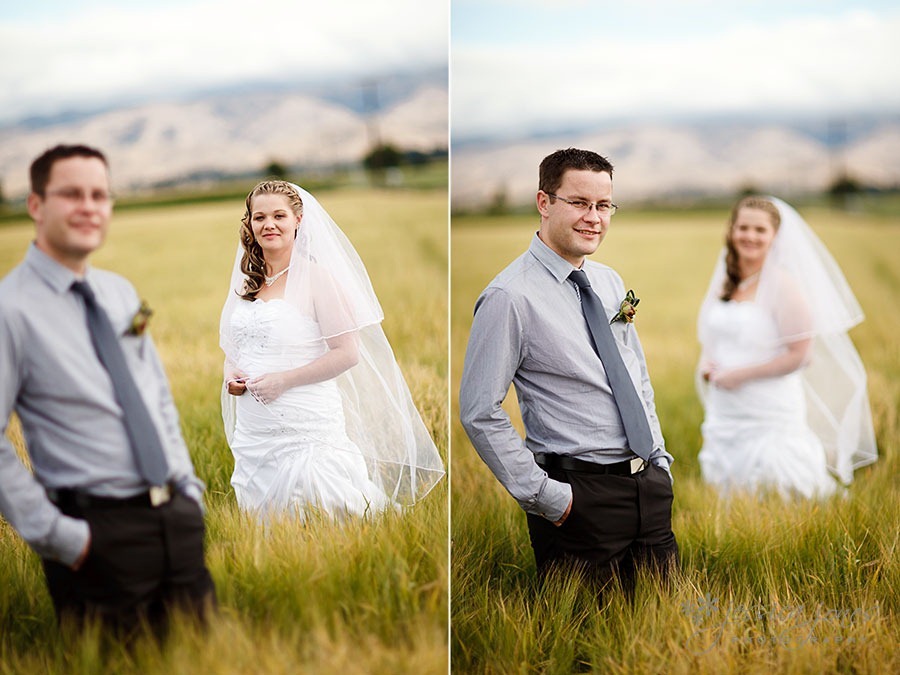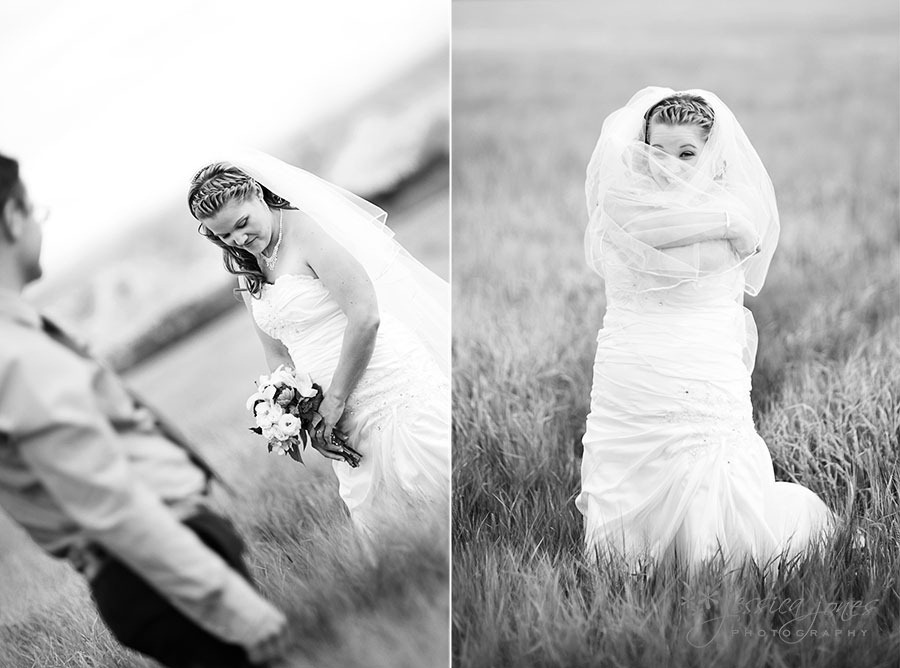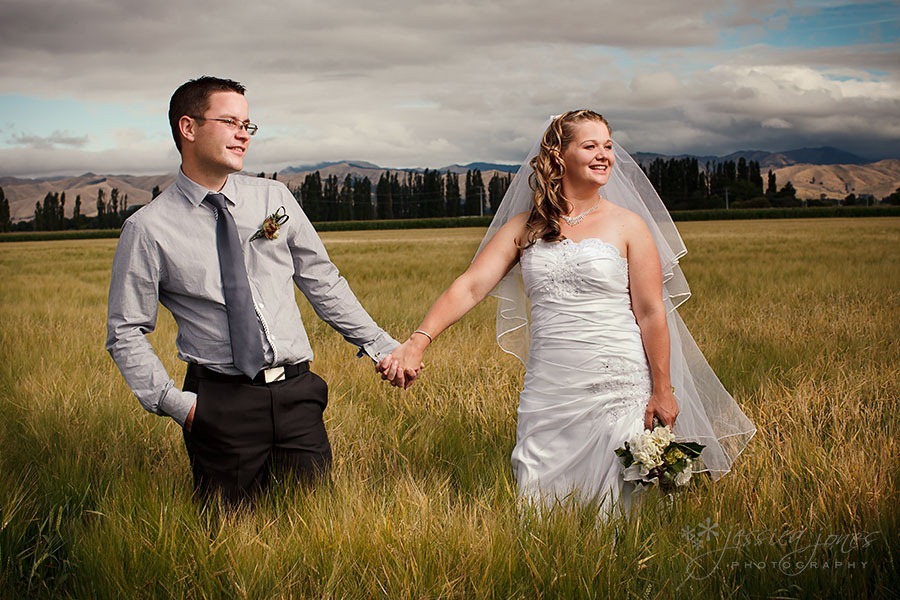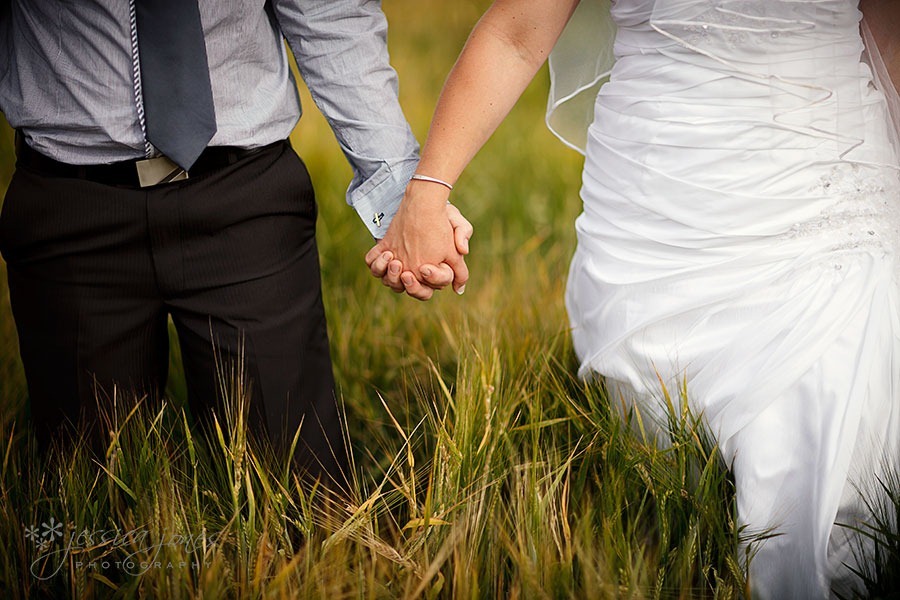 Weddings are a happy, celebration family time.  But when somebody very important can't be with us to celebrate, it can be a bit of a sore time too.  Julie's Dad passed away 8 years ago, and to honour and remember him Paul, Julie and her brother Nick released these white balloons.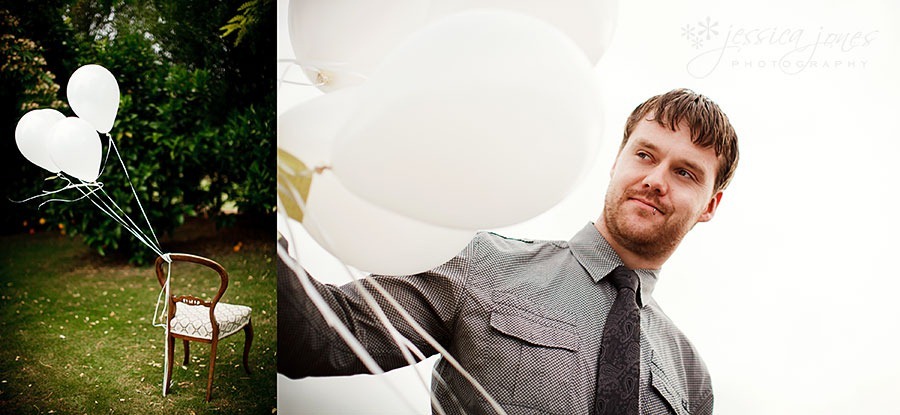 Quietly, the balloons rose into the sky.  It was beautiful.  And I couldn't help remembering my own dear Mum and how we honoured her with balloons at her funeral last year and for the gazillionth time I had to fight back tears.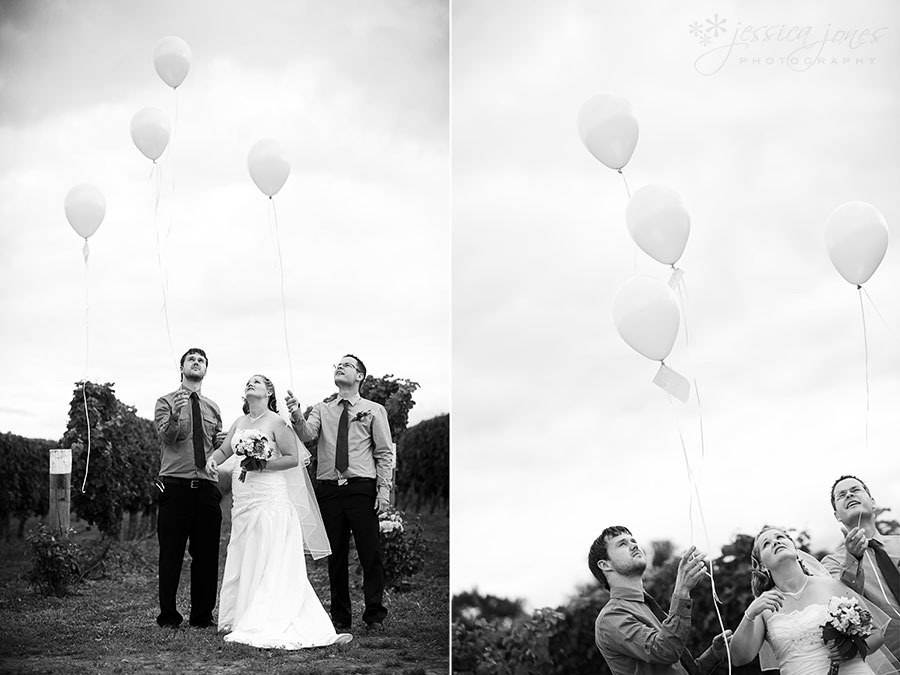 They continued to rise and as they danced on the wind they took up the form of the Southern Cross.  I think that is pretty cool.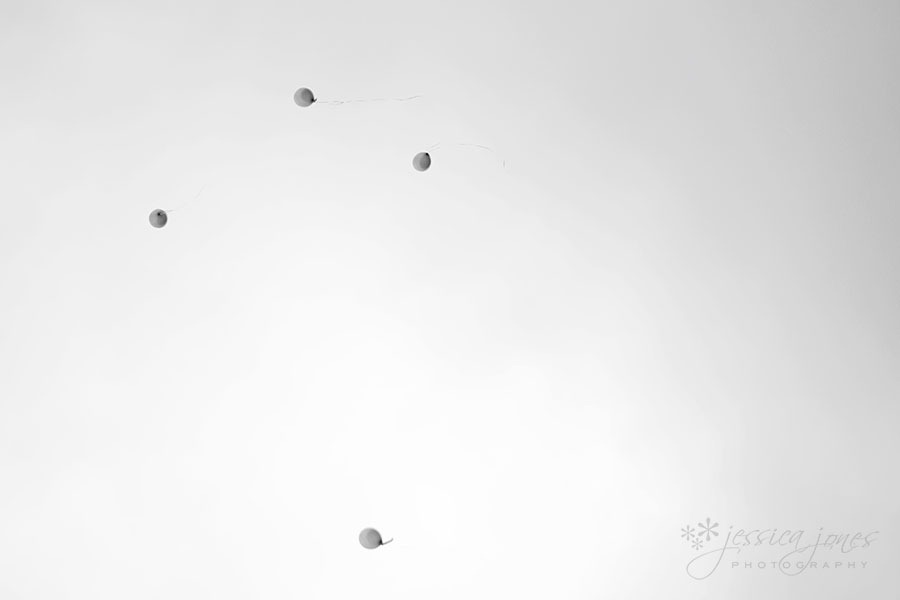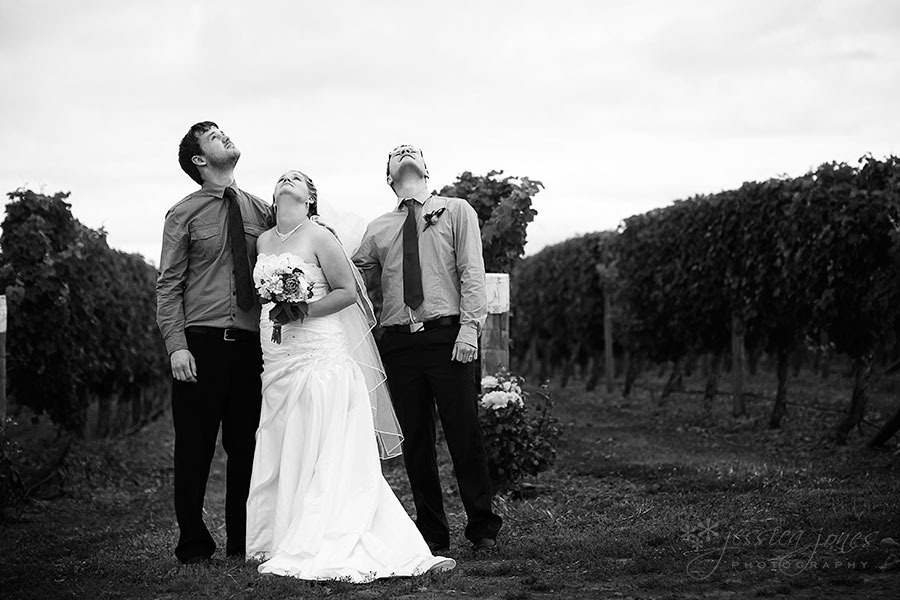 Back at Drylands and the festivities continue.  If you ever get the chance to try their Gelato, don't let it go by.  It is unbelievably yum!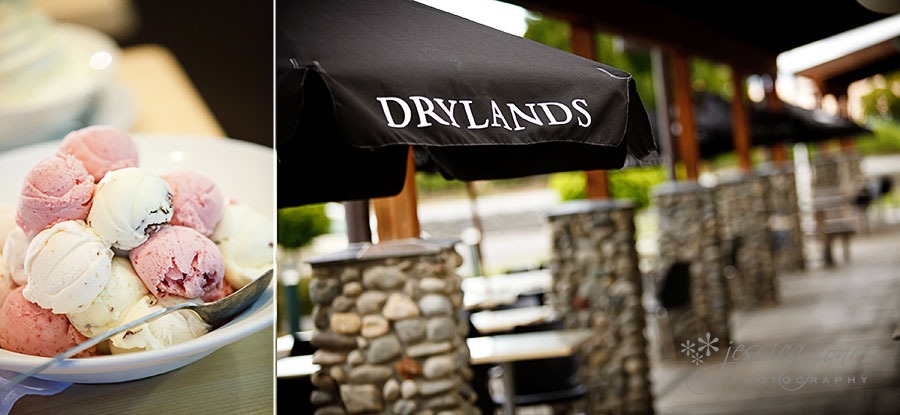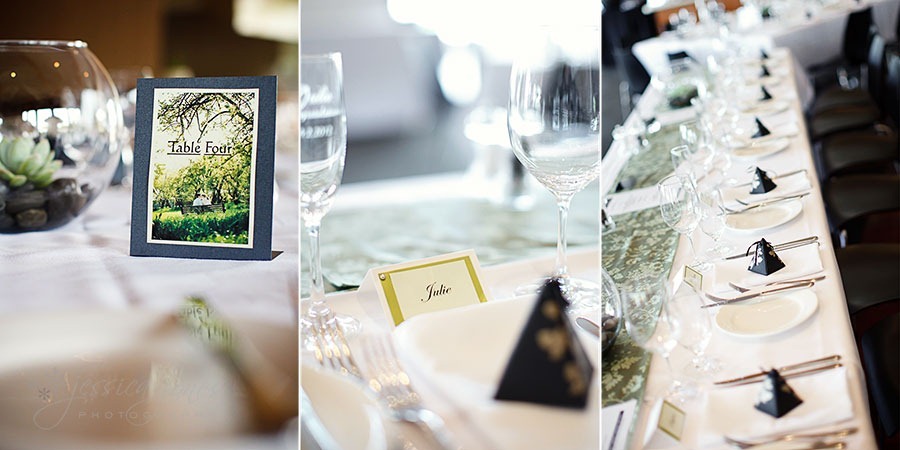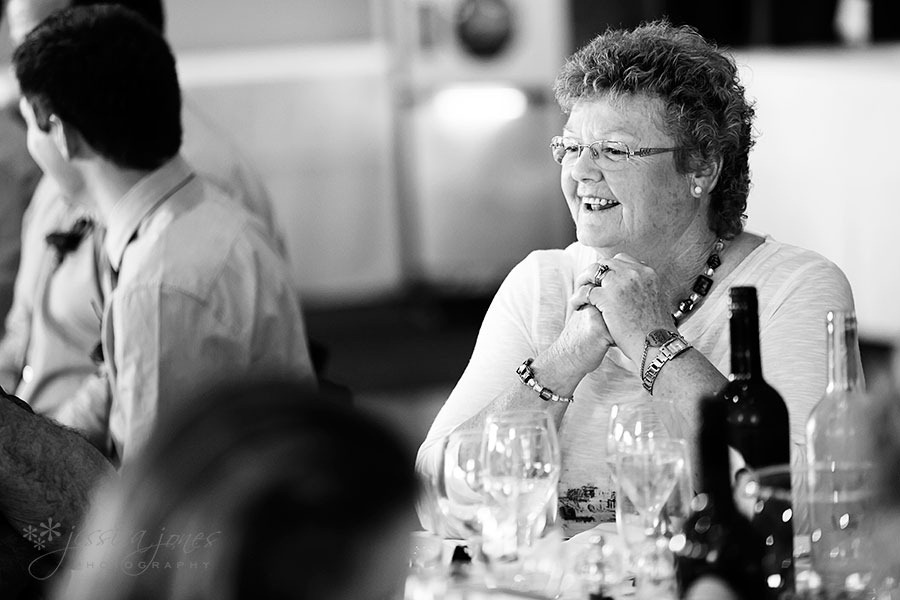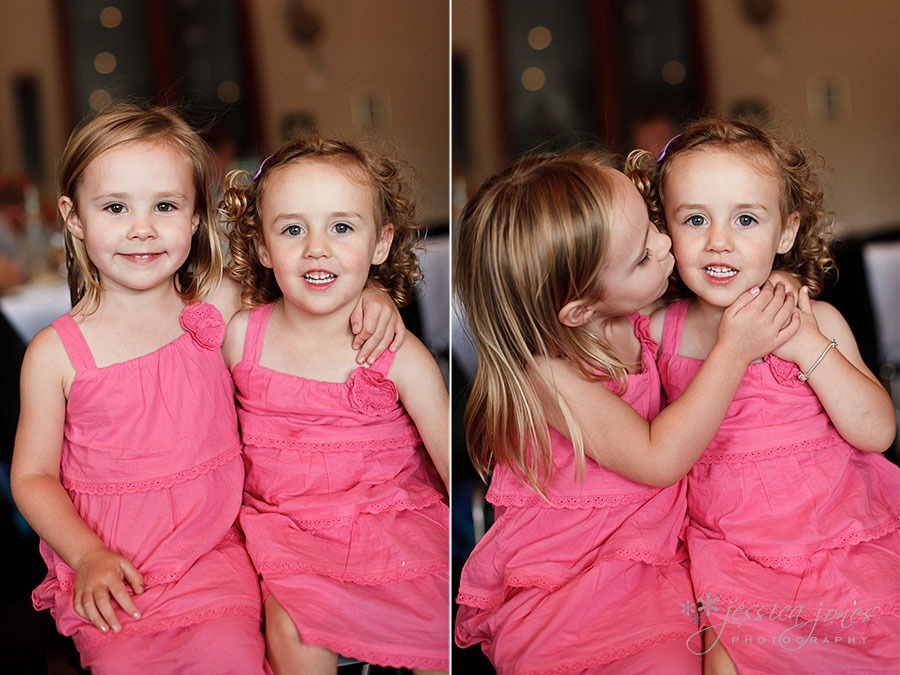 Paul's Grandad, William, is 90 and came all the way from Perth to be here.  That deserves a shout out!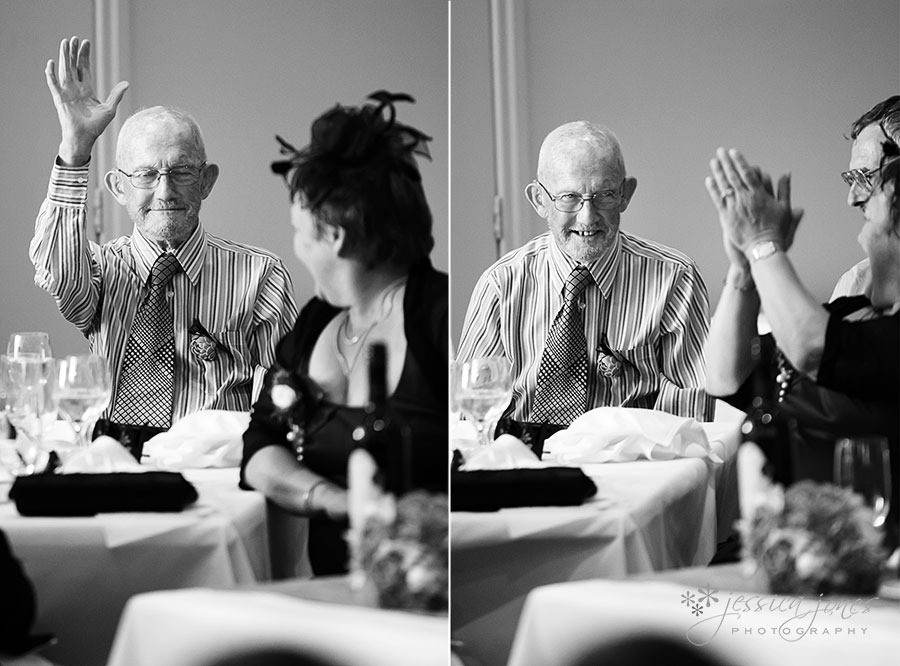 Paul adores Julie.  Like, REALLY adores her.  He says Julie is always funny, kind and warm and she's got a laugh to die for.  He said she always makes him smile and and that he considers himself 100% lucky to be by her side.  That's the kind of man you want your daughter to marry.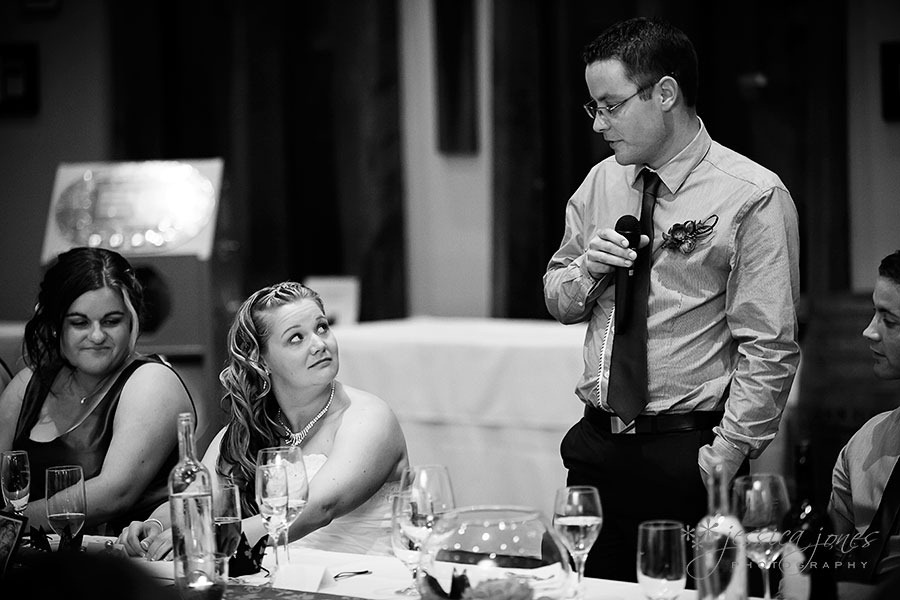 A special gift from a friend in the Middle East - desert sand.  Awesome!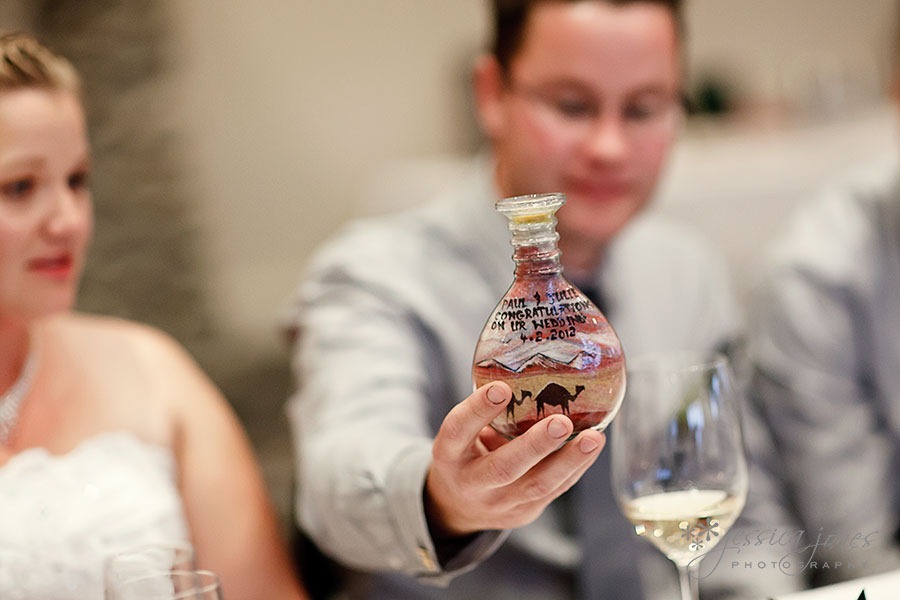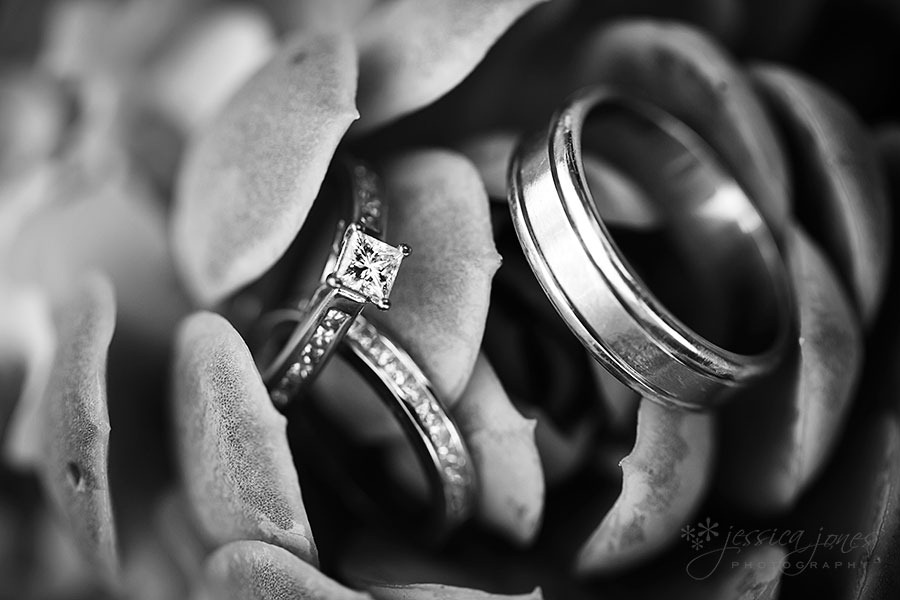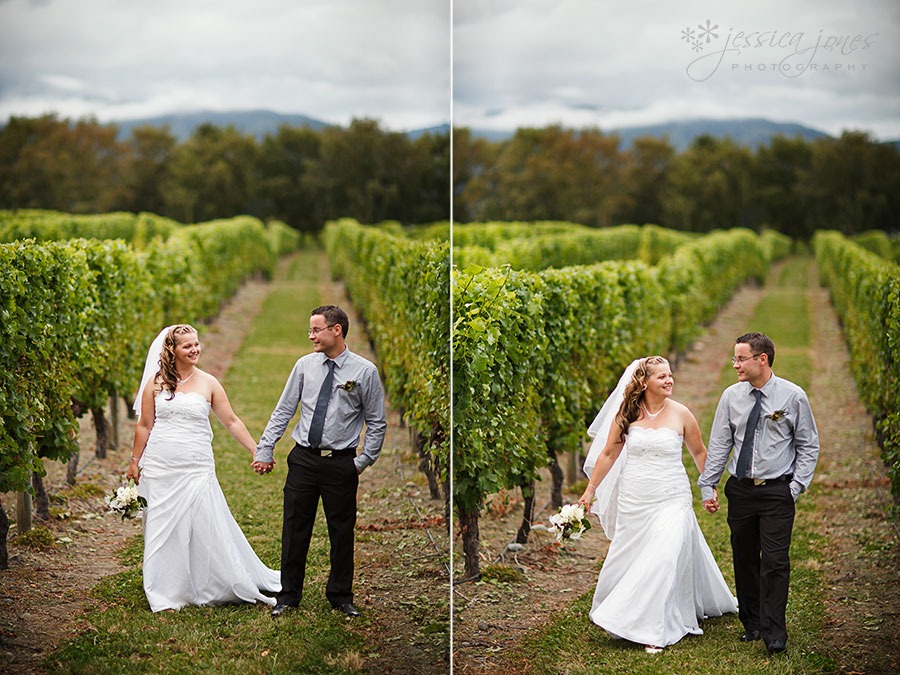 Paul and Julie, you guys are super special and a total joy to be around.  Thanks for sharing your day with us!
---
Tweet
Vendor Shoutout:
Leave a comment for: Julie and Paul - Married!
---
Tuesday, 07 February, 2012
Posted by Jessica at
7:54 am
Tweet
When we arrived at Old St Mary's Convent, and saw all of the beautiful details I was too happy even for my happy dance (not to mention there were too many people watching, so I kept it to an inside happy dance!)  The place looked like a styled shoot and the light was soft and kind - like someone had come along and turned a beautiful place into a magical place.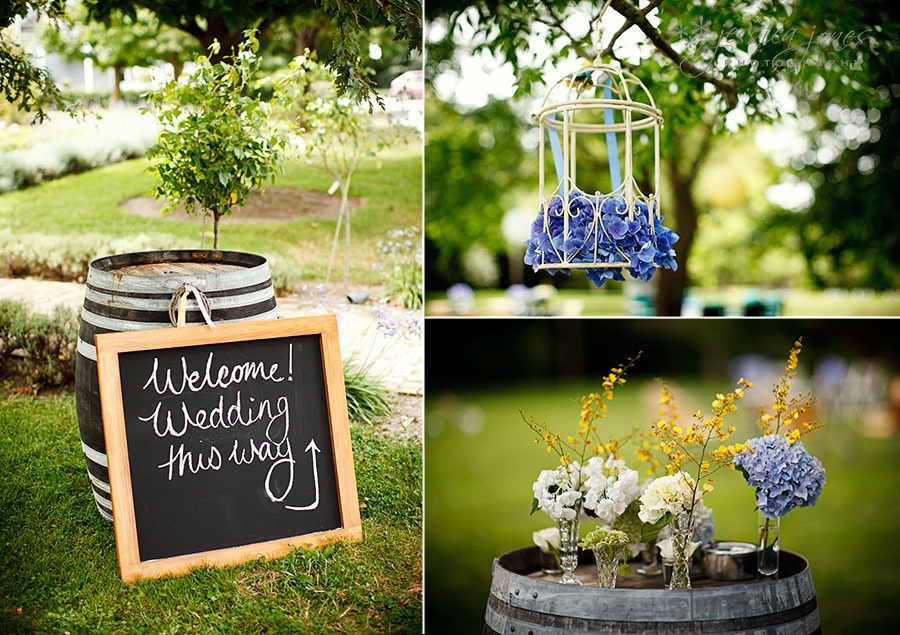 I left Paul outside to capture everything going on there, and headed straight upstairs to the honeymoon suite, where Claire was getting ready.  Now, if you're looking for the most beautiful room to get ready in, then this is the place.  Claire's mum was on hand with the gown - stunning!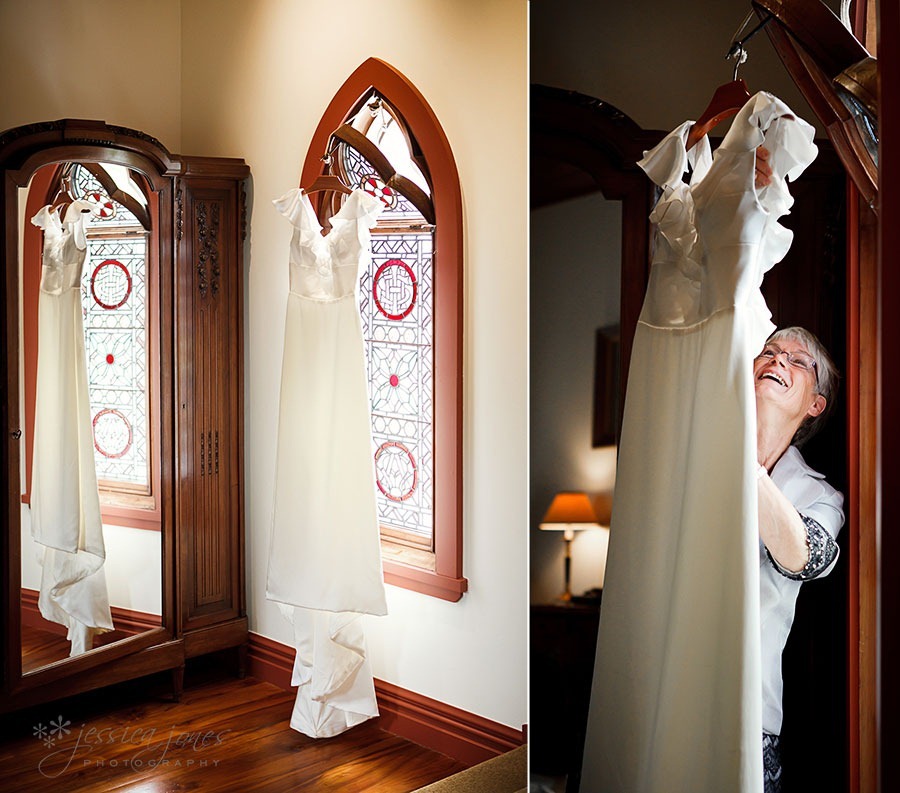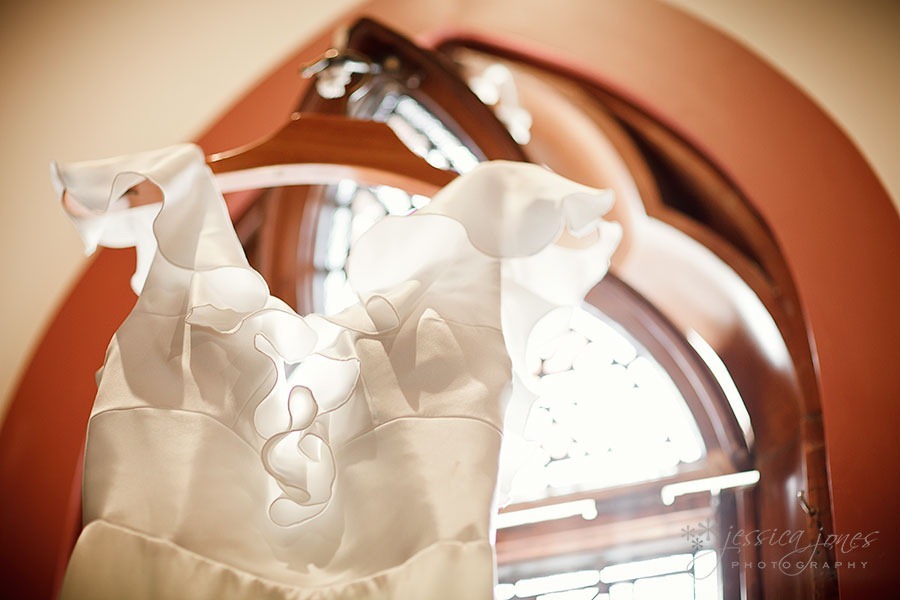 We were constantly surrounded by colour - do we need to spell out how well it was all co-ordinated?  I think not!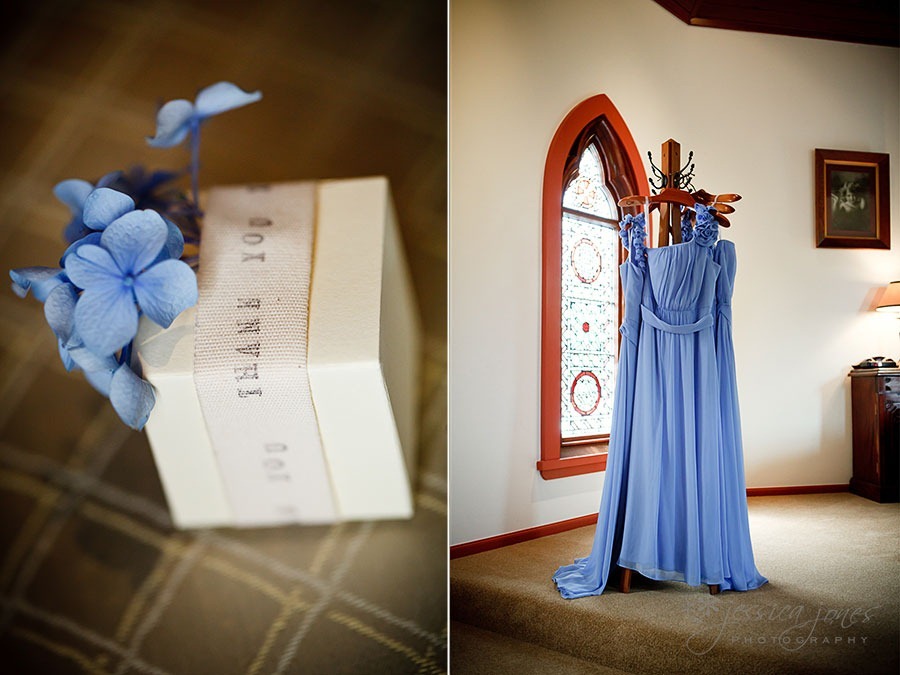 Claire was calm, radiant and totally in control.  She was highly organised right up until the wedding, and then, like most super organised brides, she was able to just relax and enjoy the fruits of her amazing planning.  We first met Claire just over a year ago when she was head bridesmaid at Christina's wedding - what a privilege to be here and see the tables turned. All of Claire's bridesmaids were totally attentive to every detail!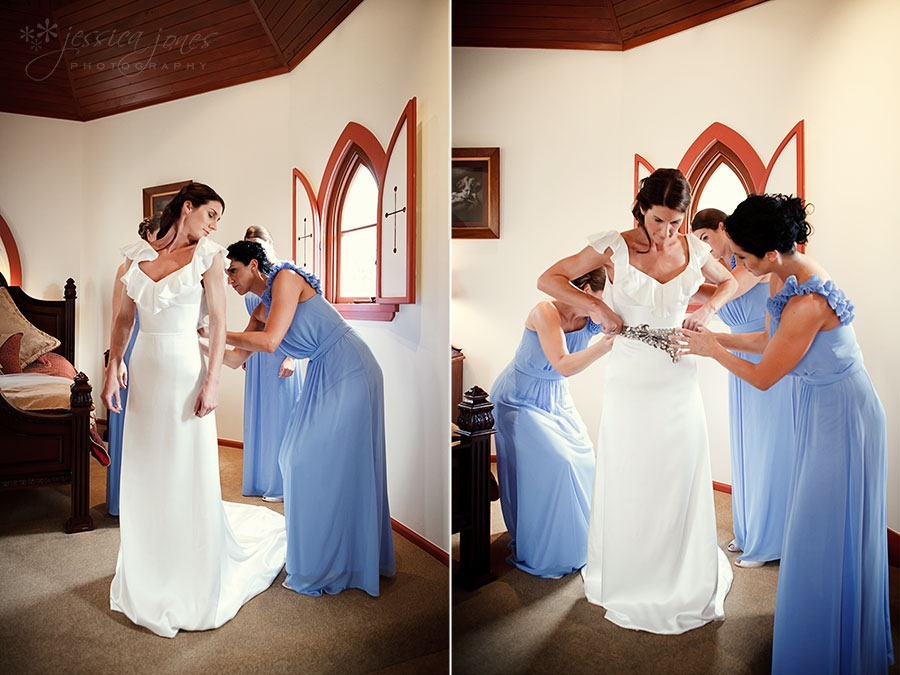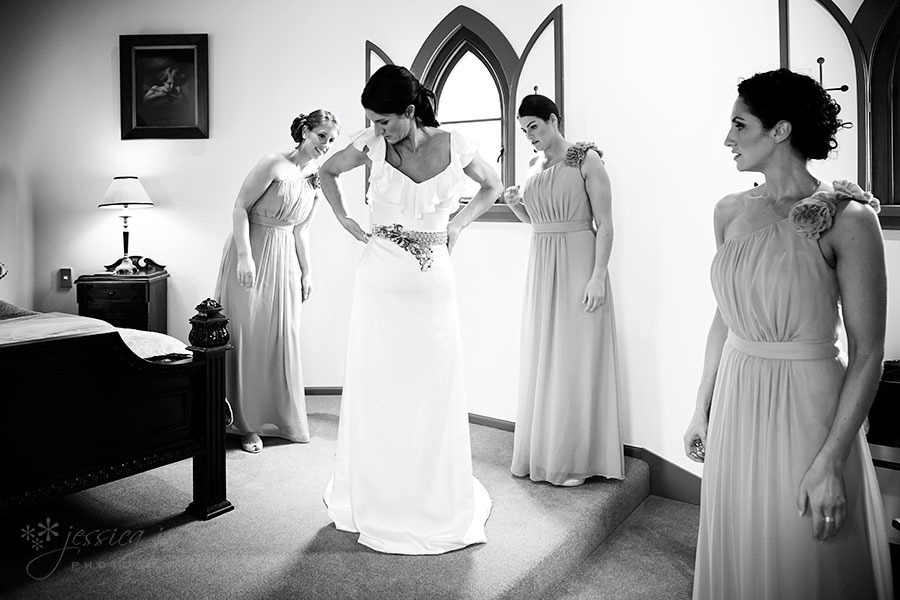 Nina from Pink Poppie does it again!  When we saw Claire at our pre-wedding meeting she had said that Nina was cooking up something pretty special for her day - and wow - everywhere we looked Nina's creative genius shone through.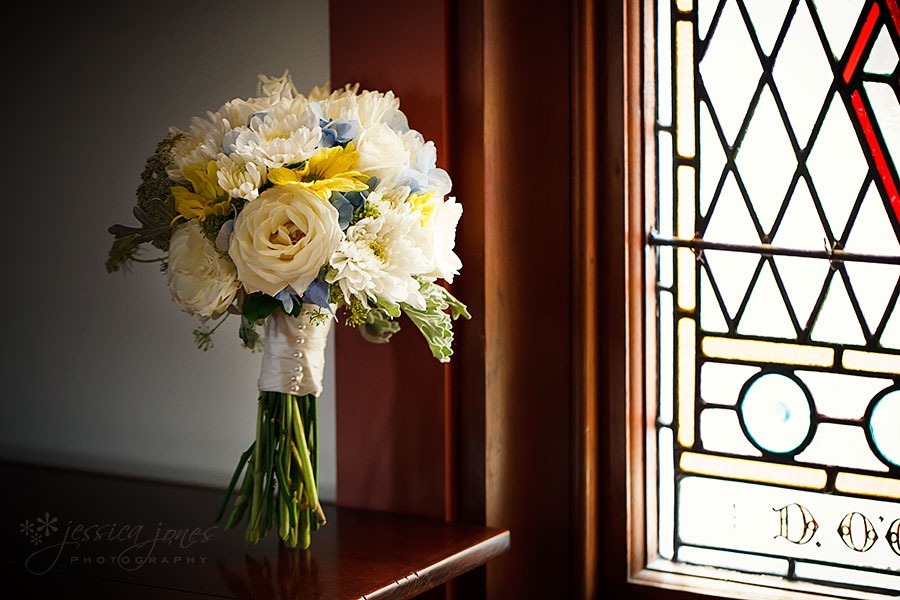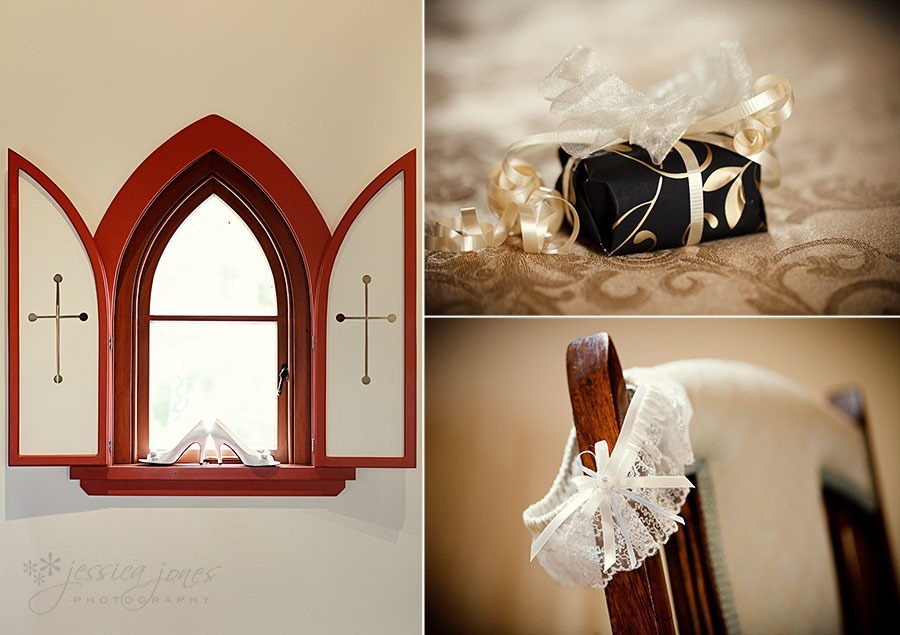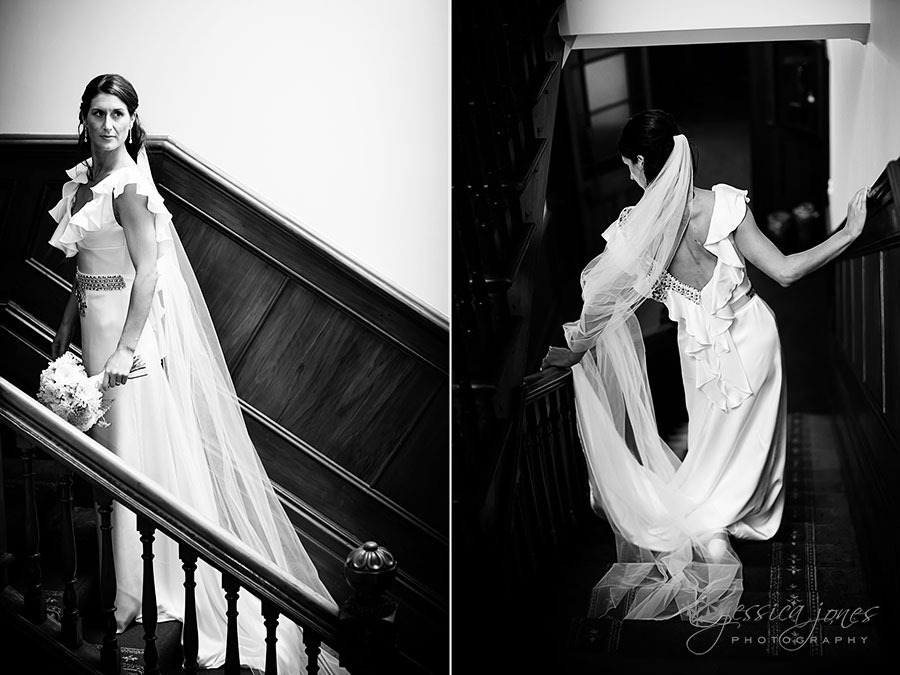 Garden party area = AAAAWESOME!  (you've got to say awesome in a sing songy voice to really get my enthusiasm here!)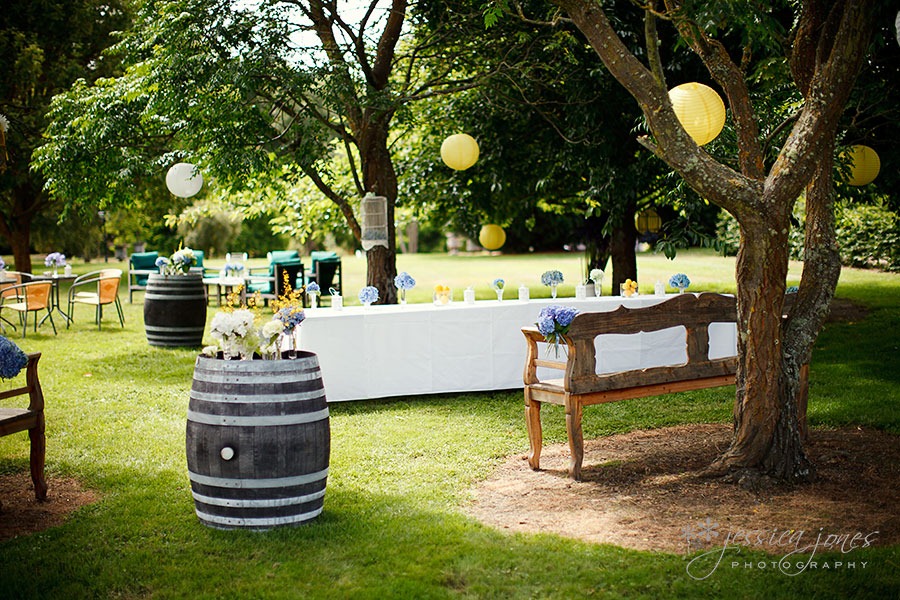 Meanwhile, outside, the boys add their special touch to the garden party...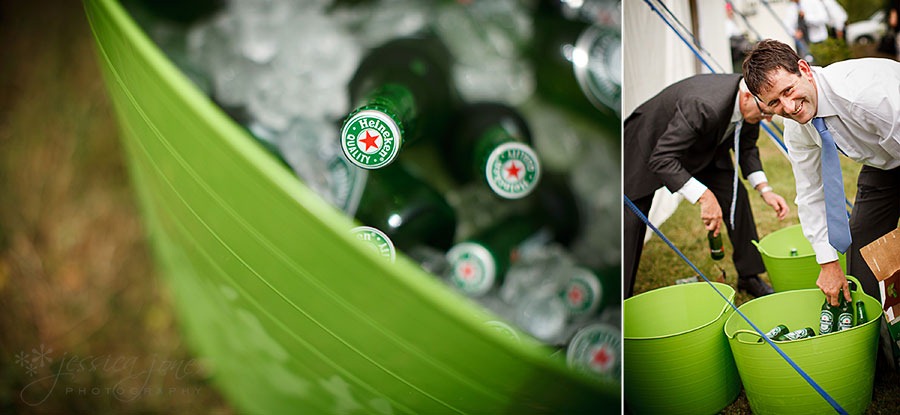 ..and do some serious relaxing as they wait for their guests to arrive.

As I had mentioned in their engagement shoot blog post it took Chris 3 months to win Claire over, and it was his persistence and some pretty awesome cooking on his part that won her heart and brought us to this day.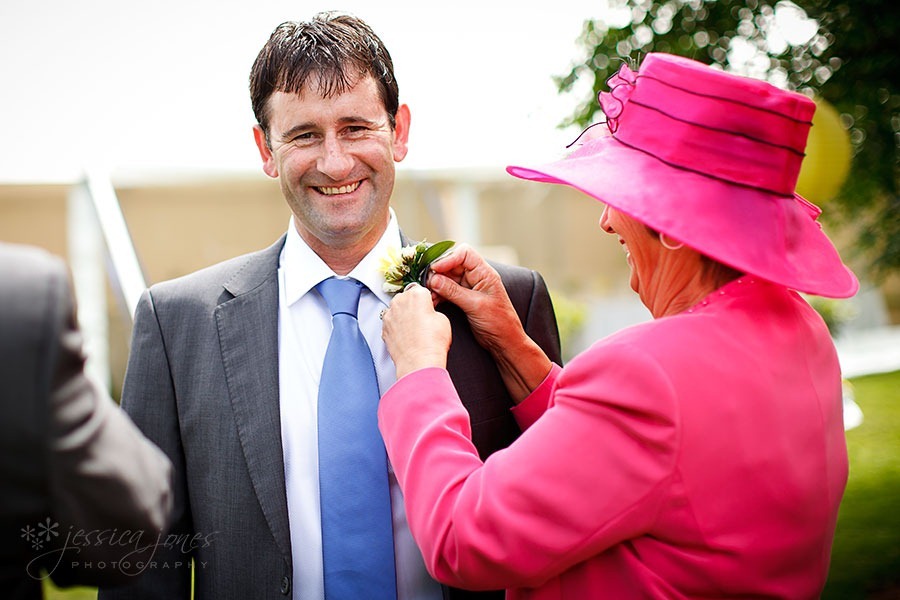 The ladies arrive and the ceremony begins!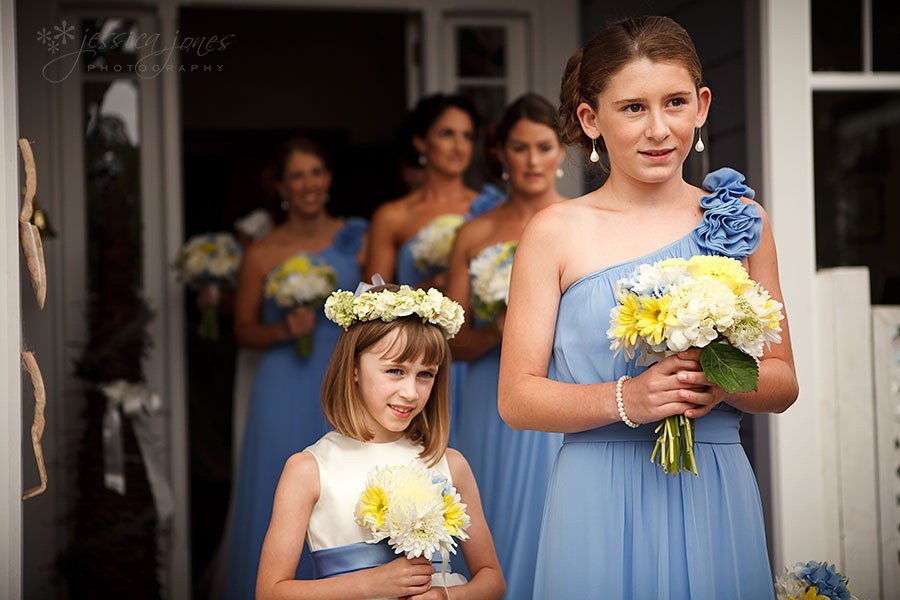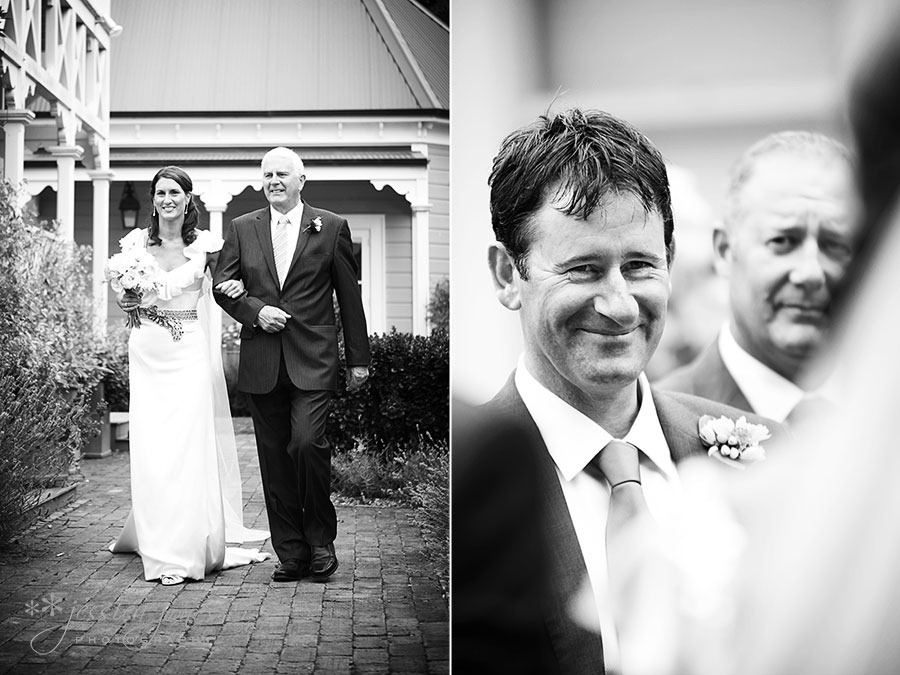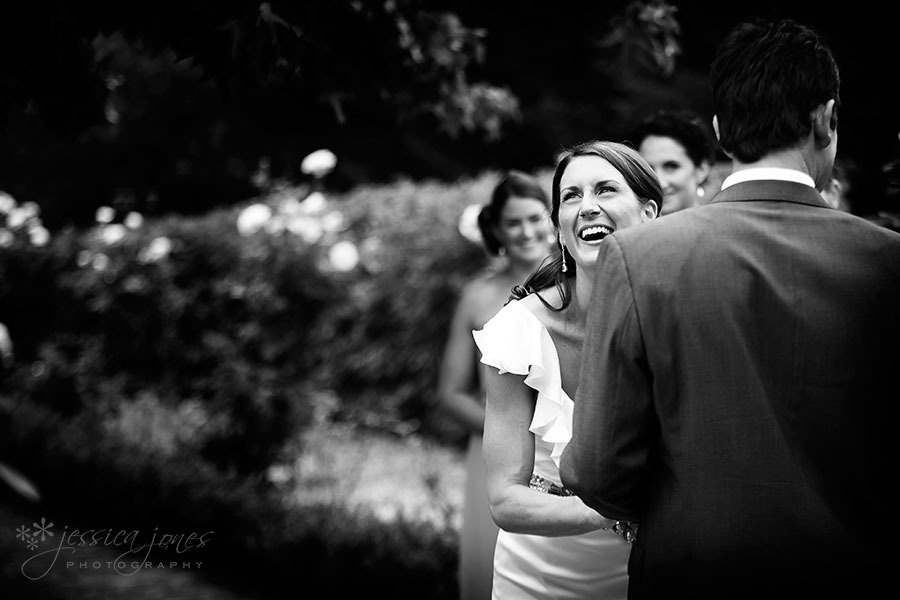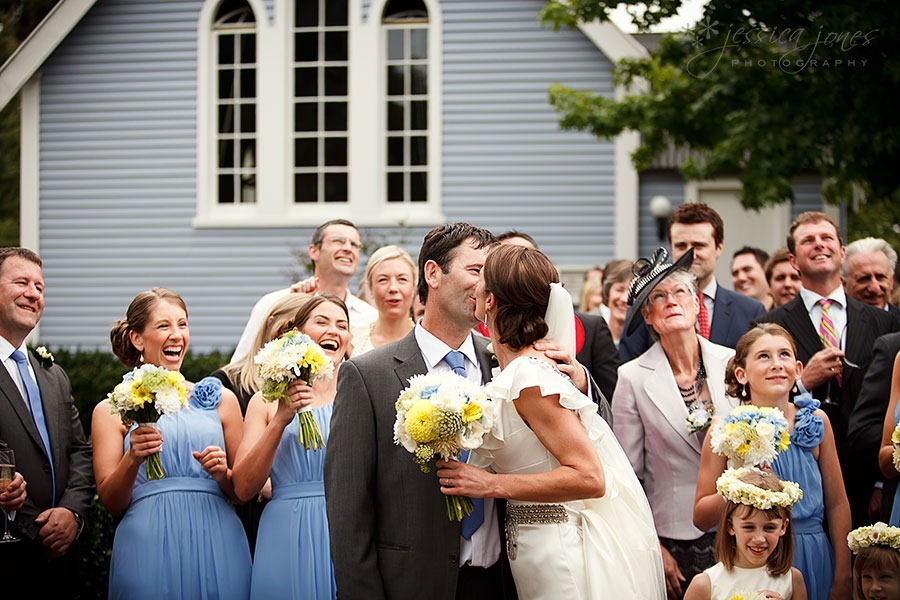 Amy and Grace were the perfect flower girls - princesses for the day.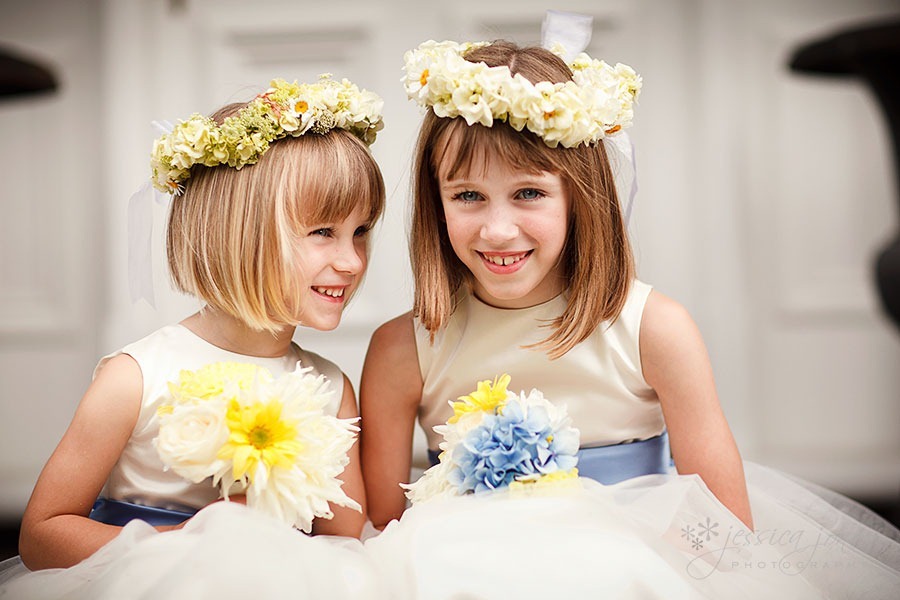 The practice in the pool room must have worked - these guys have got this posing thing down.  I like!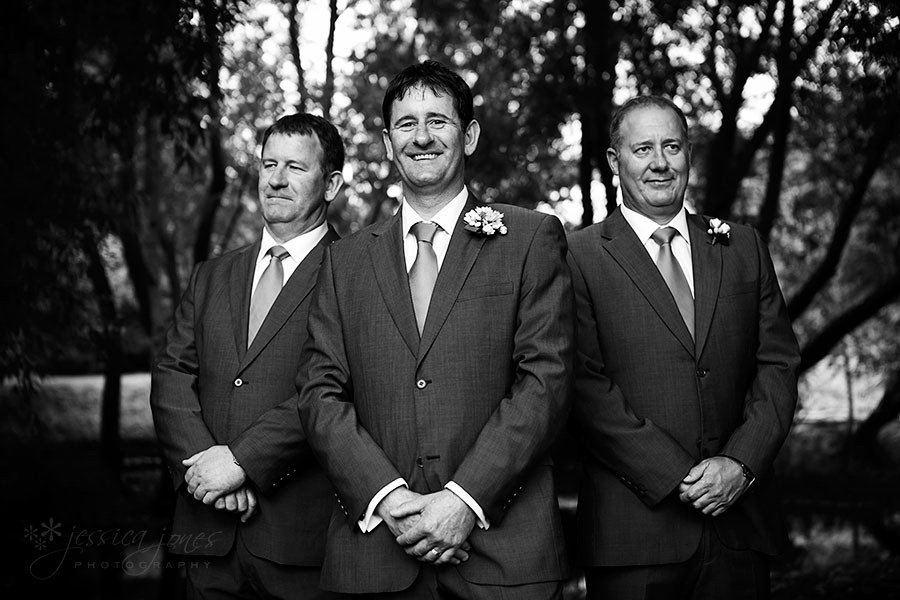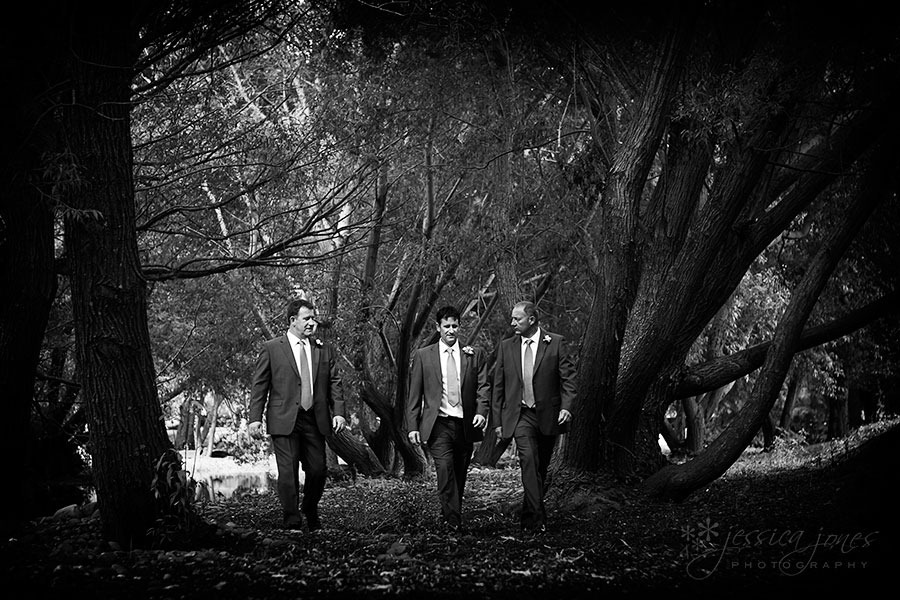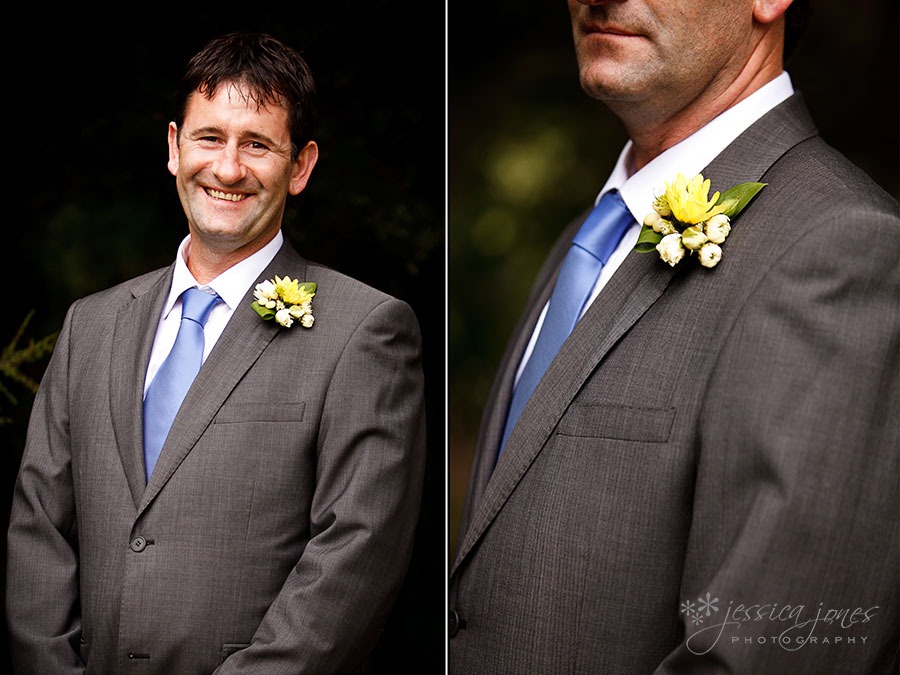 Gorgeous!  We never run out of places to shoot at the Convent - there is always a new corner to turn and explore.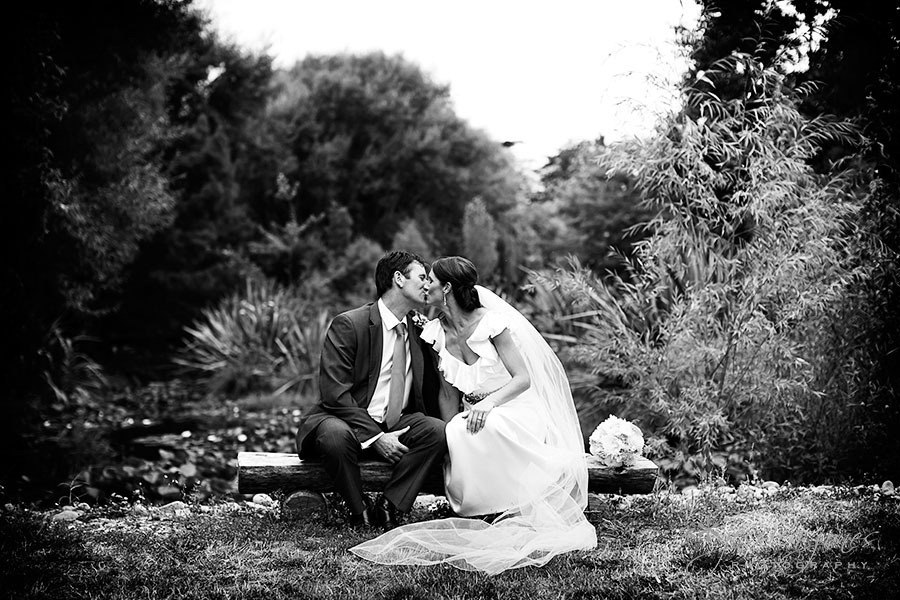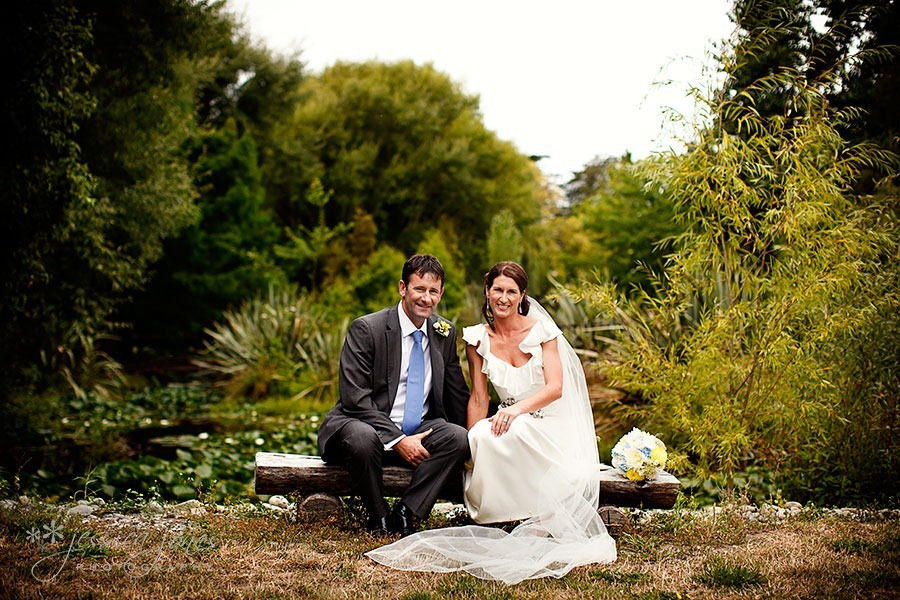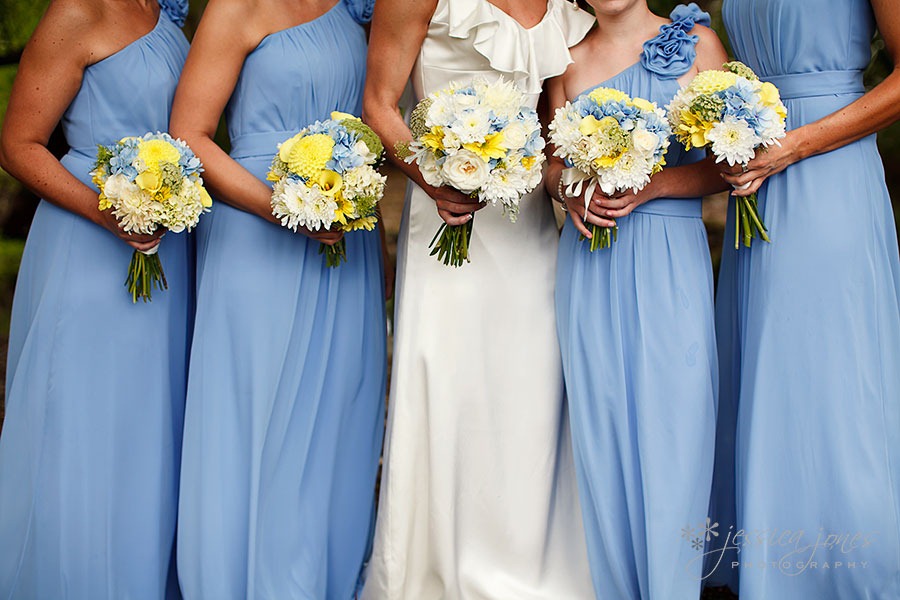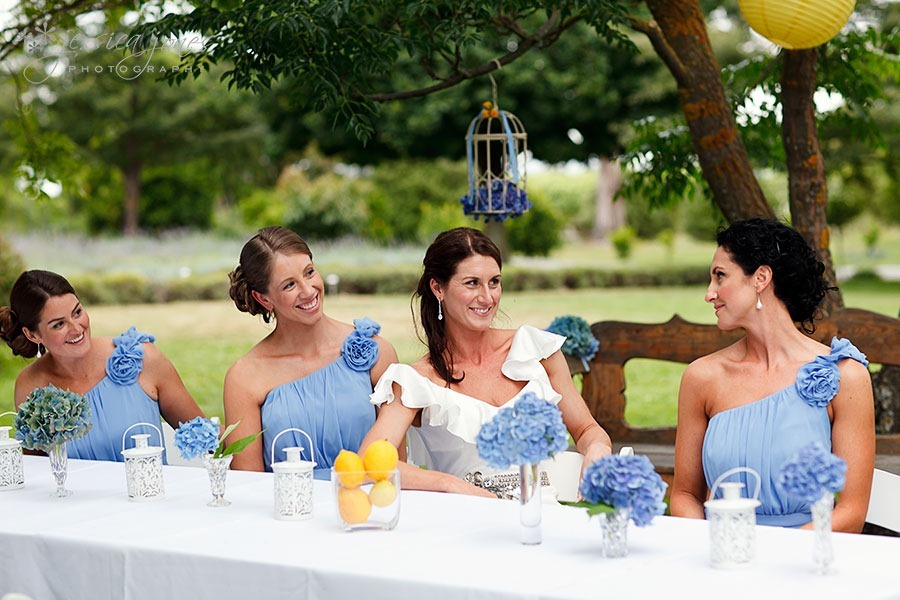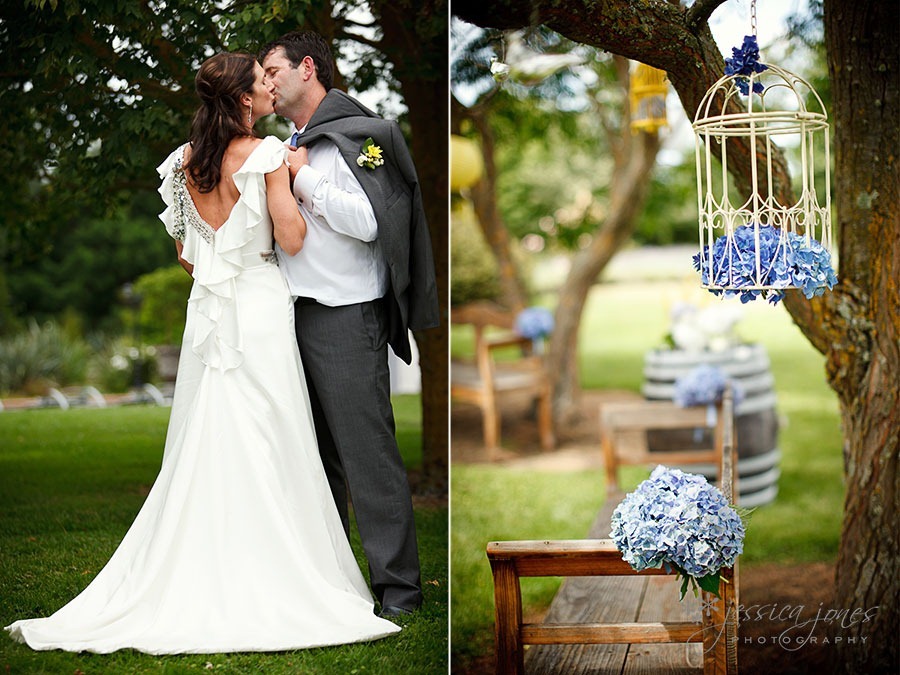 Claire you are amazingly beautiful!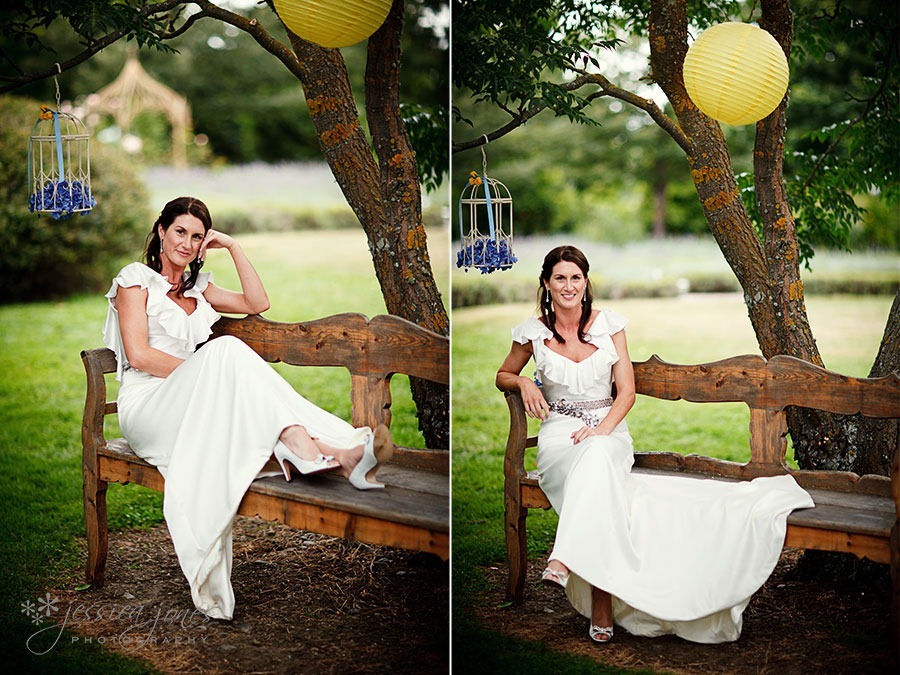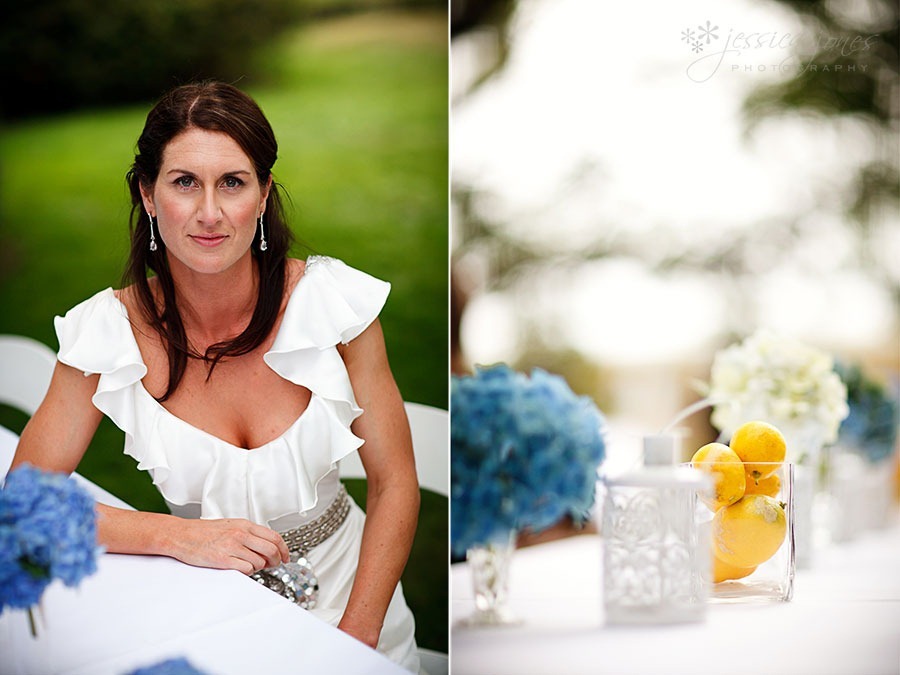 Inside the marquee and Chris and Claire's impeccable style become even more evident.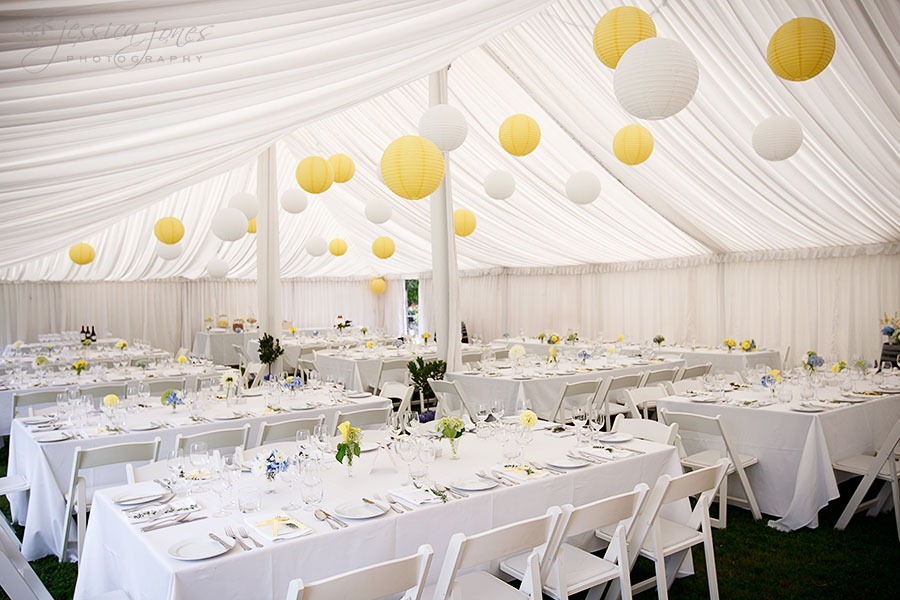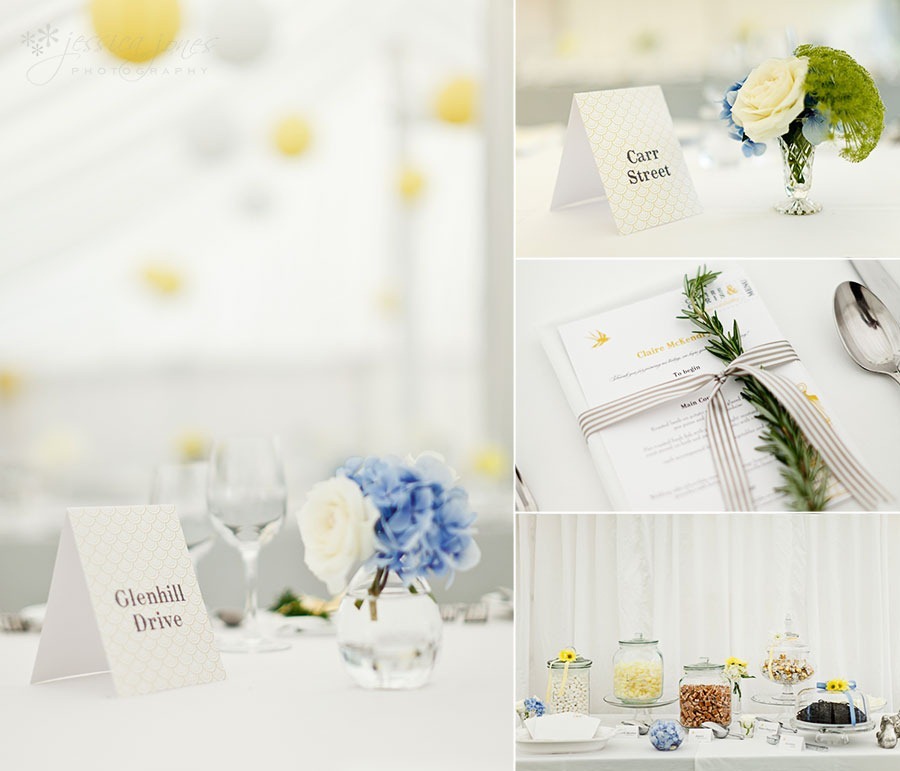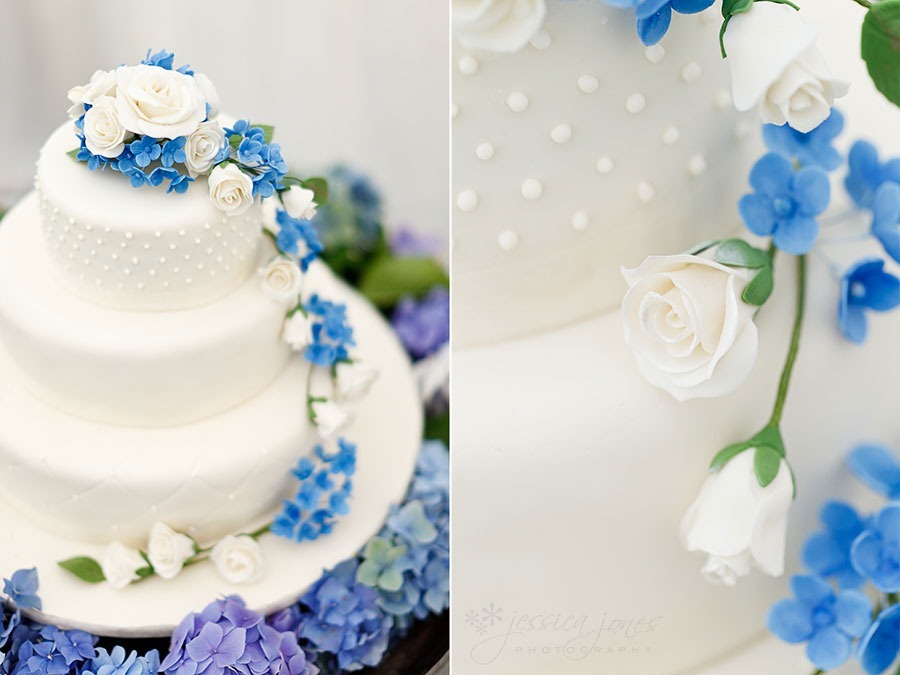 We love capturing the emotion at receptions. Every wedding is different - with so many stories to tell and so many people to honour.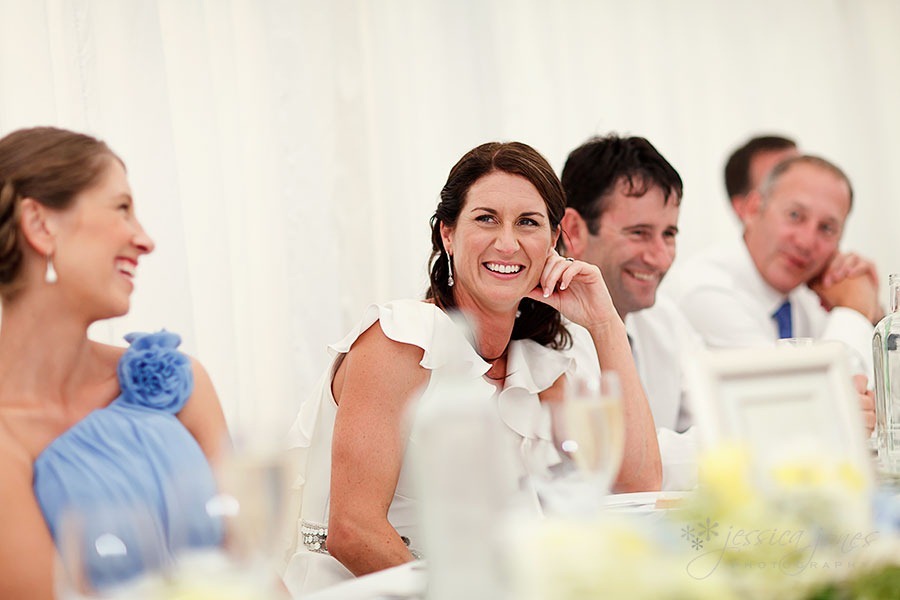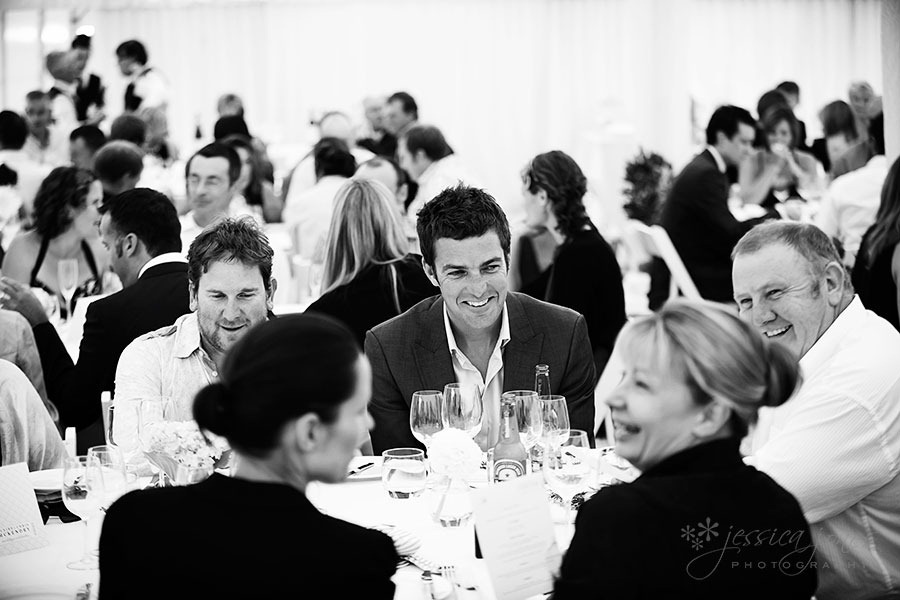 Chris' mum presents the couple with a special wedding present.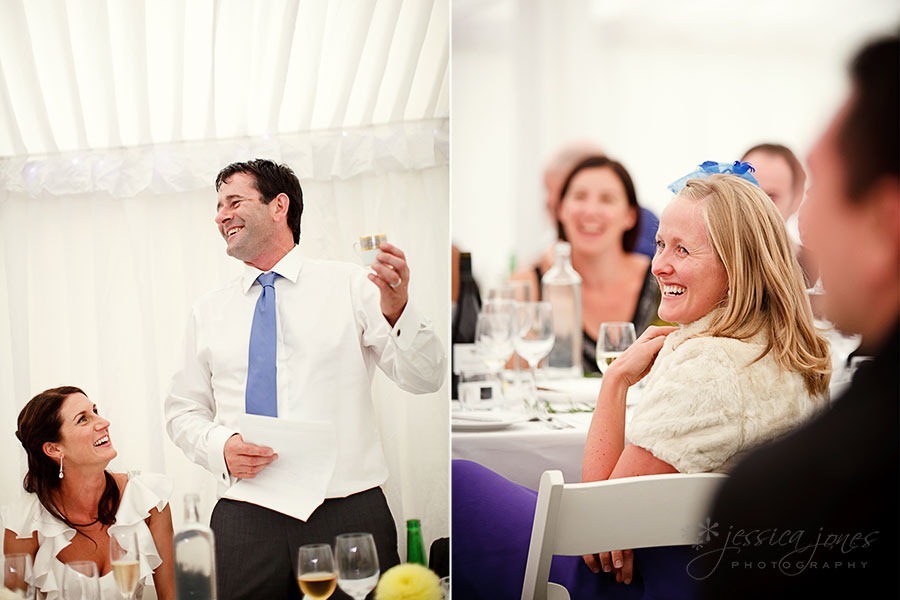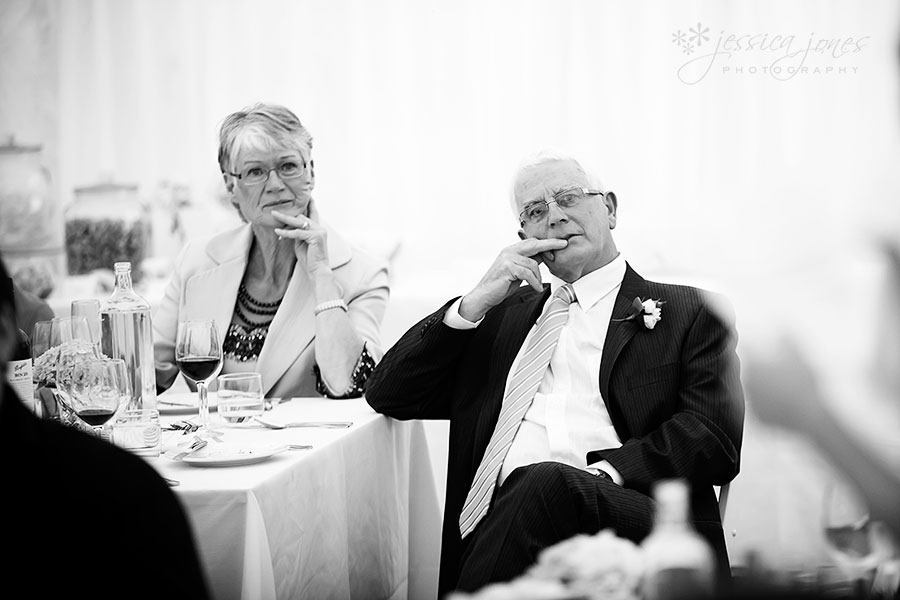 Bling!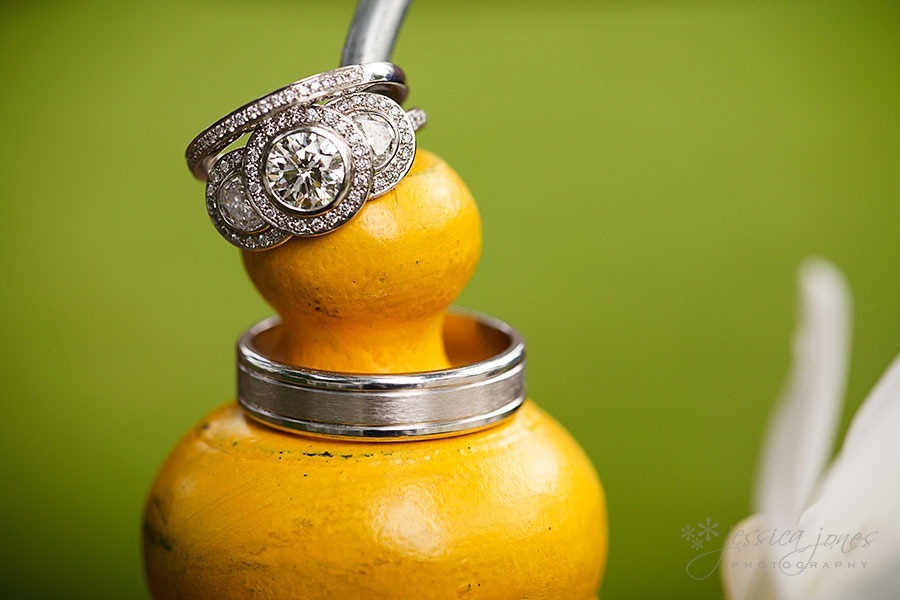 Chris and Claire, it was such an honour to be part of your day.  Your style and attention to detail, your lovely friends and family and the way that you love each other made us smile.  We wish you all the very best for the future together.
IN OTHER NEWS: I haven't mentioned our FACEBOOK page in a while.  So feel free to hop on over there and join in and say hi.
ALSO: Come back here tomorrow to see another gorgeous wedding and witness what Paul looks like when he's being charged at by an Alpaca!  True story. 
---
Tweet
Vendor Shoutout:
Leave a comment for: Claire and Chris - Married!
---