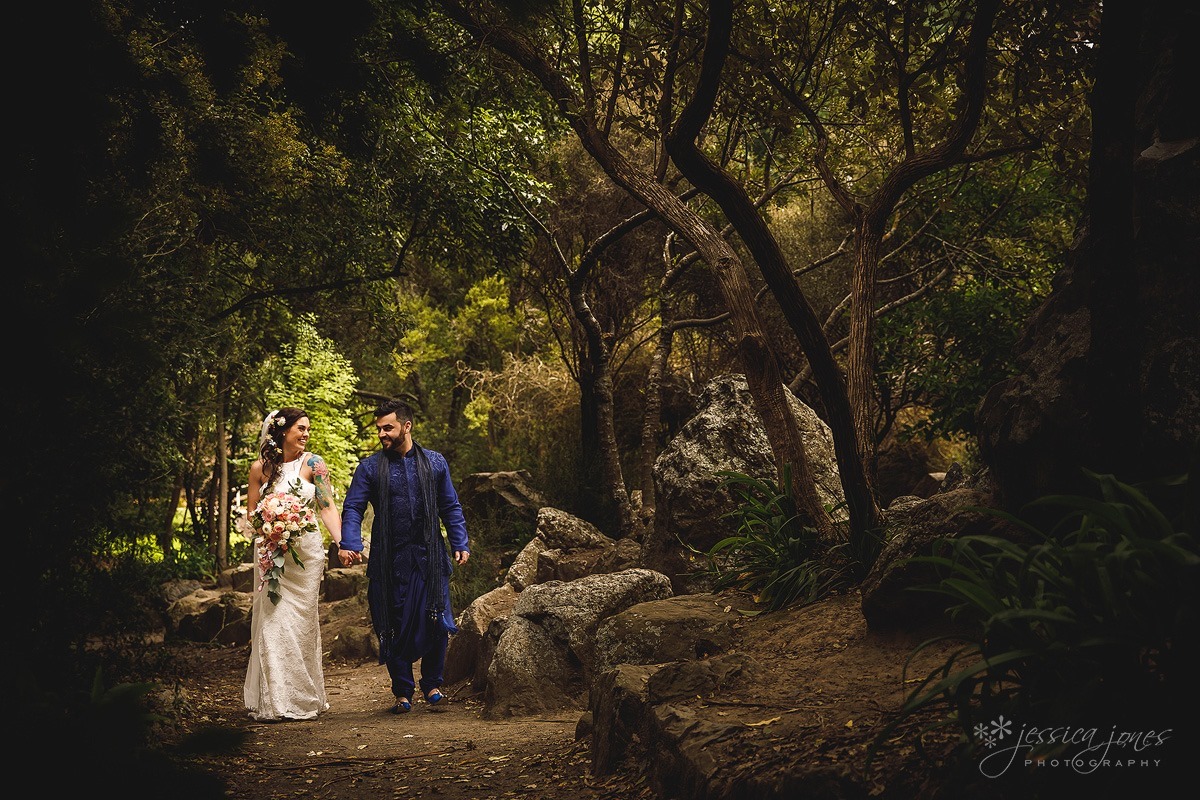 Before Jacinta and Jarrad's wedding, I've never given much thought to;
a. Owning a pug dog.
b. Being adopted into an Indian family.
I can now say I feel like I've missed out on so much. I mean, what's not to love about that pug doggie face? And, I can't even tell you how cool the Indian vibe was! Seriously, the colour, the hilarity, the traditions that go back many hundreds of years, and the dancing. The dancing.
Anyway, I'm getting ahead of myself. Ahem.
She was just his best friend's little sister for the longest time. The 'Bro Code' would forbid anything more, naturally. However even the Bro Code can't stop two people who are absolutely perfect for each other from falling in love. And fall in love they did… eventually. Jacinta thought Jarrad was pretty cute, and Jarrad sought out Jacinta's number.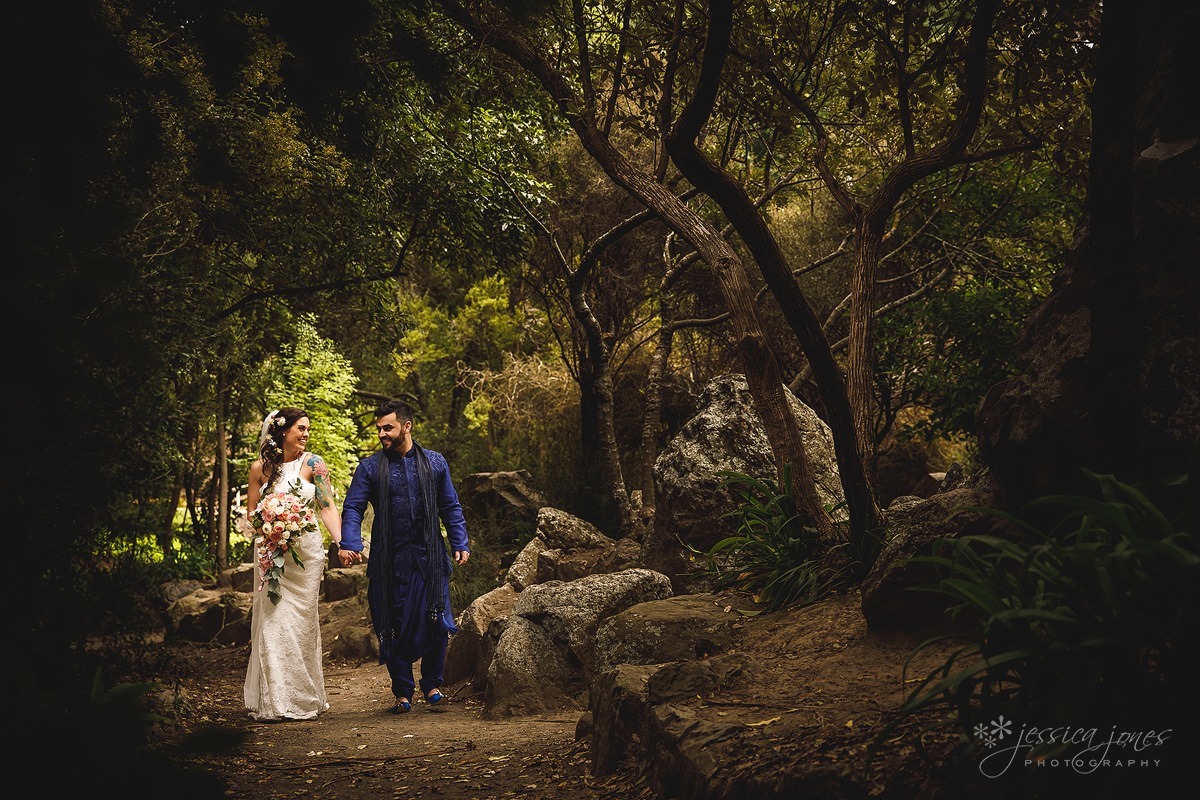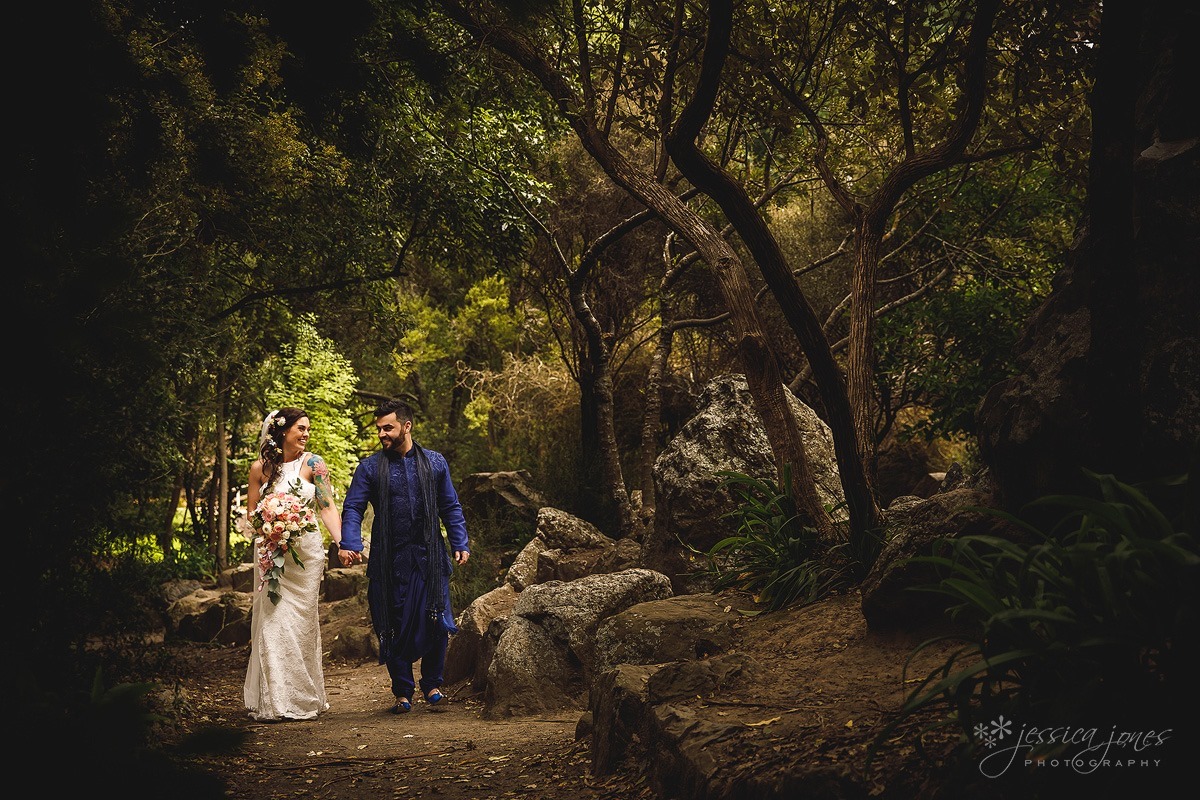 As soon as Jarrad and Jacinta said they were having a traditional Indian yoghurt/turmeric/sauces smooshing cleansing pre-wedding family ceremony, I immediately asked to be there to capture it. And just as I expected it was full of culture, colour and music.
So bonus for you (and me), this time you get to see what happens the day BEFORE an Indian wedding!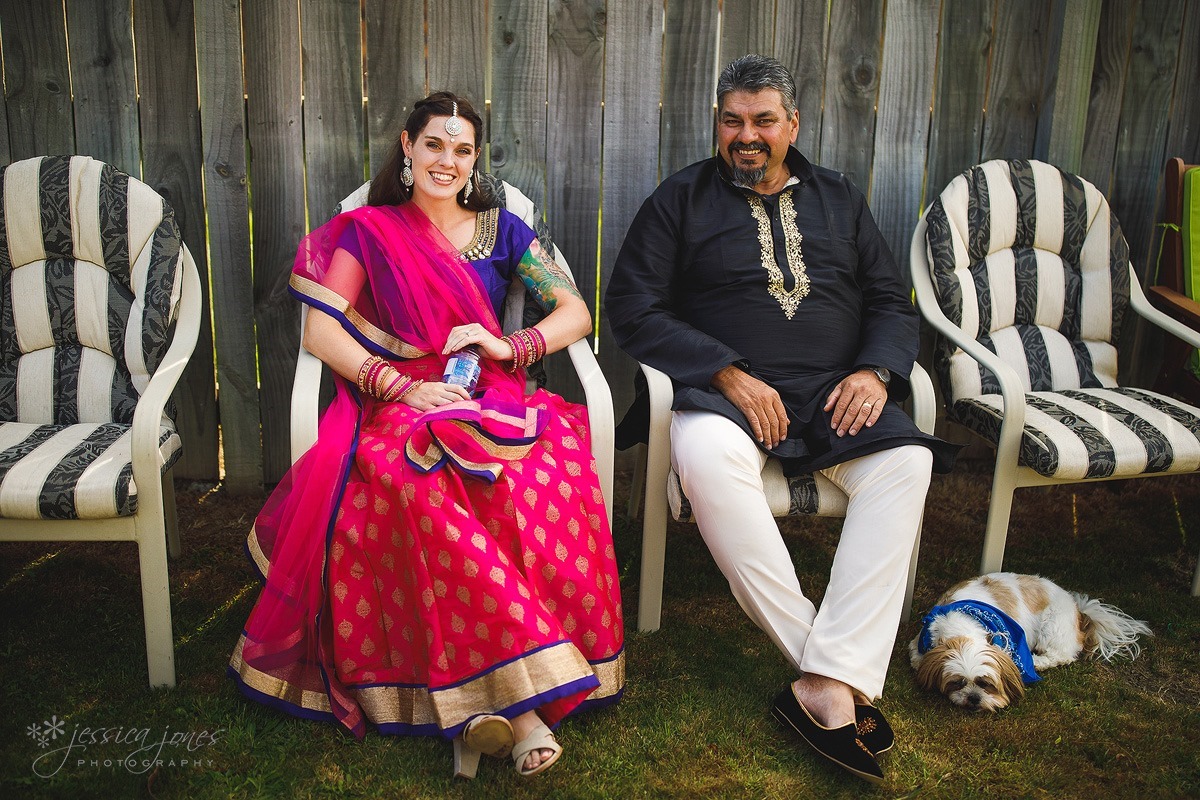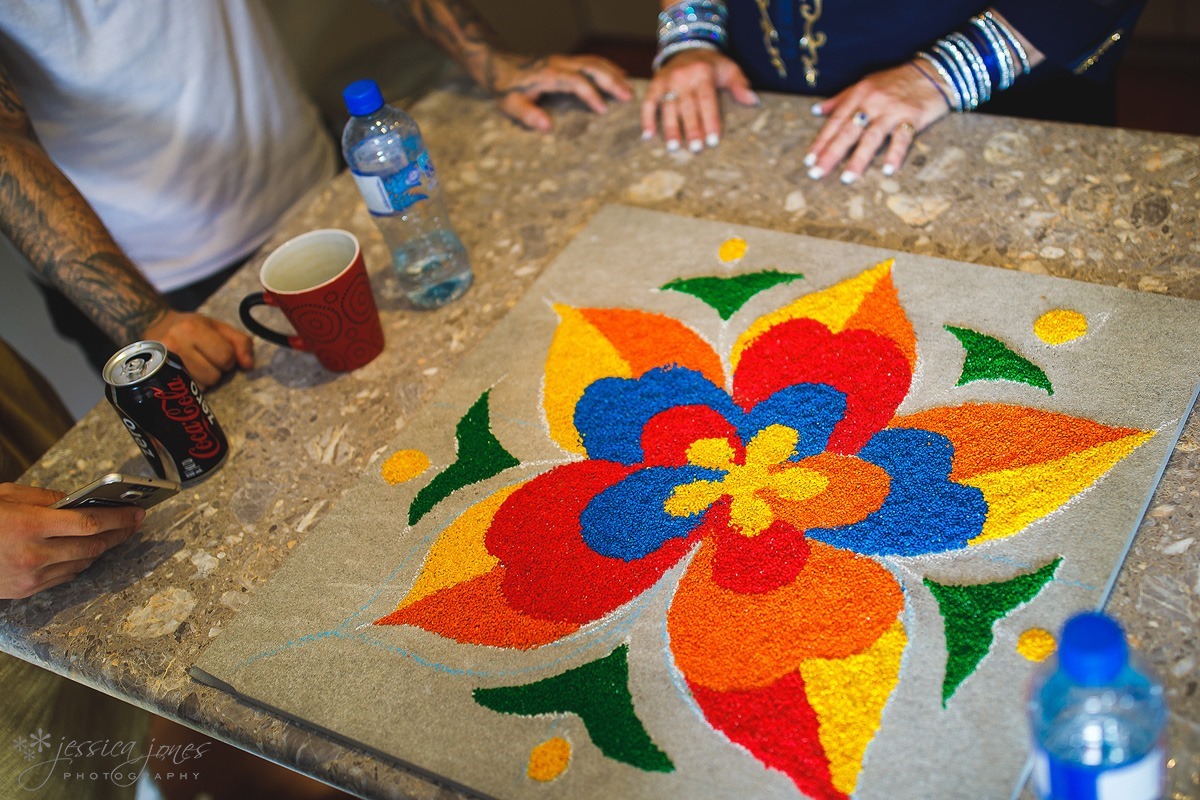 This blanket on the left has been in the family for over 60 years, and has been used at many family weddings.
This little doggie, known as Wee Man (that's his full name), was part of the celebrations too!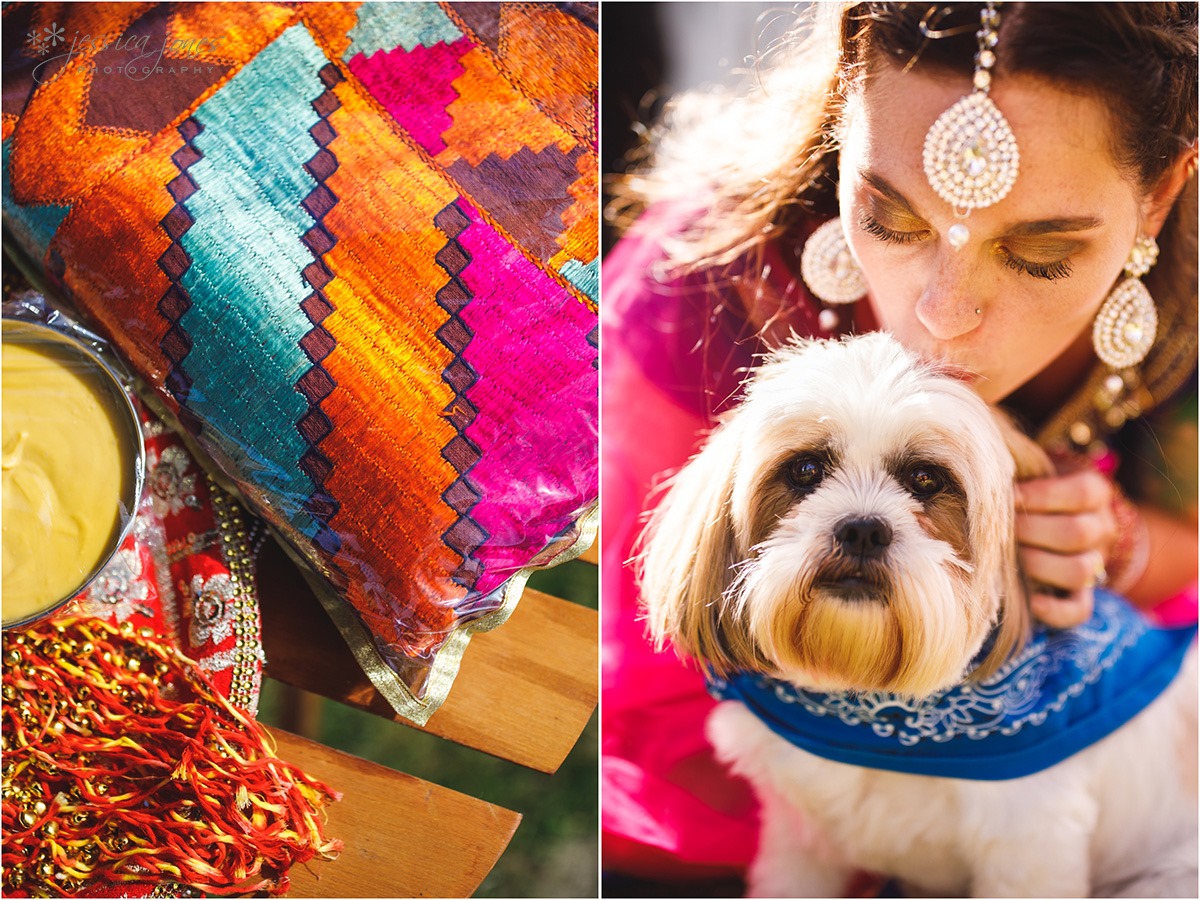 And he even got to wear the bracelet that everyone else got to wear on his right leg. I think we'd call it an anklet.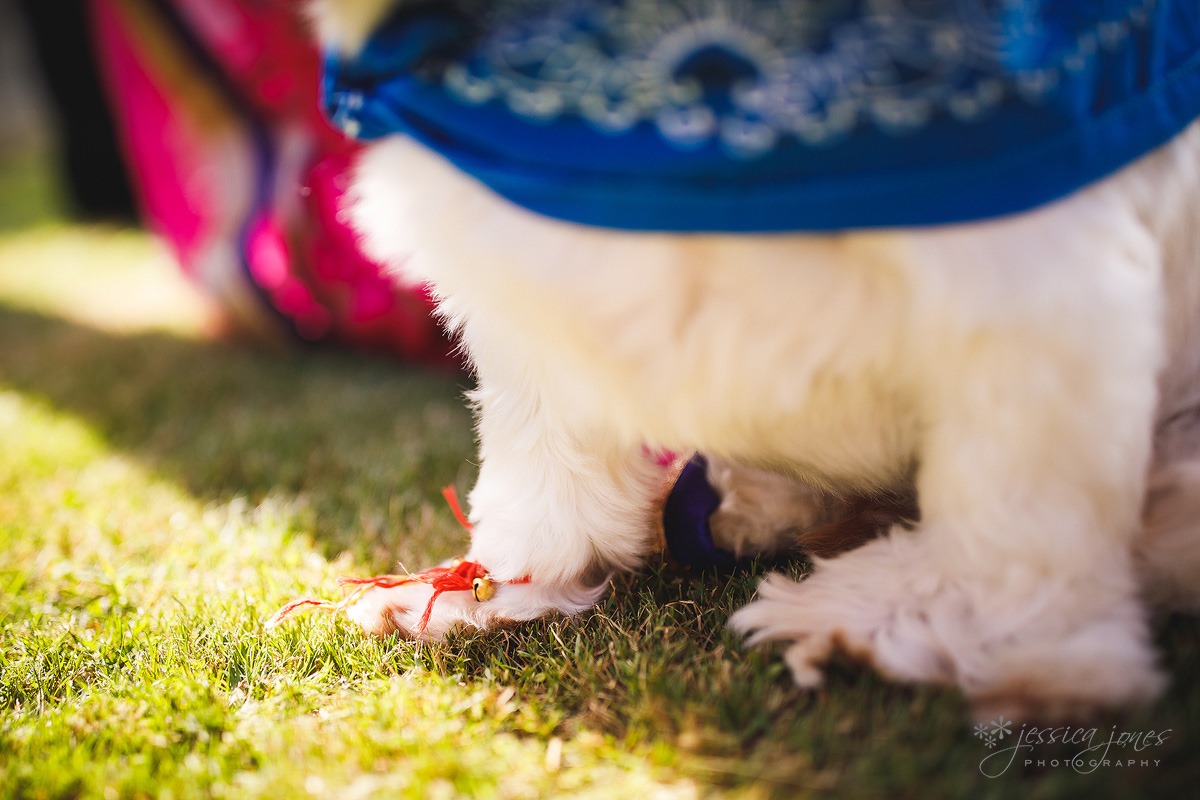 Everyone at the ceremony was to put one of these on and it was to stay on until it fell off by itself, or for 40 days. Whichever came first.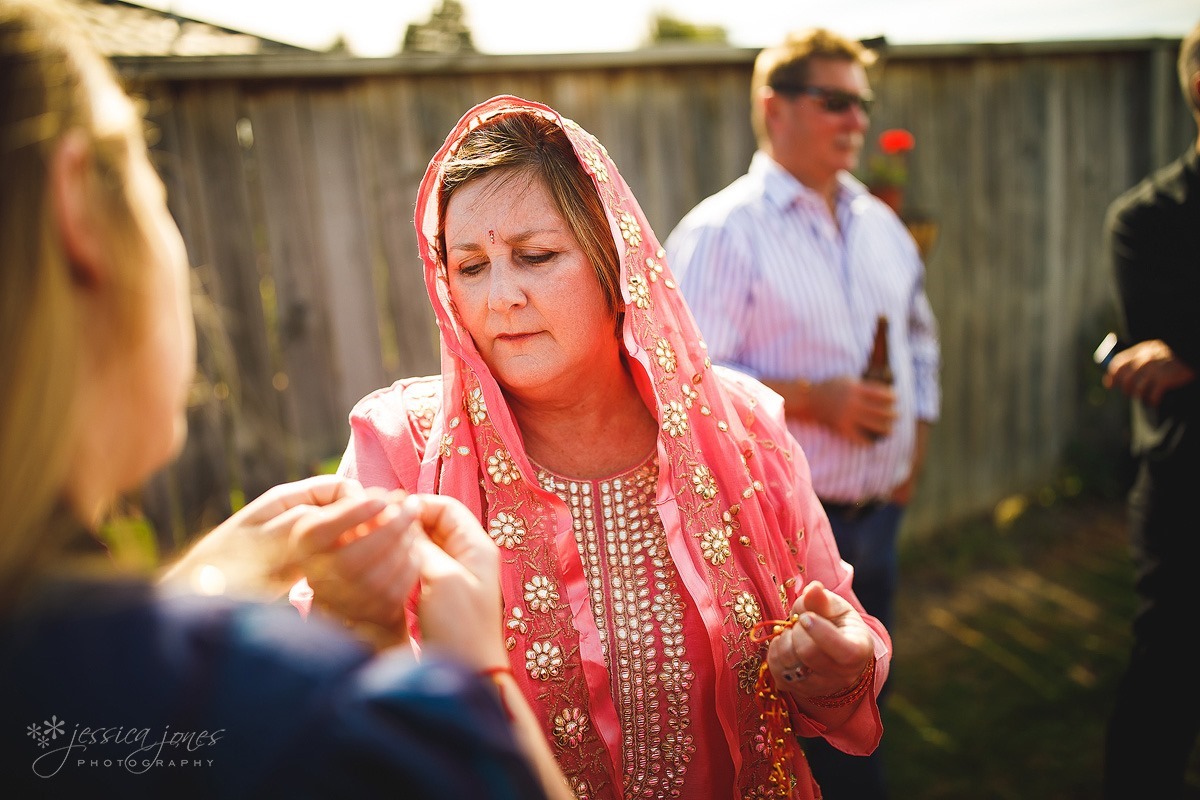 Then Jarrad was seated under the special family blanket, and was covered by those he loved with yoghurt, tumeric and sauces, as a family blessing.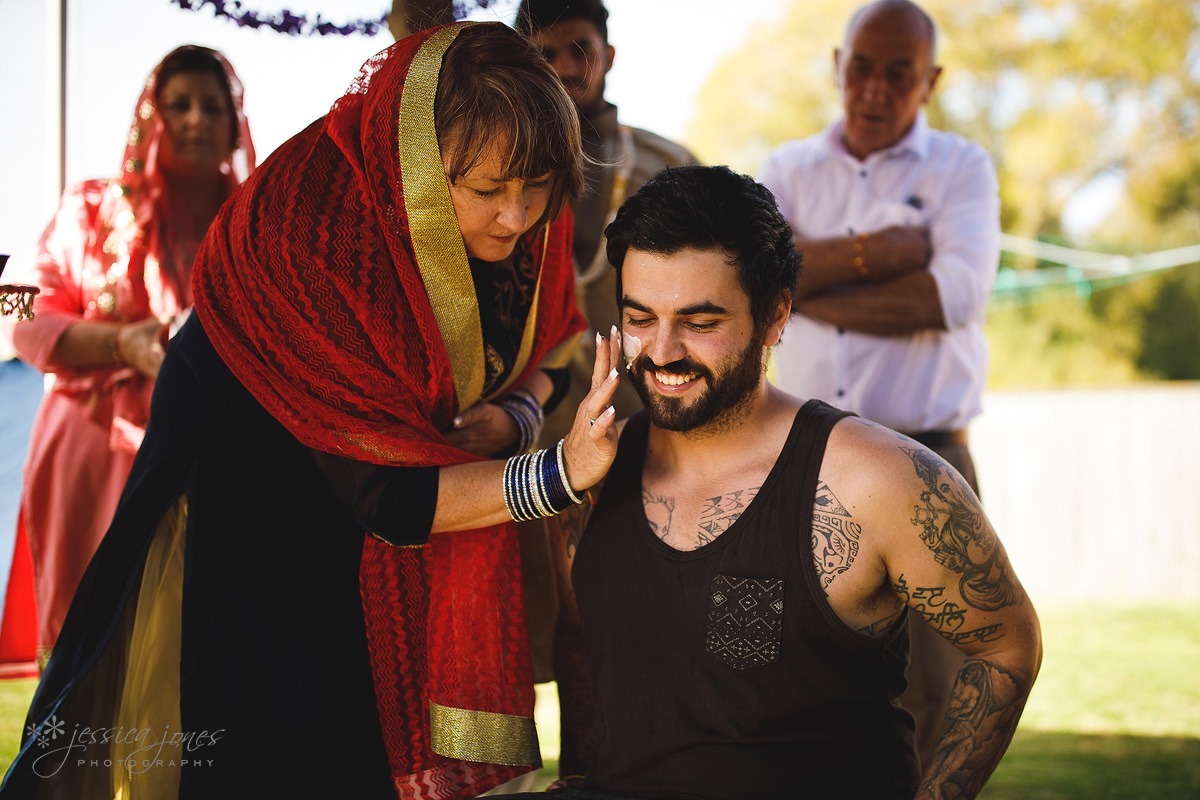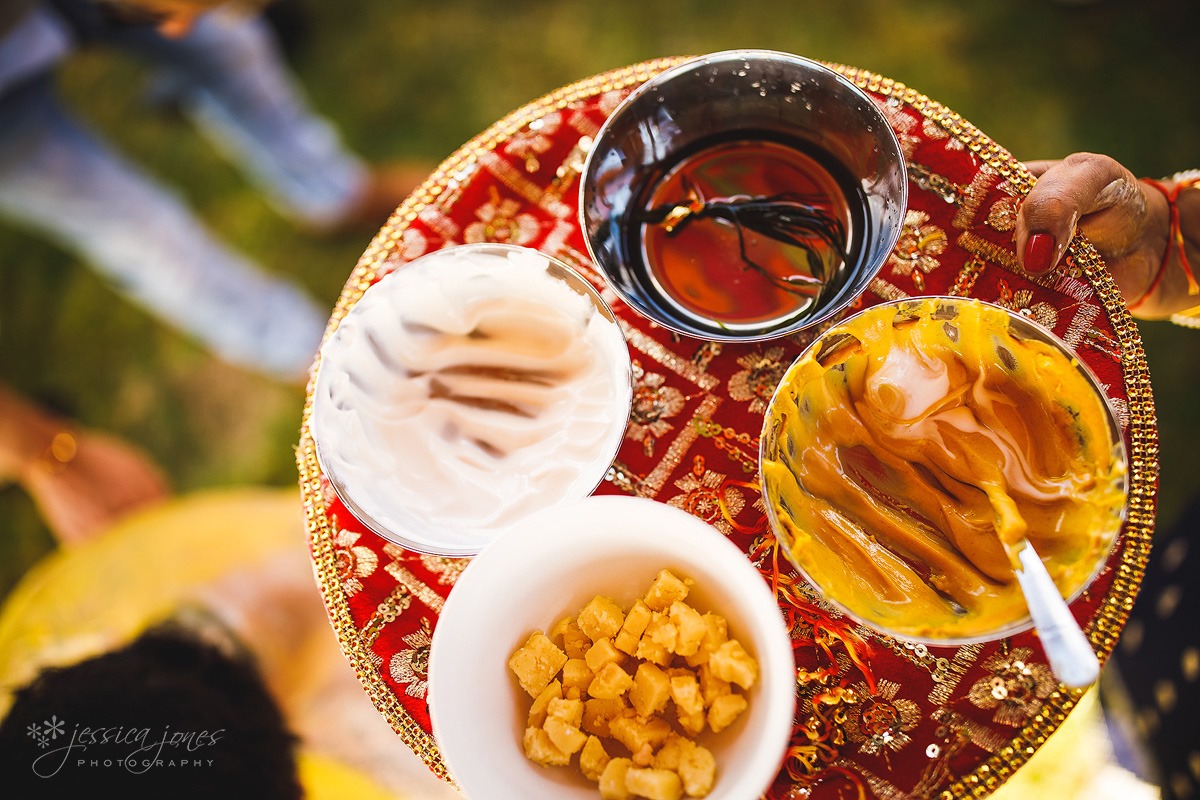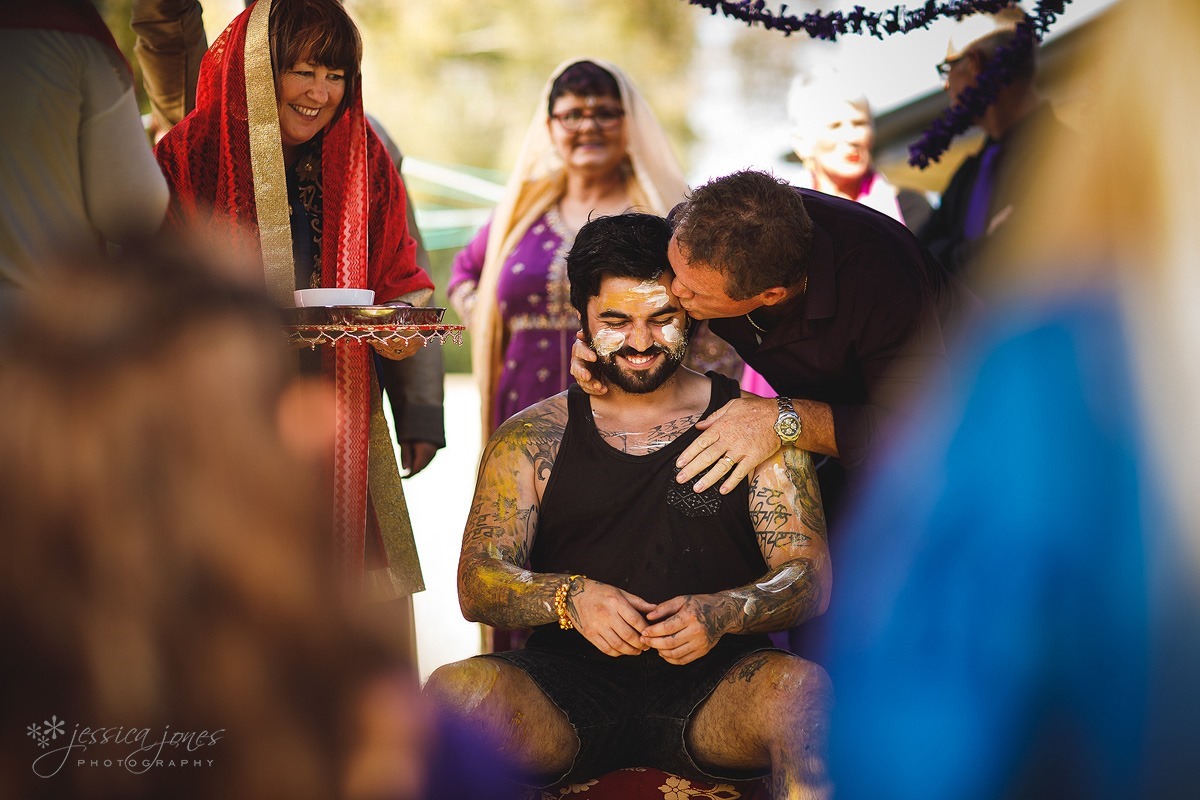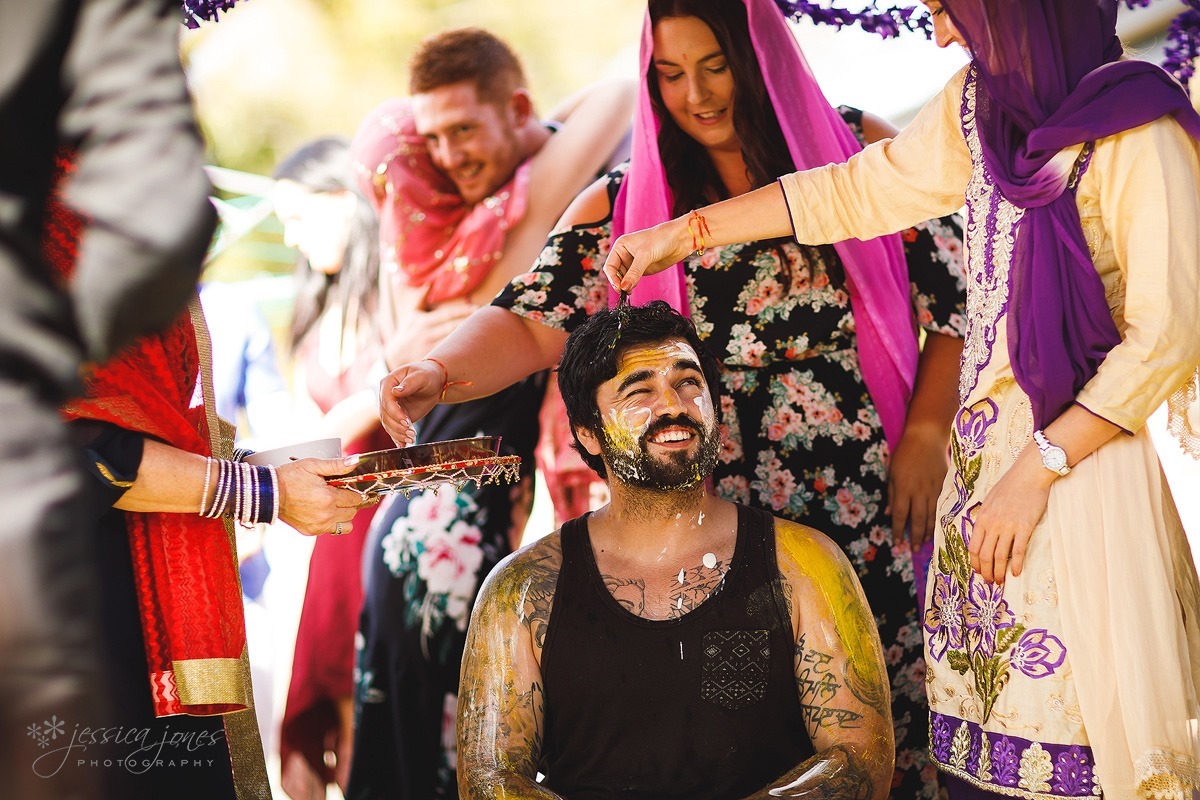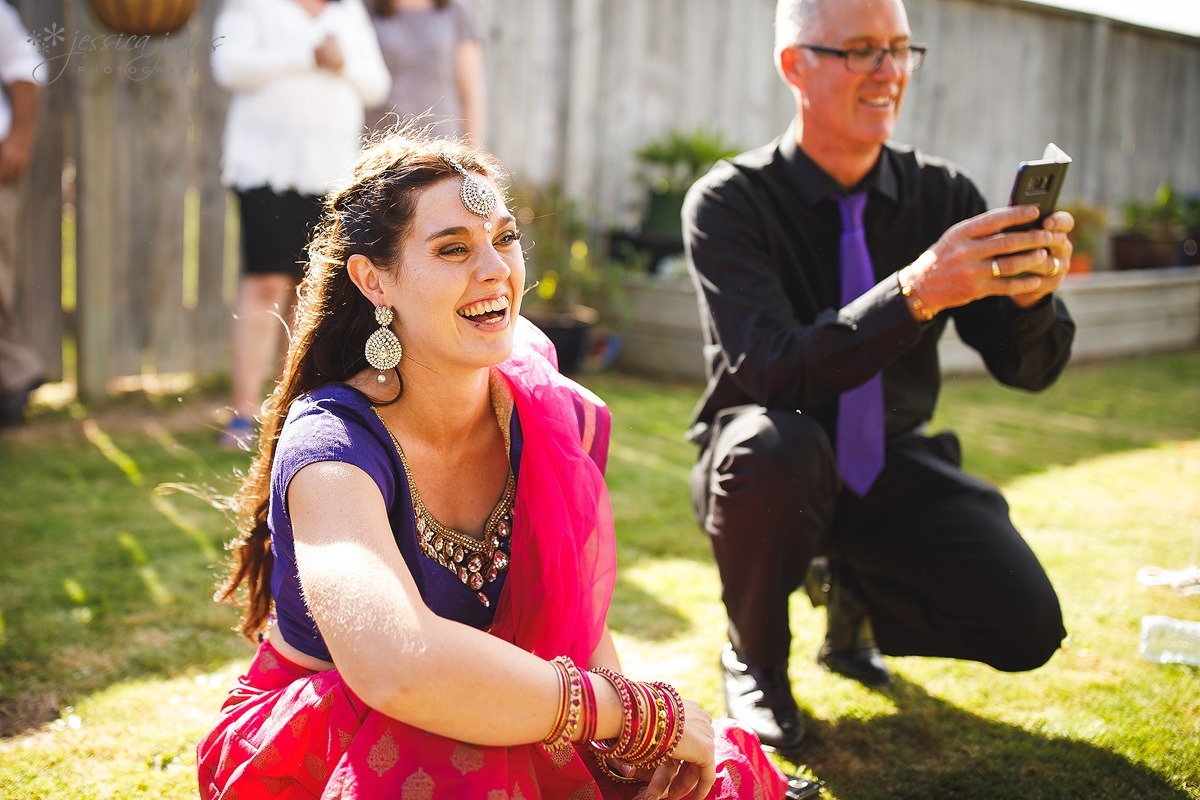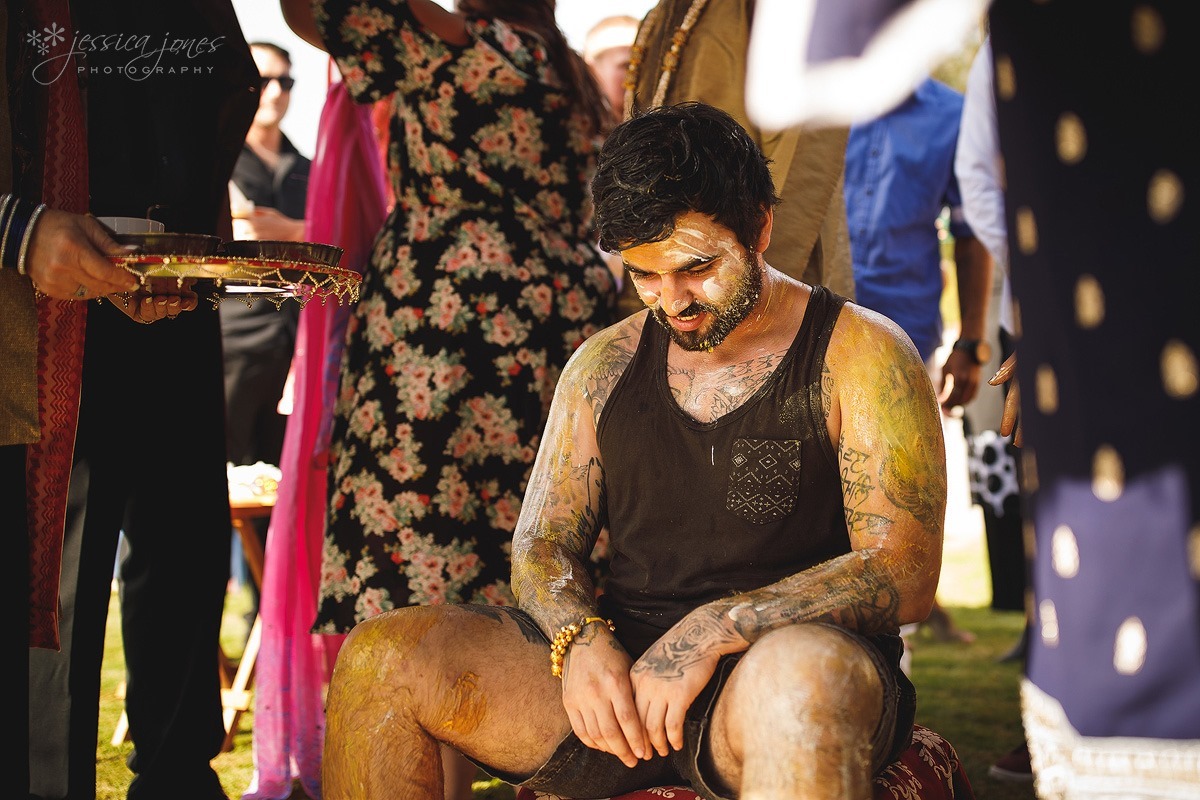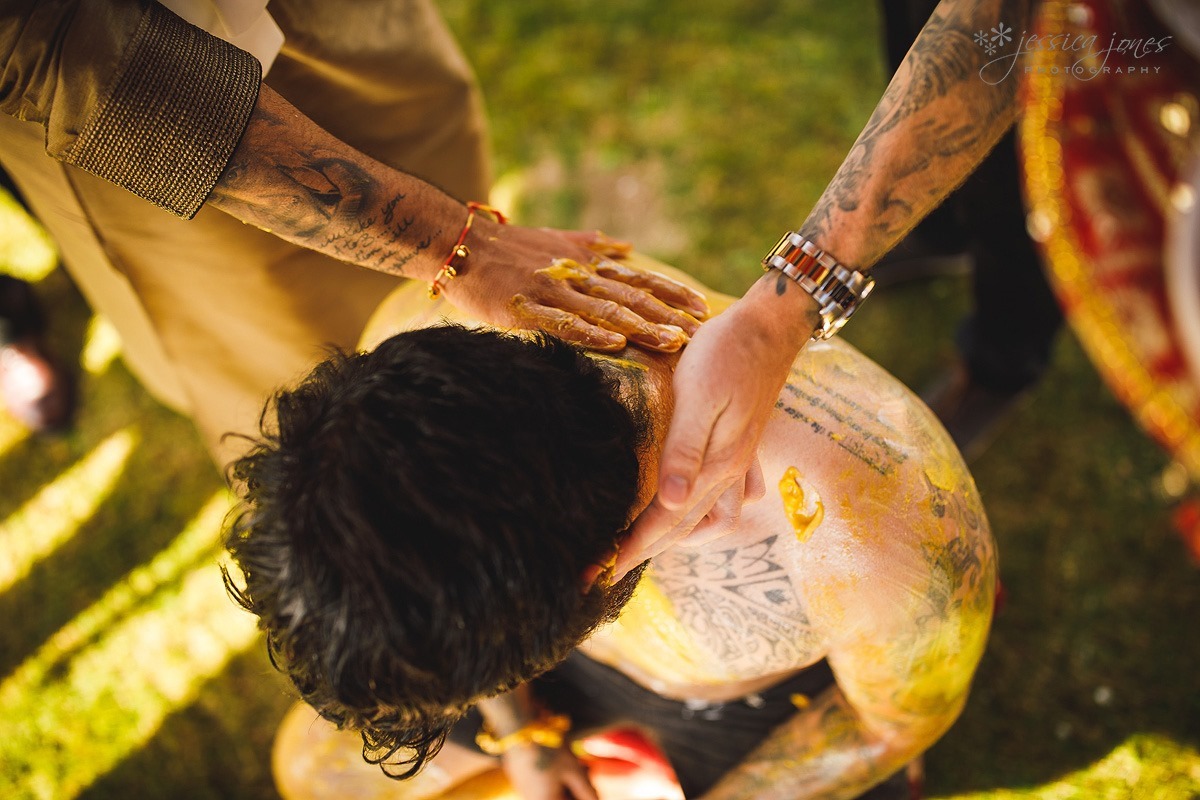 Jacinta was every bit as stunning as you'd expect, and it wasn't even her wedding day yet!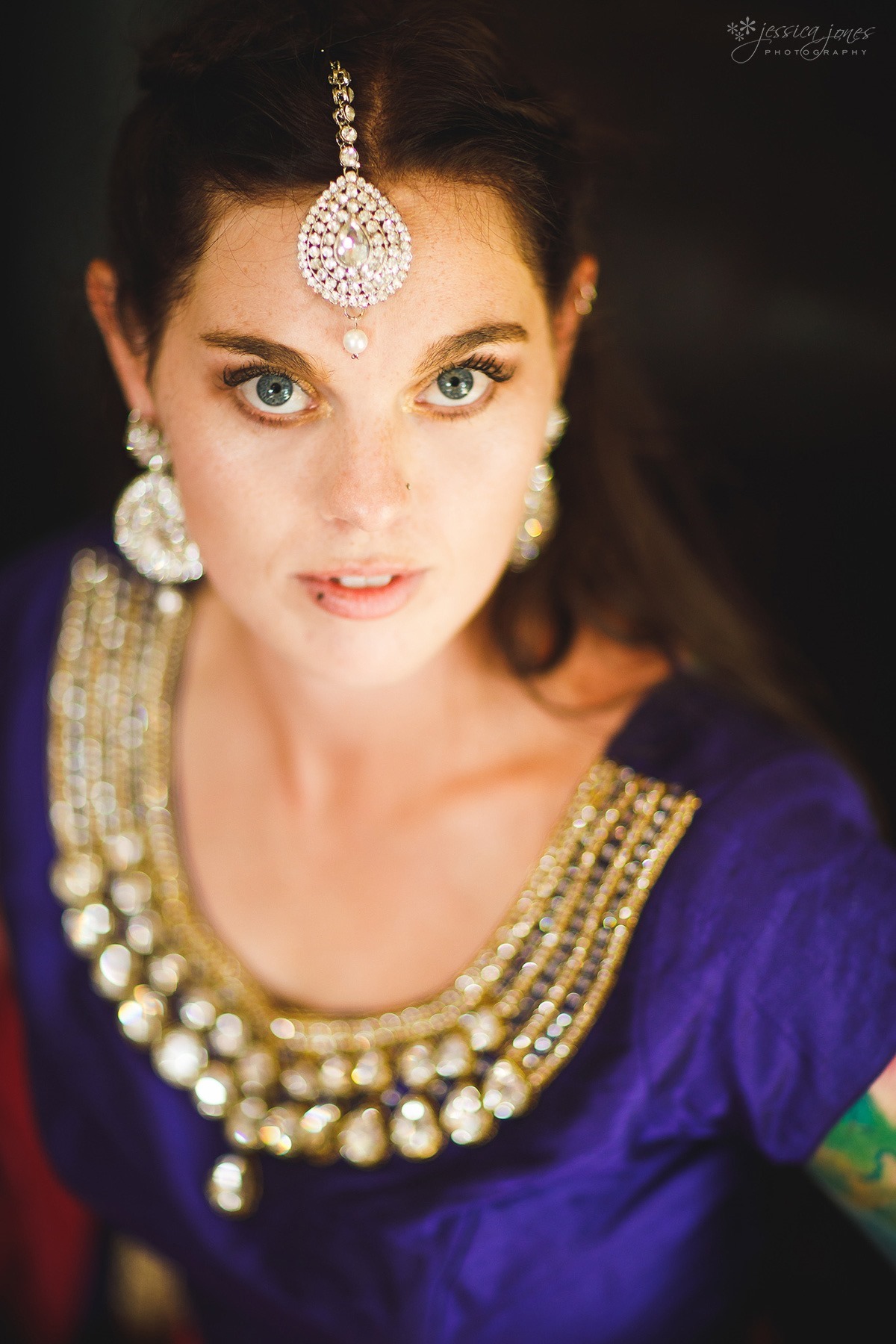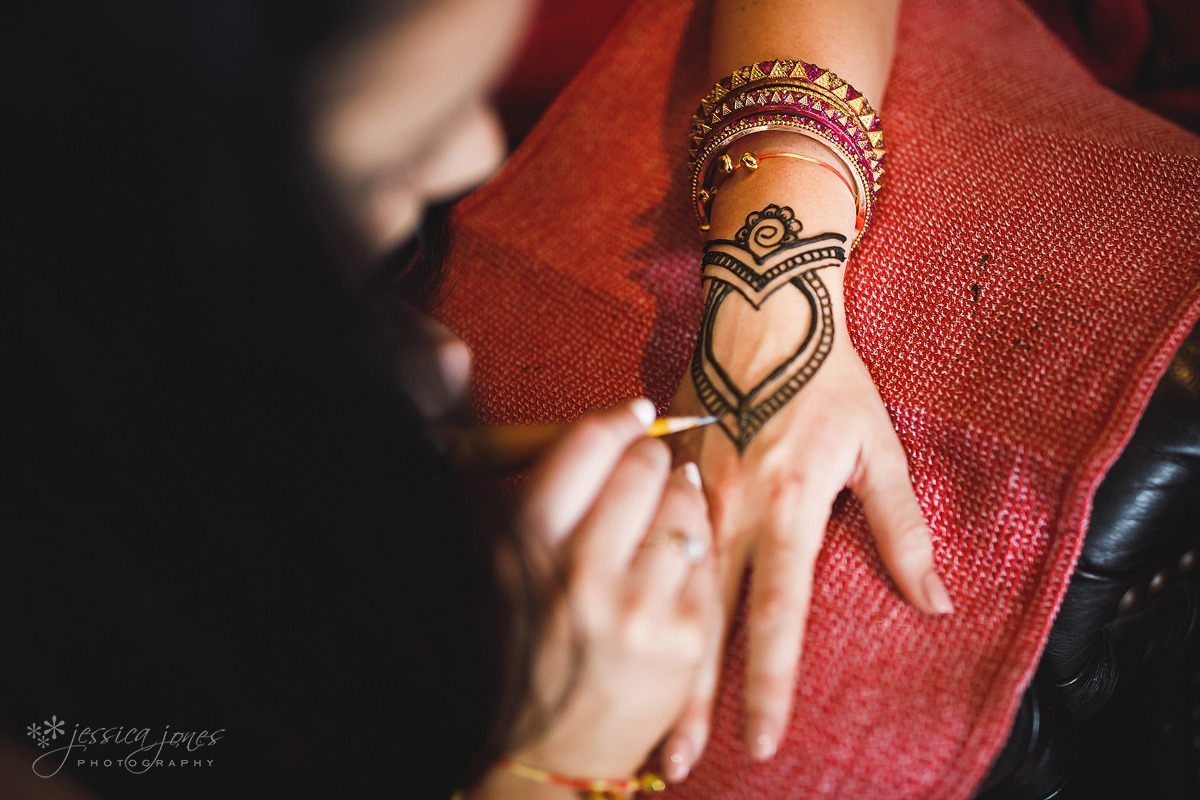 I left the festivities and returned again the following day where things were just as joyful and relaxed.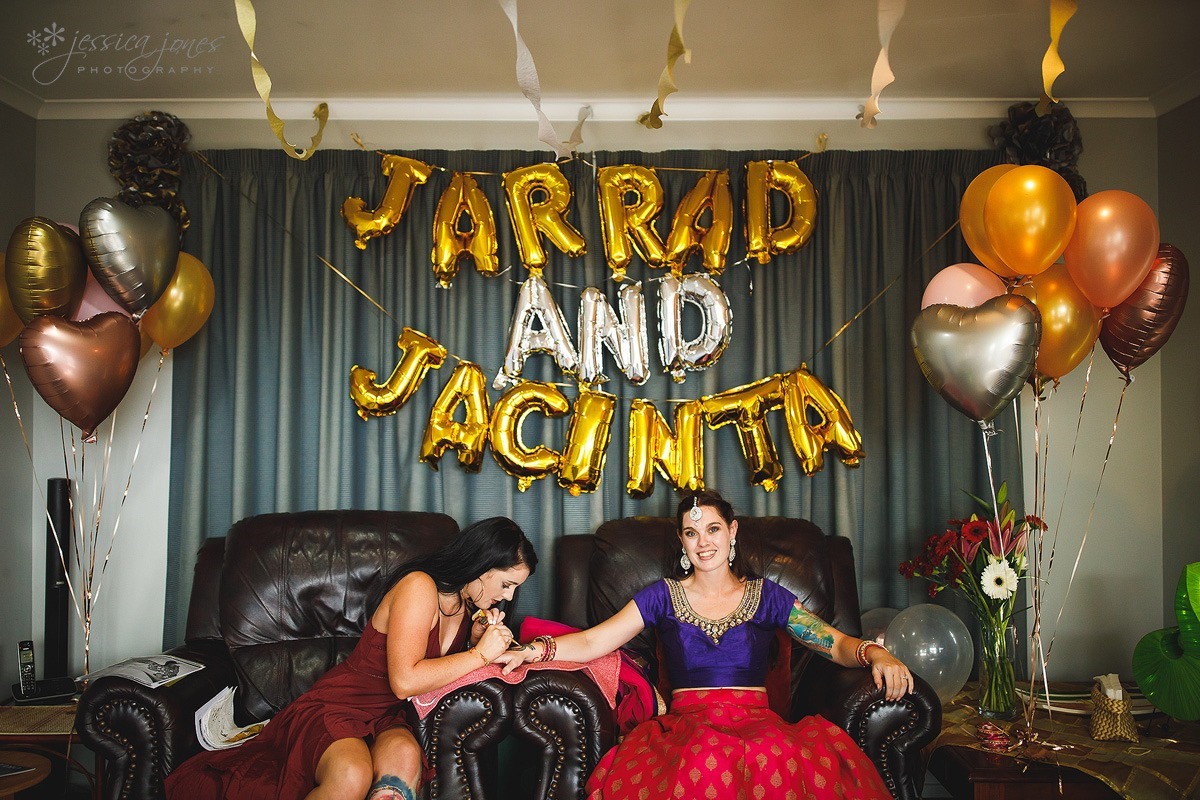 More floral goodness from Darnelle!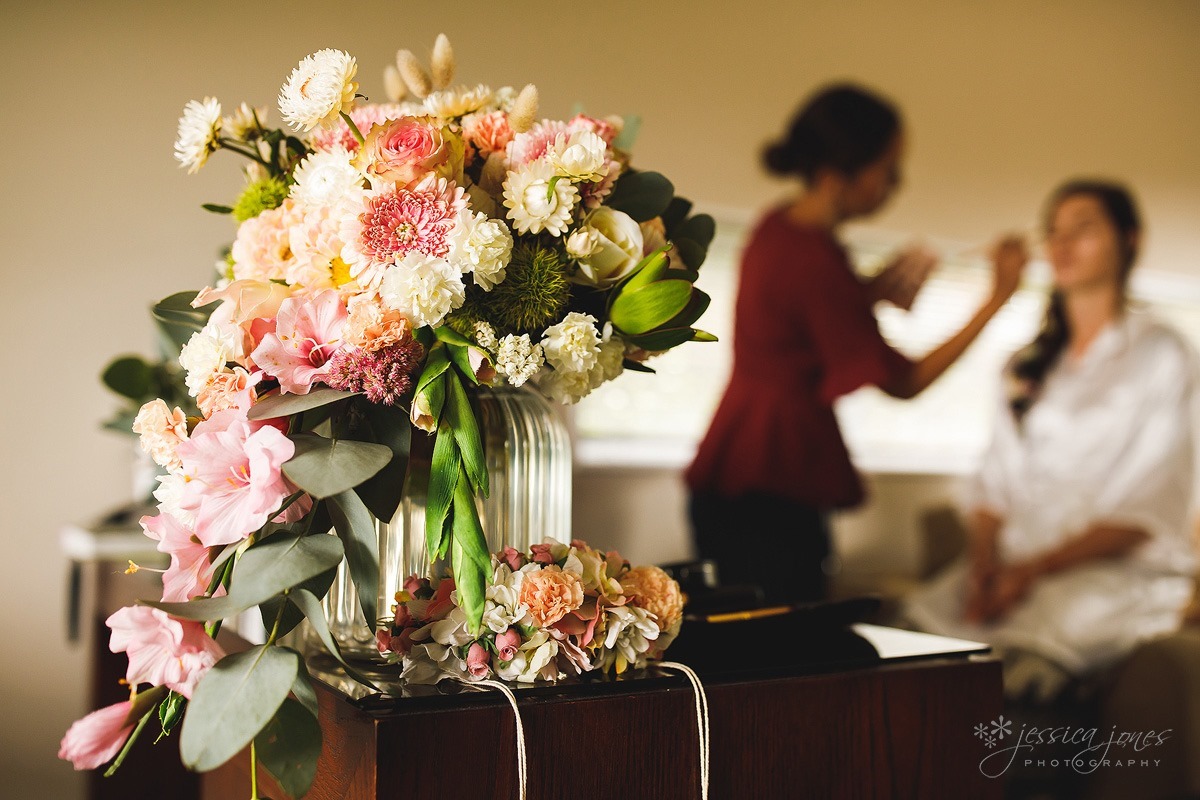 As well as hair and makeup by her. D, you are a machine!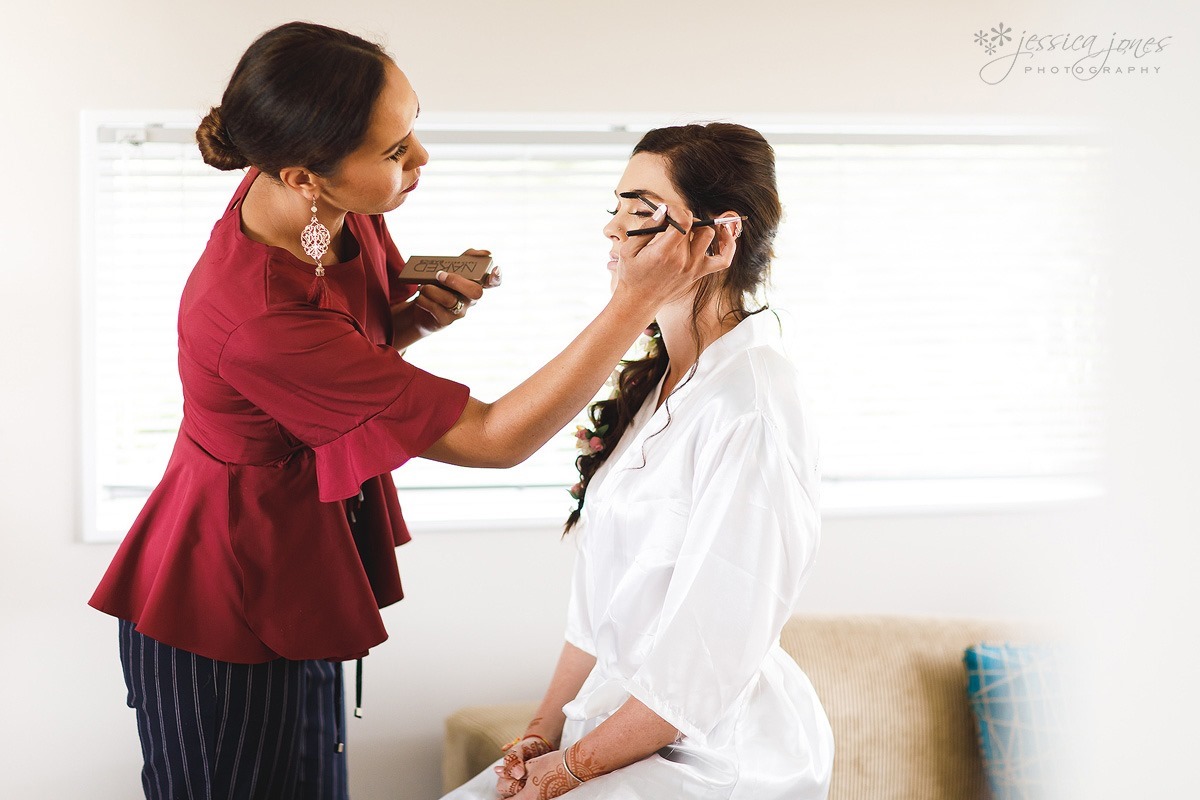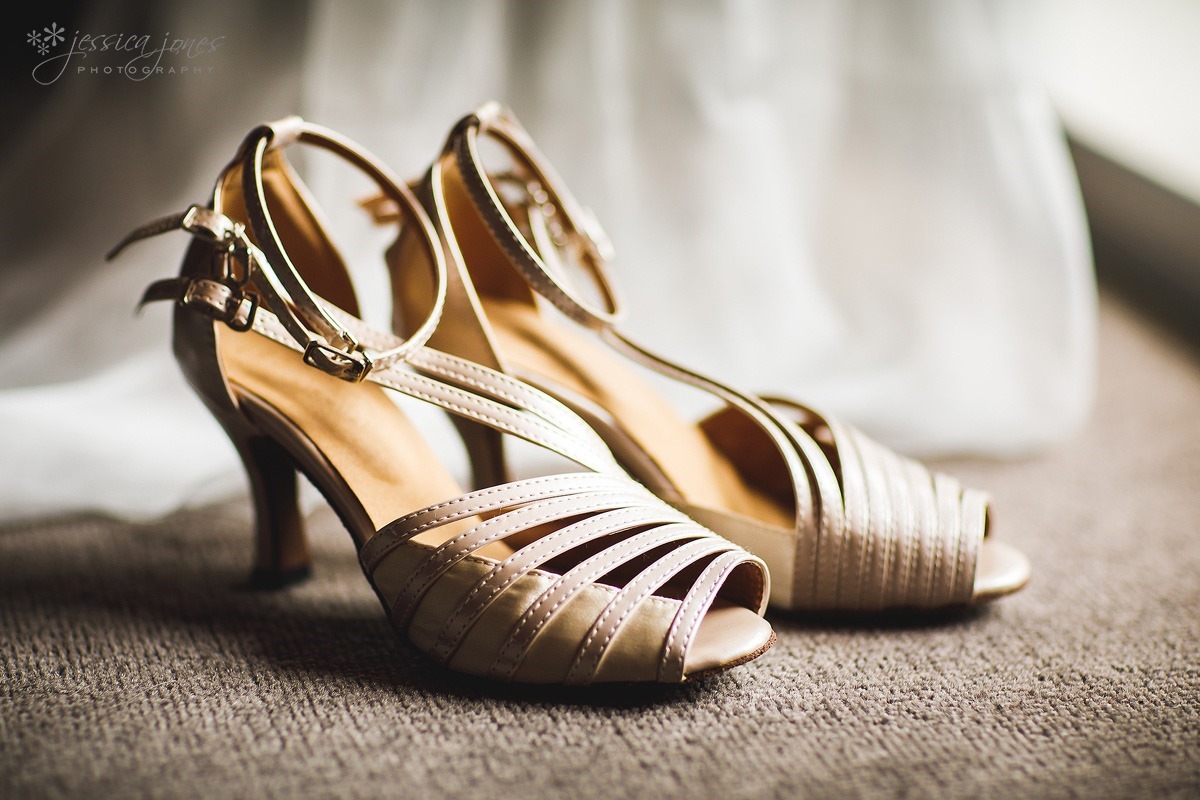 Cue pug dog number one. I didn't get to meet this little lady, as she was with the boys getting ready. But with a face like that, how can she not appear in this post, right?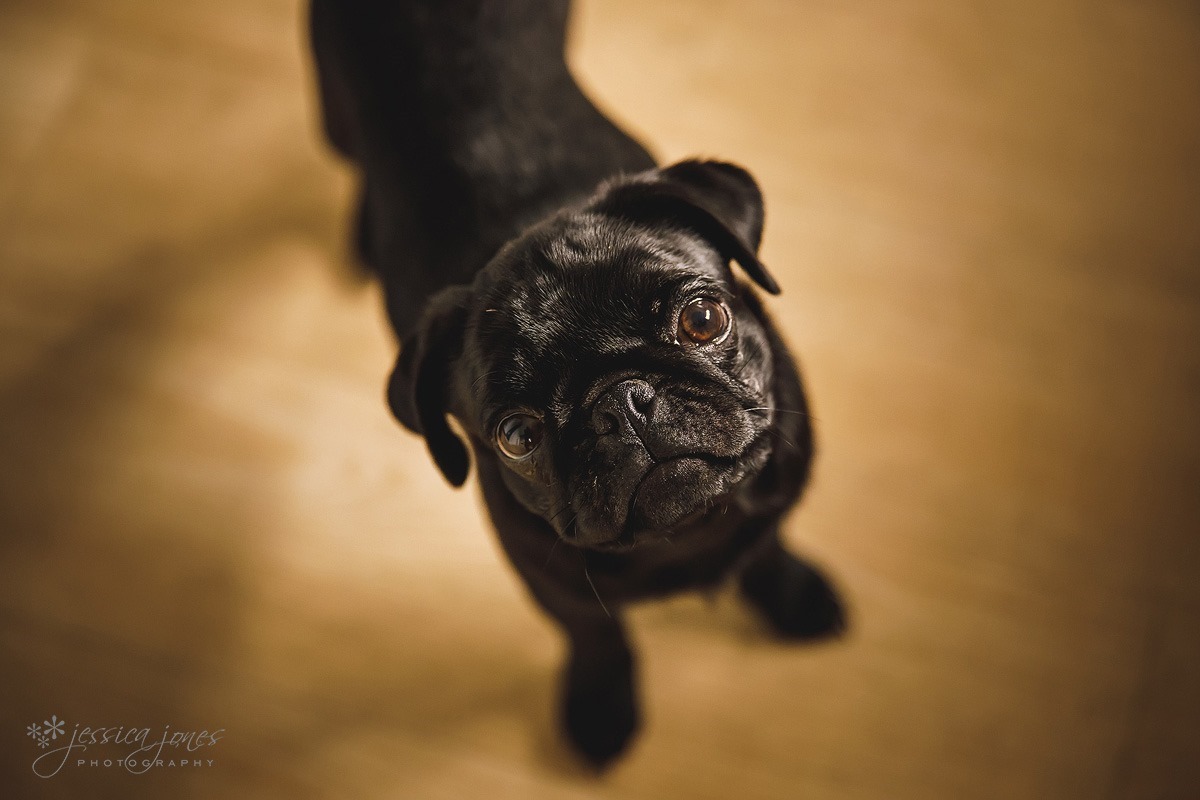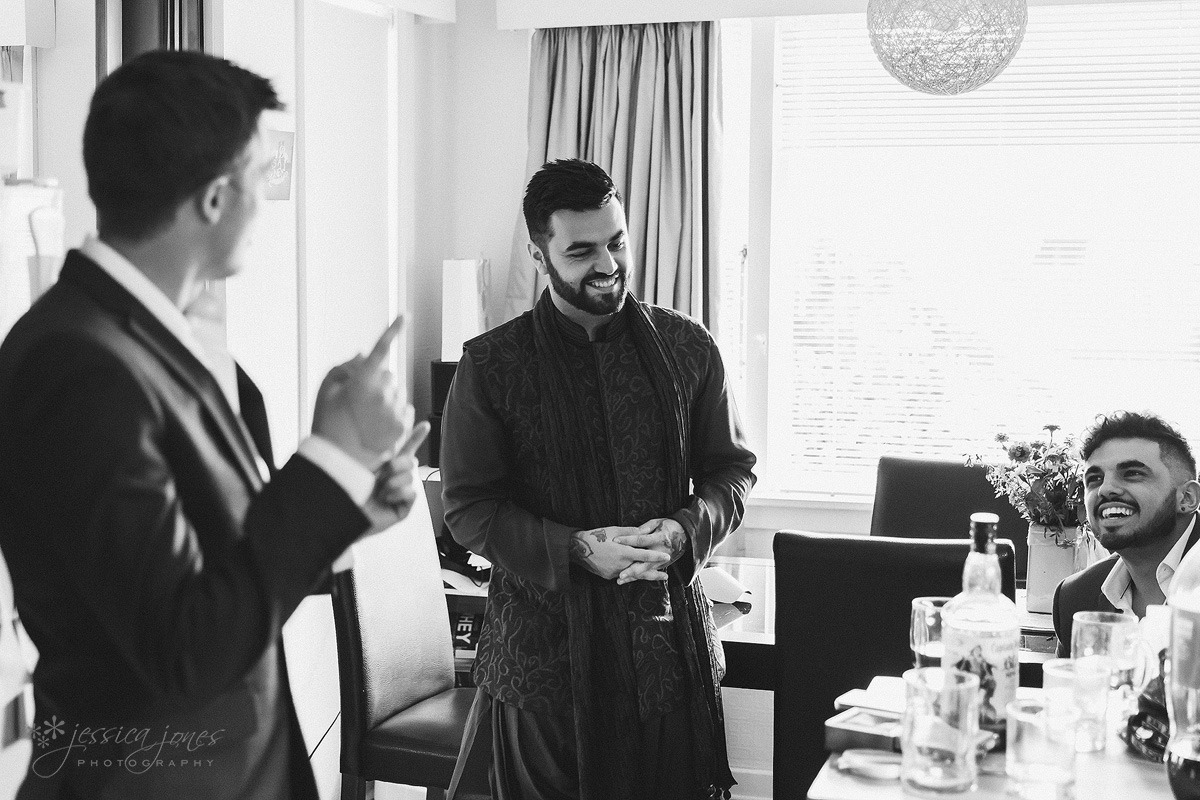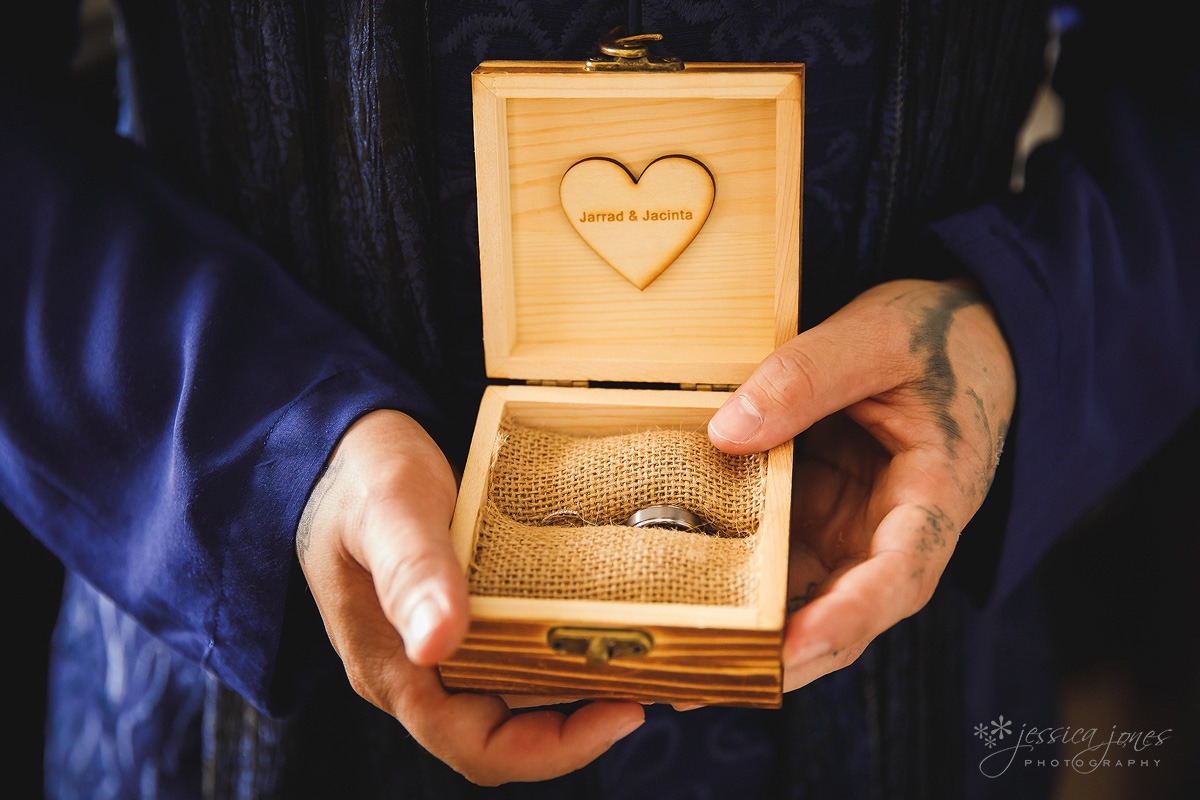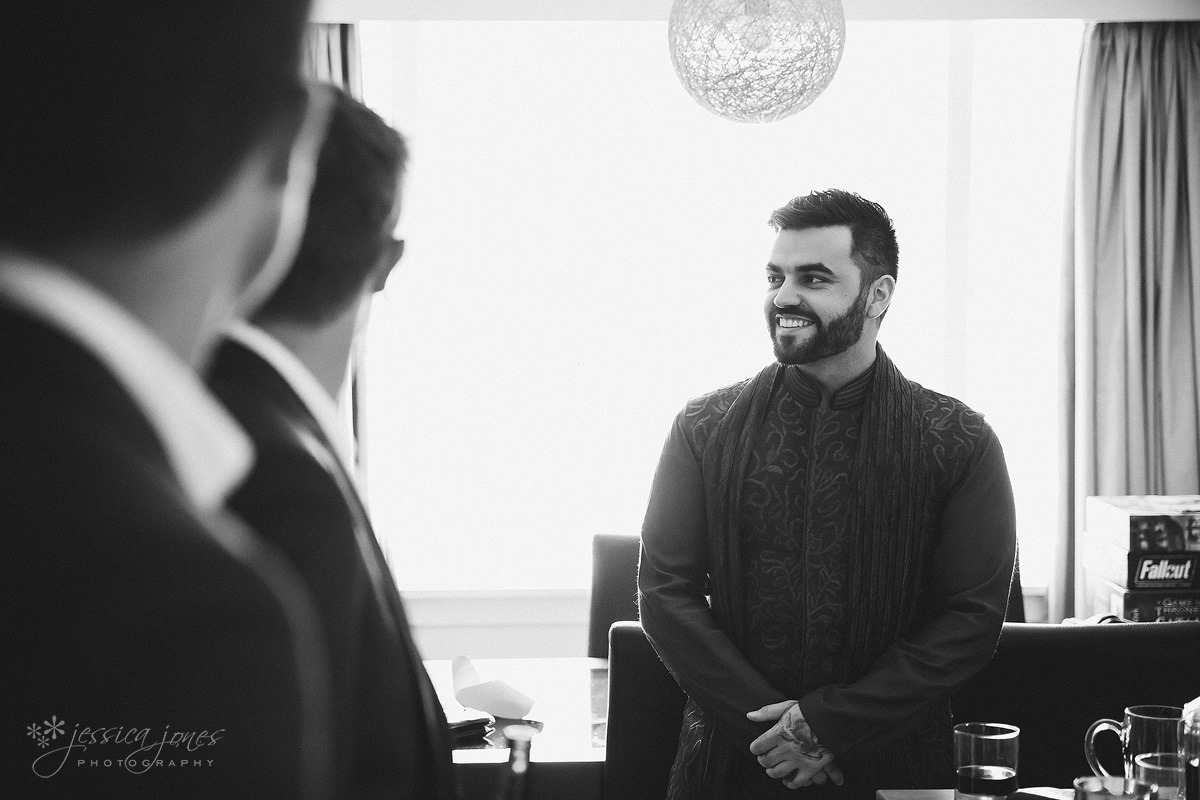 Jacinta and Jarrad are self confessed super hero nerds, anything DC, Marvel, Disney or Star Wars, and they're all over it. Jarrad had one main job leading up to the wedding, and that was to decide what Shanan, his good mate, and celebrant, would be wearing for the wedding. He could choose anything he wanted, and when I say anything, I mean ANYTHING.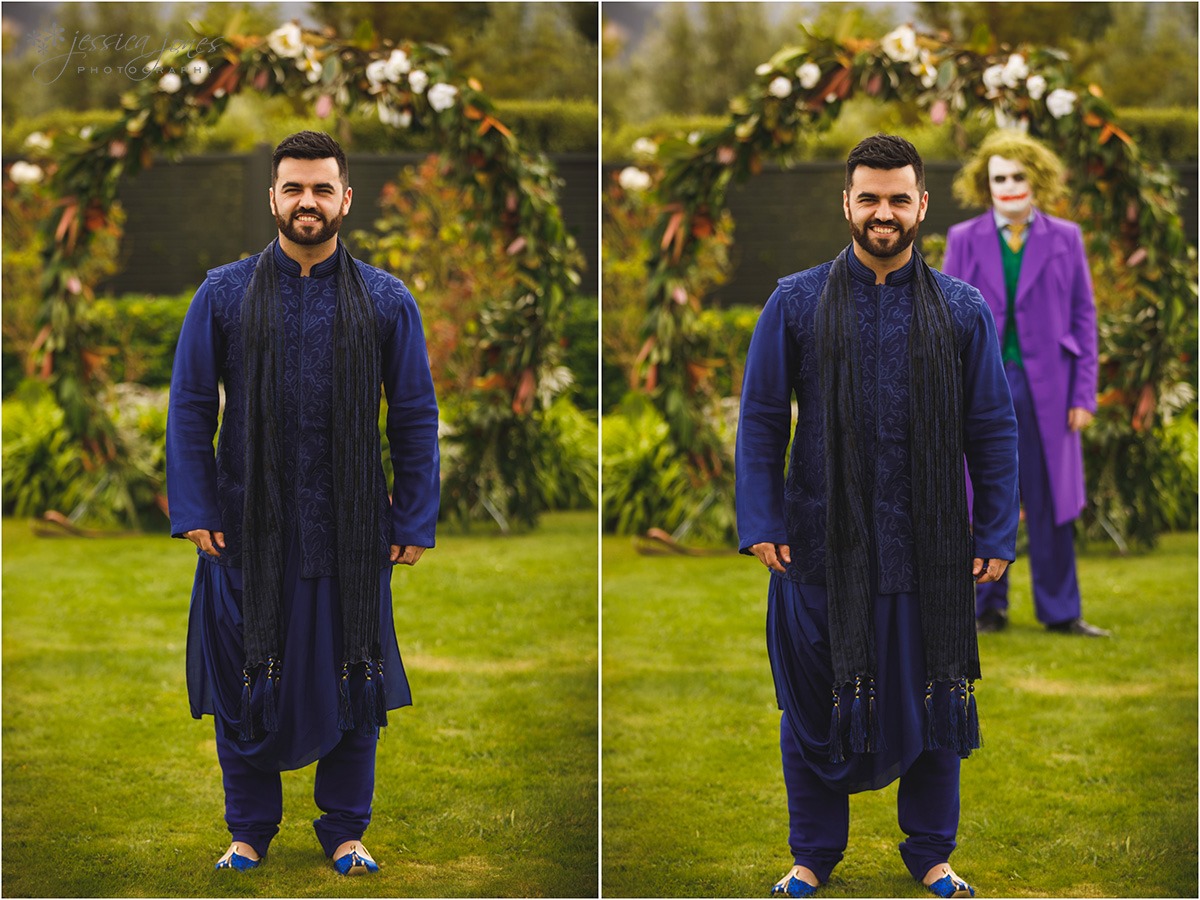 Cue, the Joker from Batman.
The last time we photographed Shanan was five years ago, when he was getting married to the lovely Emma, at his own wedding. Now he appears as the celebrant, but not just any celebrant!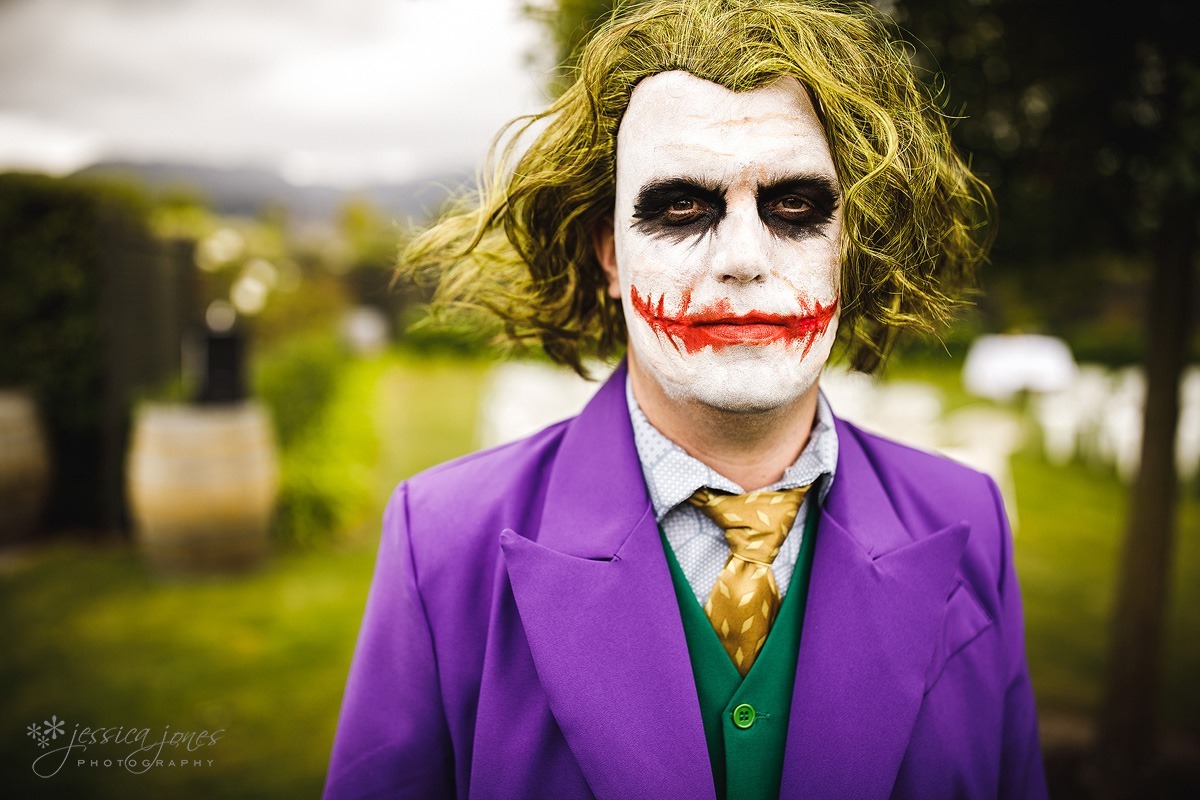 This is Donut. Jarrad and Jacinta's baby. She was a flowergirl, and what a little delight she was! You'll enjoy little glimpses of her through the story.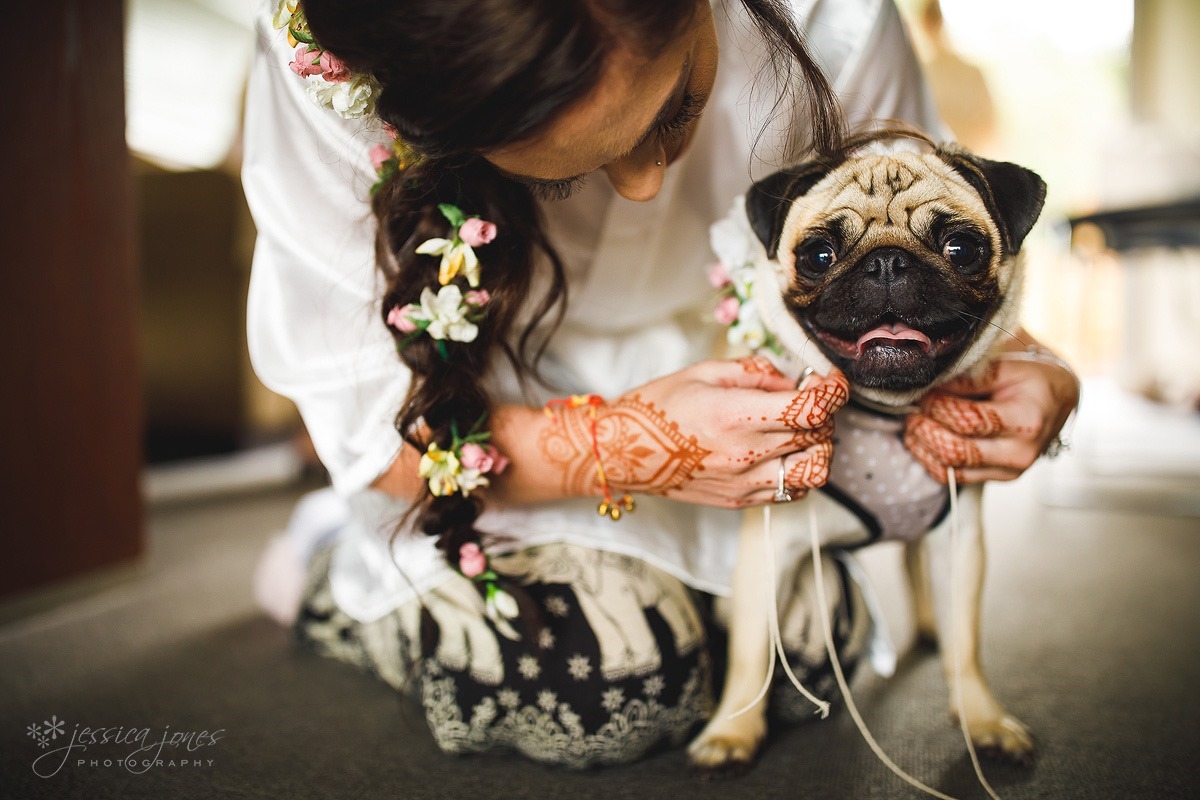 Jacinta had her Mum's pearls included in her wedding dress design. Nice touch indeed.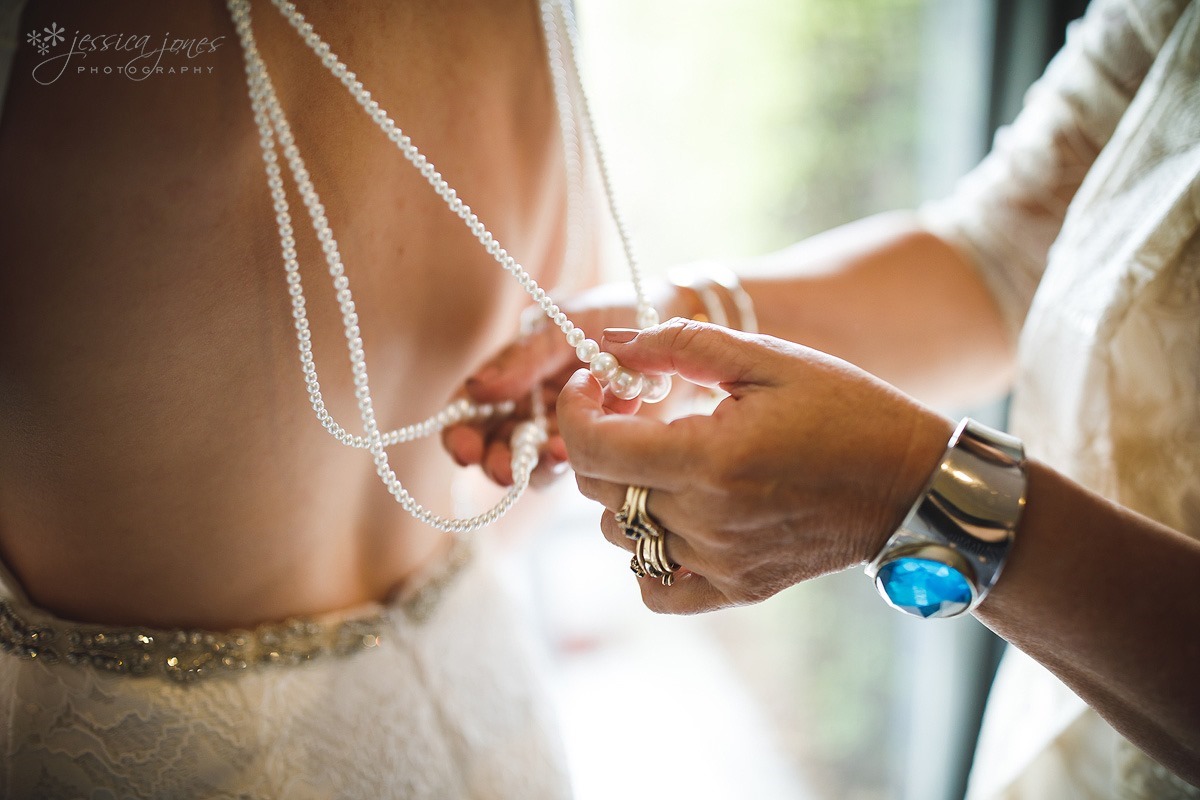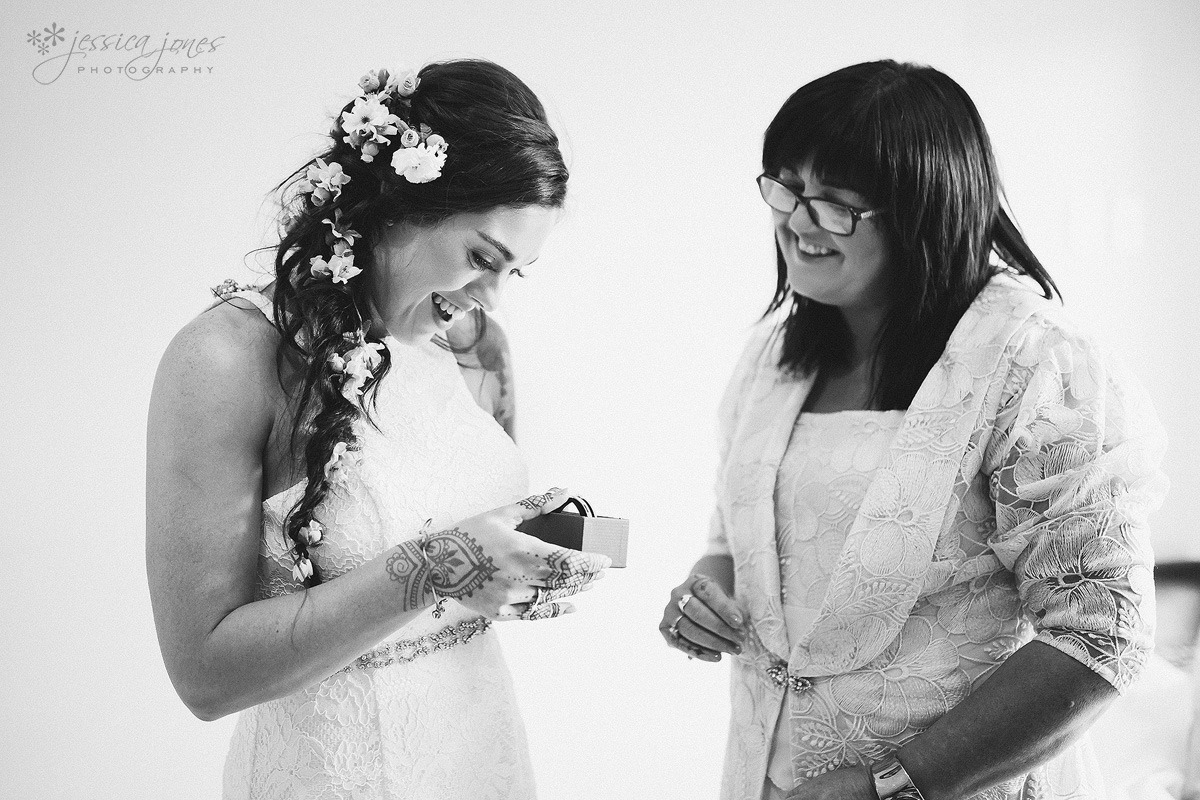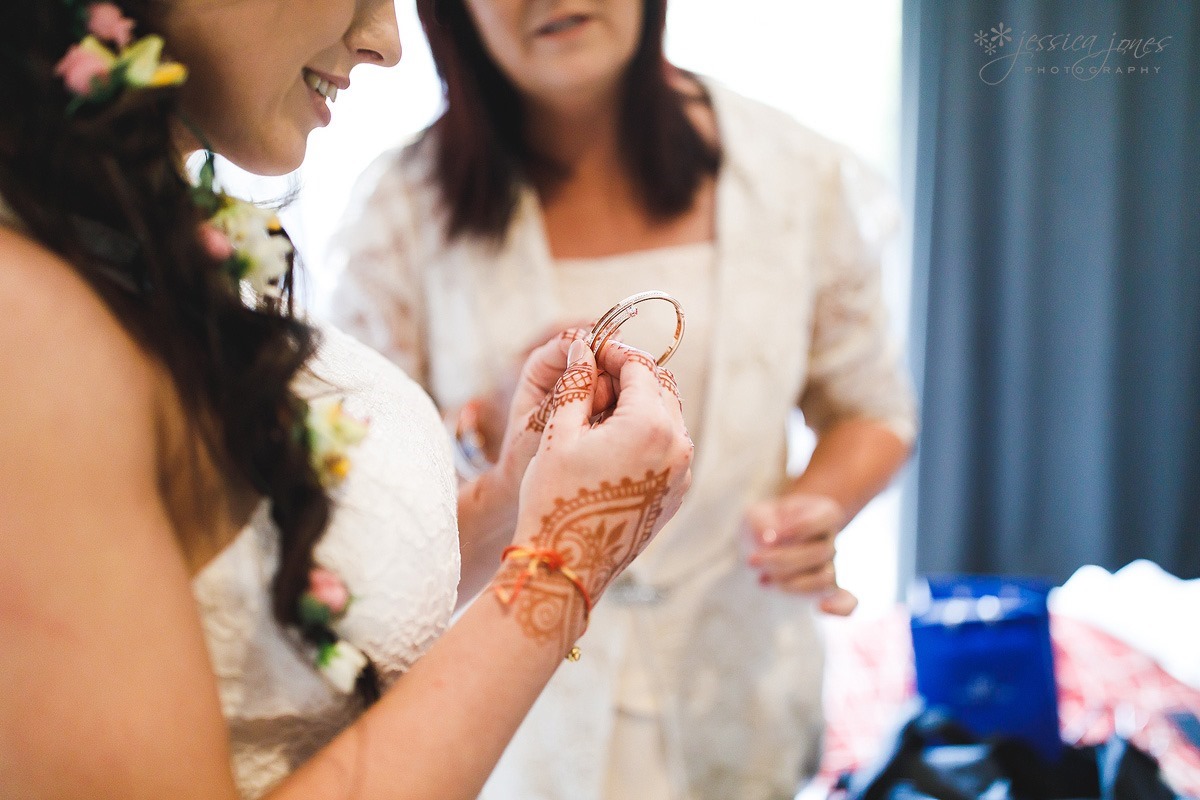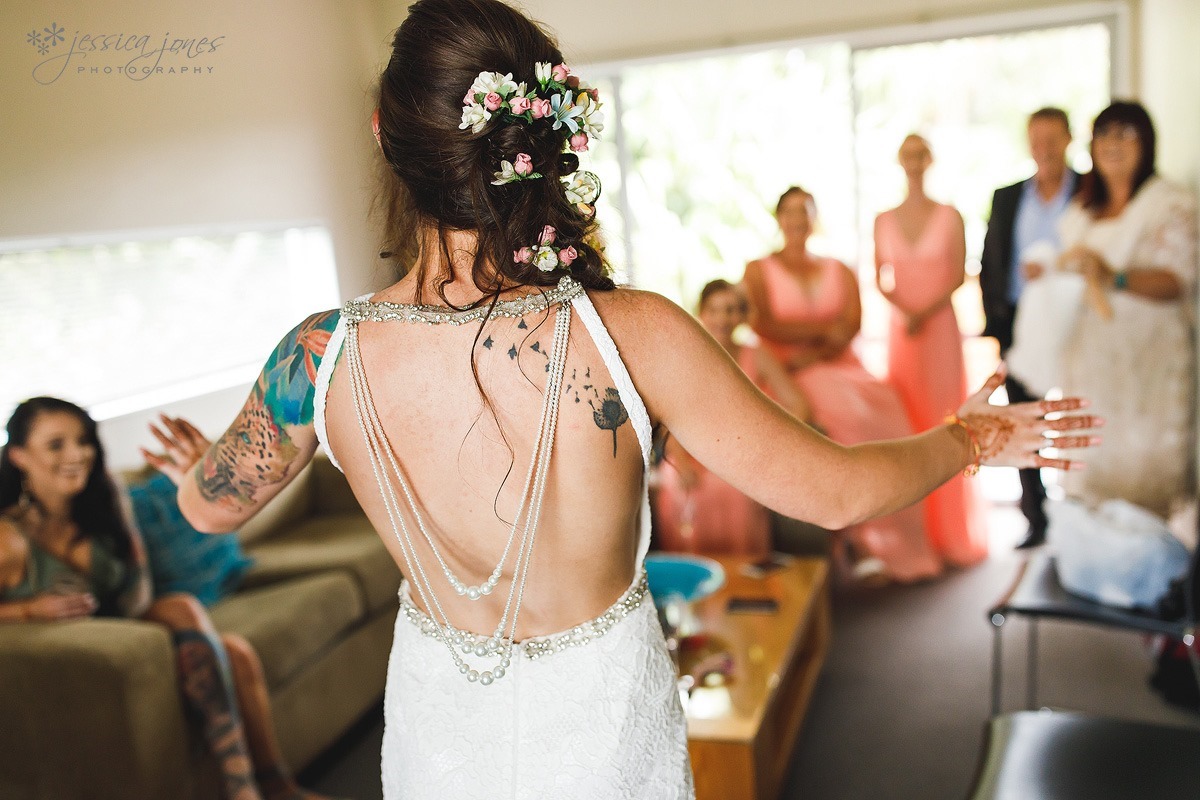 Jacinta, an utterly stunning bride in every way!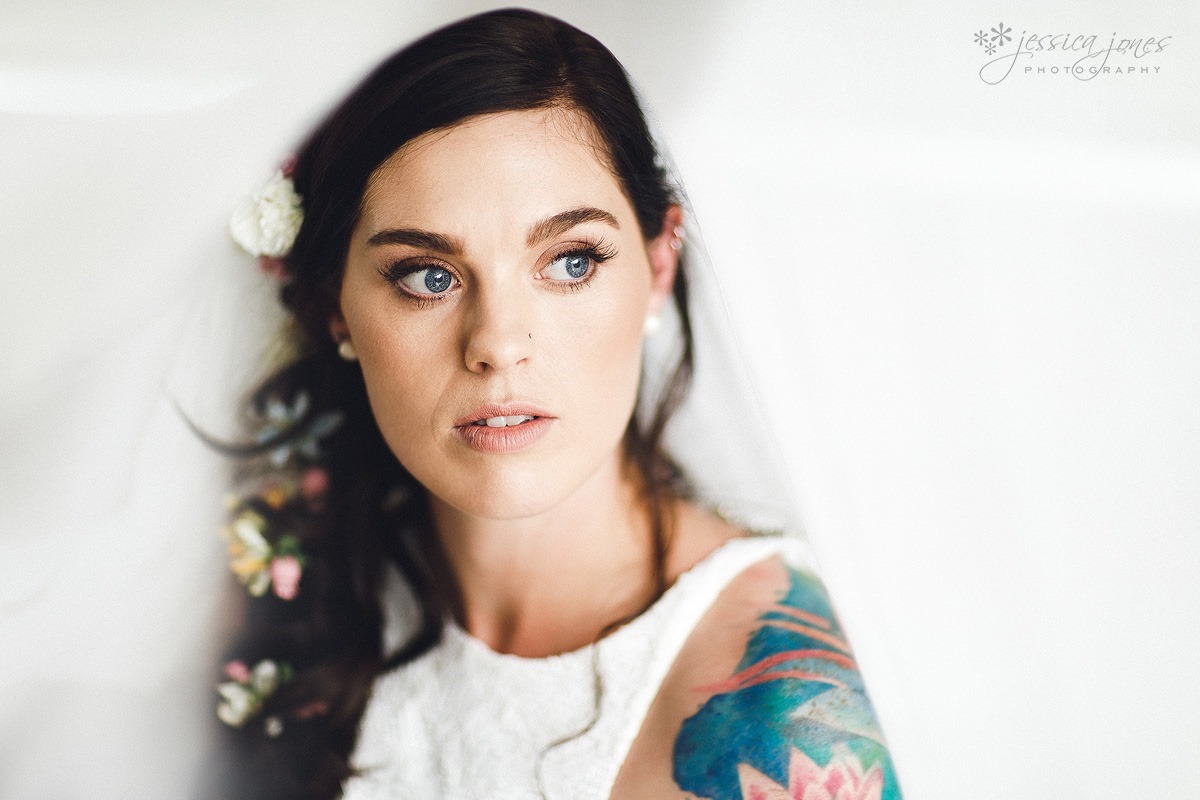 I asked Jarrad and Jacinta what people would think of The Joker taking the ceremony. They said no one would be particularly surprised by it, and true enough, no one seemed particularly perplexed or overly surprised at all!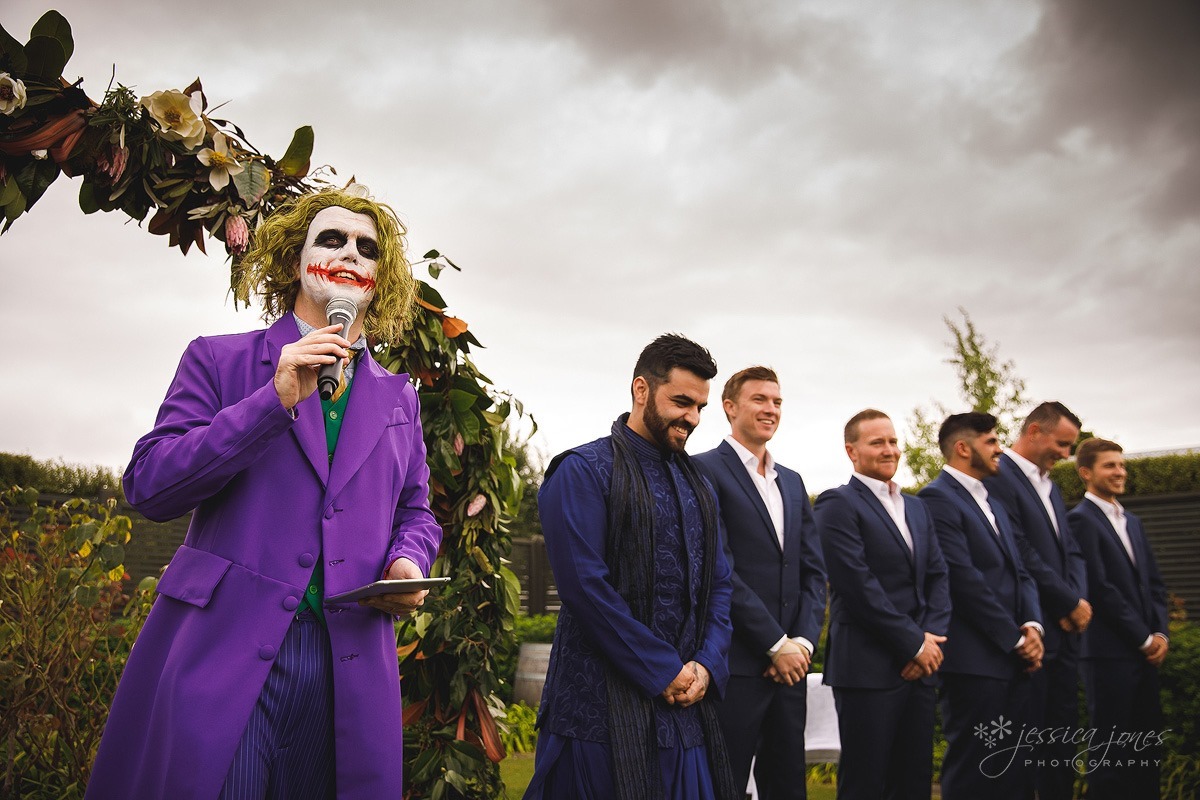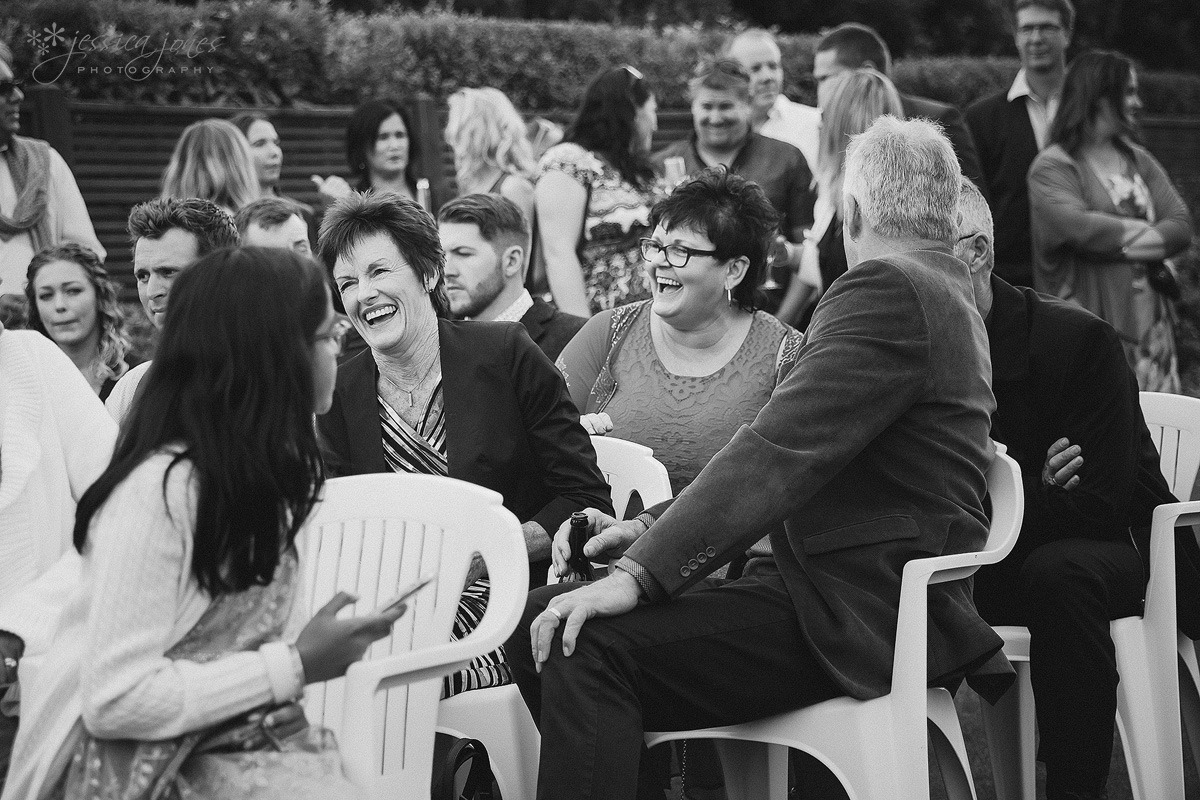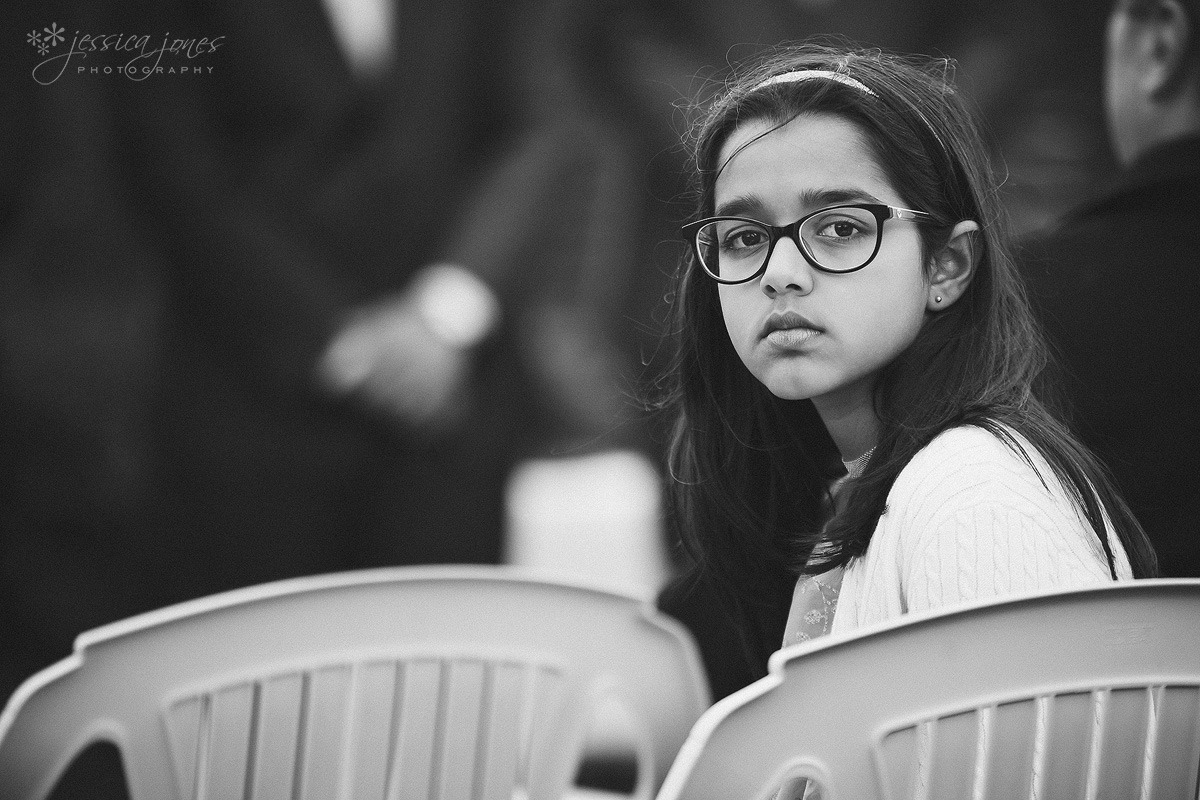 If only you could bottle the happy!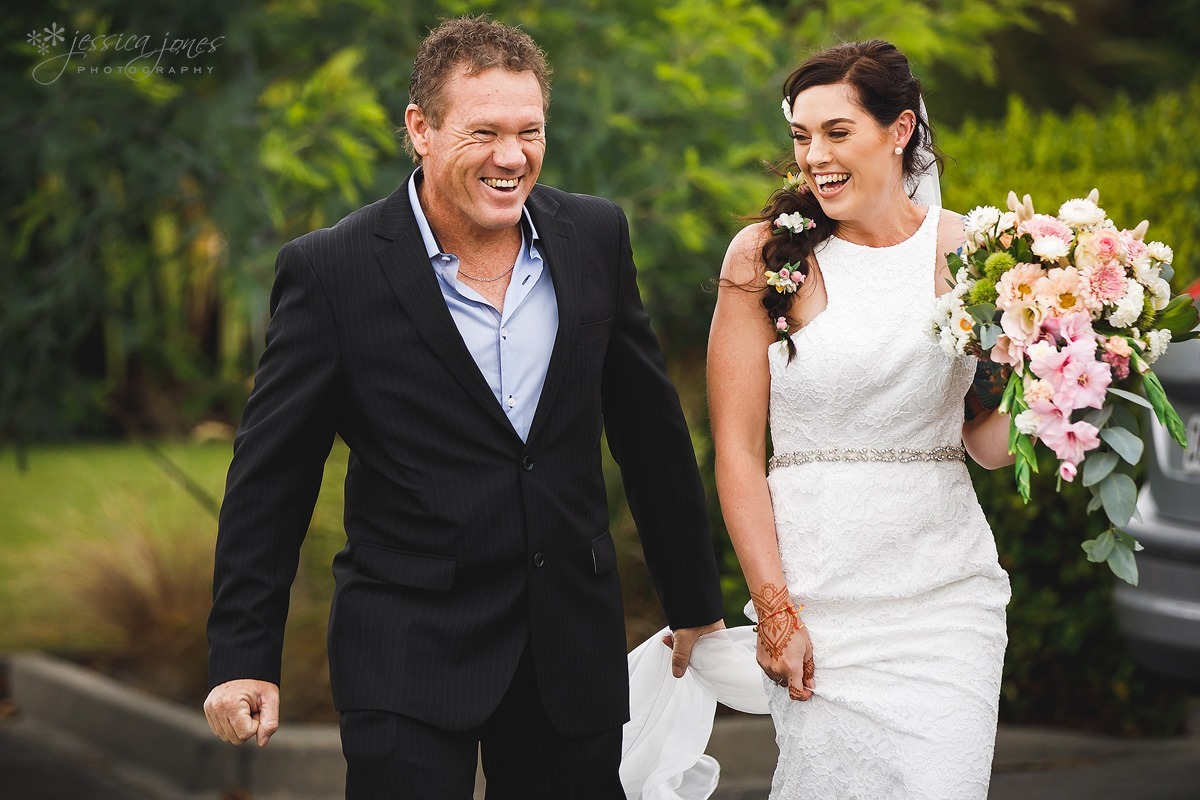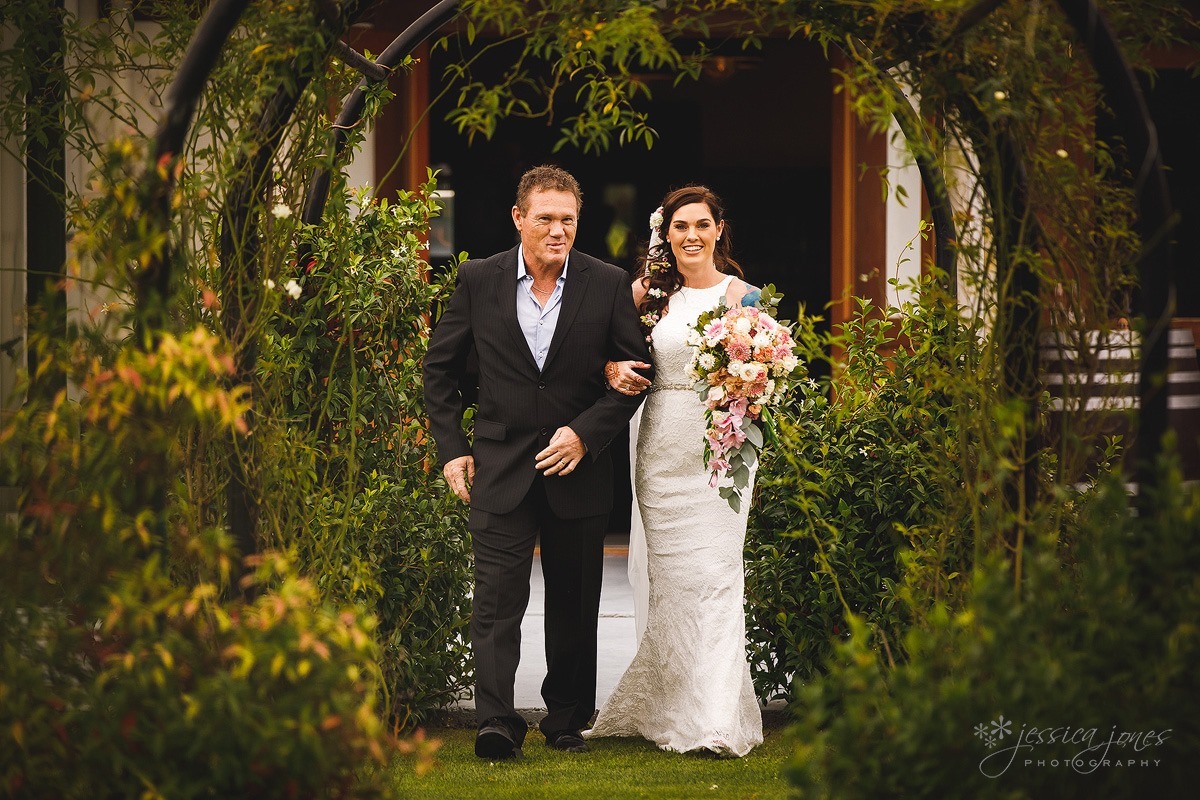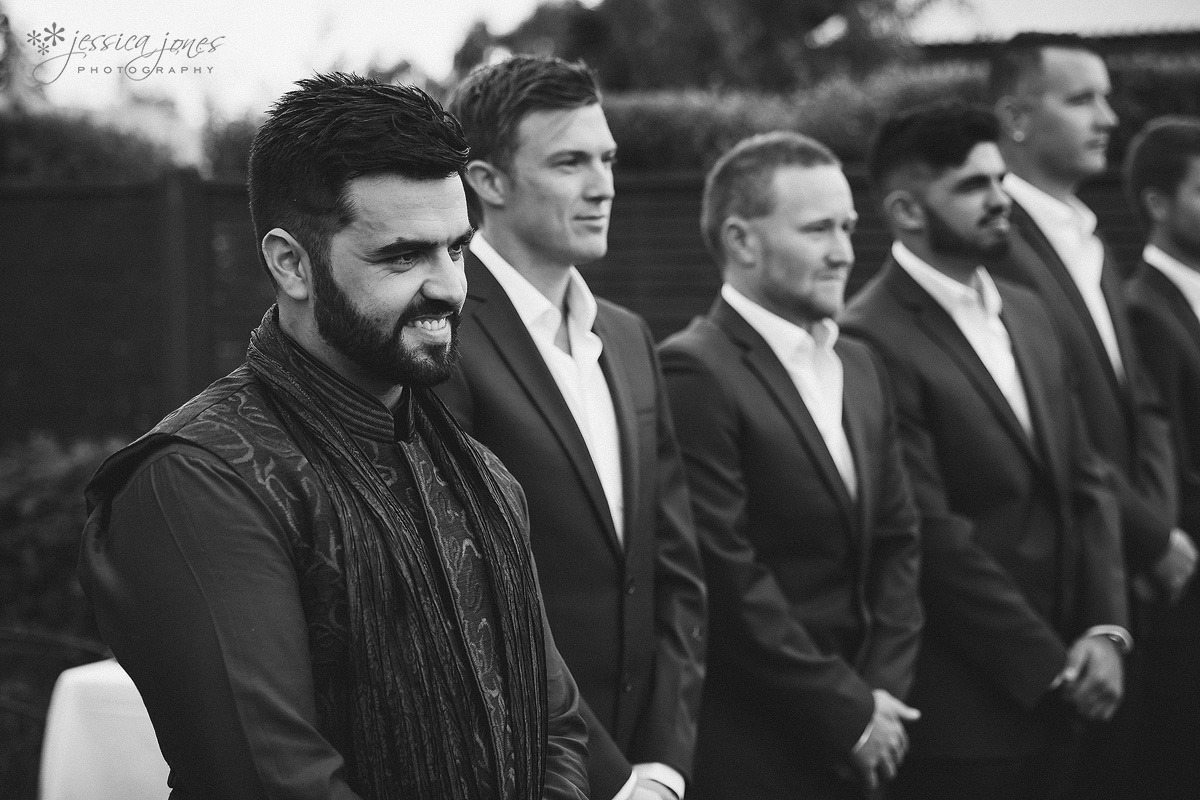 I love this moment Jacinta's Dad passes the baton to Jarrad.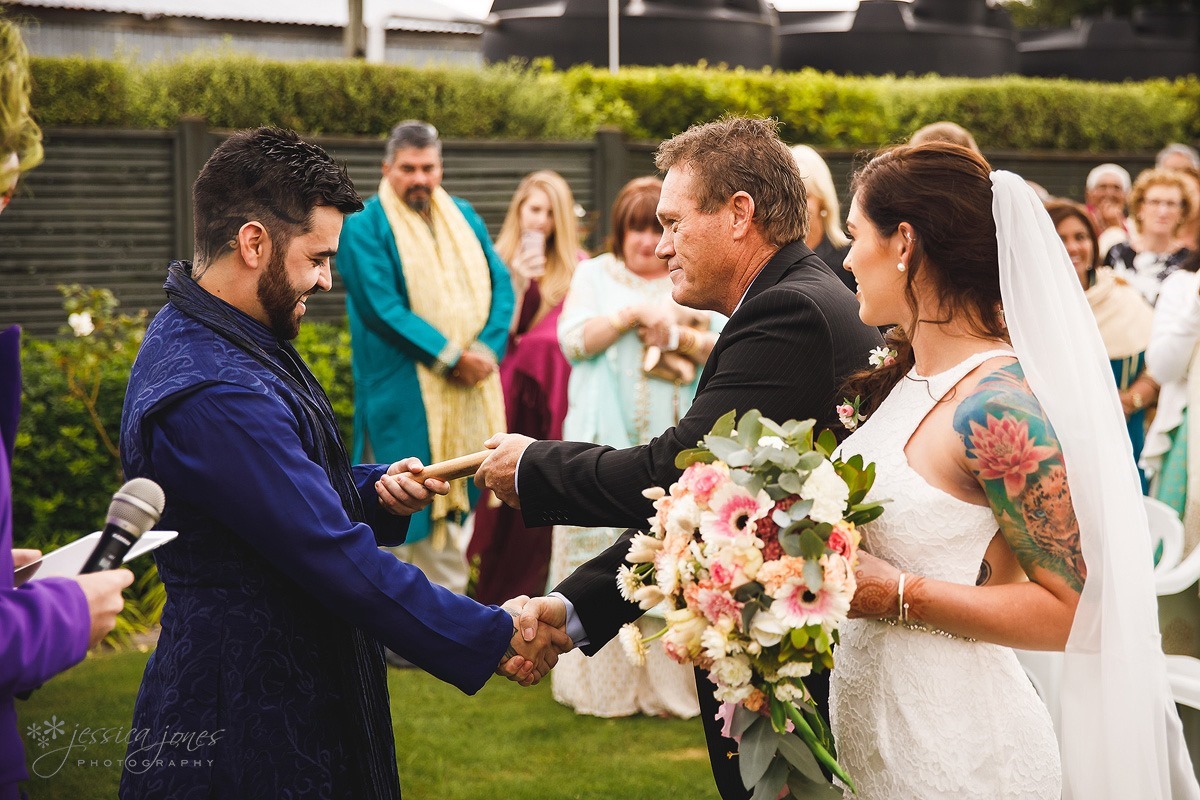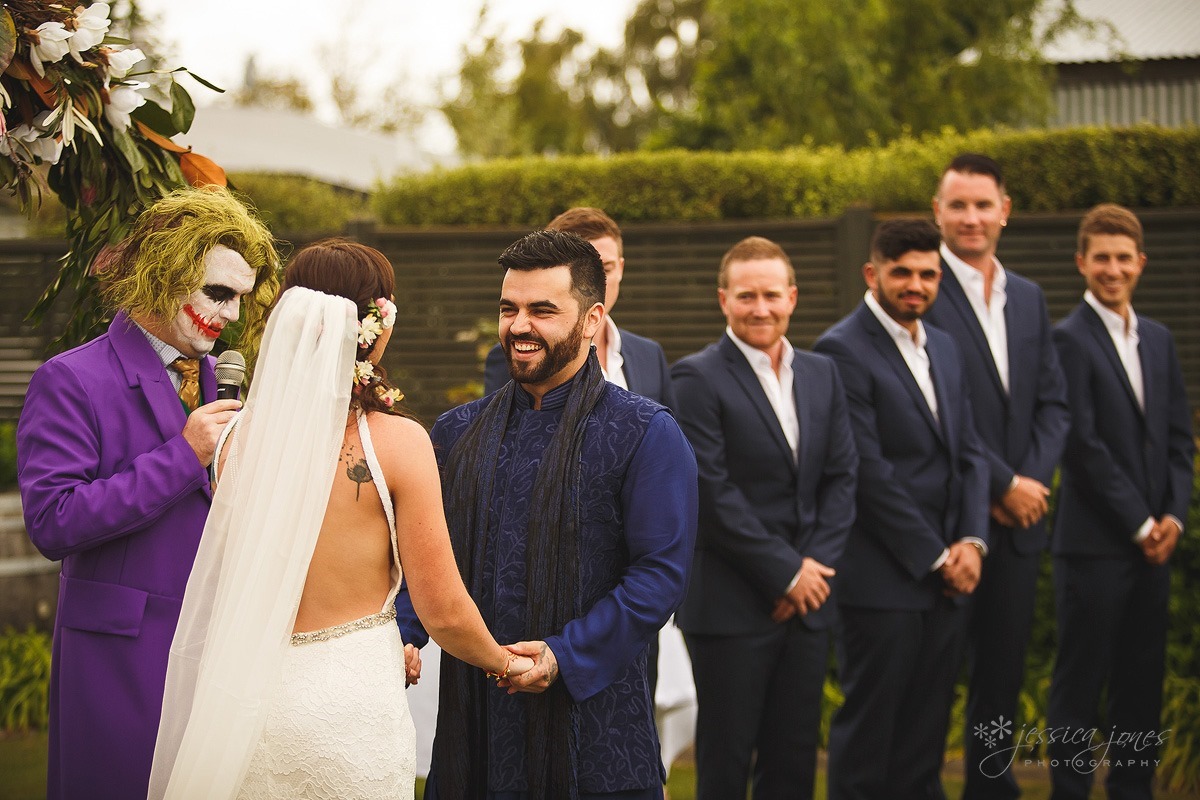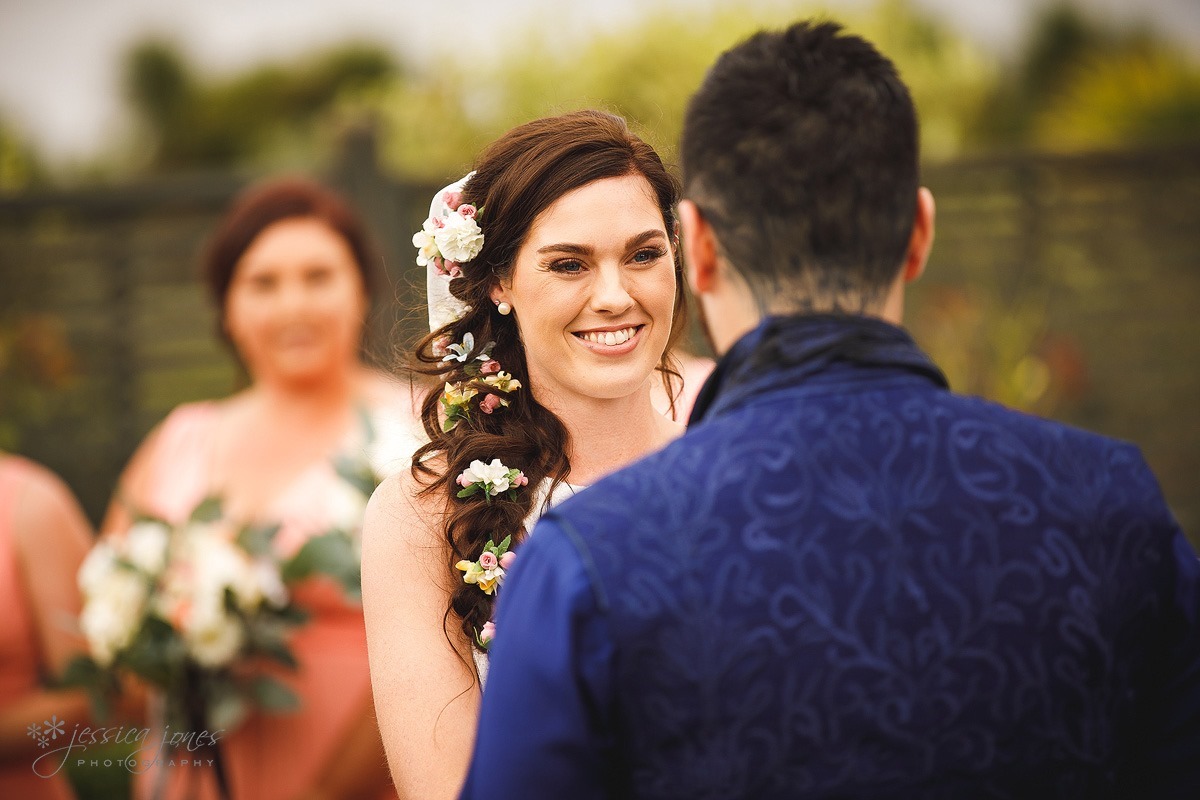 Donut sits nicely, every now and then being thrown a treat from the crowd.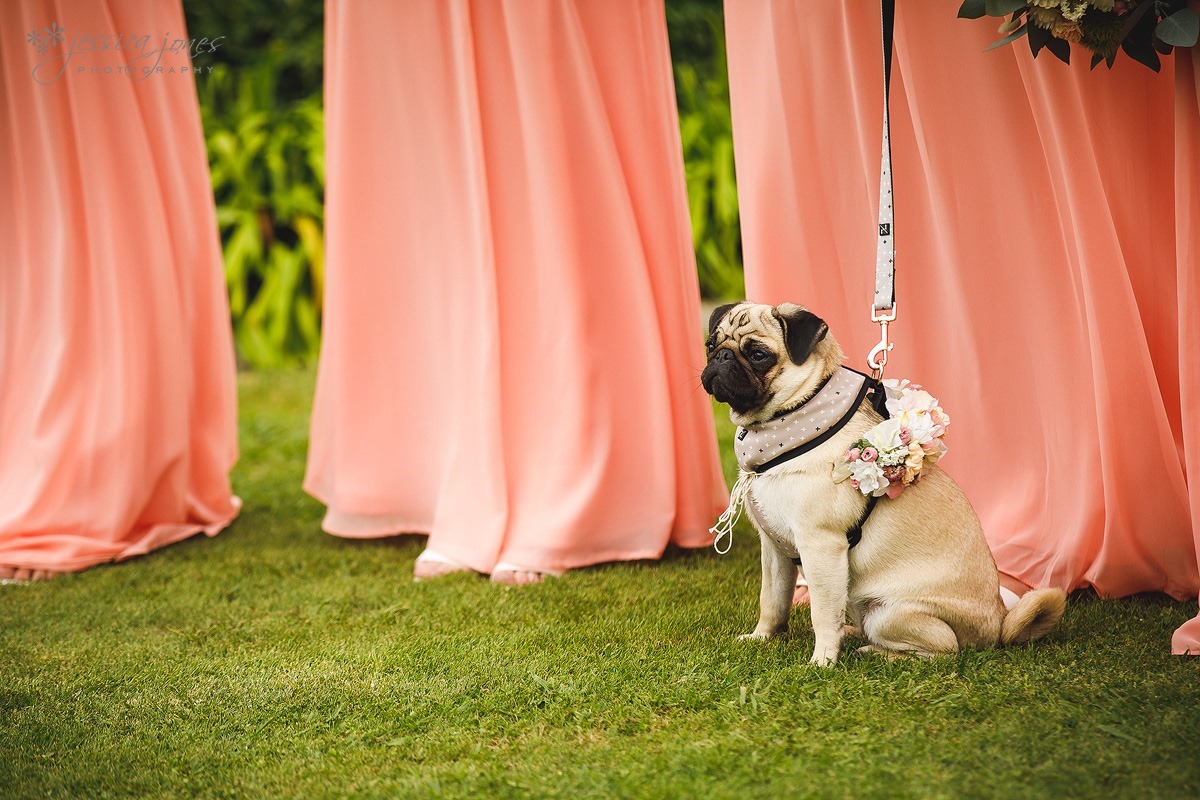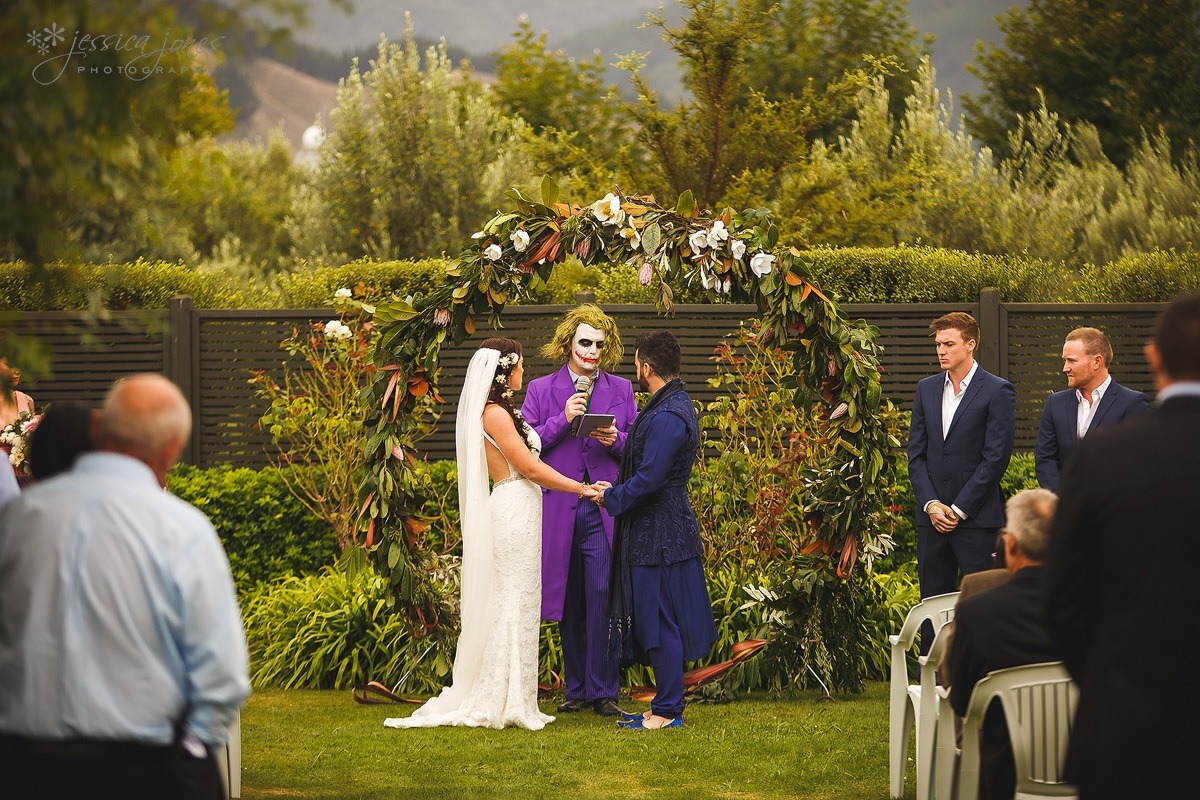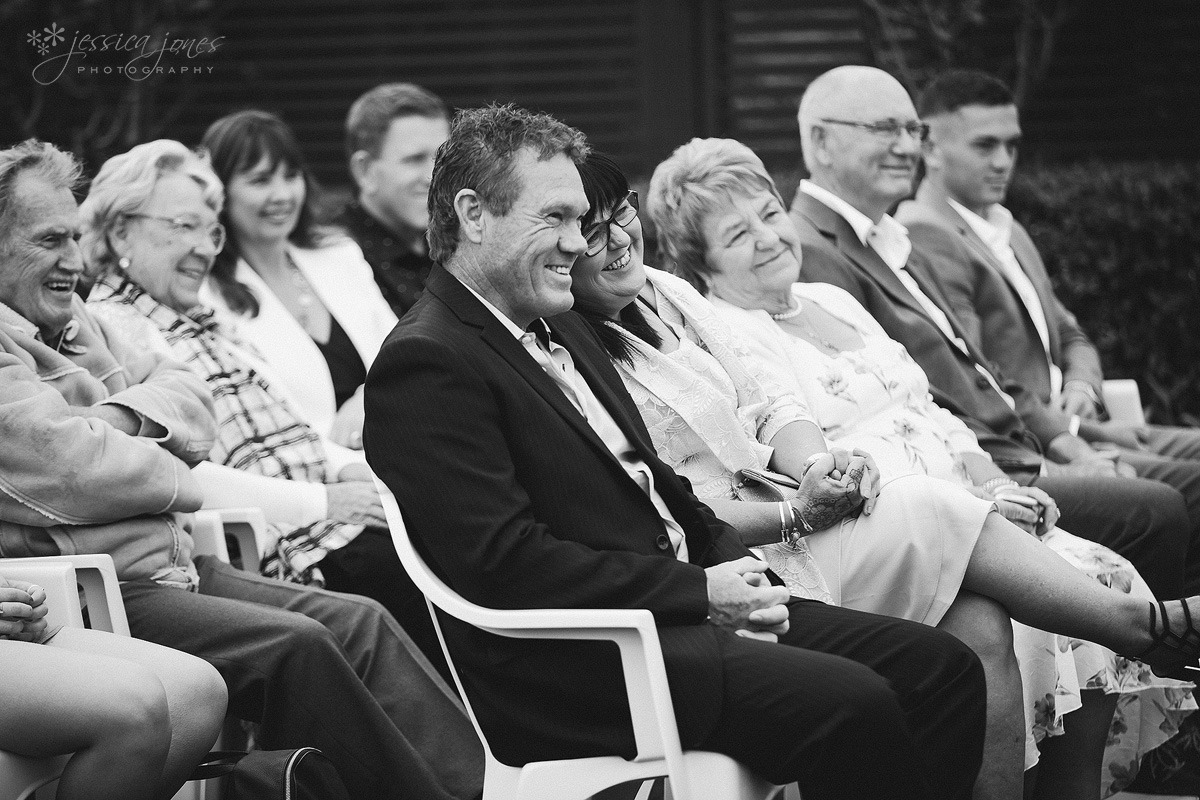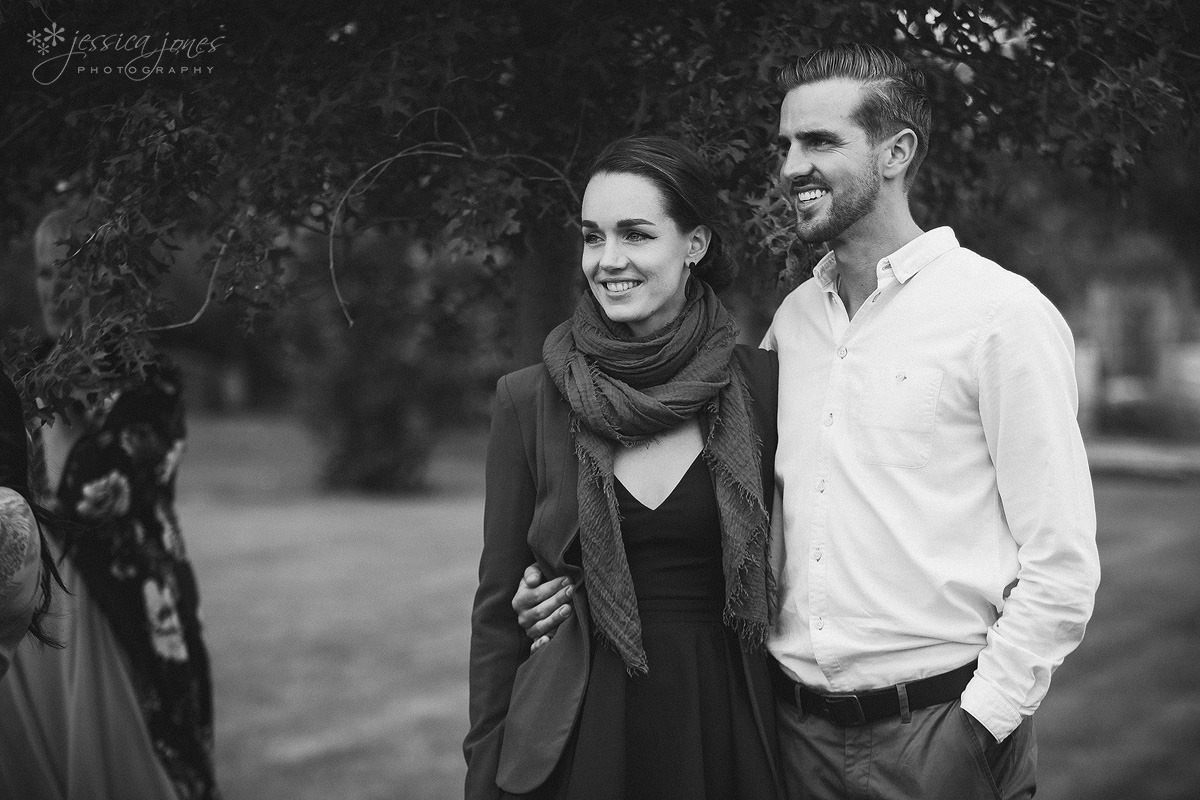 You might think The Joker couldn't possibly create a beautiful and meaningful wedding ceremony, but when the Joker is Shanan Barnett he totally can. Using lessons learned from superheroes he weaved some fabulous life and marriage lessons we could all learn something from. He spoke of laying down your life for your spouse, unselfishly looking after each other and working as a team.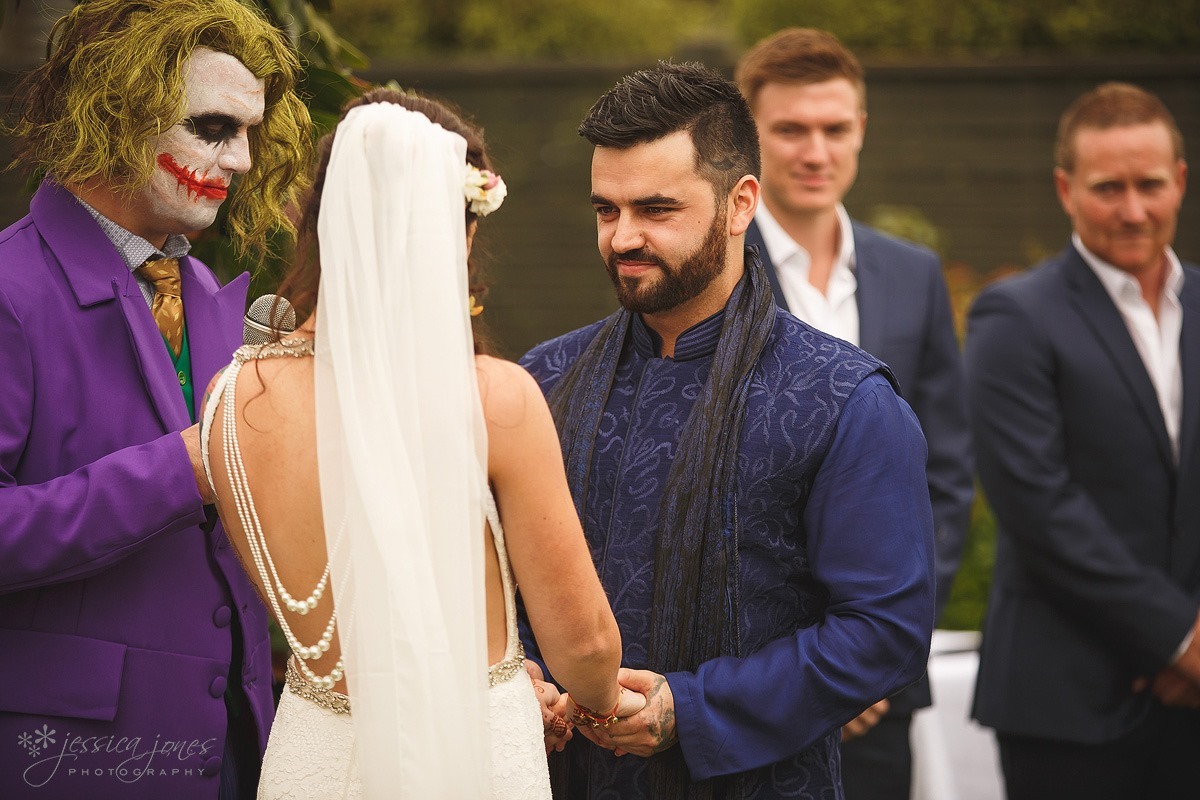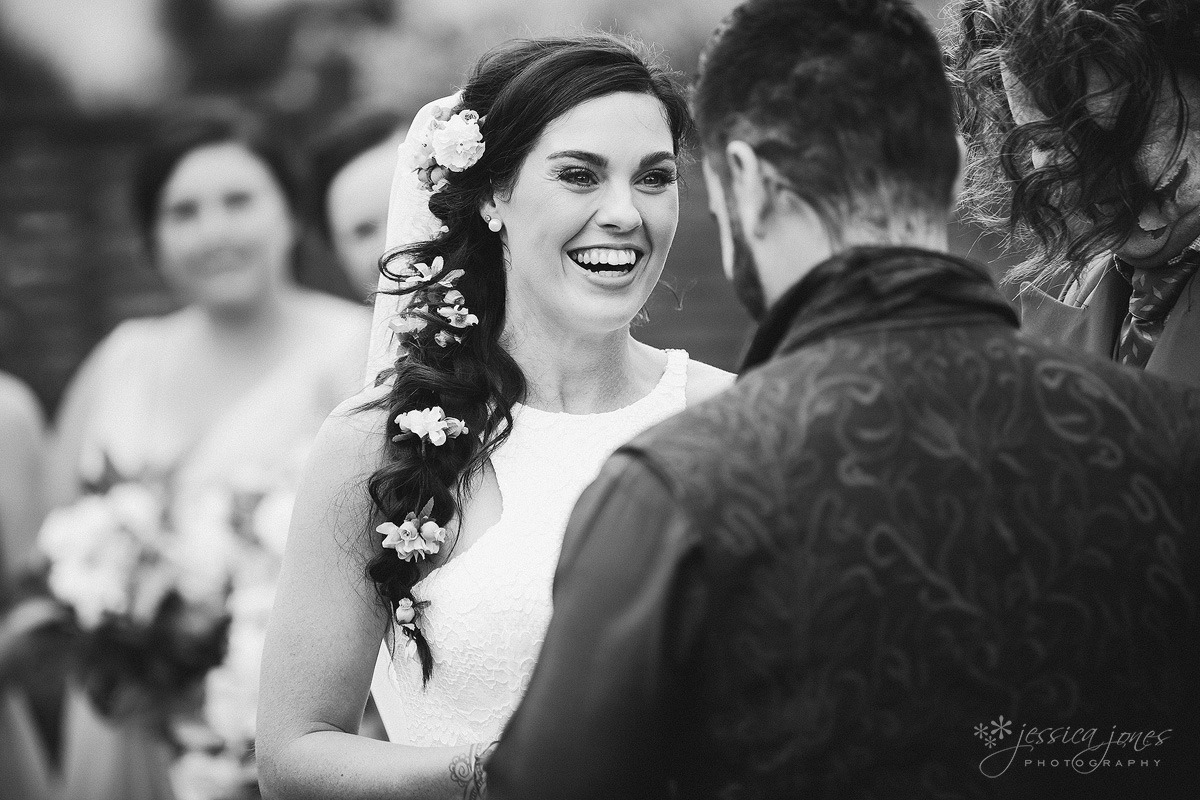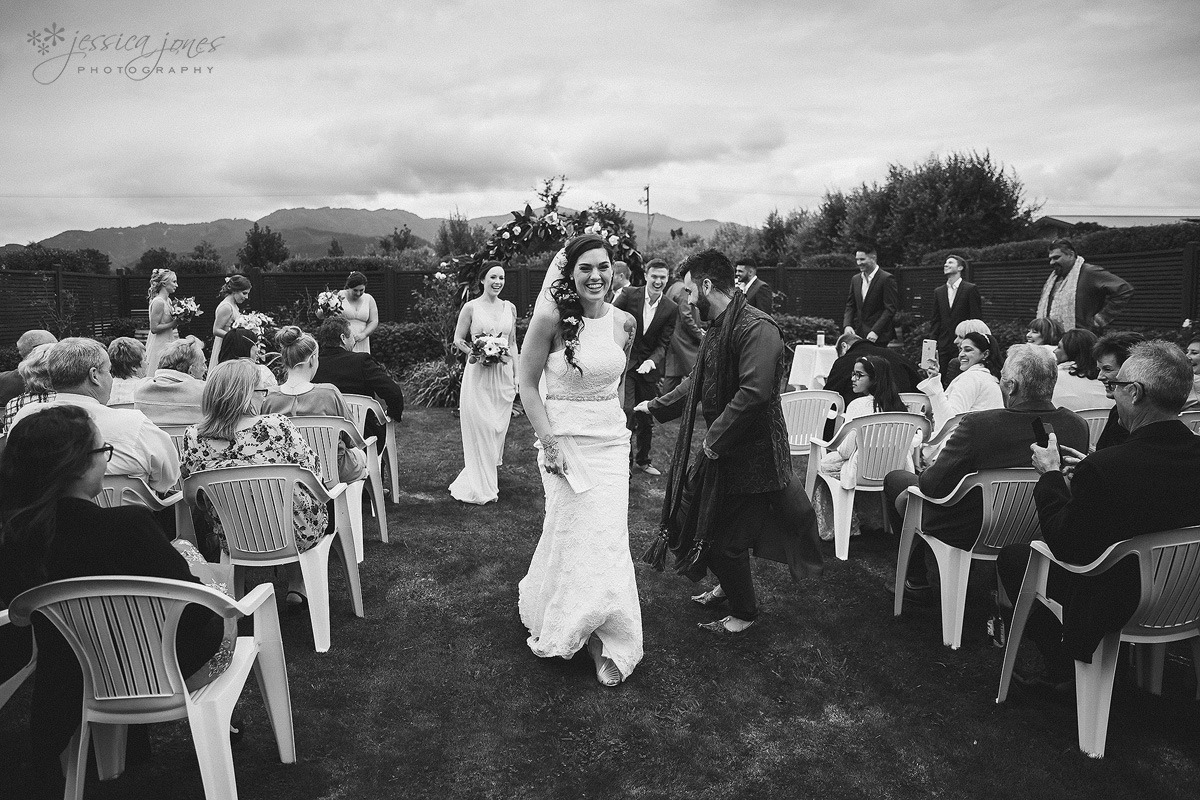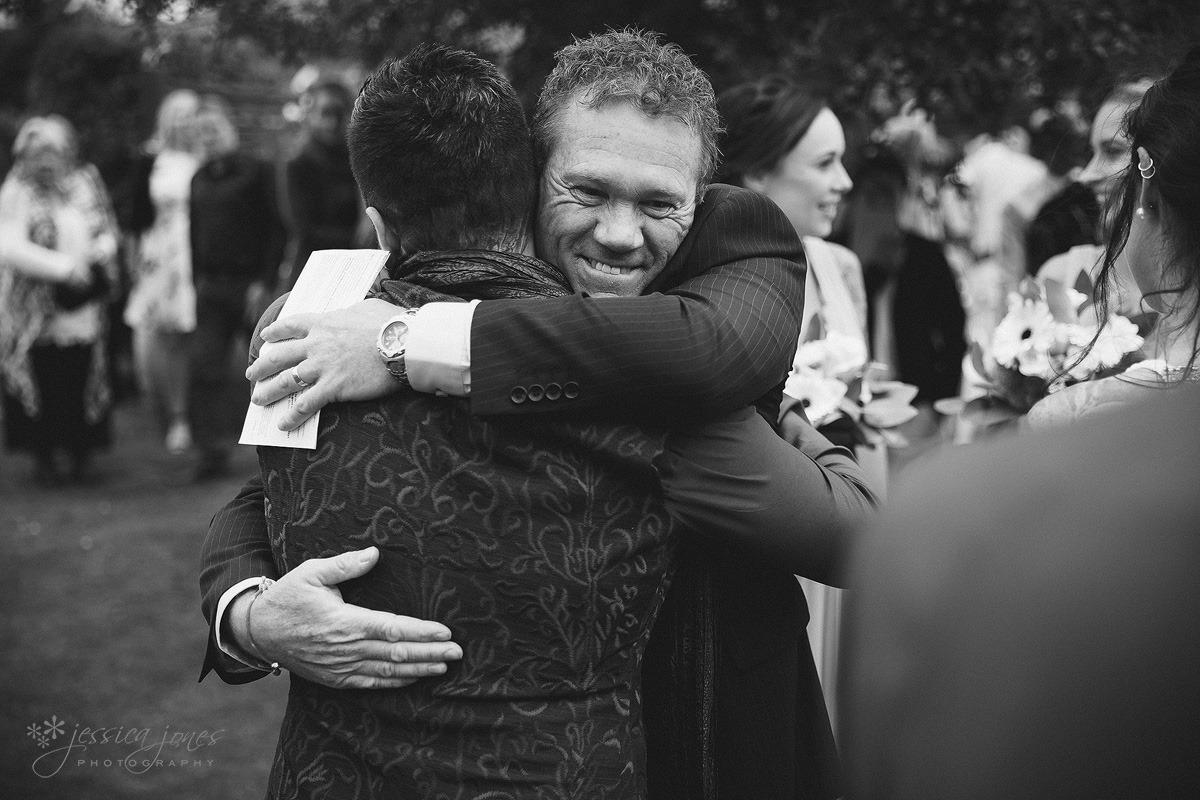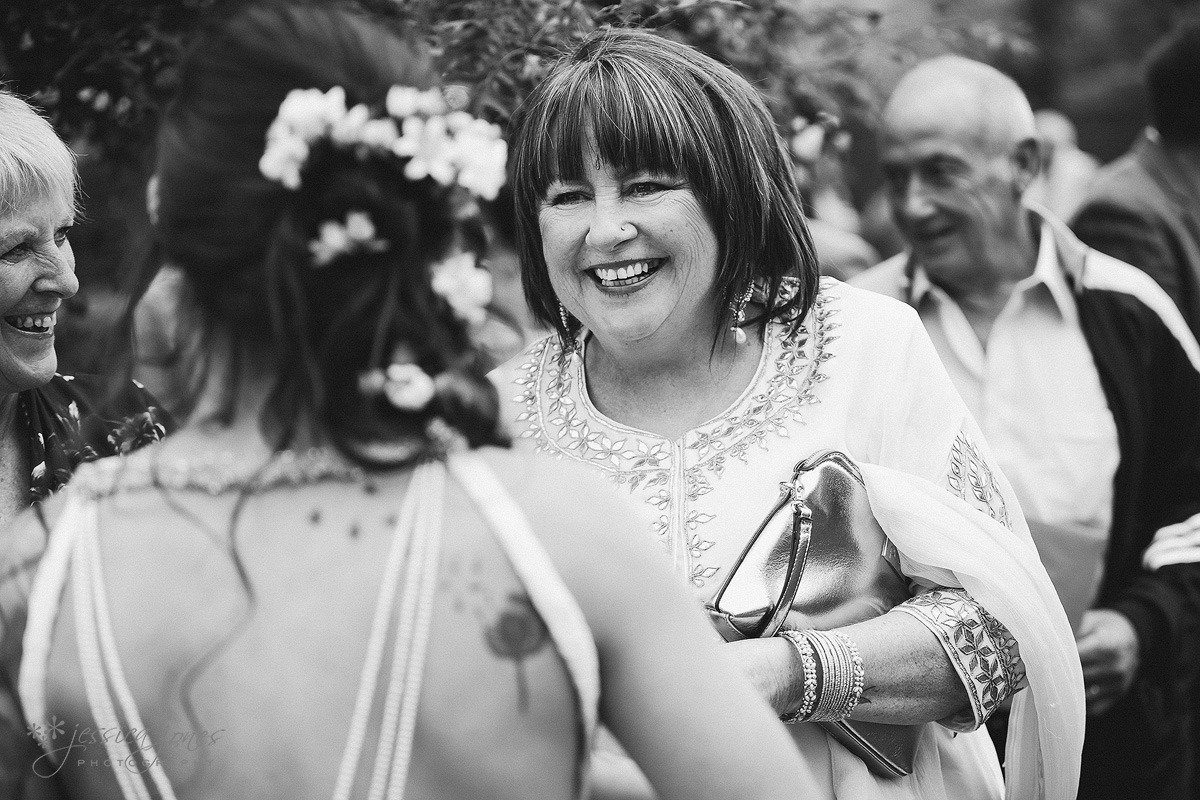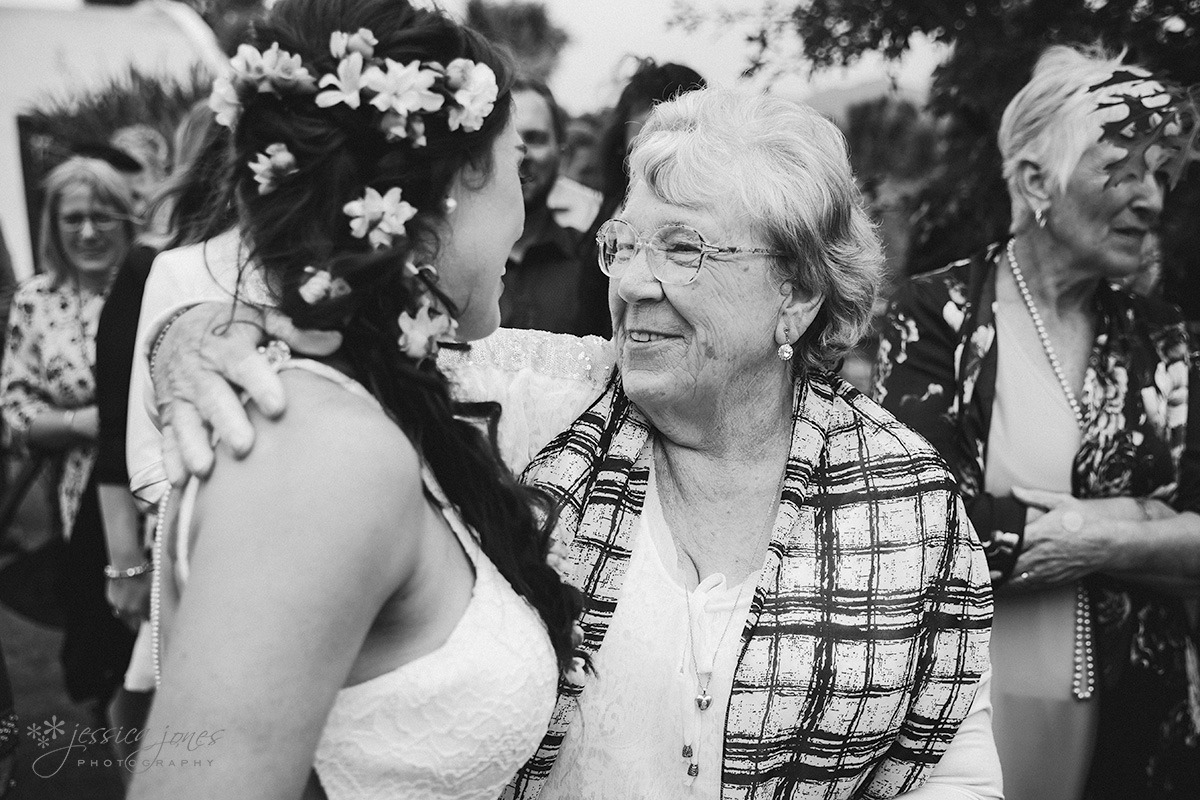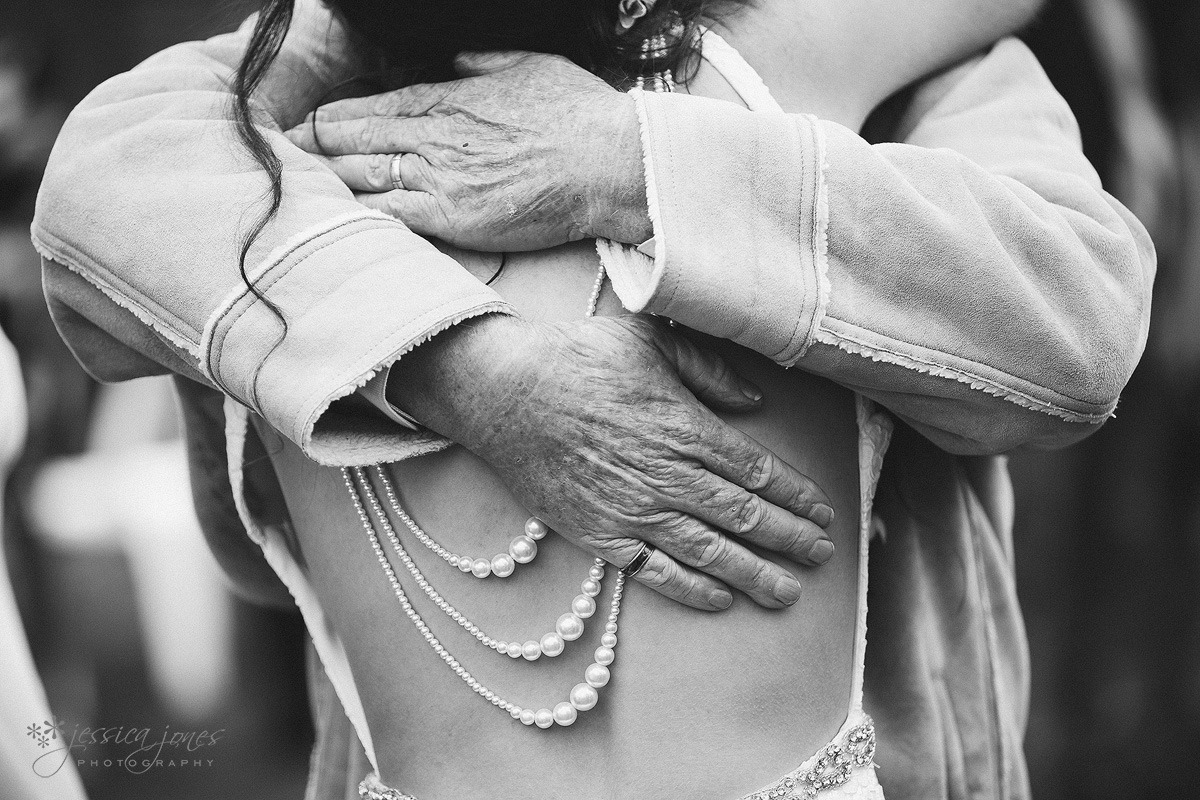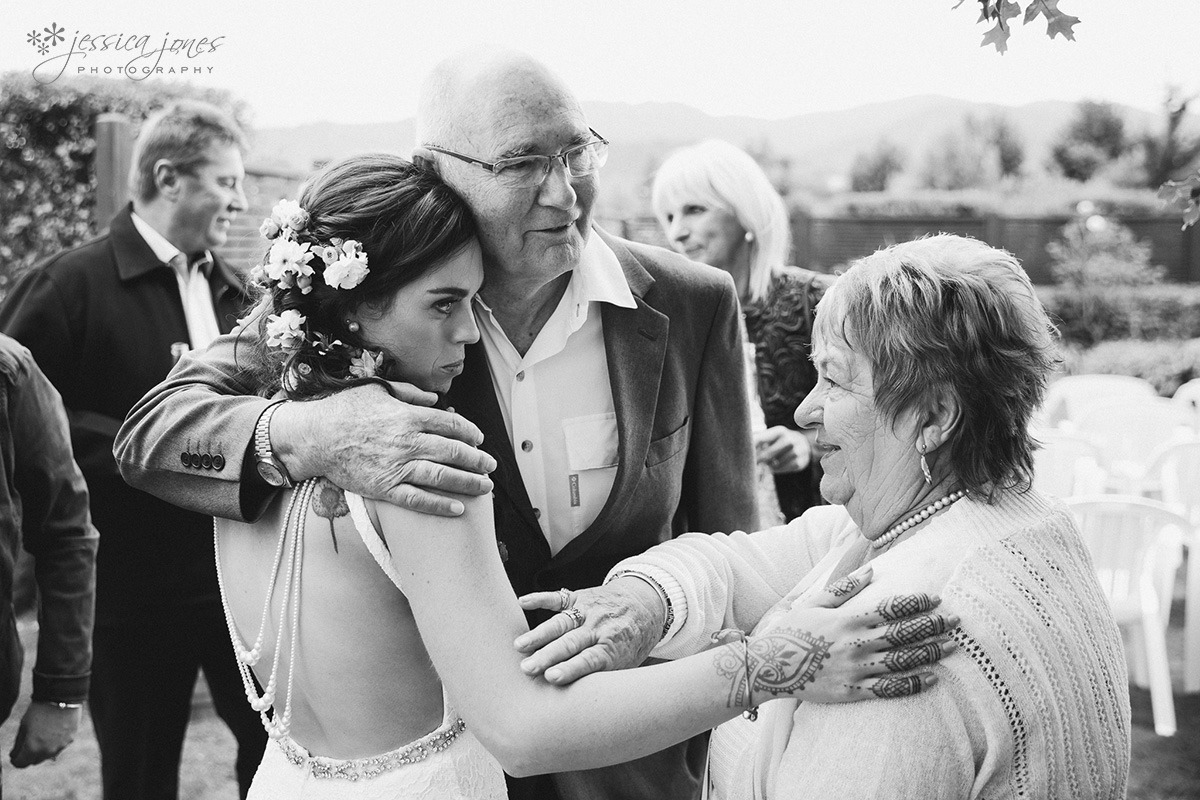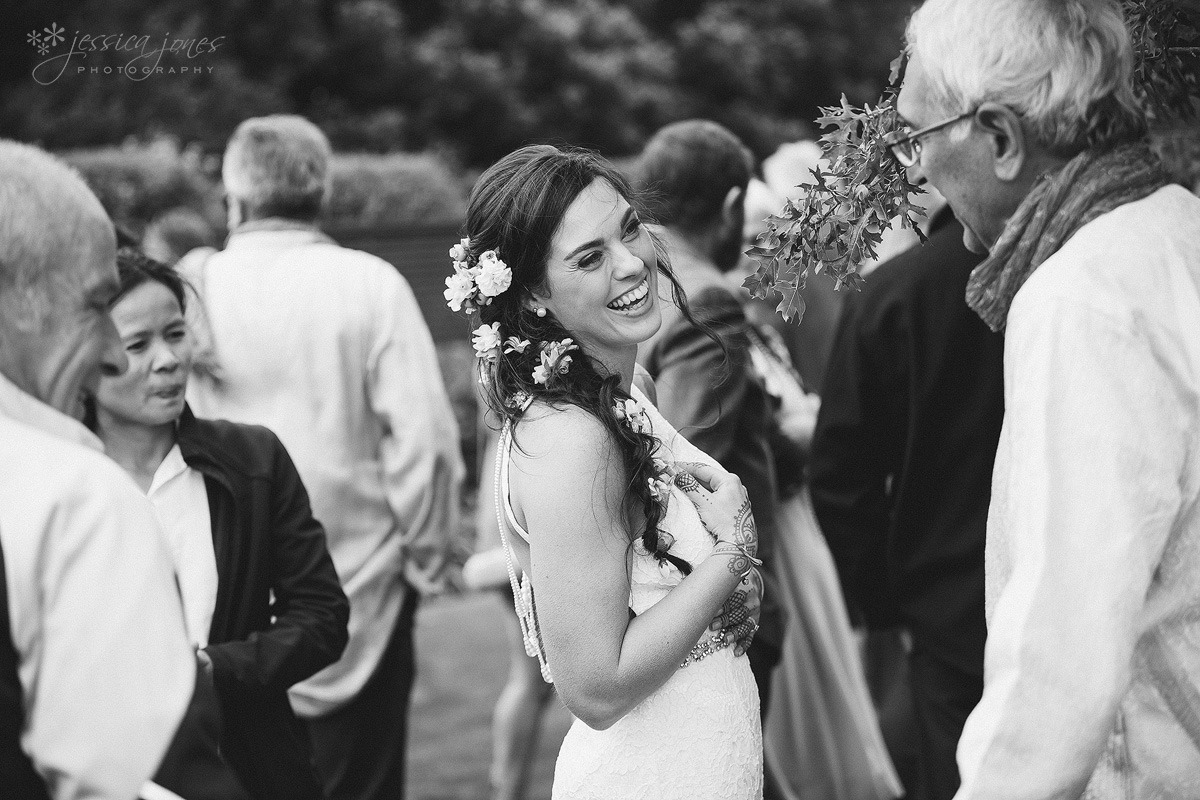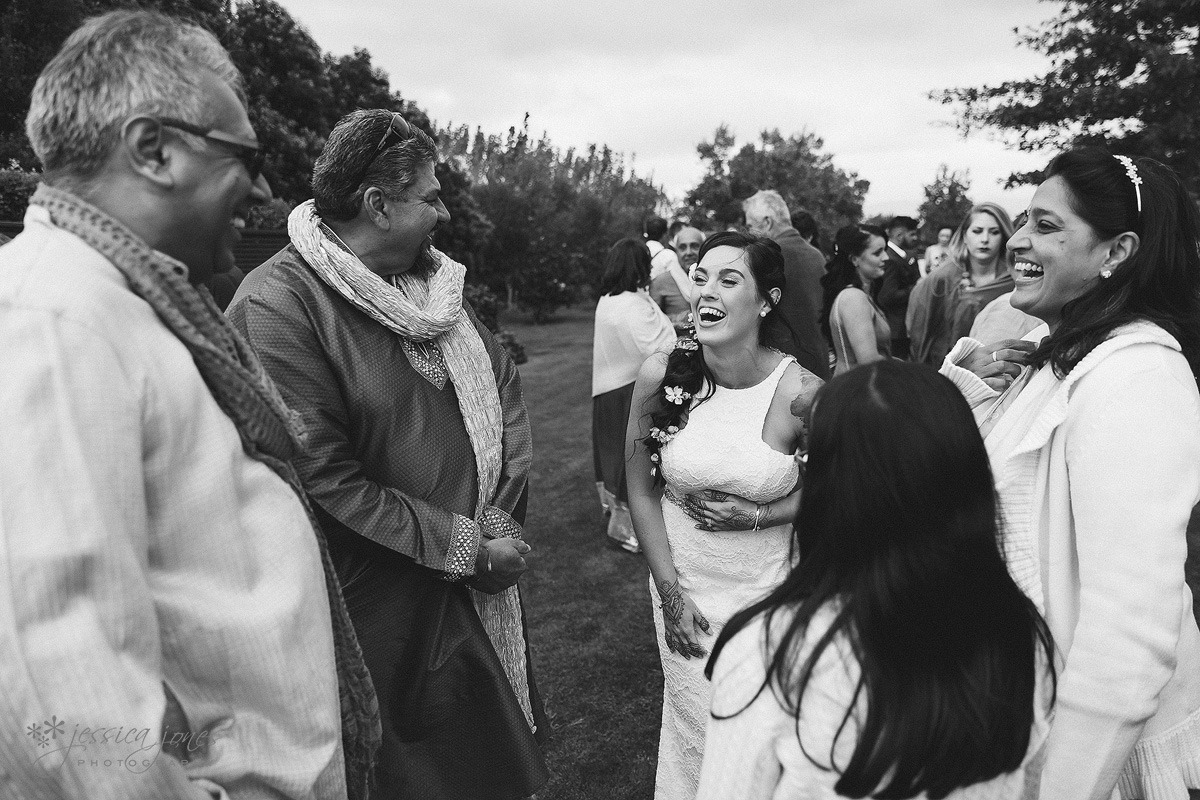 Turns out you can never be too sure what people in a crowd will do when given the chance to be crazy!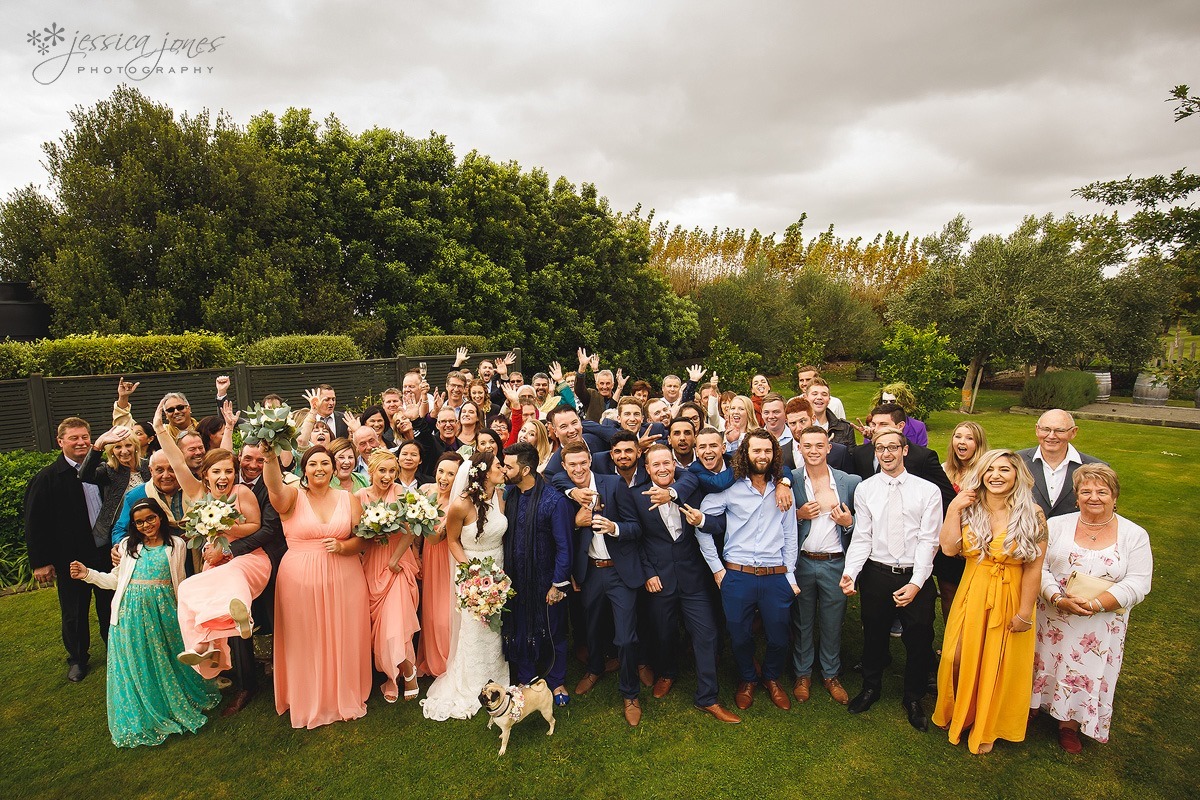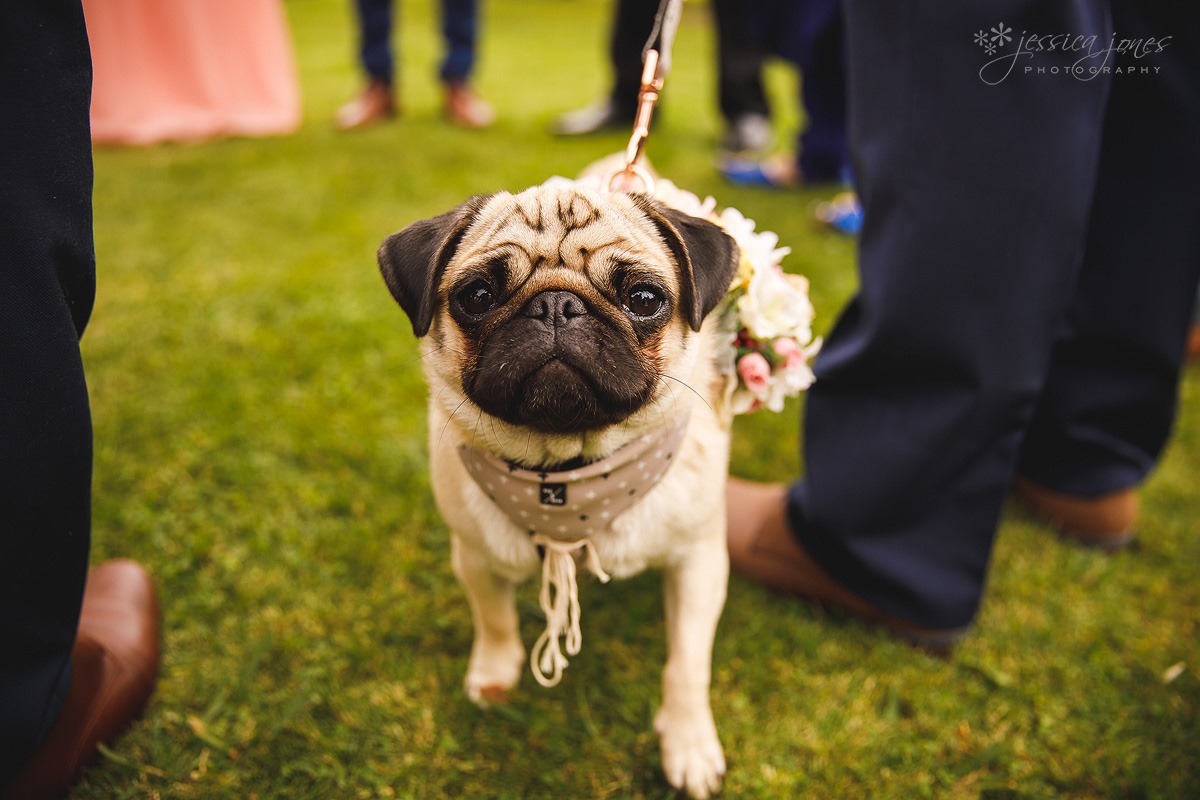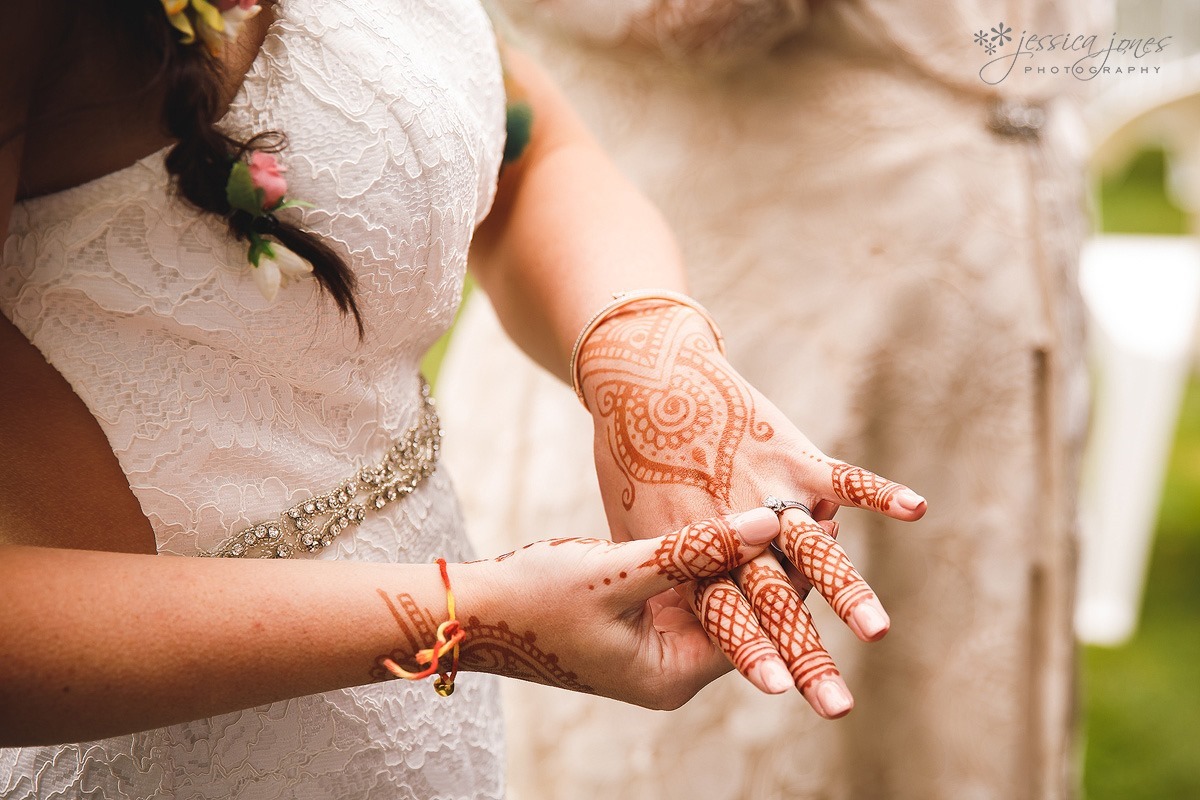 Hang on, wait, what is that purple in behind them?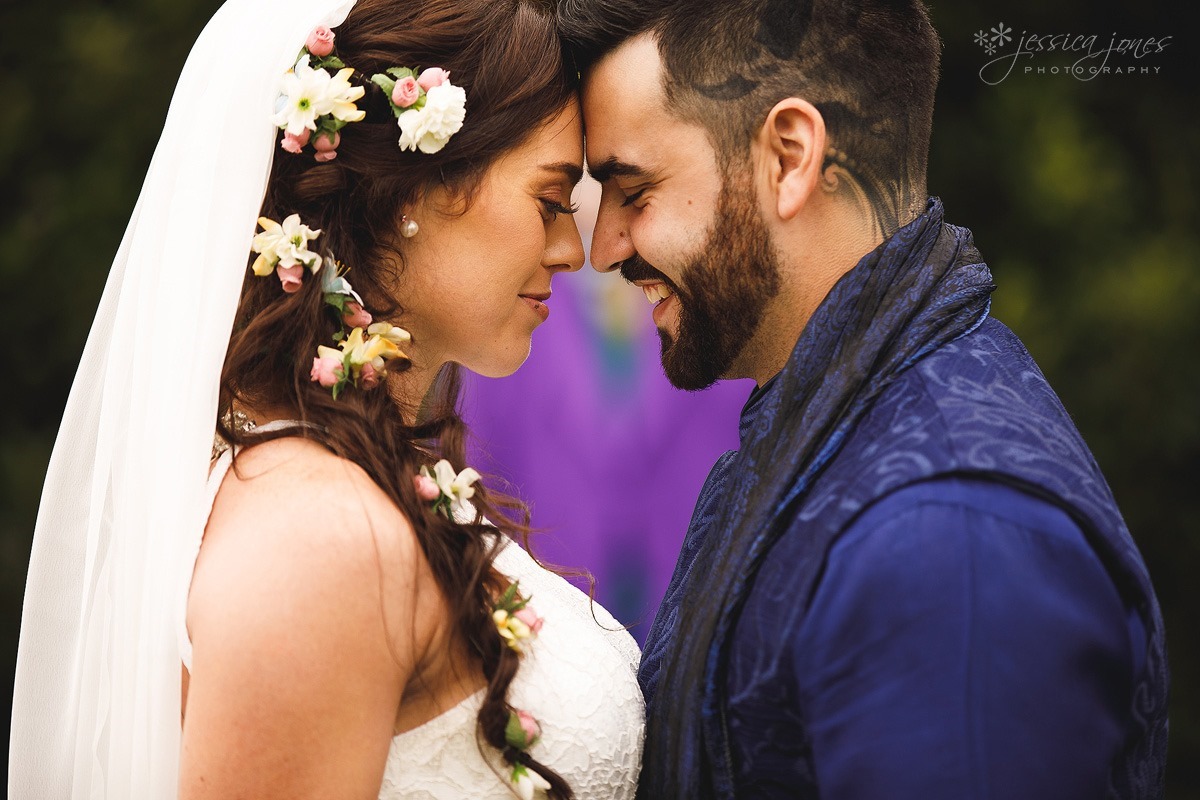 It's ok, just The Joker. Nothing to see here, folks.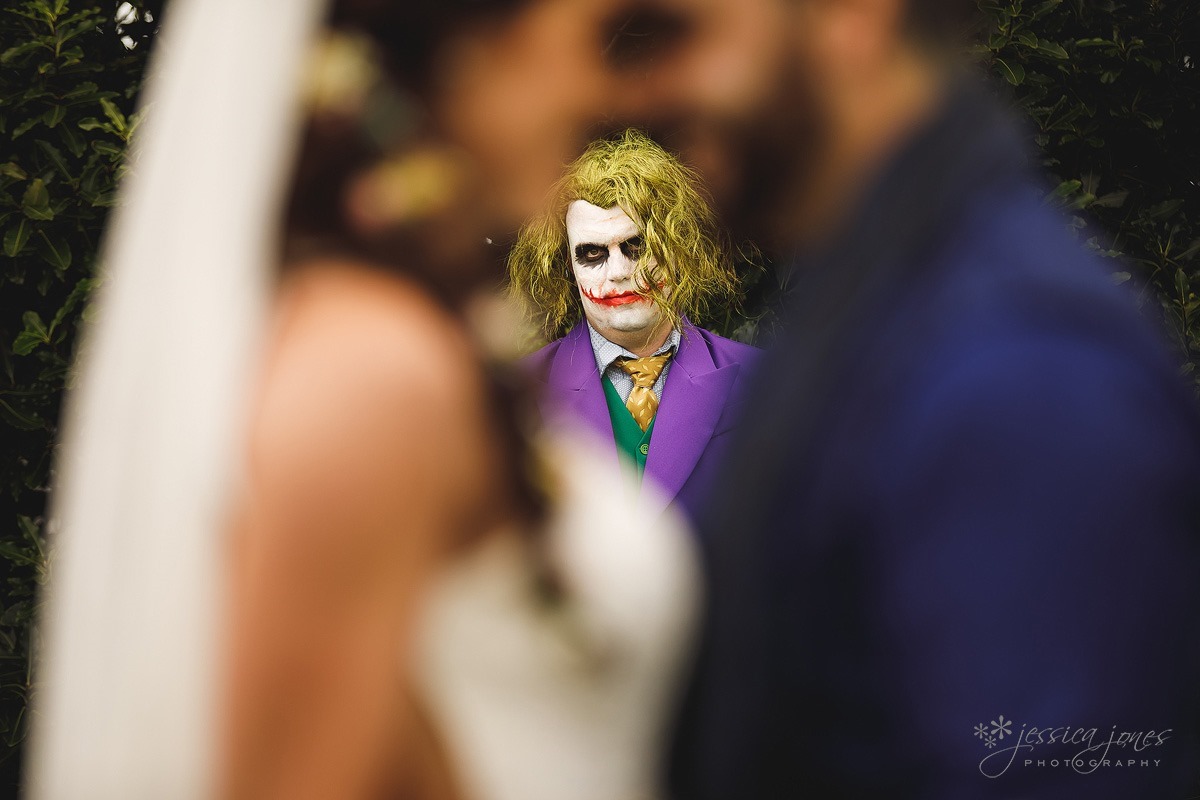 We left the guests to celebrate without us for a little while, and headed off to Pollard Park. What was the first thing we saw? A pug. We don't know who this little guy is, but he sure deserves to sneak into a wedding full of pugs, right?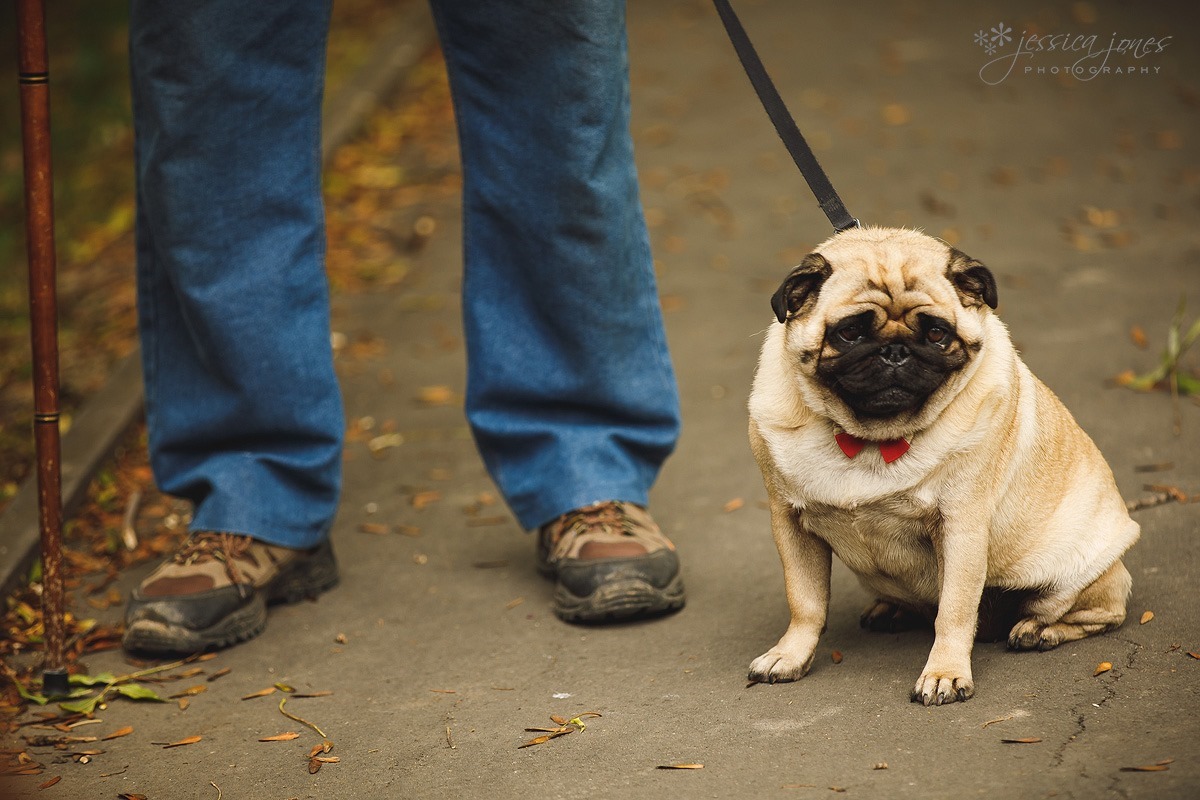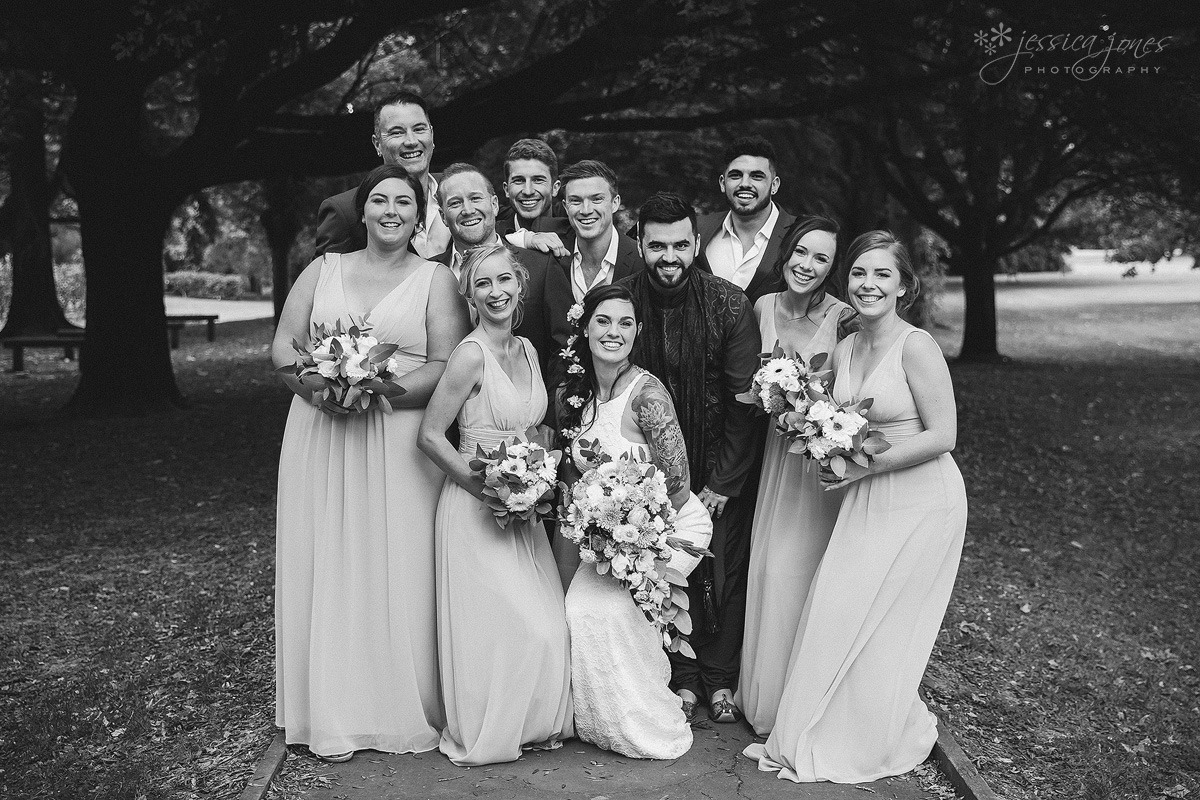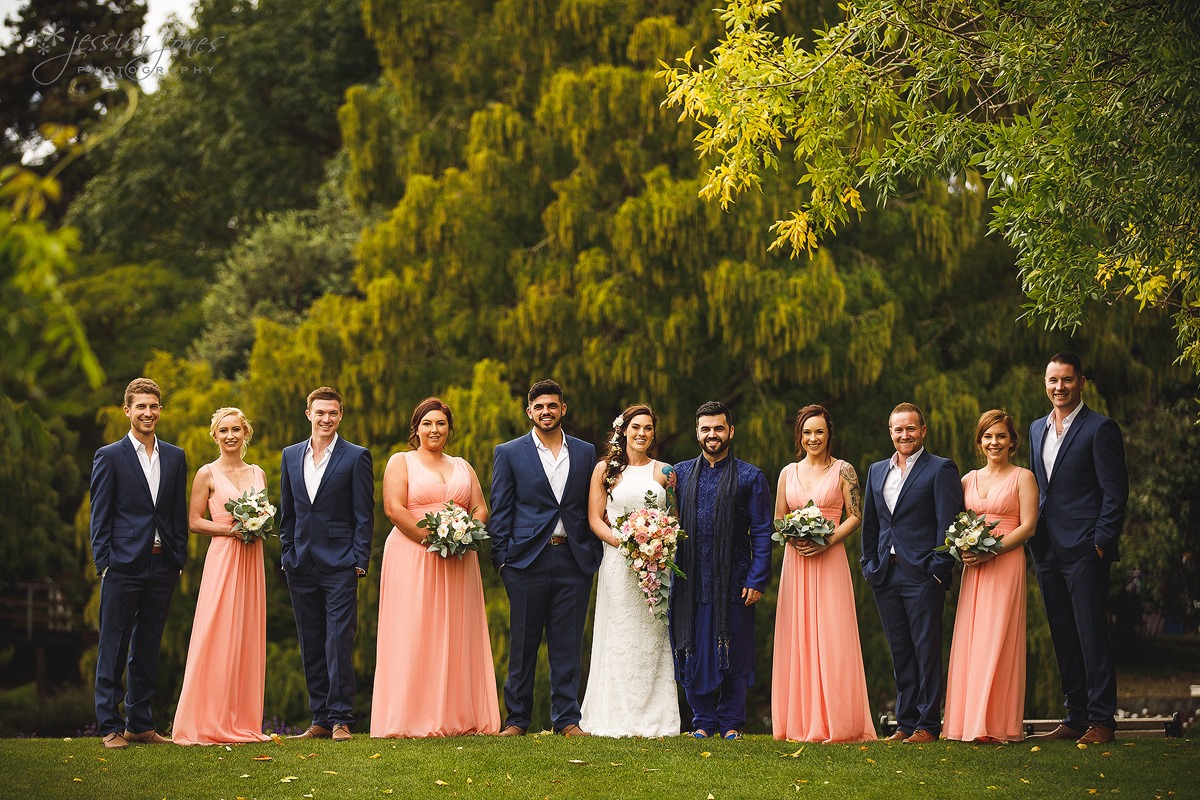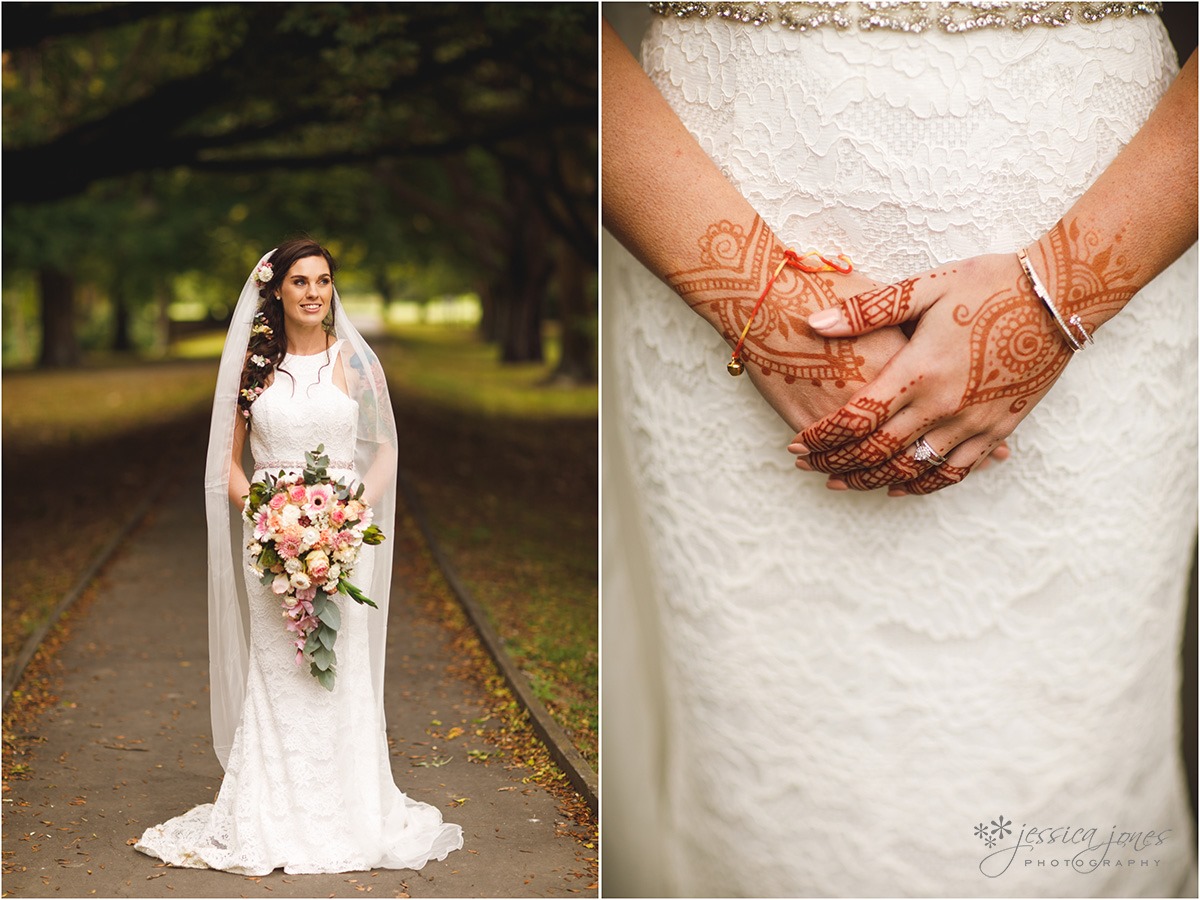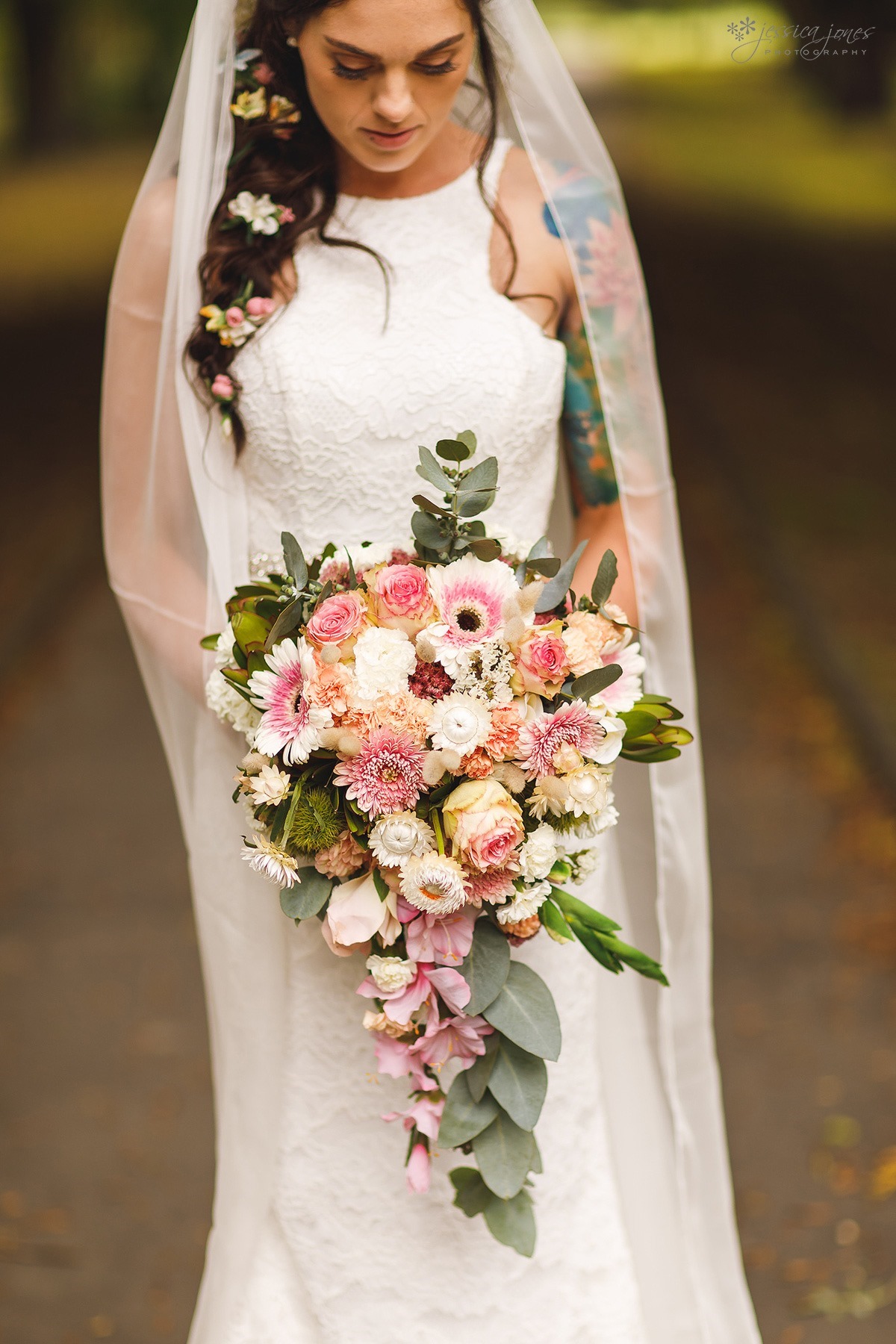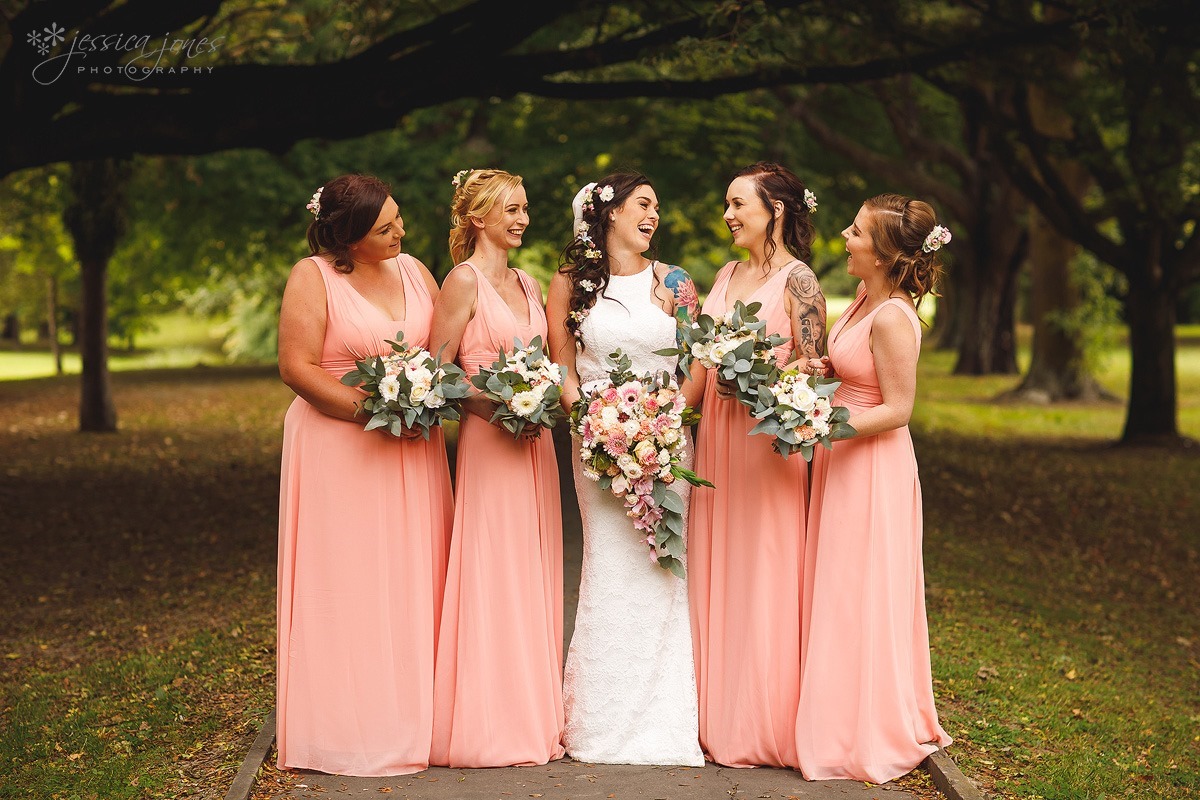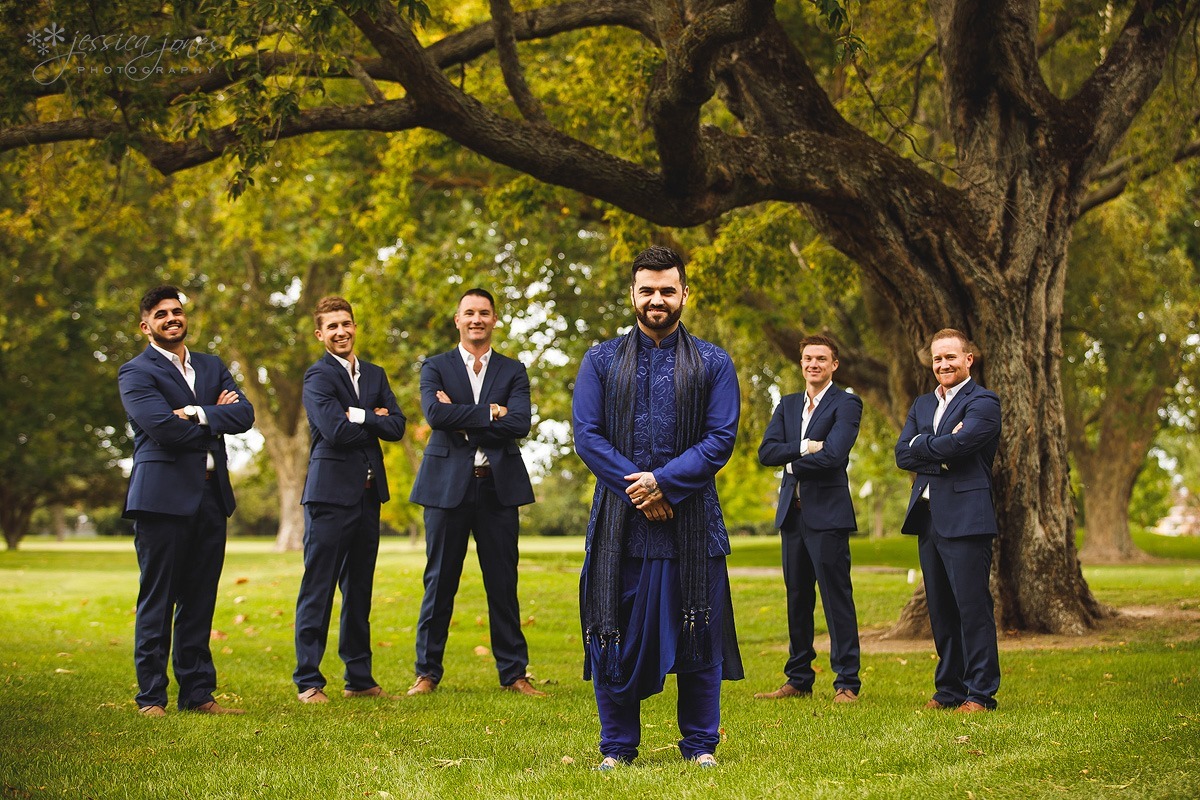 One thing I love about Darnelle's creativity is that you never quite know what you're going to get. I could be strawberries, it could be green spikey things. Appreciate the creative genius, but don't cuddle the bouquets.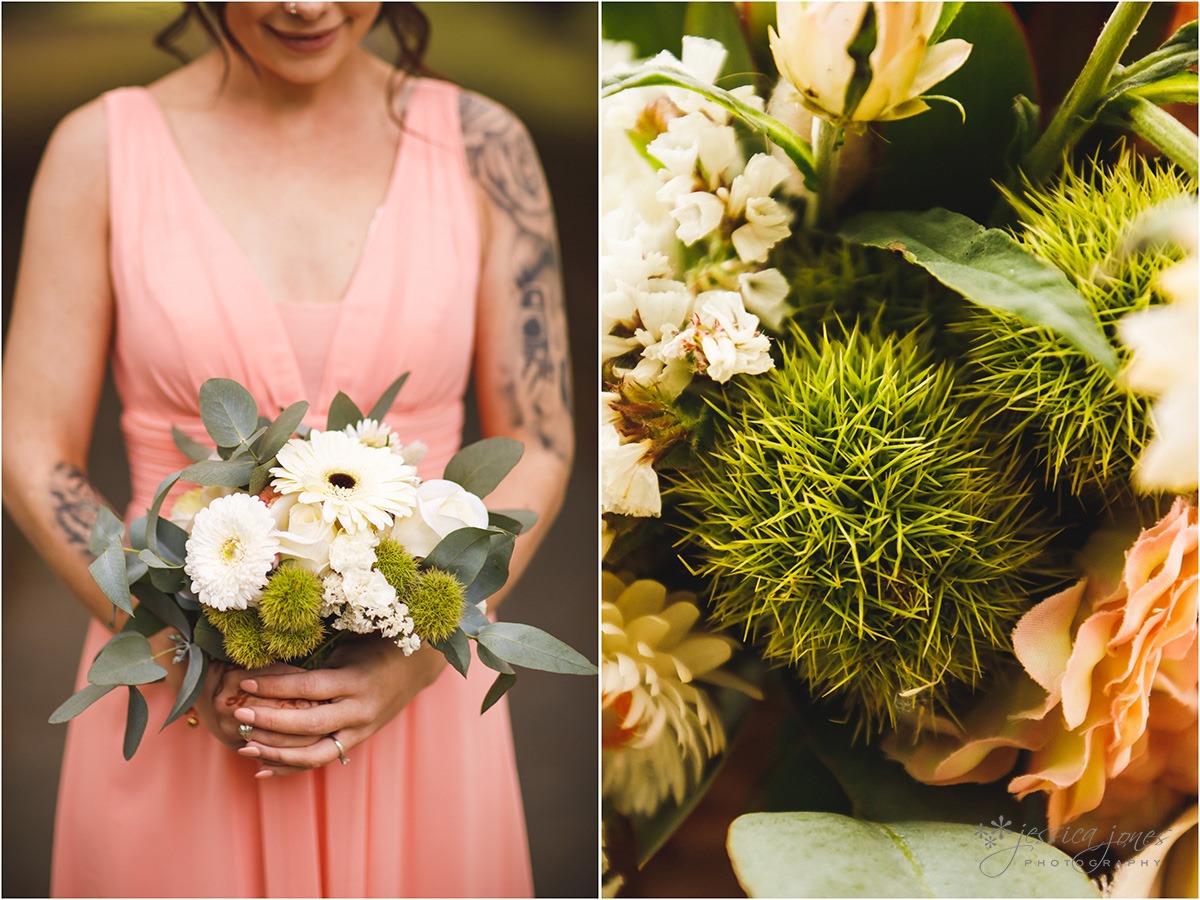 I have no idea what I said to get this reaction. Obviously it's too wonderful, and somewhat puzzling, to be explained.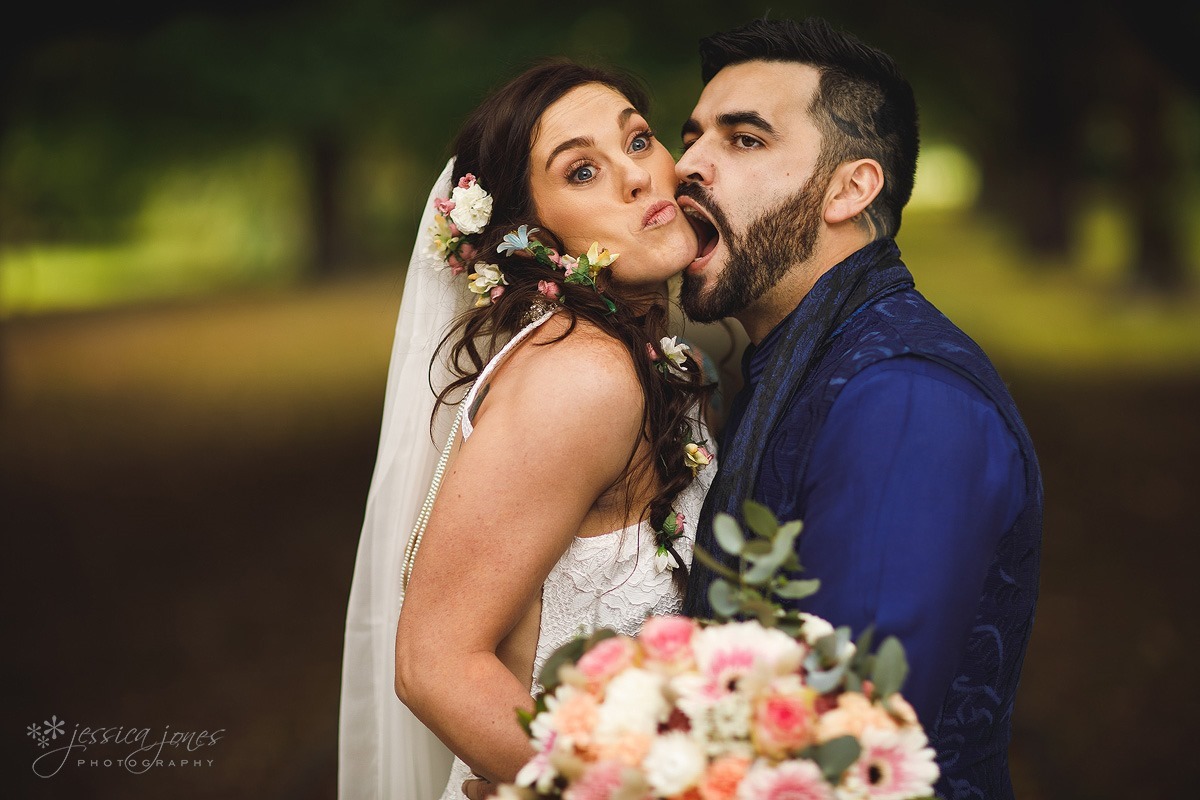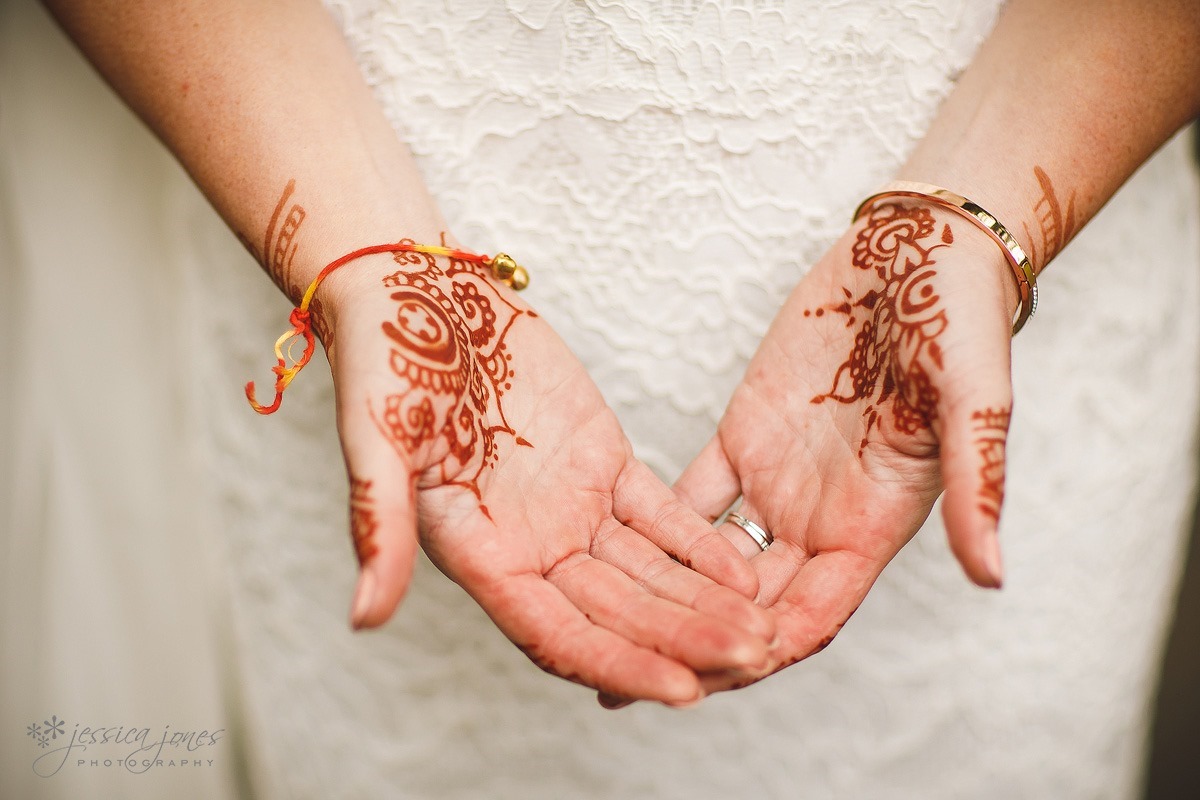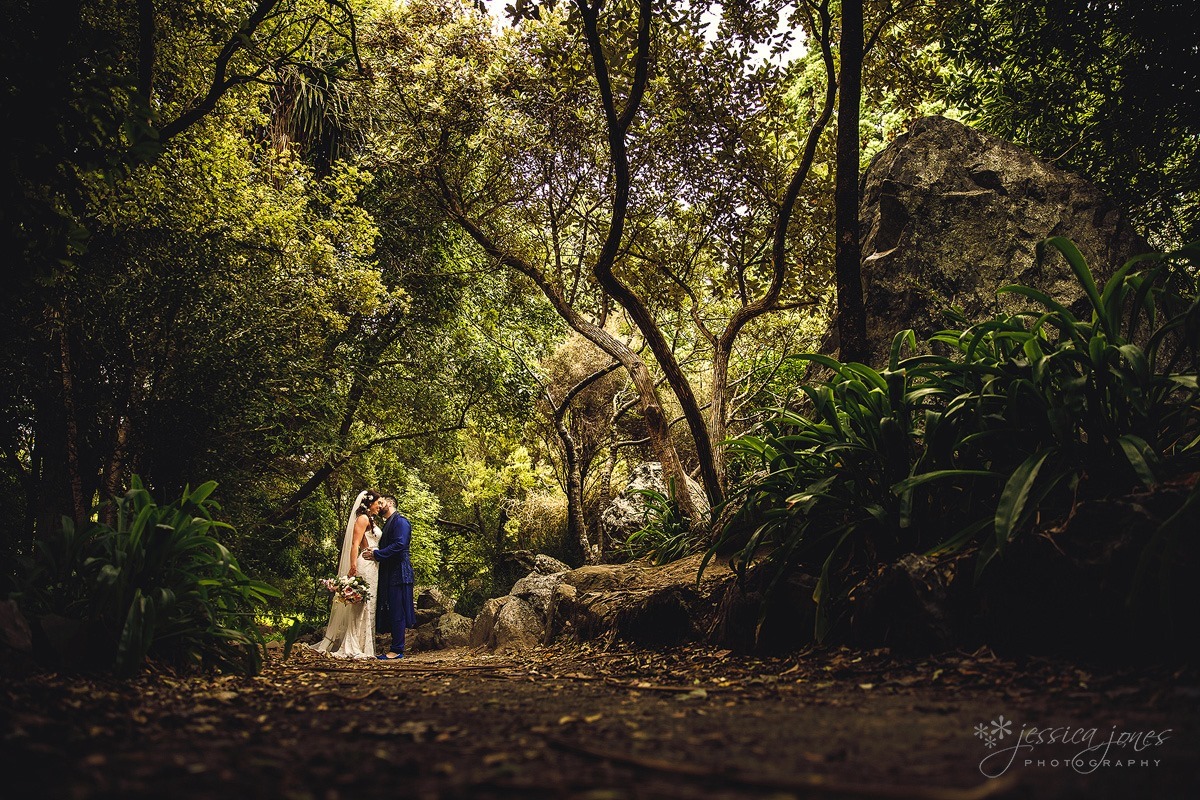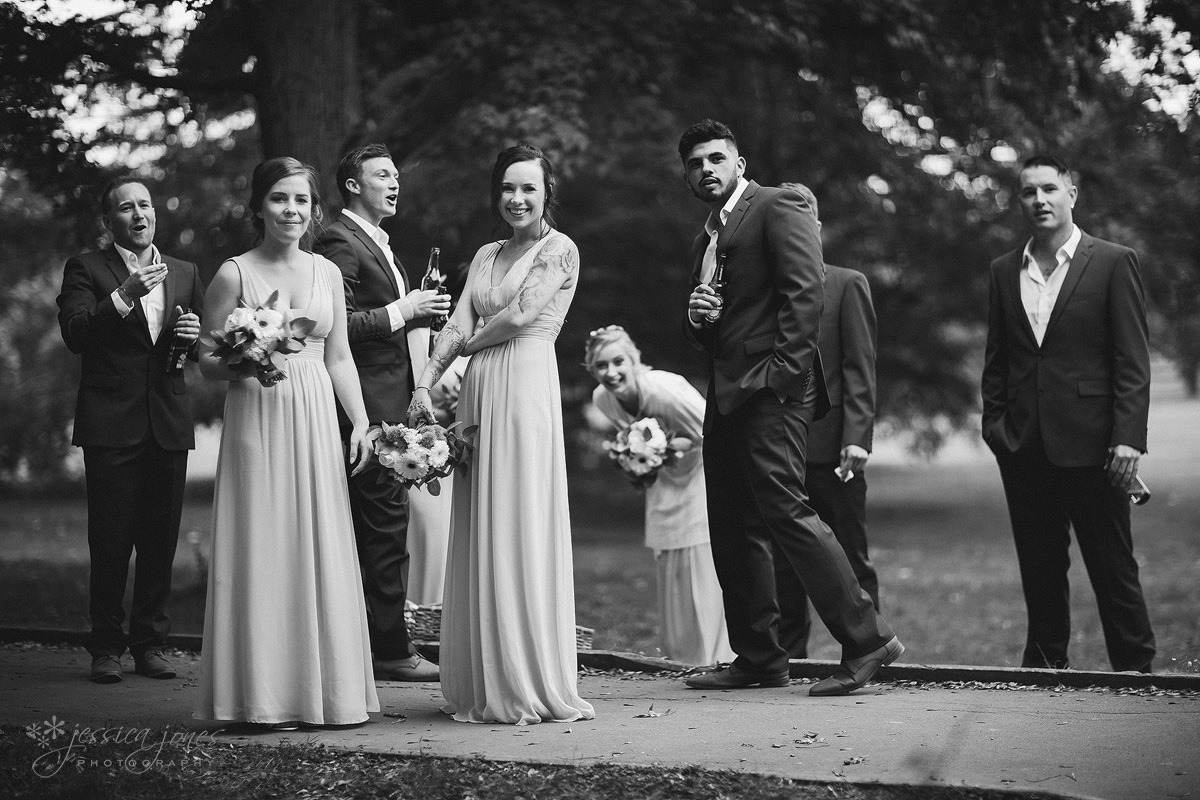 You know it's true love when, included in his wedding vows, Jarrad promised that if there was a zombie apocalypse and Jacinta got bitten, he would let her bite him too, so they could spend the rest of their lives as zombies together.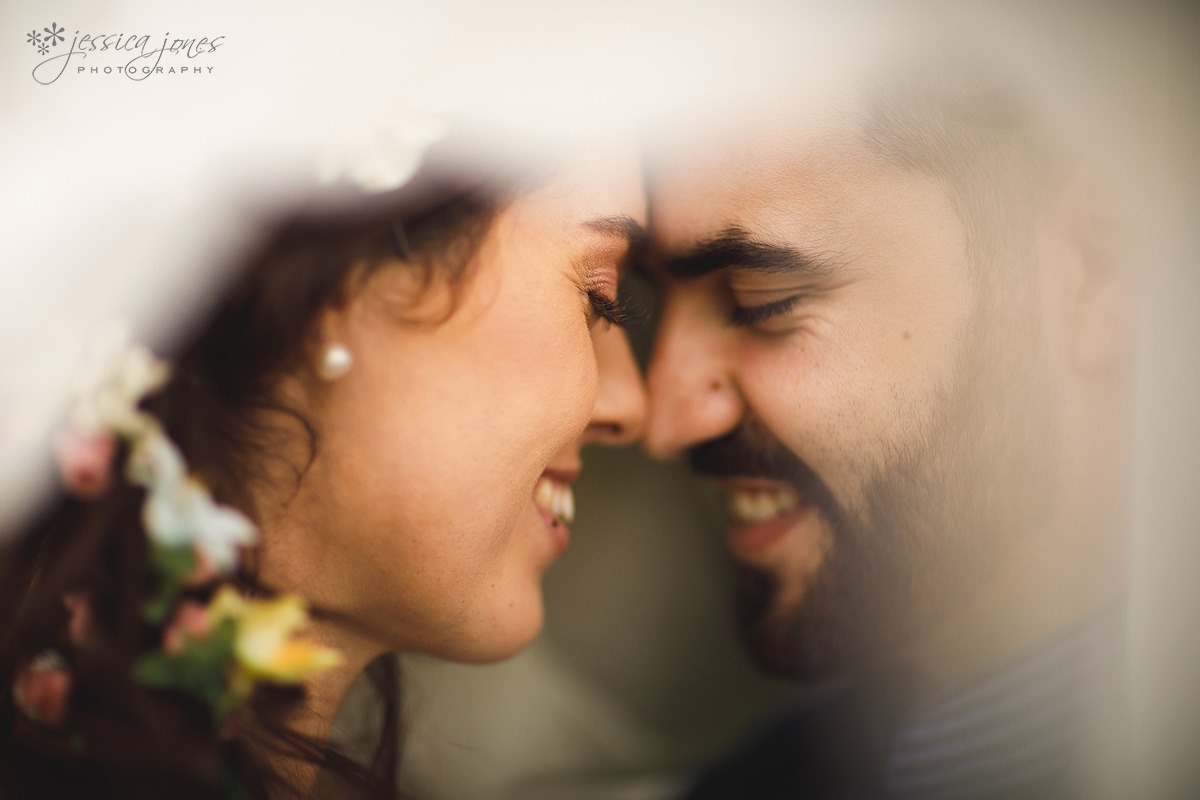 Jarrad is a talented tattoo artist, with a long list of happy customers behind him, a massive pile of fans, and a bunch of prestigious awards under his belt, this is one clever guy!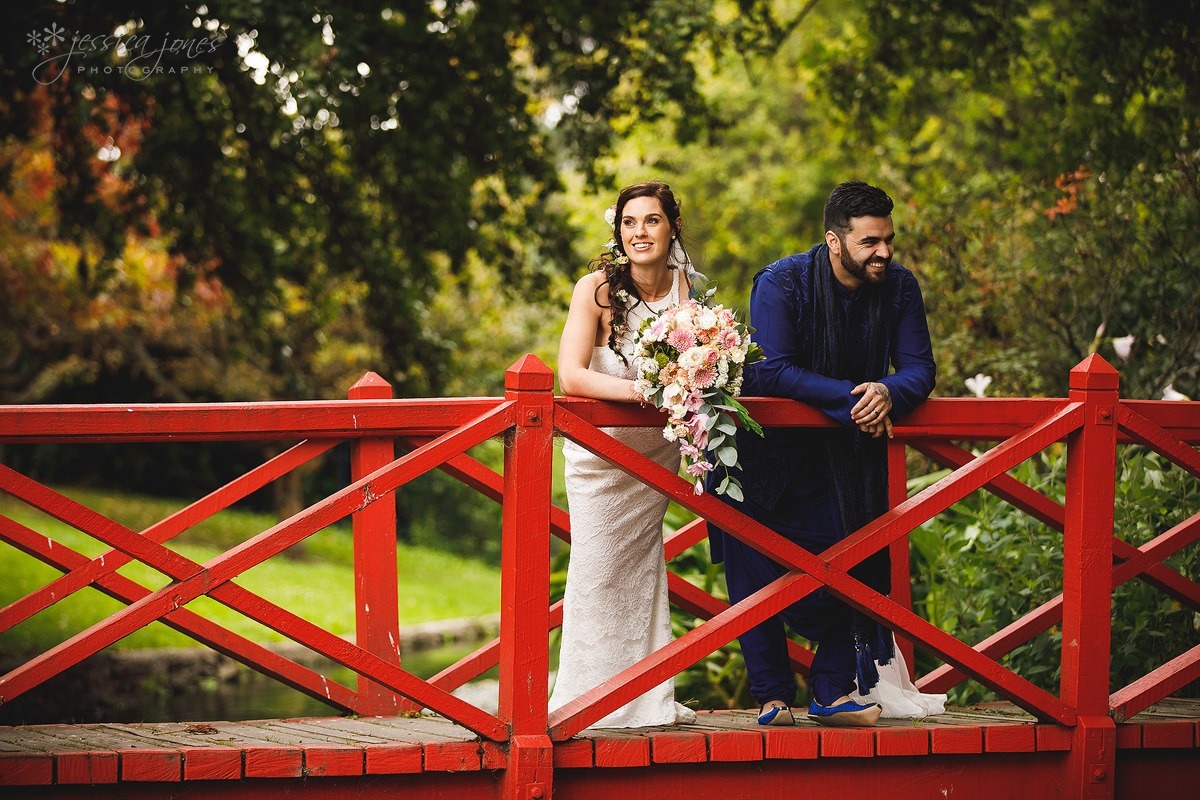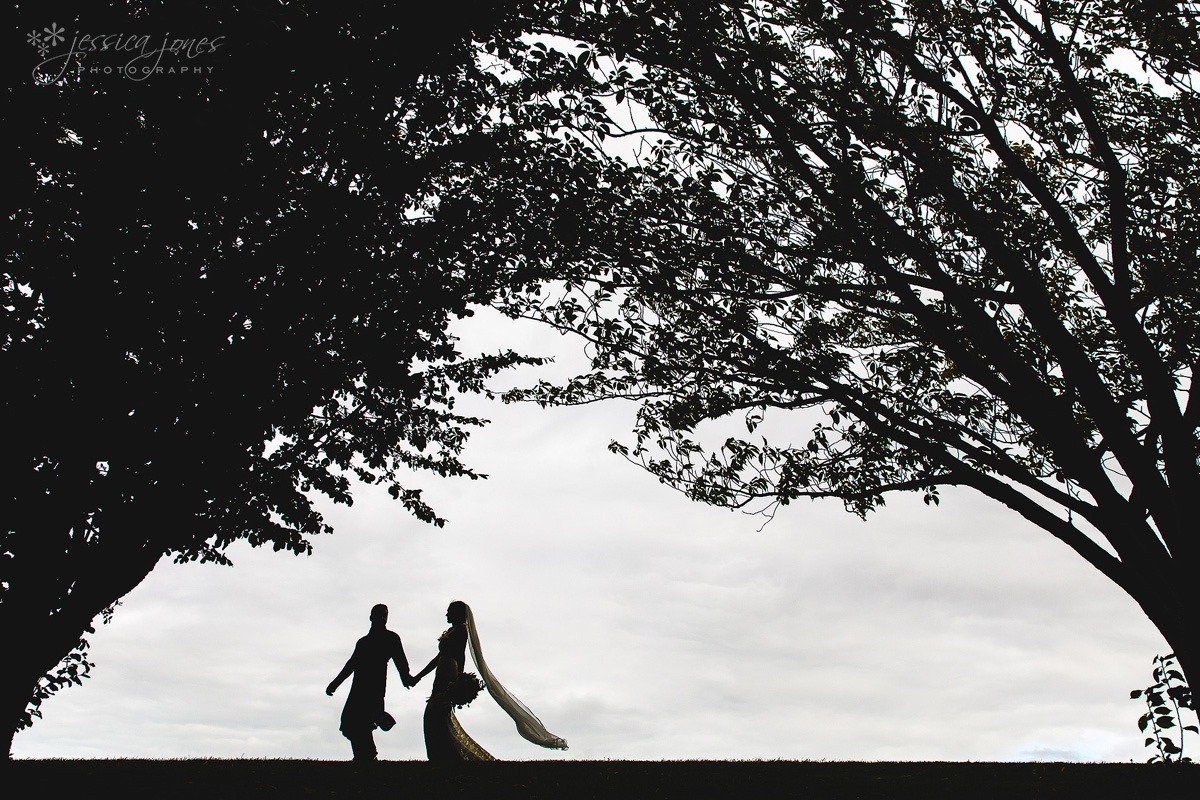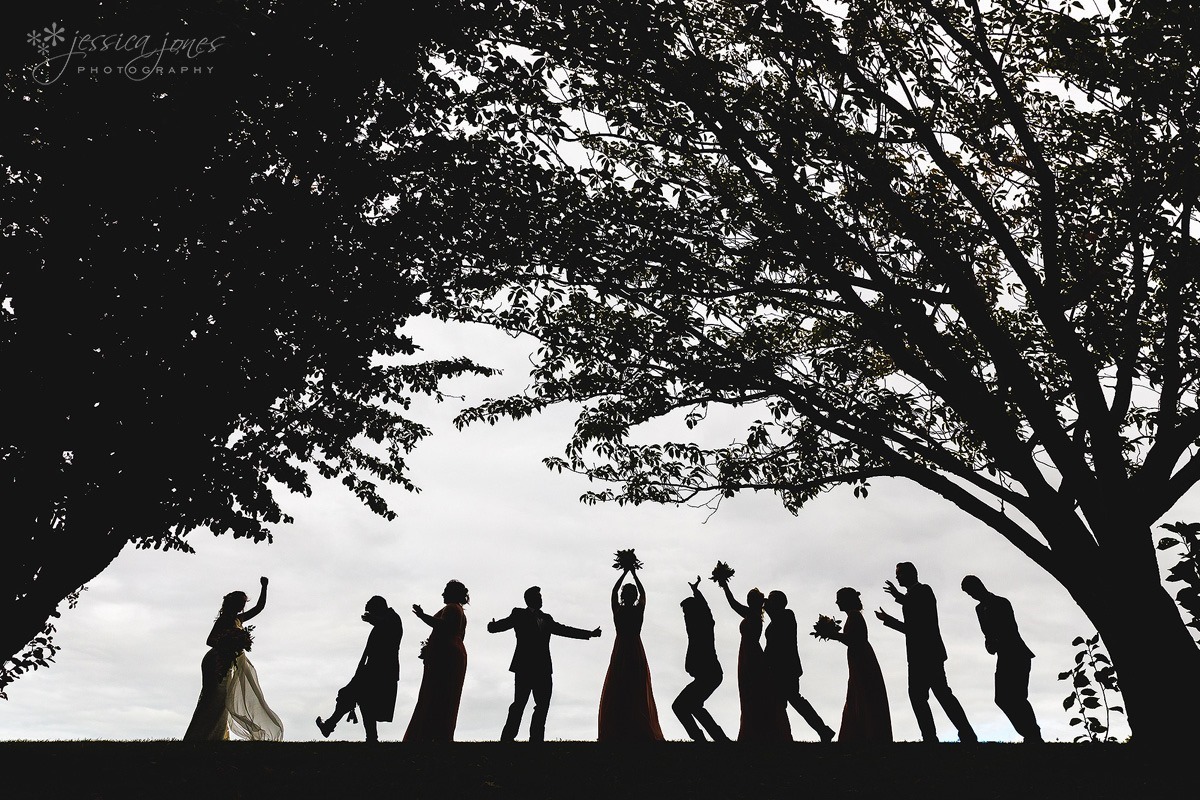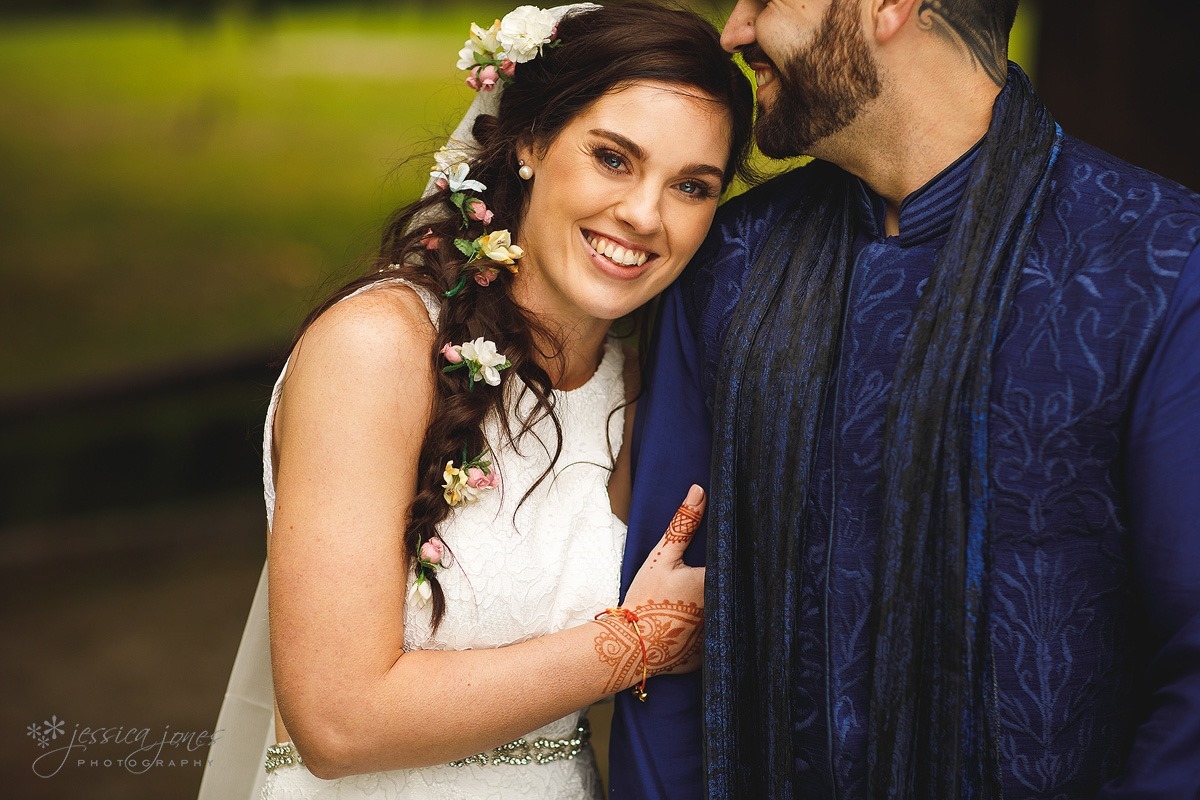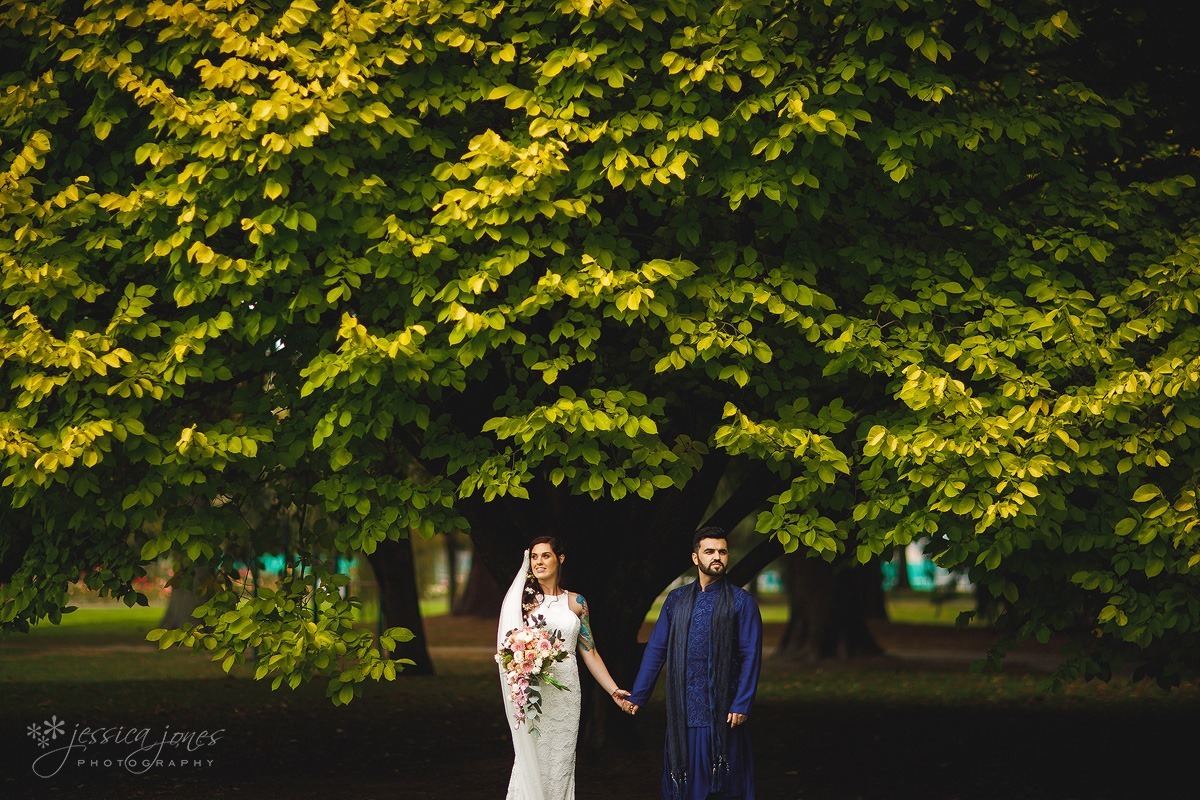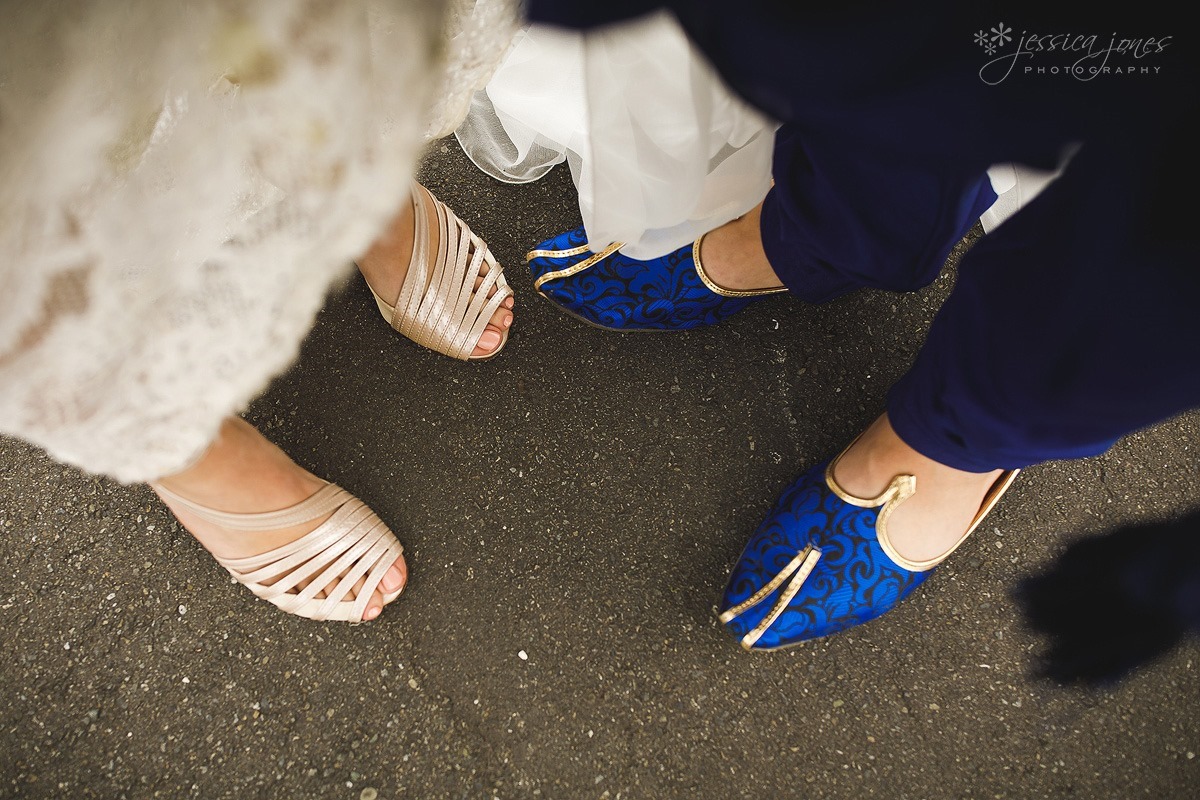 Back at MVH and it's time to get the party started!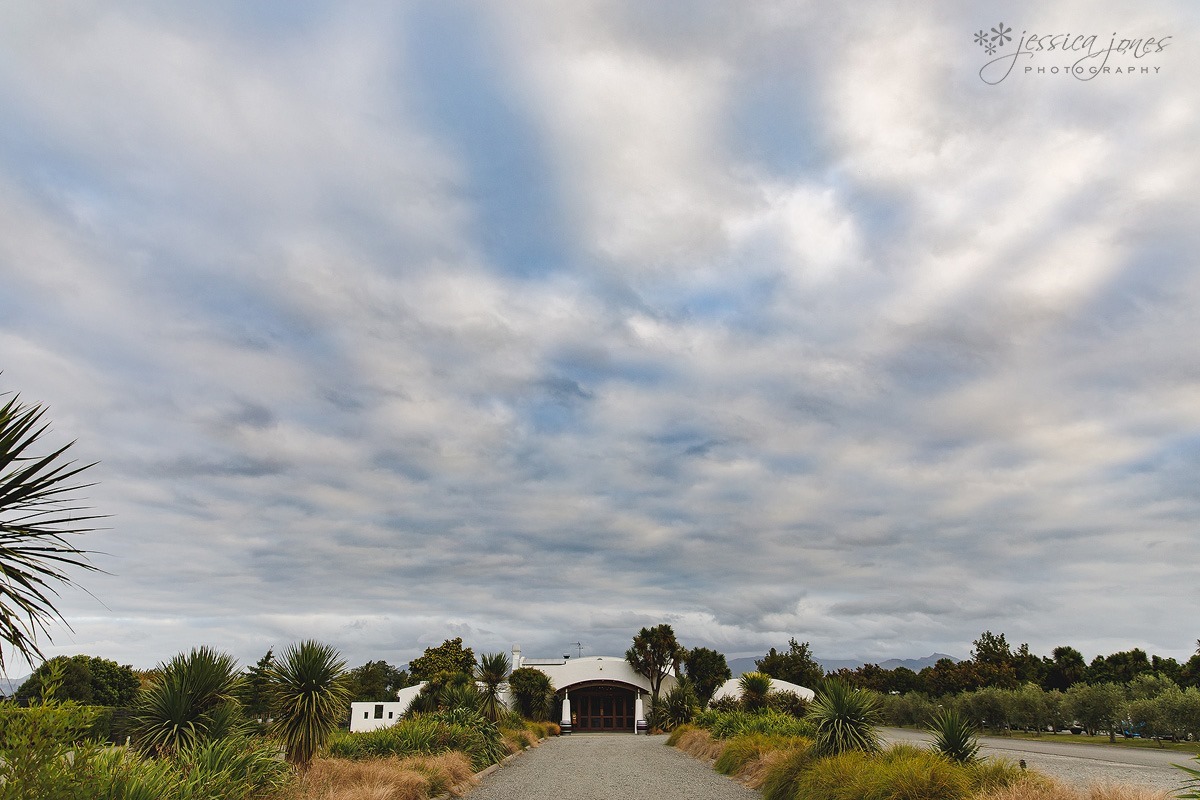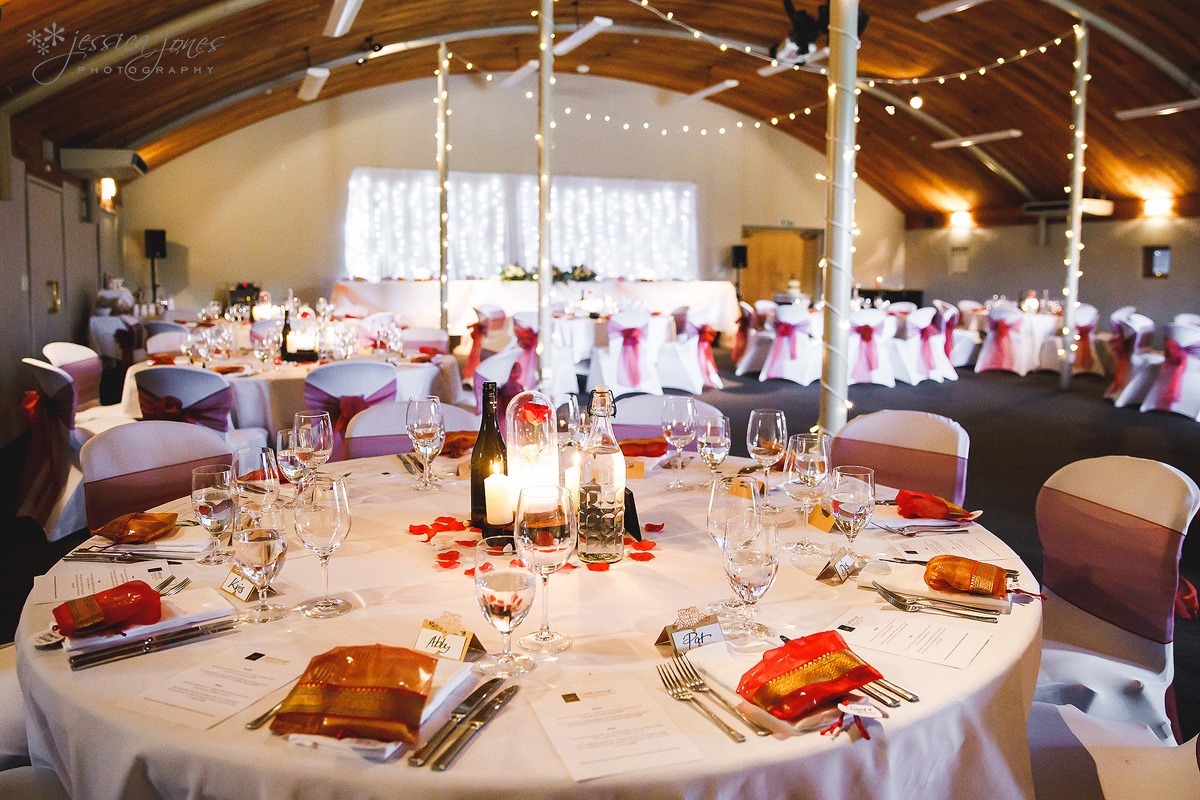 I just love the smatterings of personality everywhere you look!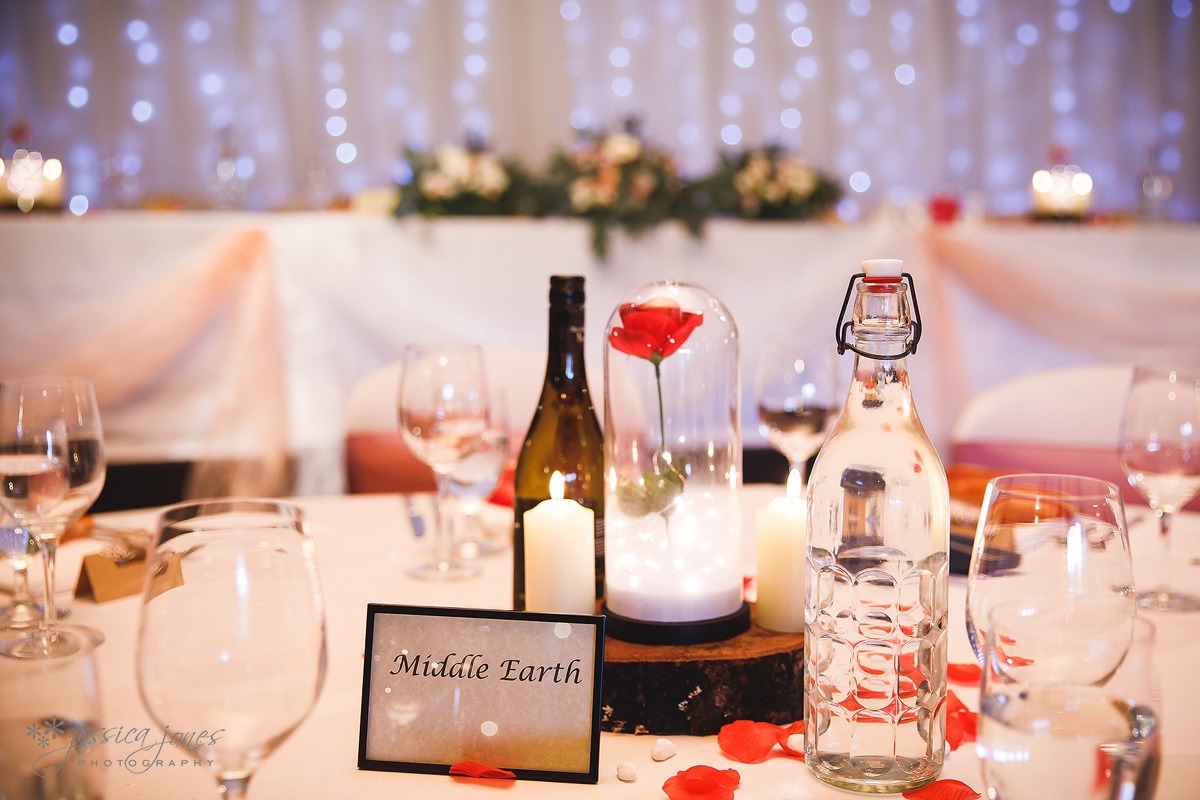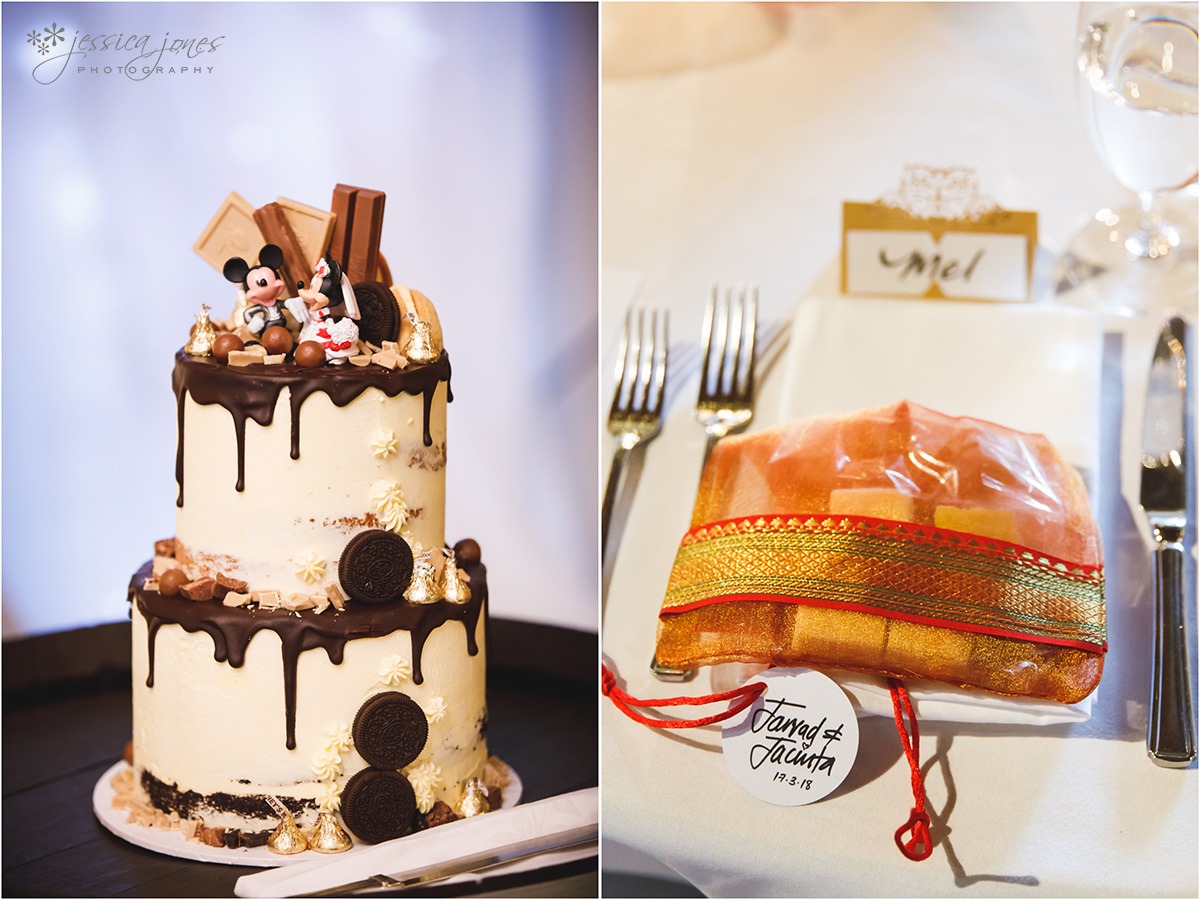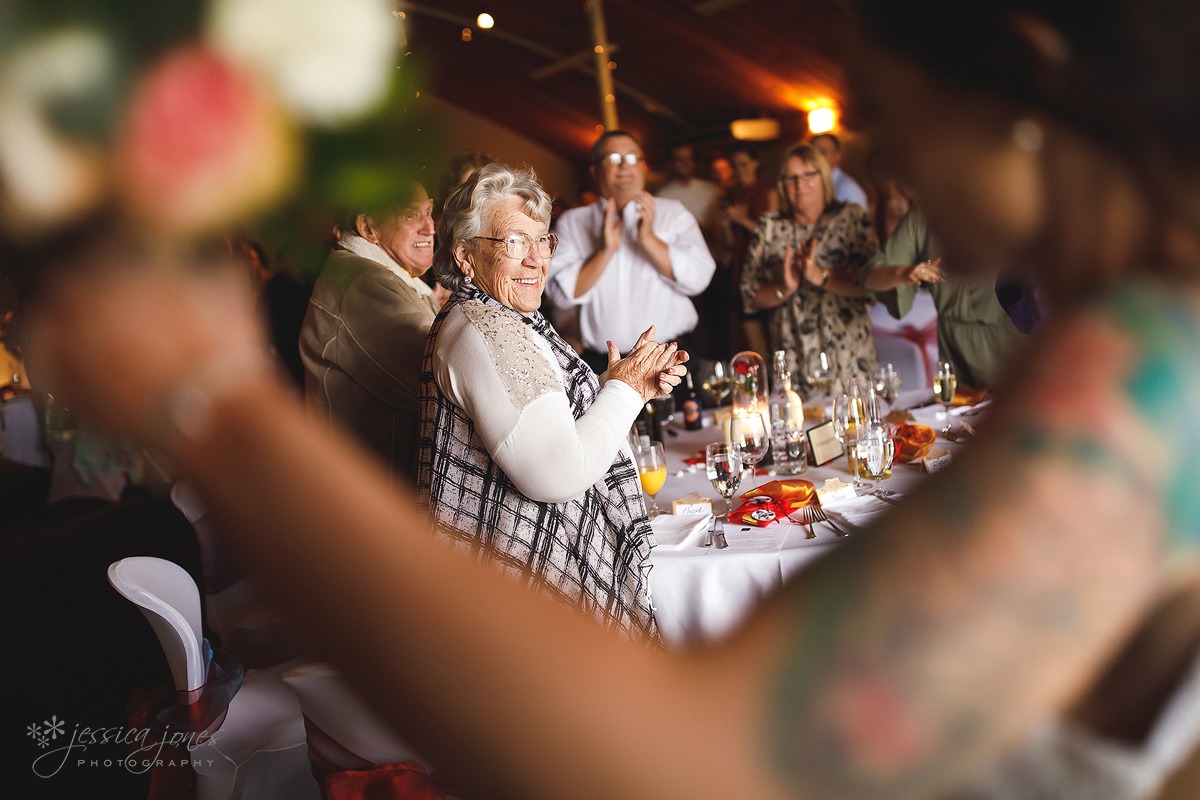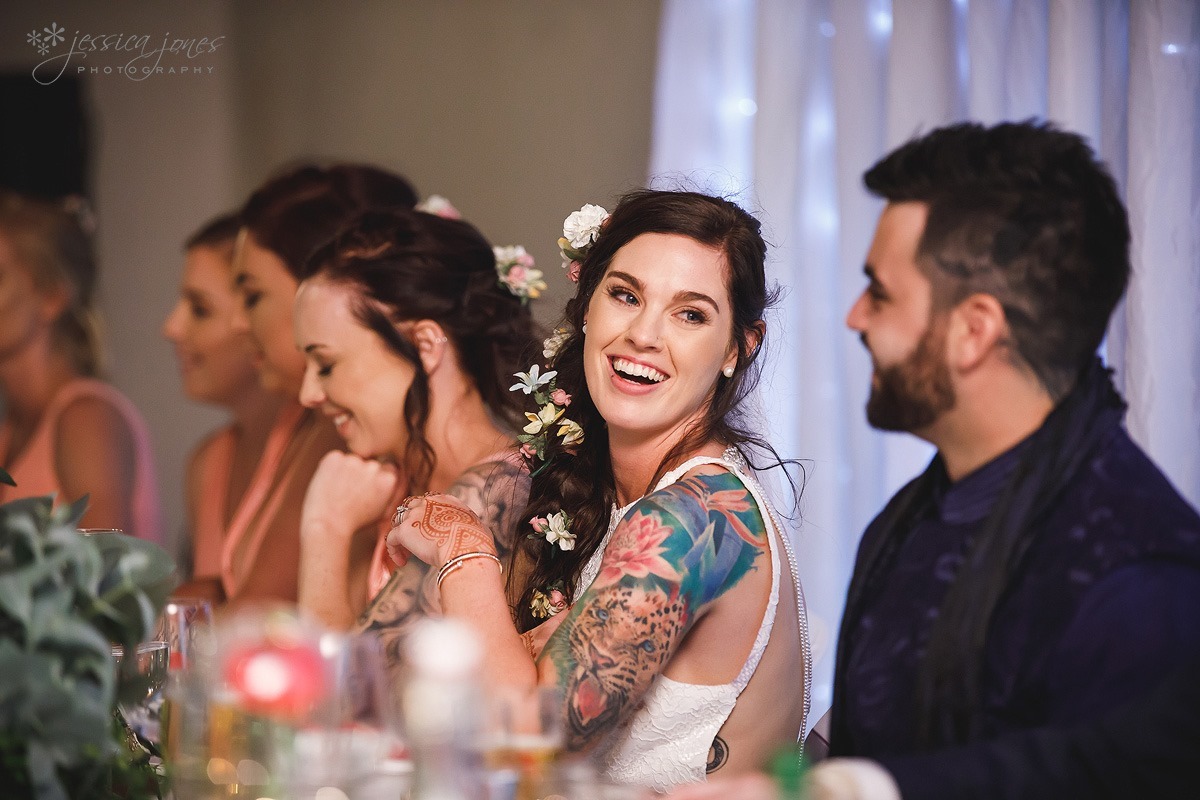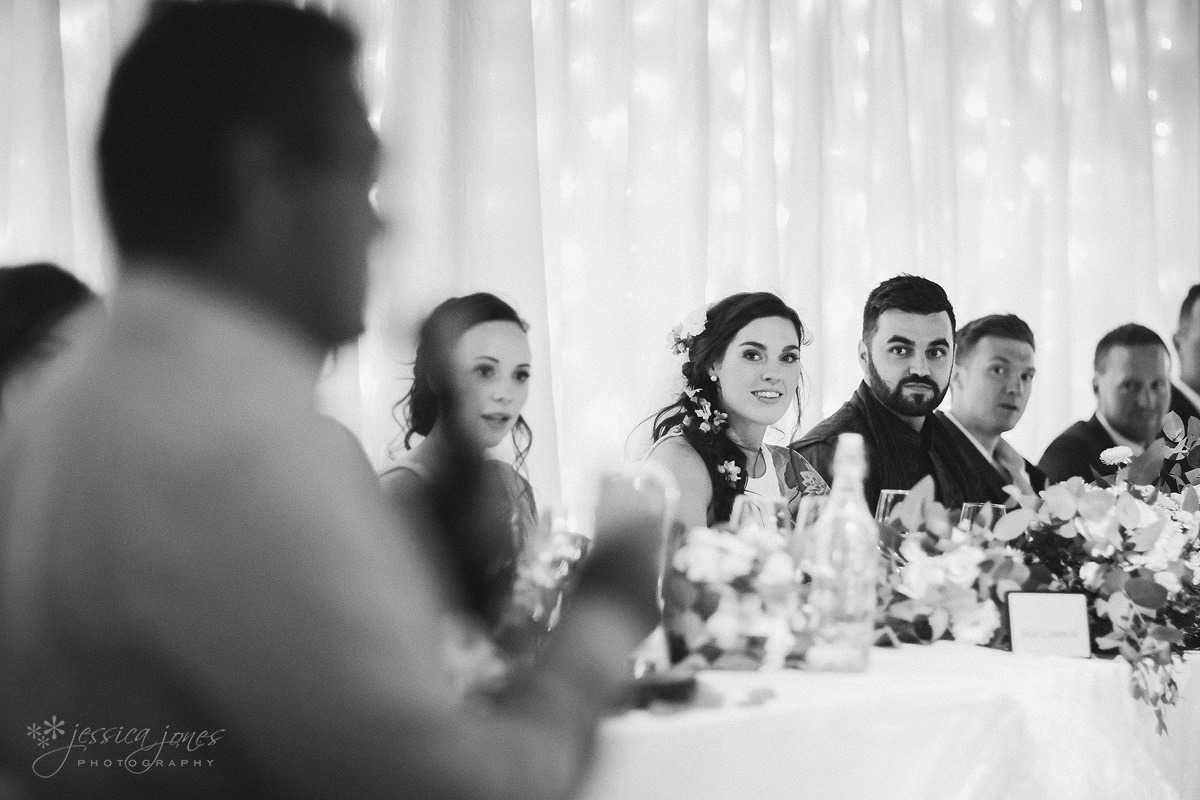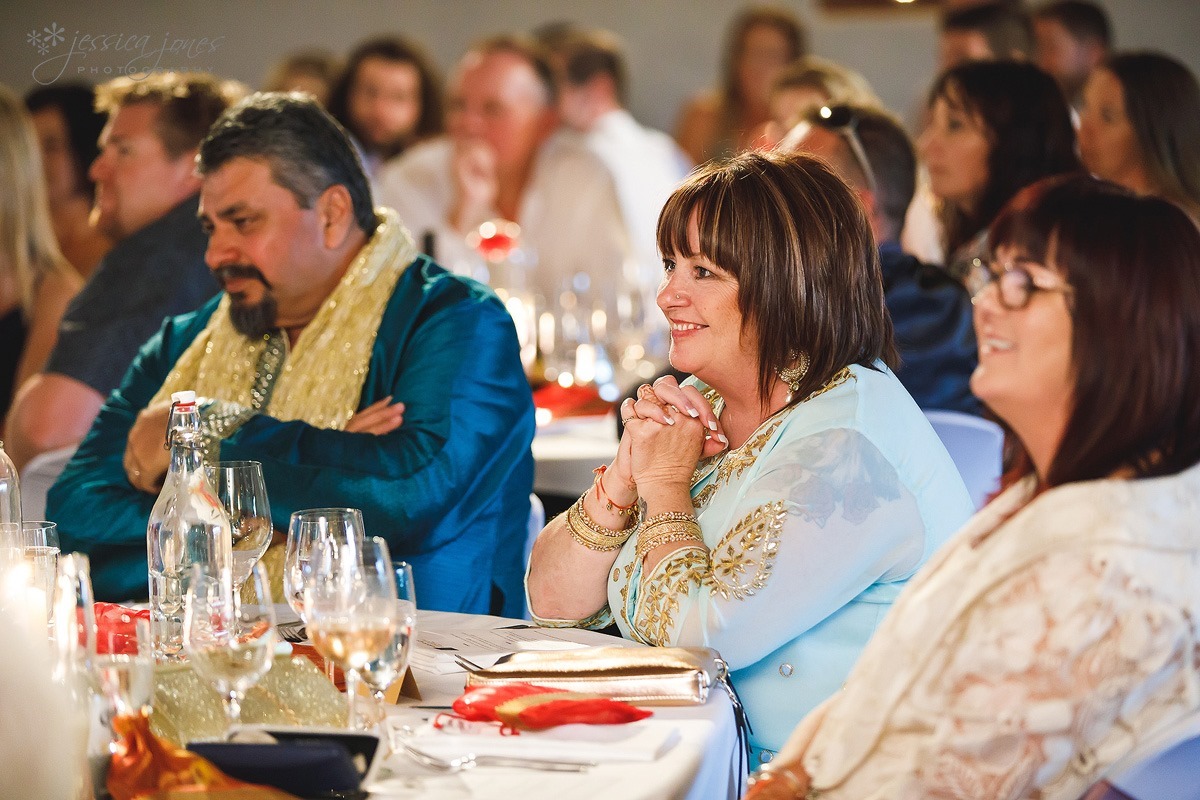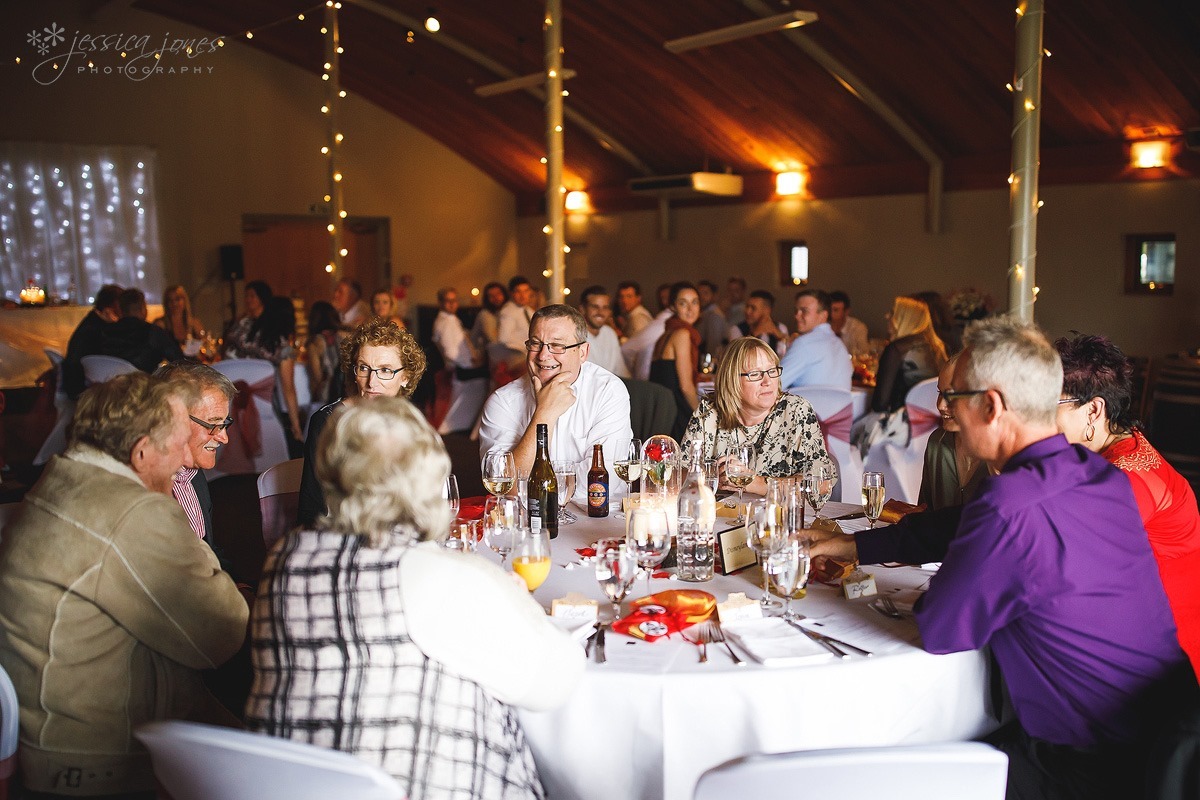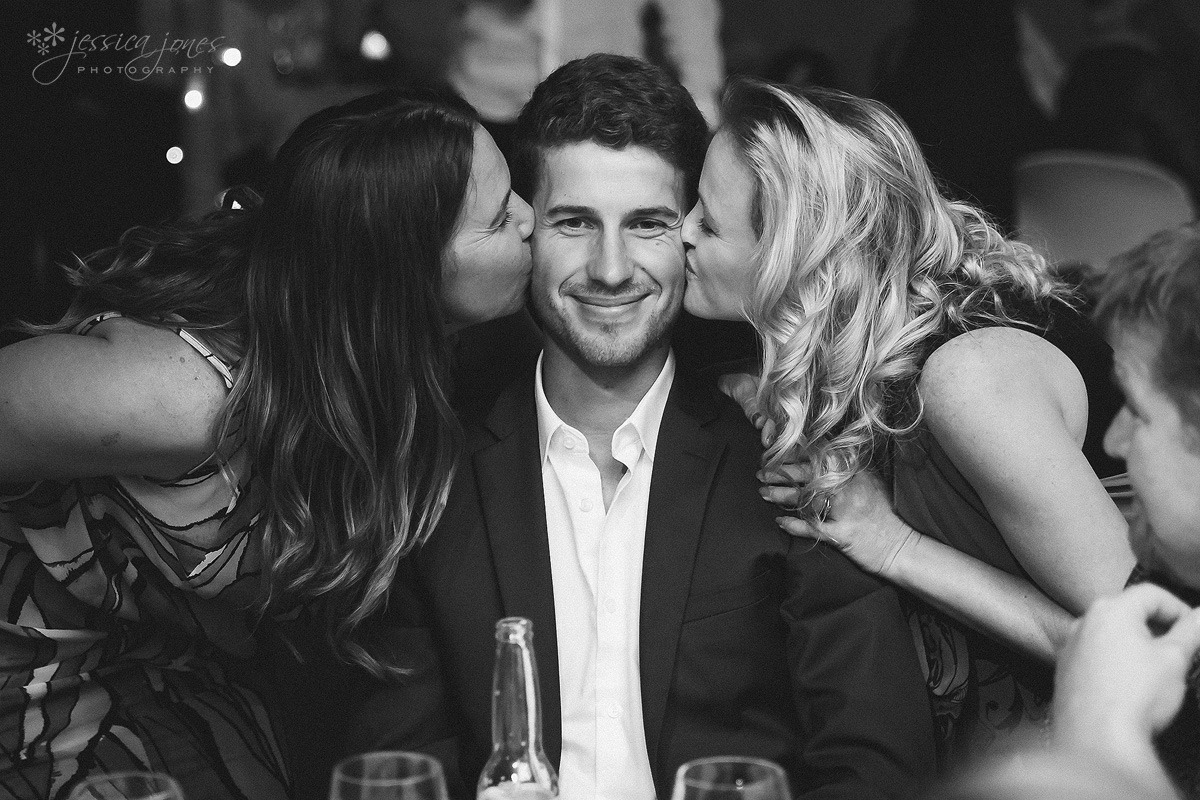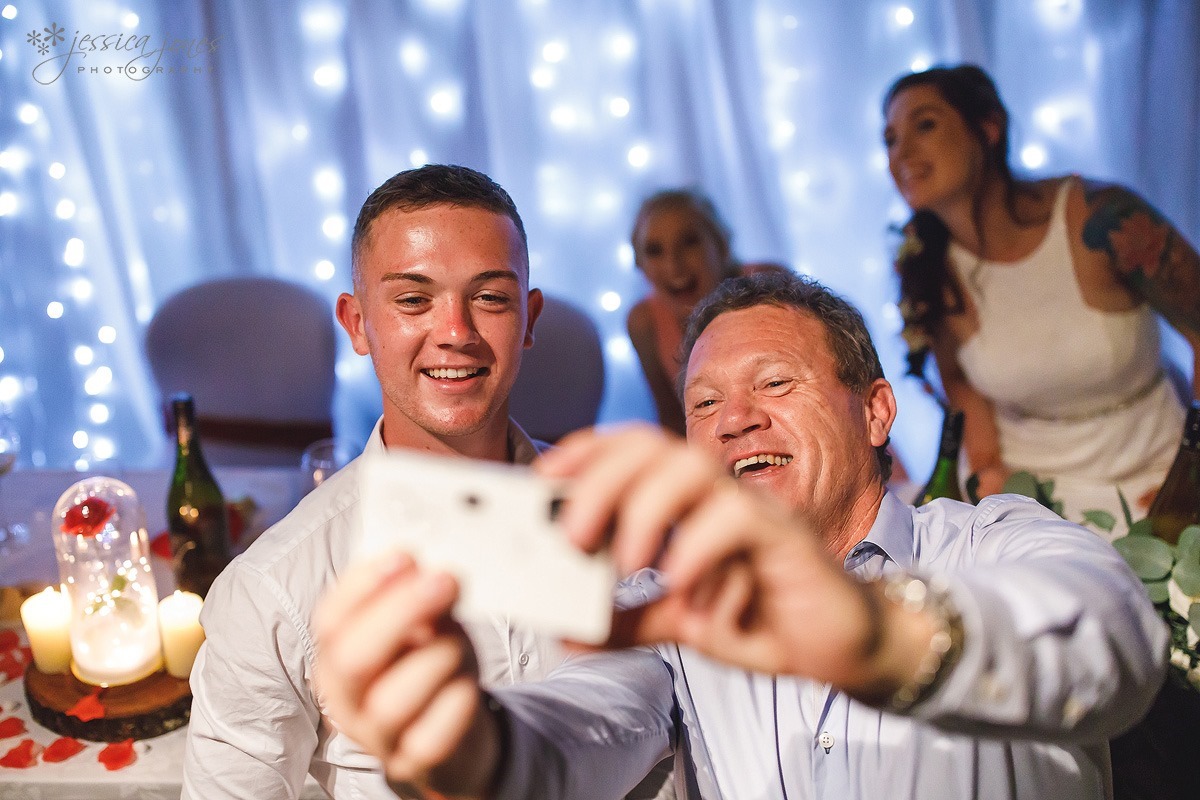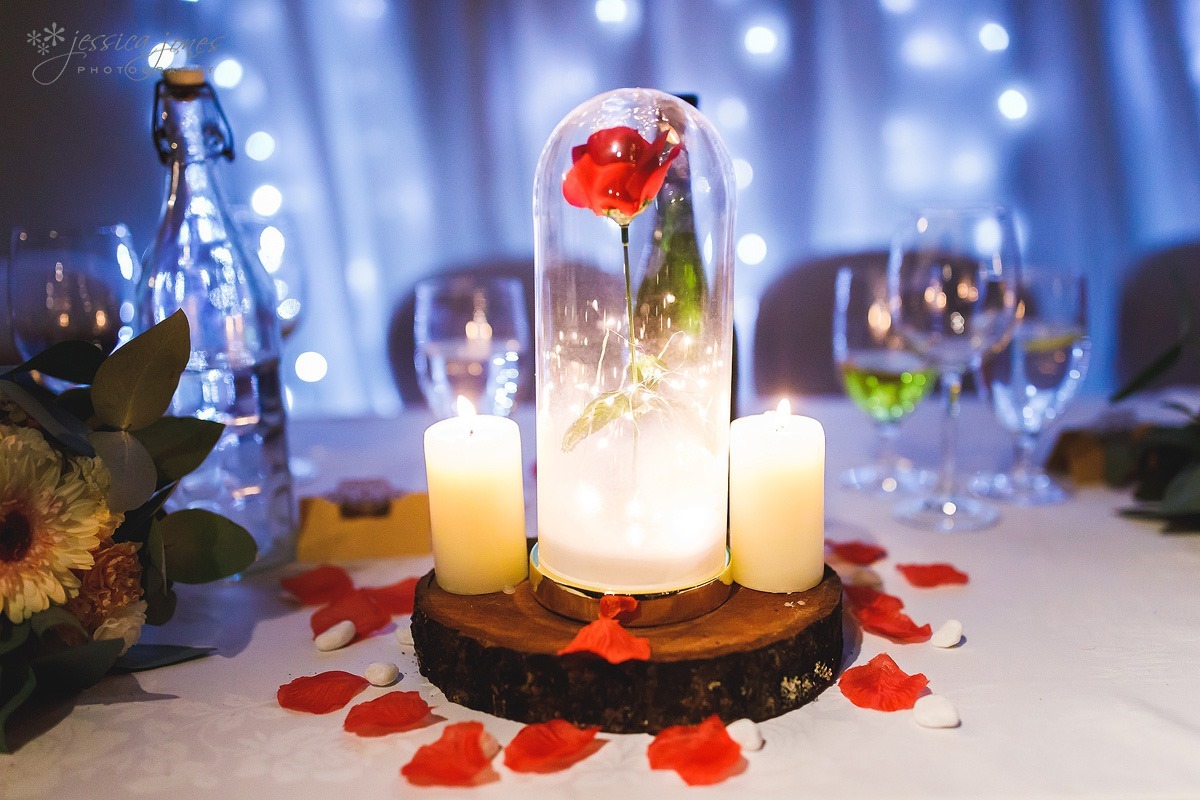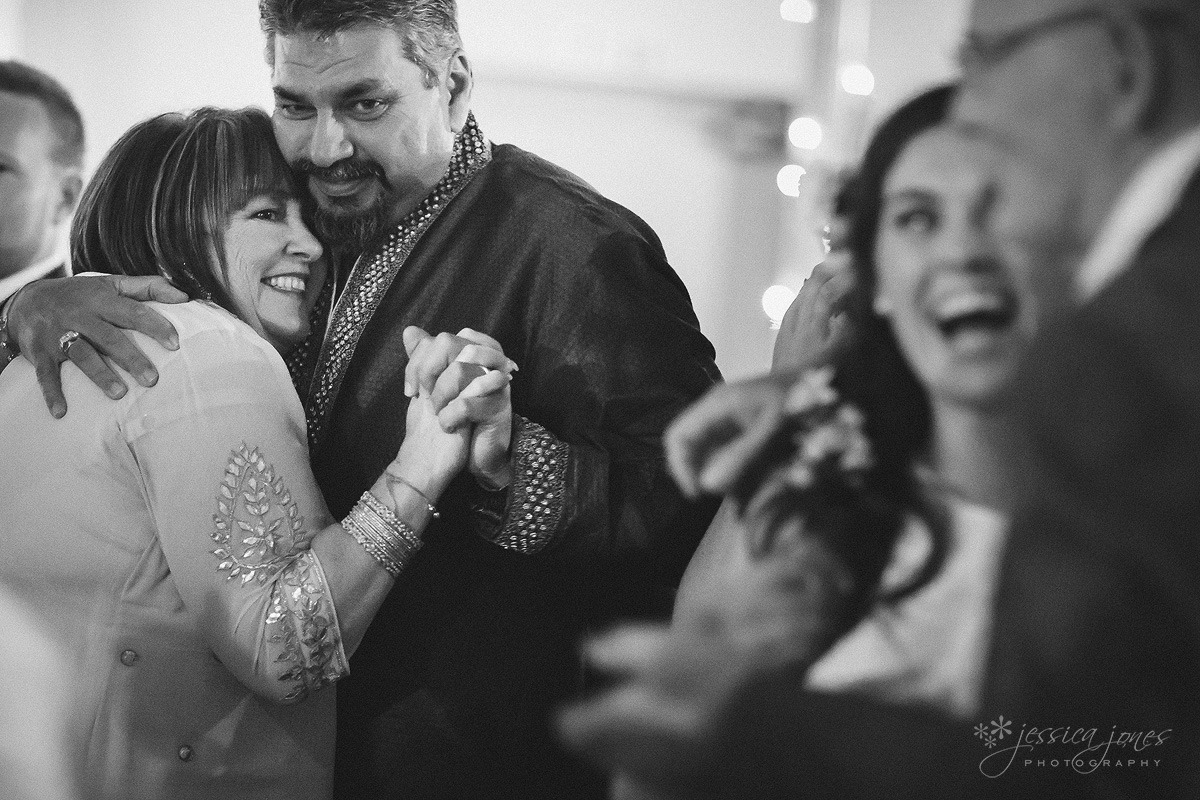 Everyone loves the shoe game. These guys were particularly good at it, I have to say!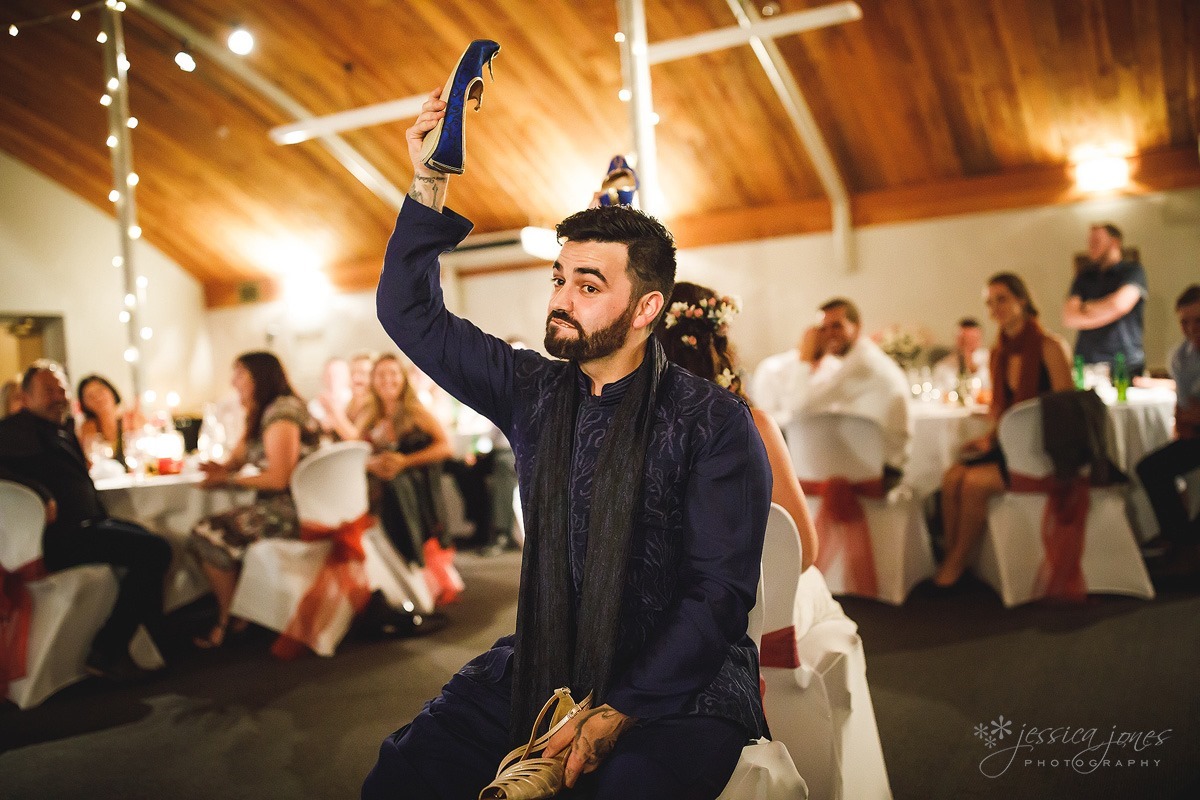 Most of the time, anyway!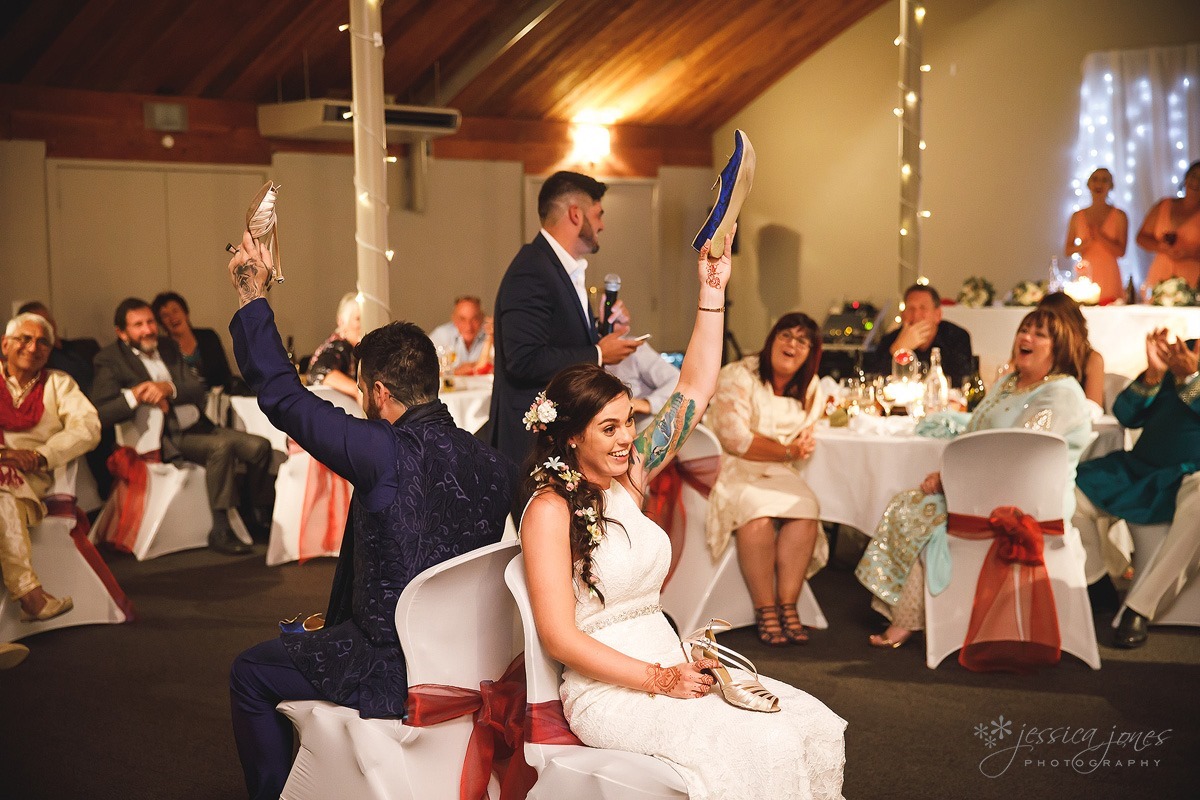 Then the party really got started, and everyone did some Indian dancing. Loud, joyful, hilarious.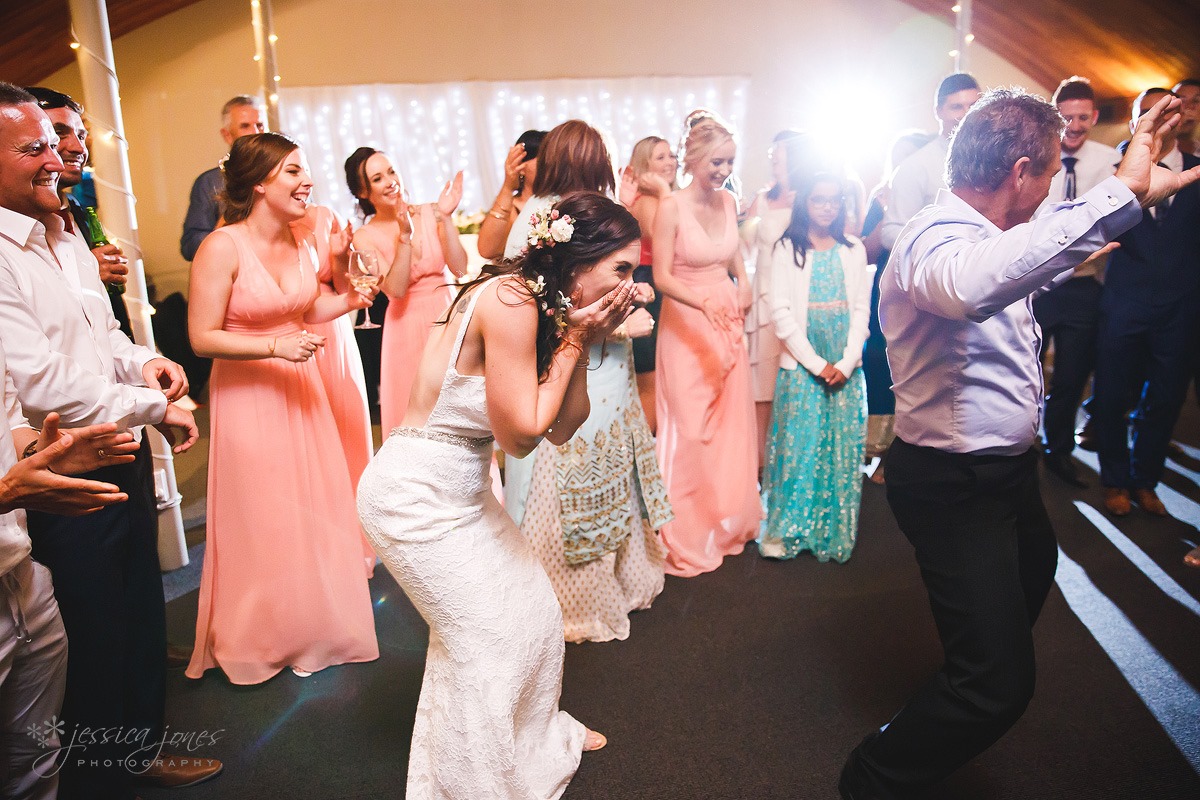 Although, to be honest, I don't think this was particularly Indian. Unless it was an Indian worm? I suppose those exist too!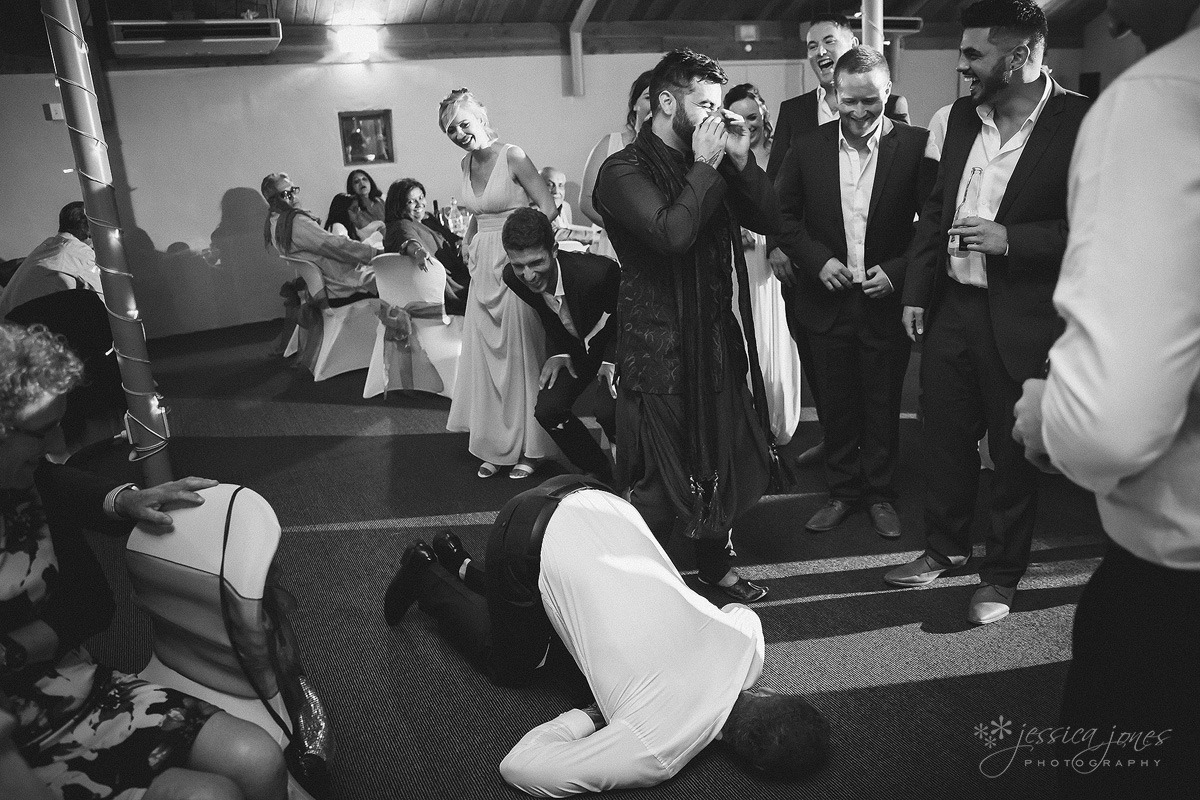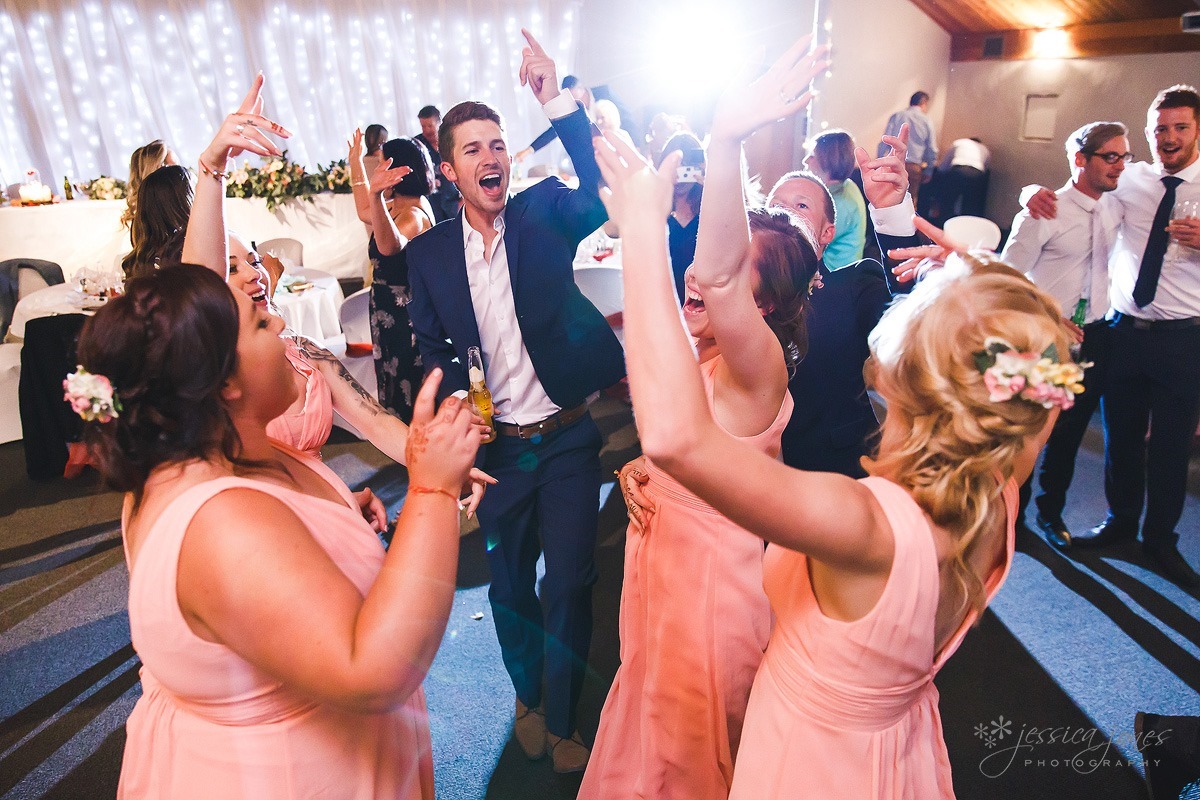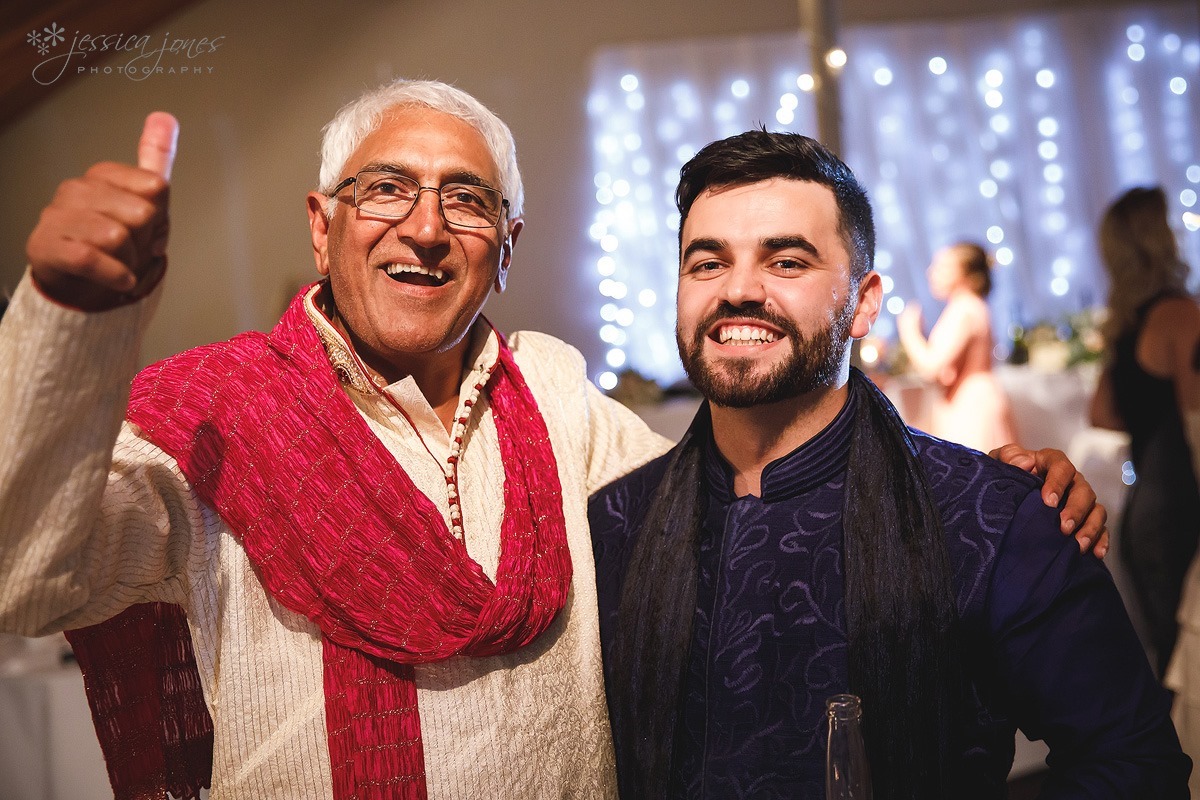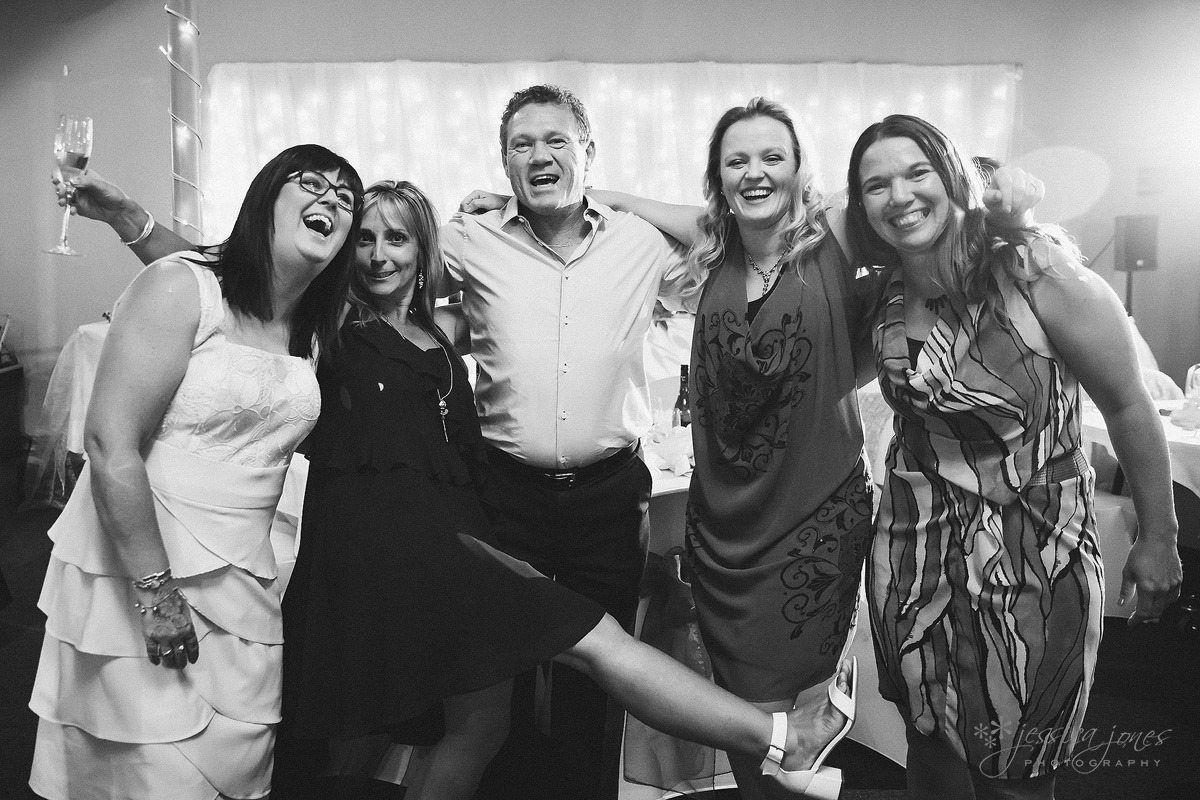 I was taught that the first general move for Indian dancing is to pretend you're screwing in a lightbulb. Once you know that move, you're in.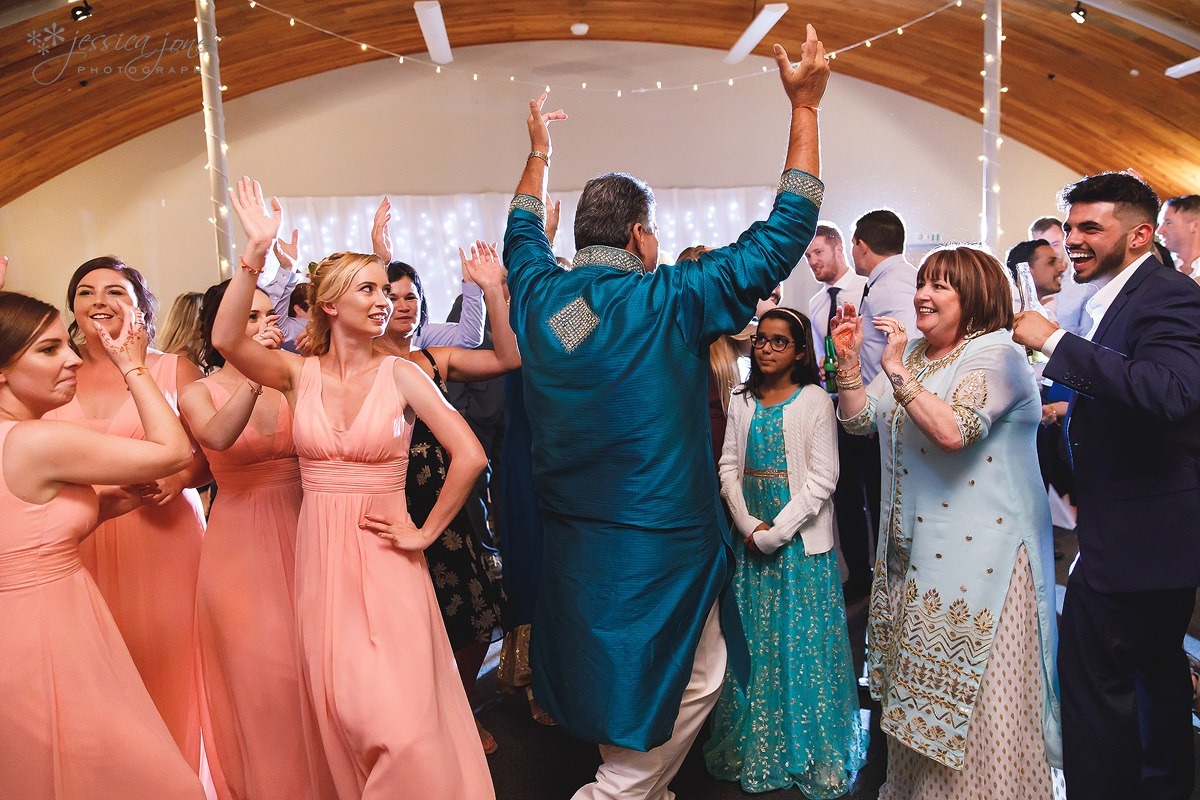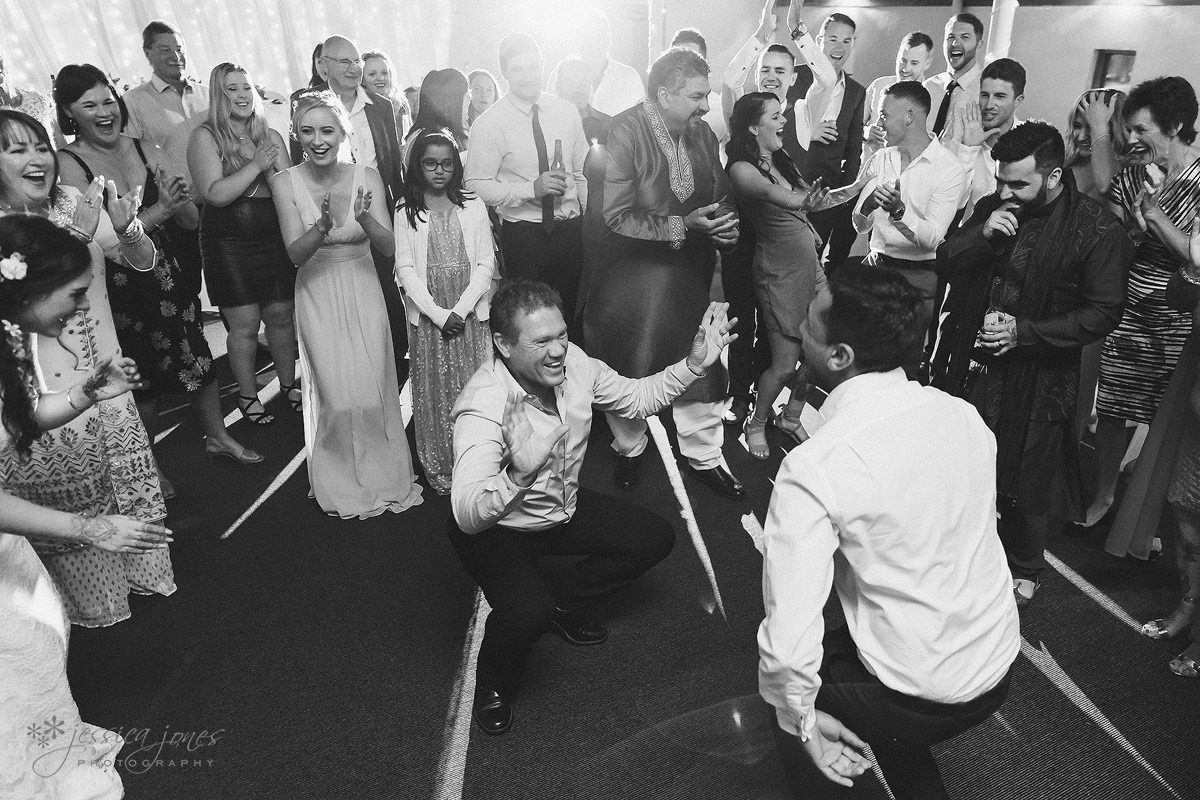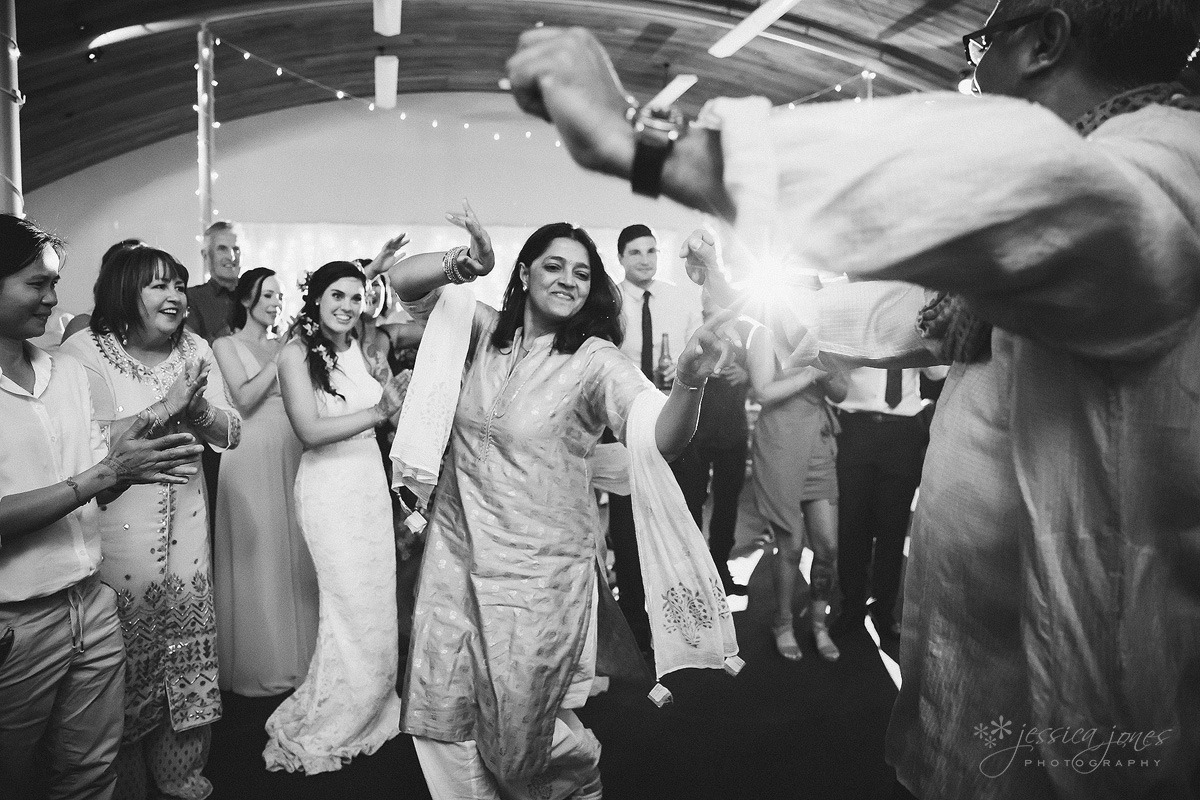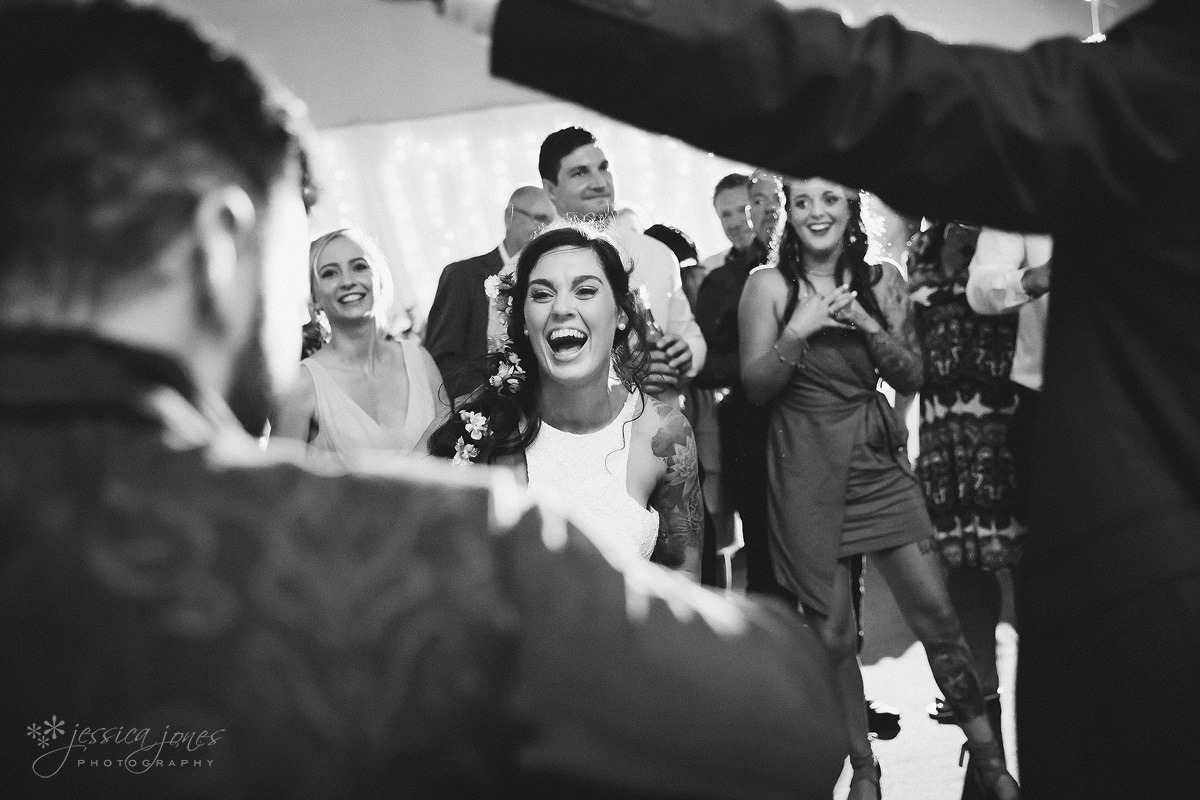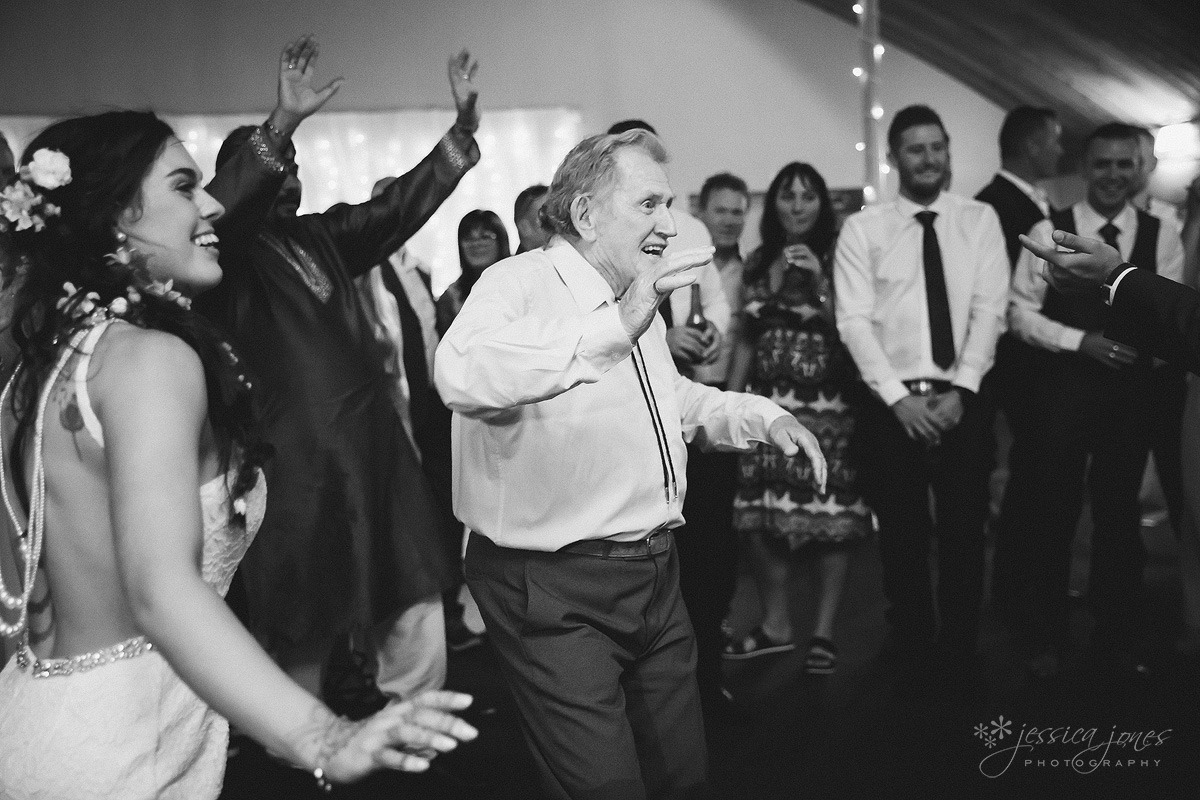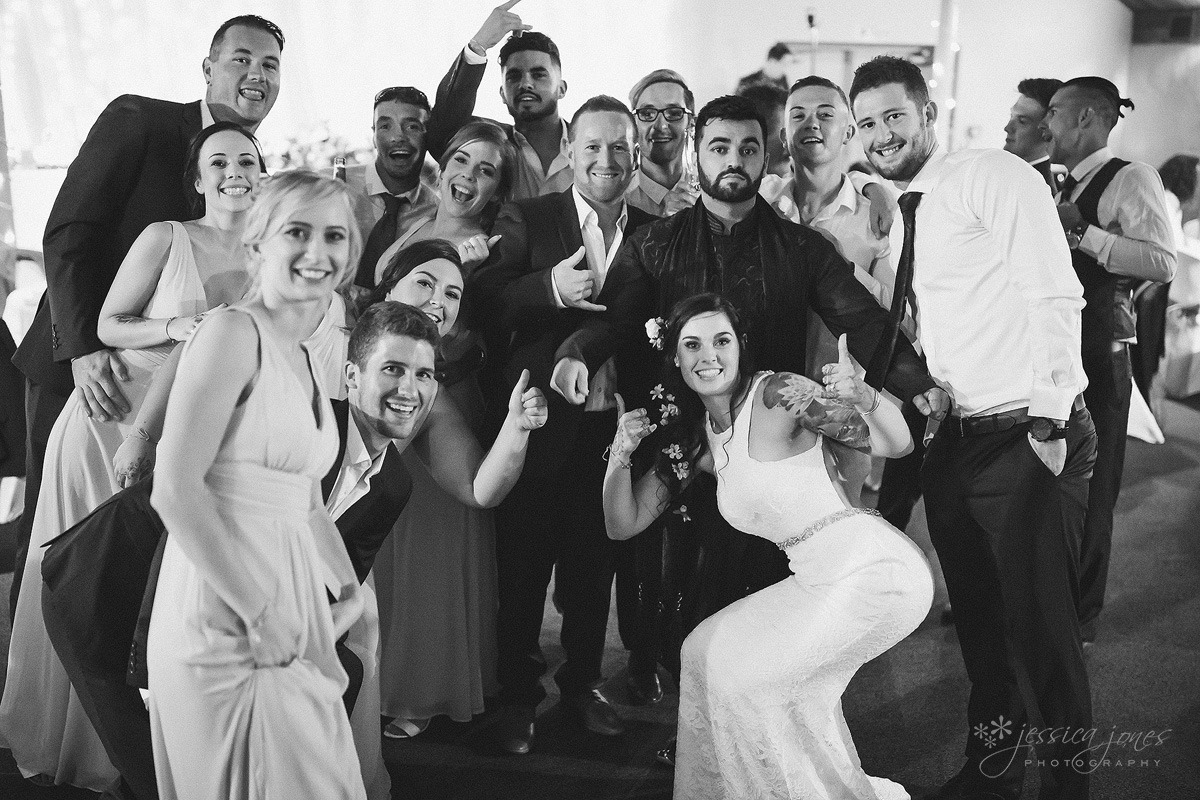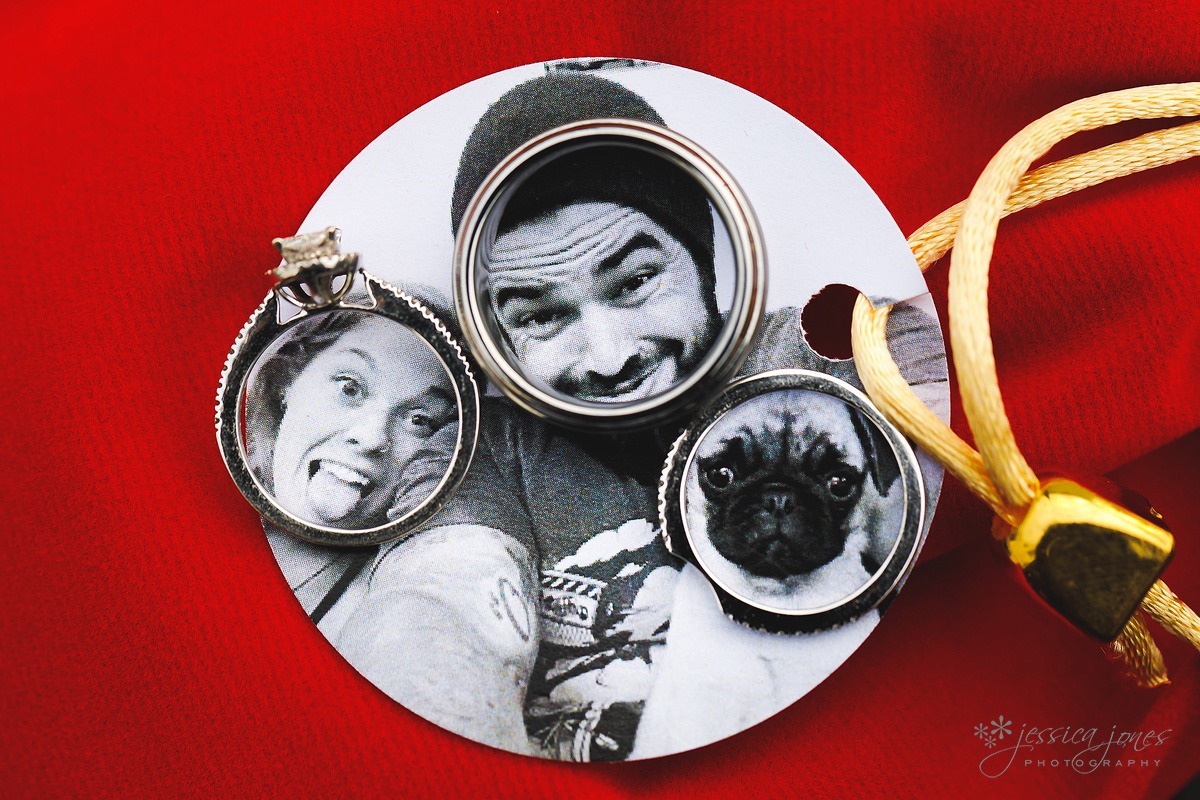 Jacinta and Jarrad, I can't even express how much fun with had with you guys. So much beautiful energy between you two, and it was a fabulous day to capture! Thank you!