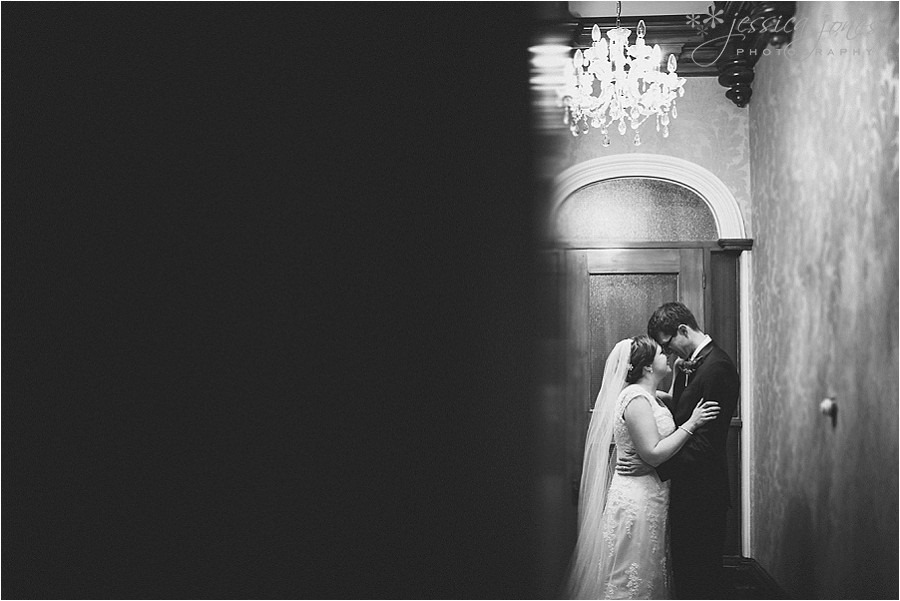 After meeting at a pub quiz some years ago, Melanie and Ryan soon hit it off, became great friends, fell in love, did some epic travelling and on Saturday they were married in Nelson on a day full of happy moments, beautiful smiles and warm hearts.  We were tickled to be able to capture it for them!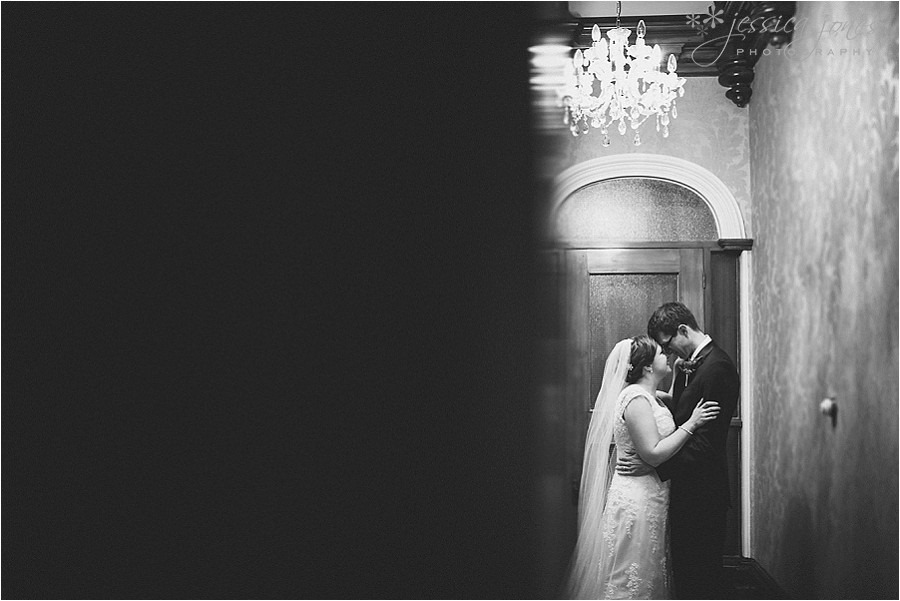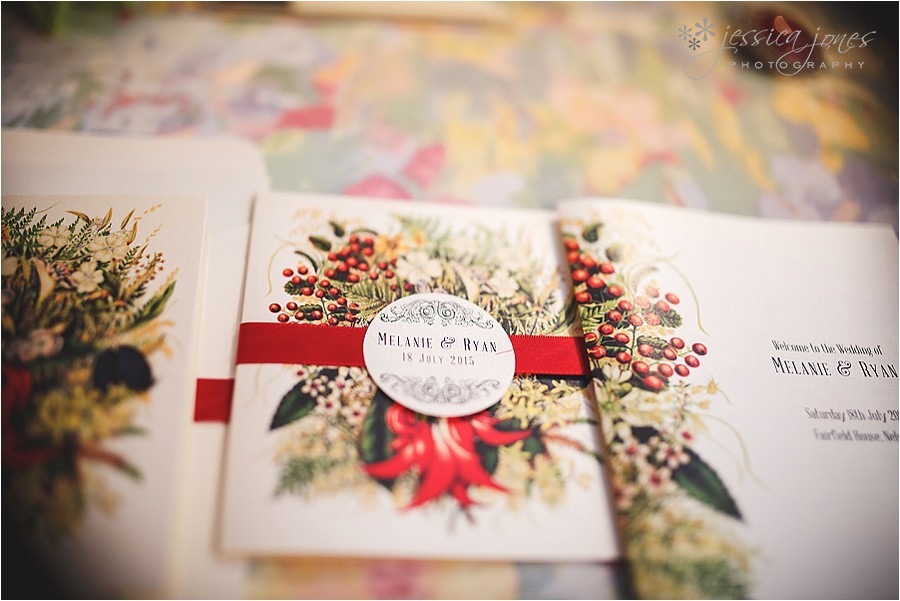 Melanie and her family got ready at their family home.  Not just any family home though, a home that her parents have owned for almost 40 years.  That means that this special place holds countless childhood memories etched into the corners of the room, behind the curtains and inside the cupboards.  It would be difficult to find somewhere more perfect to prepare for your wedding.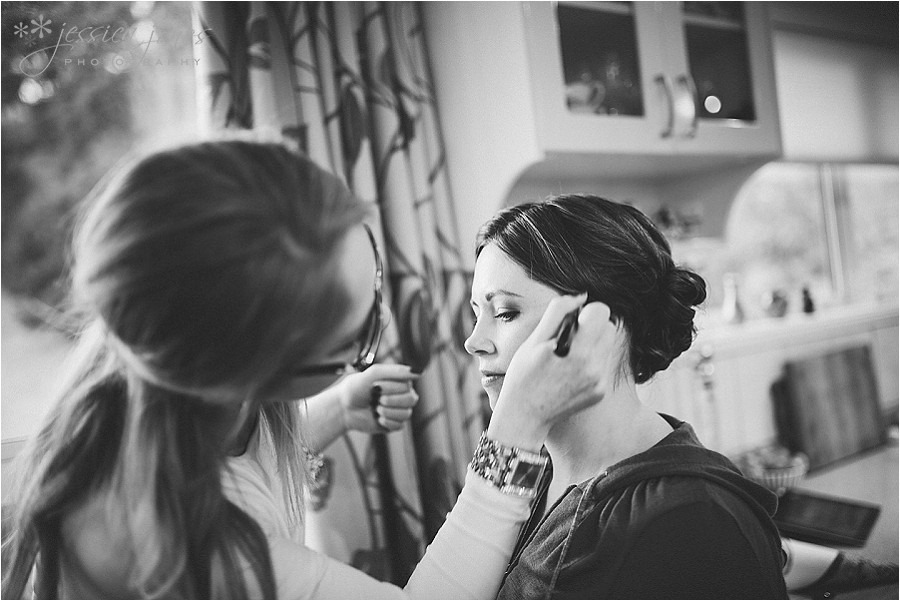 Dad was ever close with the video, capturing even more memories to cherish in years to come.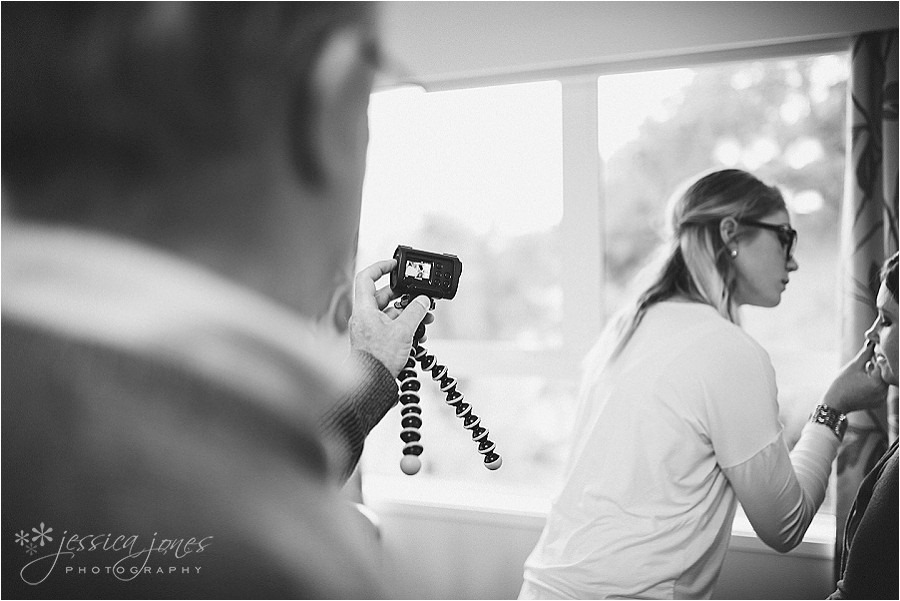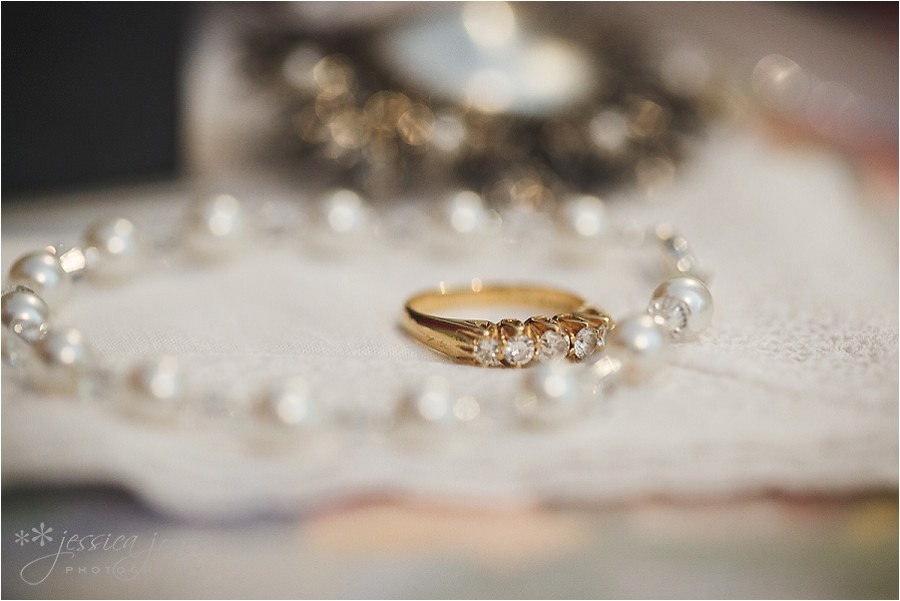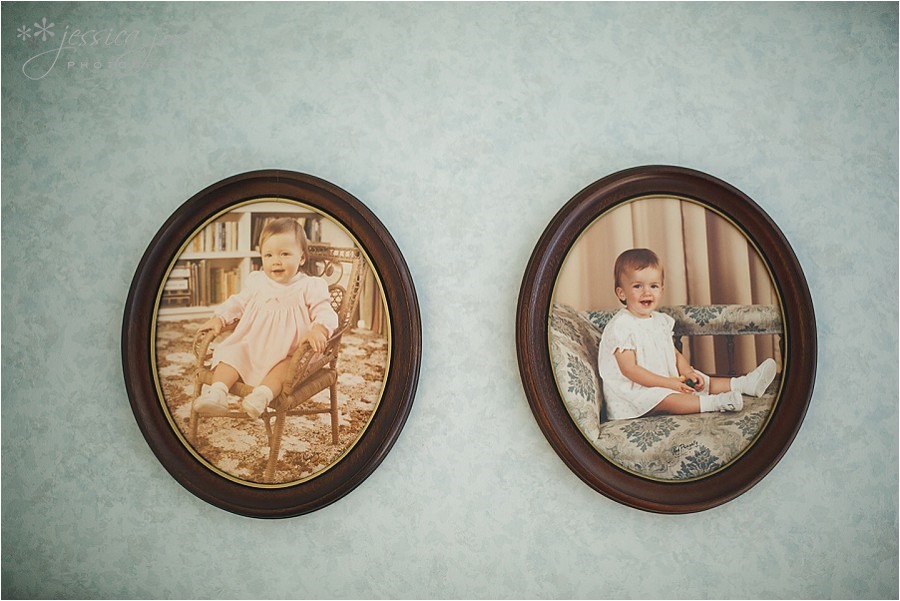 Melanie's parents, Raewyn and Warwick, were amazingly welcoming to both Emily and I.  Upon arriving, we were soon offered cups of tea and lunch.  It soon became pretty clear where Melanie got her warmth from!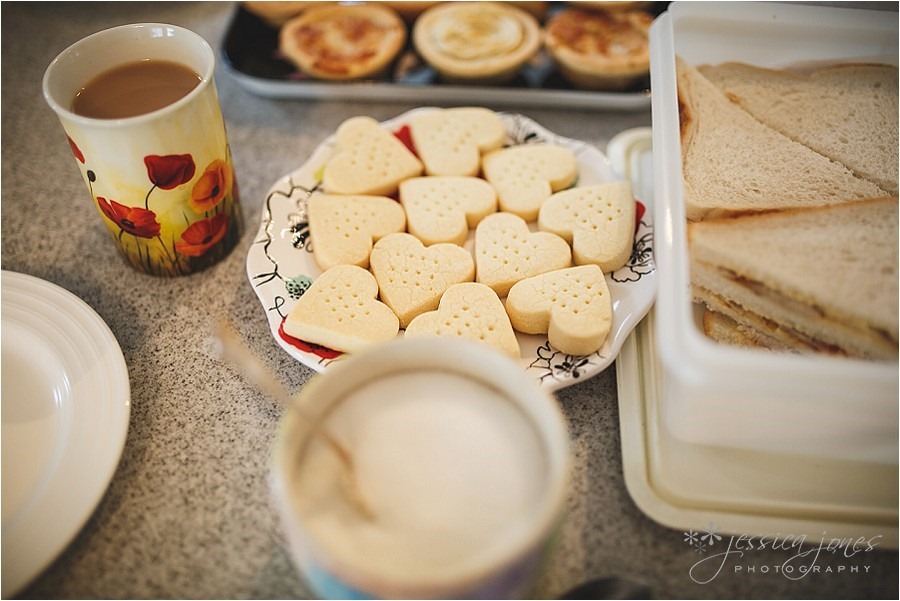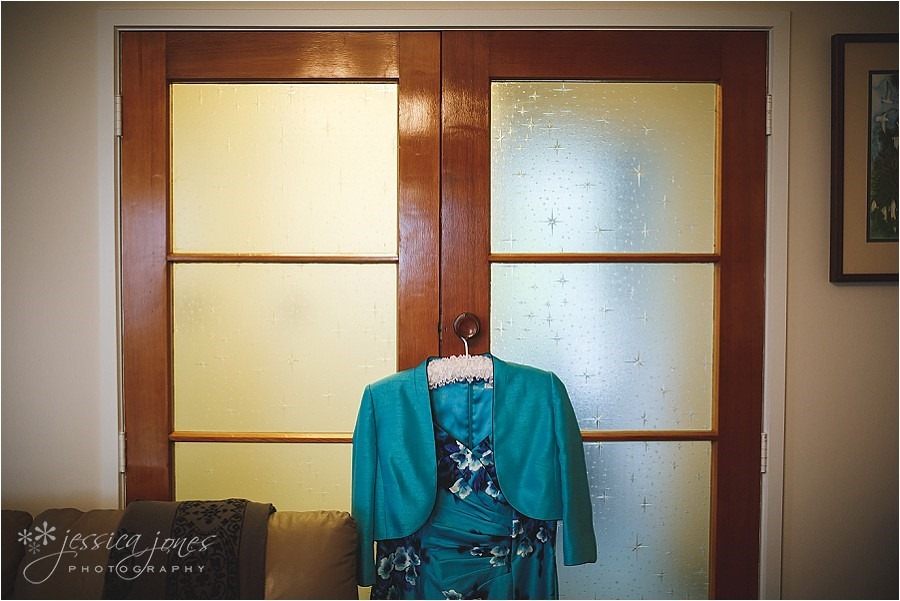 History on the walls.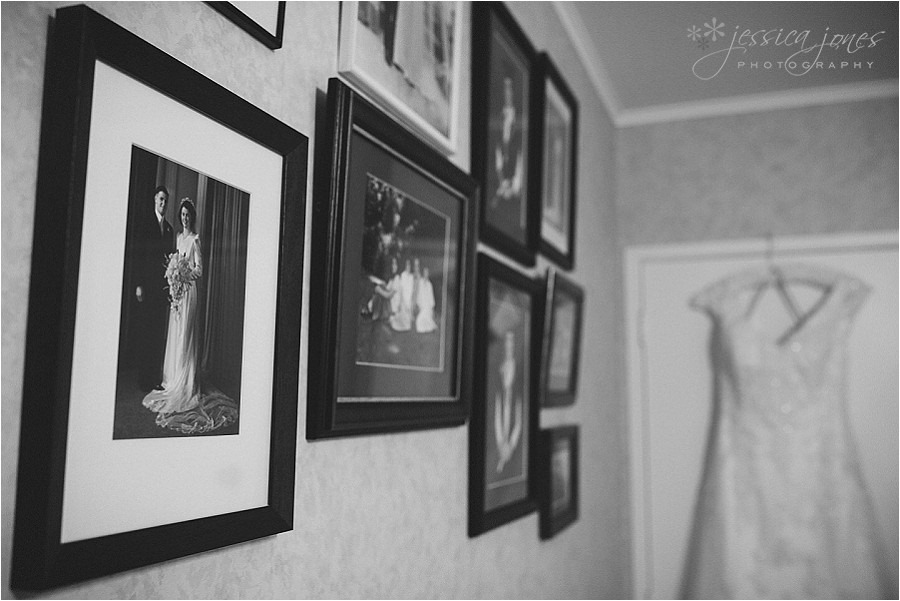 Meet Spech.  Well, technically it's Spech's twin.  Spech the Bunny belonged to Melanie from when she was a tiny girl, and almost never left her side.  You see, I knew that given the house we were in and all of the memories and family history, there would be something like a 'Spech' to come out and join us.  Sure enough, Melanie took me to a drawer and presented me with a tiny ziploc bag that contained something that looked like a fluff ball wrapped in bandages.  That was the original Spech.  Original Spech wasn't in any state to come out of his ziploc, so Standin Spech stepped up to the plate.  Every parent on the planet understands why Standin Spech is nowhere near as worn out, there can only ever be ONE Special cuddly toy.  I didn't bring this up with Standin Spech at the time.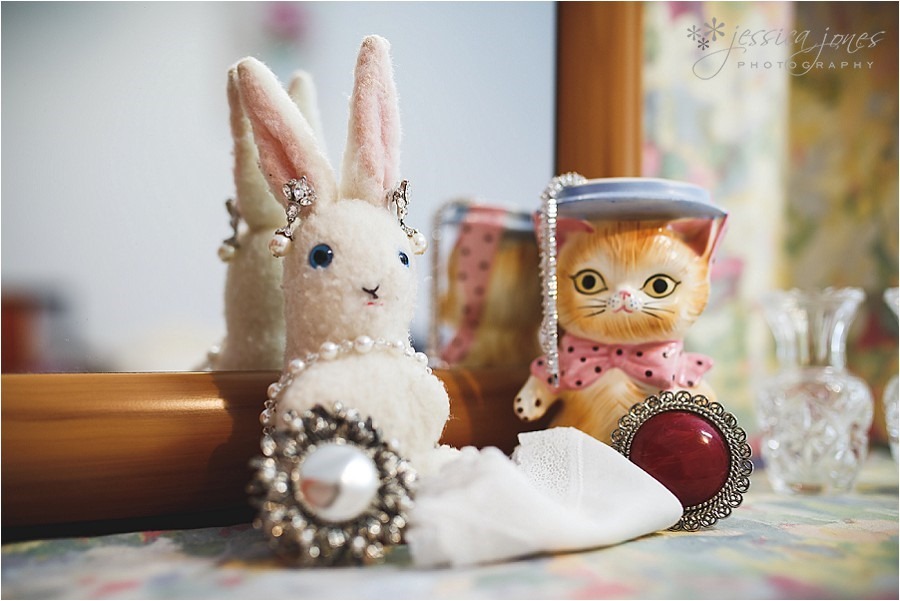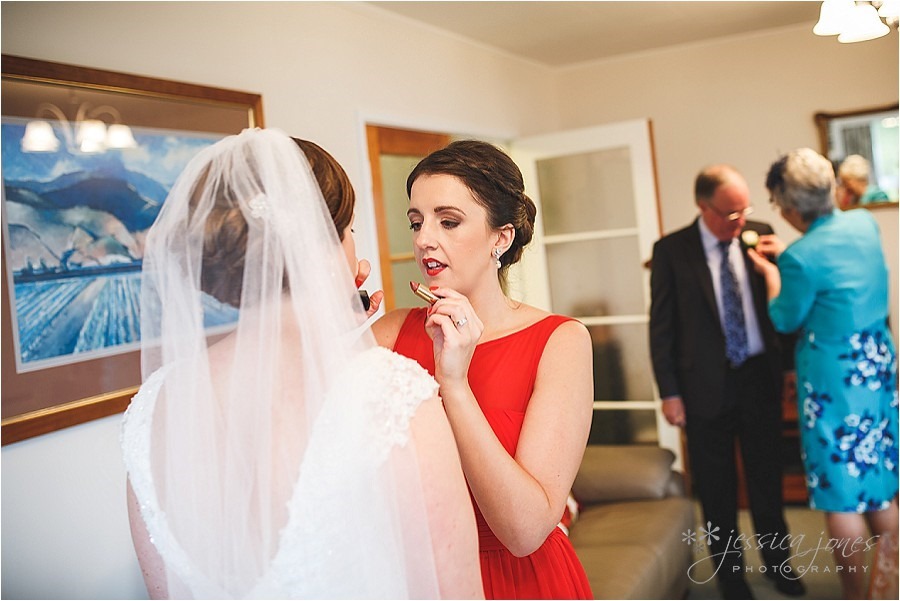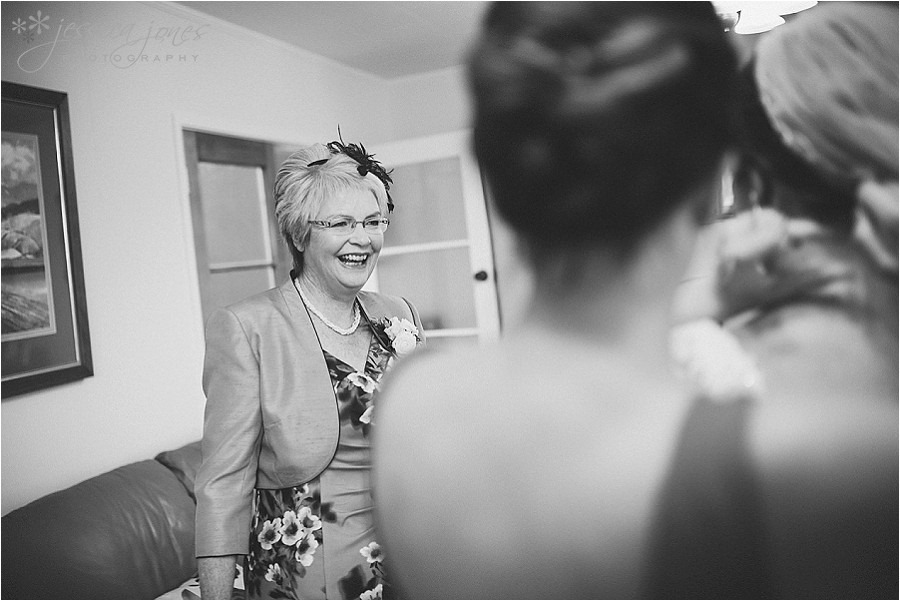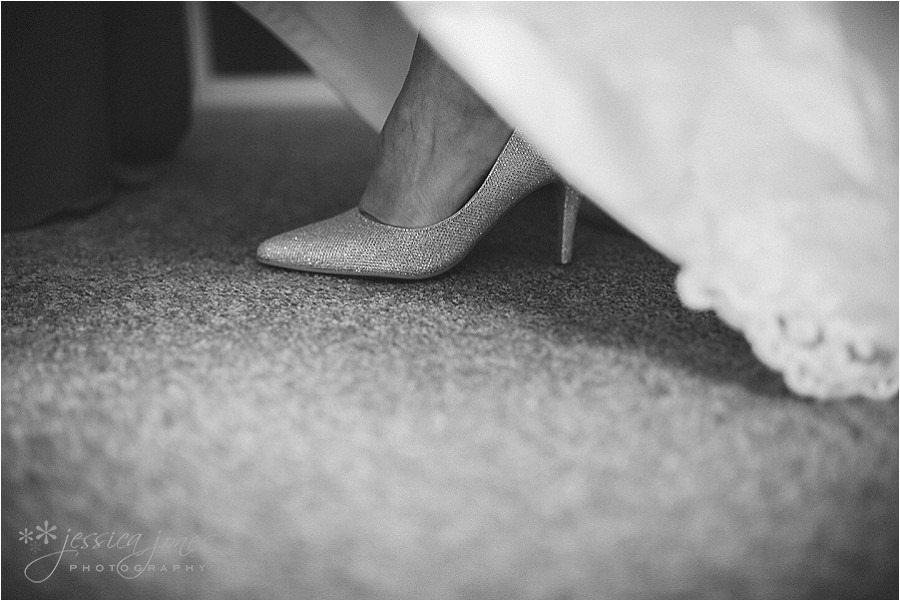 Within six months of each other, both Gemma and Melanie have gone from engaged to being married.  That's efficient work!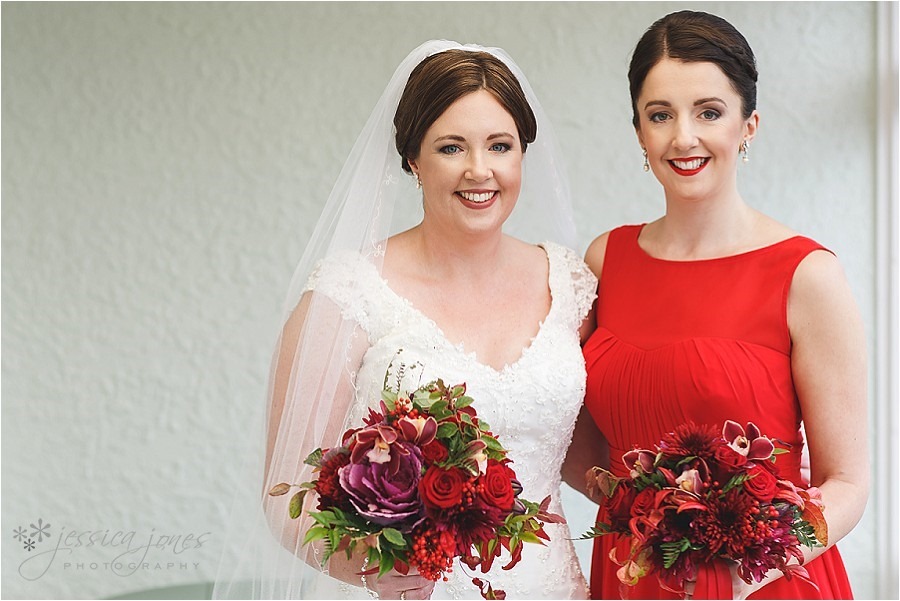 Stunning flowers by Sarah Hutt from Willow Floral Design.
How much does the camera love you Melanie!  Gorgeous!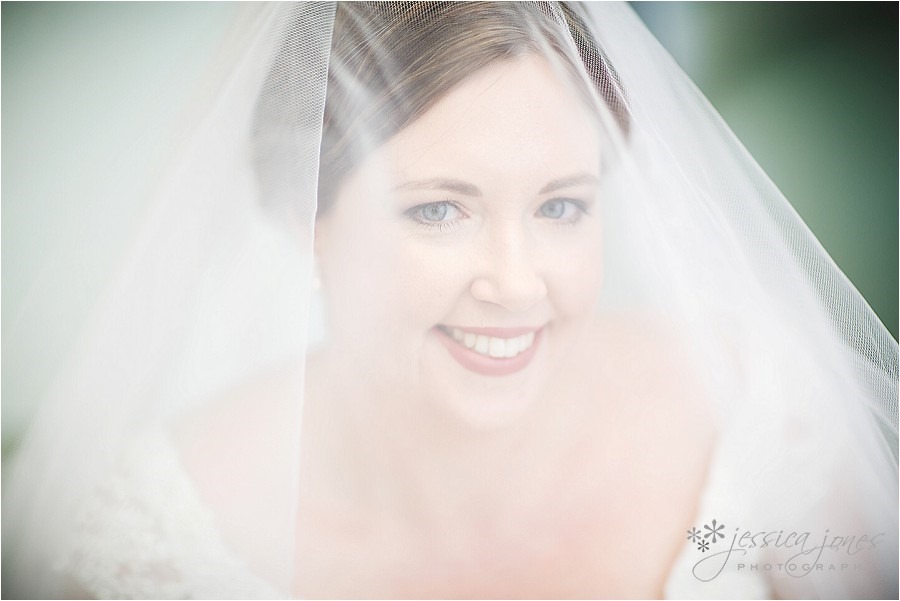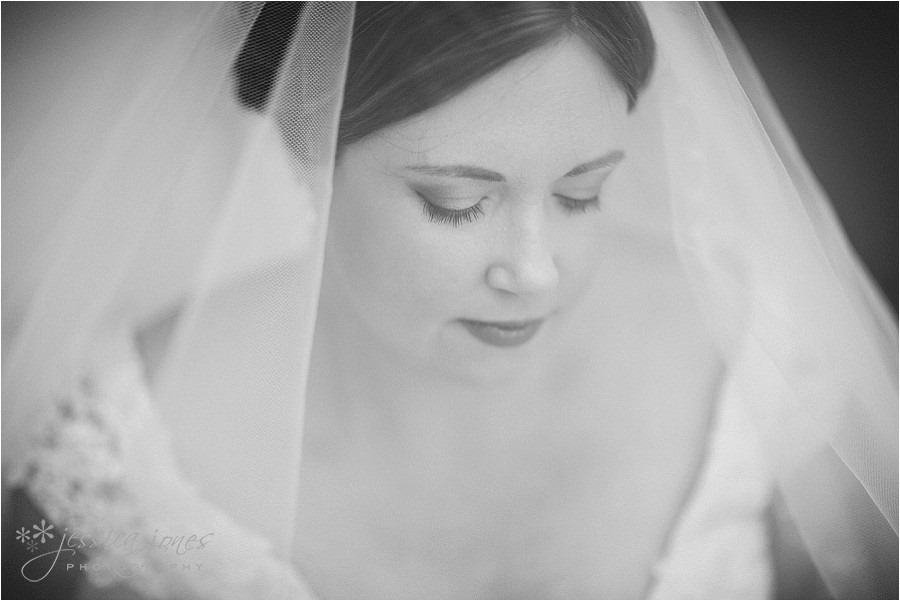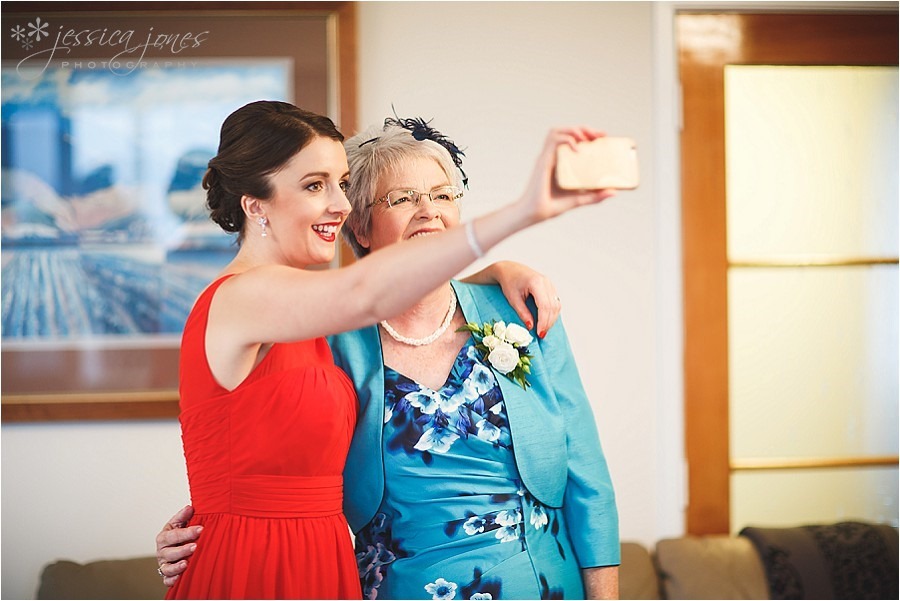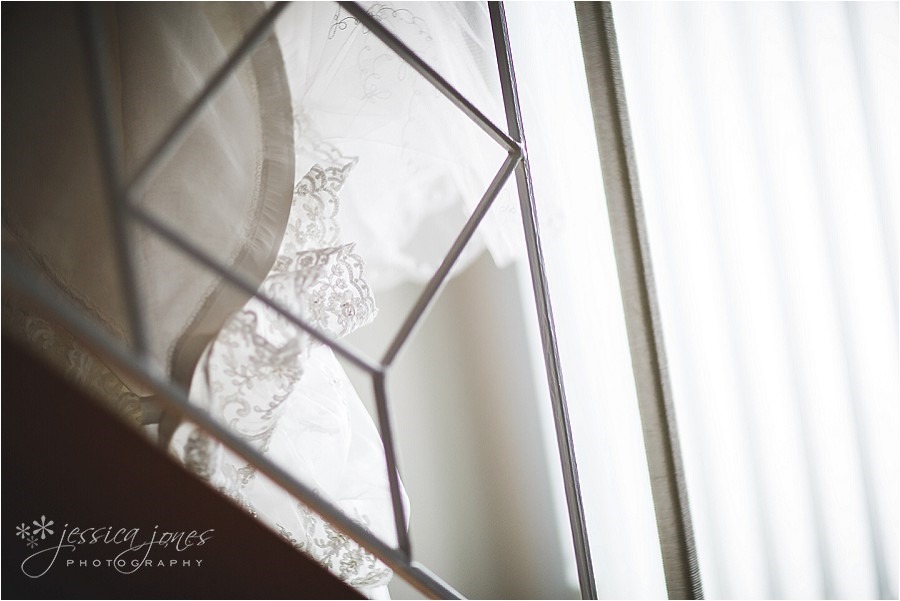 Oh, and before we move on to the shots from the boys getting ready – check out the view from the house!  No wonder they haven't moved in 40 years!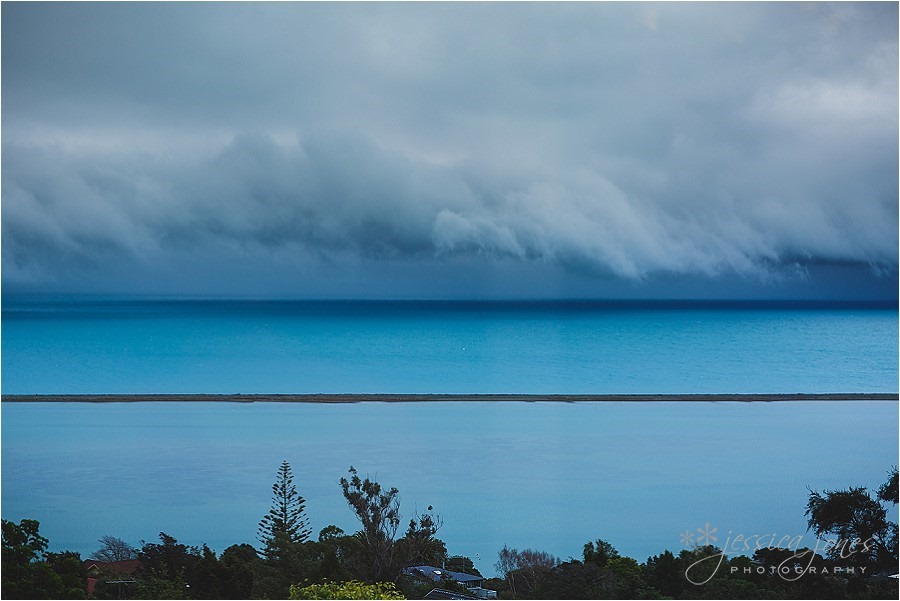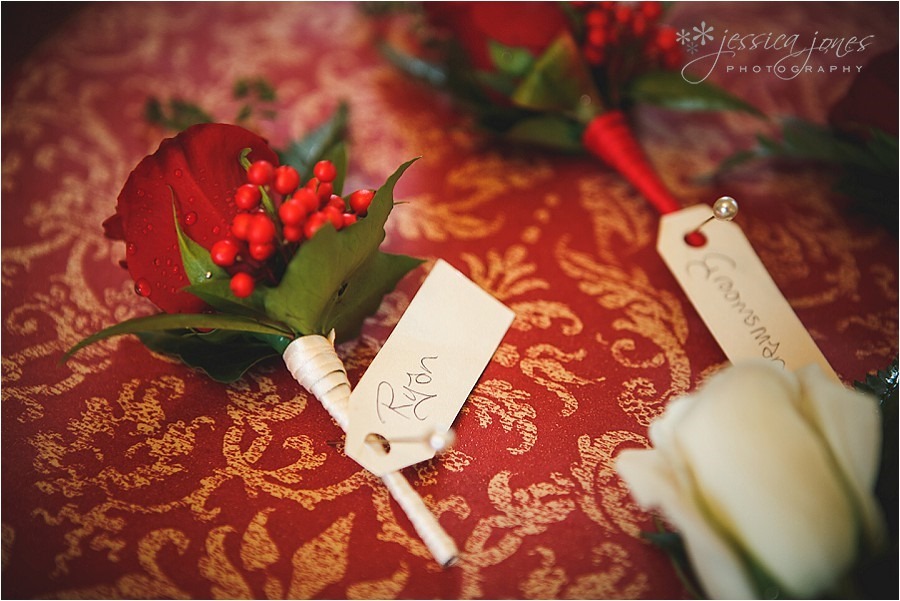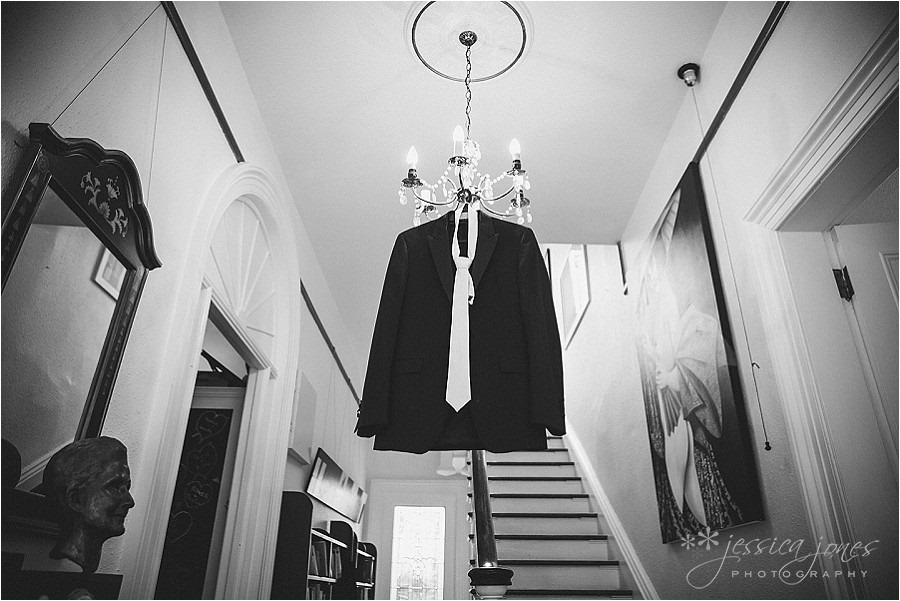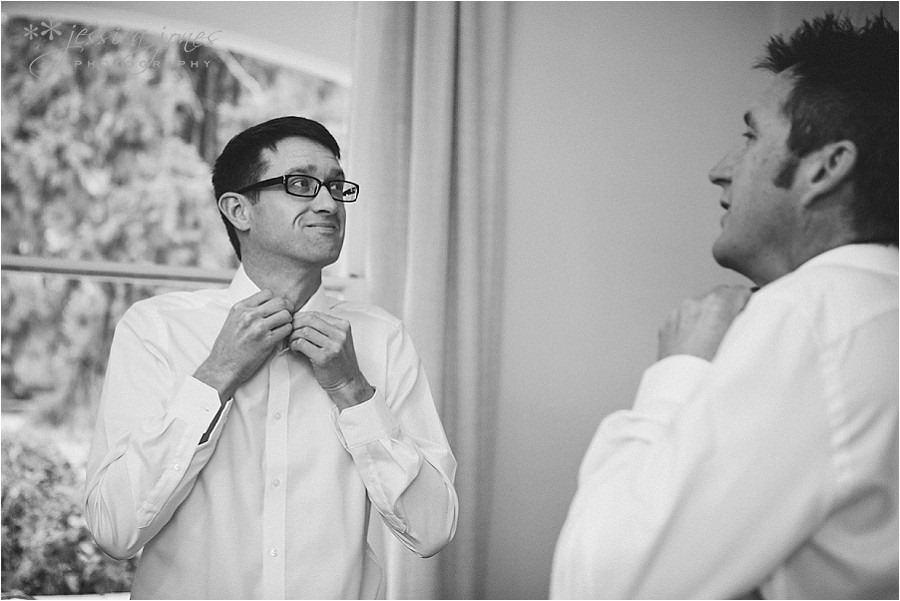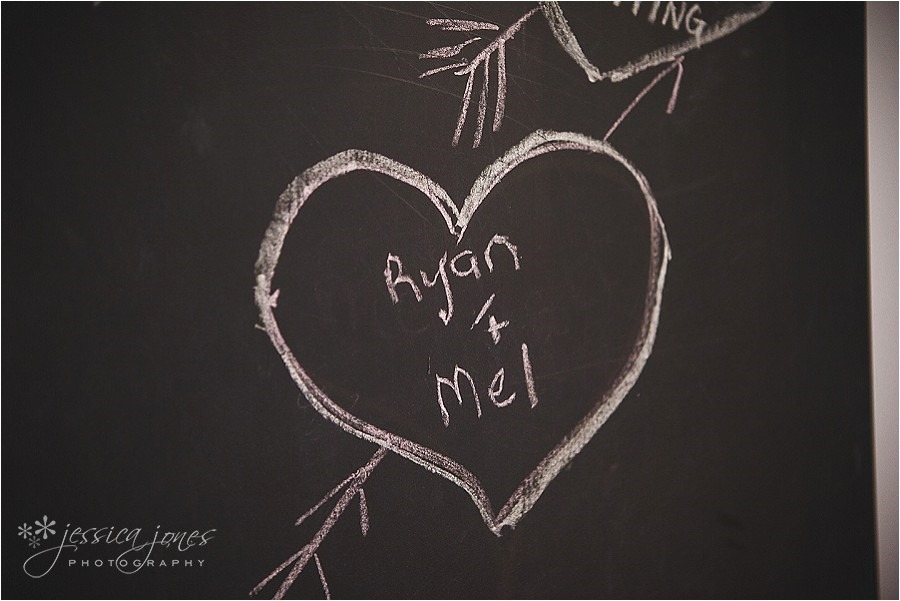 Melanie is the ultimate DIY creator.  Check out these amazing cufflinks!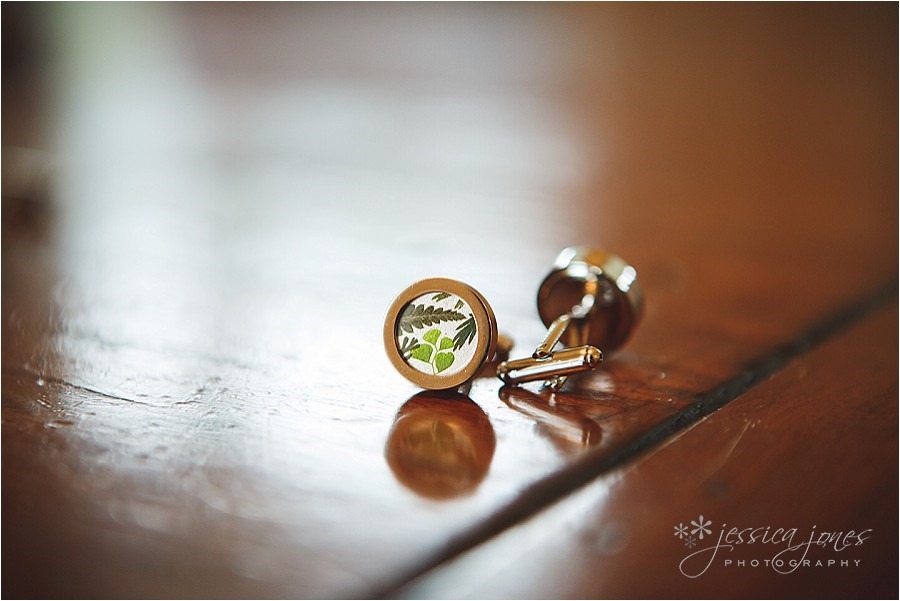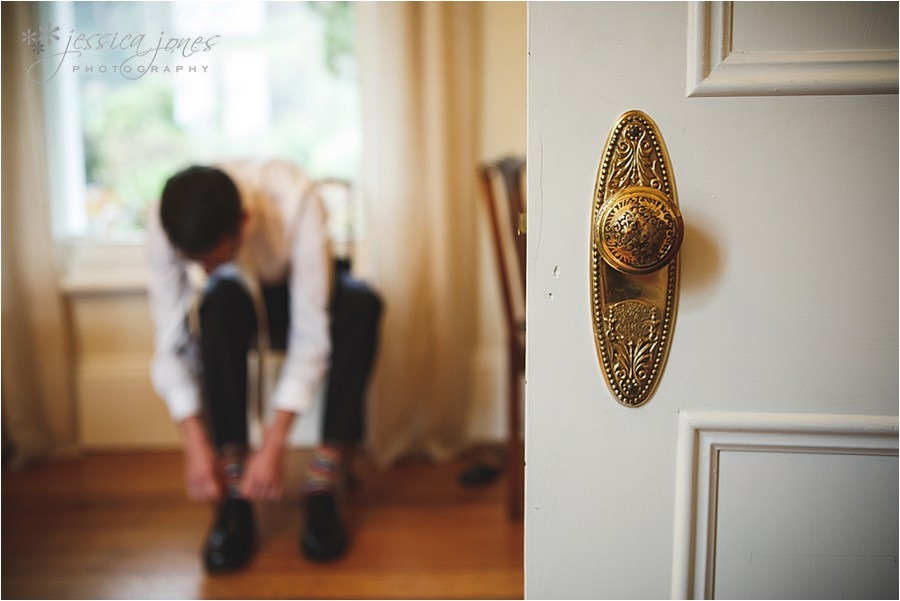 Ryan's entire family were equally welcoming to Paul and so excited to be celebrating the day.  Ryan's parents, Noeline and Keith, didn't stop smiling all day.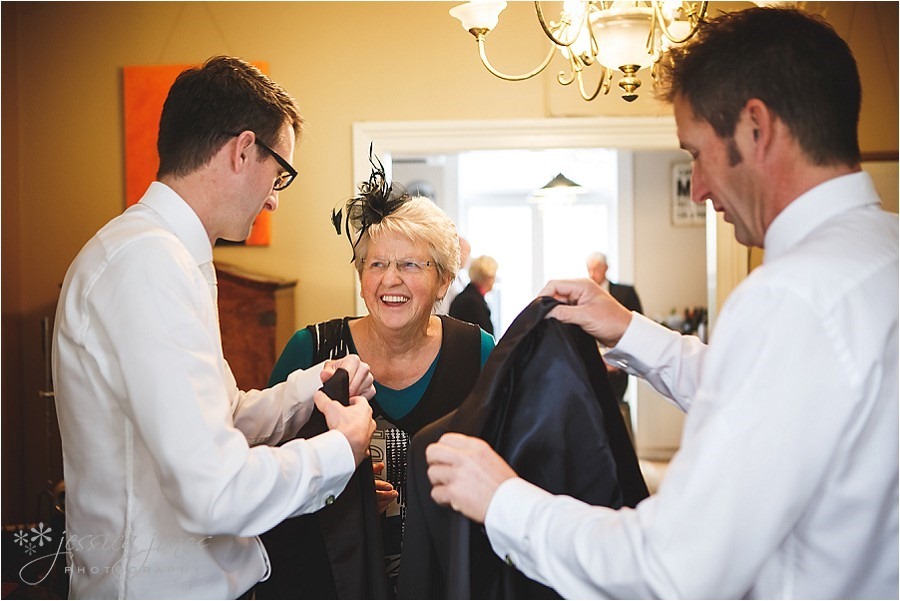 See!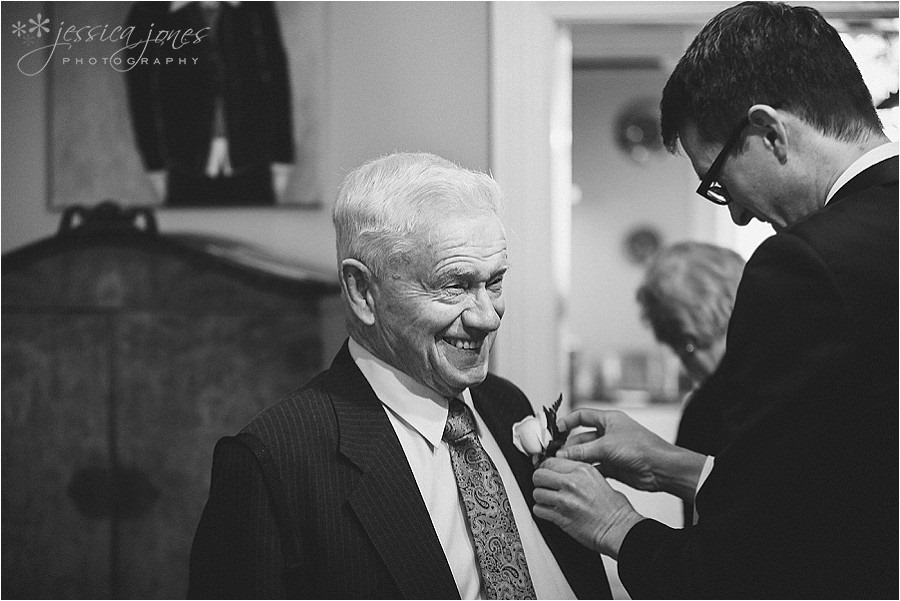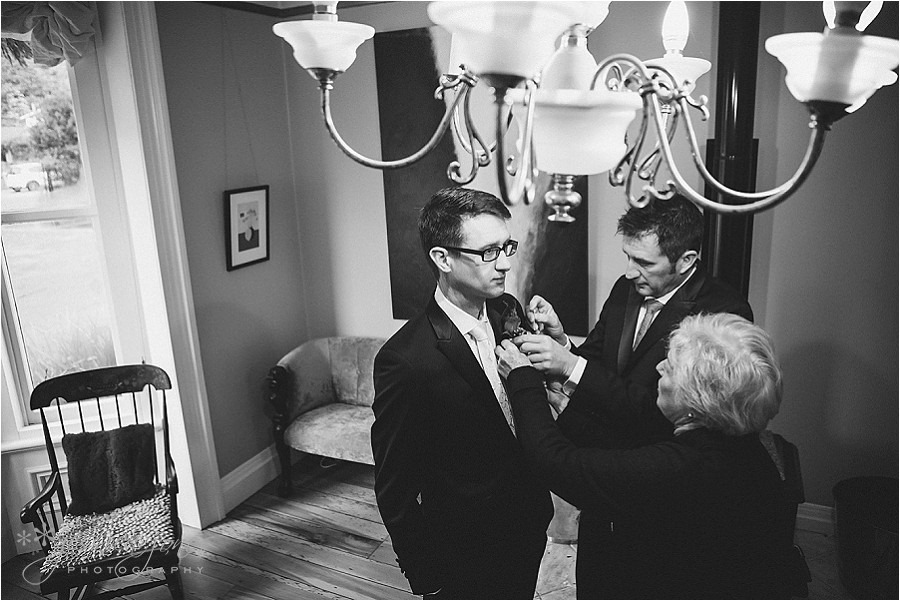 Way cuteness right here.  Way!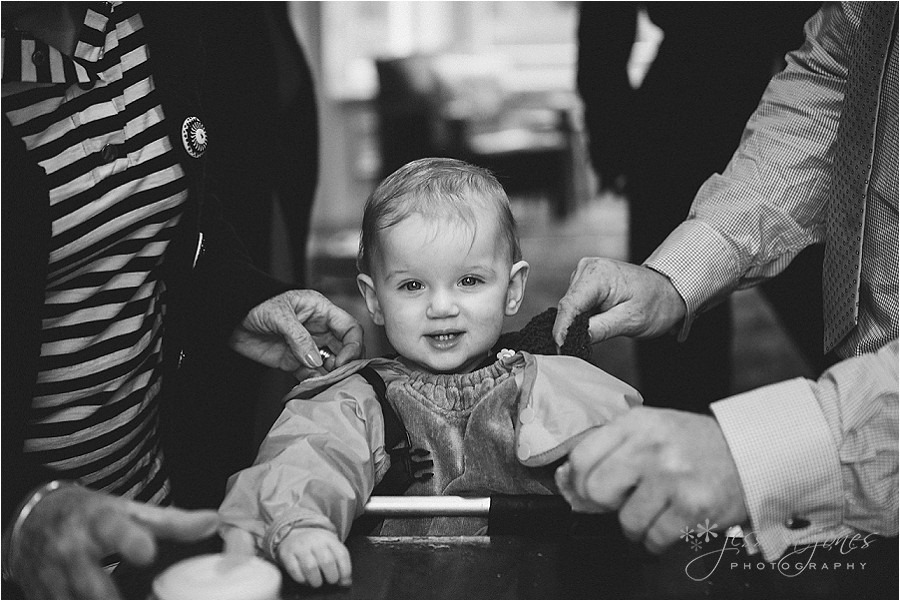 The house that the boys got ready in had this waving cat in it.  No one knew exactly who he was waving to or why, and somehow he was just a little bit annoying.  Waving there.  For no reason.  So Paul decided to create this little animation, so it could be shared with the whole world, and be remembered forever.
You're welcome.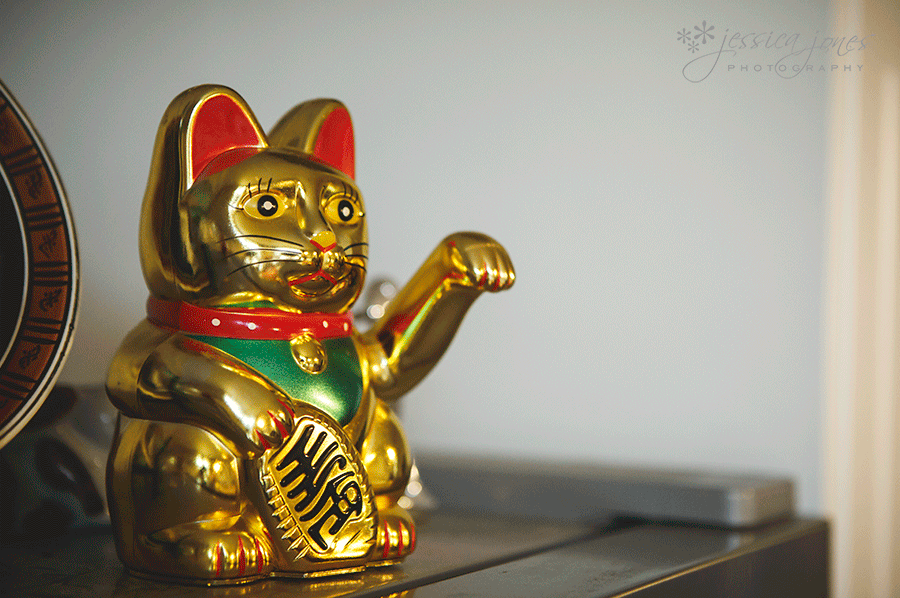 Ryan is a pretty cool guy.  Being a microbiologist proves he's smart, and cycling what sounded to me like the entire European continent makes him just a bit more epic.  He'd probably not make a big deal about it himself though, as was mentioned several times during the speeches – why say 10 words when 1 or 2 will do?  Ryan doesn't feel the need to fill silences with his voice.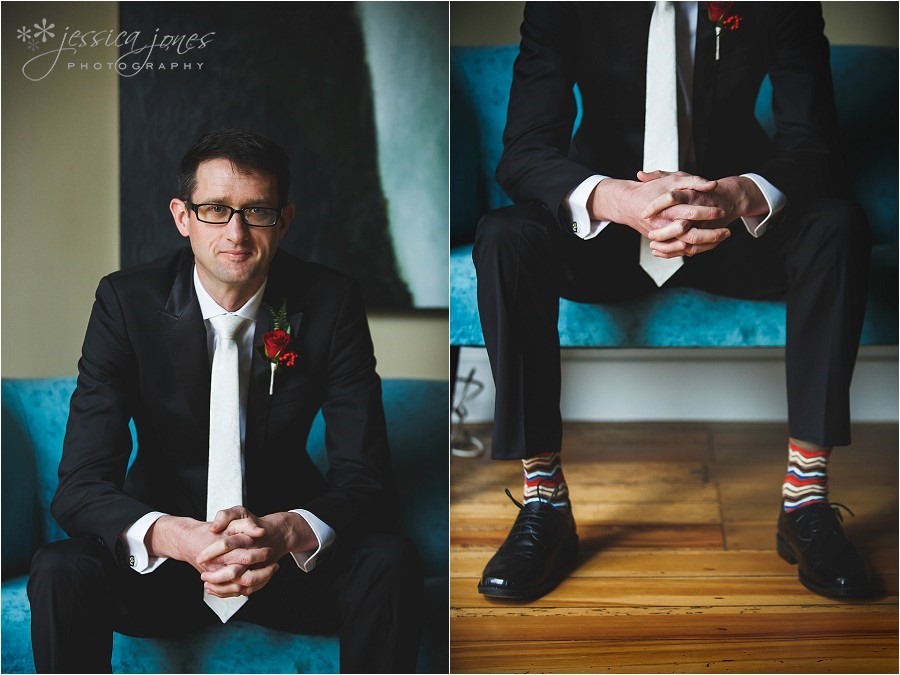 Meet Ryan's nephews, Jamie and Daniel.  Two talented young men who were asked to create something special to hold the rings in as they walked down the aisle.  It was to be a surprise for Ryan and Melanie.  Little did they know that not only would their clever creations be a surprise for the room, the photographer would find a way to shake things up as well.  Gulp.  I'll tell you soon.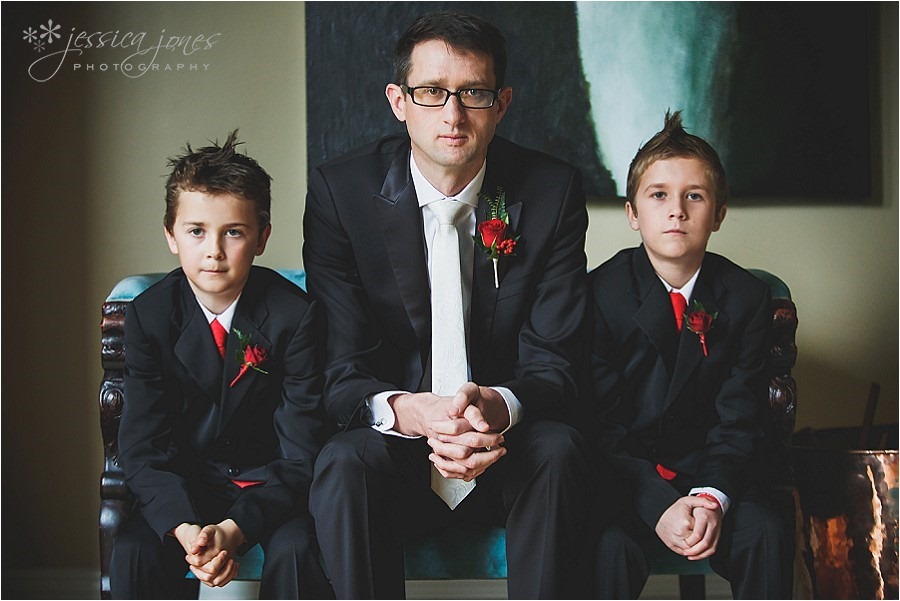 The beautiful bride arrives!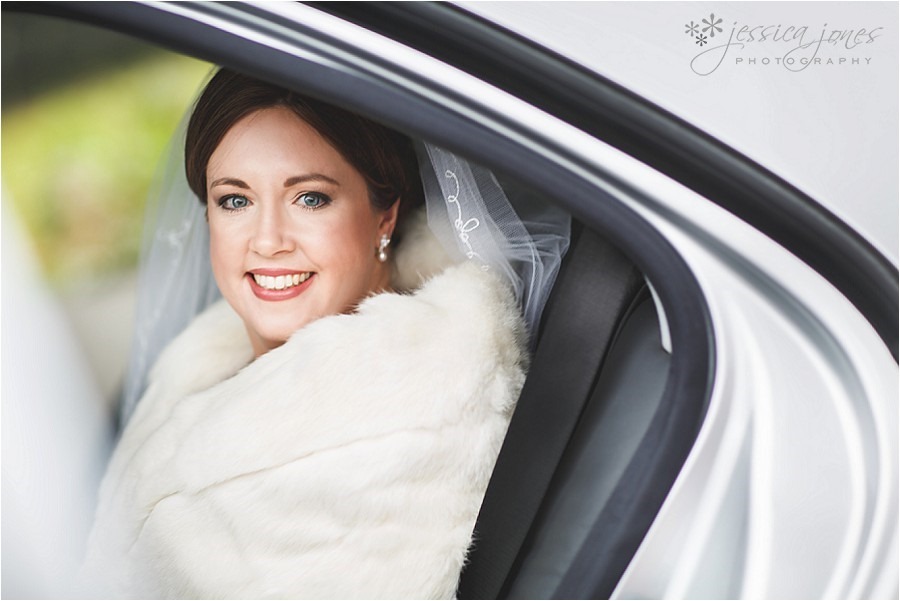 While outside the day was dreary, inside was drenched in Melanie's clever design work, she envisioned and created just about every part the day.  She is one clever cookie indeed!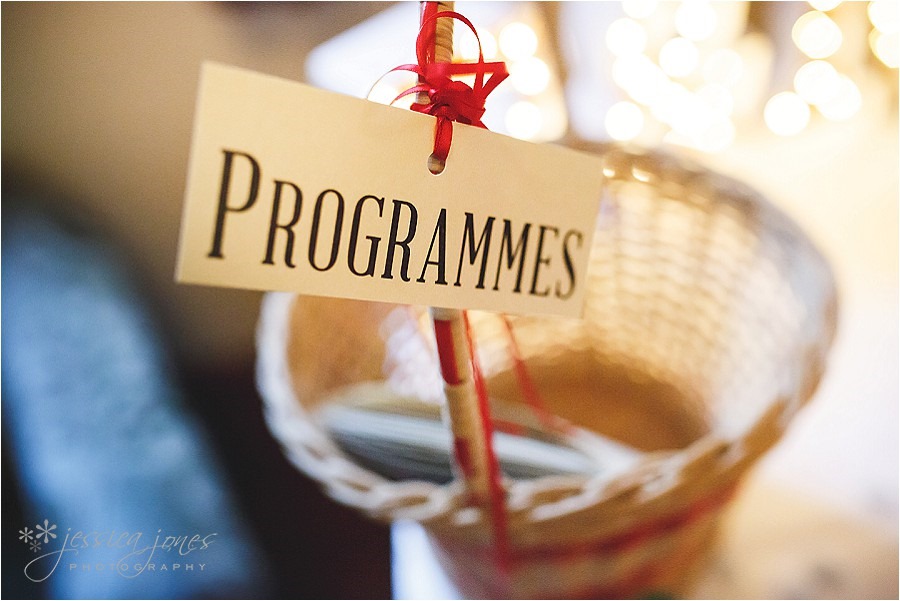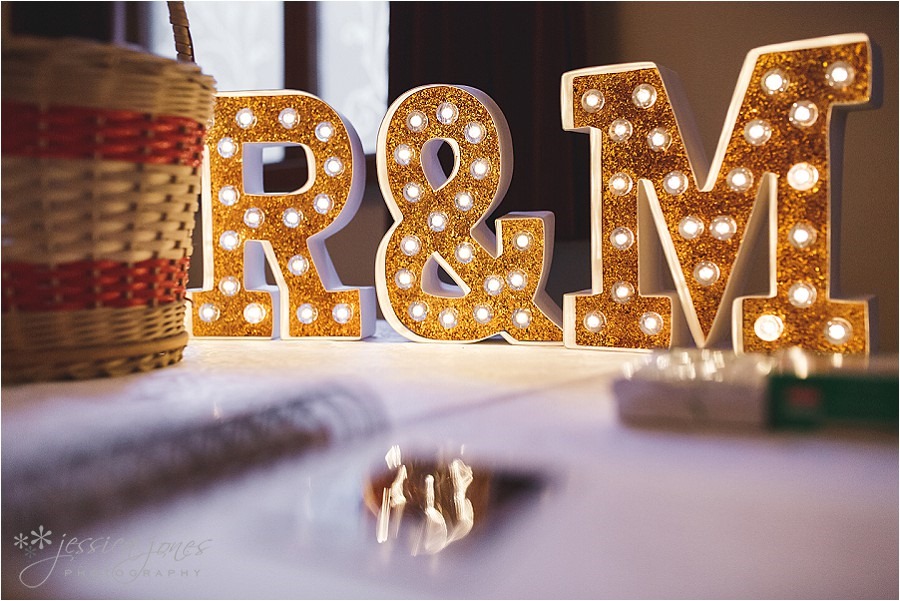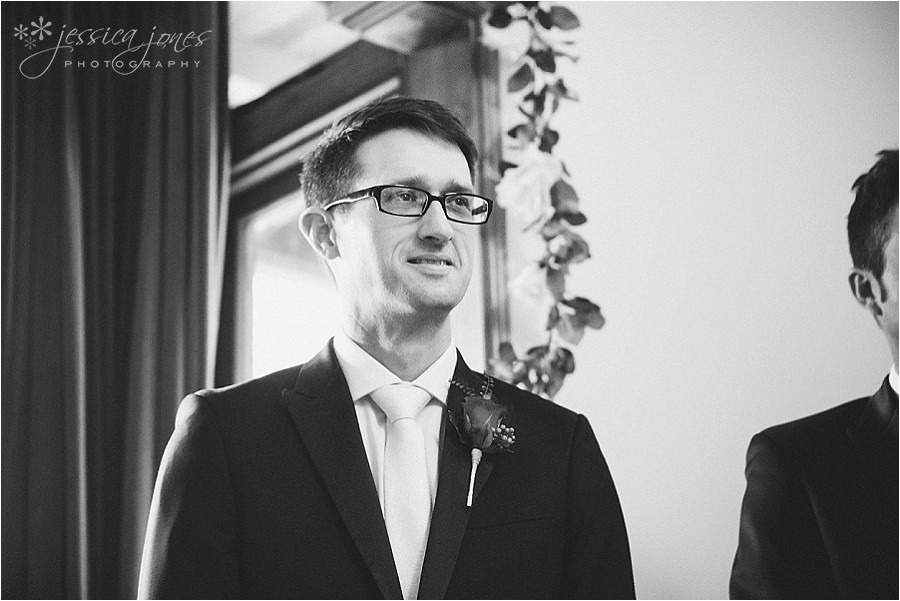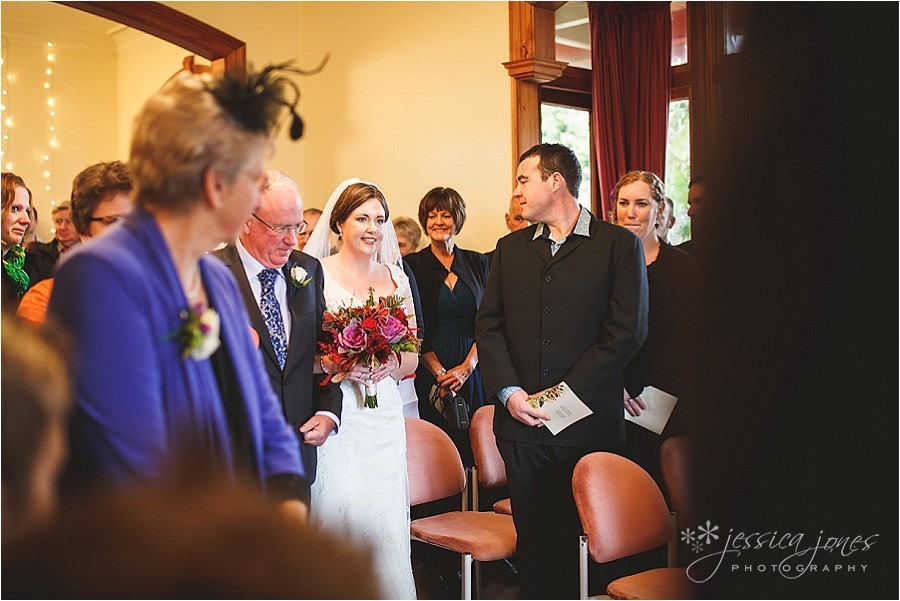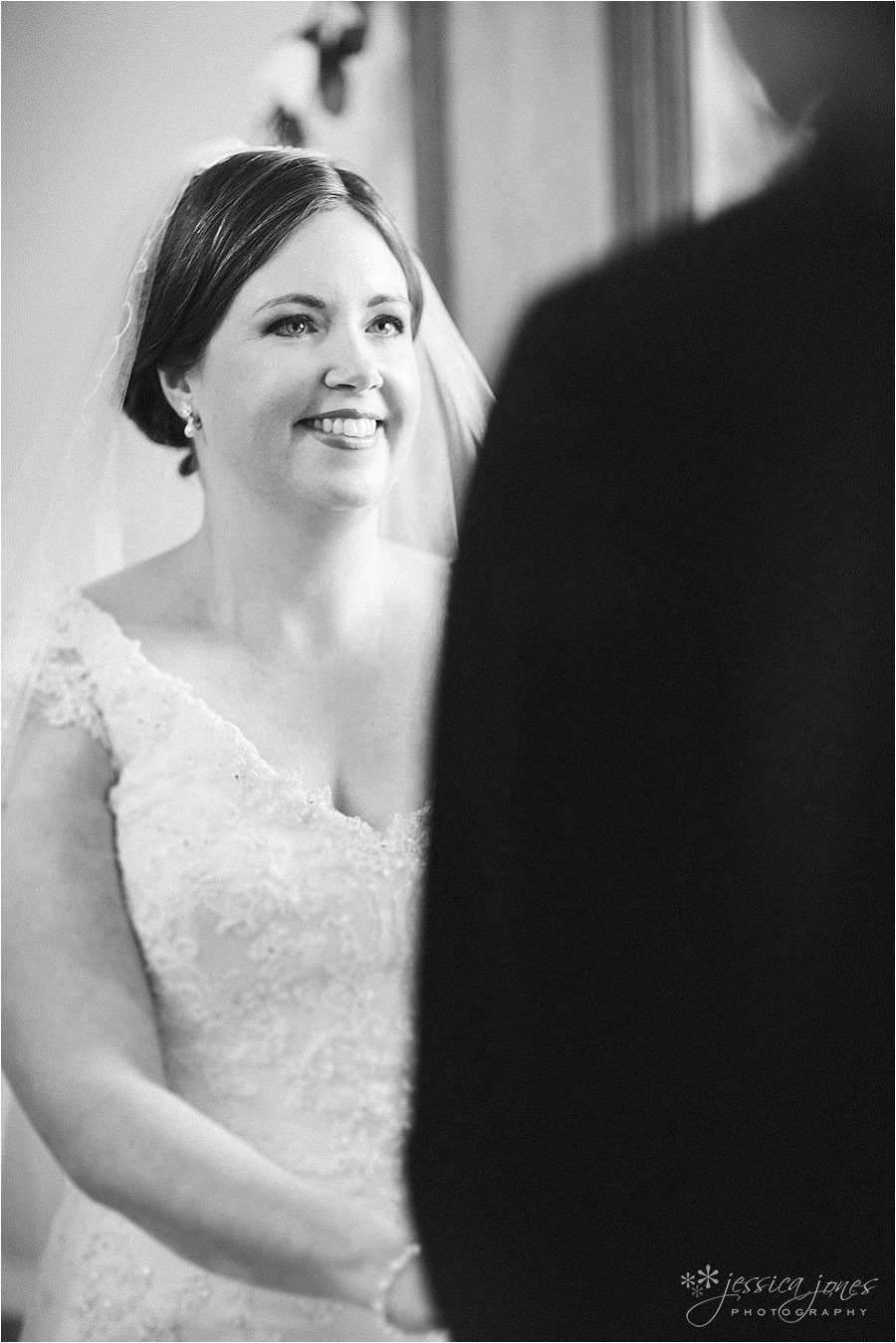 So here they are.  Proud as punch of their marvellous creations.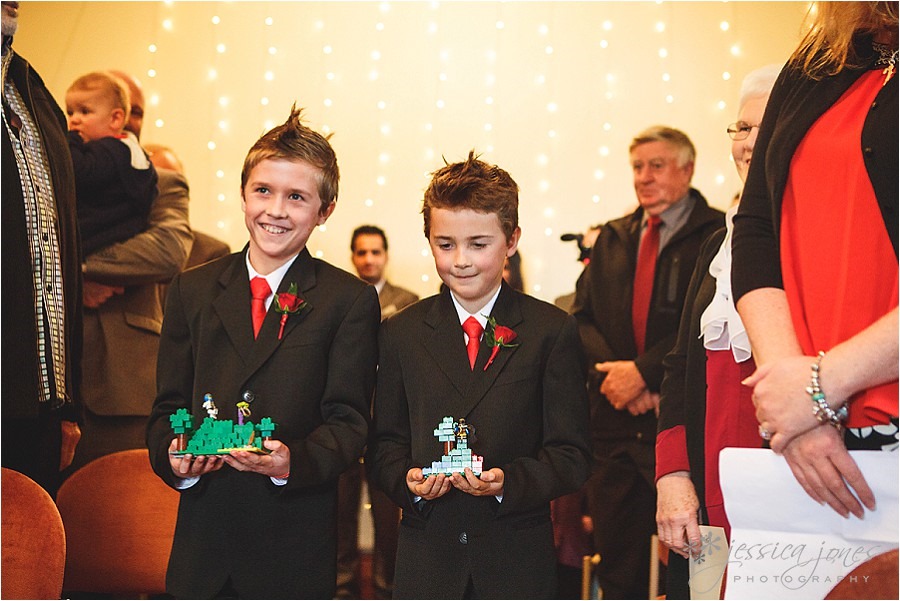 So, do you want to hear the story?  Of course you do.
Ok, so here's the thing.  I wrestled with the idea of even sharing this story because I'm still somewhat messed up about it, but I've decided you might as well all hear about it, and perhaps commiserate with me.
After the presenting of the rings to Ryan and Melanie, the boys stepped back in their place.  I didn't realise that one of the creations had been put on a little bench seat just where I was standing and as I took a step to the right I heard an almighty crash, I looked down to see a million pieces of Lego, like tiny pieces of the little boy's broken heart, strewn all around my feet.  The entire ceremony stopped, and looked at me, and while they were laughing I was both dying on the inside and trying not to cry.  There were just too many pieces lying on the floor, I couldn't fix it.  Not now.  Praying for the floor boards to swallow me alive I noticed the ceremony just carried on.  No one came at me with pitch forks.

Somehow, as if the whole day wasn't actually about the stupid photographer and her absentminded step to the right, everyone directed their attention back to Melanie and Ryan, who were pronounced to be HUSBAND and WIFE!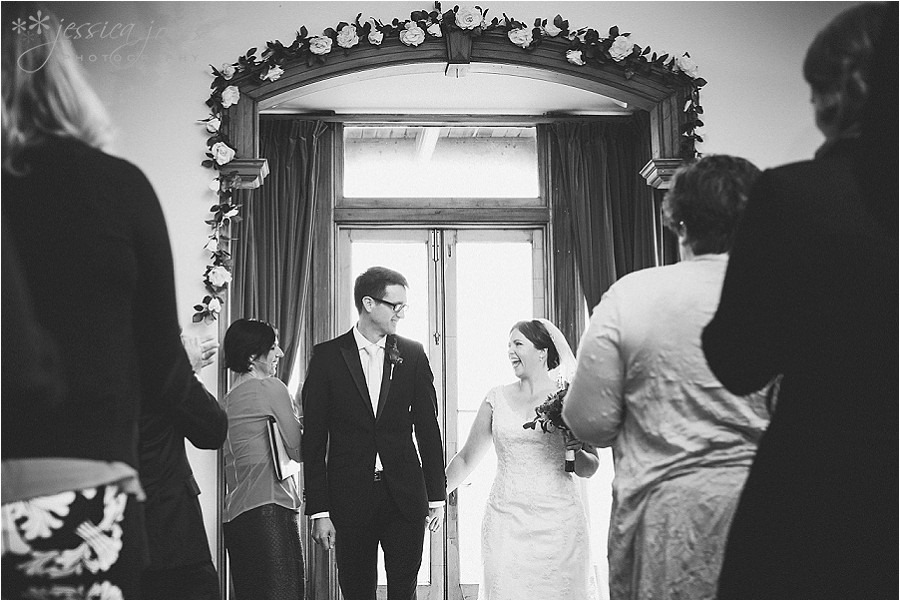 And everyone was happy!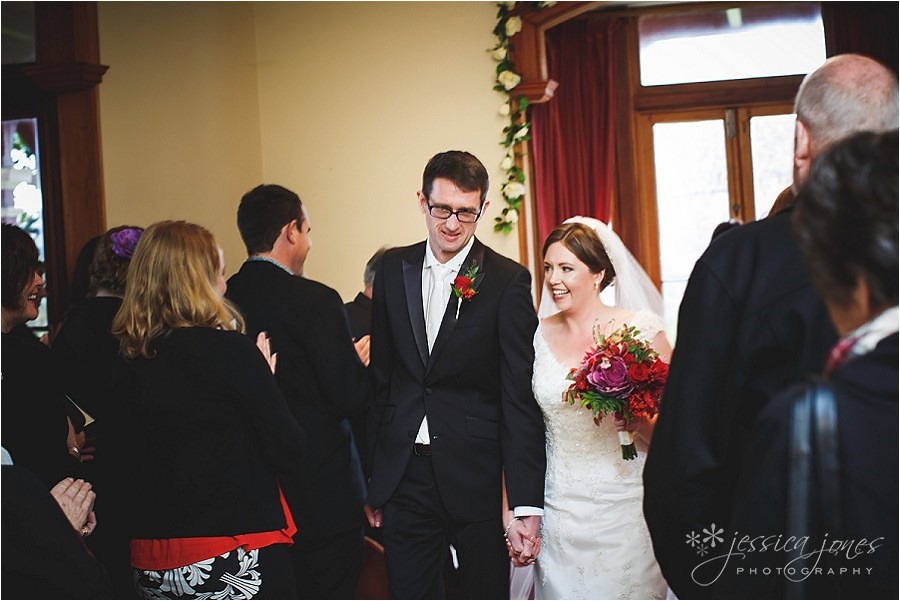 Oh, and just in case I didn't make myself sound pathetic enough in the story about the Lego.  It gets worse.
I HAD NO VOICE!  Well, I had about 10% of my voice.  It was not good.  You see, I rely on my voice quite a lot.  I spend more time on a wedding day speaking than taking photos, which became painfully obvious when trying to do what I normally do at this wedding!  Thankfully I had Paul take over the role of team mascot, and he managed to pull off all of the talky things I would normally do, for which I am hugely thankful!
This also left me with another problem.  If there was every another wedding in which I publically broke something (don't worry, in almost 200 weddings, this is it!) I would be able to easily apologise and try to somehow smooth this whole thing over by saying sorry to anyone who would listen.  But noooooo…. not this time.  You need a decent voice for that.
So in lieu of my public apology about the Lego on the day, here it is, loud and clear.  I'm sorry about the Lego!  Like, REALLY sorry about the Lego.  I'm also very thankful that it was able to be put back together again after the ceremony.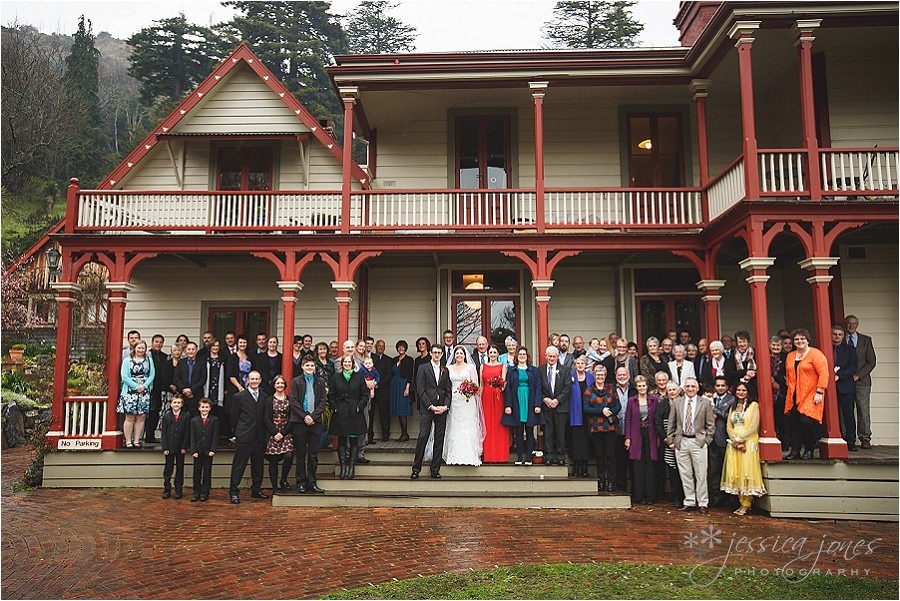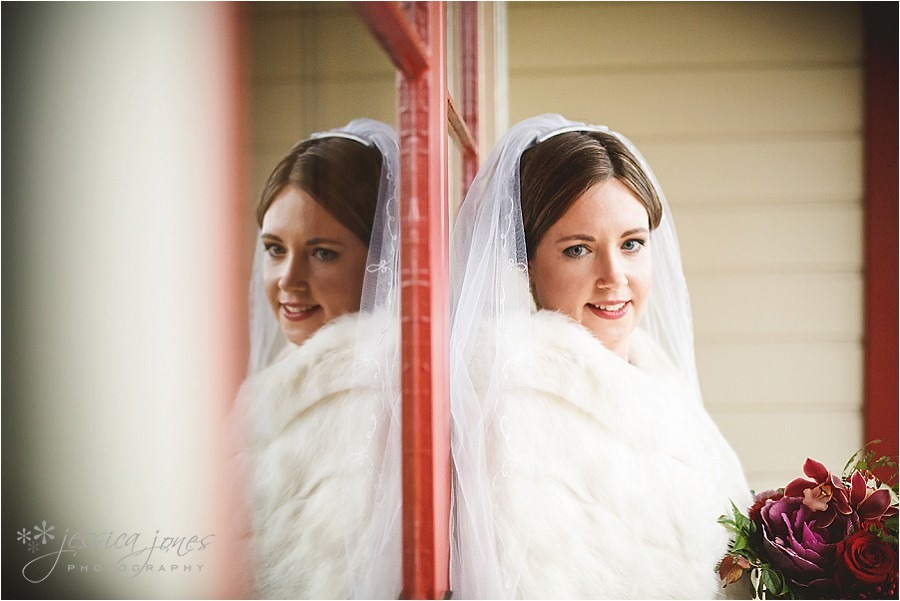 After the ceremony and family photos, we snuck the bridal party around the corner to Melrose House.  I love every opportunity to photograph in a new place, and this was no exception!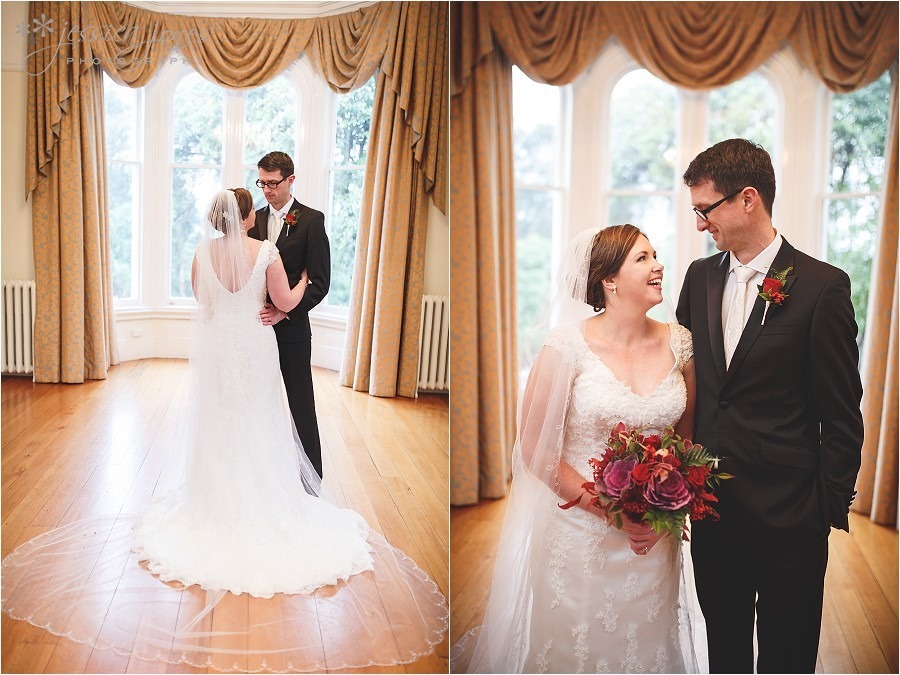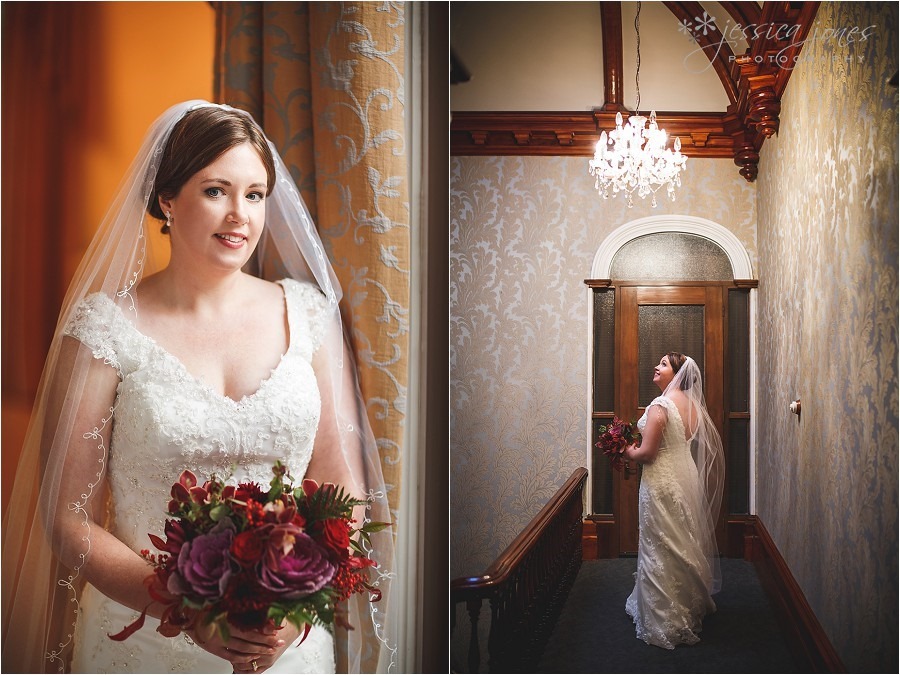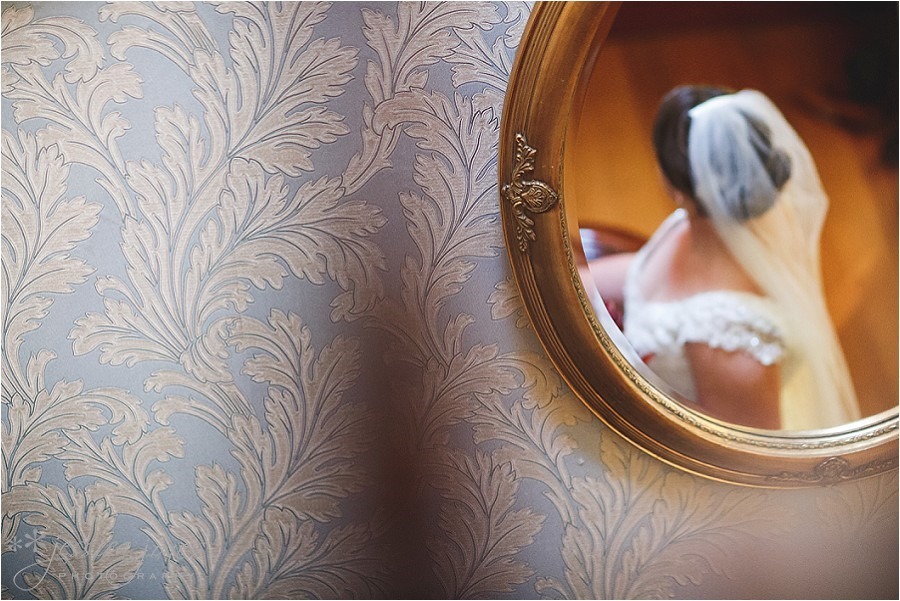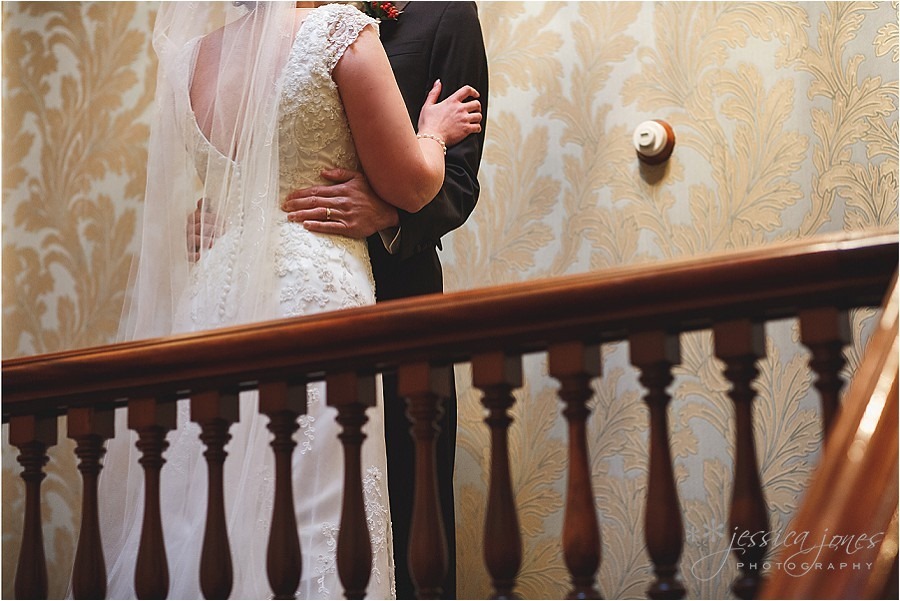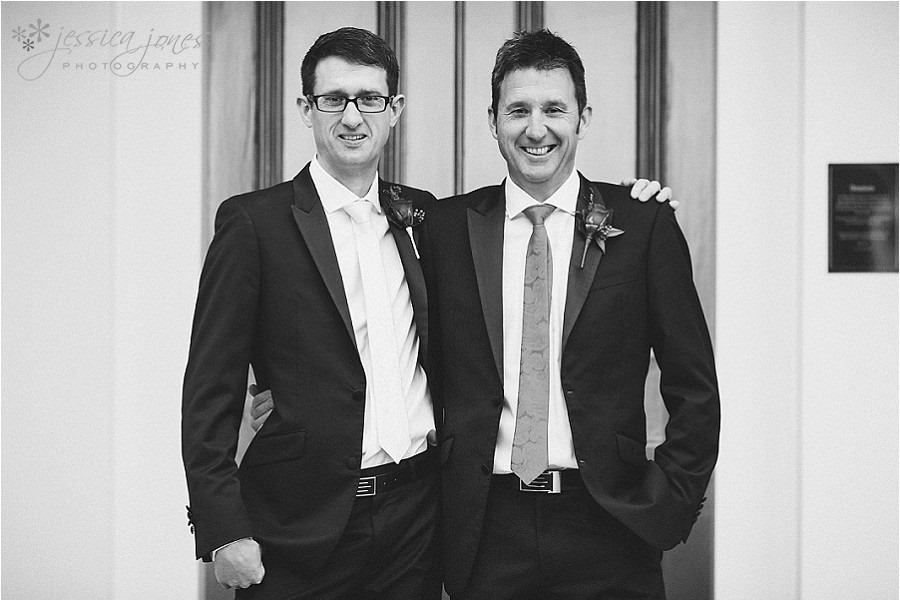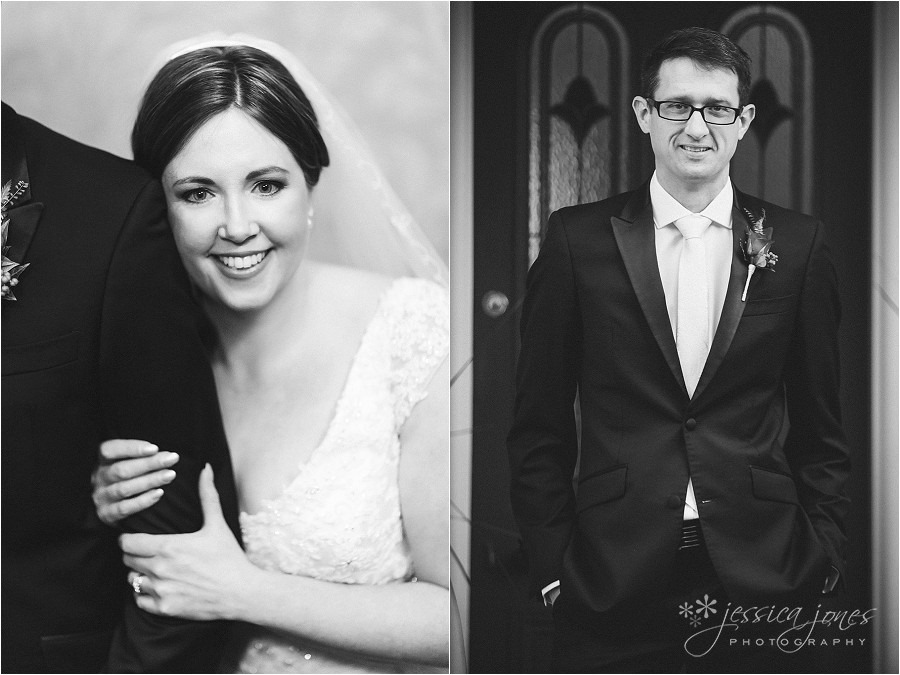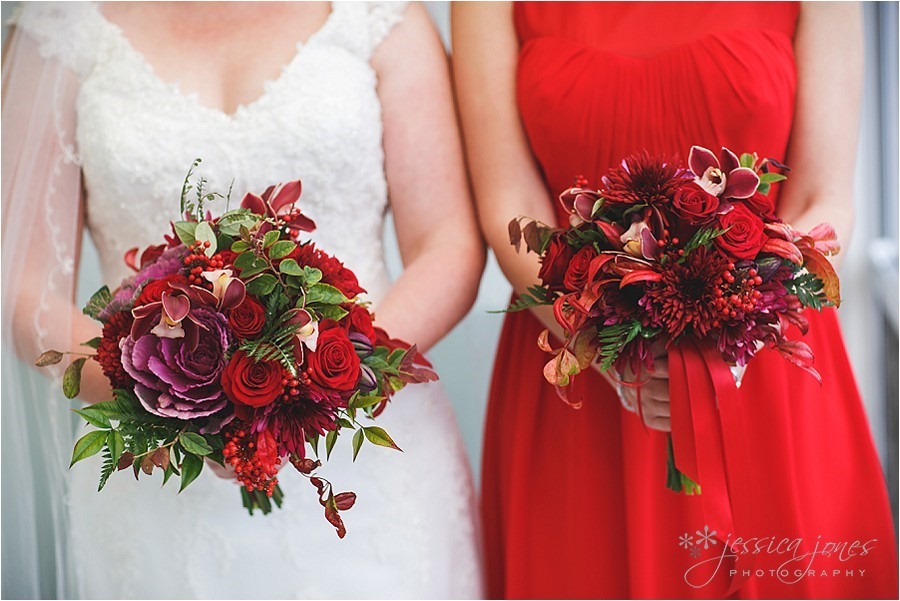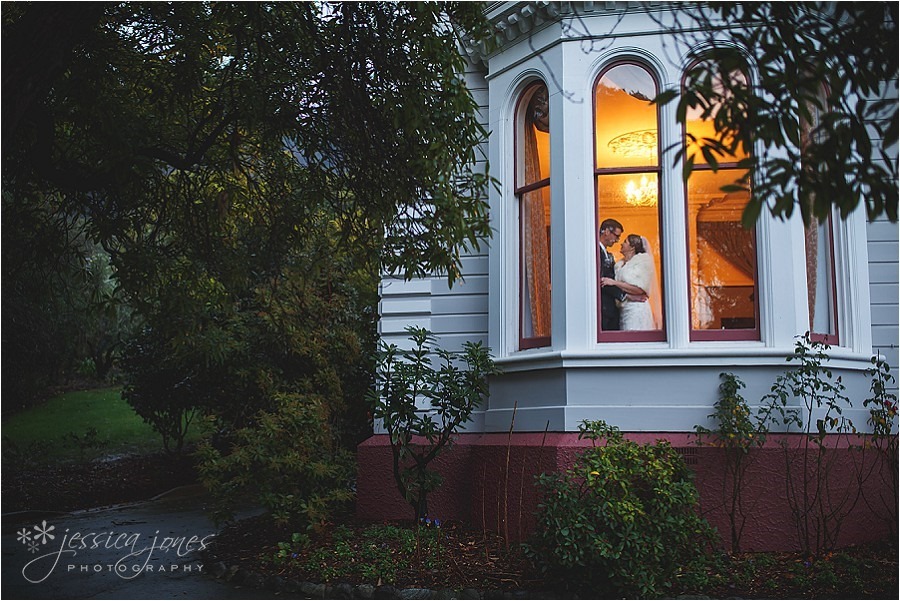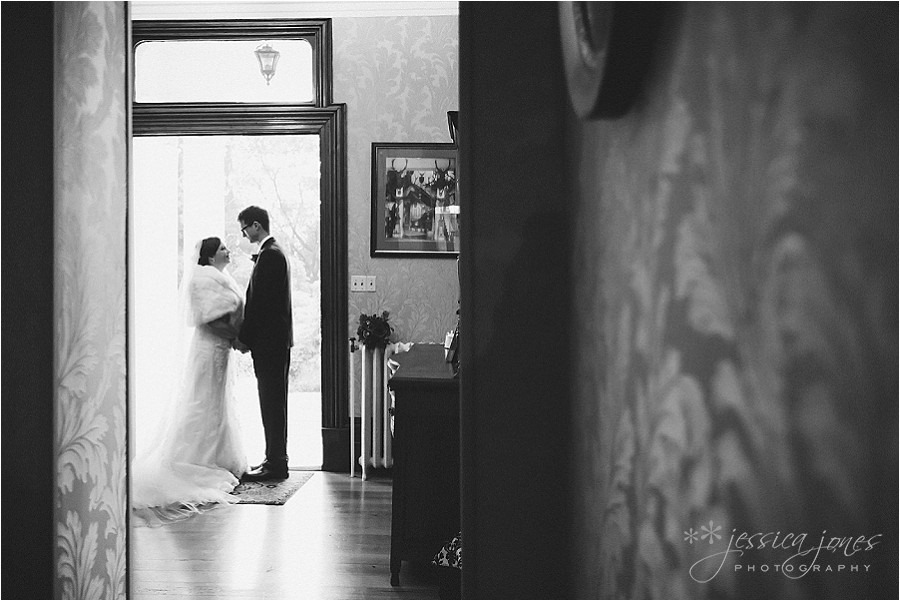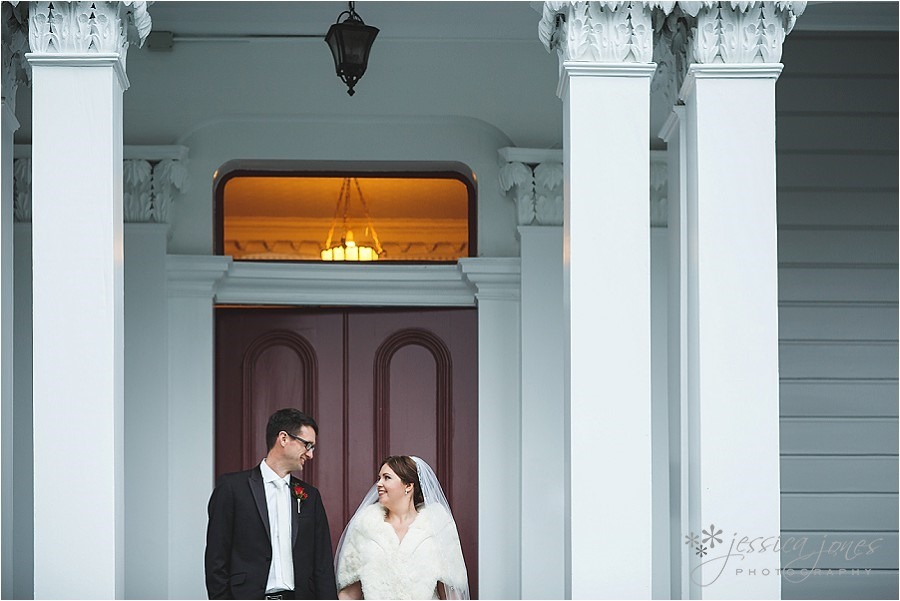 Once we'd had our play we re-joined the rest of the wedding guests and watched the reception unfold!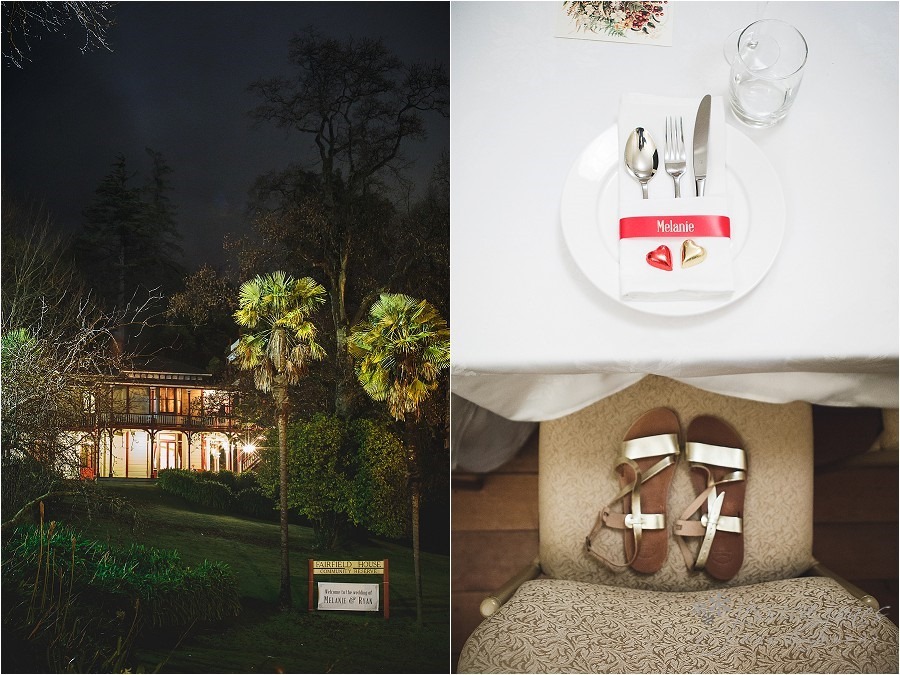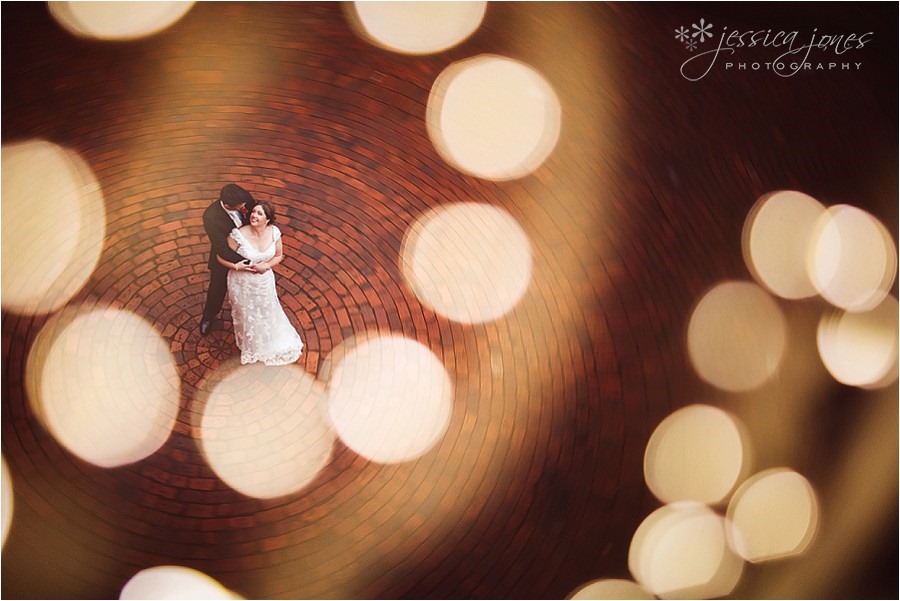 And inside are more cleverly made creations by Melanie!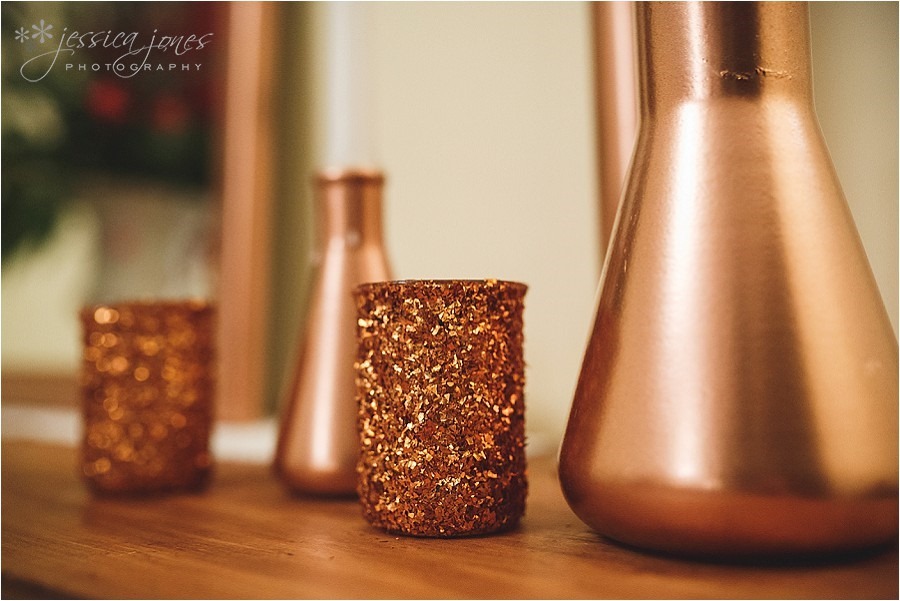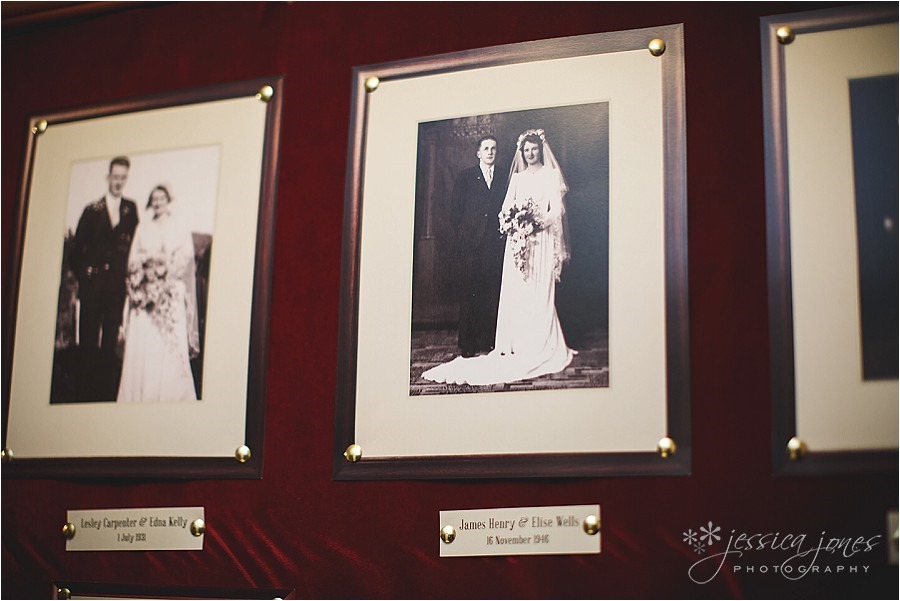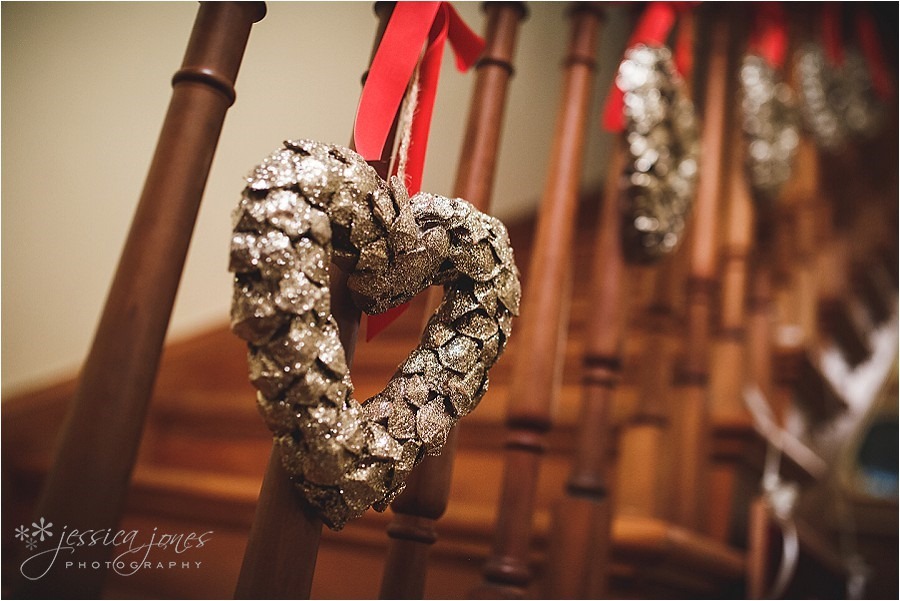 Because Ryan and Melanie met at a Pub Quiz, they thought it might be fun to kick the evening off with a wedding quiz for the guests.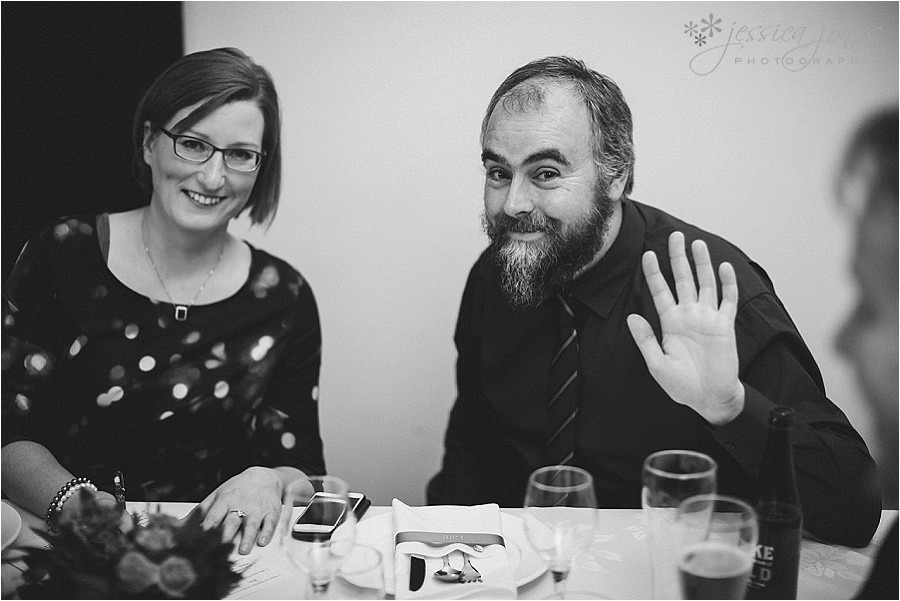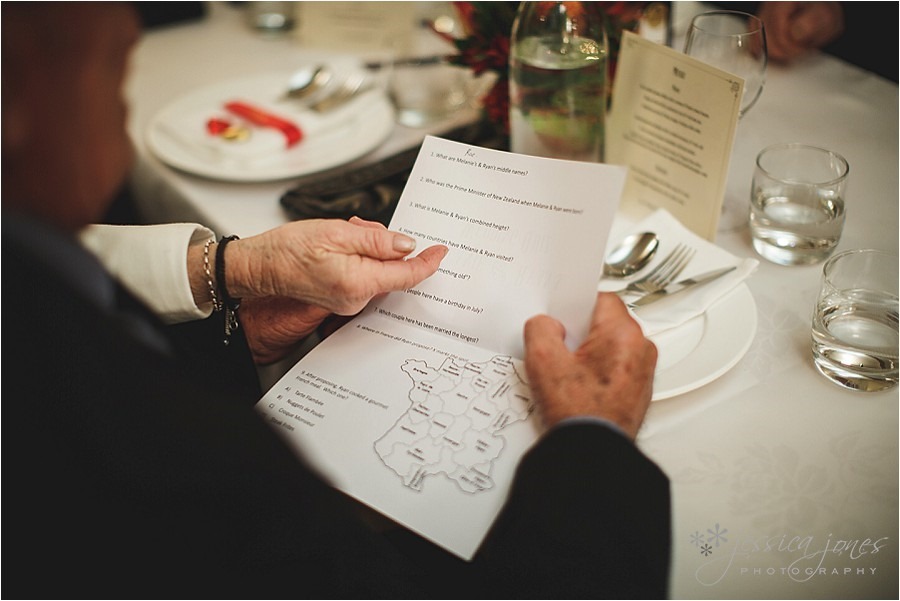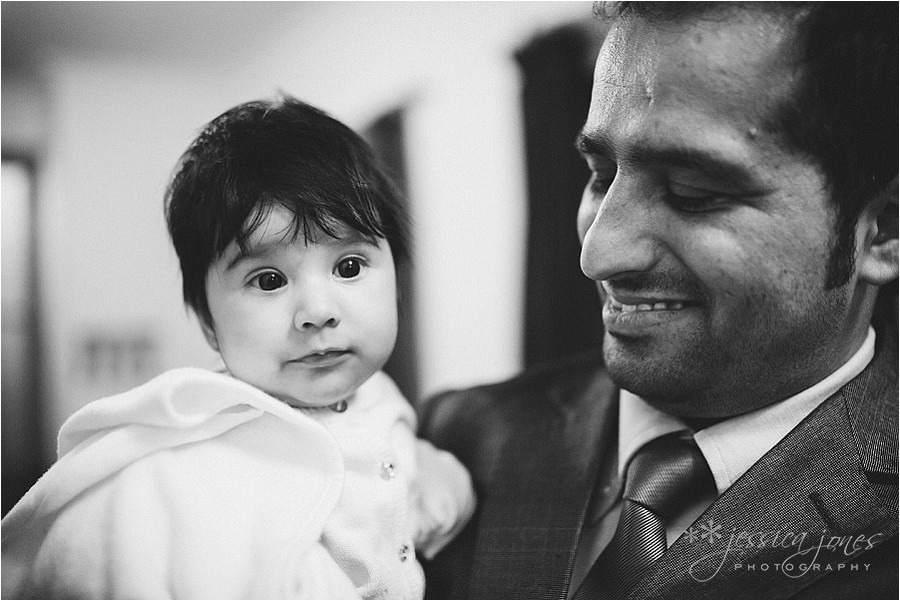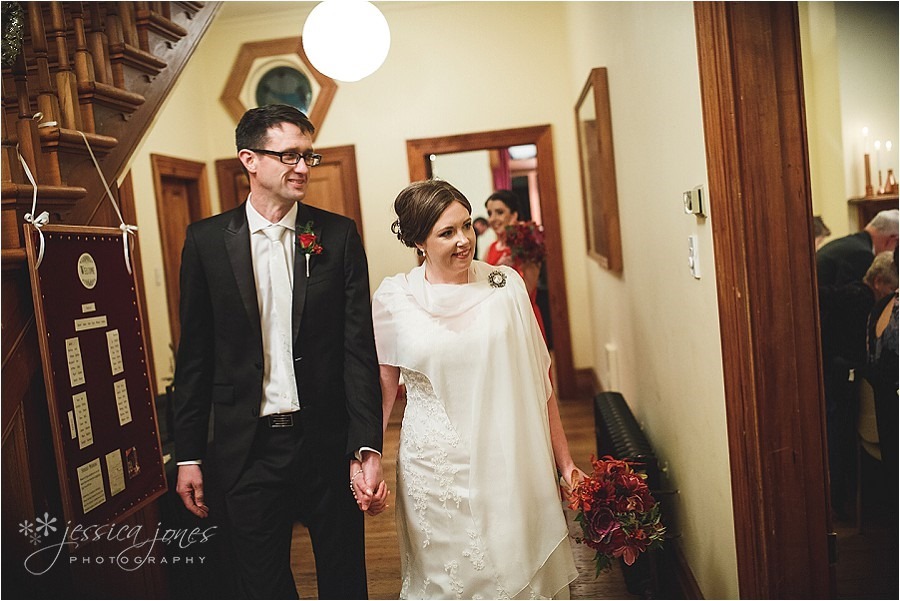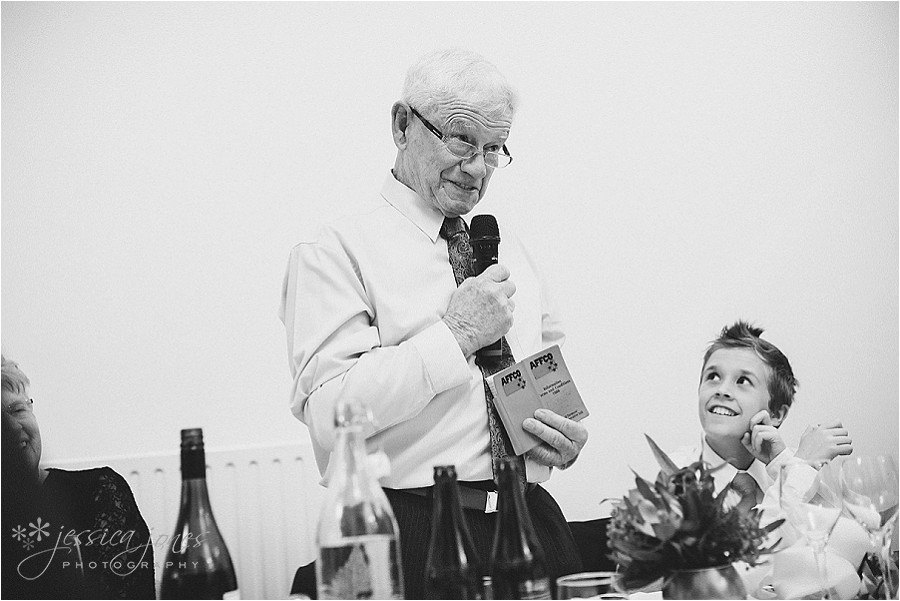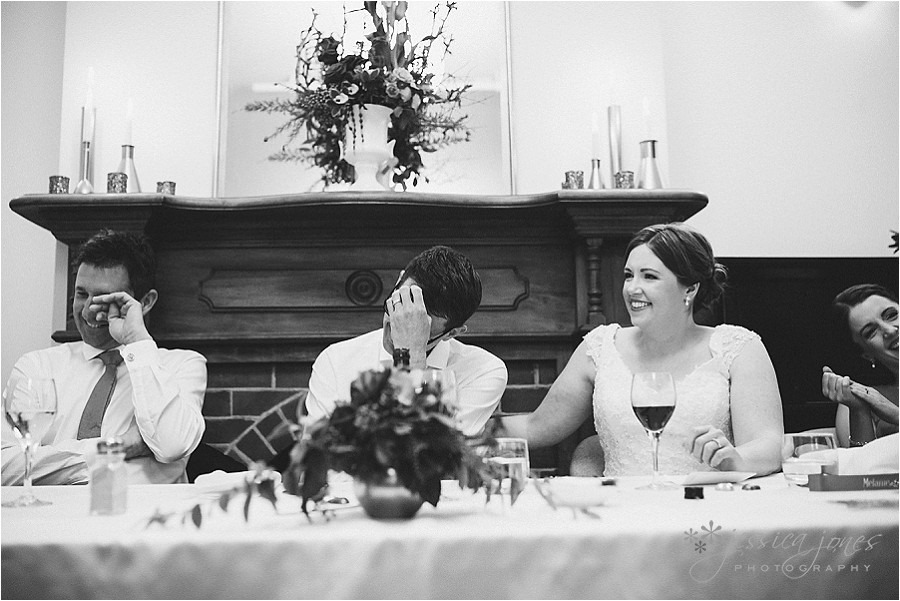 Anybody who thinks to do a selfie of themselves with their wedding cake figurines, goes on my 'cool couple' list.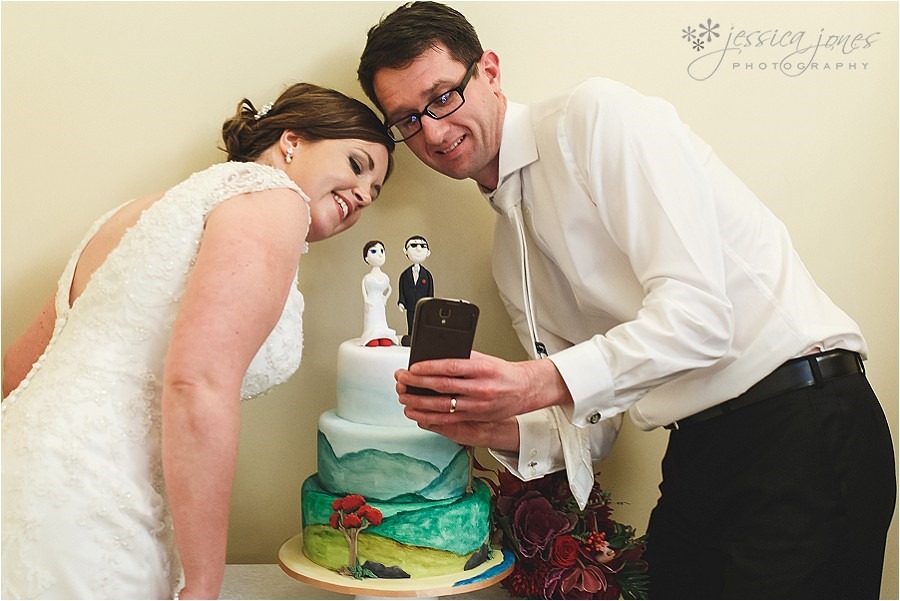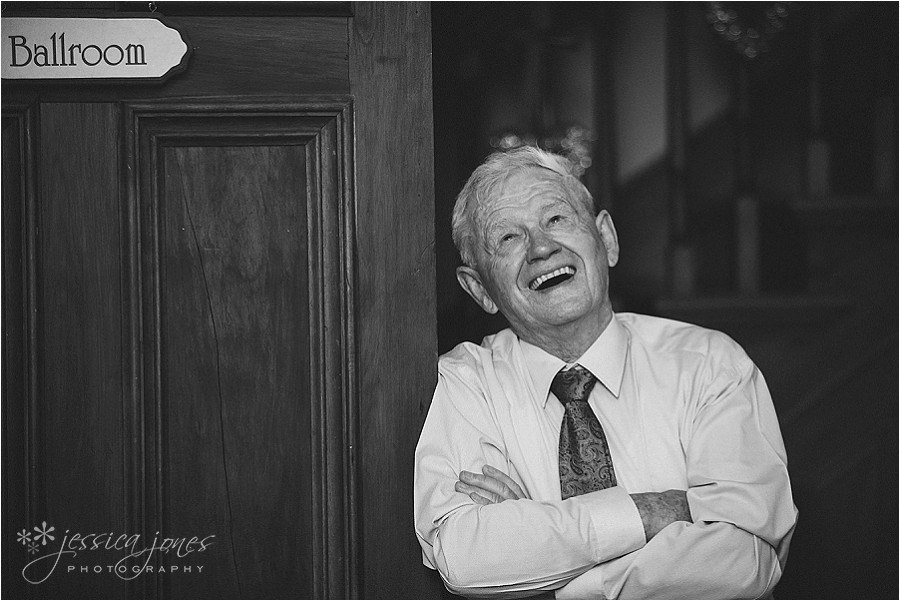 Just as the last speech wrapped up it was time for the first dance… but this wasn't just any first dance.  This was a conga, and it included everyone!  So, surprise everyone!  Don this feather boa, these crazy hats or bunny ears and follow us onto the dance floor!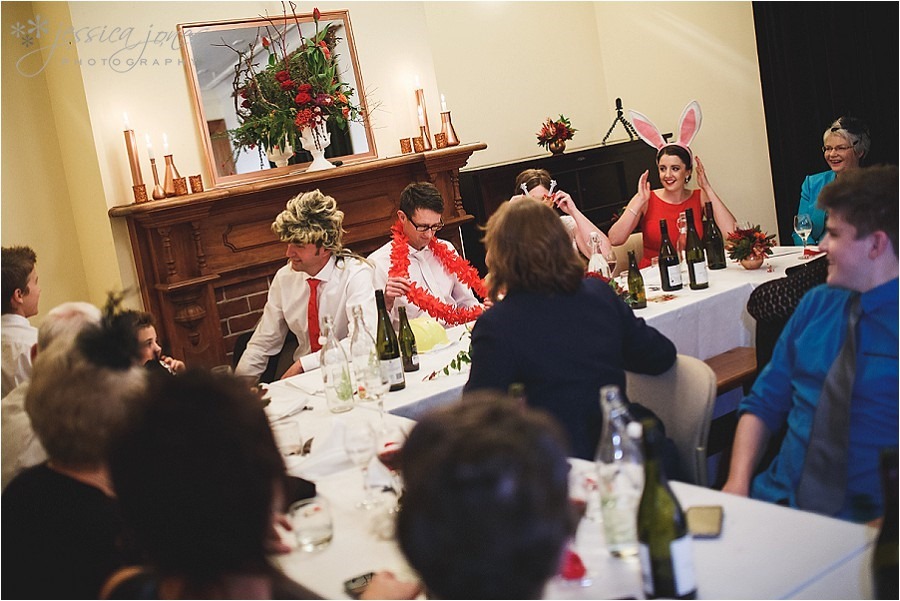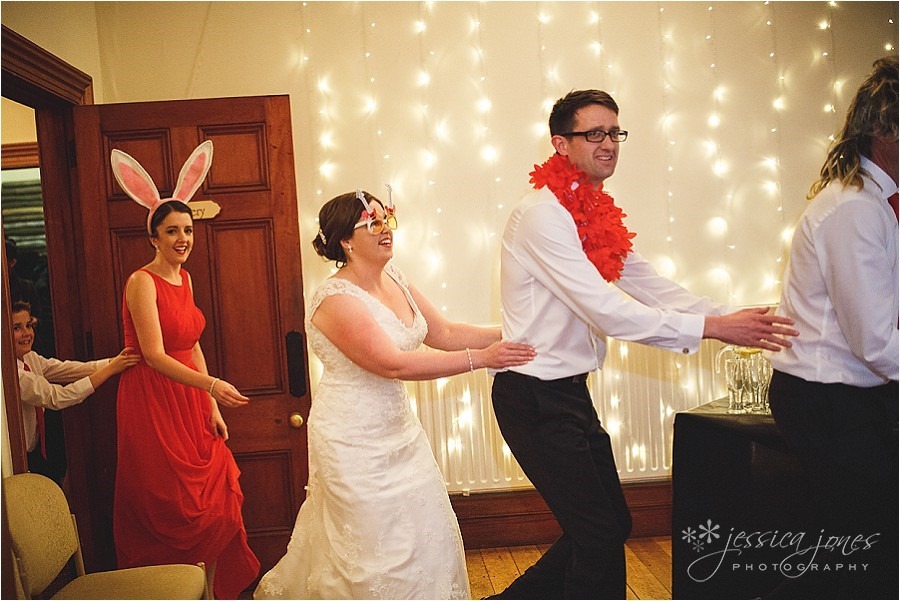 Nobody was to be left behind!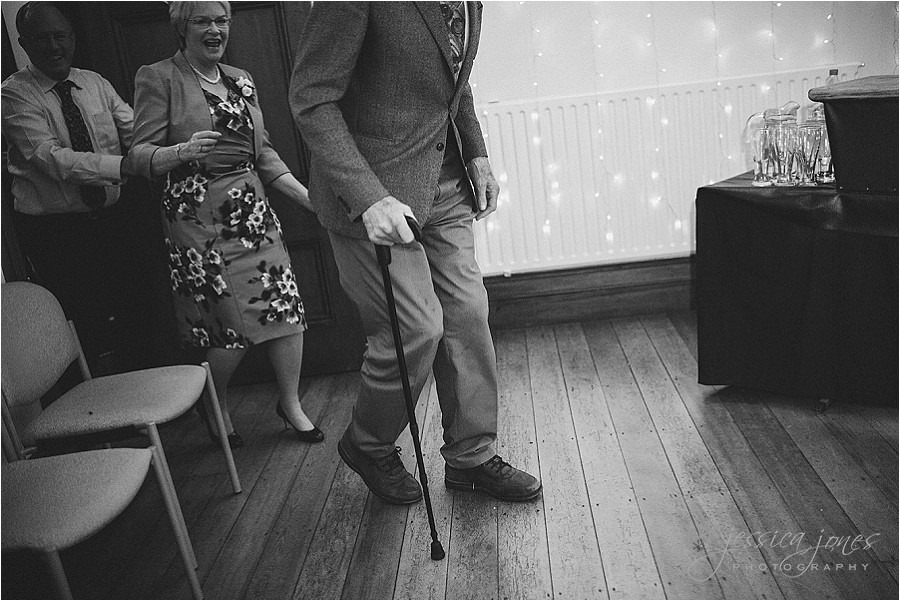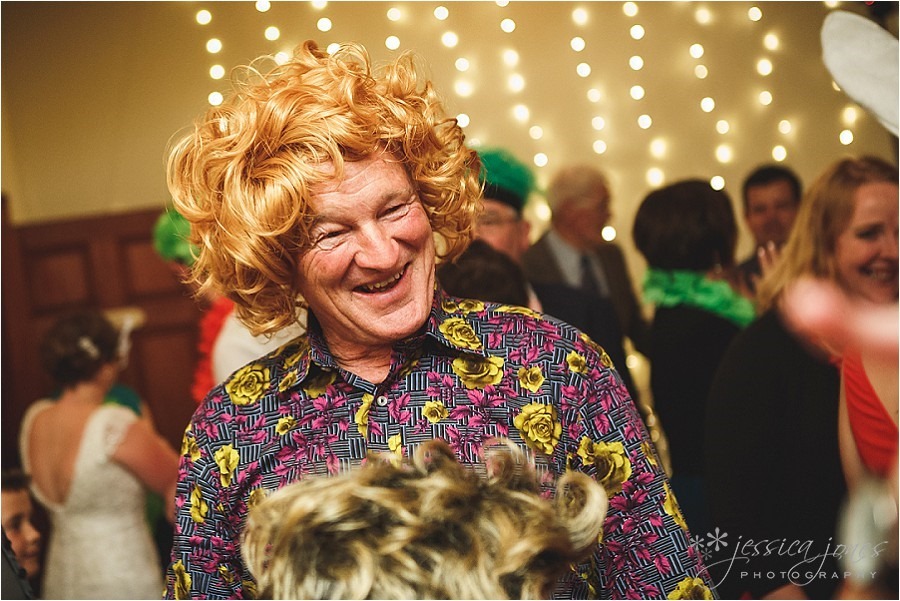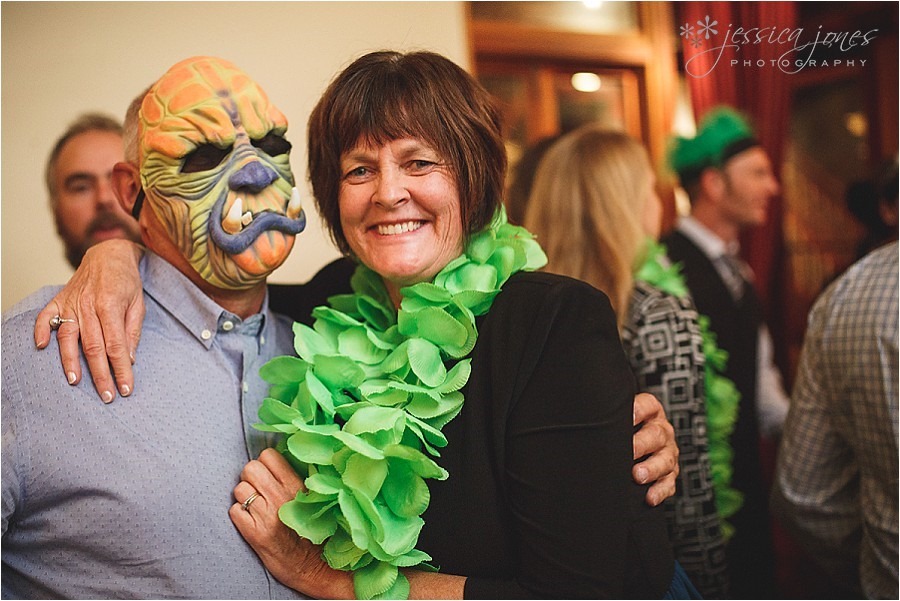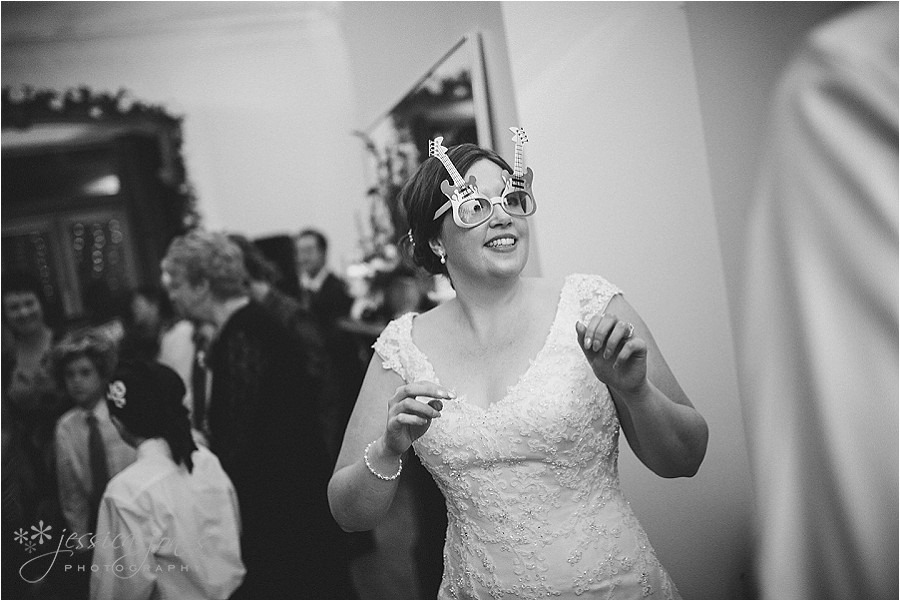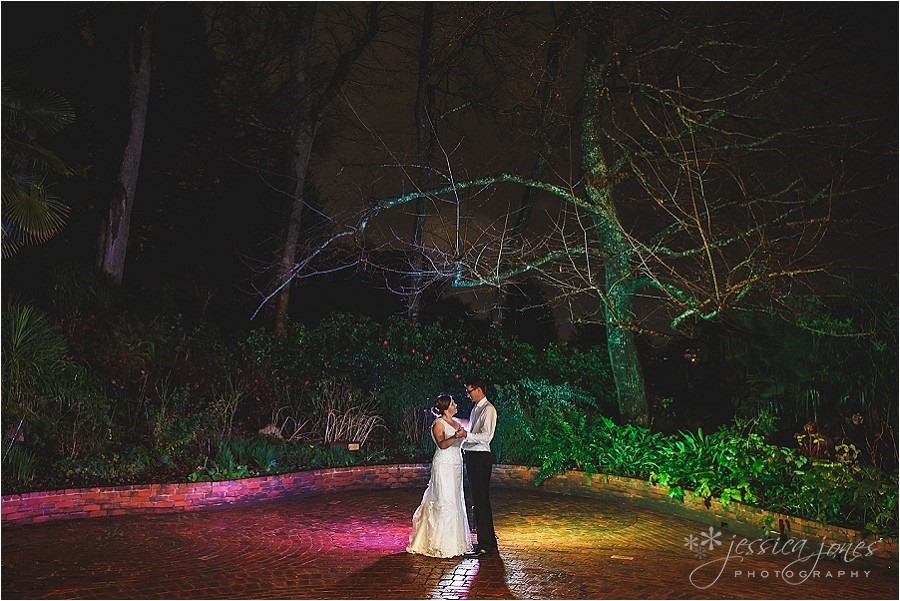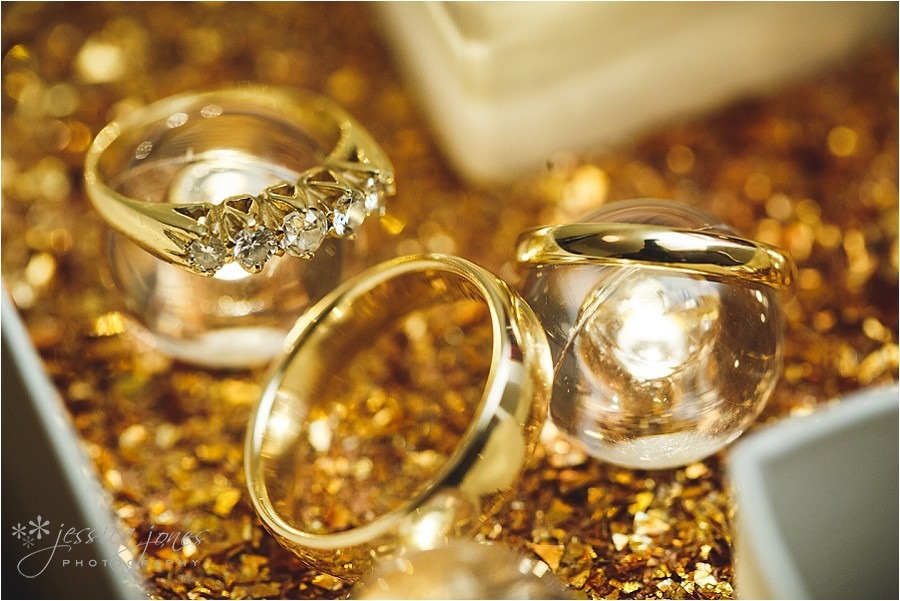 Ryan and Melanie, thank you so much for having us capture your wedding day for you!  We wish you guys every single happiness for many many decades to come!