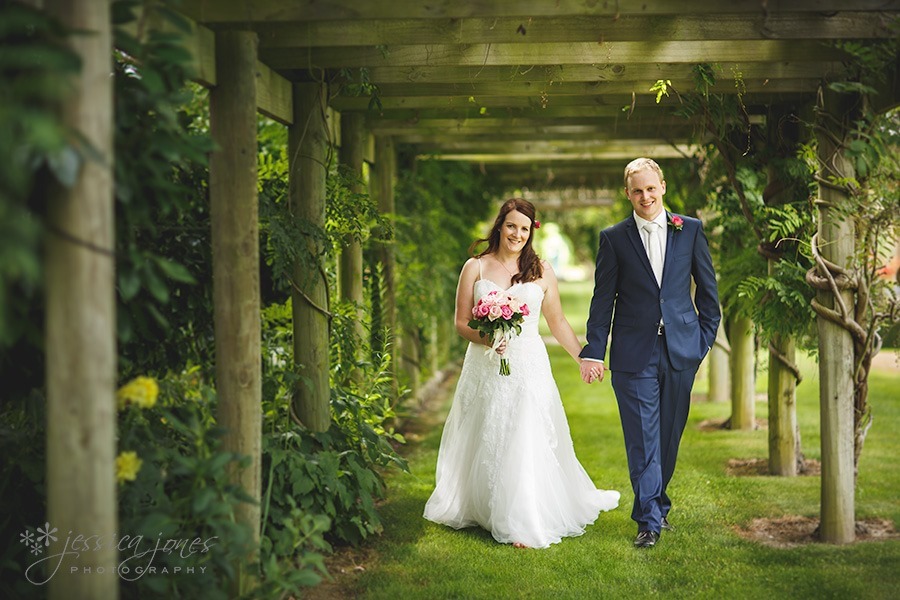 It's awkward to sneak a box containing an engagement ring into a casual walk at the beach.  Unless you wear a jacket.  But then it's also awkward to explain why you're wearing a jacket on your walk, on a warm day.  That's ok, because it didn't take long for Tom to get on one knee, pull out the box and declare his wish to spend the rest of his life with Clare.  Without hesitation Clare admitted she too was keen to marry Tom, and so the plans for this amazing wedding were underway!
We already knew Tom, as he had been best man at Kevin and Brooke's wedding a few years back.  It's always a pretty big compliment for people to willingly put themselves in front of your camera a second time, especially for their wedding!  And what a spectacular day it was!  Woodend Garden put on a feast of visual pleasantness, friends and family smiled and hugged like there was no tomorrow and Tom and Clare got thoroughly married.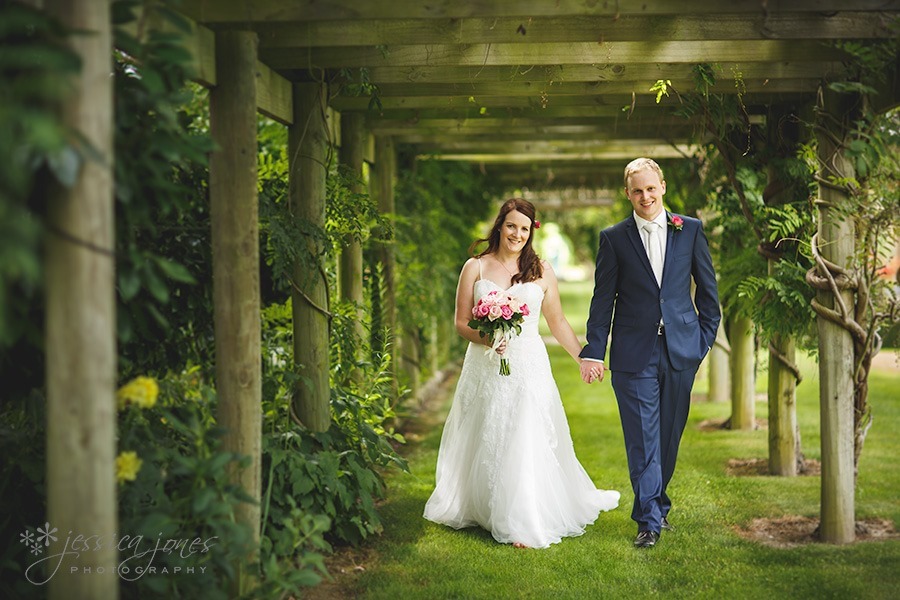 Speaking of high compliments, it's hard to find a statement of love stronger than this one.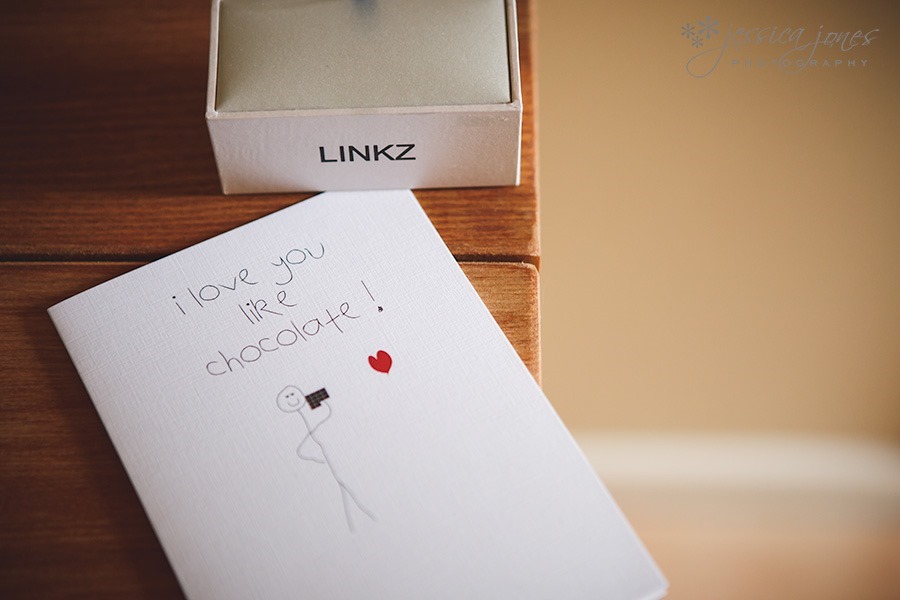 The girls got ready at Marlborough Vintners Hotel, where they would later have the reception.  Clare was determined that she and the girls would be comfortable during the day, and so stuck to flat shoes from the start.  This would be a decision that would be popular later, especially when we got to the riverbank!  Clare is one smart woman!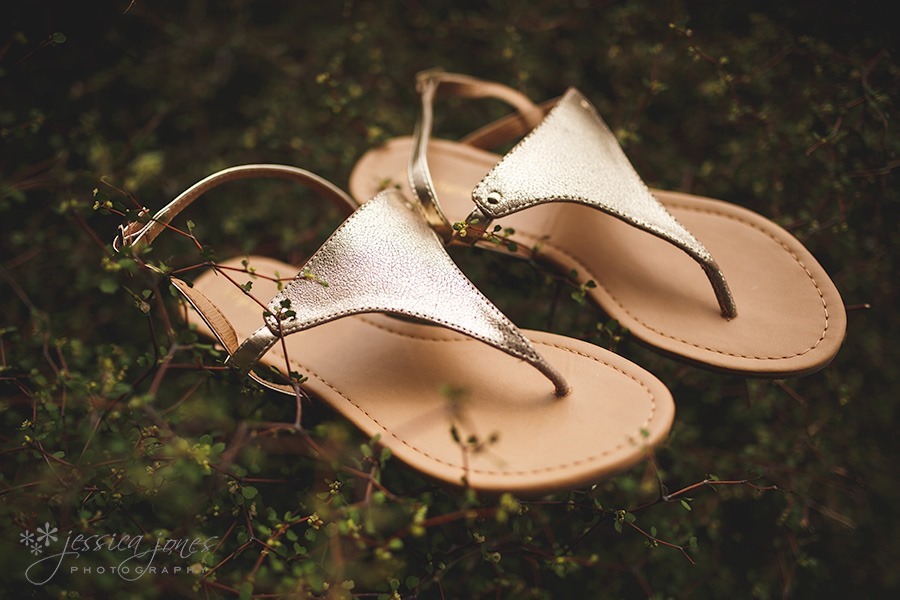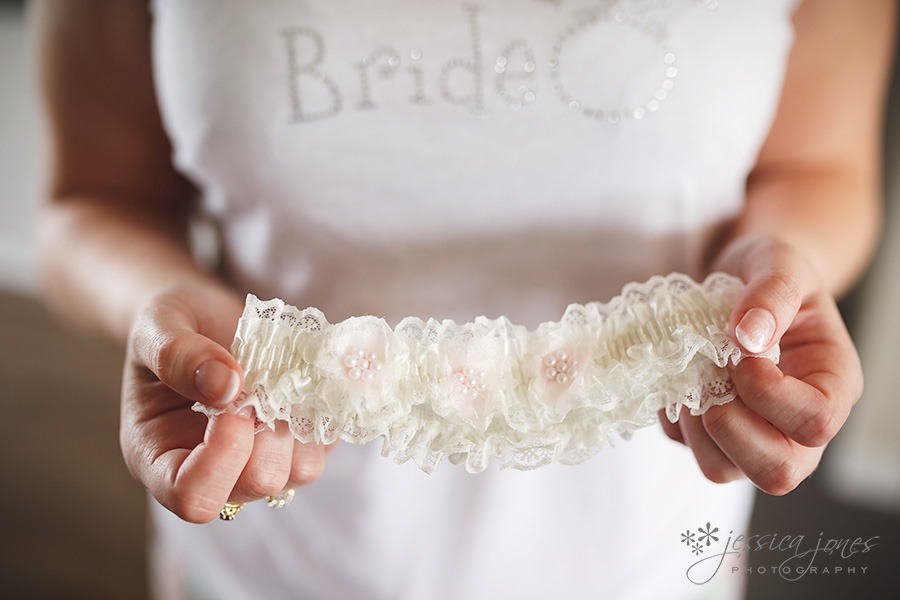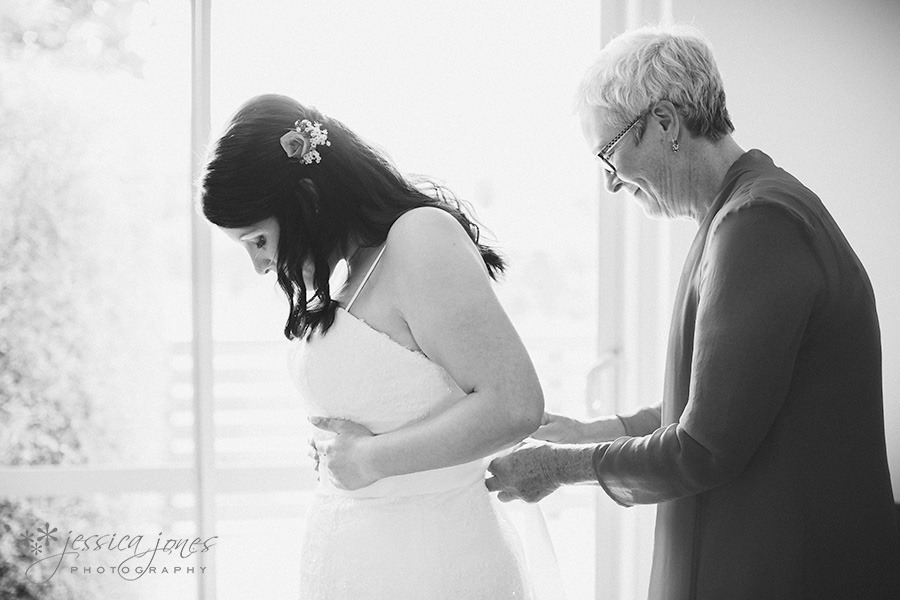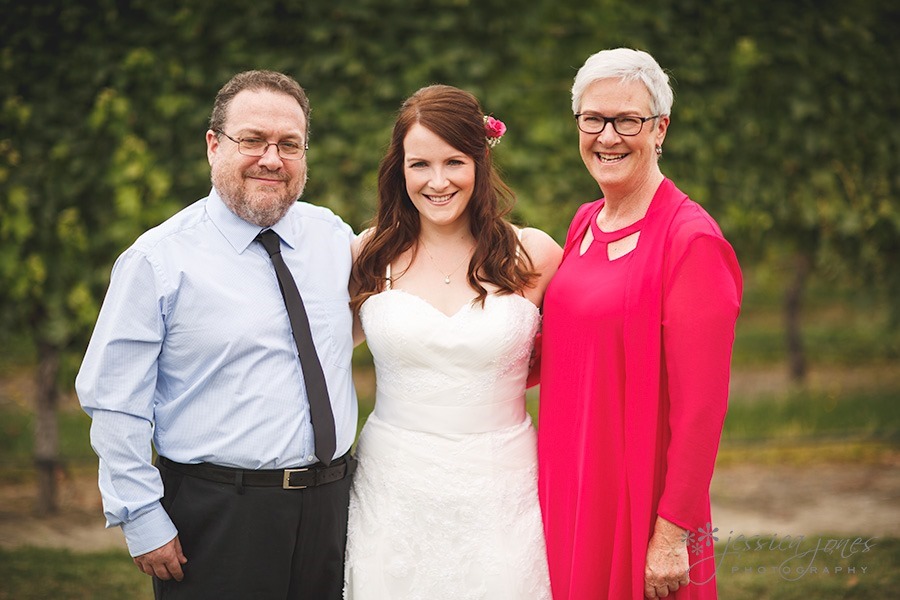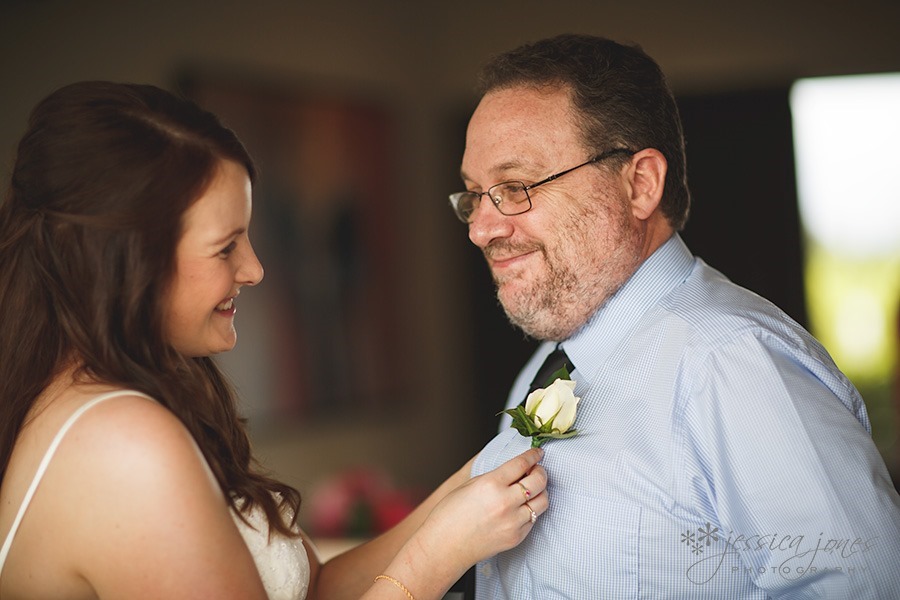 Clare not only makes for a BEAUTIFUL bride, but she's also a real sweetheart.    Lucky Tom, indeed!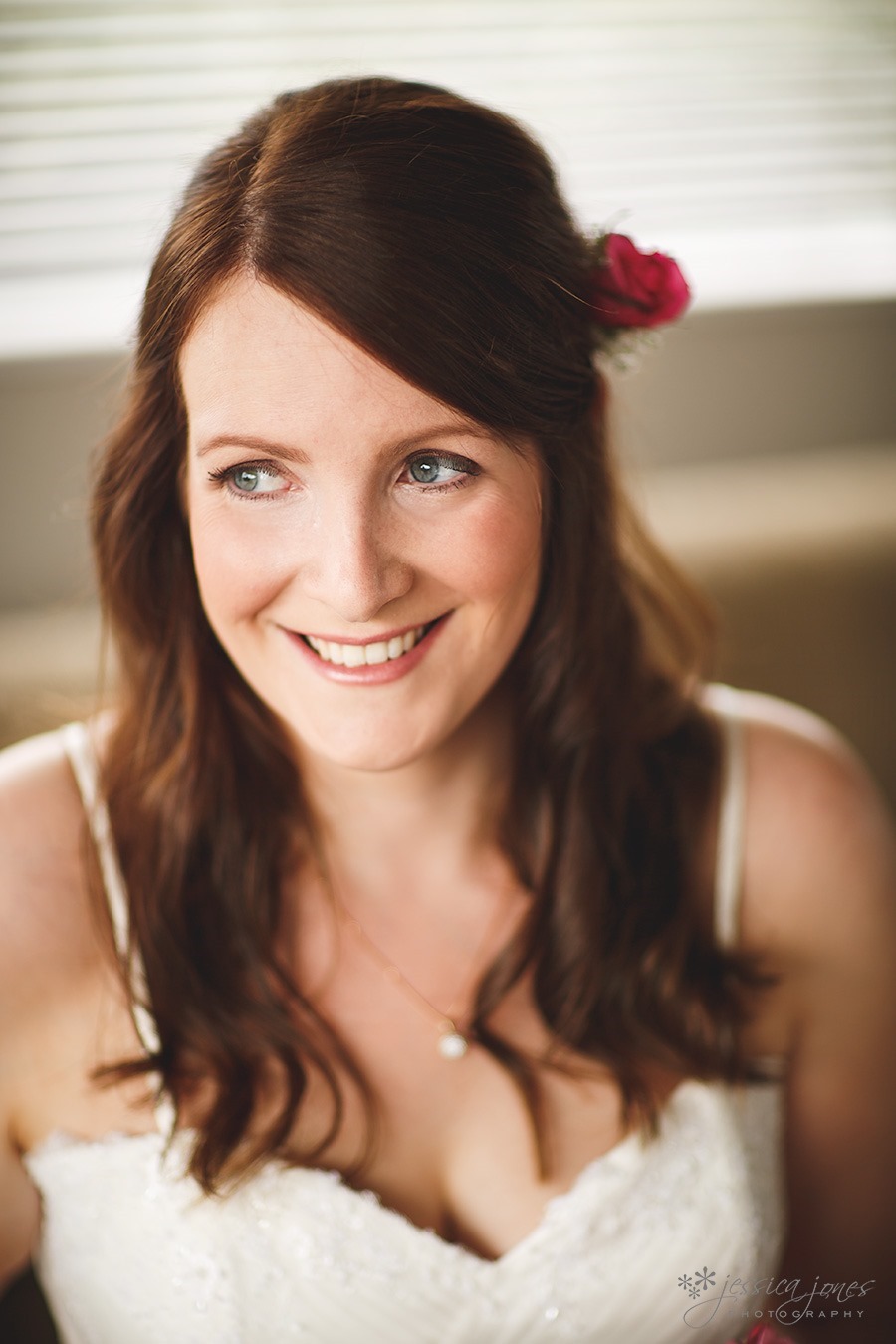 Meanwhile, Paul was with the boys while they got ready.  And Daisy.  Daisy has a certain presence about her, sweet as honey, but also very determined to have the ball thrown for her.  Thankyouverymuch.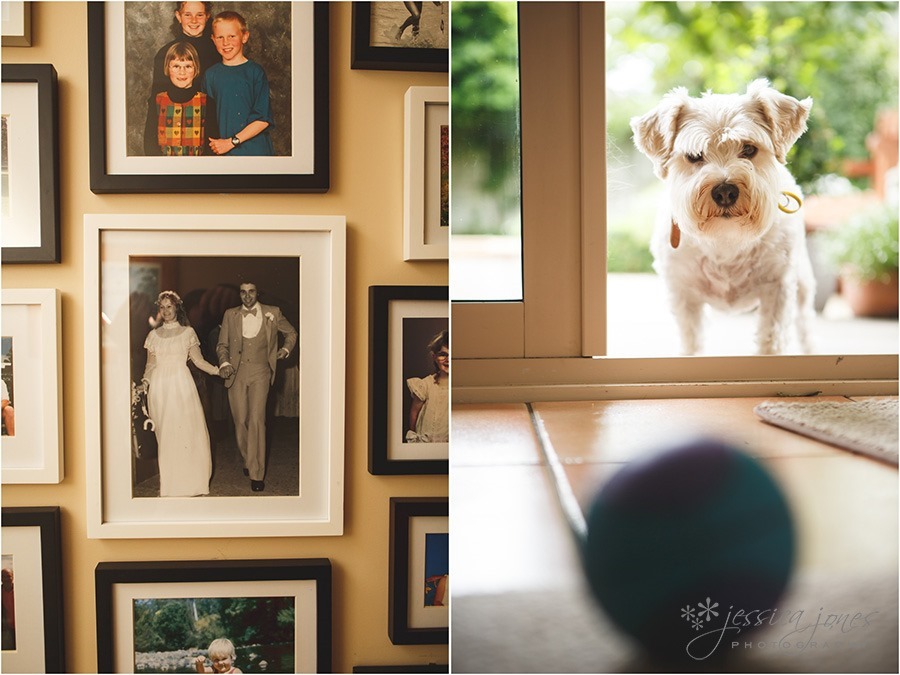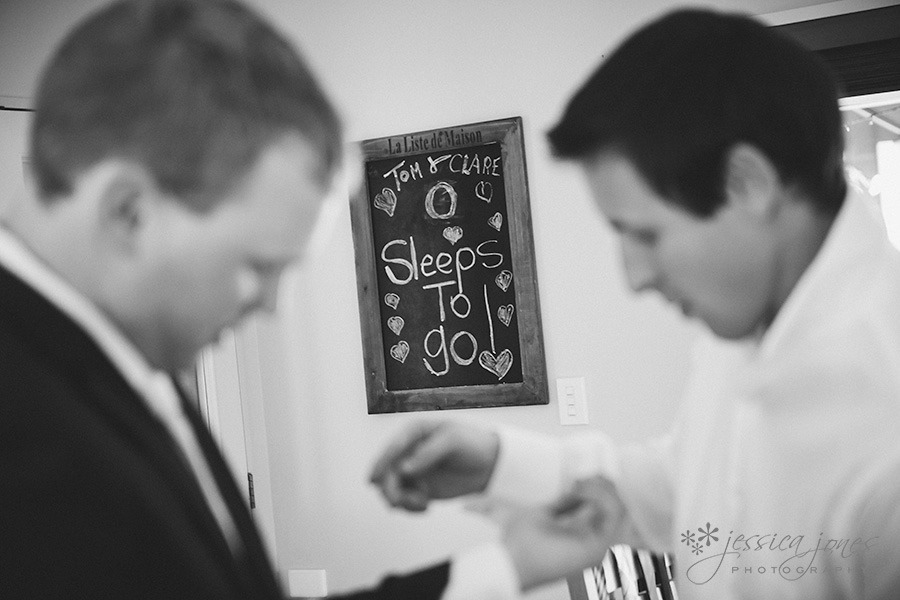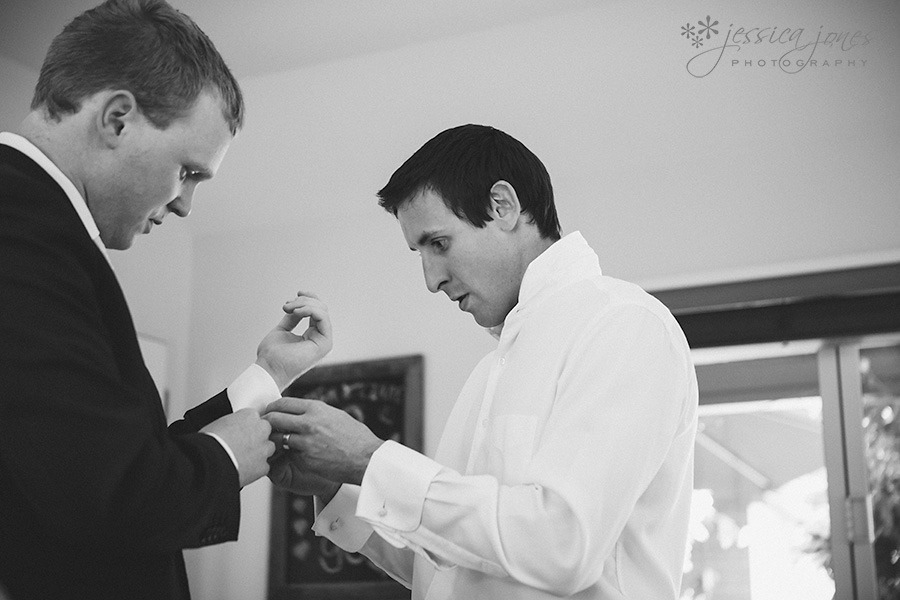 The boys will often go to the ceremony location well before the guests arrive, in order to welcome everyone.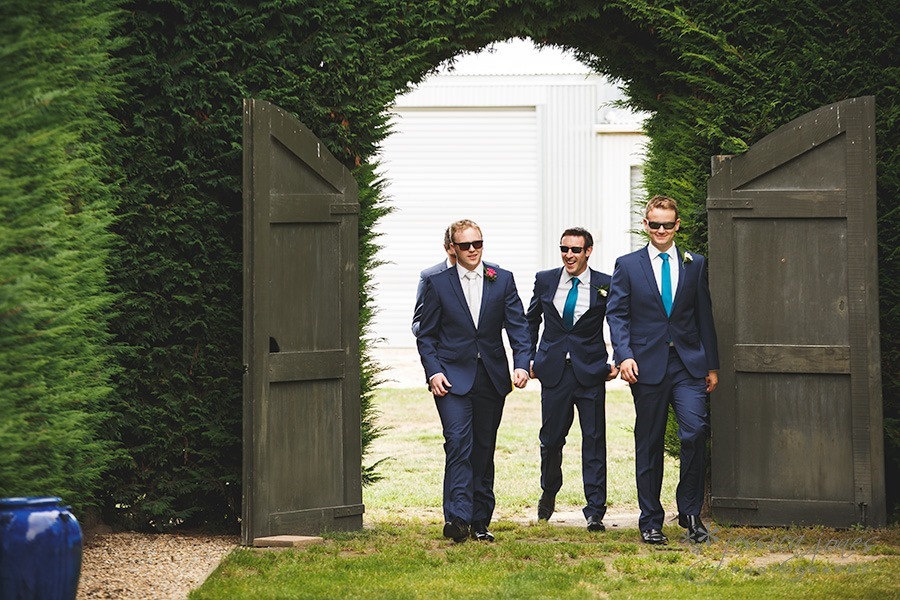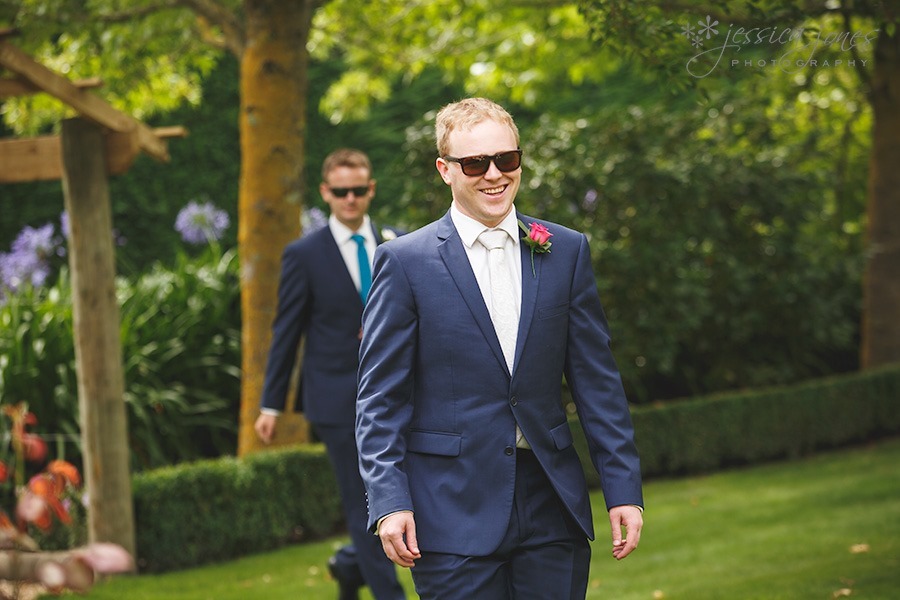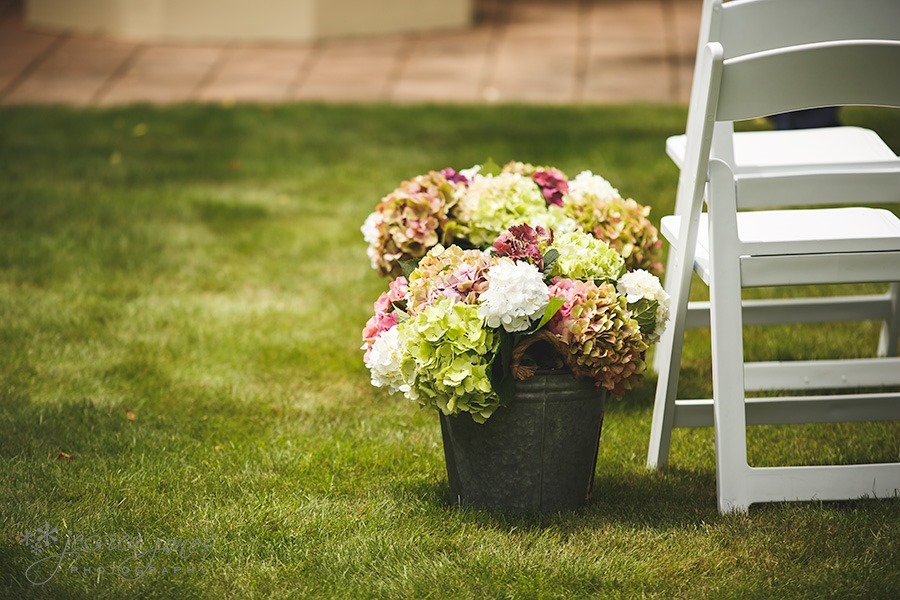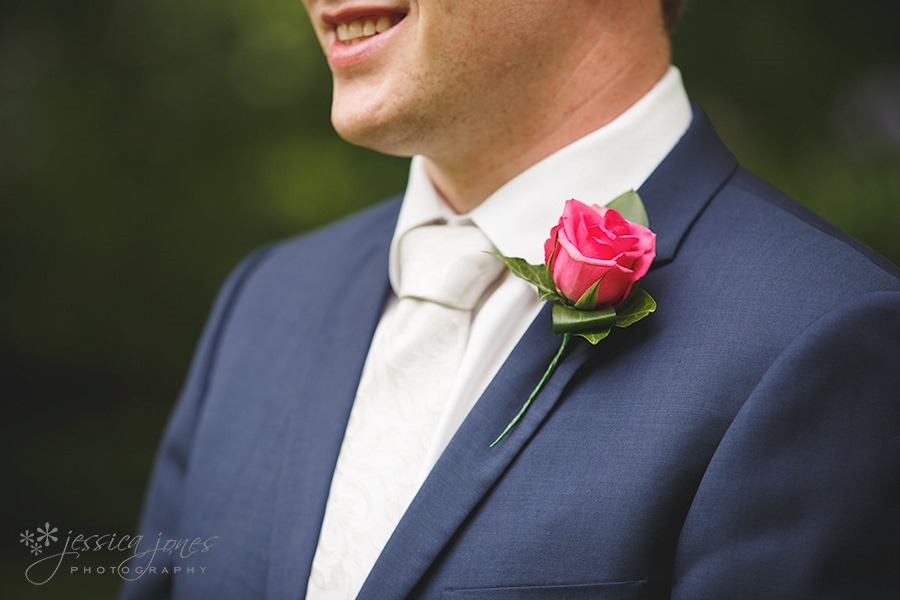 And the steady stream of friends and family arrive.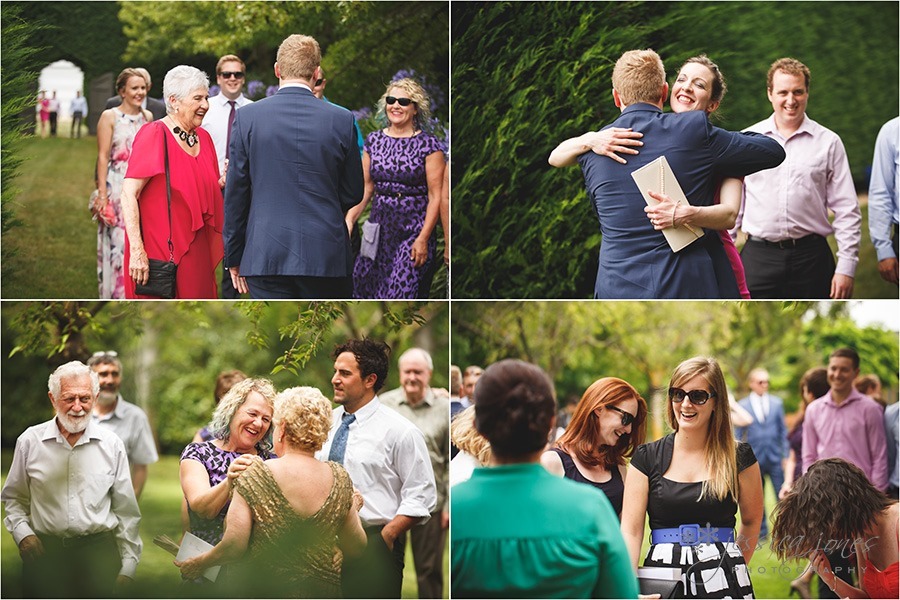 Some of Clare's family came all the way from the UK.  And they brought their kids.  Very, VERY cute kids.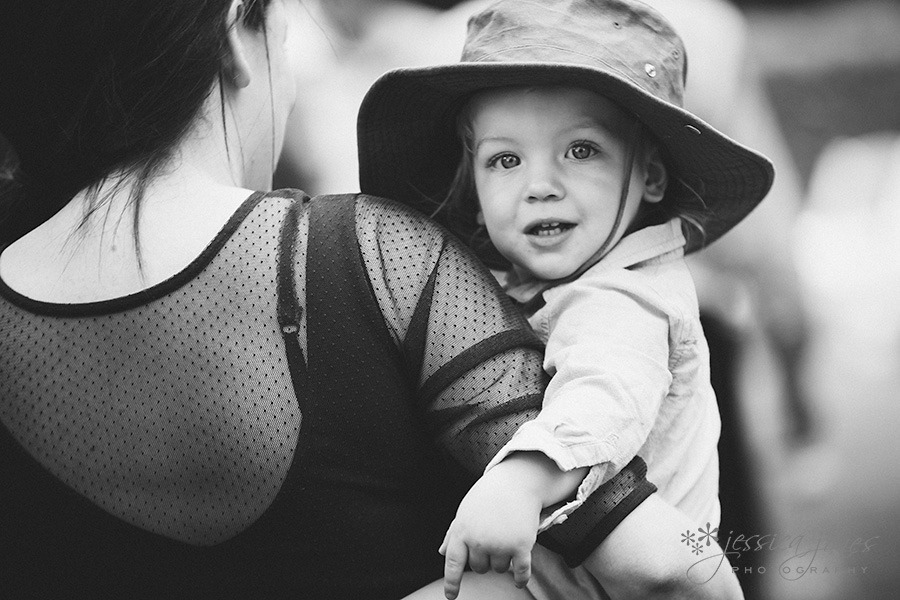 This is Mabel.  Mabel didn't have to say a word, but with that face, and that hair, she thoroughly stole the show.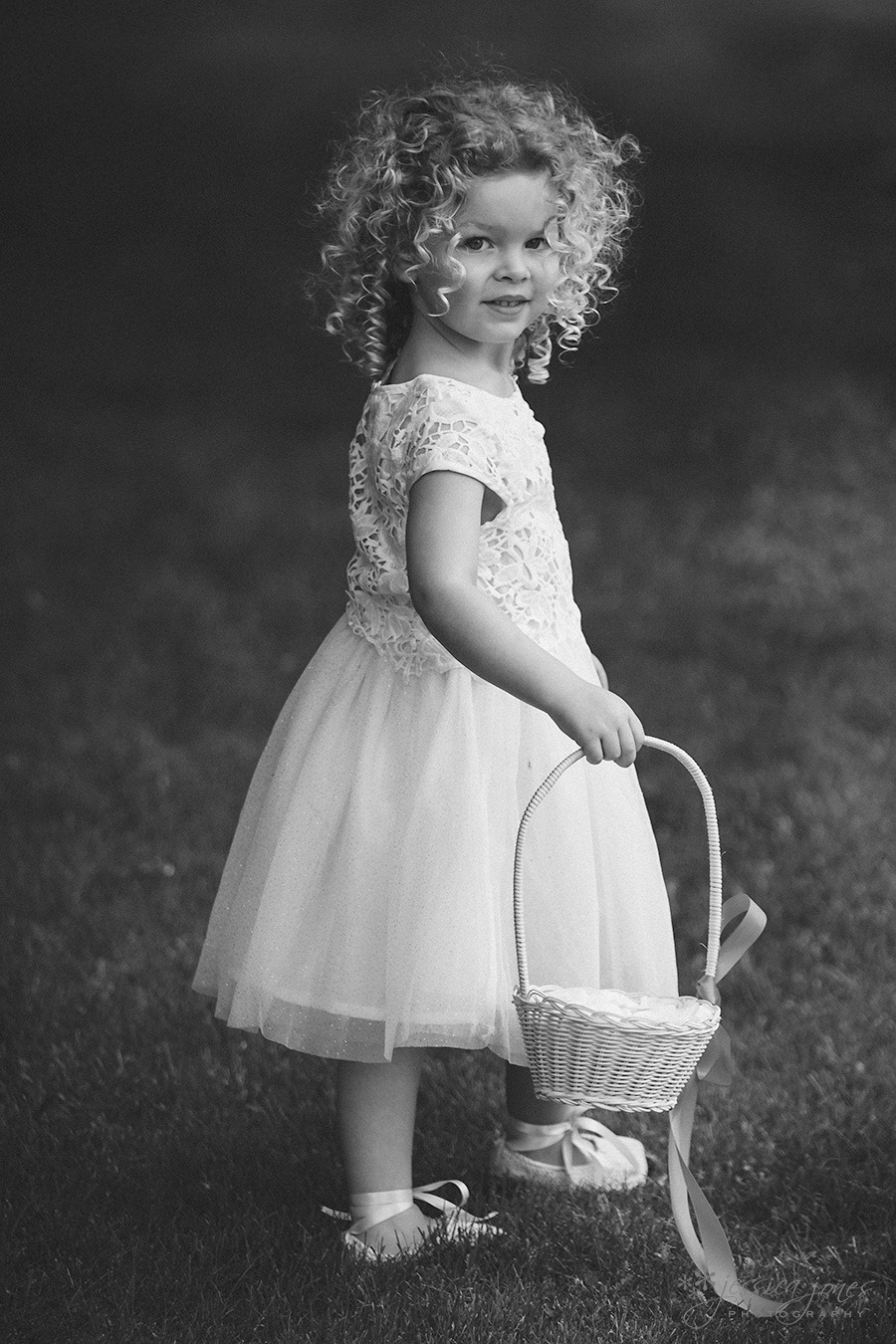 Loving the knitted slippers.
And then they arrived.  And if you're looking to arrive in the height of coolness, look no further than an old VW.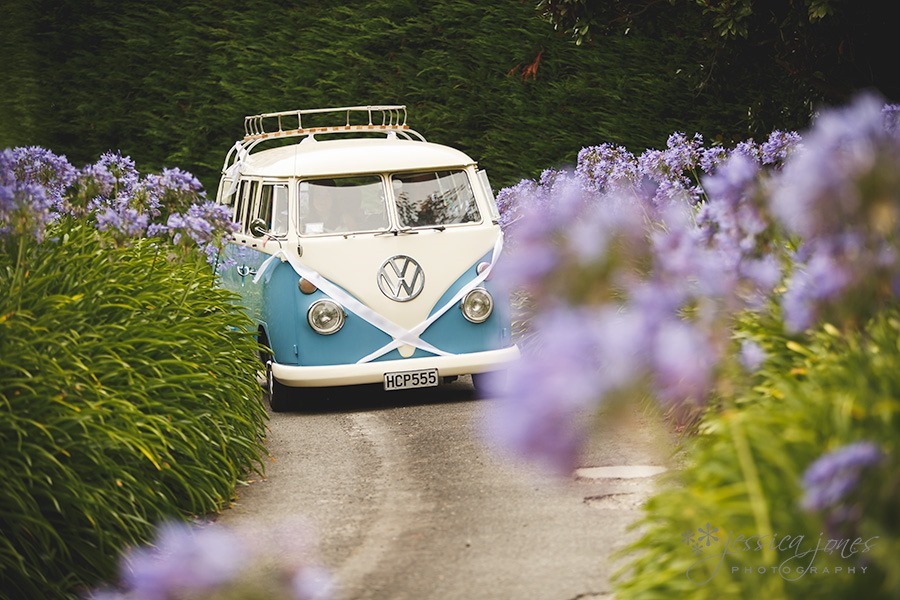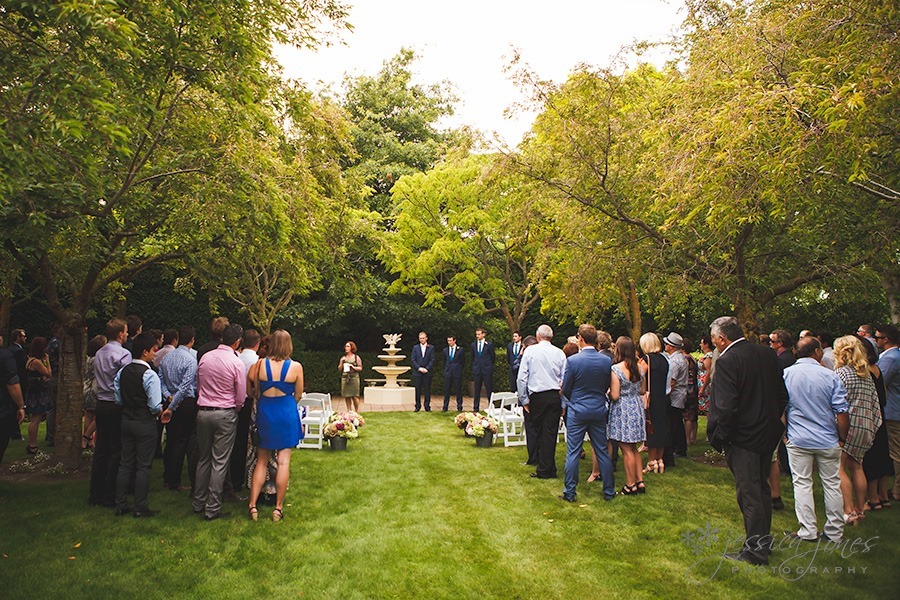 The thing I love about adding little people to the bridal party line-up, is their complete and utter unpredictability.  I think Mabel felt it was a waste of perfectly good flower petals to just go throwing them willy nilly all over the grass like that.  So it makes sense to sit down, right there, in the grass, during the processional, and pick them up again.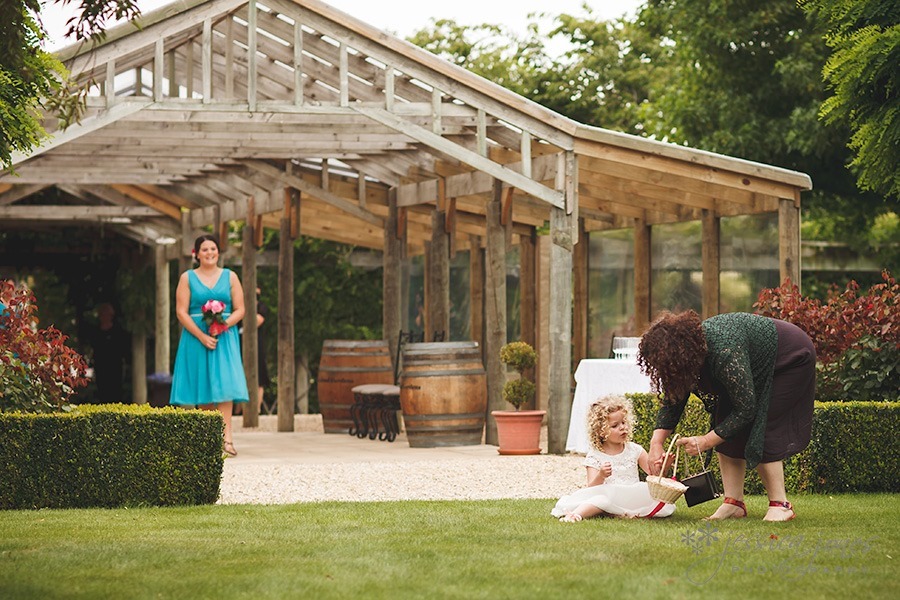 This did mean that there was loads of time for us to get plenty of processional images.  Good thing the song was plenty long enough.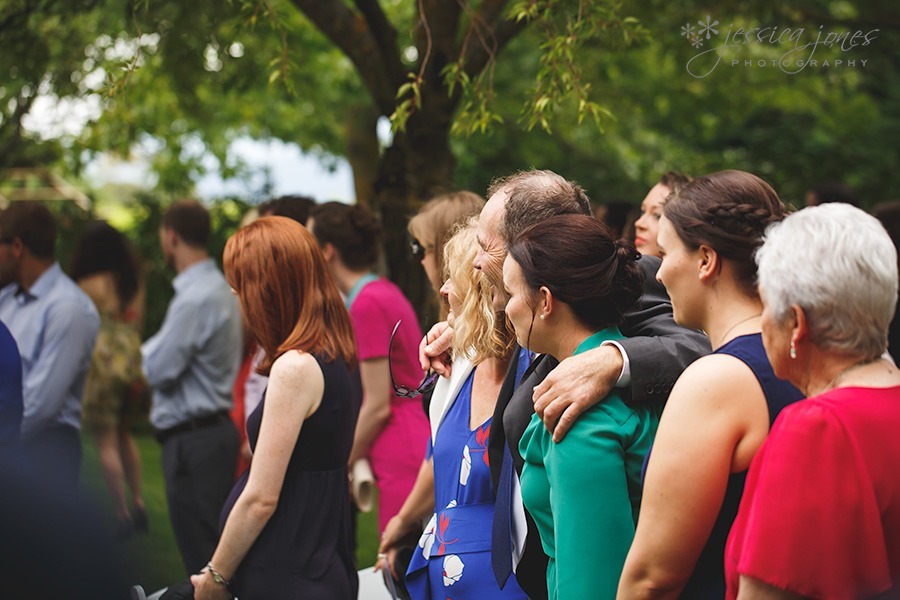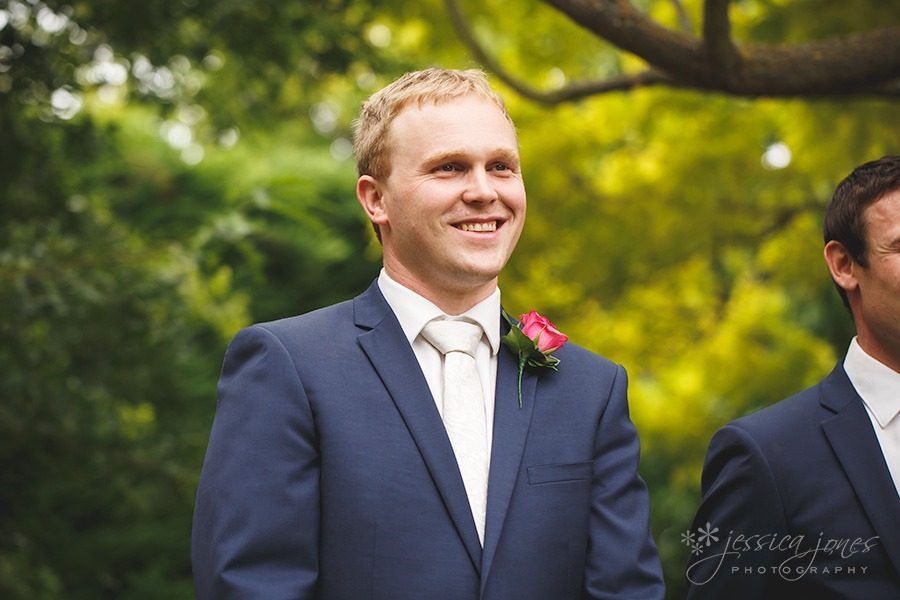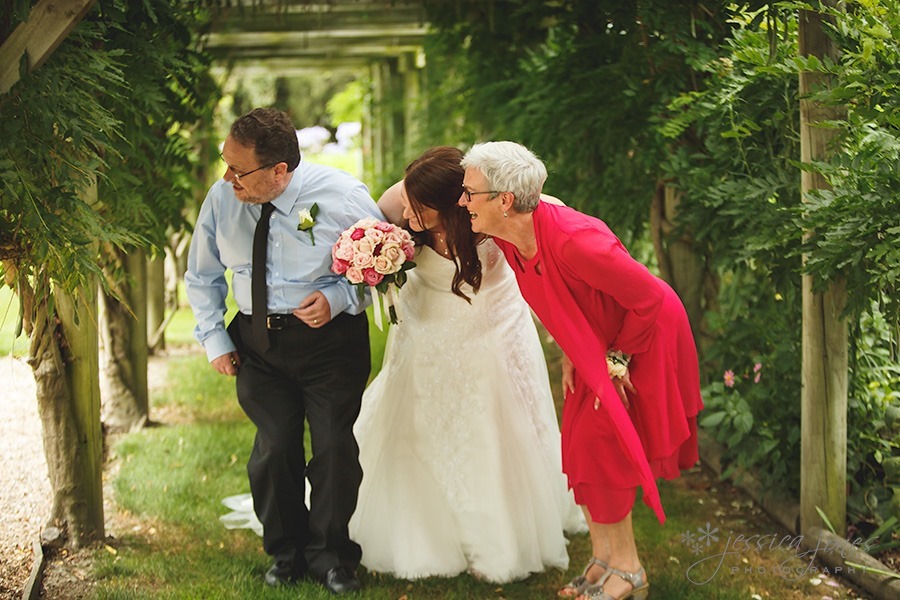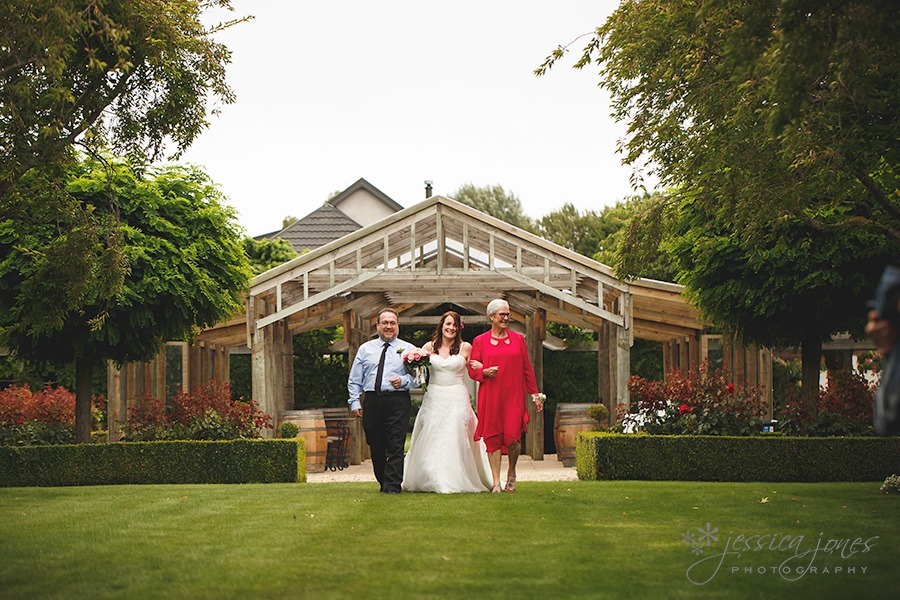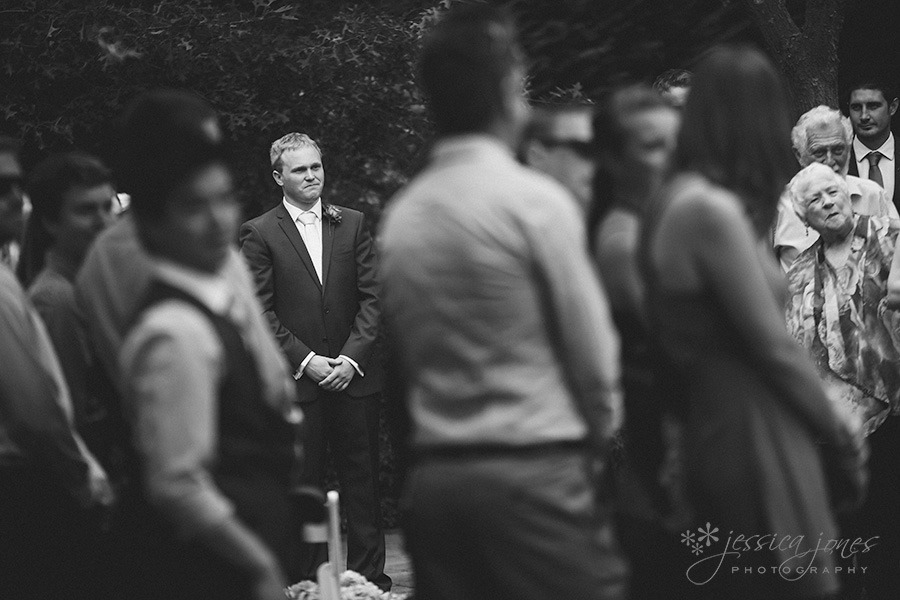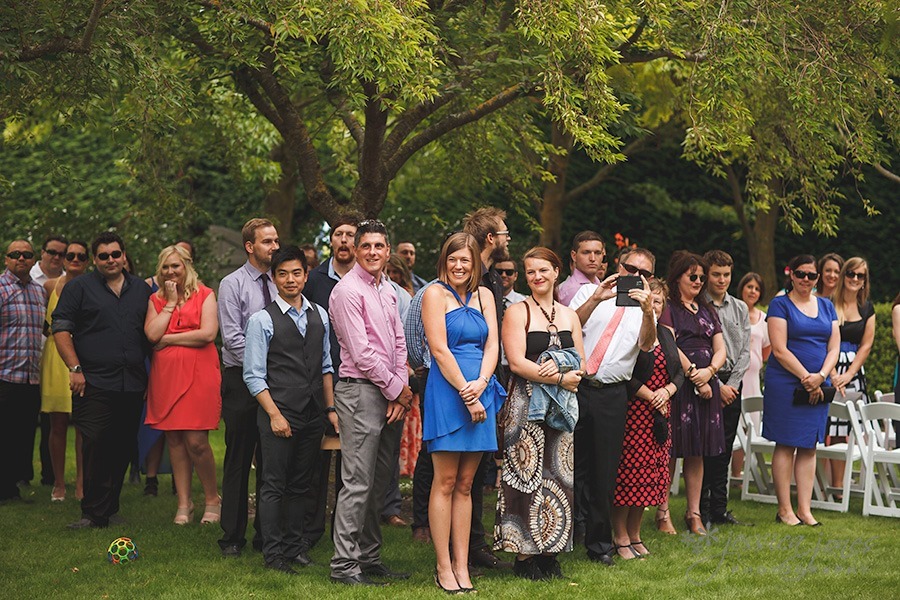 Tom and Clare thoroughly adore each other.  Even a blind man could see it.  In those little in-between moments when they weren't expected to be 'romantic', you'd spot Tom sneaking a kiss, or a 'I'm going to be spending the rest of my life with you' kind of smile.  Kind of like this one.
Watching the guests at a wedding is often just as magical as the couple themselves.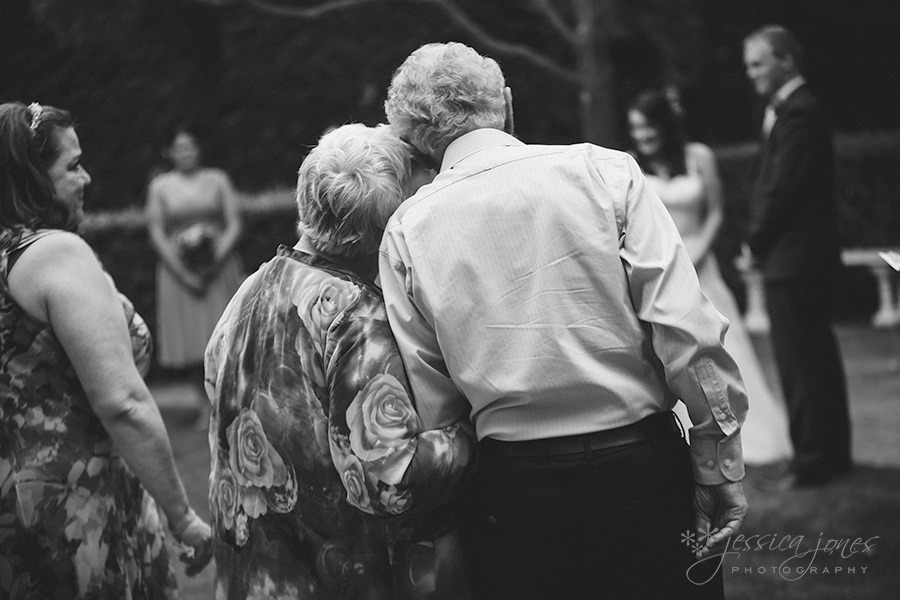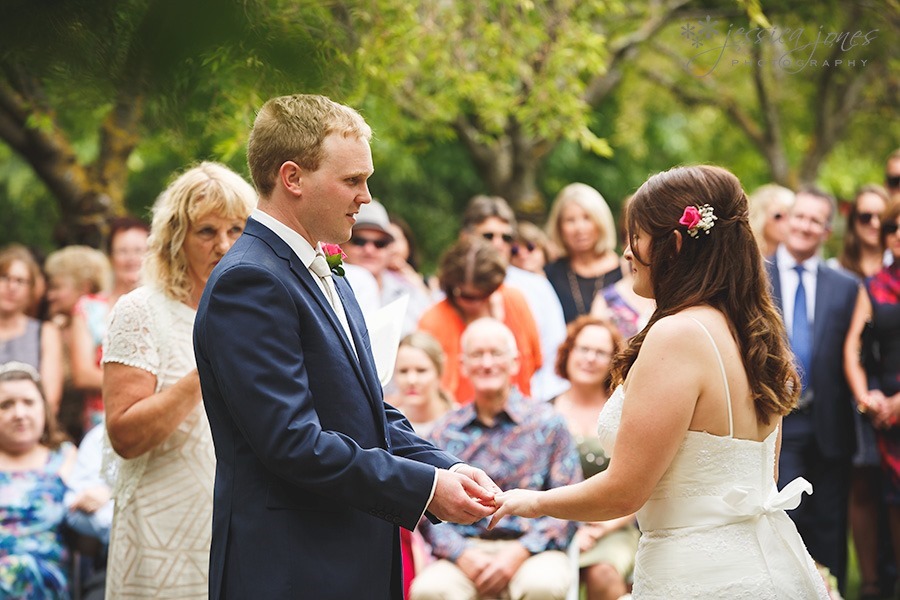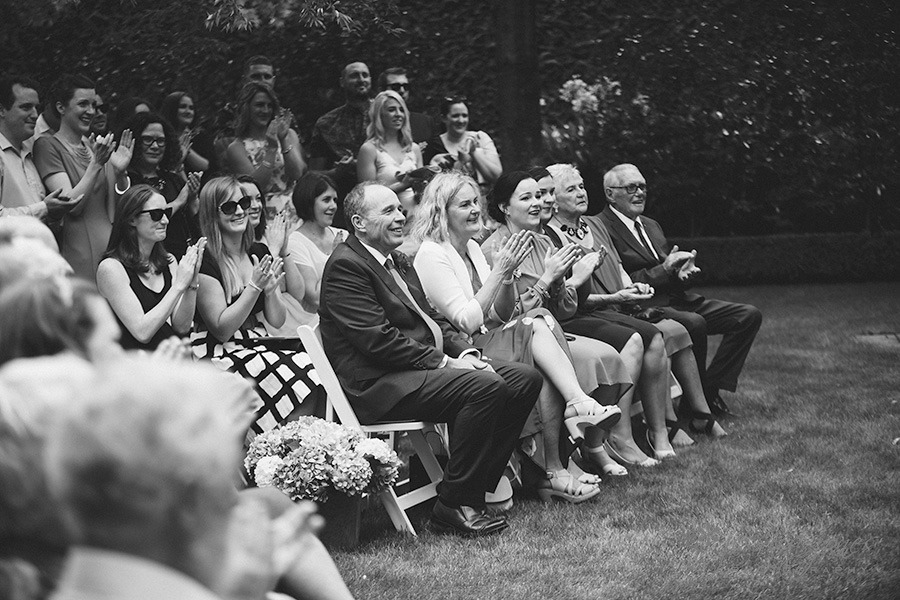 I loved Clare's choice of colour palate!  The blues and the pinks were just divine!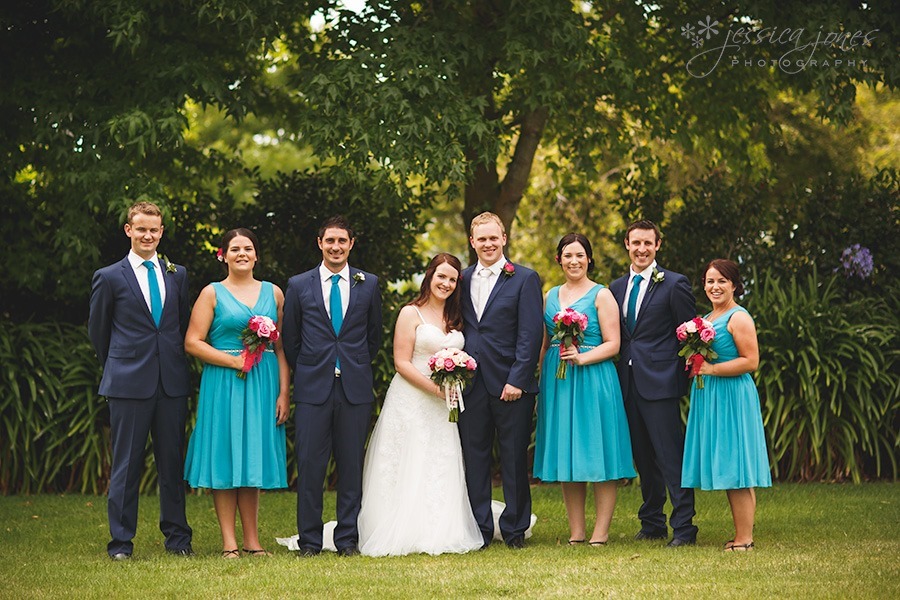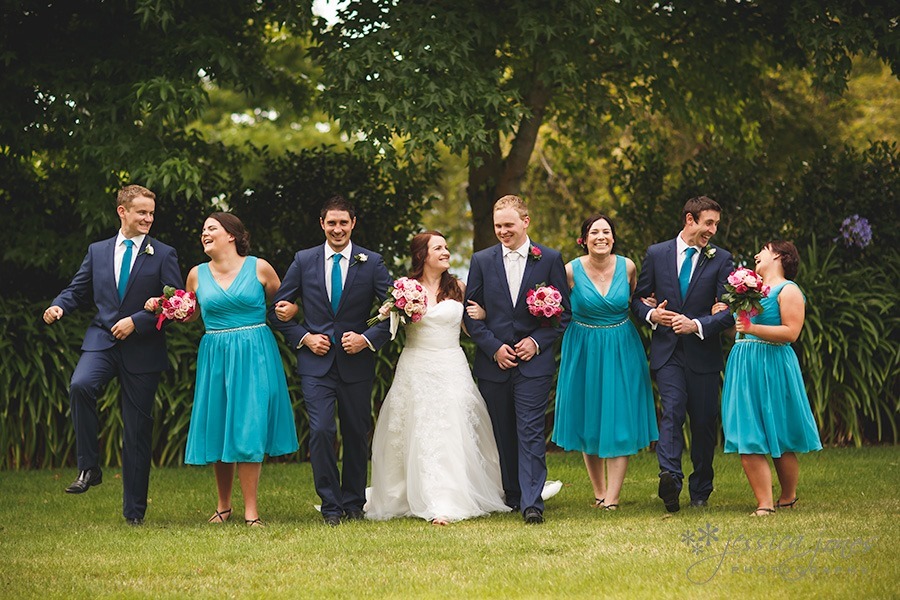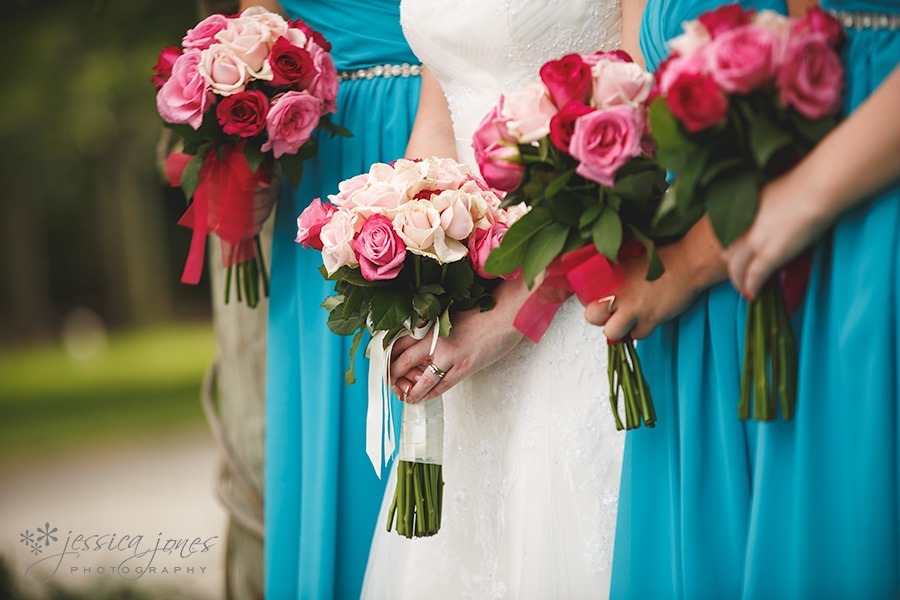 The bridesmaids were of the highest calibre, I have to say.  Never afraid to just jump in and help at any moment.  I told them many times that they did good bridesmaiding.  Great bridesmaiding, in fact.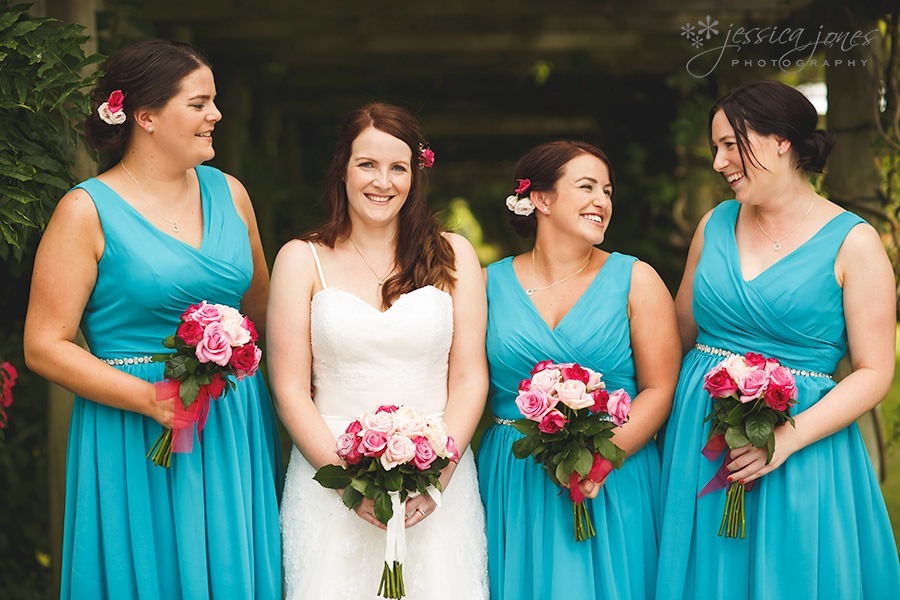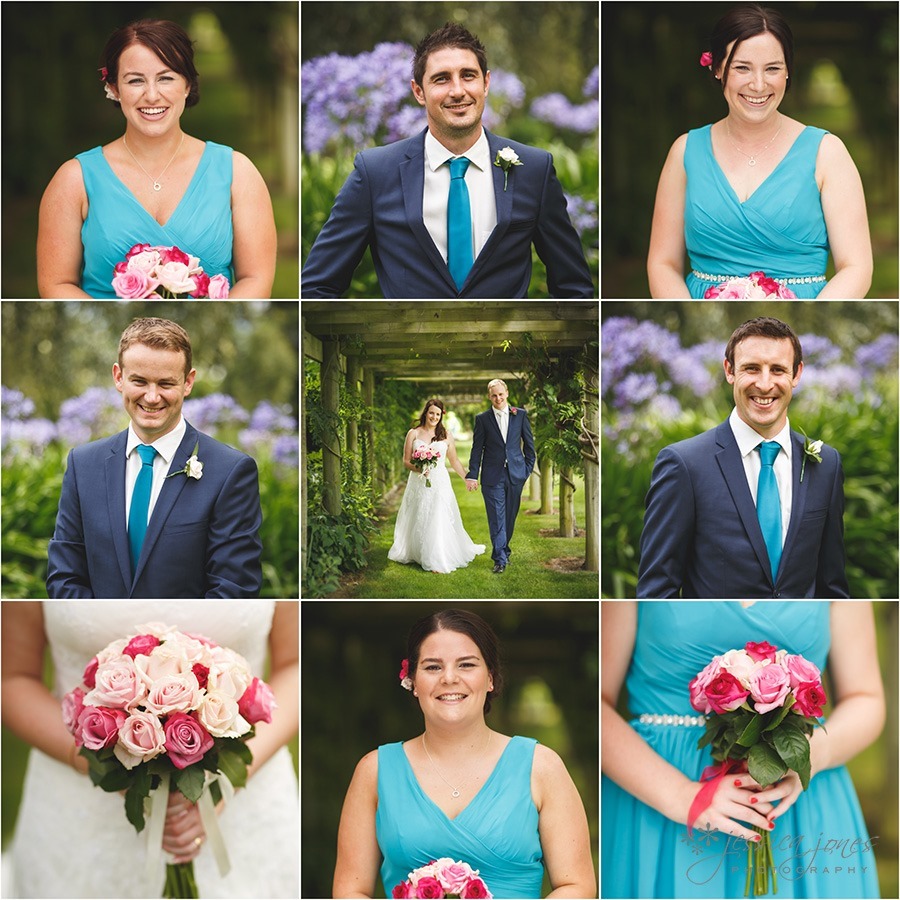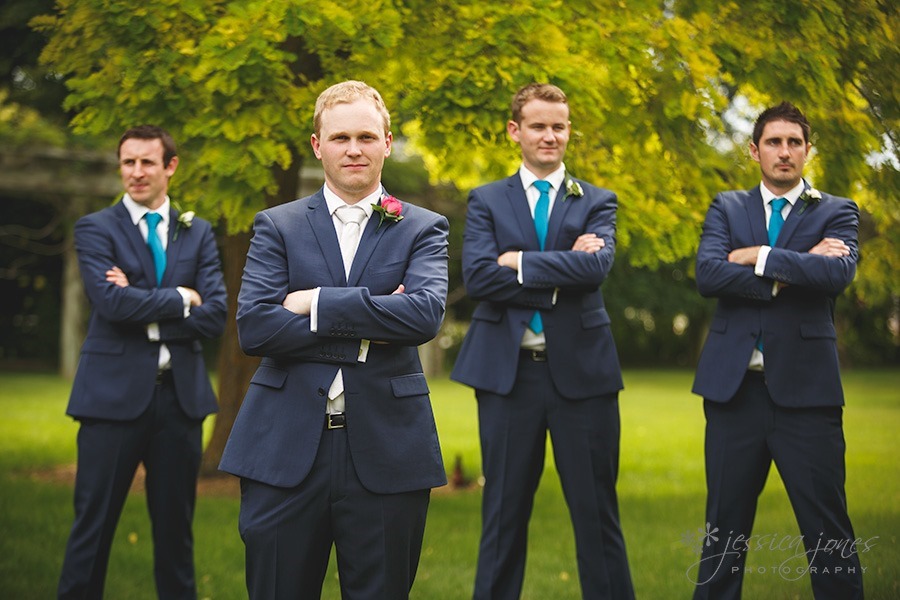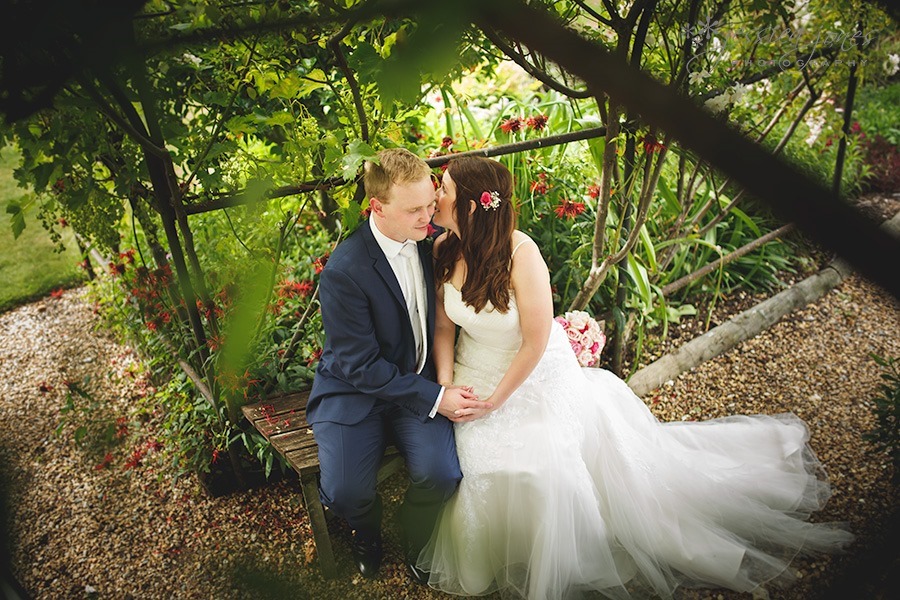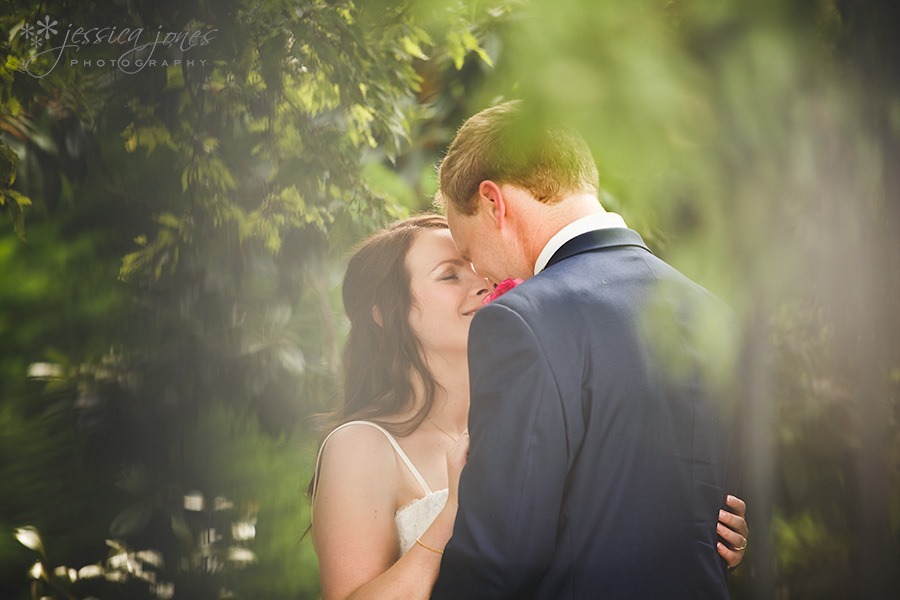 Don't tell the florist about this one, ok?  This one was totally the boys' idea.  Just sayin'.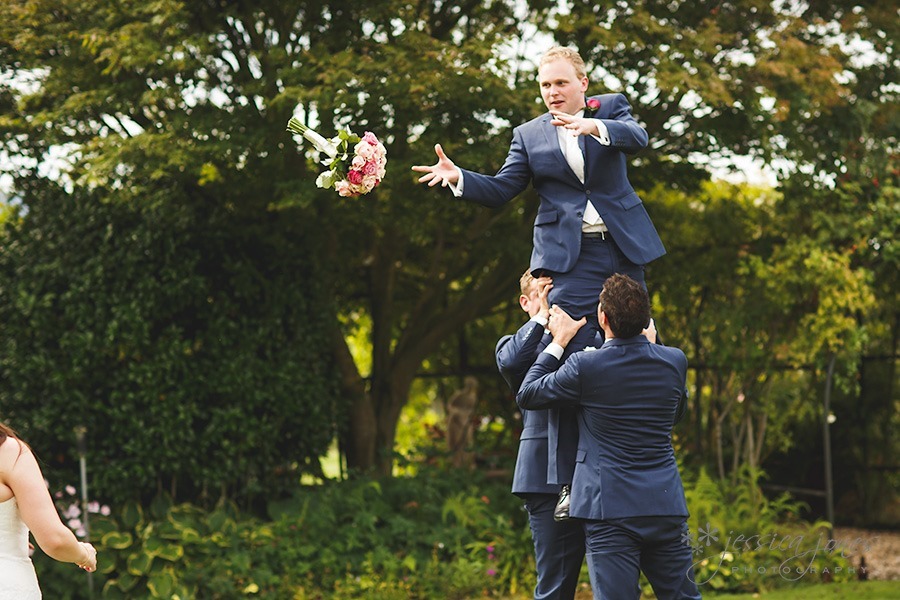 "You can't sit with us" faces.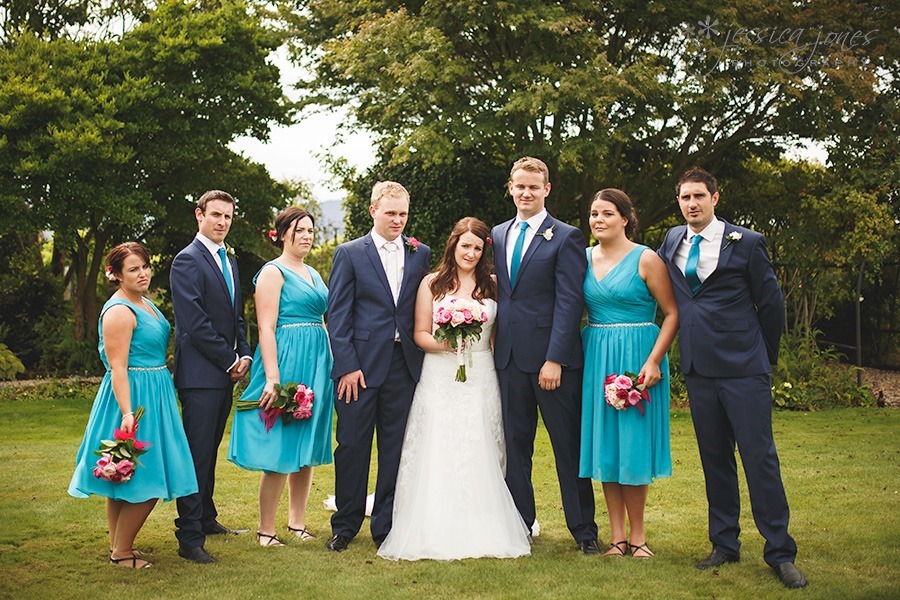 "You can sit with us" faces.  (they assured me that I could, in fact, sit with them whenever I wanted)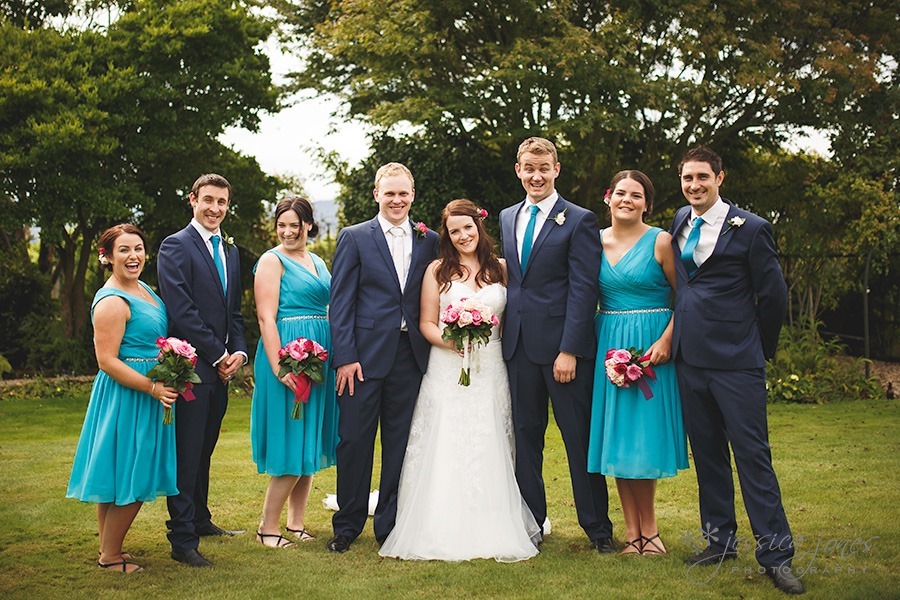 This is when we spotted this statue in the gardens, and I told Tom and Clare to go stand there and blend in, so we can't tell which one is the statue.  (just so you know, the actual statue is the one in the middle)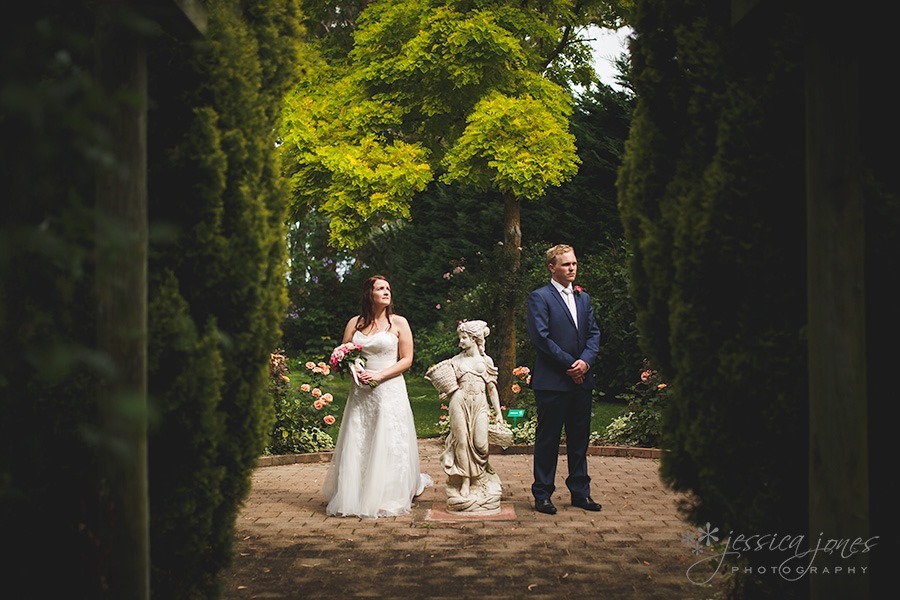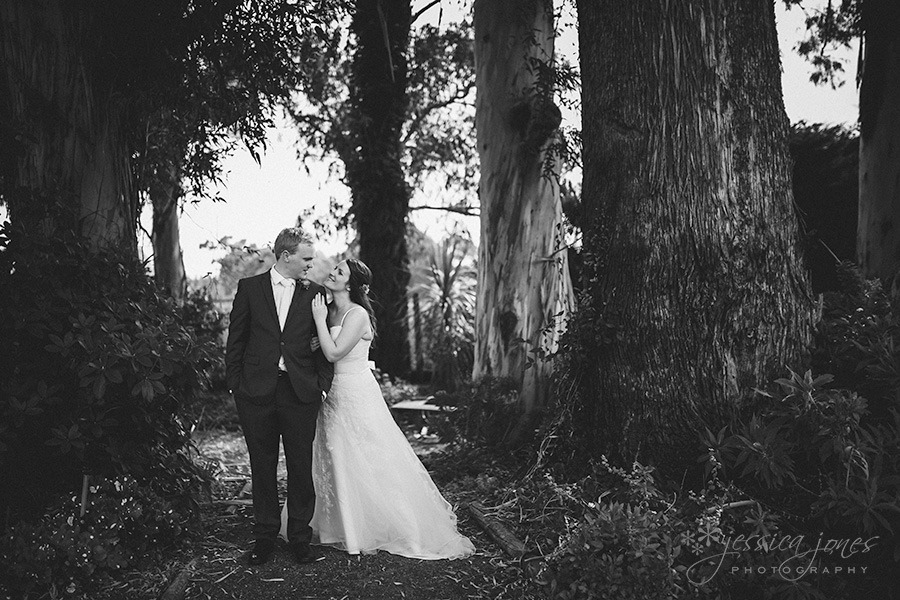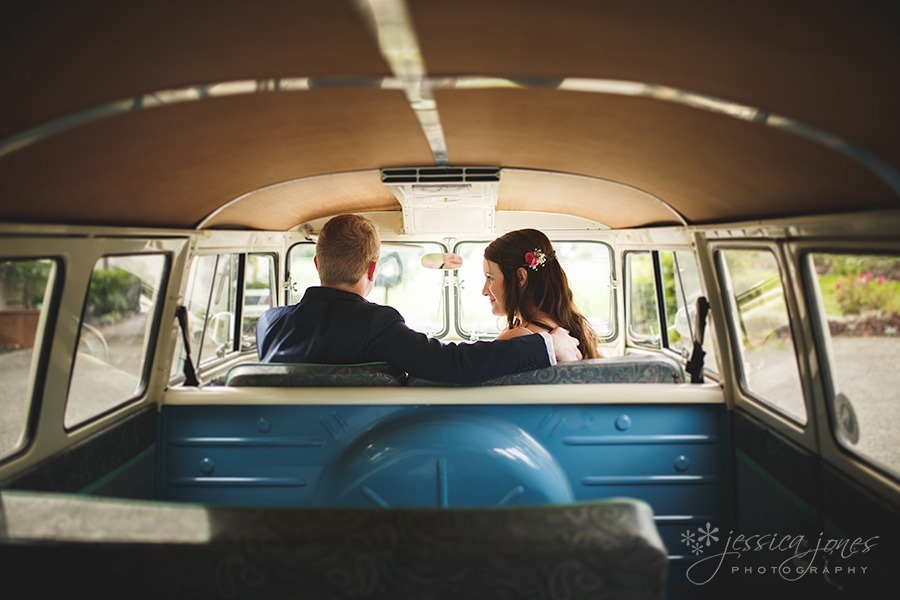 I'm not sure I've ever seen a windscreen that opens in the front like this.  I remember when I was a child, and we owned a combi similar to this, and the ventilation was terrible.  It was hot.  No air conditioning.  And most definitely NOT a cool kid vehicle, way back in the day.  I wonder though, if we just had a windscreen to open like this one, would my memories be more favourable?  Or would we have just been attacked by a whoooooole lot of fast moving bugs?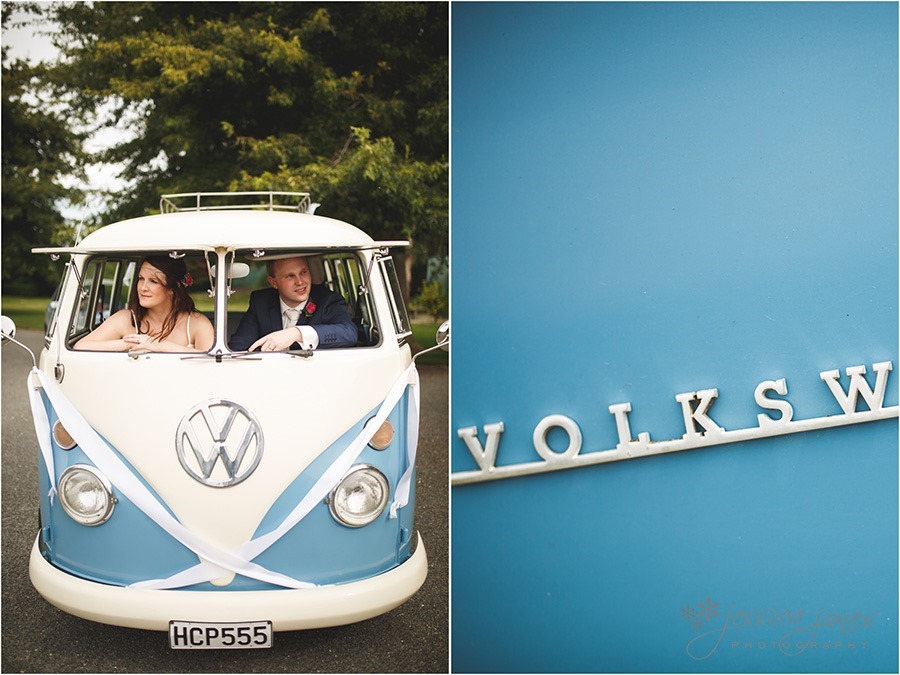 It was not only the bridesmaids that took their duties seriously, the groomsmen also did good groomsmaning.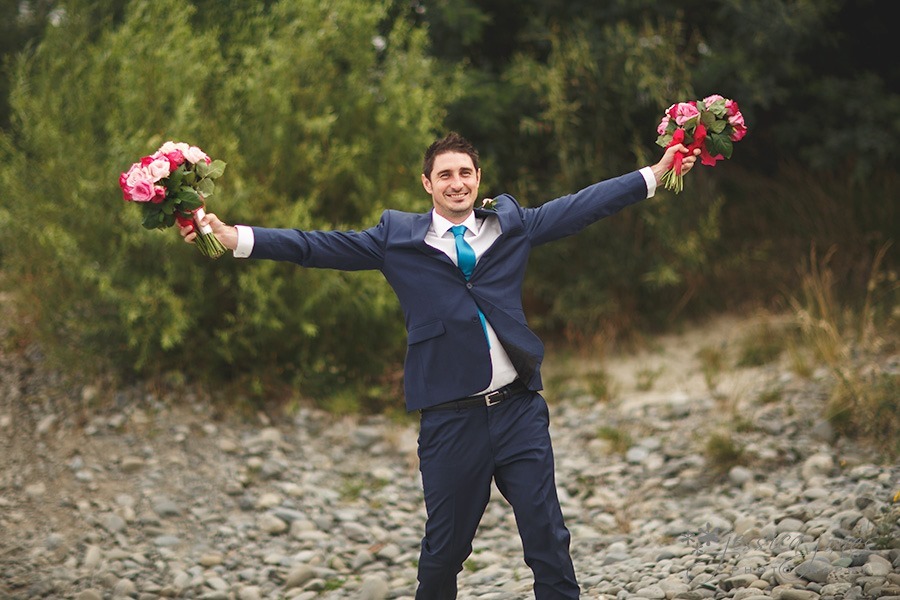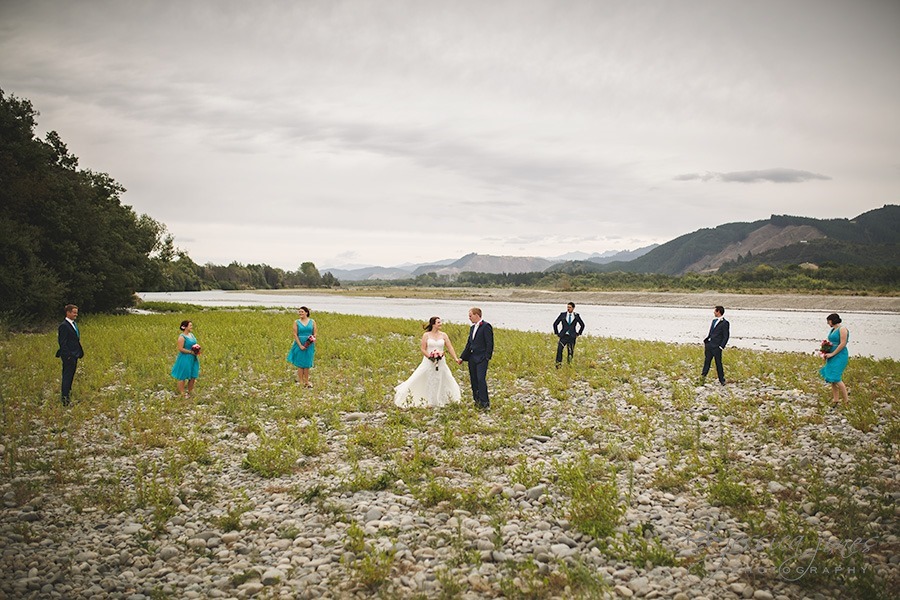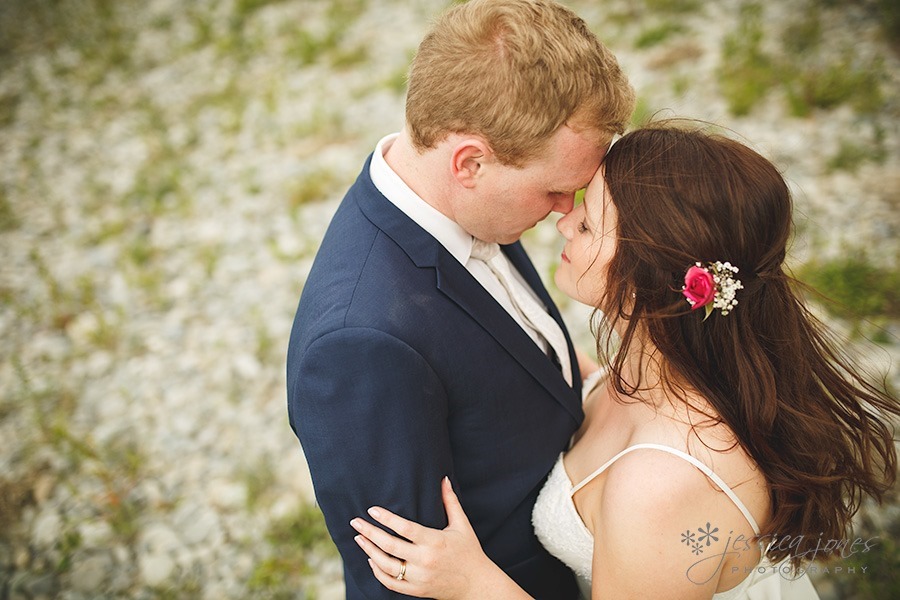 Paul spotted this field just before the riverbank and was super keen to go explore.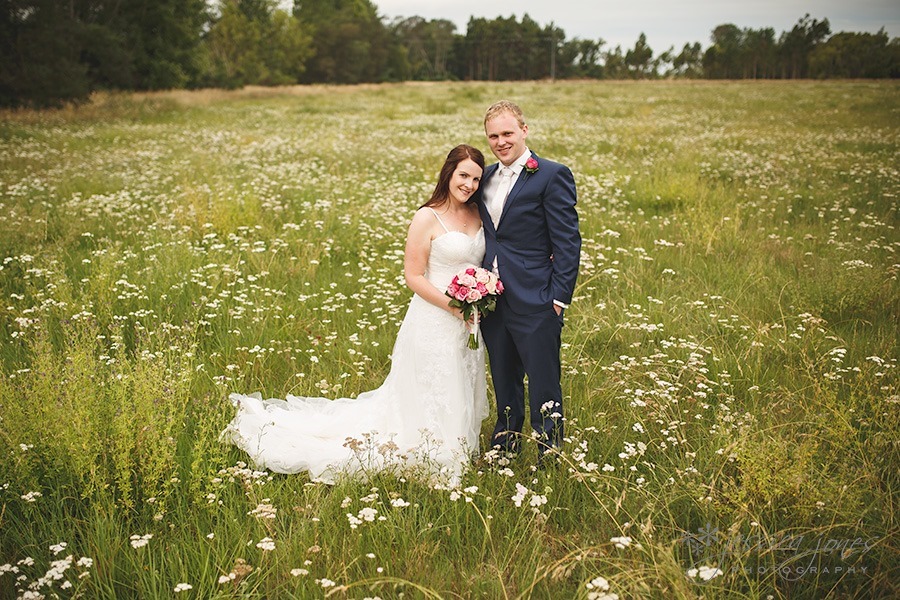 This spot was epic, for sure!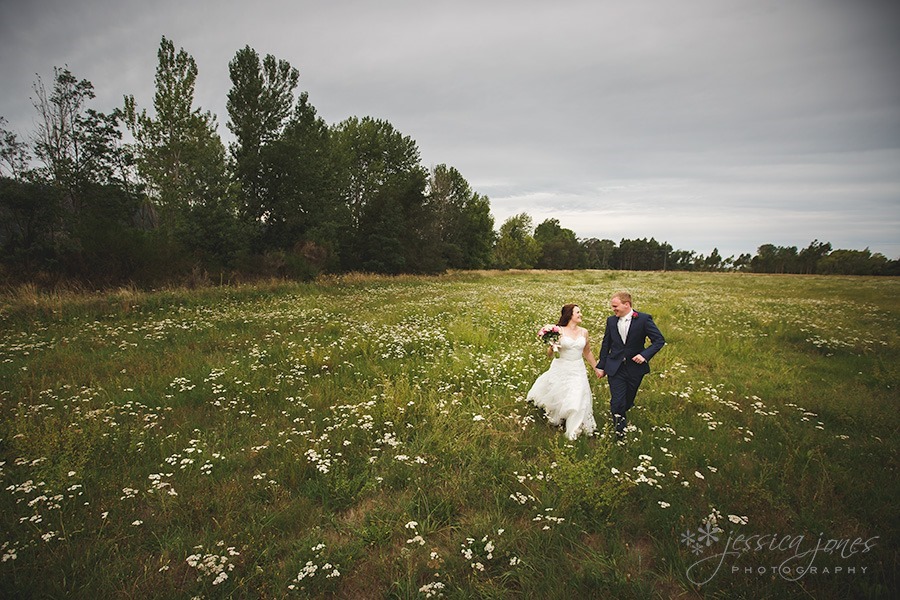 And Clare and Tom rocked it in an epic manner.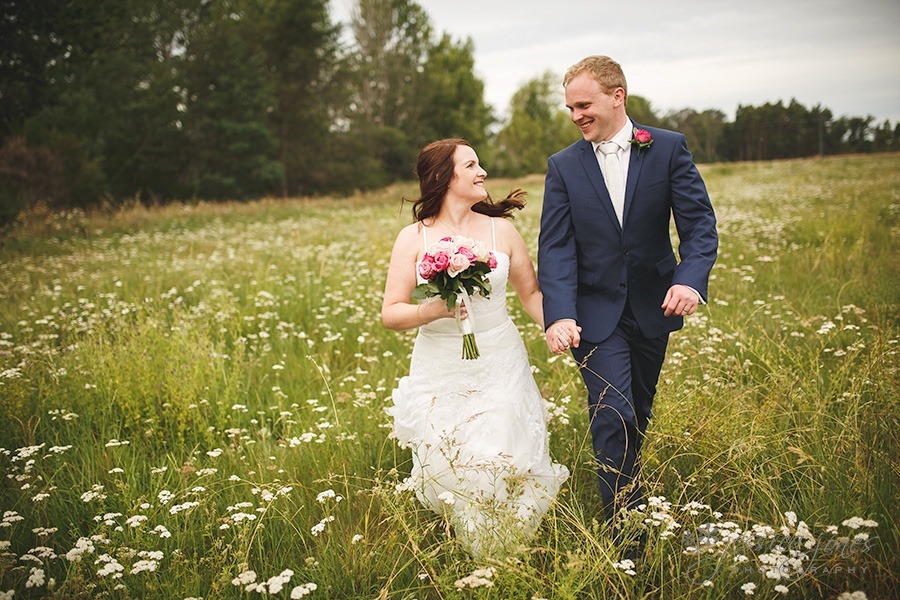 Clare was even mostly fine about the bugs that kept crawling into the fabric of her dress.  There was a decent collection throughout the day.  I wonder if instead of shooing them out, we should have just named them and kept them as pets?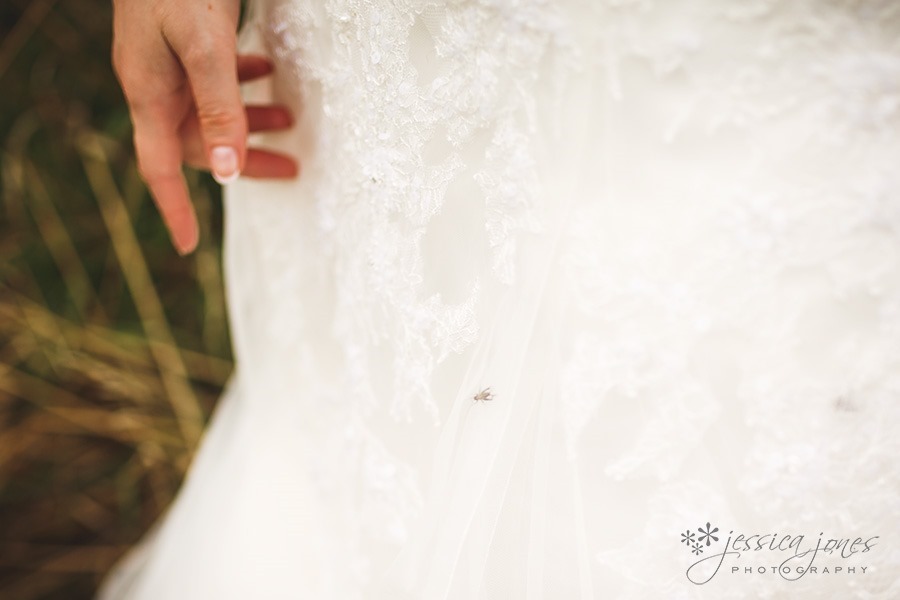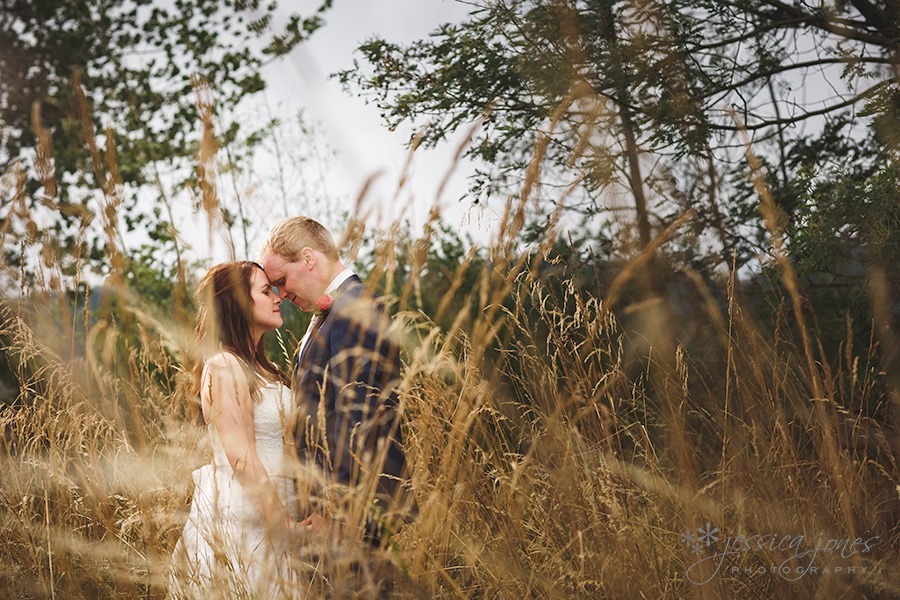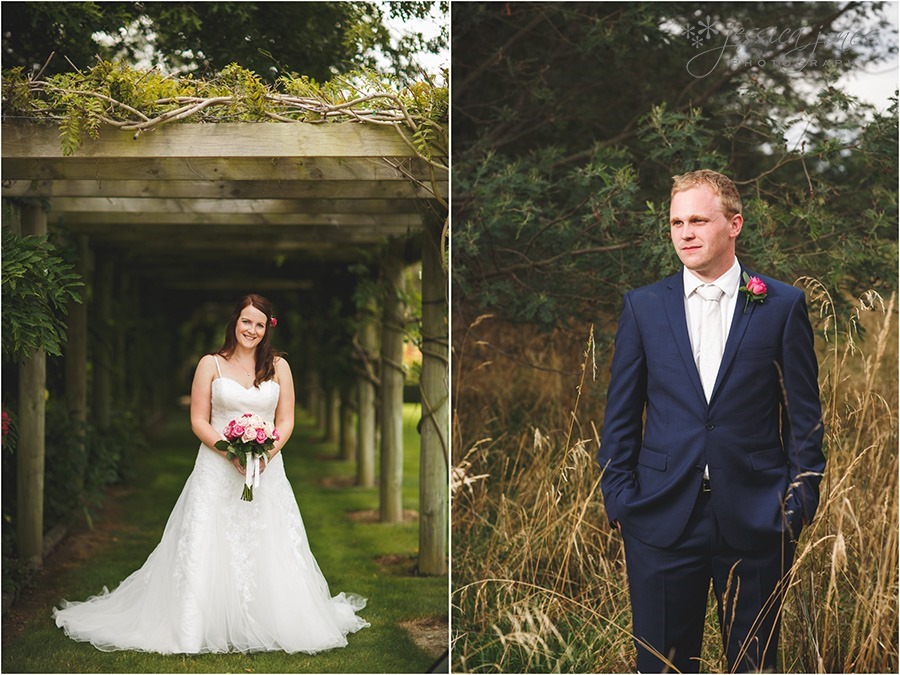 And then onto MVH where we were reunited with the wedding guests who were ready to party the night away.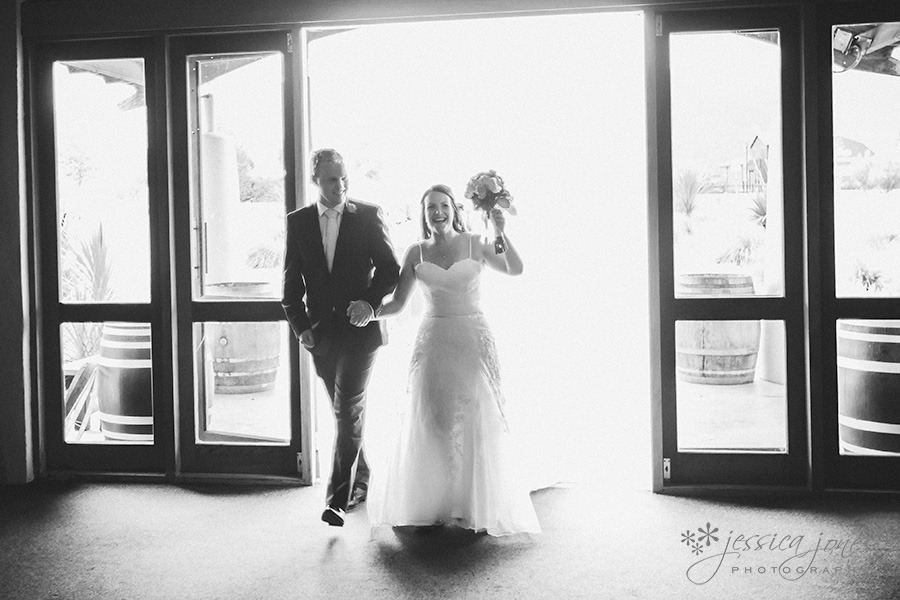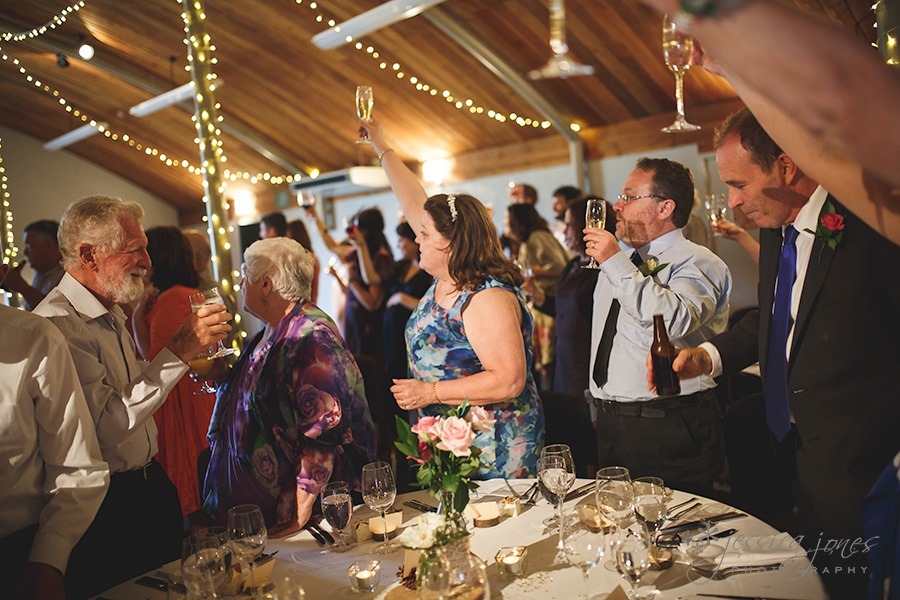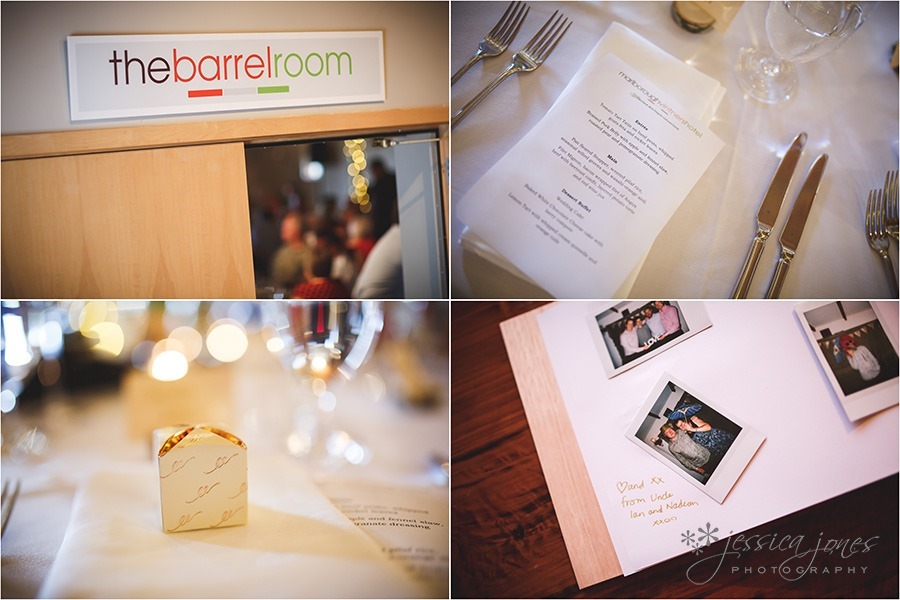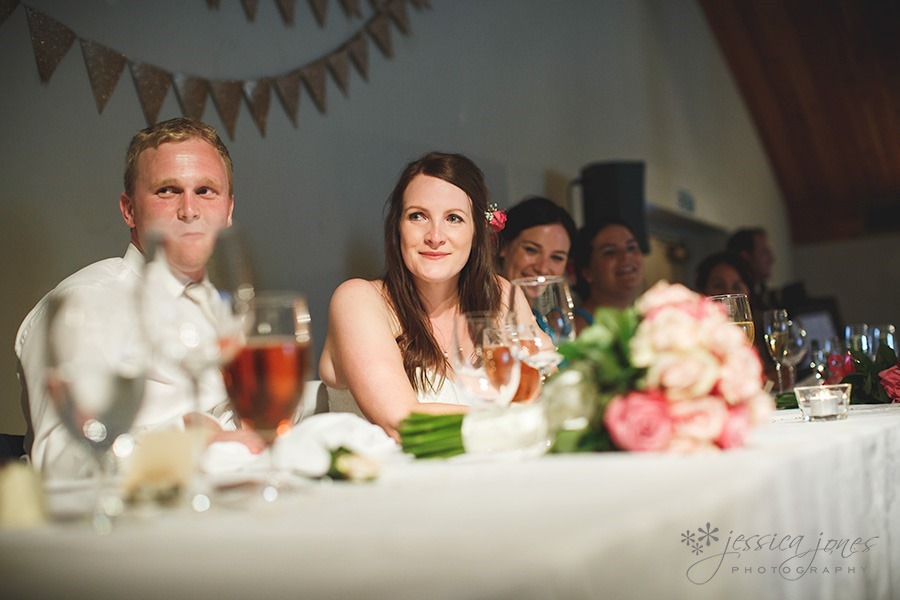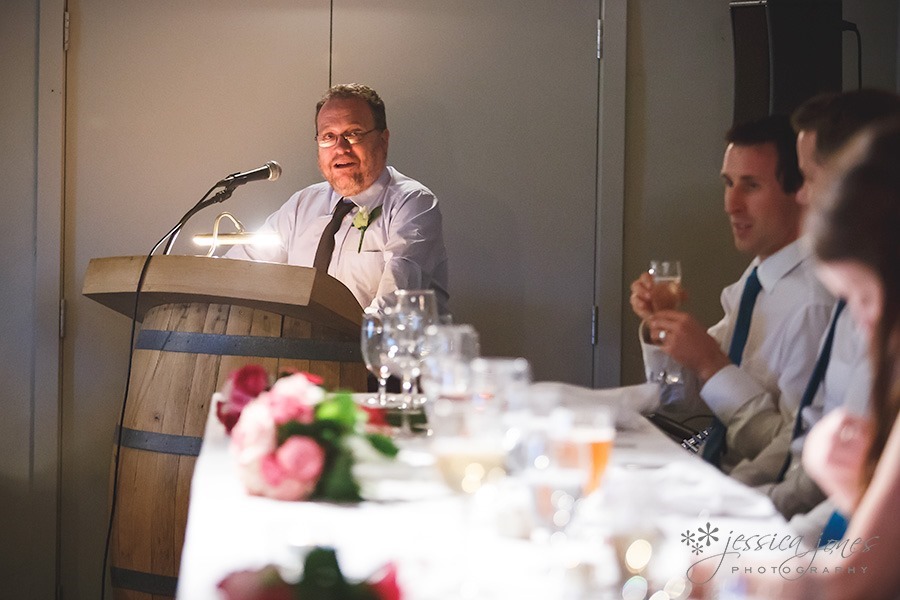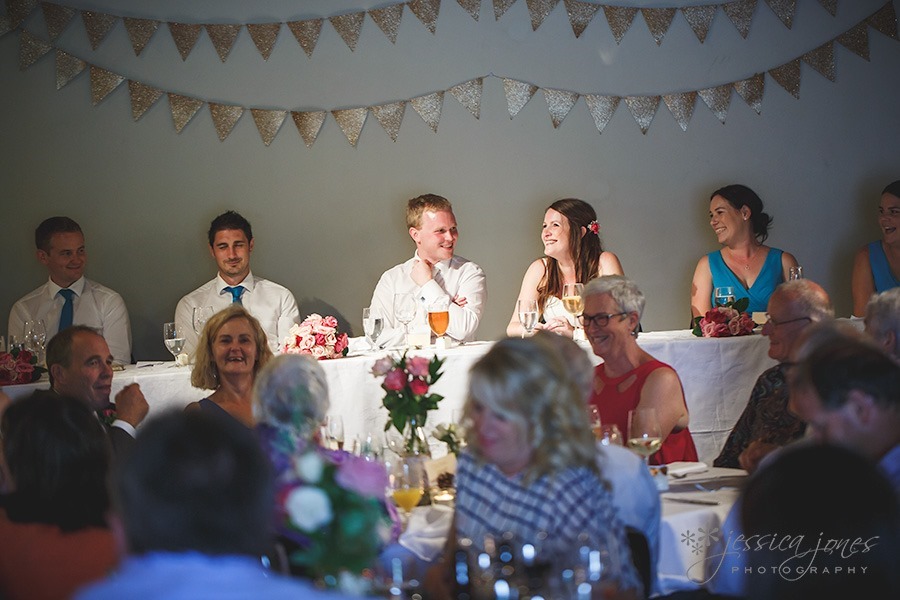 We've done a couple hundred wedding cakes now, but this would have to be the first time anyone has ever taken to their cake with a hammer.  And then hit it so hard the top later explodes into a delicious rainbow of M&Ms.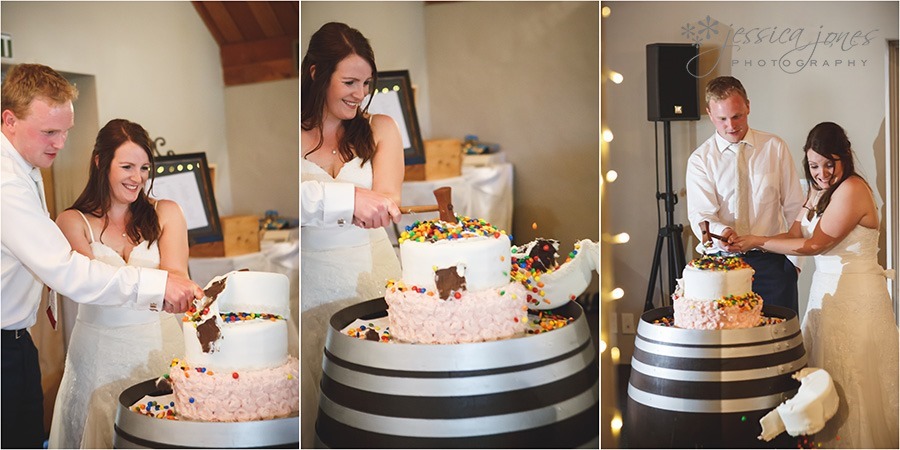 Ahem.  Onto the floor.  Best cake story ever.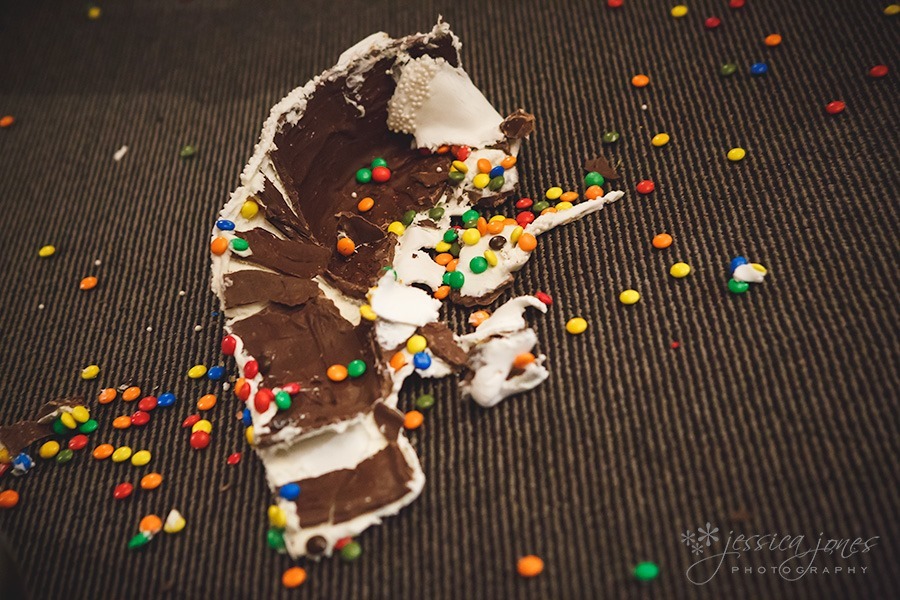 You don't have to have a prepared dance, if you're not that way inclined.  Just look lovingly at each other and sway.  Honestly.  The entire room will melt.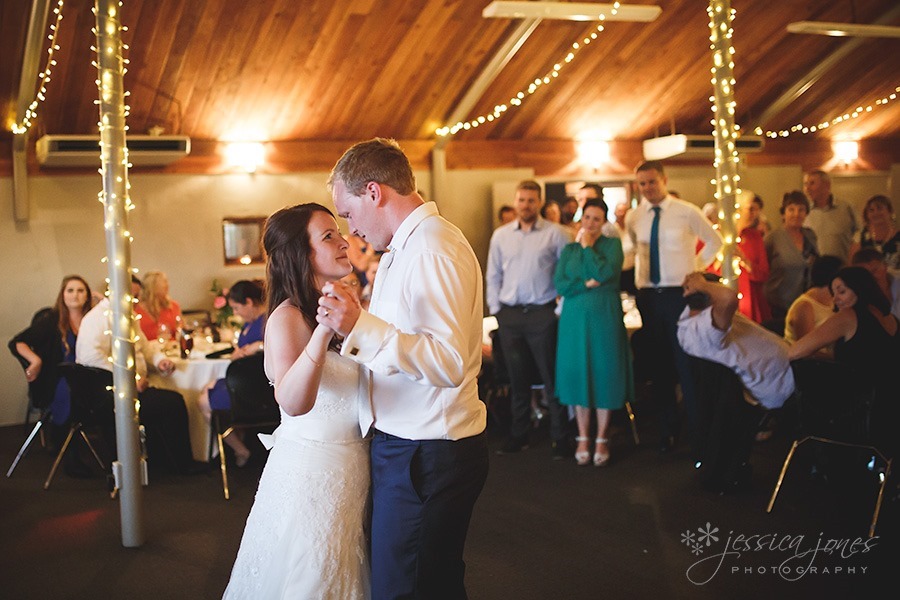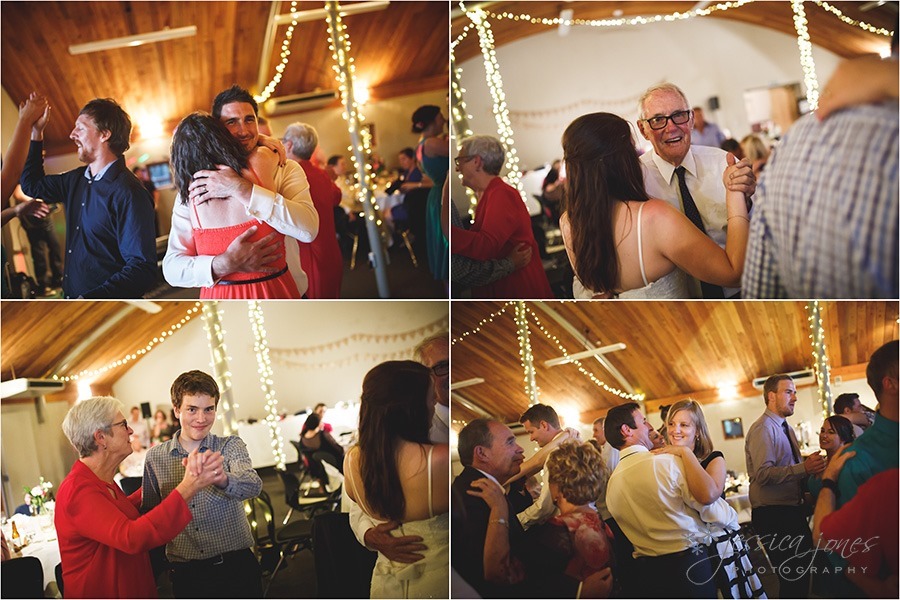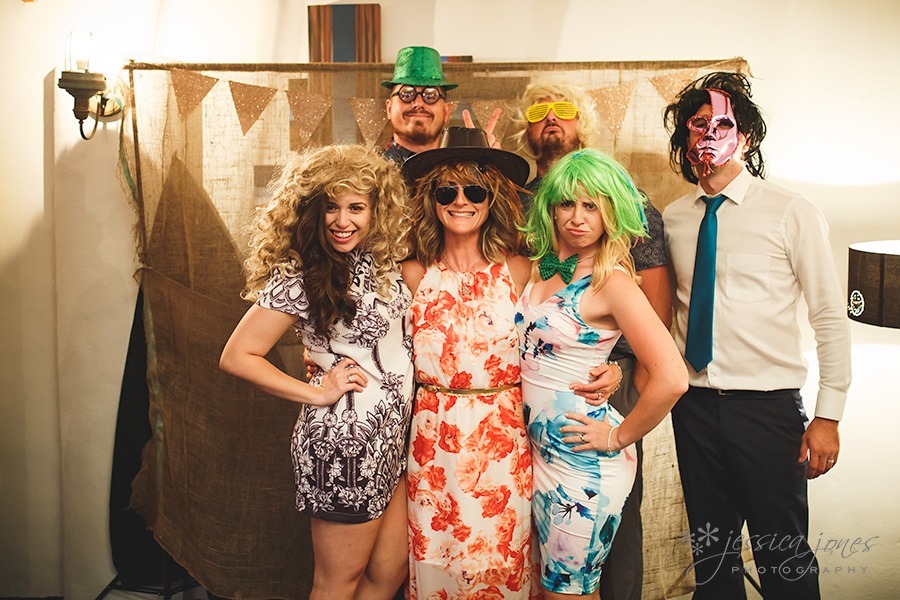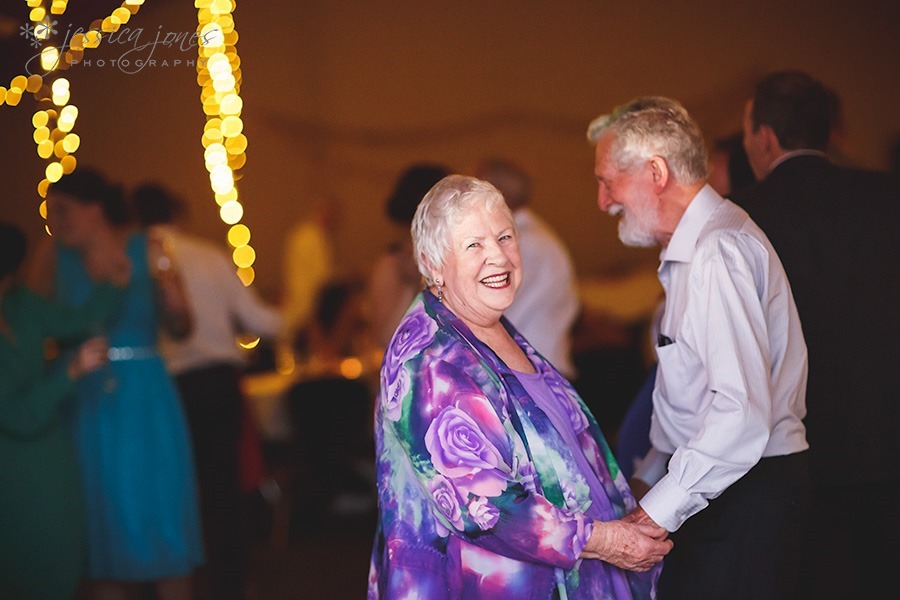 As we were about to say our goodbyes, we had already kind of decided not to drag Tom and Clare out of their reception (the light was a bit average, and we'd already done LOADS of photos of them) then the sky just started glowing.  All other plans went out the door as I made a bee line for Clare, and begged to get them outside, JUST ONE MORE TIME.  I think it was a good call.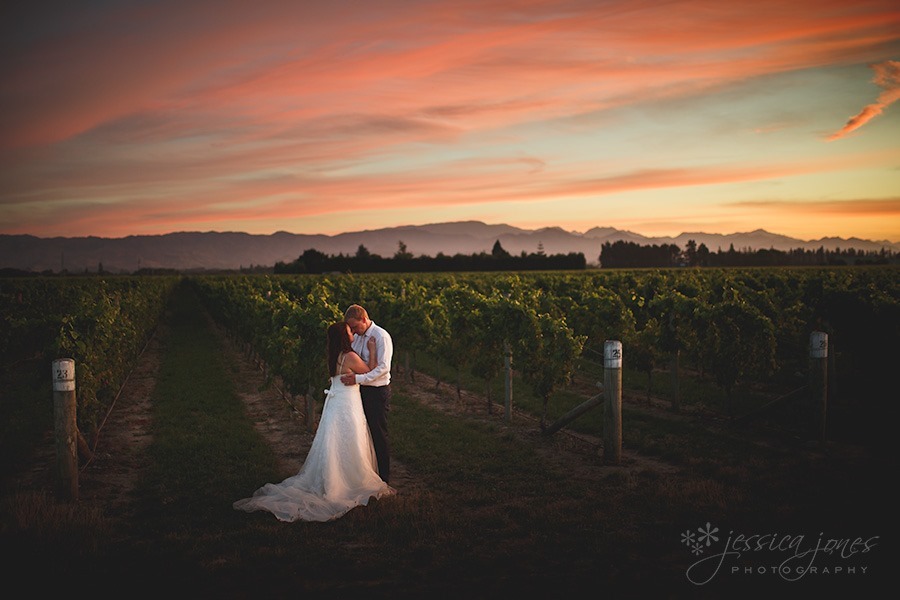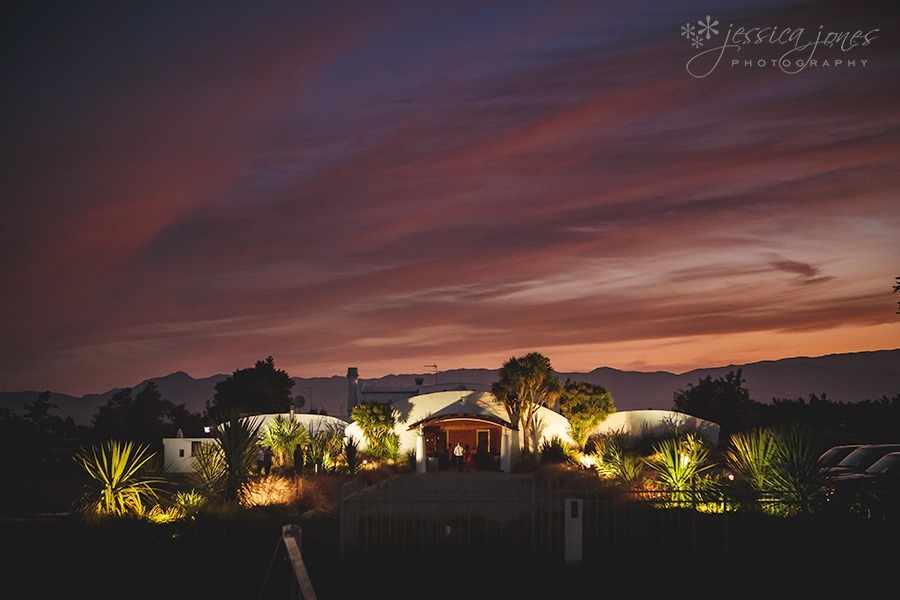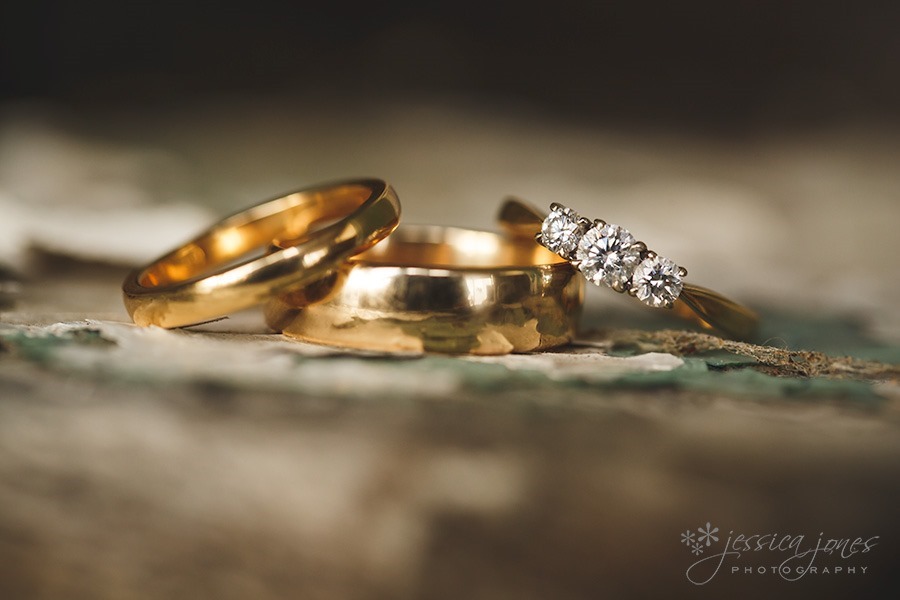 Tom and Clare, you guys rocked your wedding day.  The way you looked at each other, the smiles, the fun and just genuine gosh-darn niceness of you guys made us feel warm and happy.  Thank you for sharing your day.  Enjoy your life together!
Vendor Shoutout
Ceremony Venue: Woodend Gardens
Reception Venue: MVH
Celebrant: Prue Muschamp
Flowers: The Flower Box
Hair: Rachel Gibbons
Makeup: Monique, X'foliate Beauty Salon
Cake: Debbie Giles
Music: Acoustic Boomtown