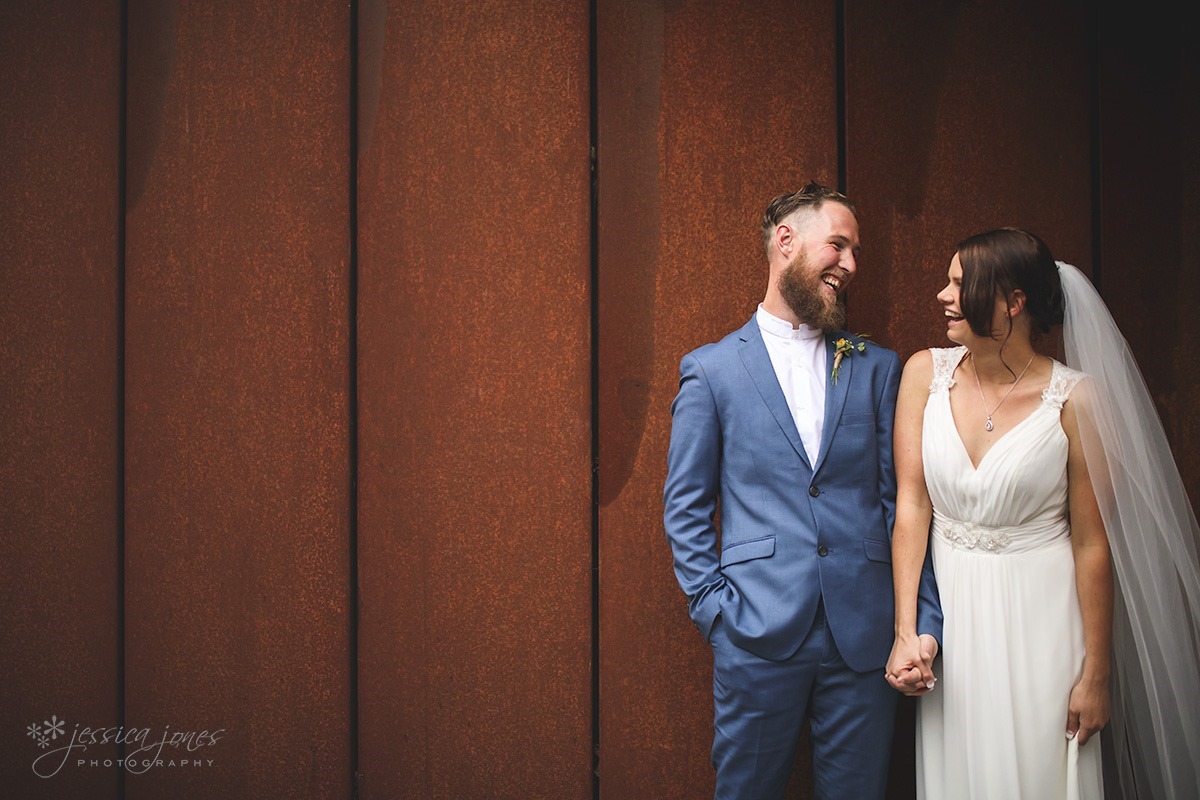 You never know when you're going to run into the love of your life.  You might be taking a simple walk down the river with your dog, only to find someone else taking a walk with their dog, you strike up a conversation and *boom* three years later you're getting married.  That is, more or less, what happened with Phil and Stacey.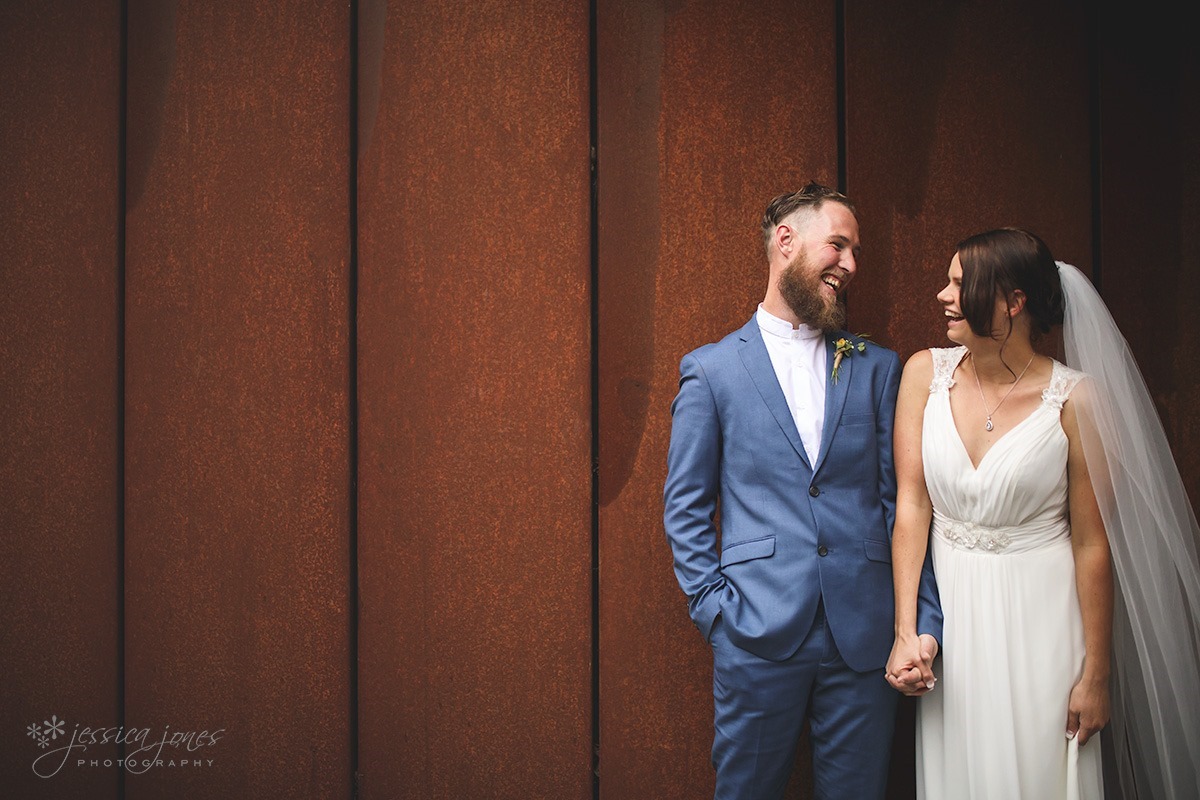 Phil and Stacey's friendship started over a mutual love of animals.  And when I say they love their animals, I really mean it.  Horses and dogs.  LOVE love.  And so it will not surprise you to see a generous helping of doggie images through this story.  They really did steal the show with their cute little faces and expressive eyes.  Meet Annie and Flash.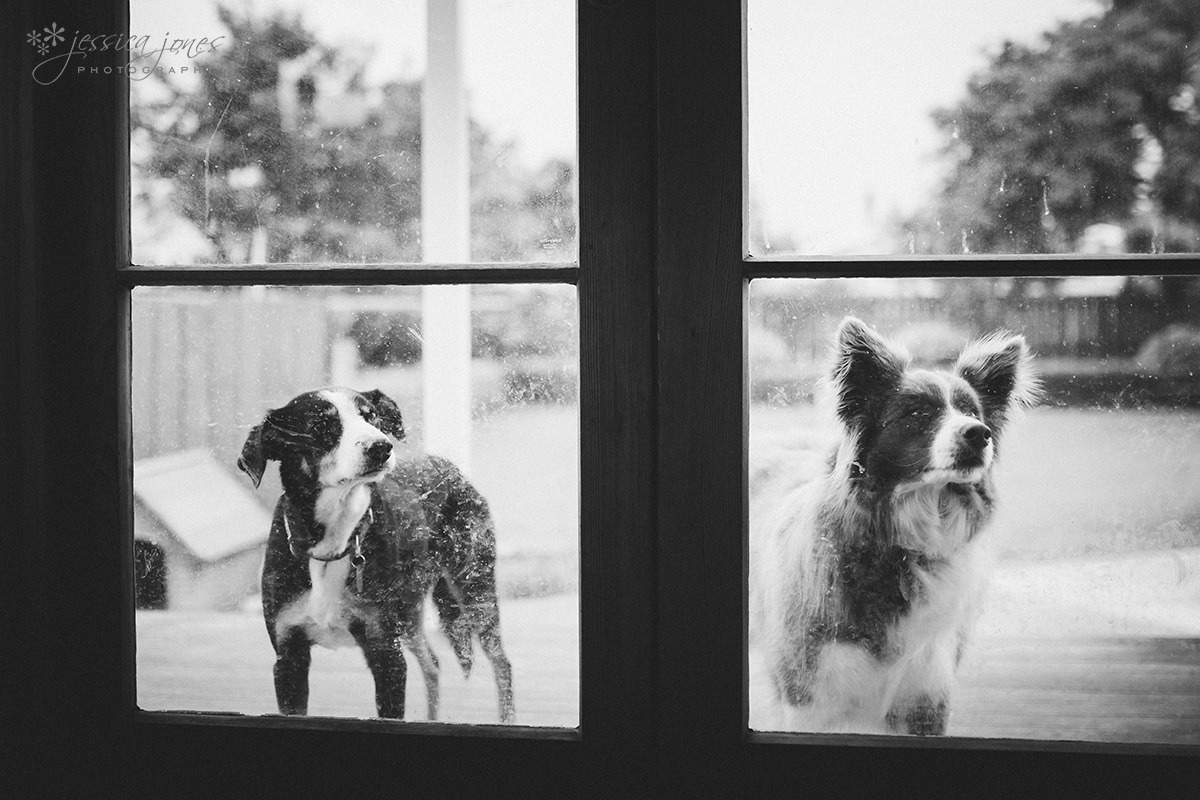 Being very much a part of the family, Flash also had to dress up for Mum and Dad's wedding.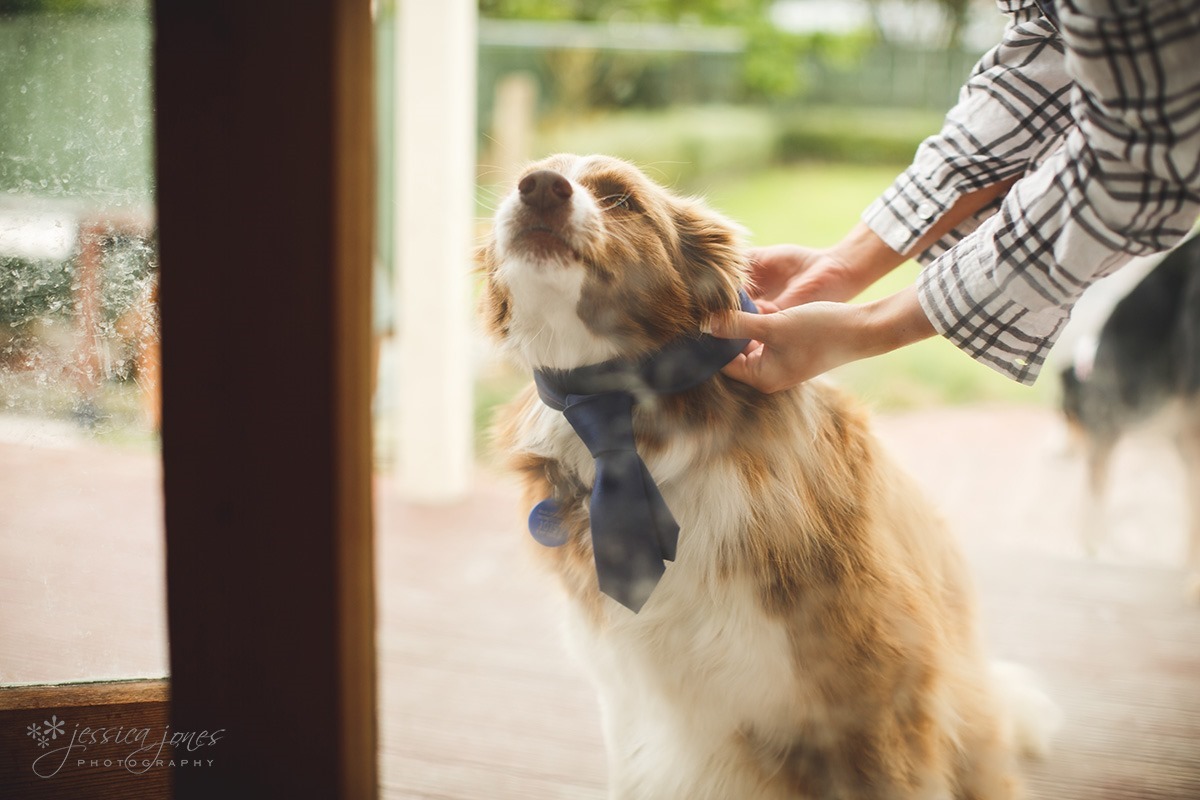 I can't quite work out what I love most about this image, the way Flash is patiently waiting for his turn for some love, or the doggie slobber on the glass.  Every dog owner knows about the losing battle that comes from having both dogs and glass doors.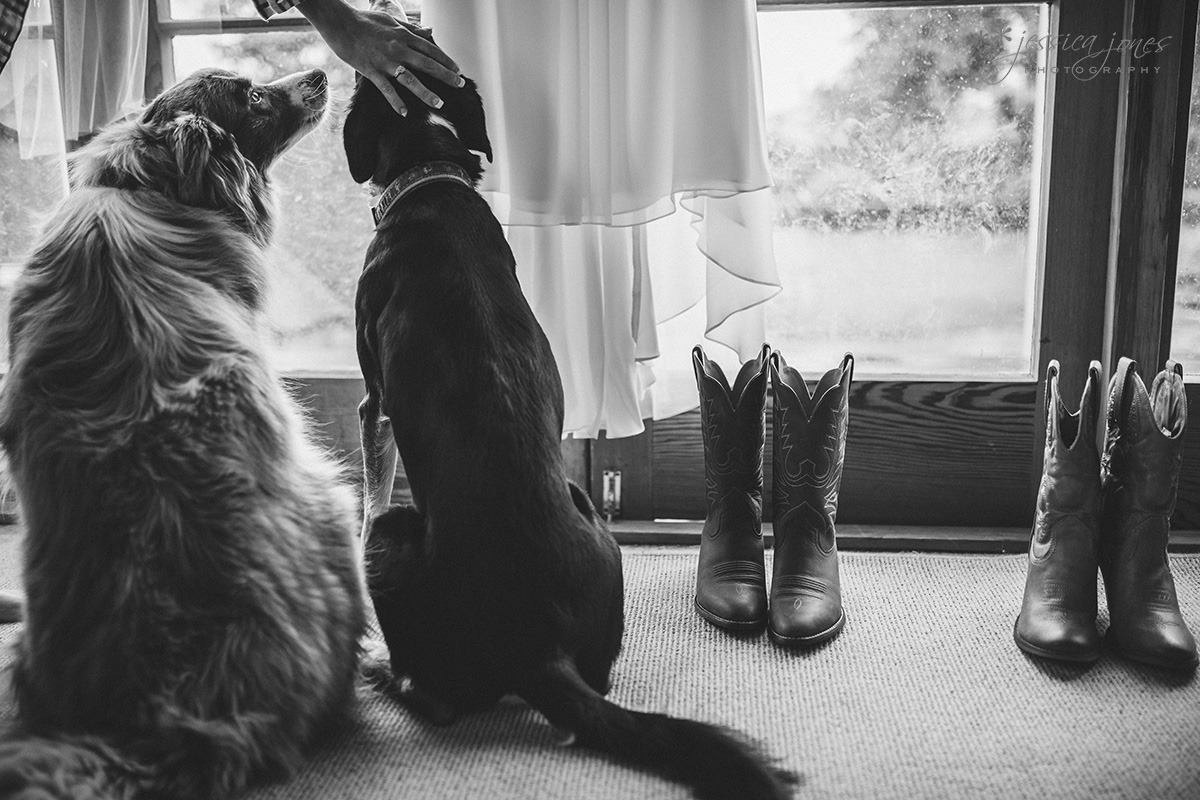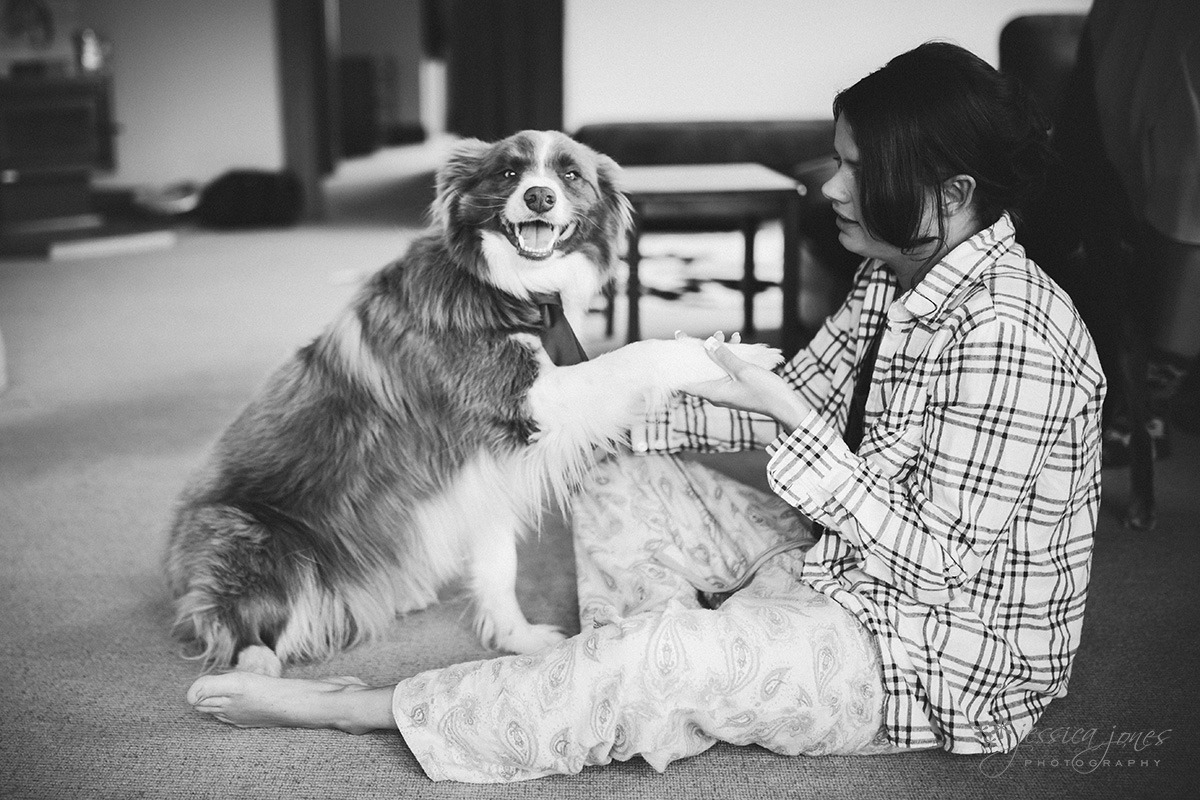 Every member of the bridal party had their own fun, colourful, pair of socks.  While I already knew this was going to be a fun wedding, this moment sealed it for me.  A bride with rainbow socks will win me over in a heartbeat.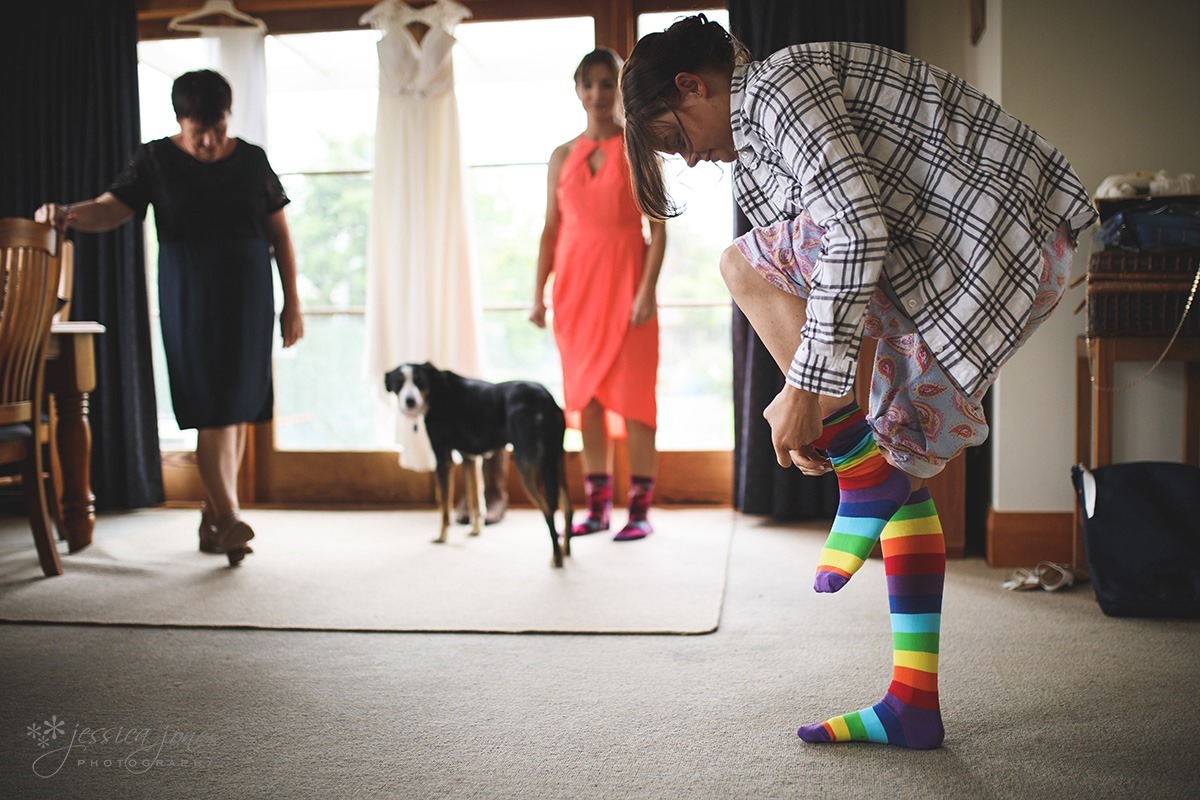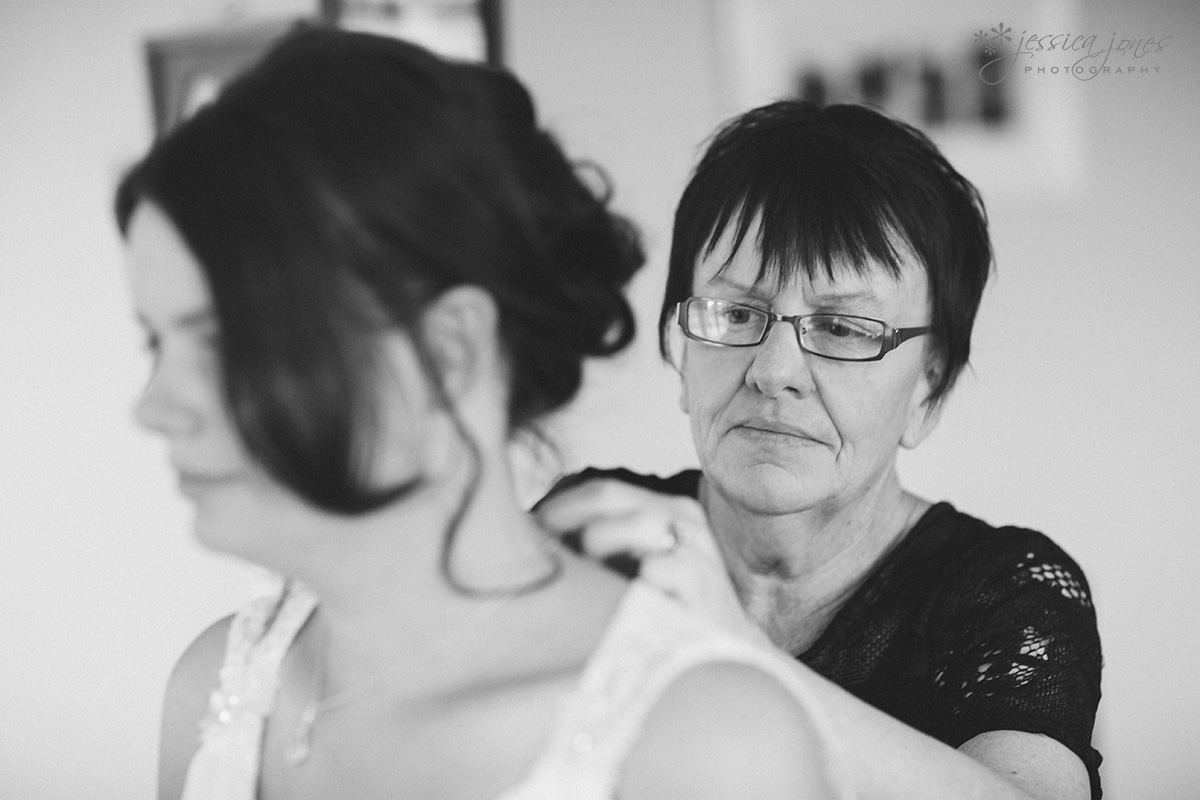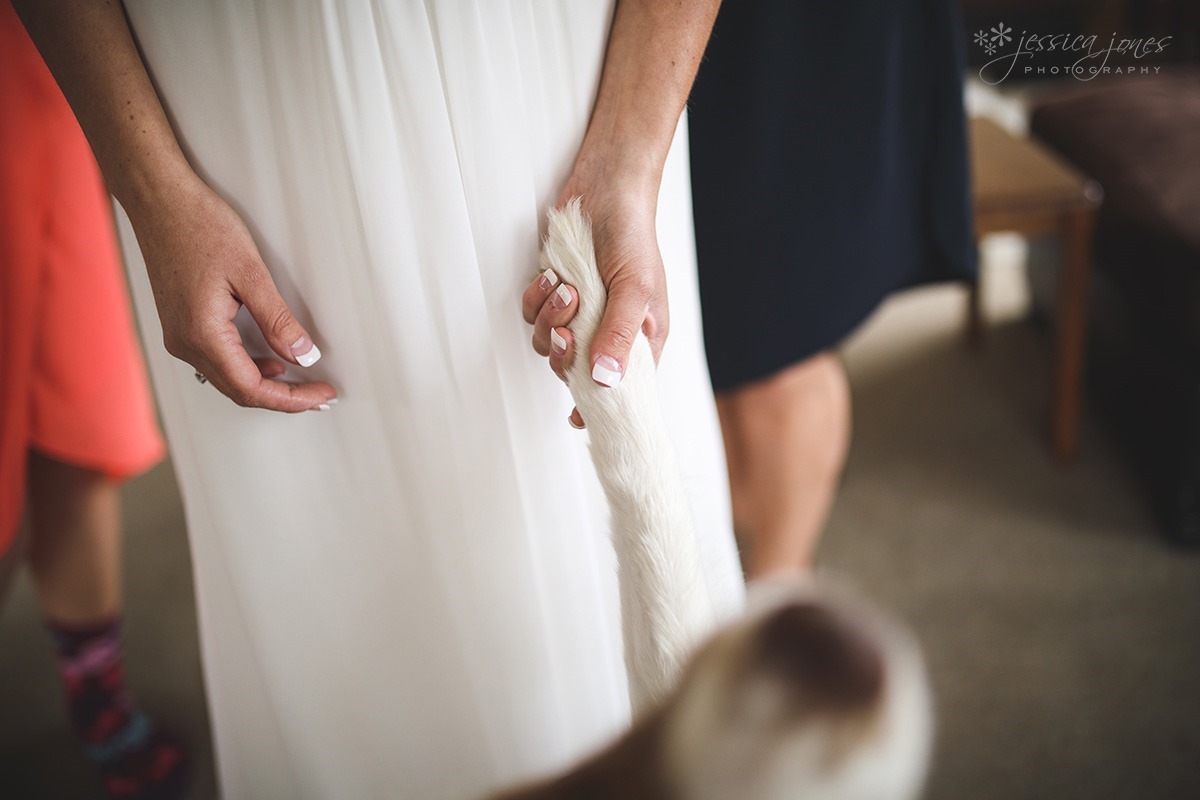 Socks, win.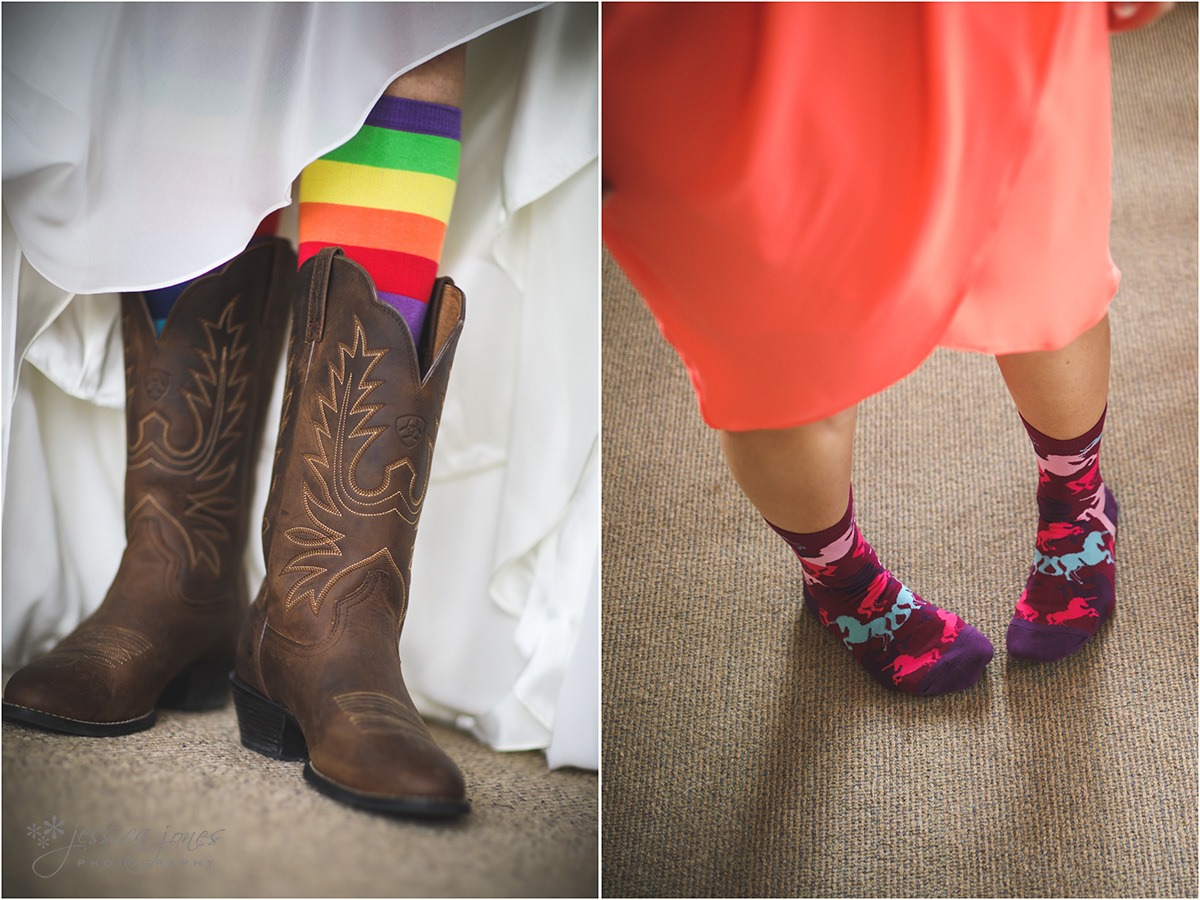 While it may be true that Stacey would be more comfortable in riding gear, she absolutely rocked the gorgeous bride look!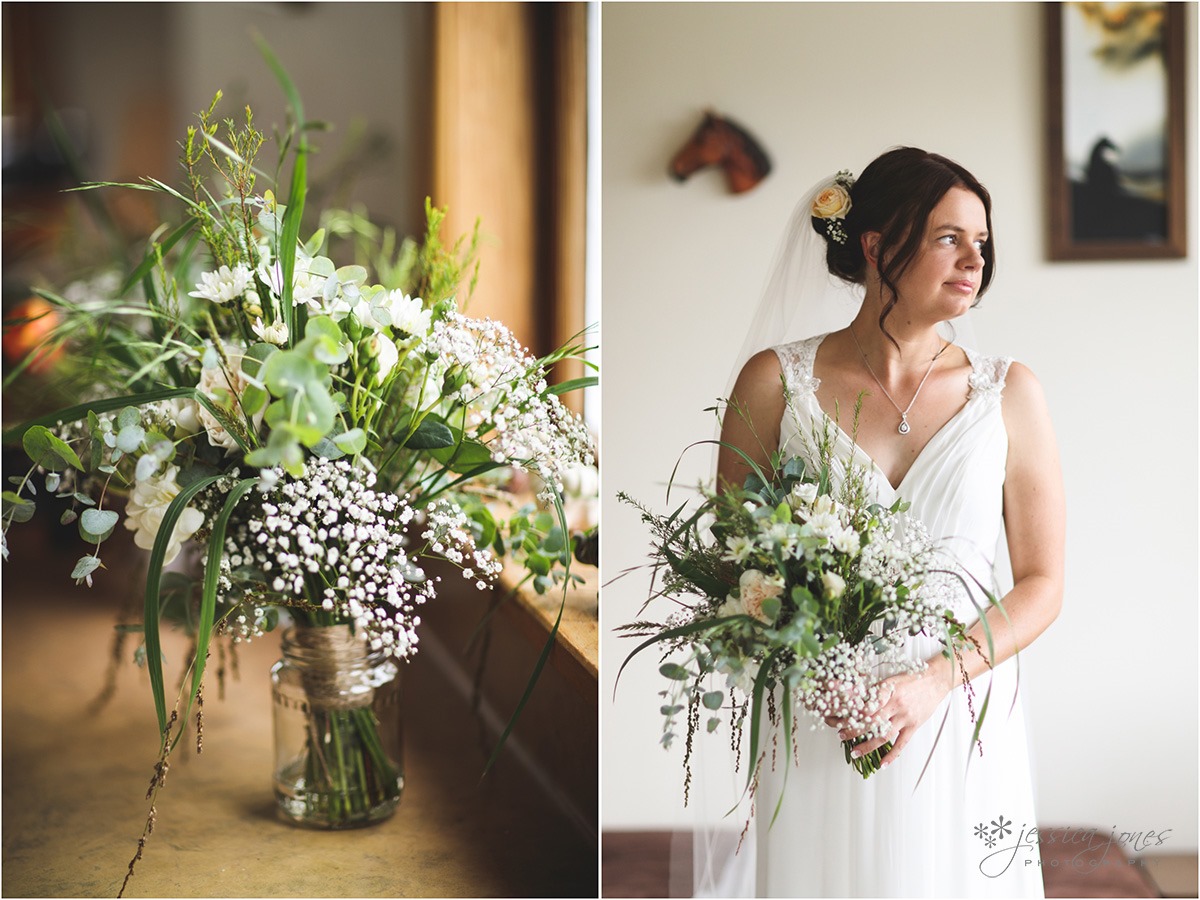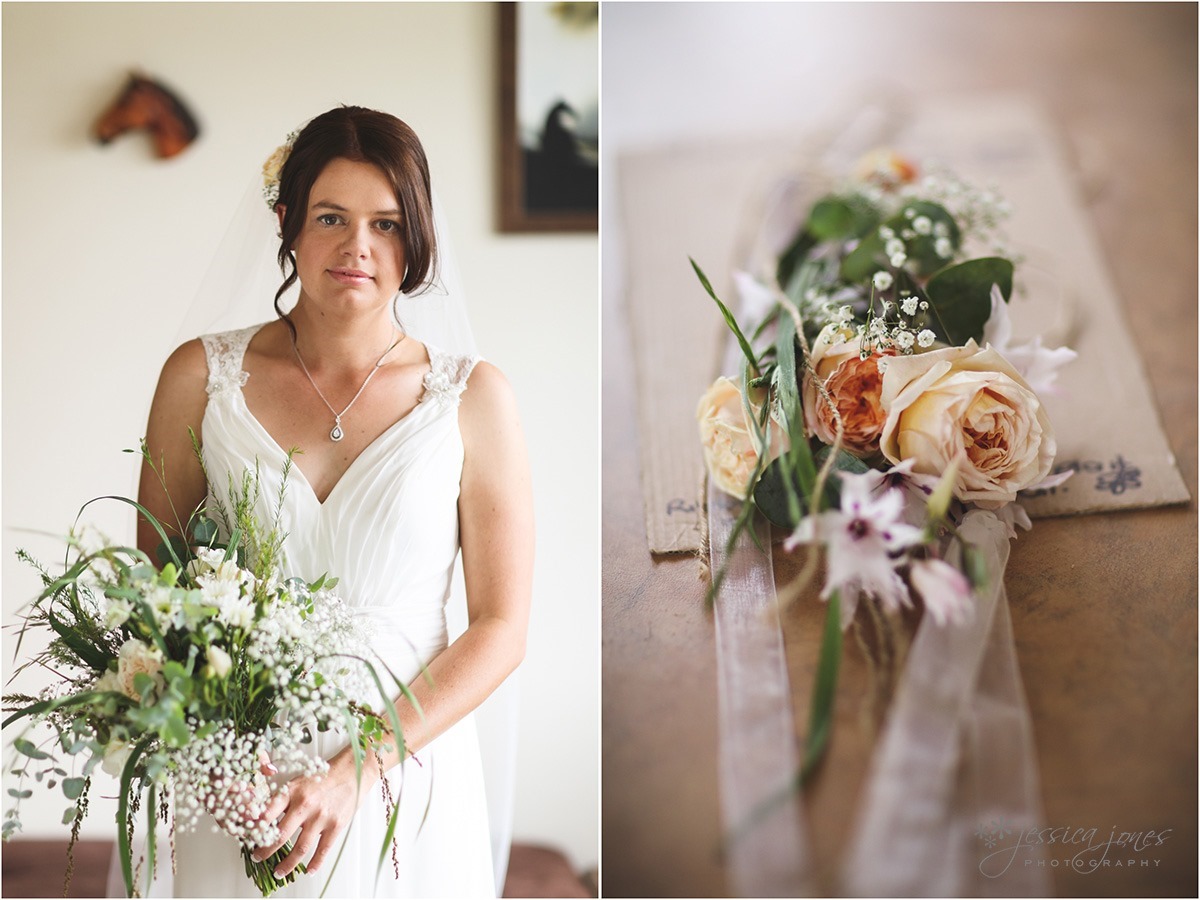 Annie thought Mummy looked pretty too.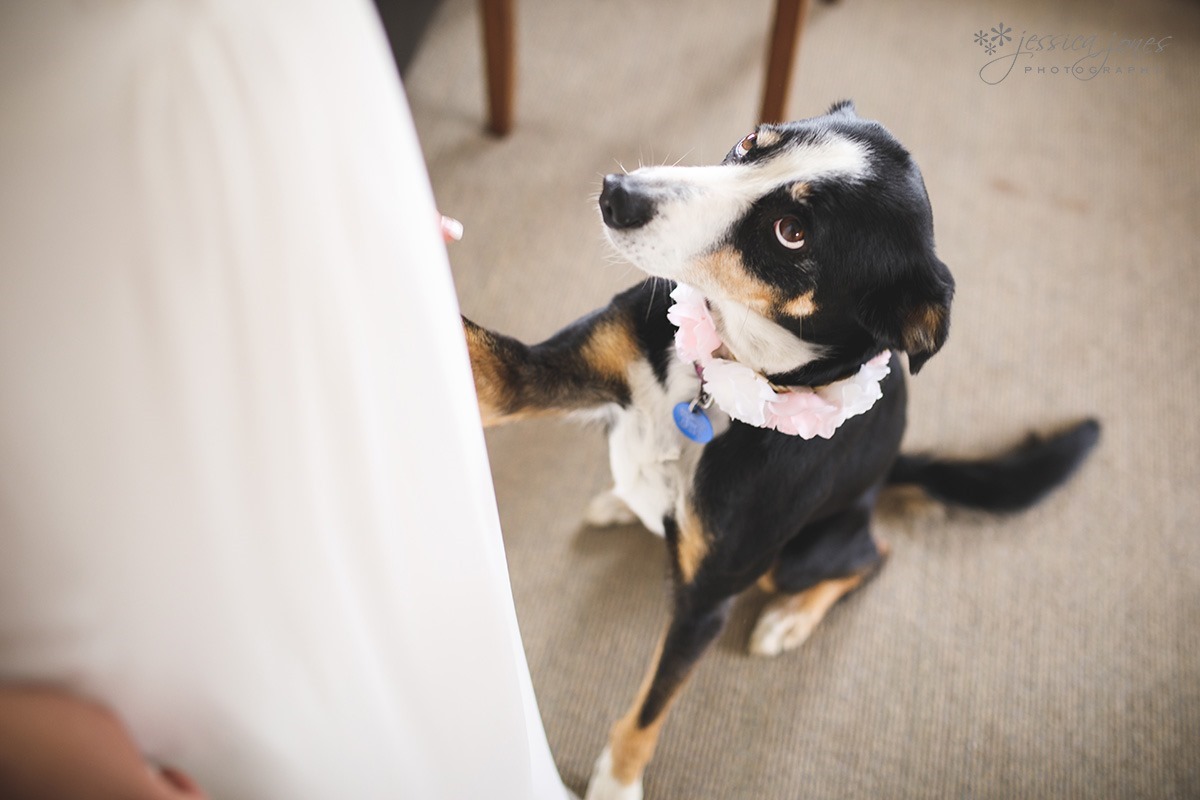 Meanwhile, Paul is with the boys who are not only getting themselves ready, but also doing important man/farm stuff – like getting the hay bales for the ceremony.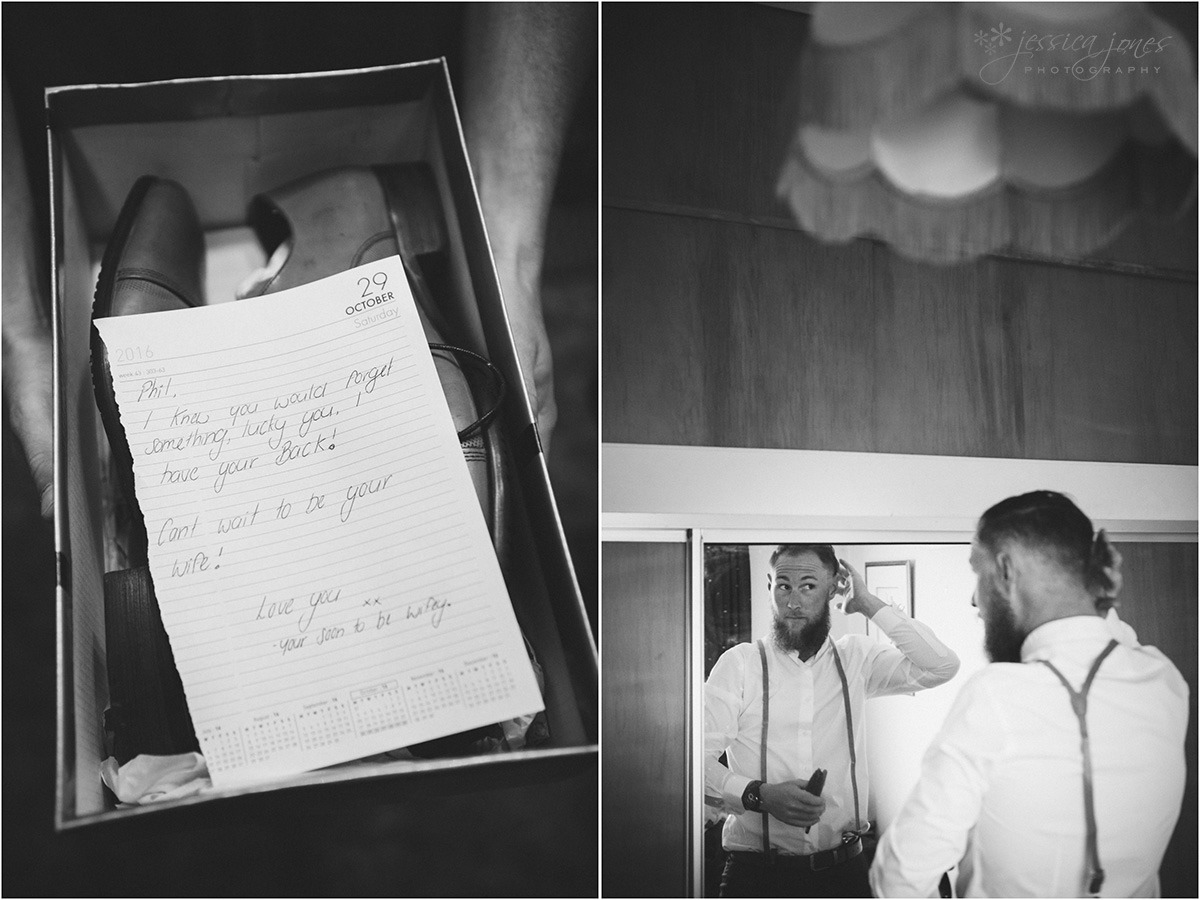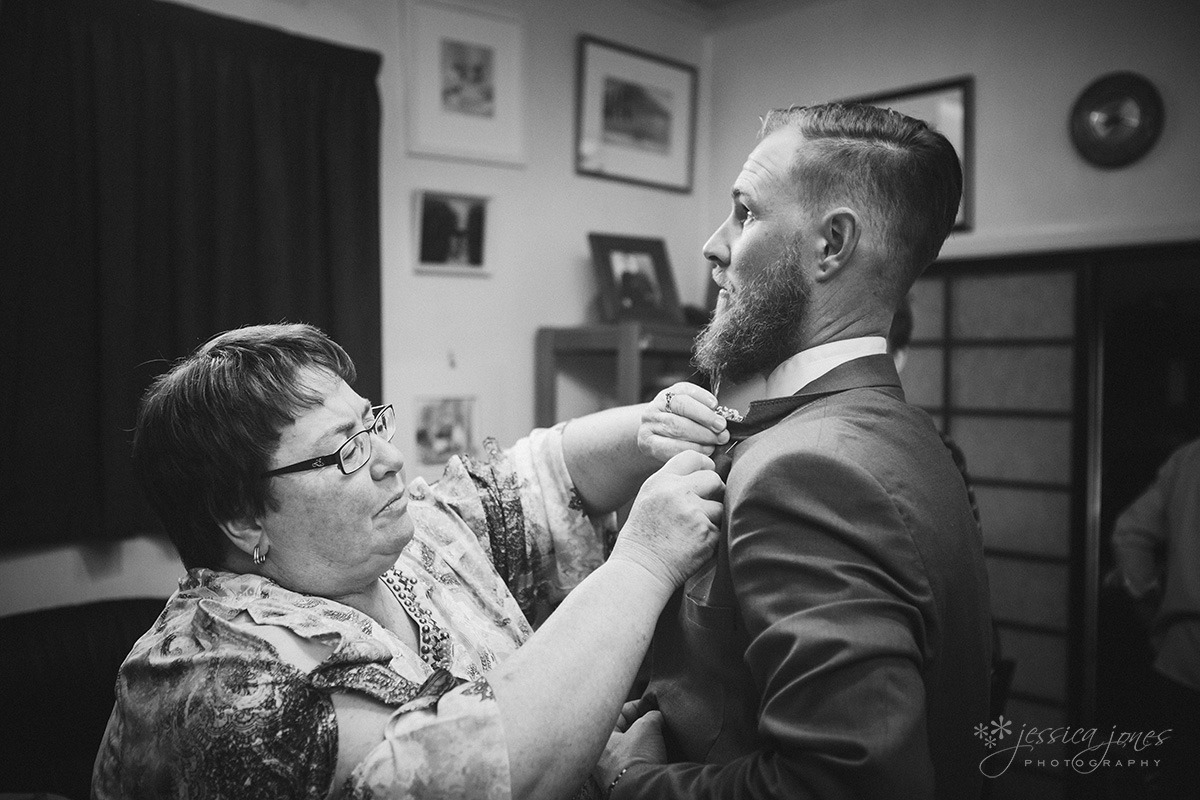 Just in case you miss the print on the groomsmen's shirts.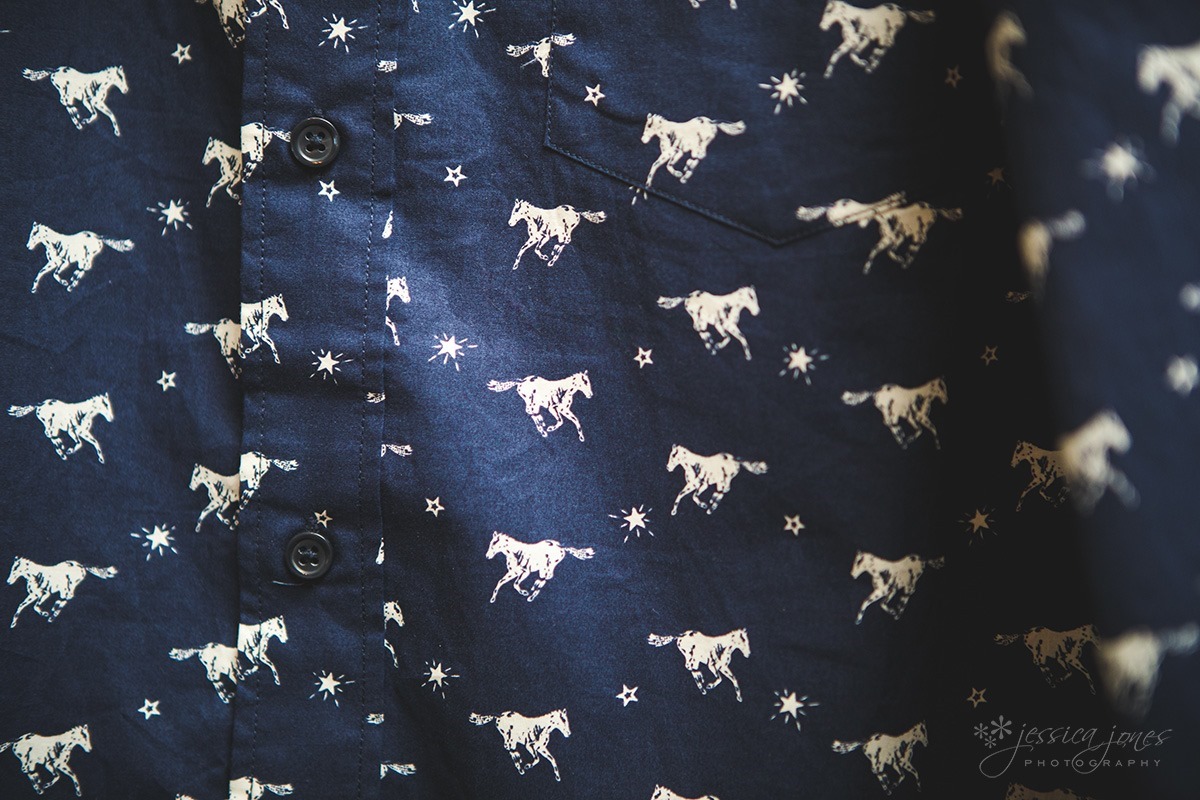 They say it's a sign of 'good luck' if there's rain at your wedding.  I'm not so sure about that, to be honest.  I think a good marriage is built on friendship, great communication and truly serving each other, even on difficult days.  No, if you're planning an outside wedding, rain is just a darn nuisance.  Especially those rainy days when you're just not sure if it will clear up in time to have your ceremony, or if you need to action plan b.  Thankfully, no one seemed too stressed about it, because as long as there was a wedding, it didn't much matter where it happened.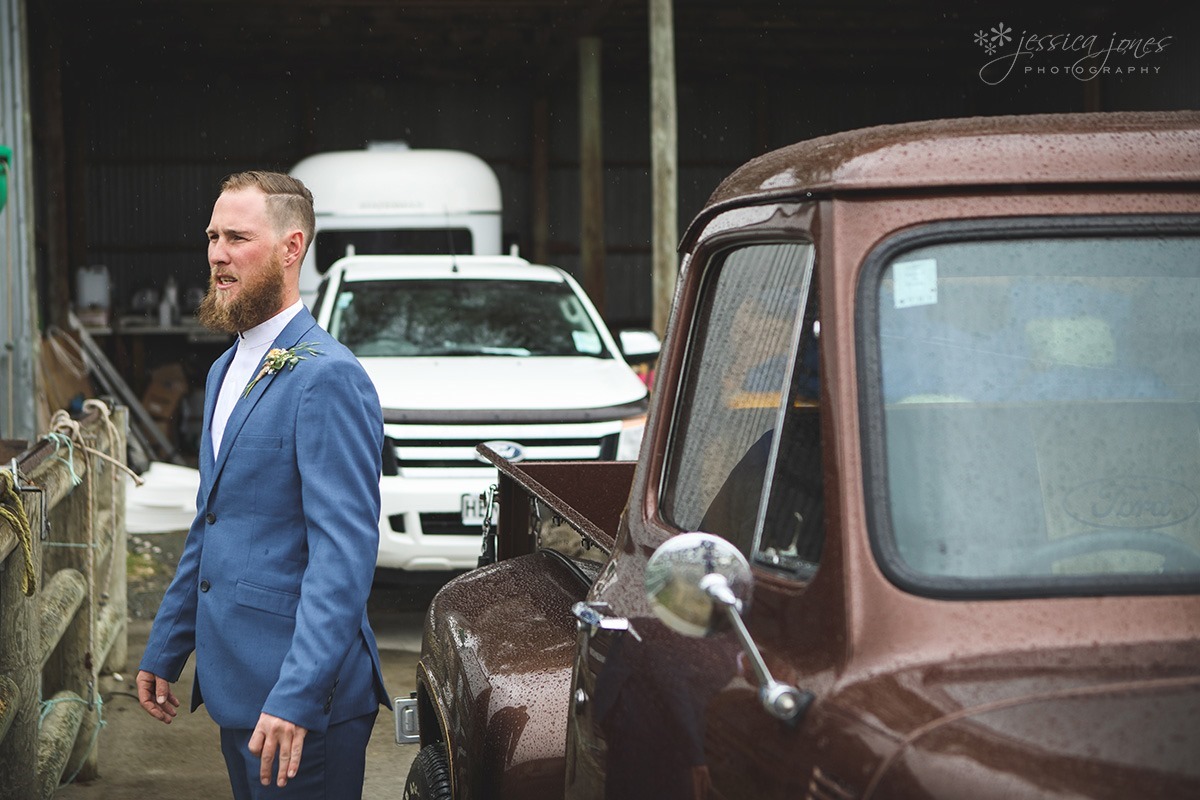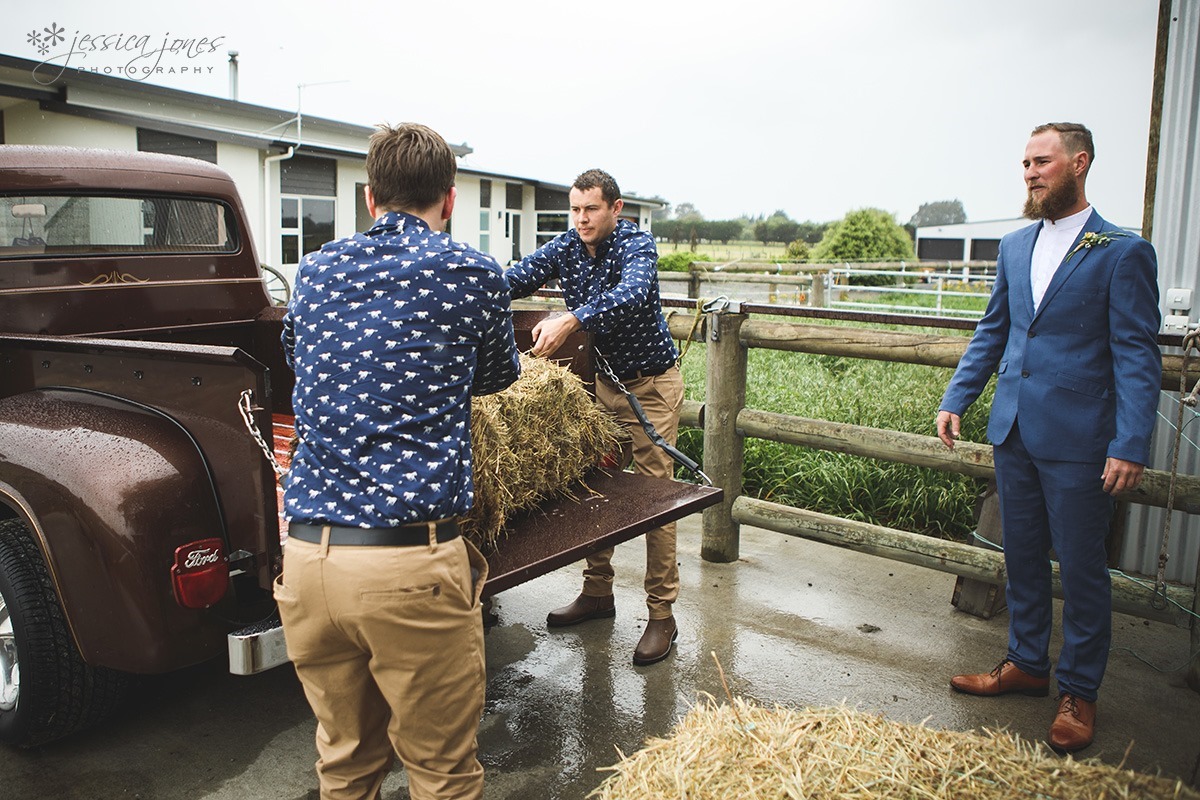 I, for one, am a fan of rain on a wedding (wait, is she serious?)  For sure.  It makes for much more interesting images.  Maybe it's because we're always promised rain, but it almost never comes on Saturdays.  Not in the last year anyway.  Rainy weddings are challenging, interesting, and often create a great story about celebrating through the inconvenience of water falling from the sky.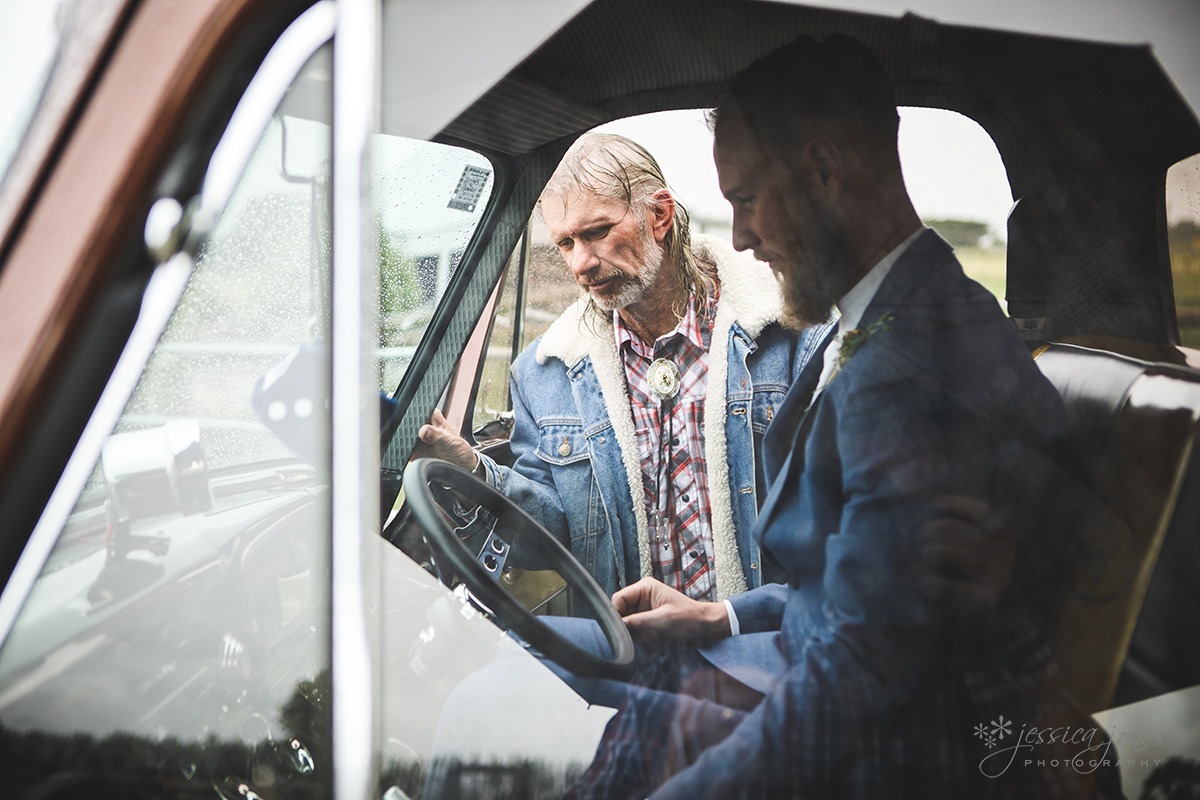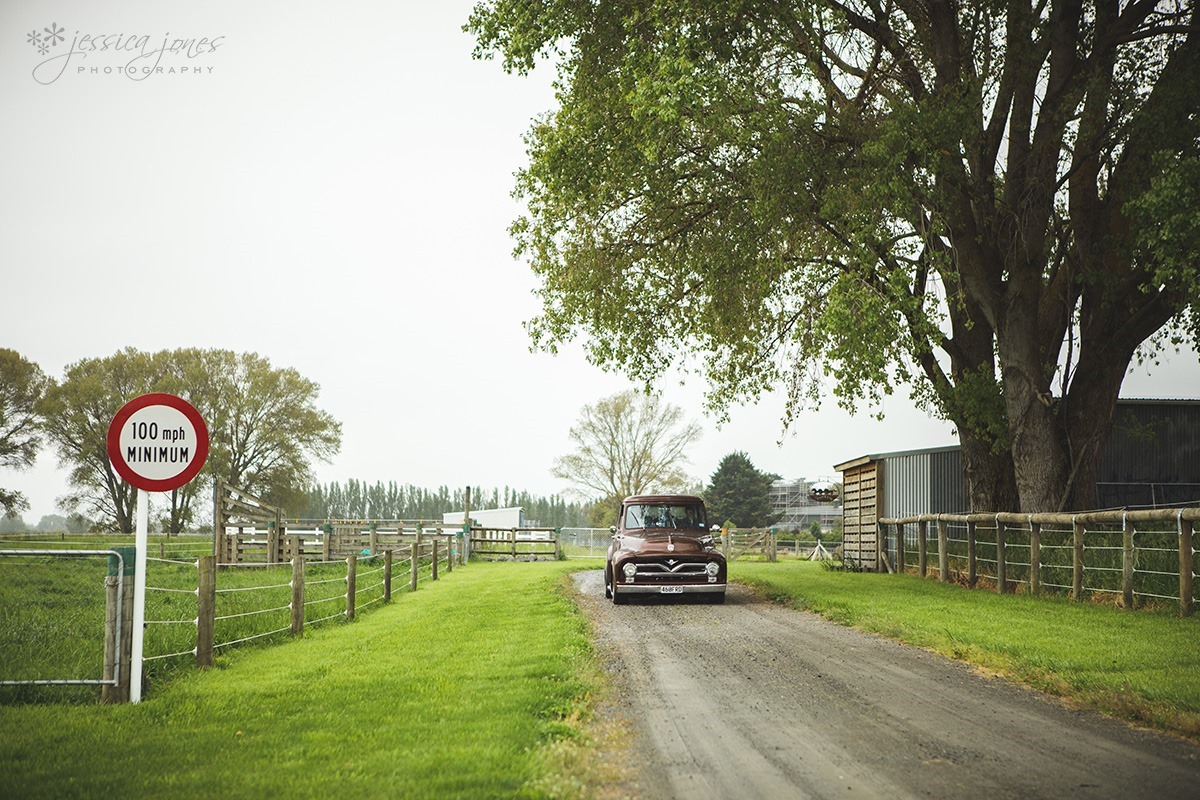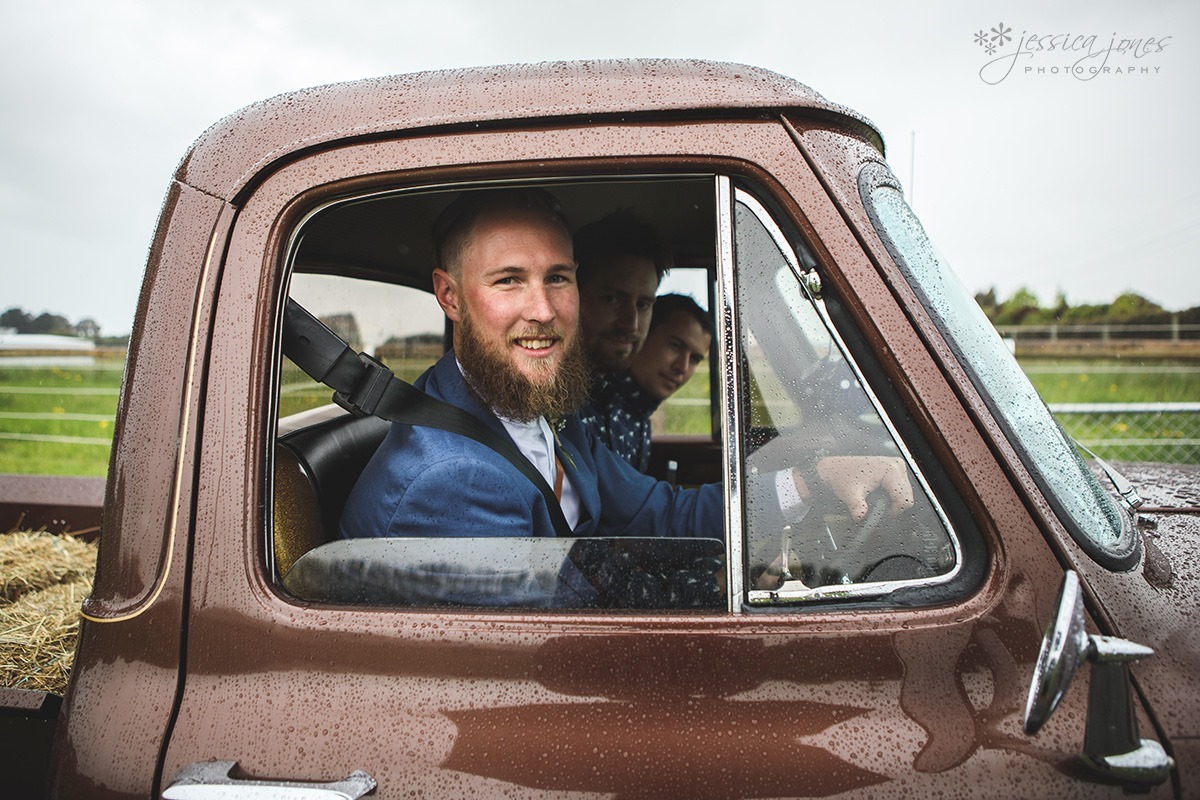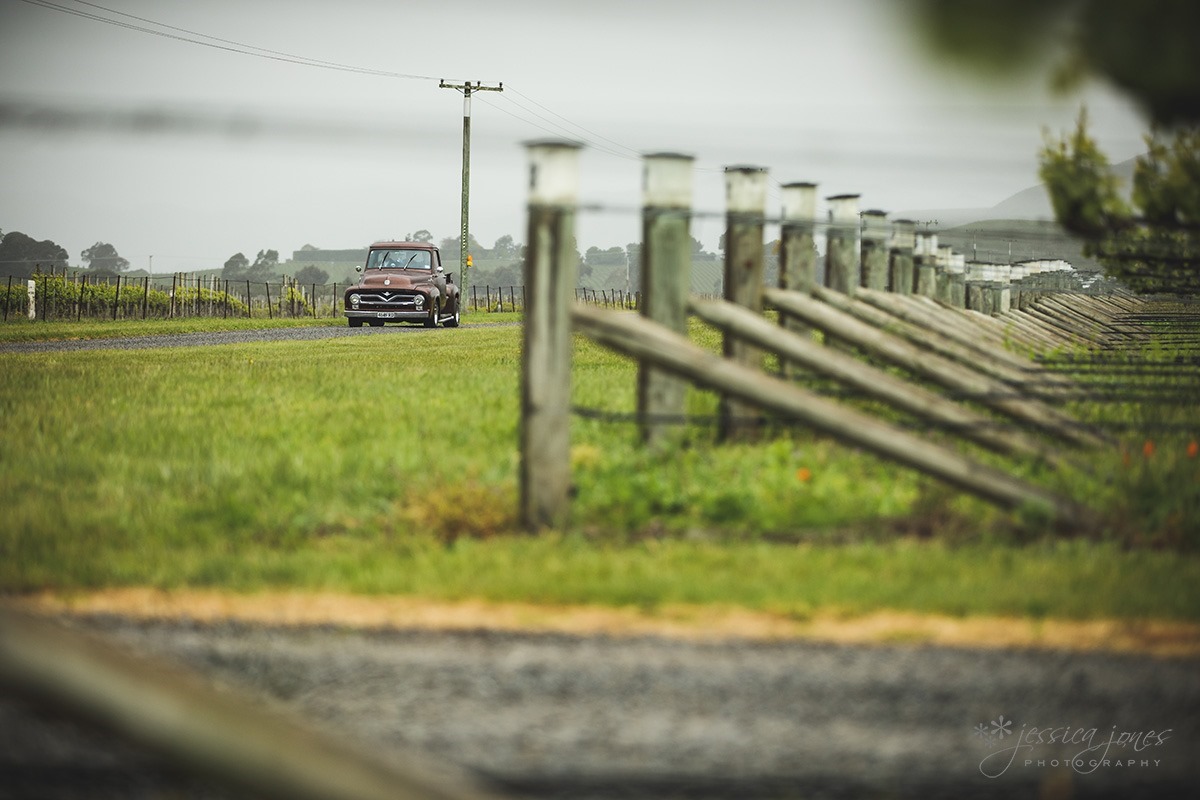 The outside location was all set up and ready to go and looking pretty awesome.  But the clouds stayed close and that water just kept falling from them.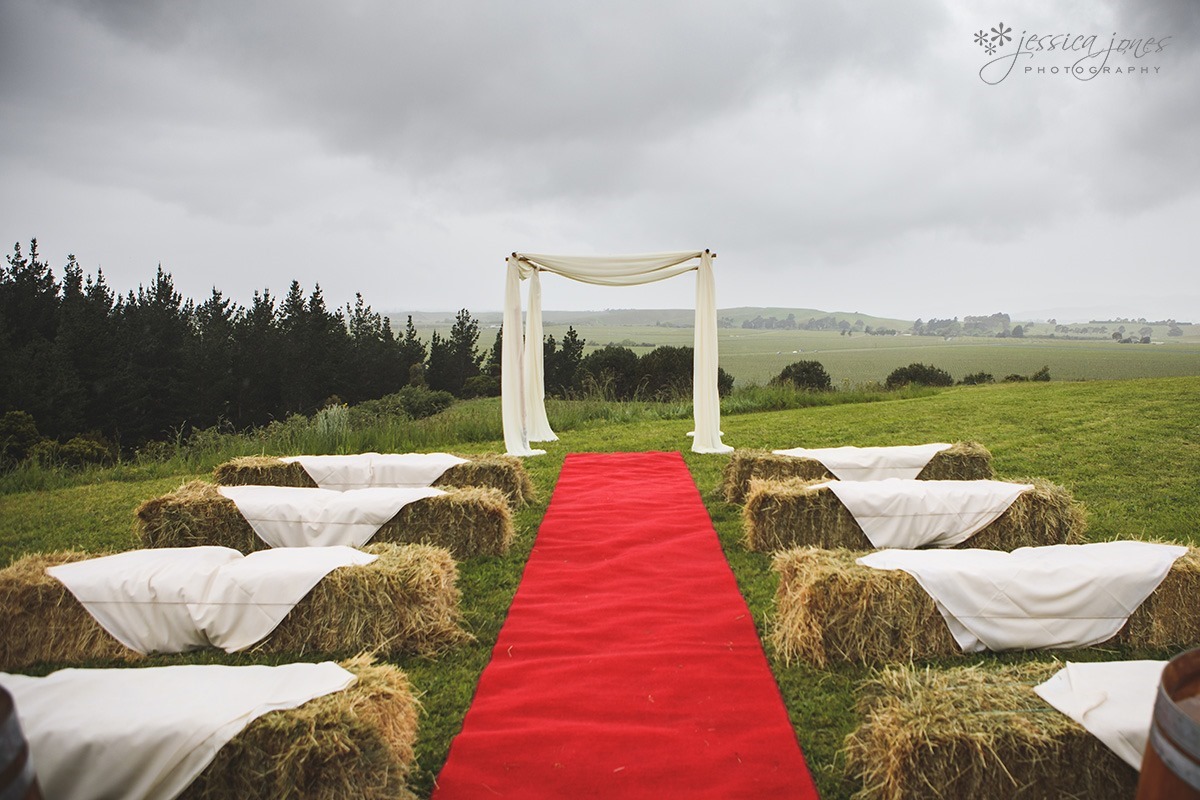 So the call was made to scrap the outside ceremony and head inside the marquee.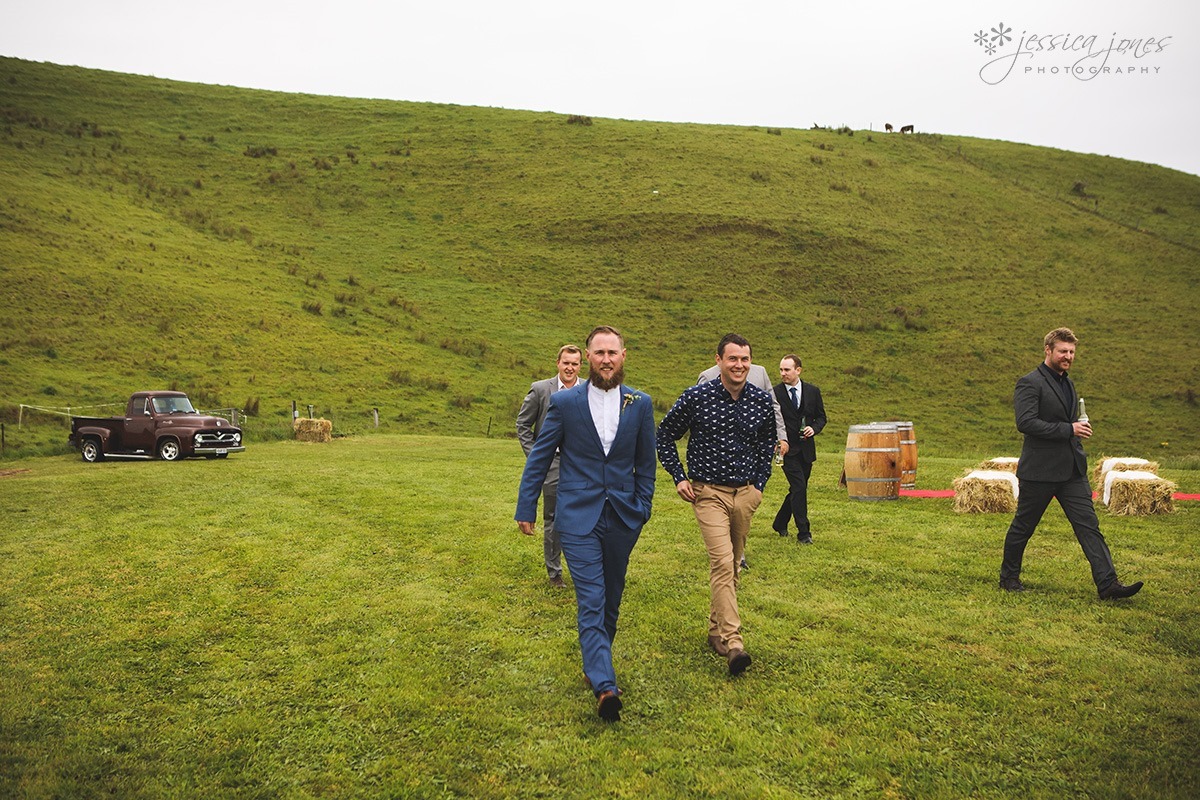 The marquee was all ready and set up for the reception.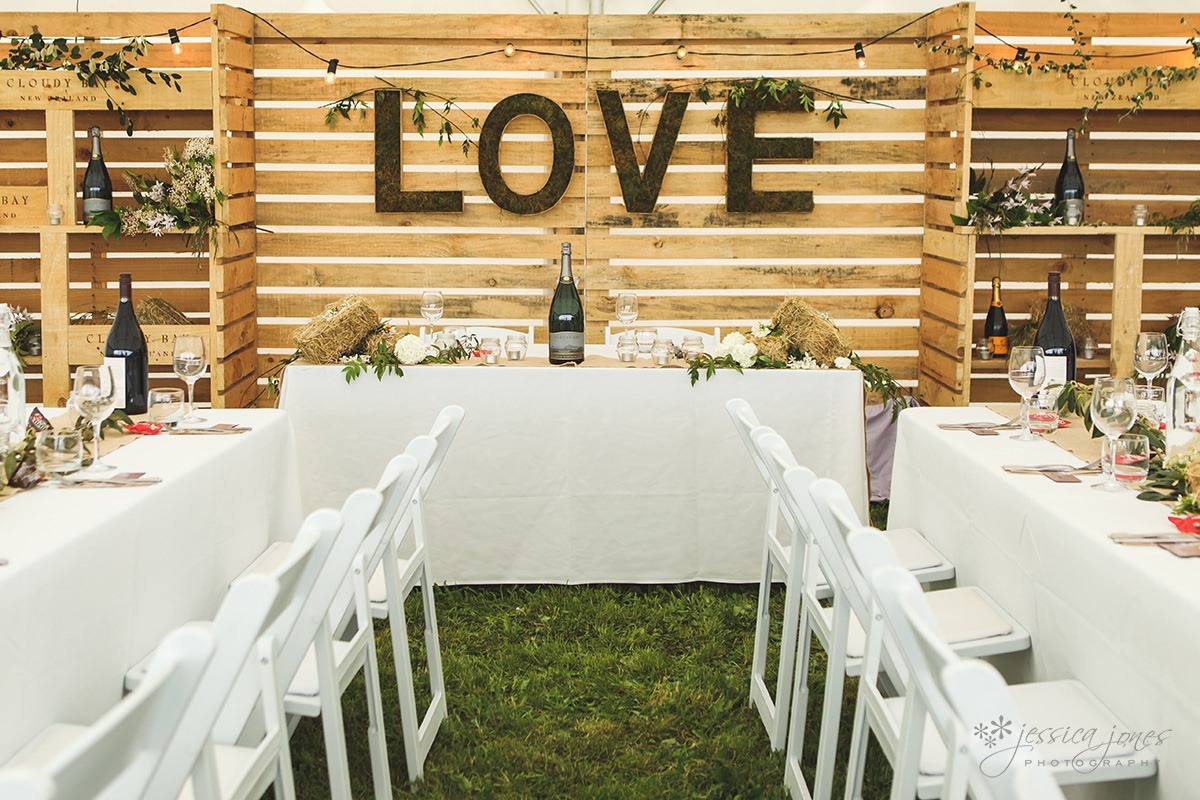 But with the help of some man power, and a shuffle of the head table and we have a perfectly fine (and dry) ceremony location!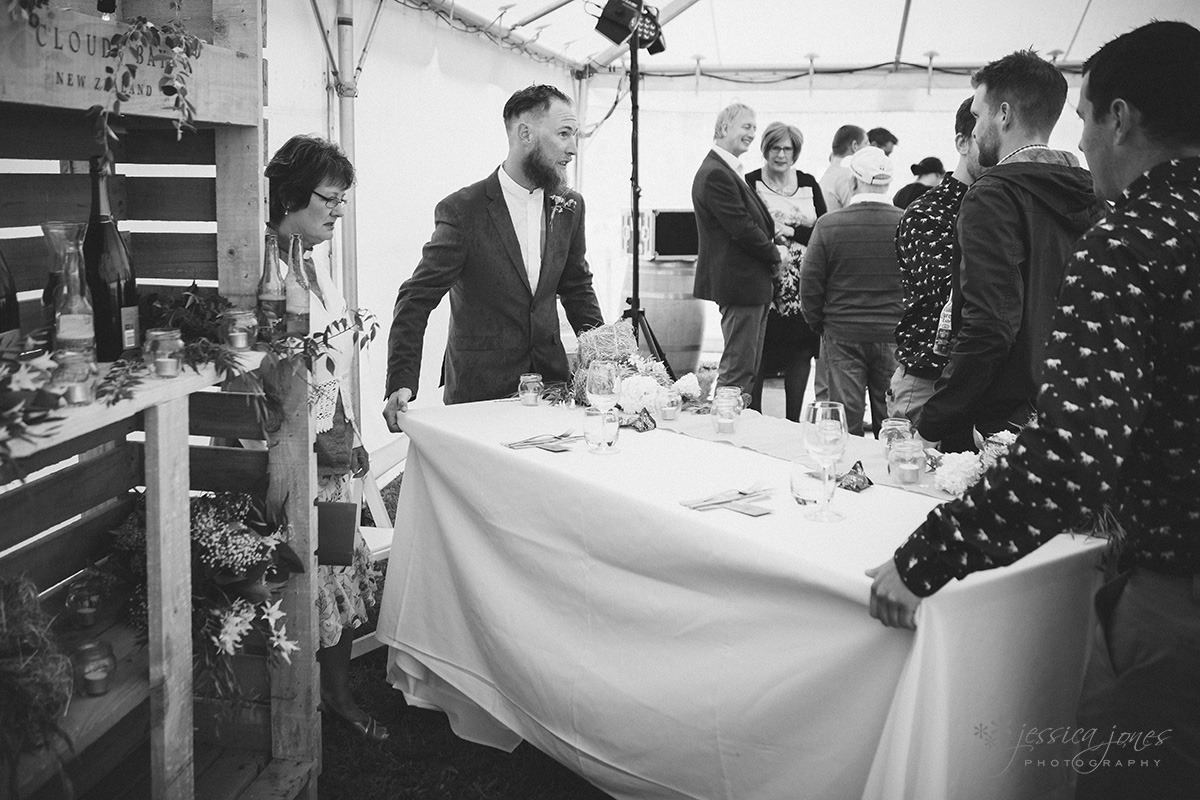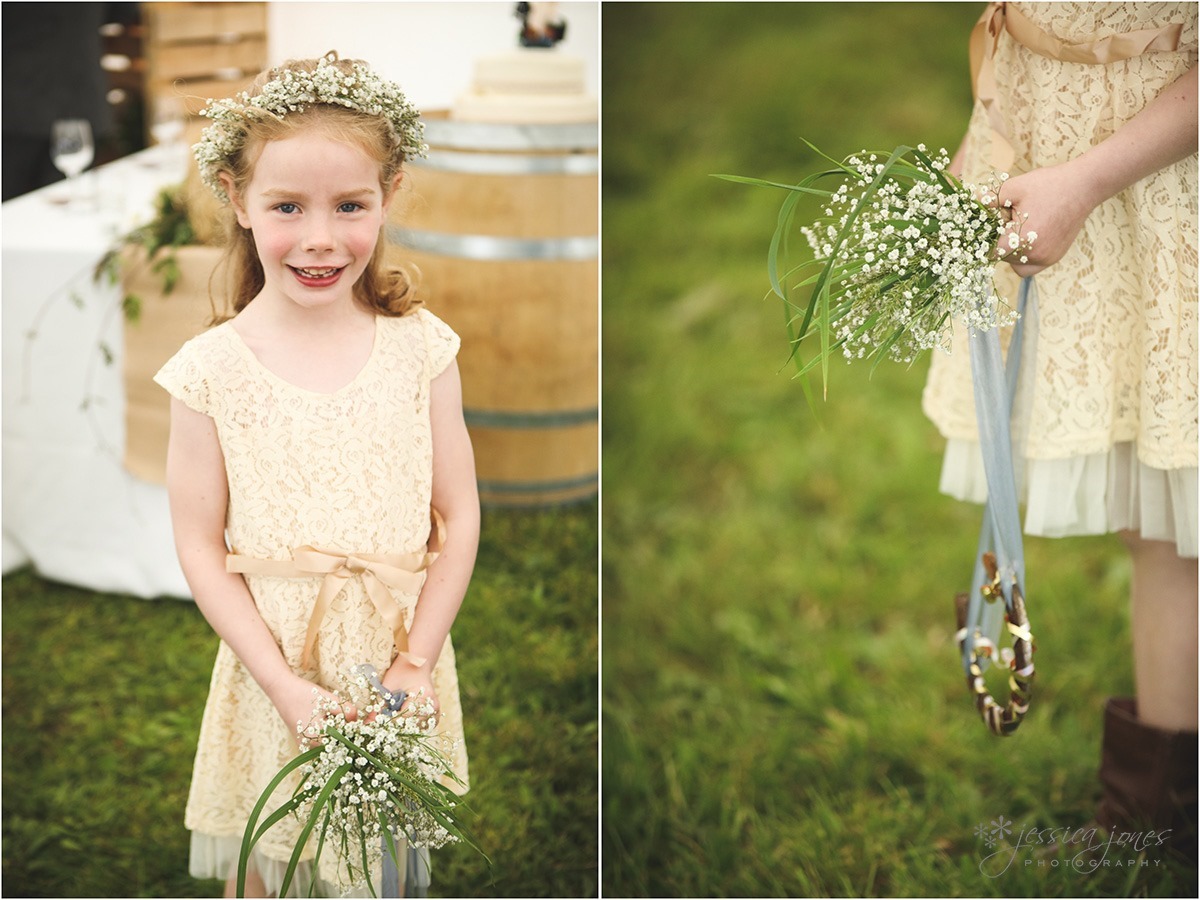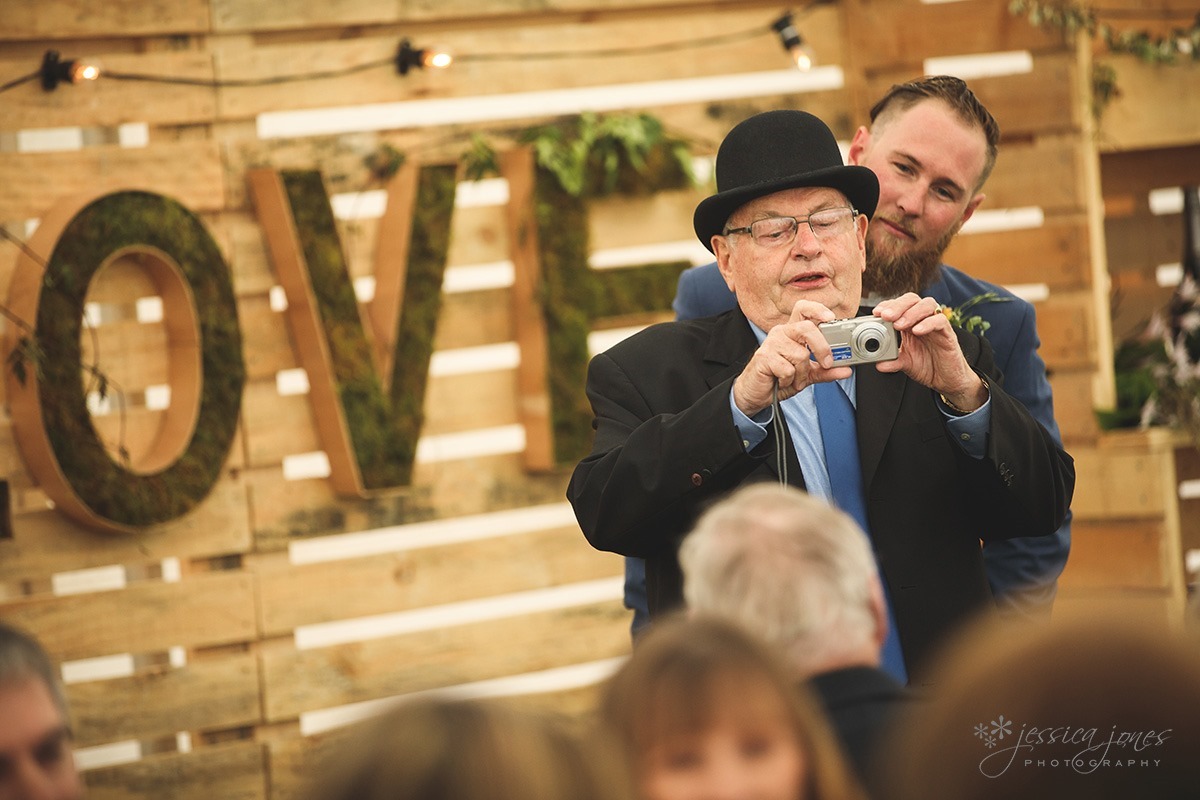 Brooklyn was the cutest little flower girl, but she really wasn't a fan of the camera.  Even when she is trying to avoid me, she's still pretty darn cute.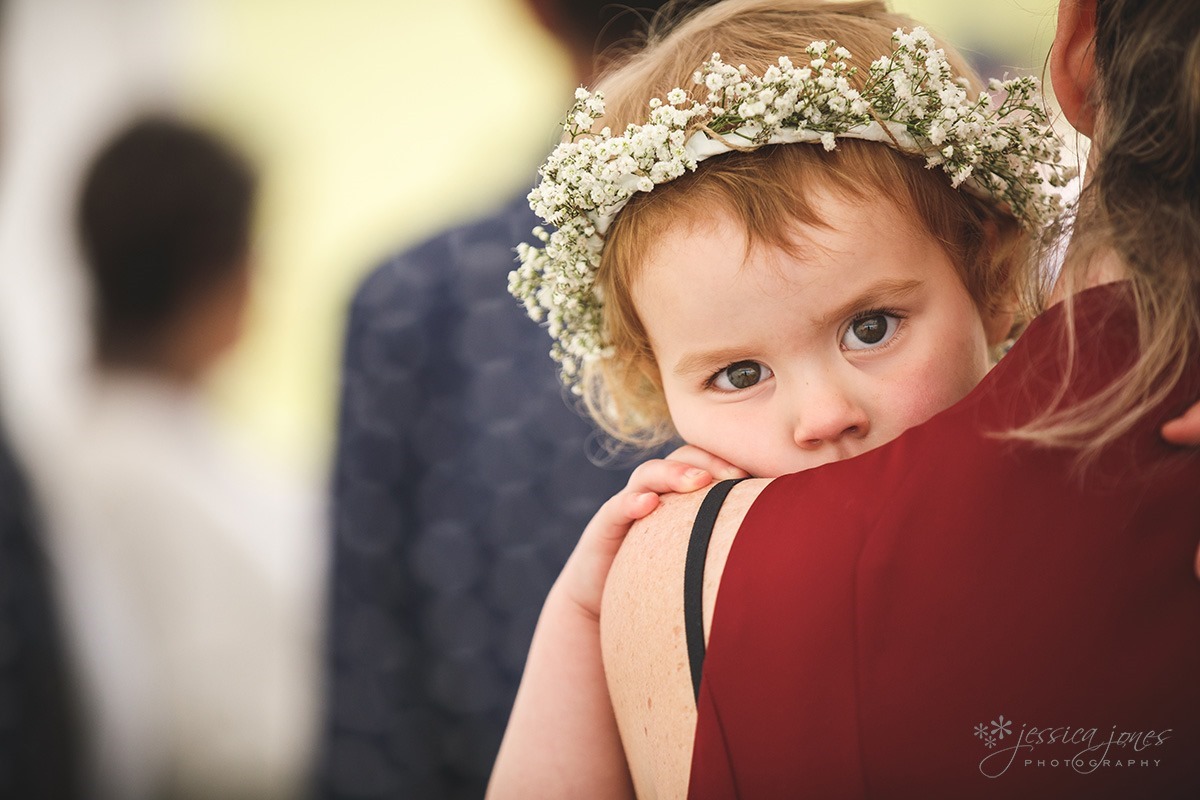 The good thing about having the ceremony inside the marquee meant that in the downtime the little ones had plenty to get on with!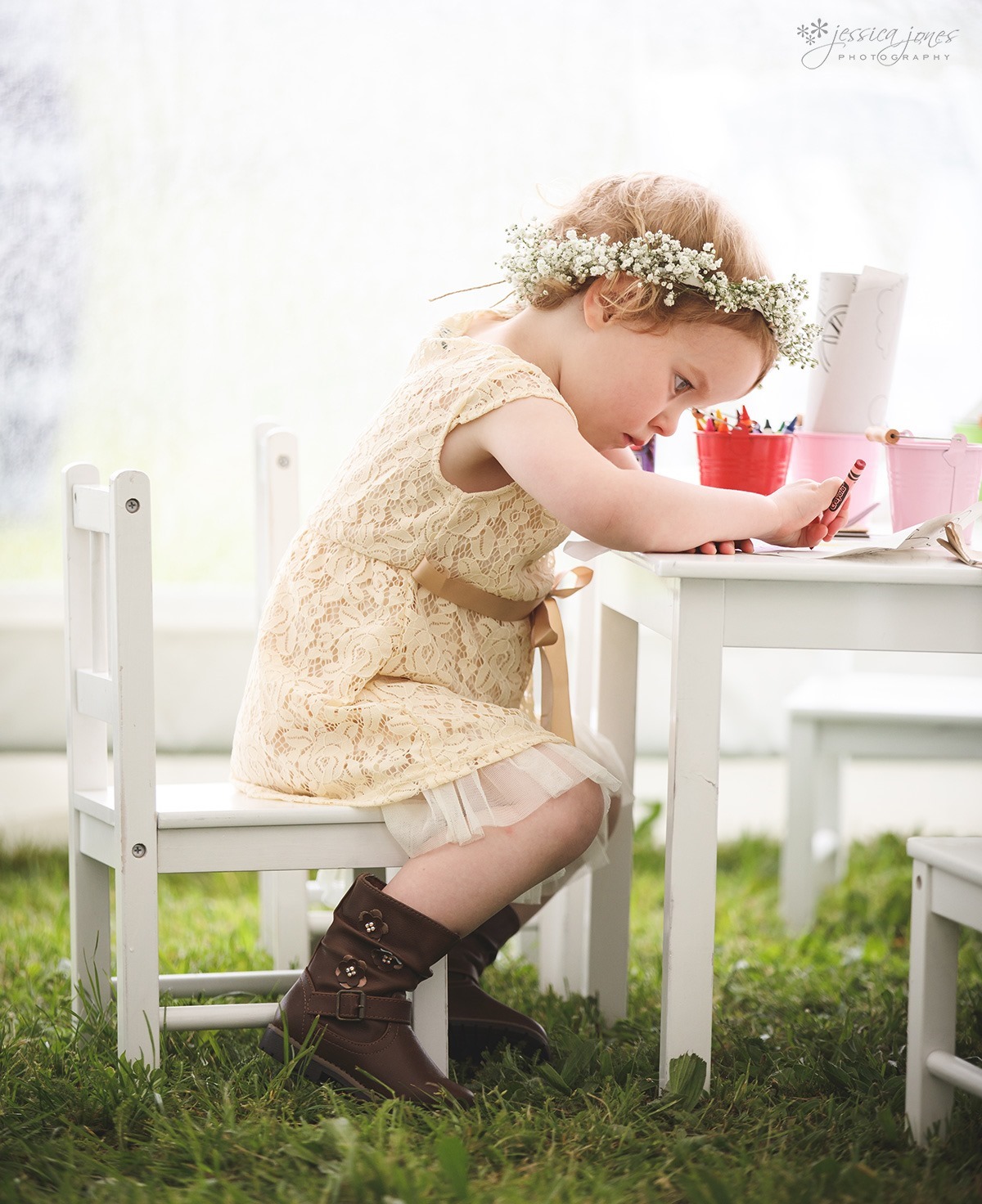 And then it was time.  The ladies, and the dogs, arrived.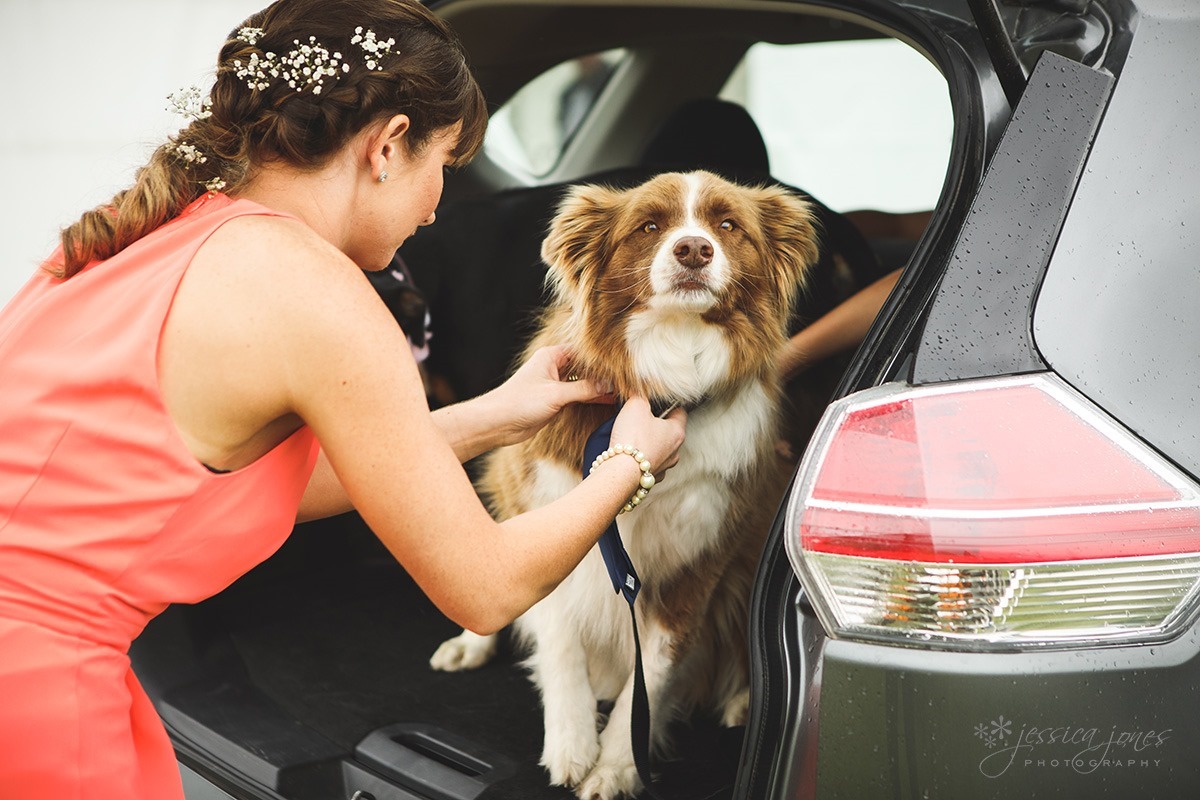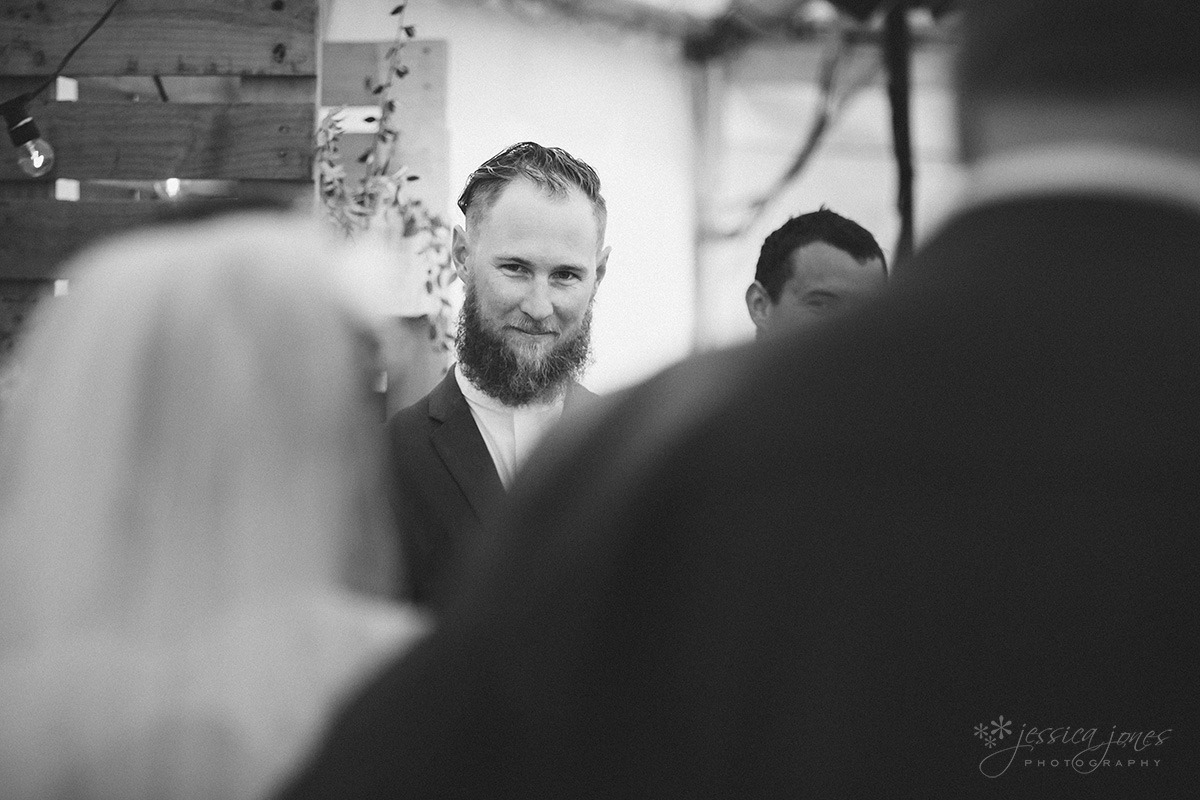 And they got married, AND stayed dry.  It was perfect.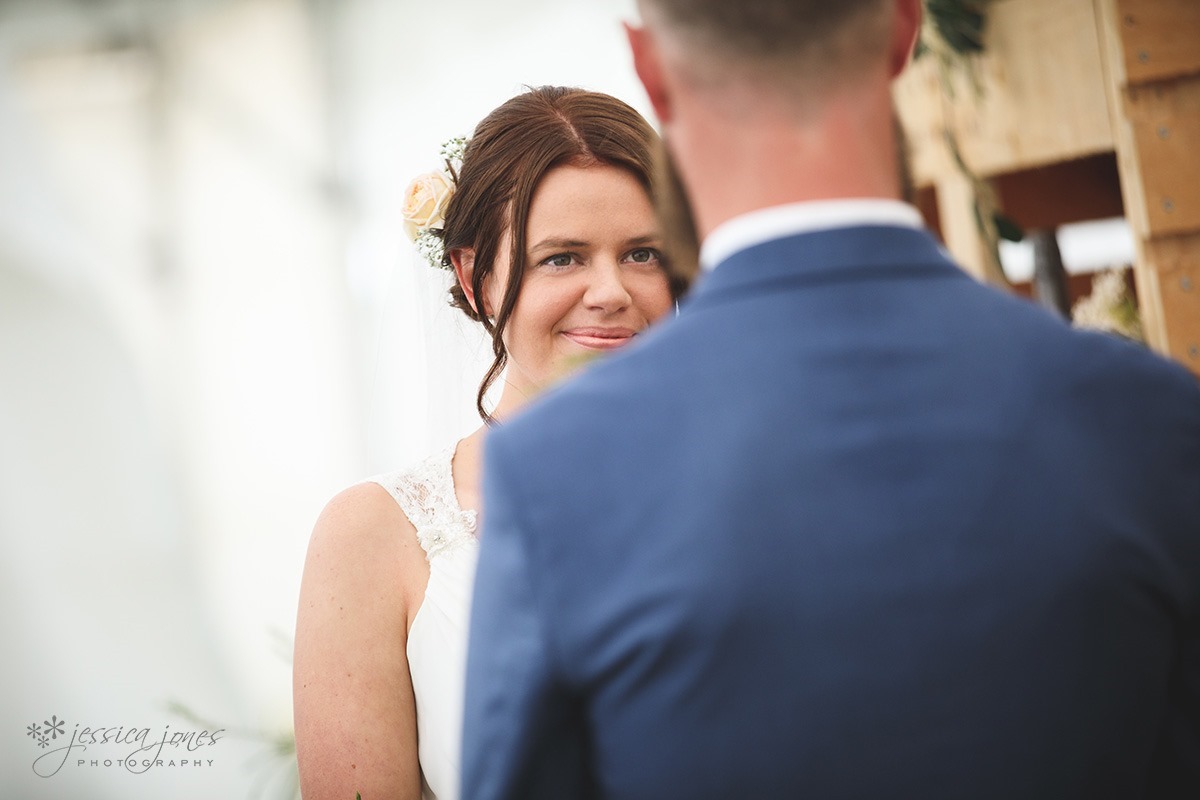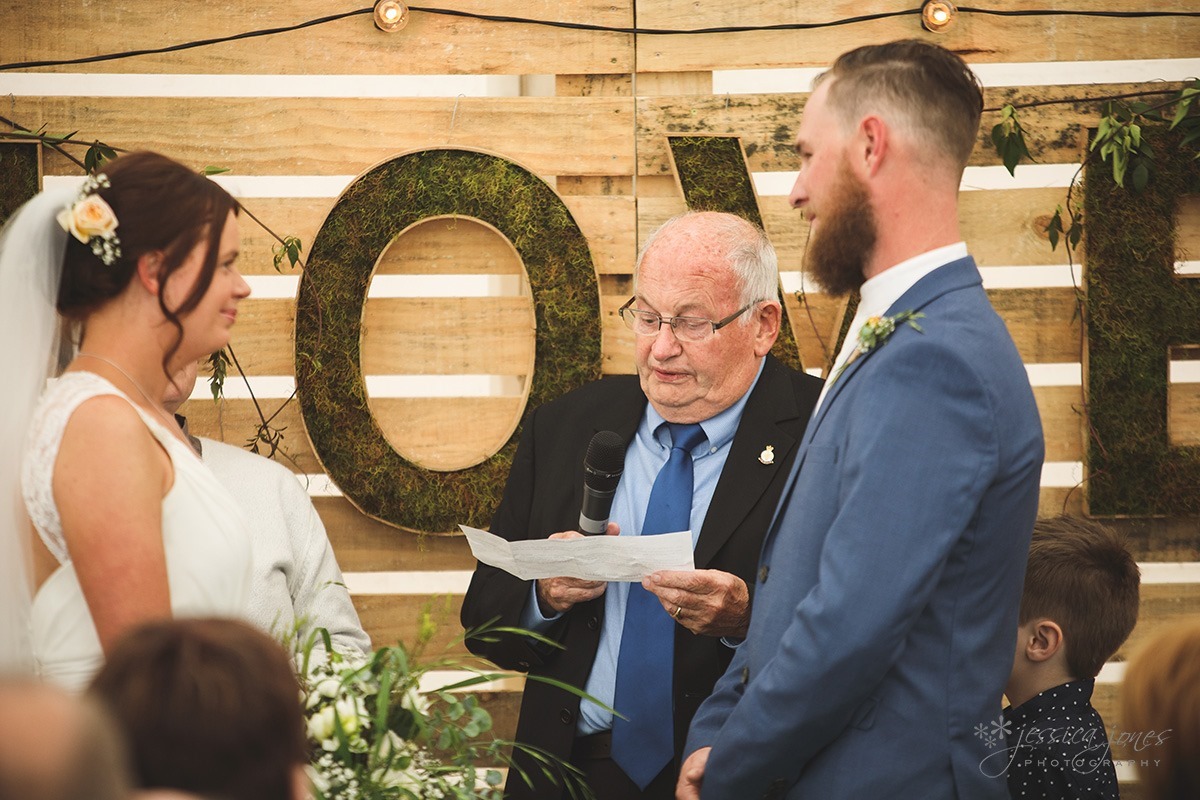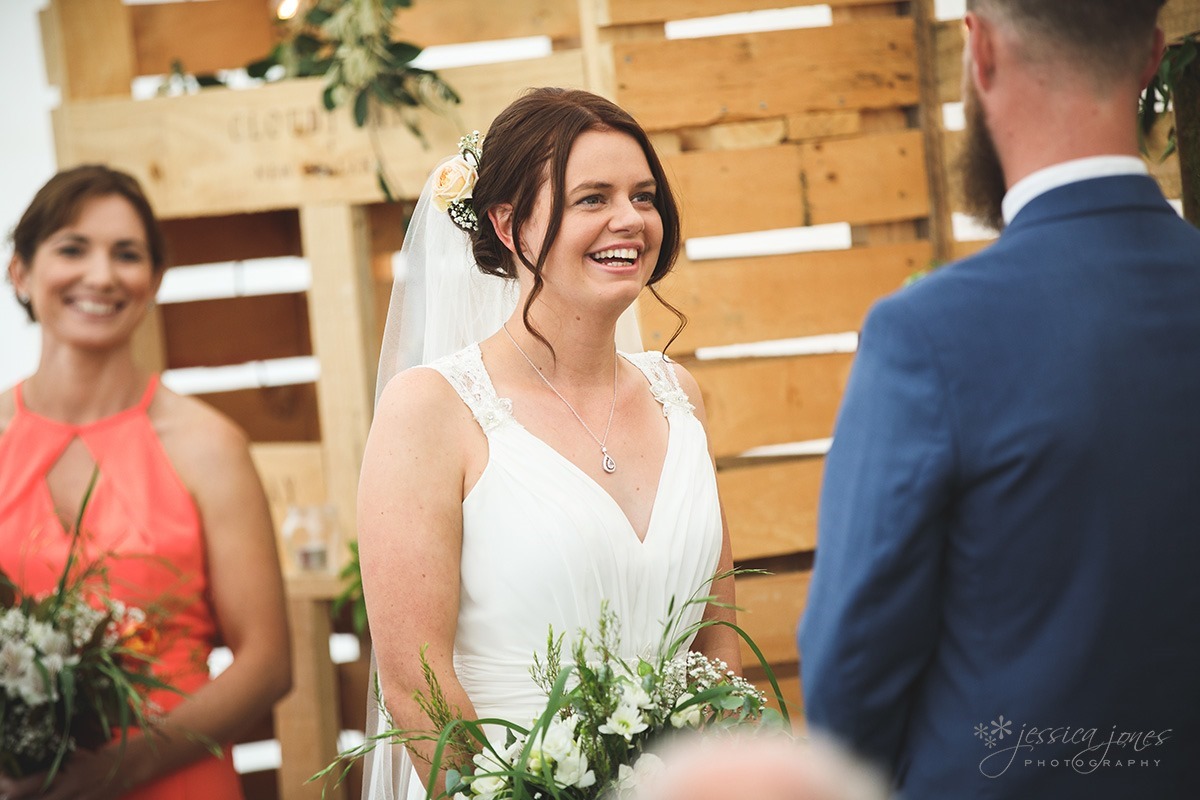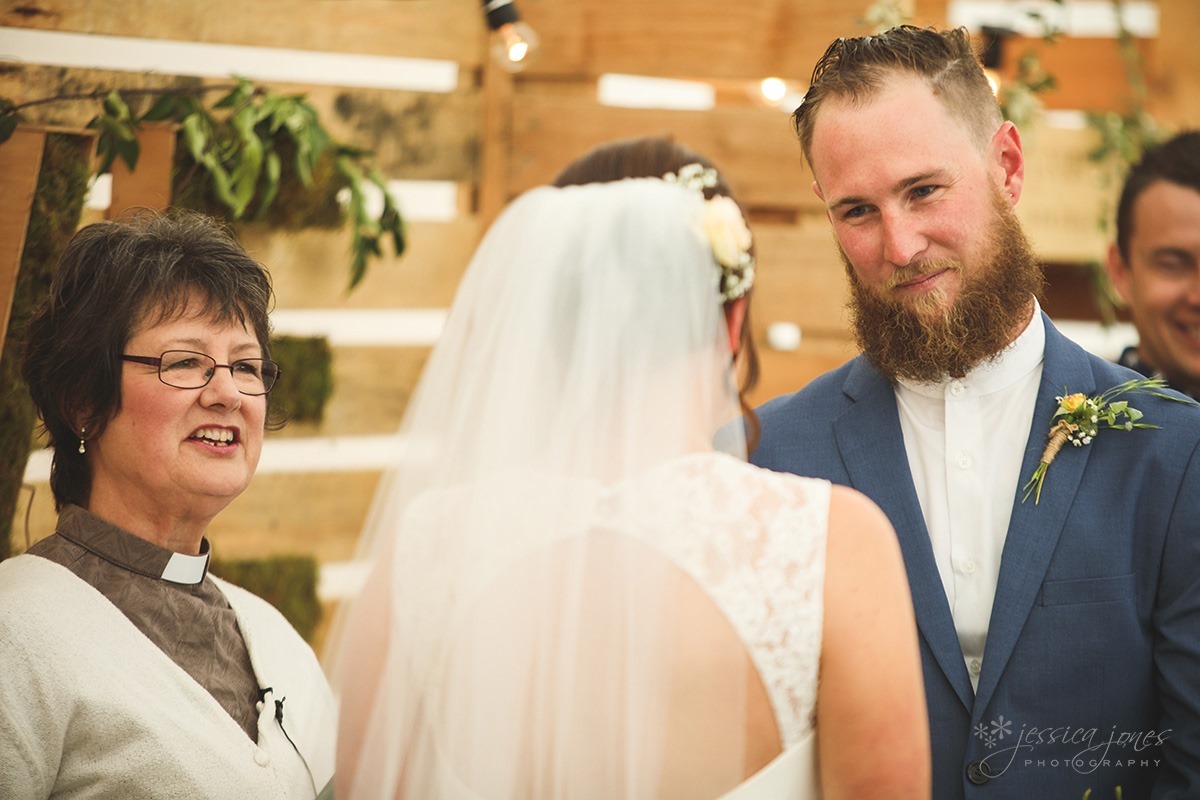 I love little people at weddings.  Sometimes I wonder what on earth they think is going on!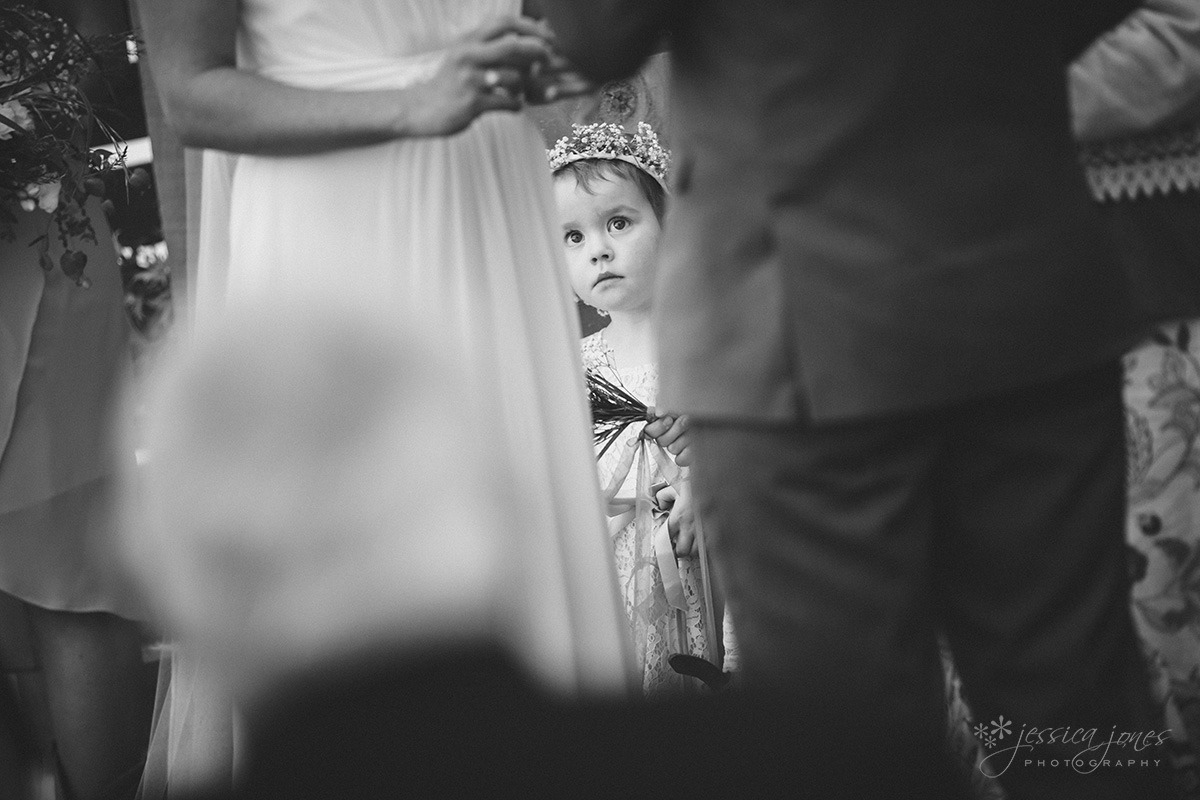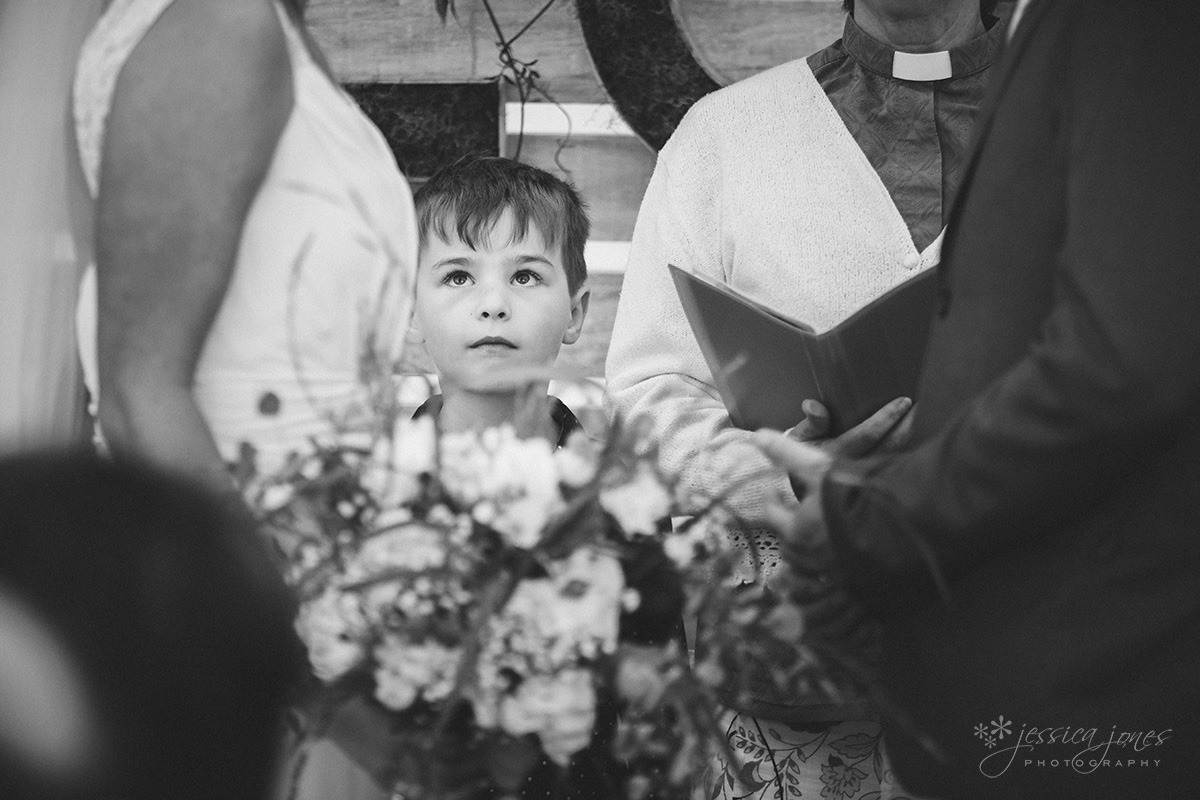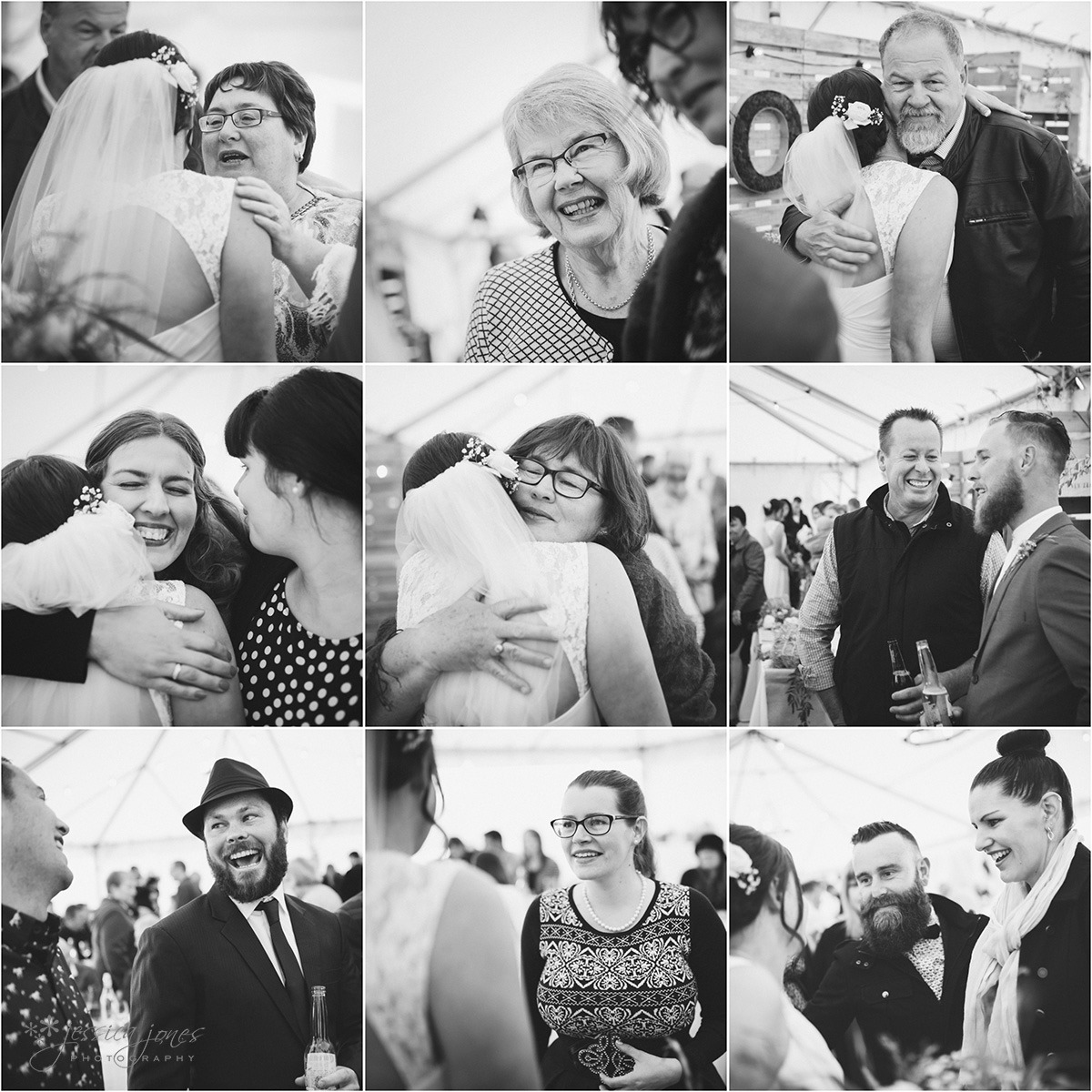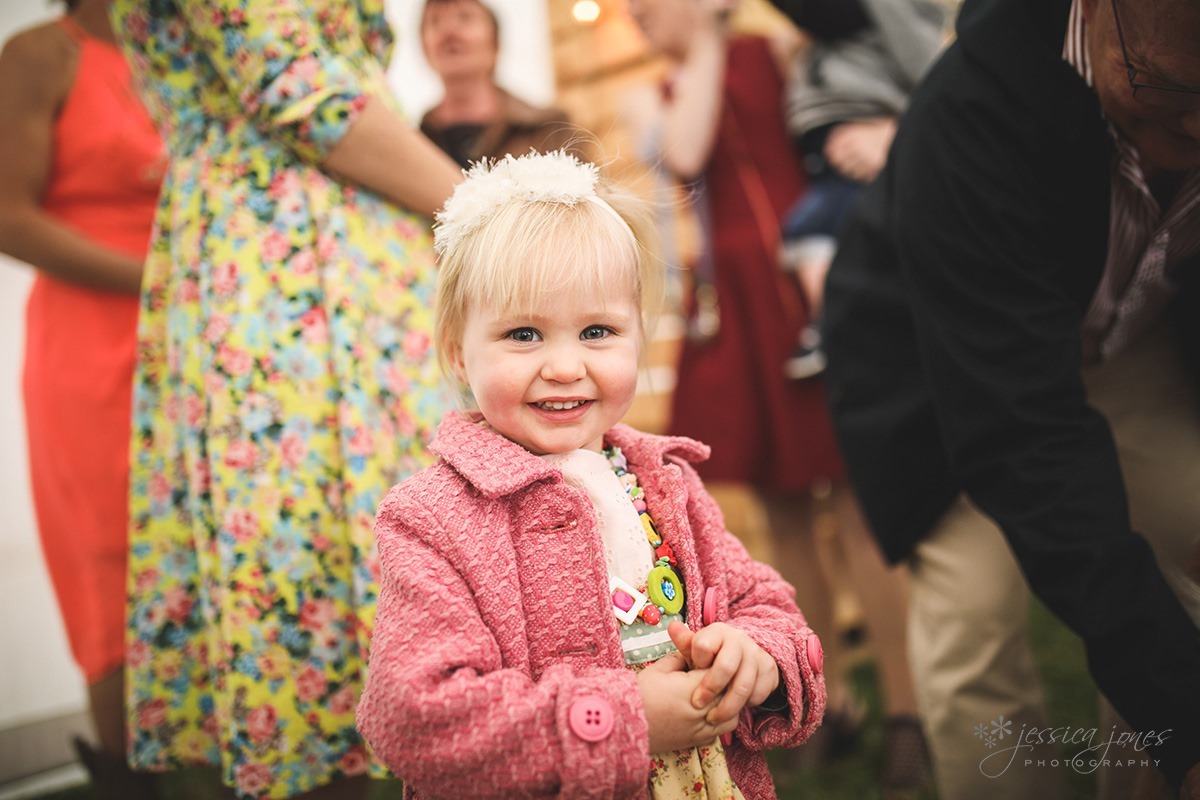 If you're looking at Flash and you're thinking, "My that's a nice looking dog, he should be a model!"  Then Stacey and Phil are way ahead of you.  Flash just happens to be the poster boy for several dog food brands.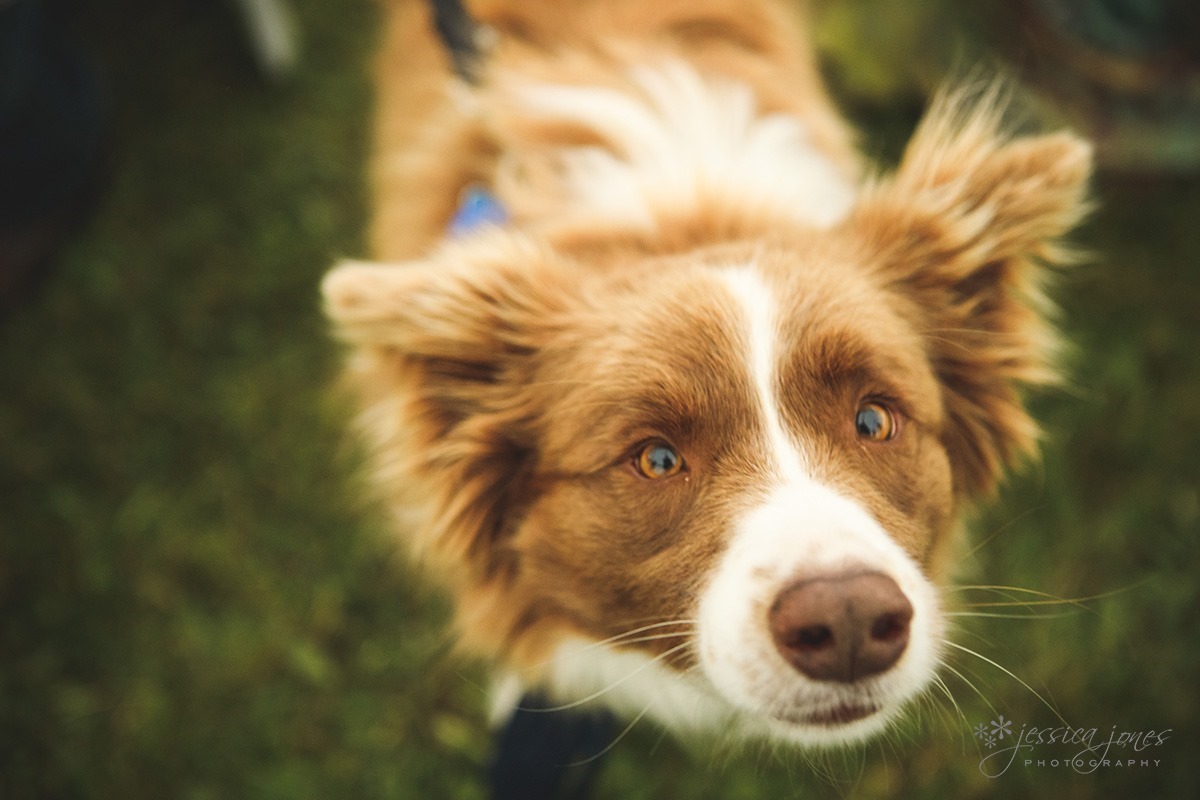 And Annie is still waiting for her turn in the limelight.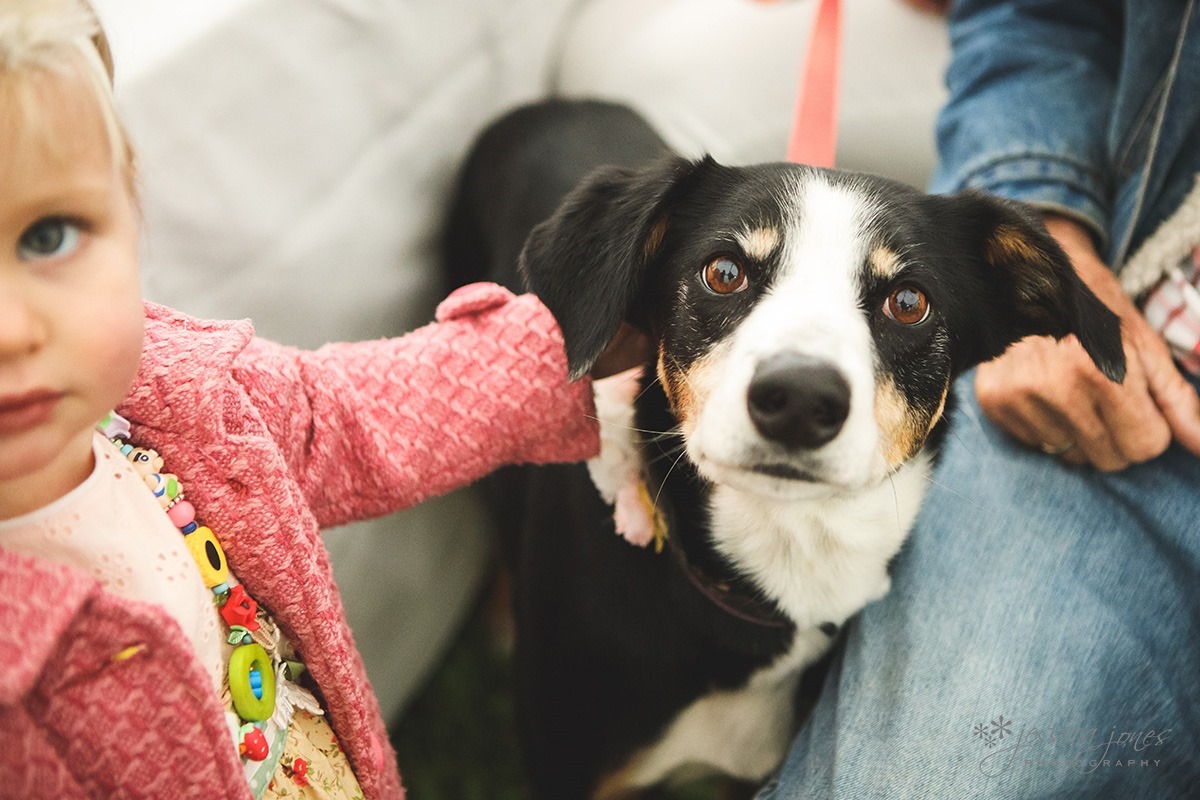 Does being a celebrity give you the right to stand on the bride's veil?  I guess that depends on who you ask.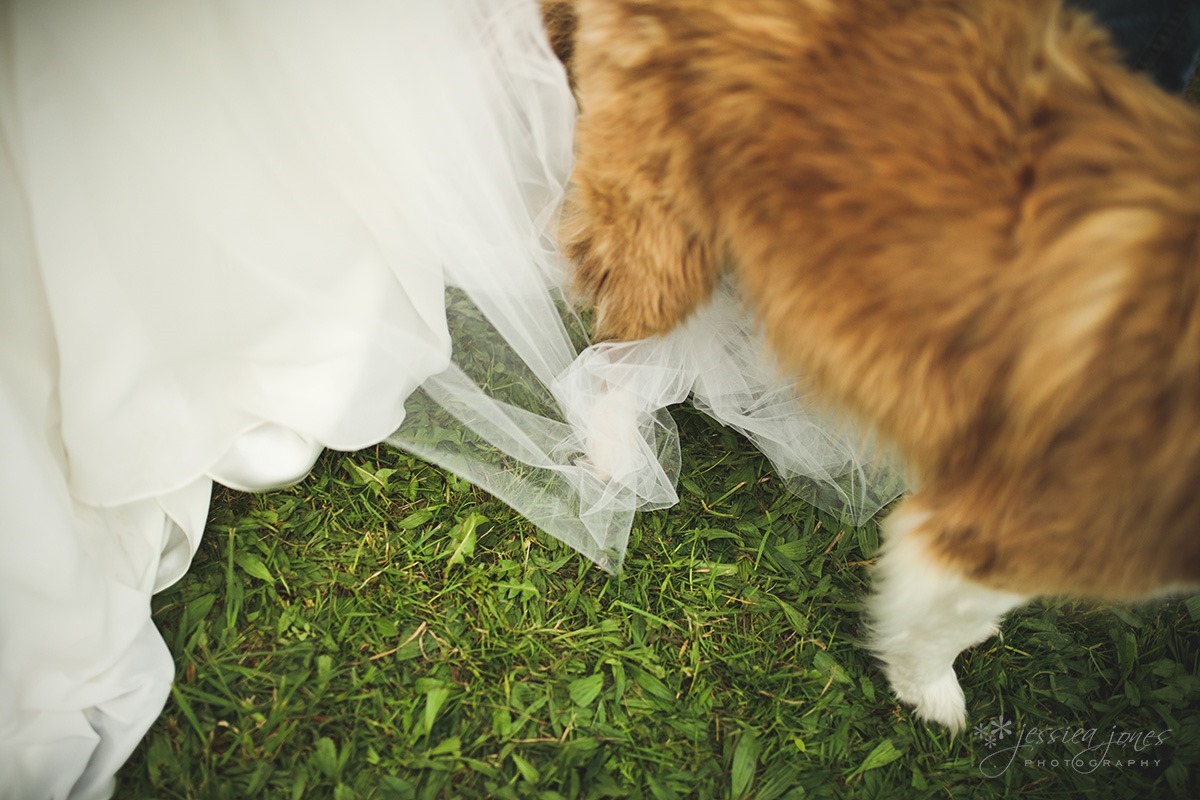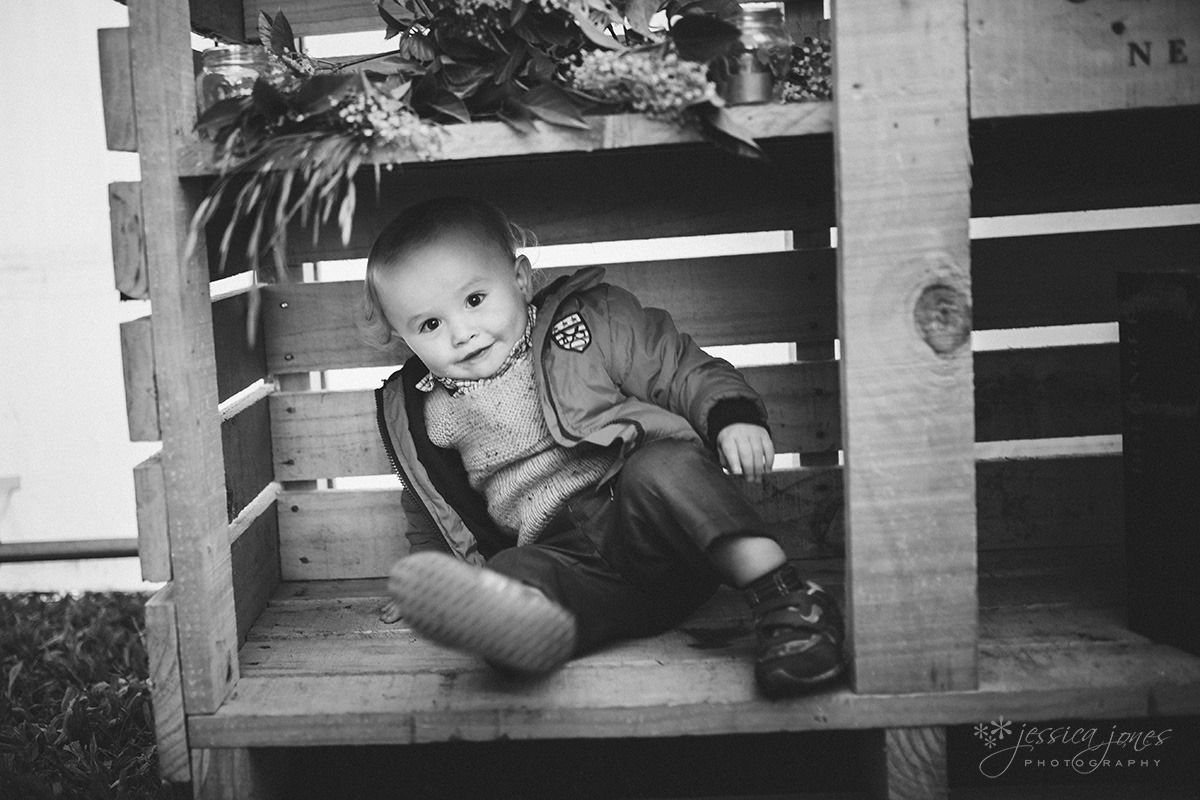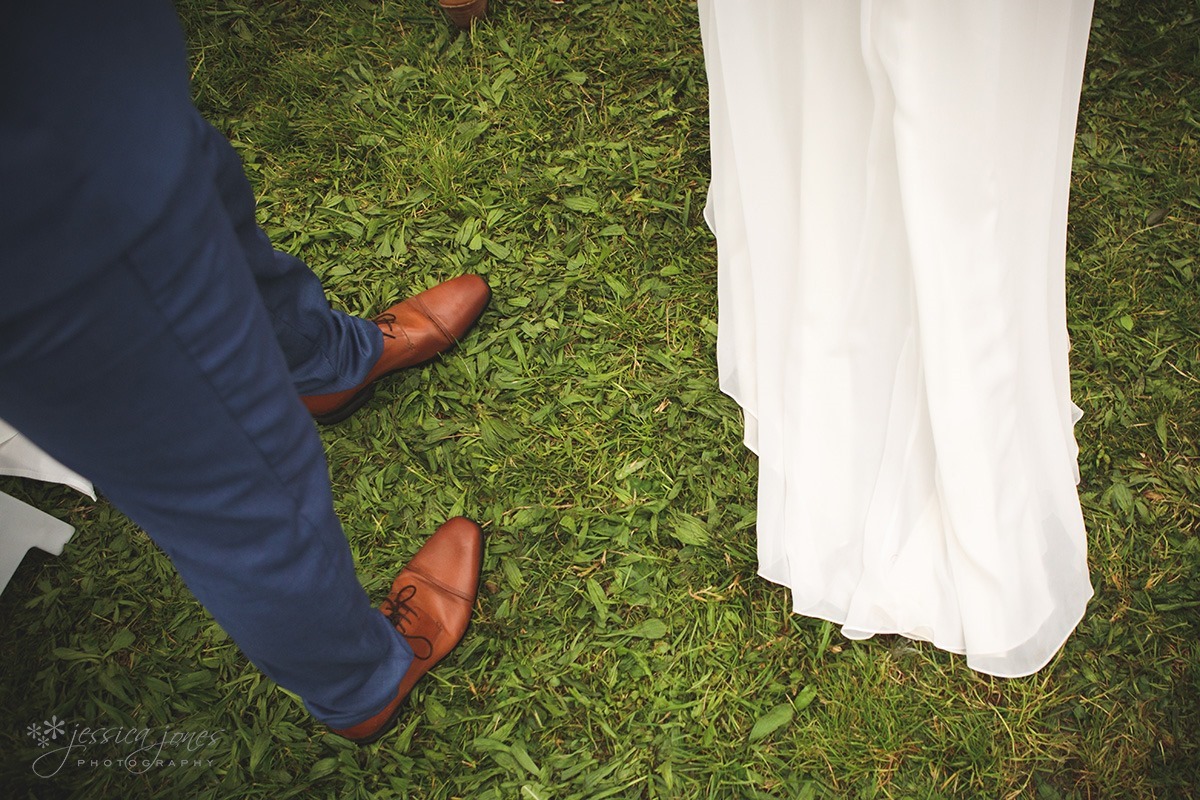 Mum, Dad and the kids.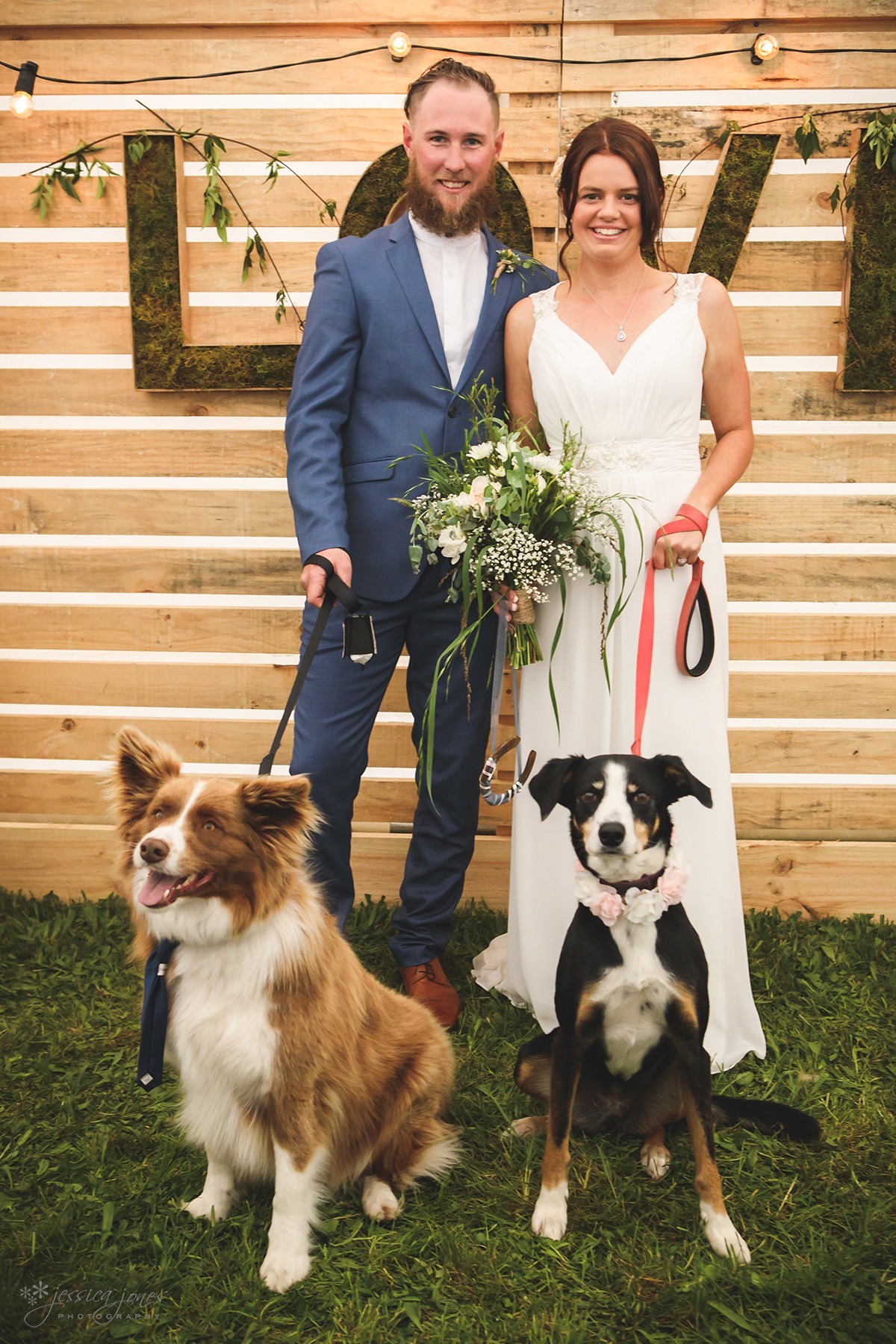 Fabulous socks.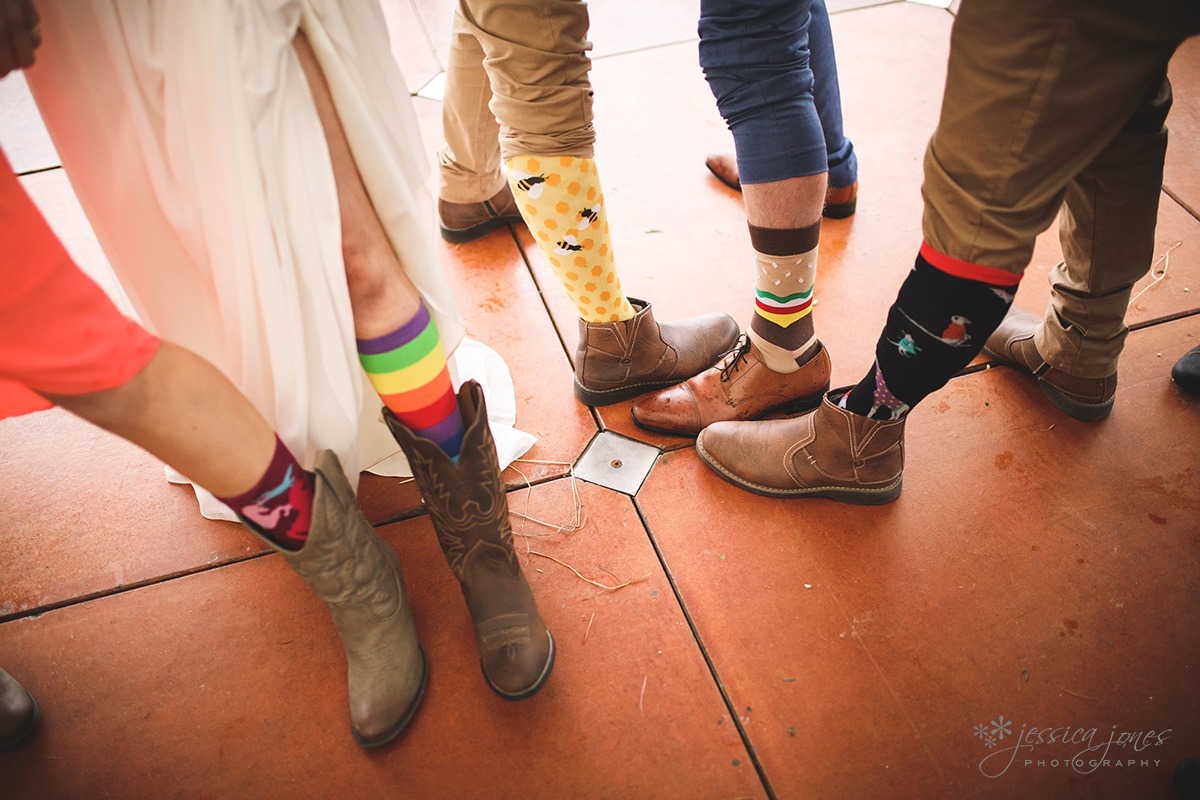 And the rain came down.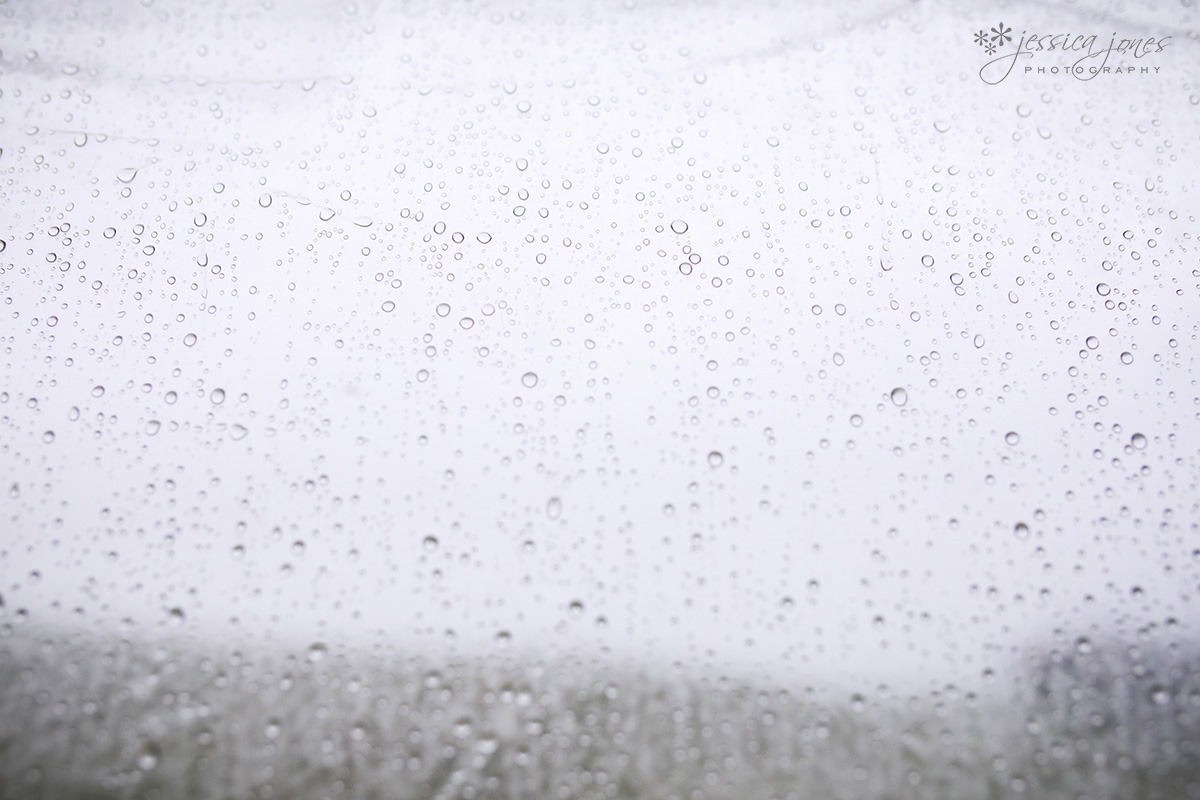 But inside everyone was dry and happy.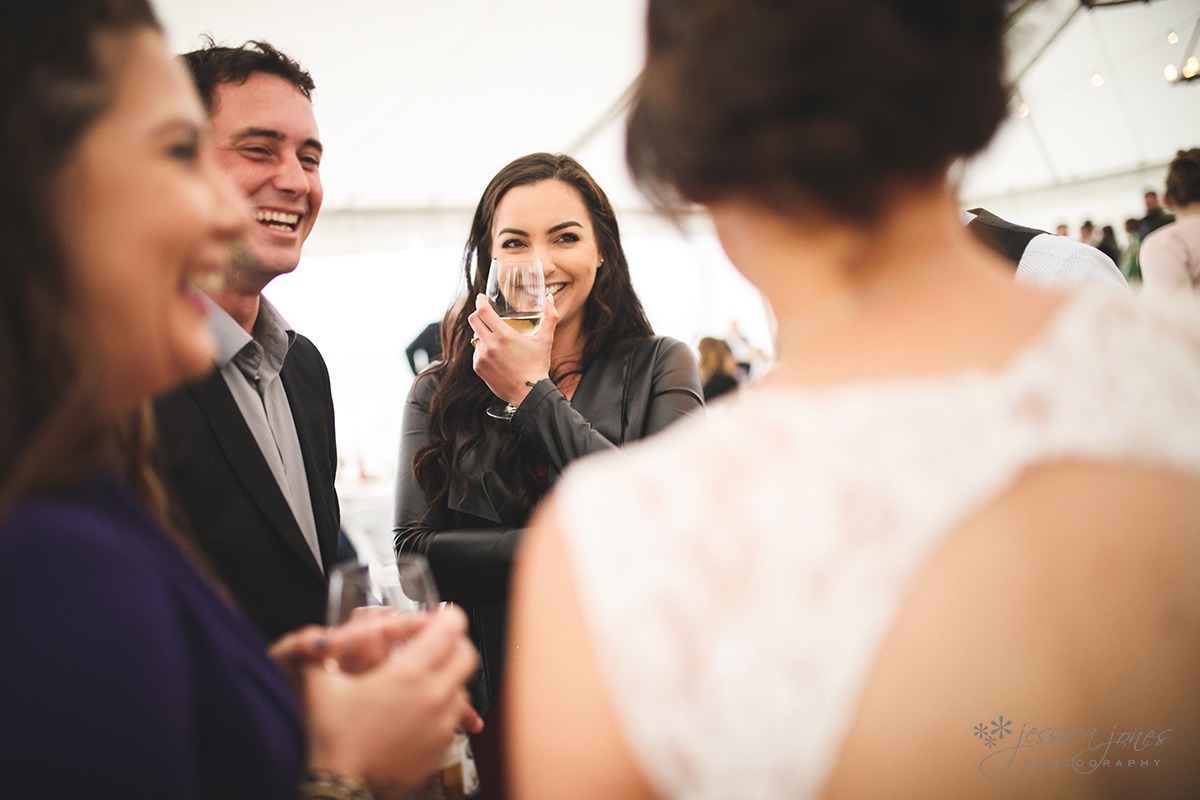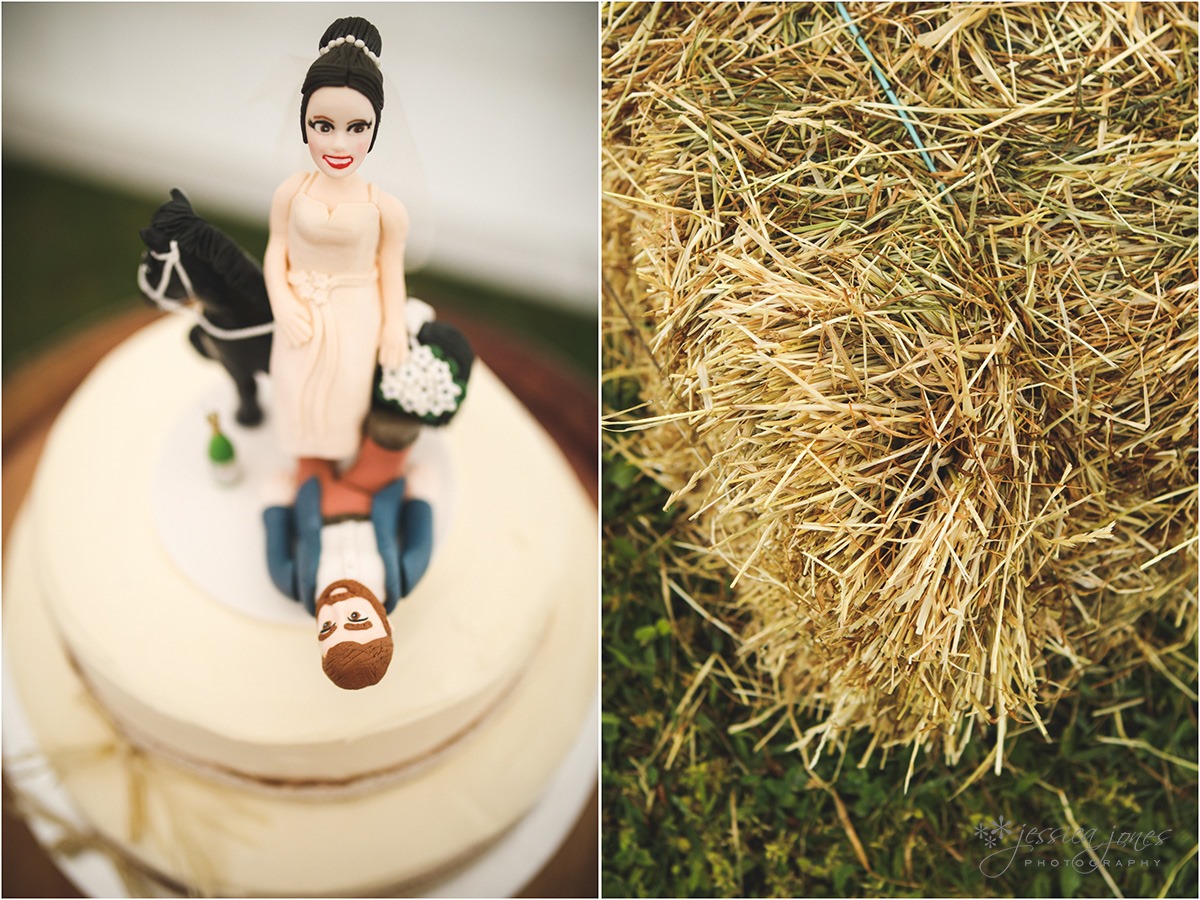 Being the super duper bride and groom that they were, Stacey and Phil had arranged a back up place to have photos done, in the event of rain.  So we snuck away from the guests for a little while, went to the Cloudy Bay shack, and hilarity ensued.
I love it when the wall hangings have beards also.  Although, to be honest, it doesn't happen a heck of a lot.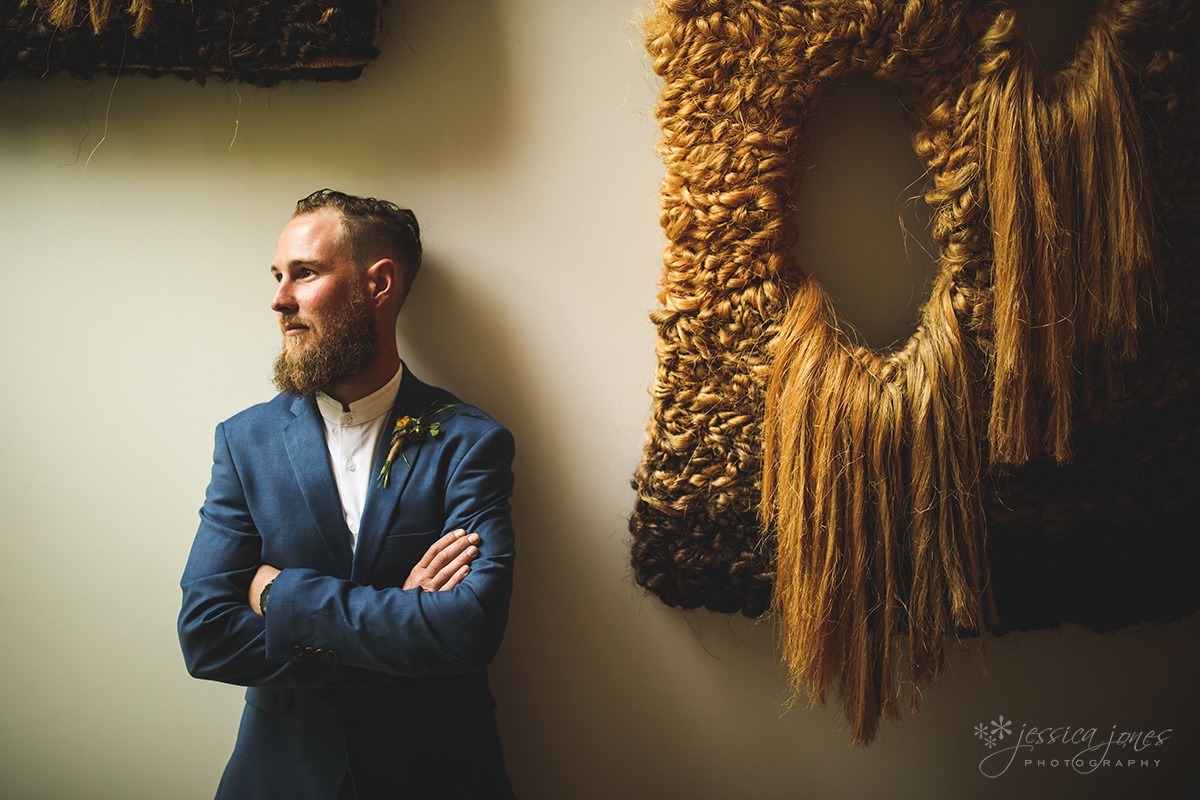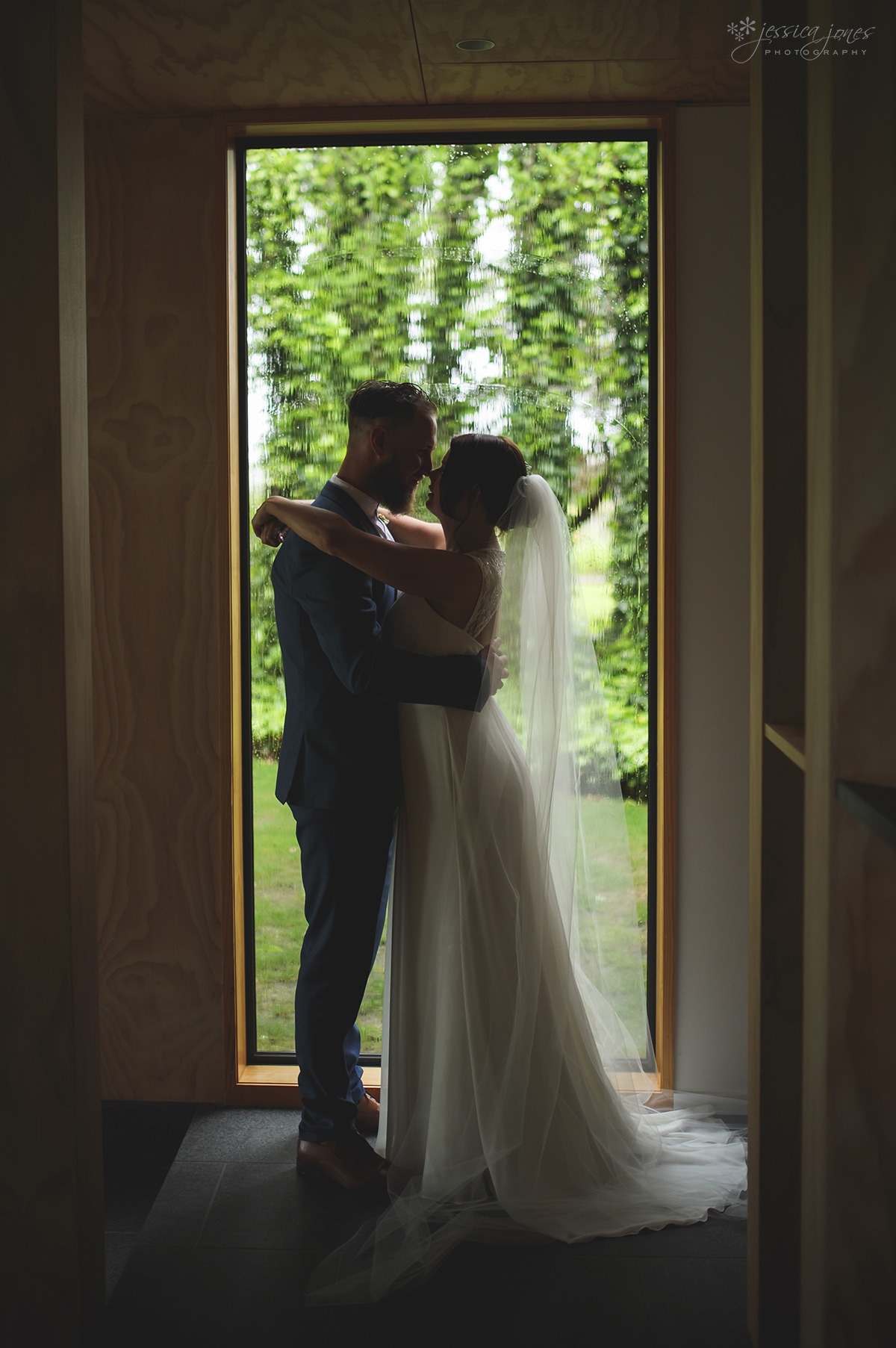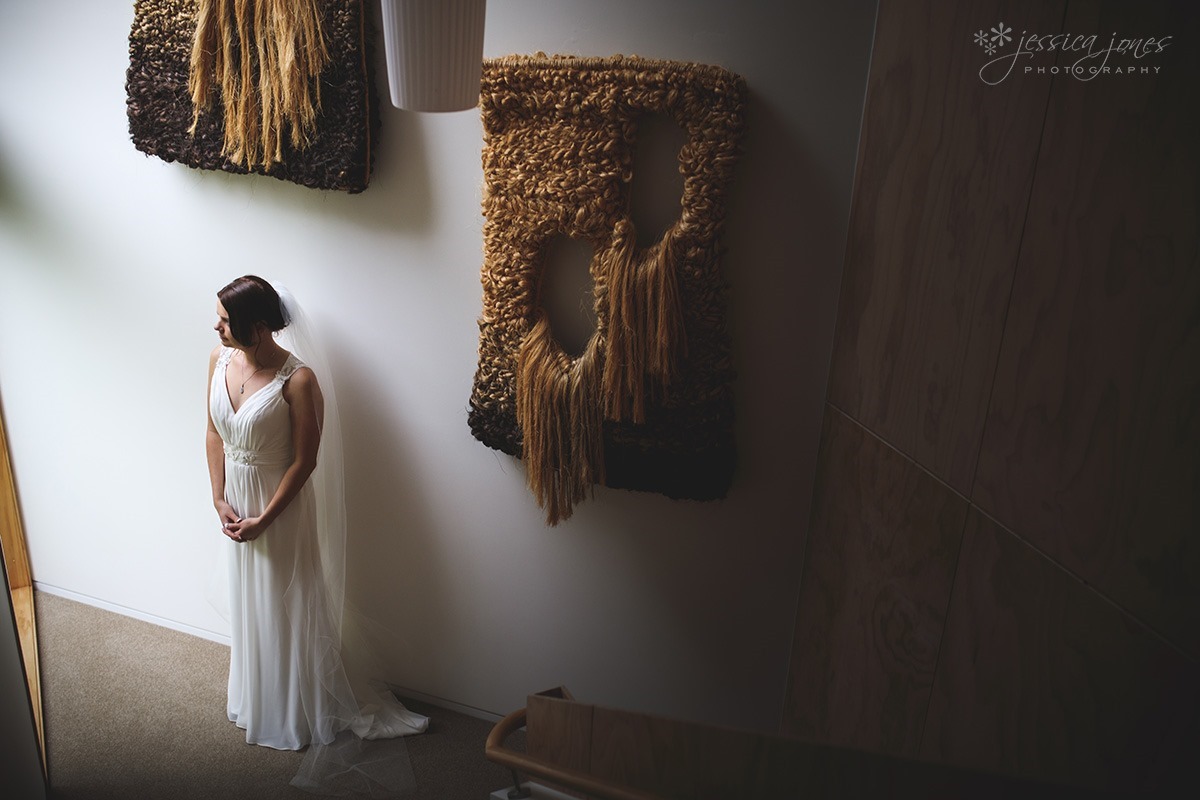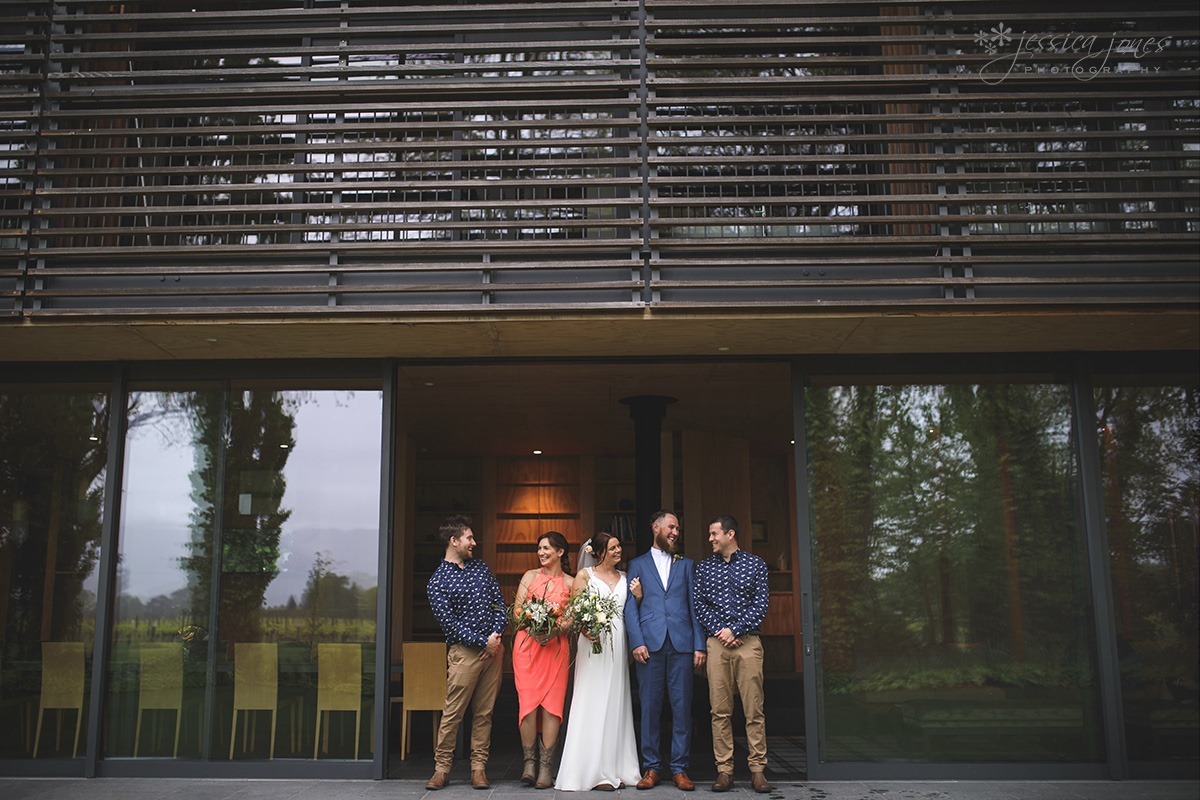 Stacey and Phil are a fun, easy to get on with, gorgeous couple.  Nothing was a bother, they really just wanted to get married!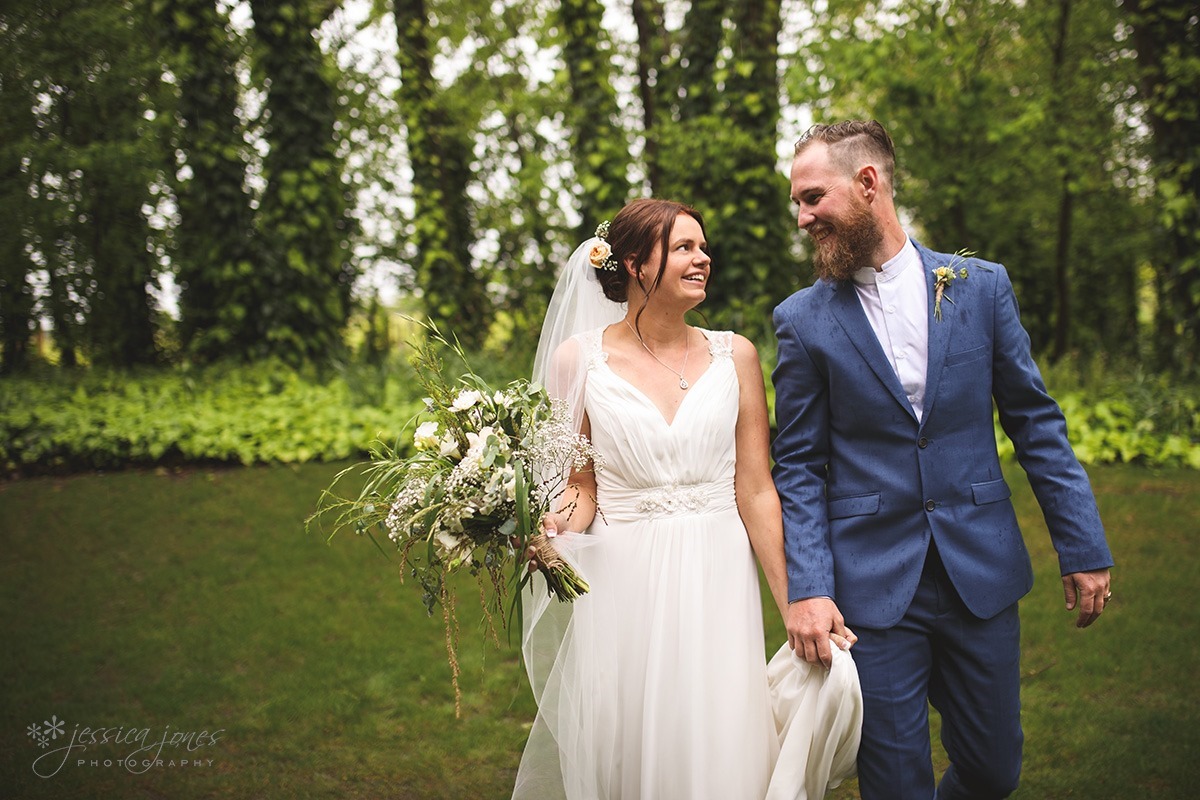 And their bridal party, also fun and a teeny tiny bit naughty, kept the day flowing perfectly.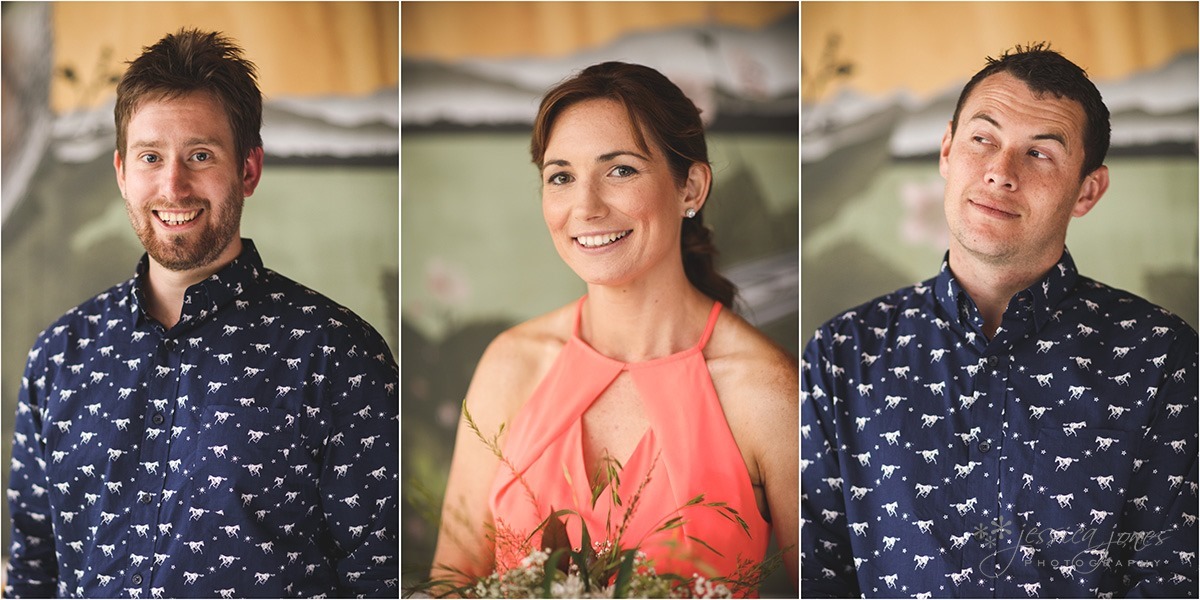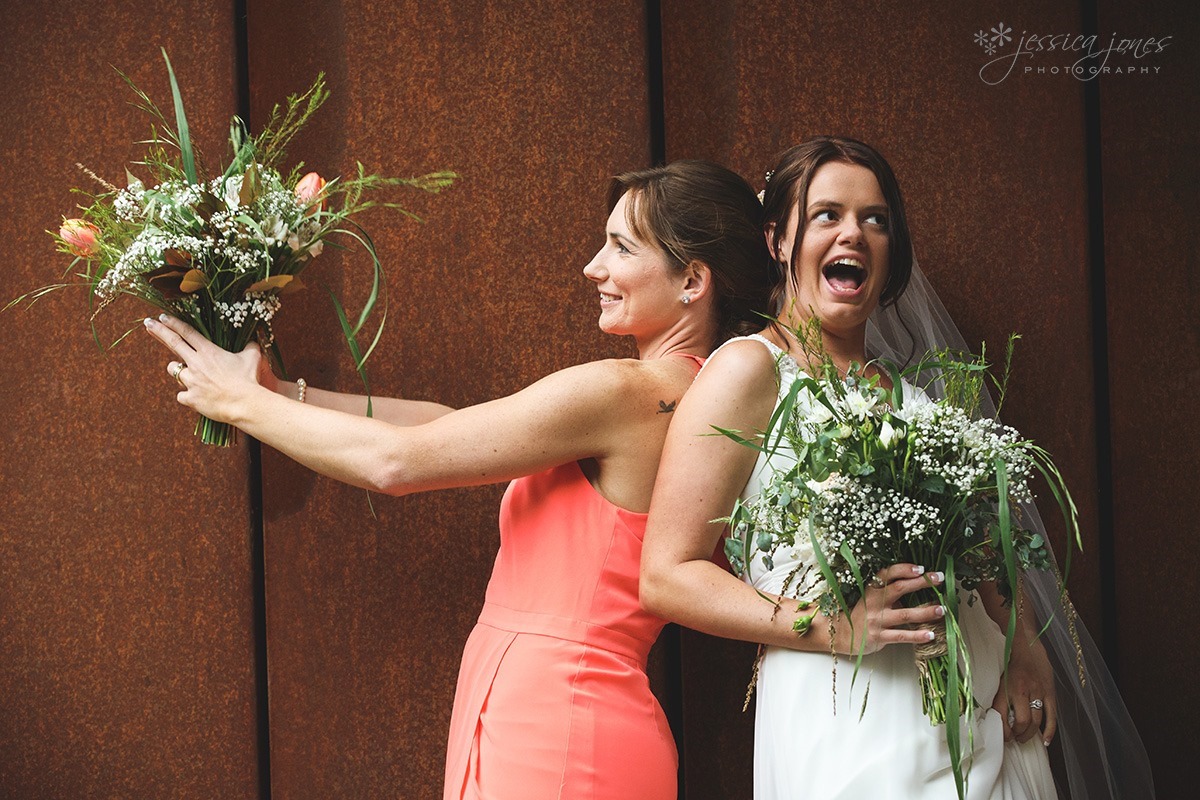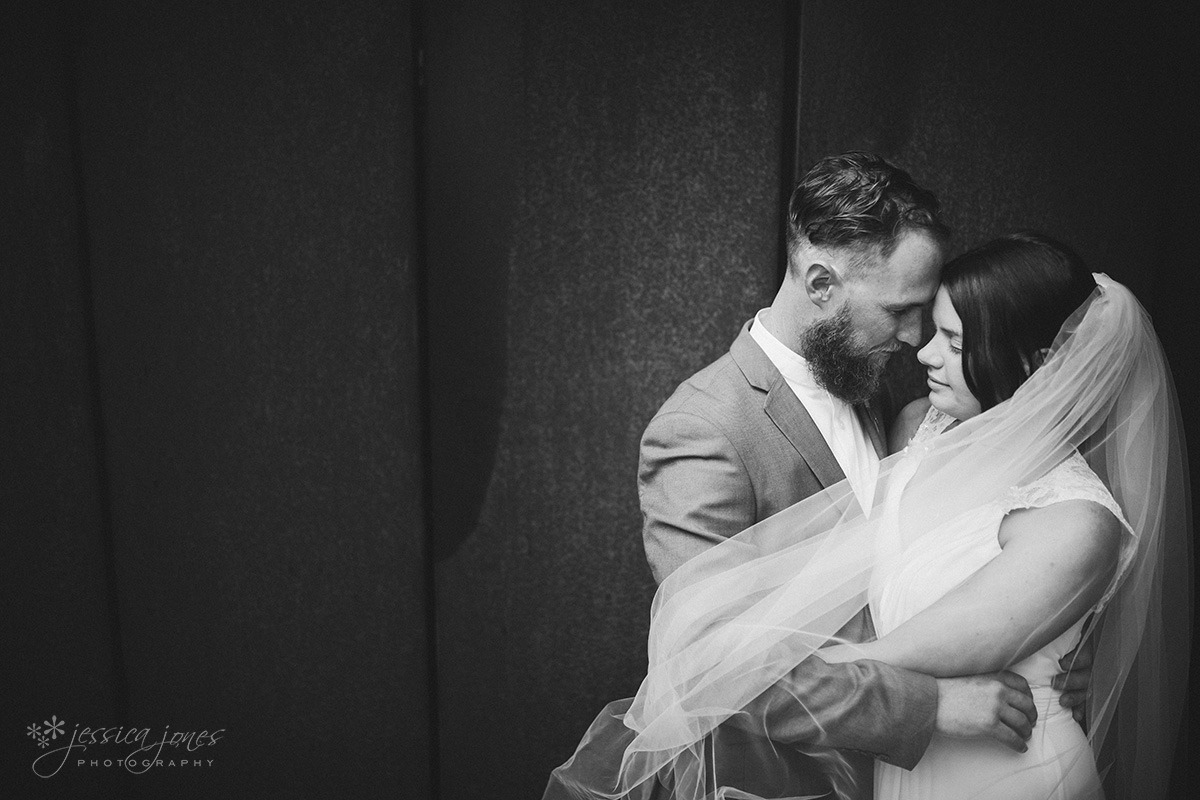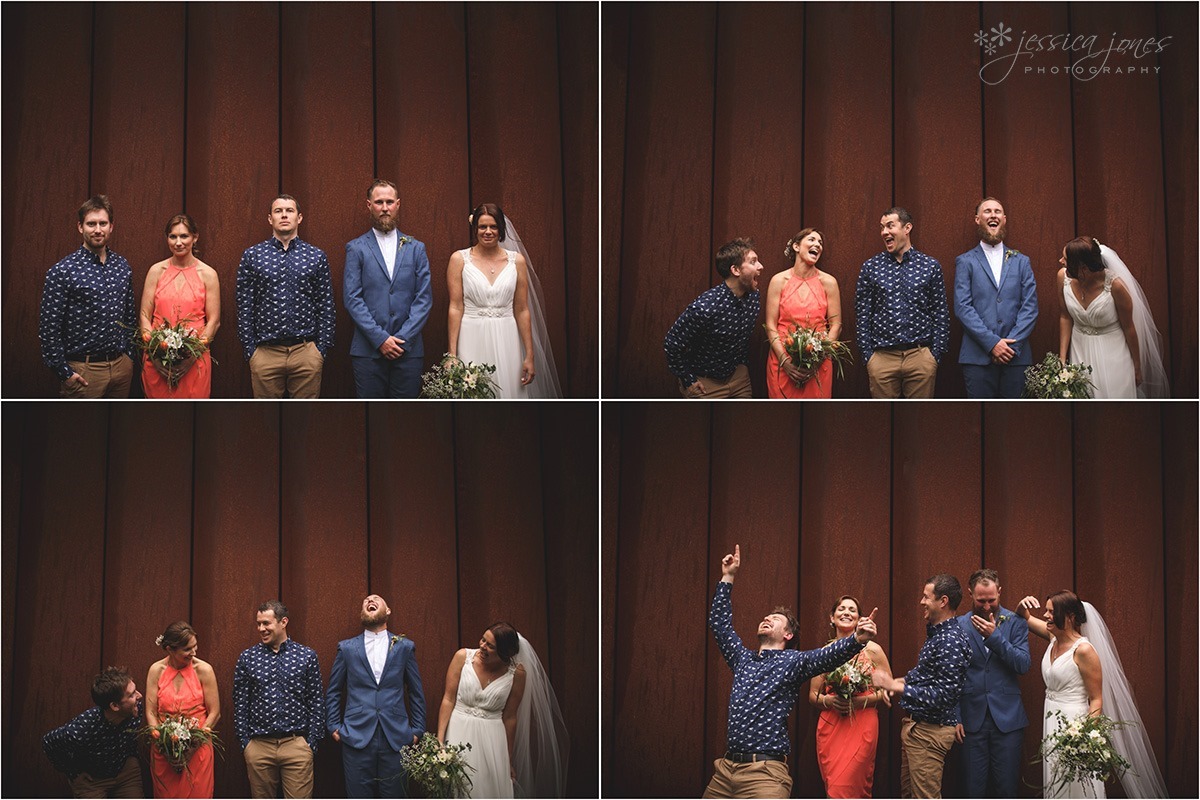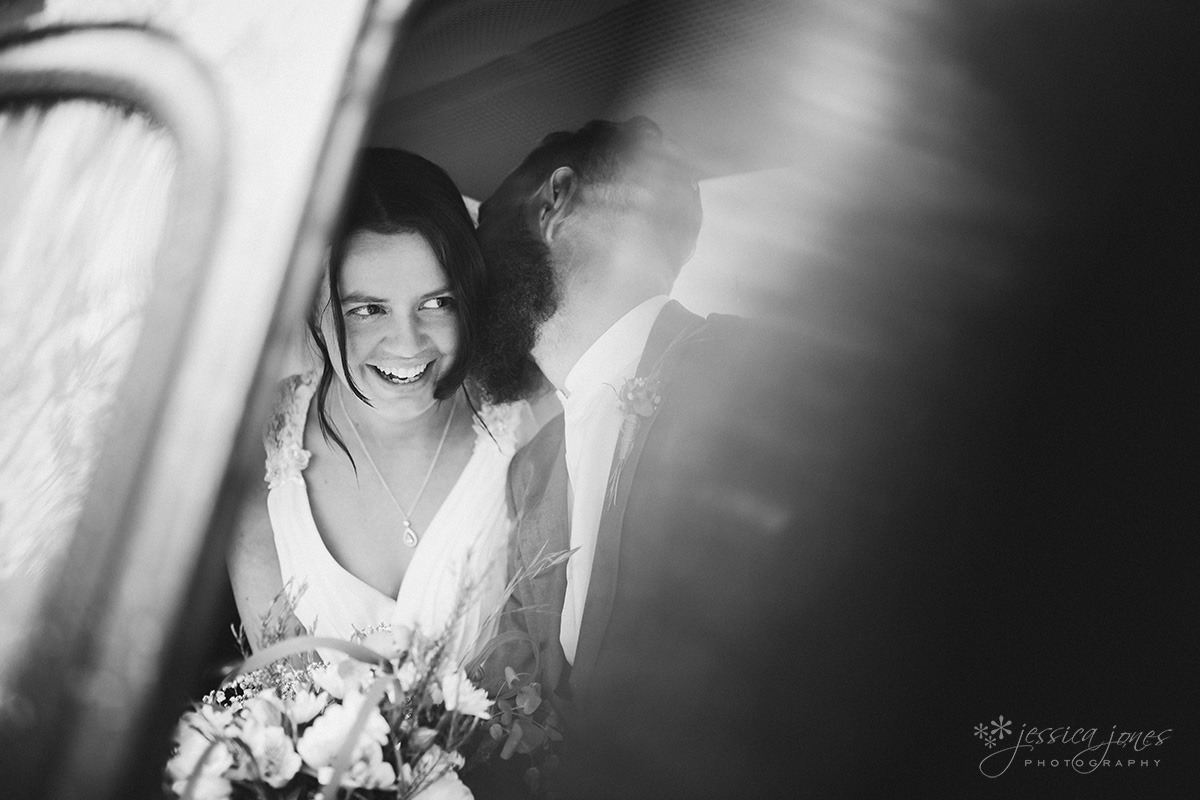 Then it was back to the party!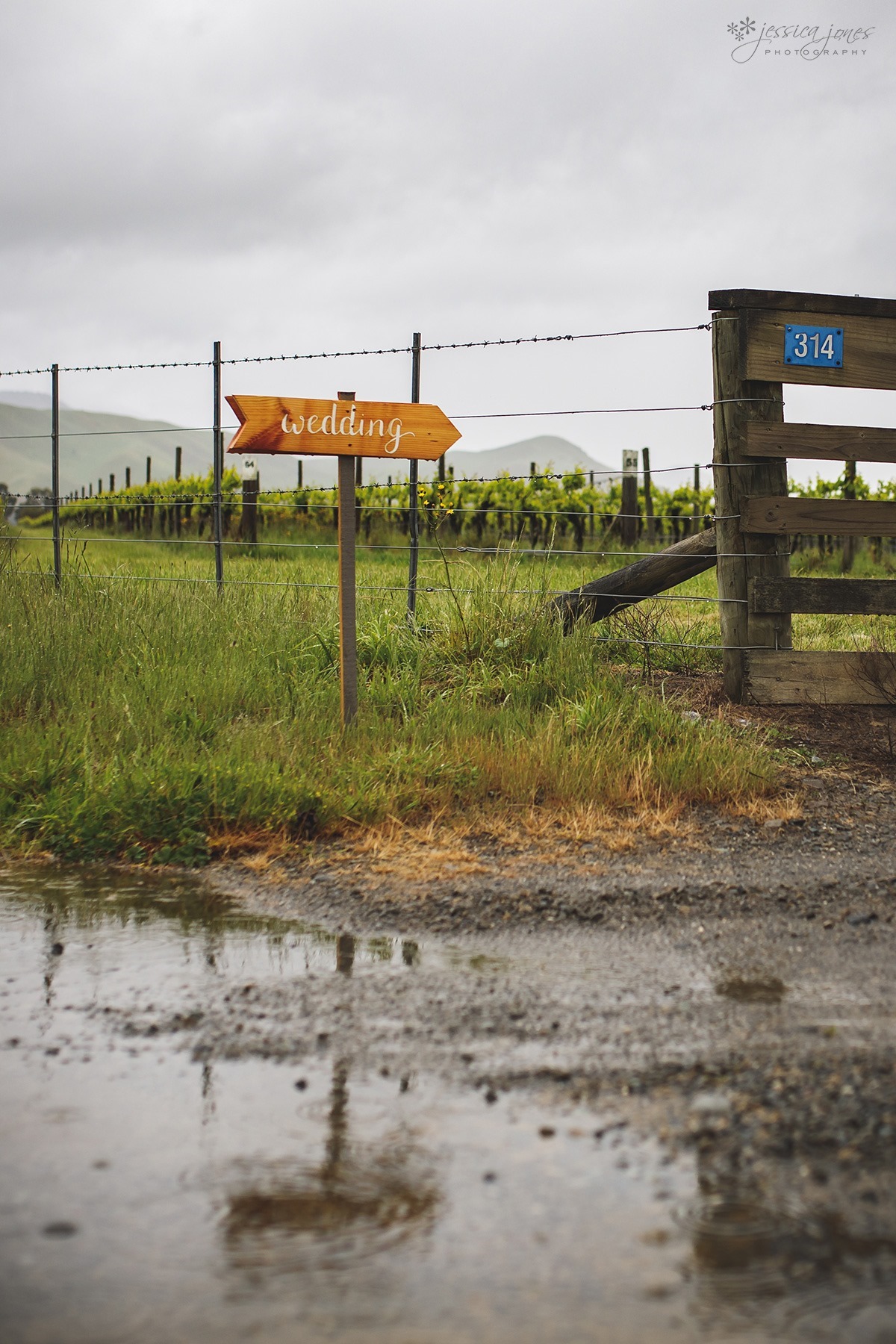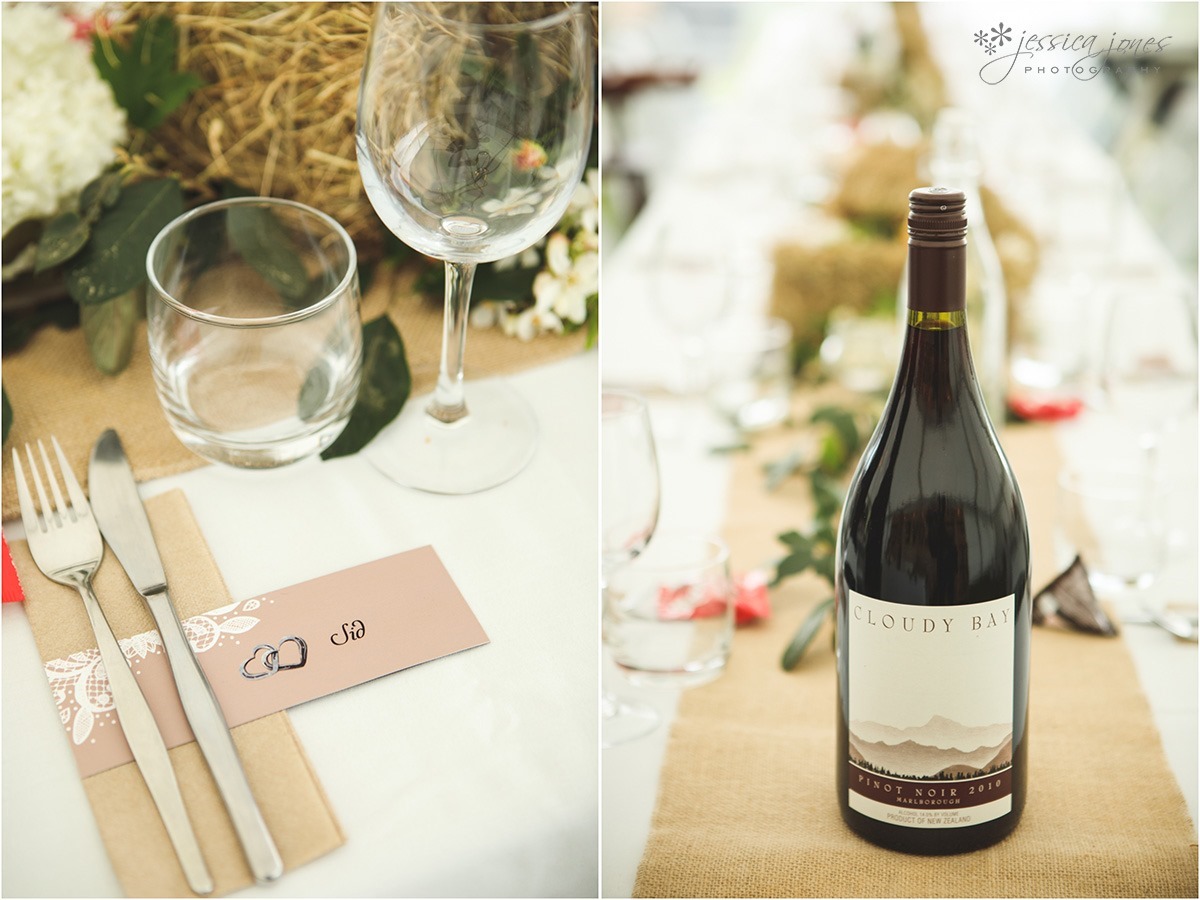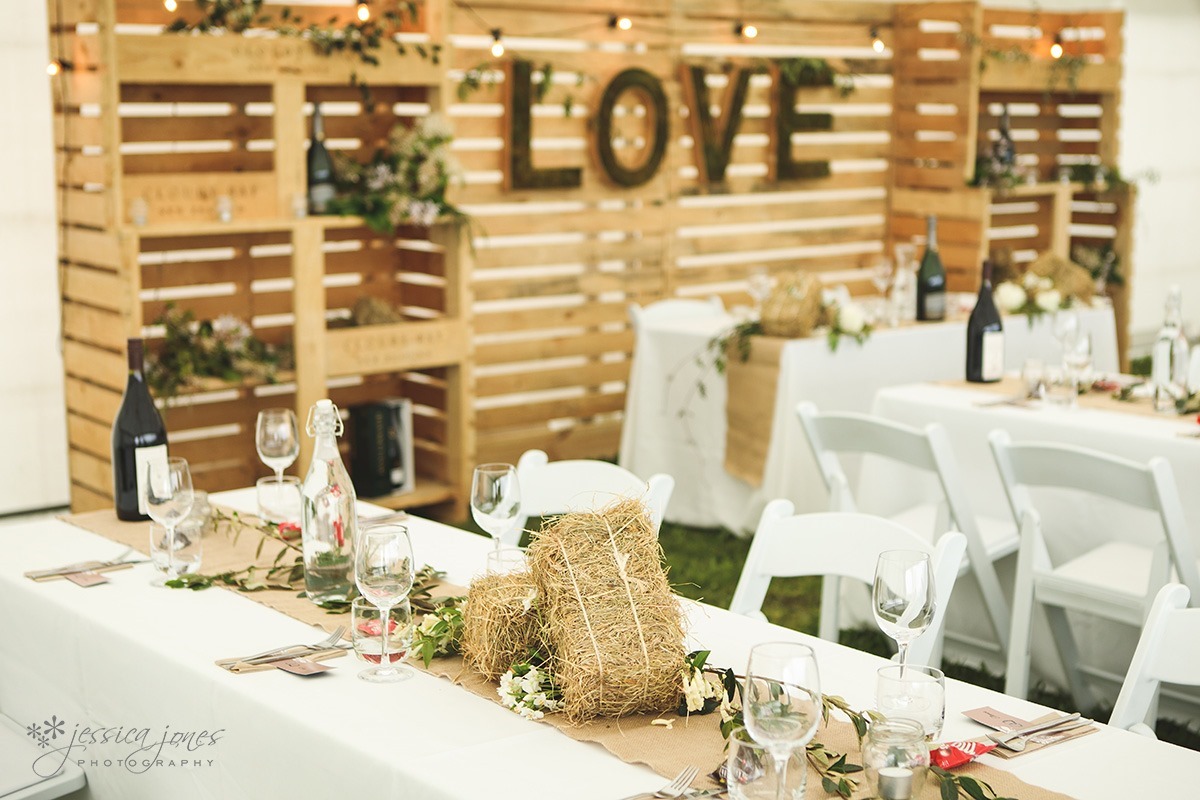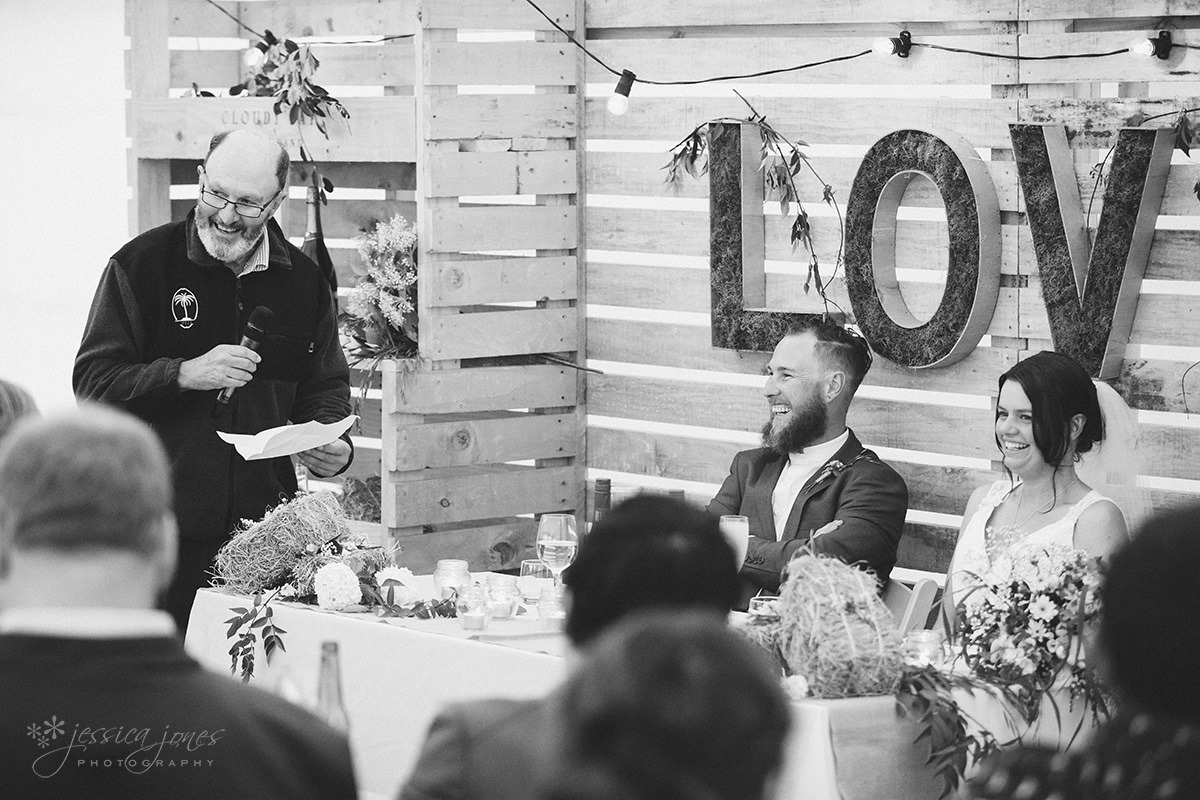 Stacey's Dad, Graham, said that he was told he had to write something down in order to be prepared for his speech.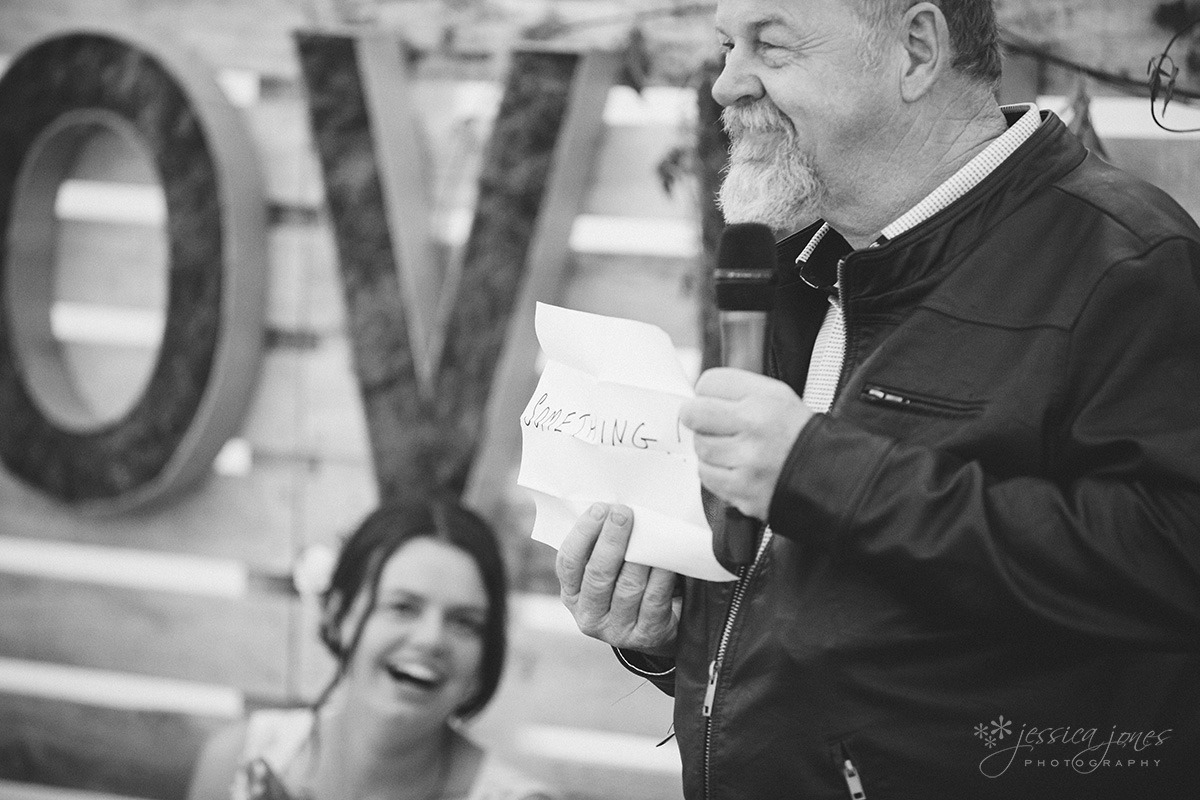 Lindsay did a great job with his speech, even though somehow the paper had gotten ripped entirely in half.  Good thing Matt was there to hold it together for him.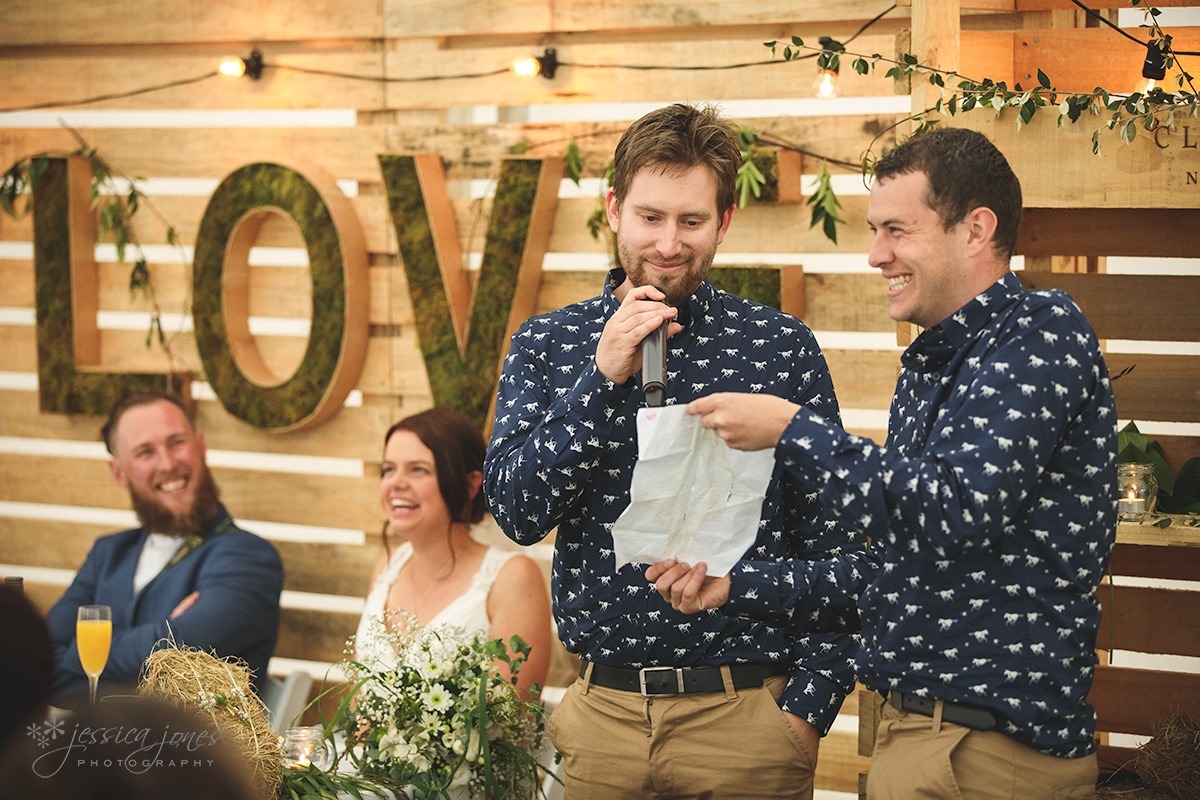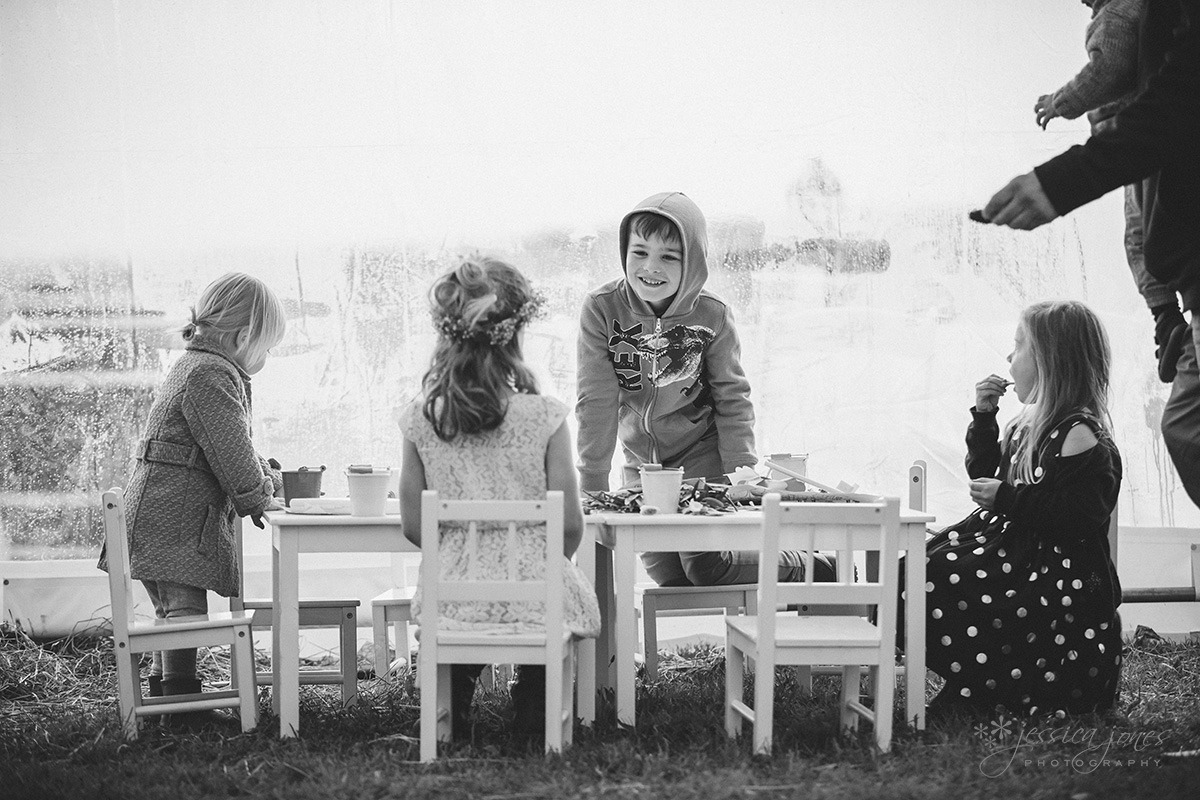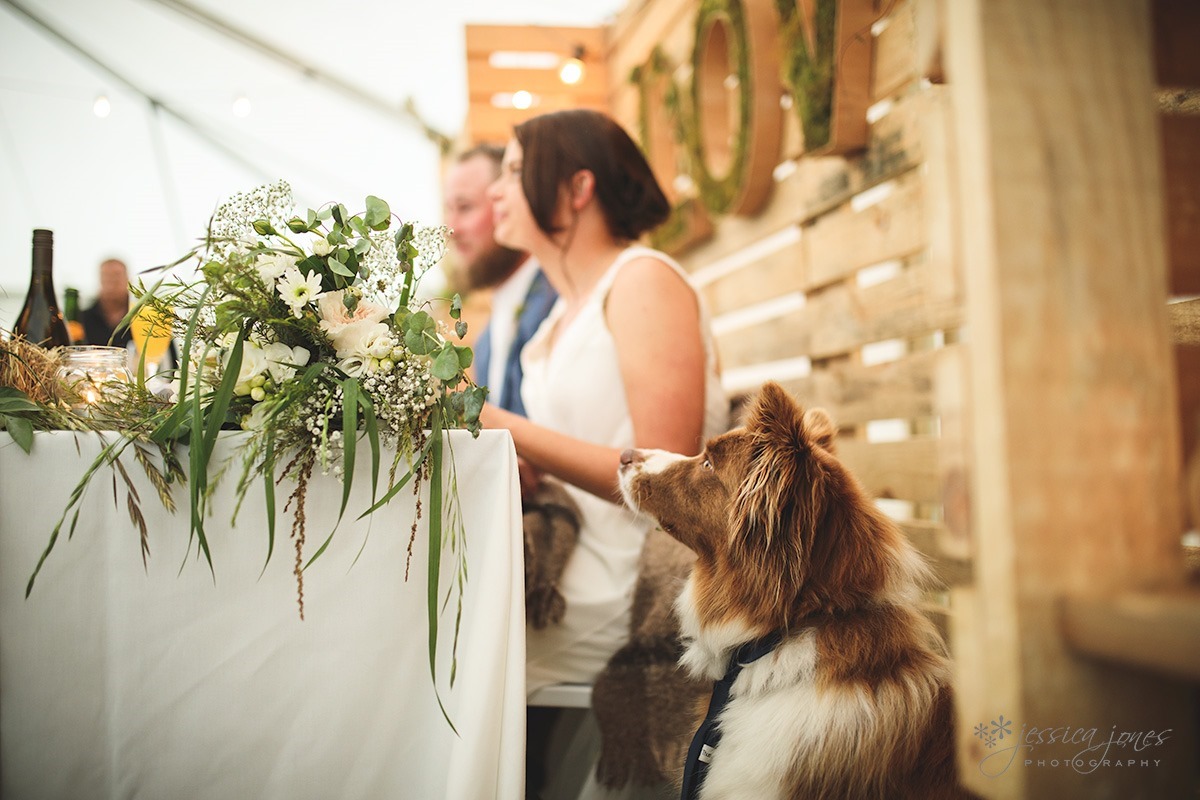 James took it upon himself to help clear the tables as people finished eating.  Give that kid a gold star, someone!
By this stage of the evening the rain had finished, and a cold chill came by and dumped snow on the hills directly behind us.  The helicopters were starting to arrive in order to protect the precious young grape buds from freezing over.  Still, Stacey and Phil were brave enough to pop out of the marquee for a few seconds!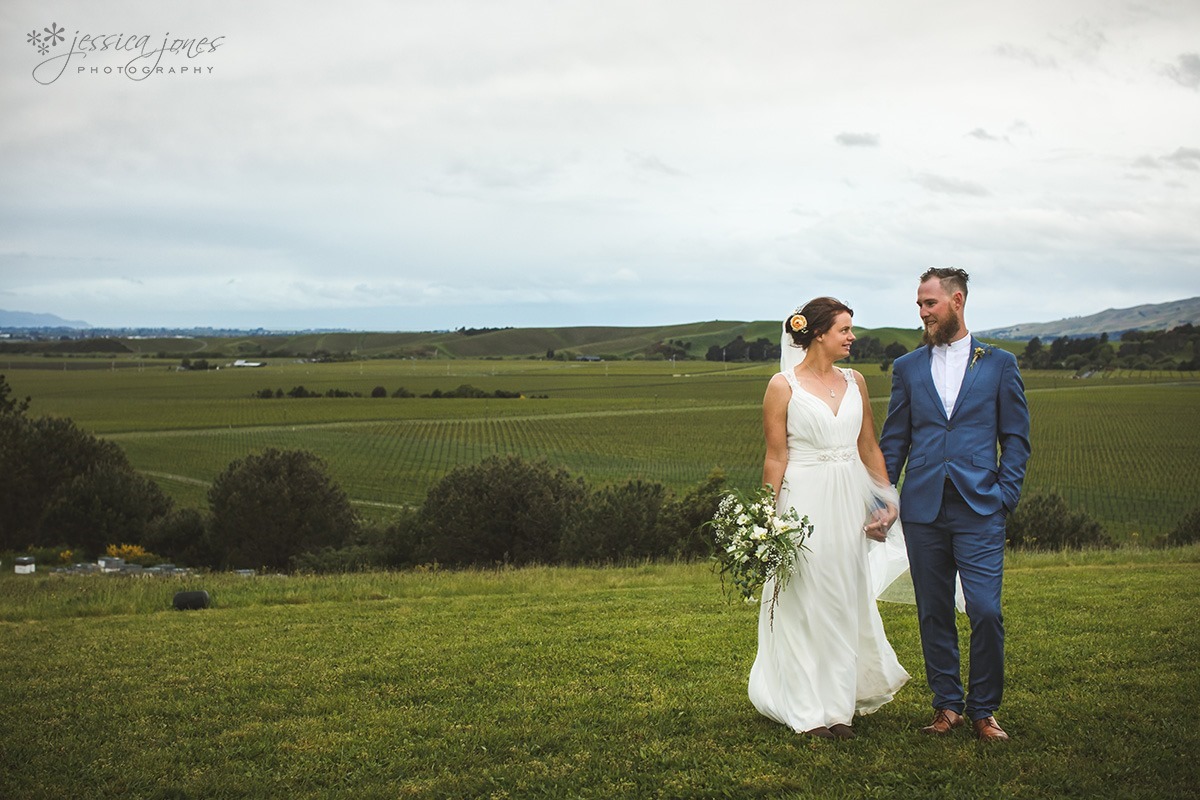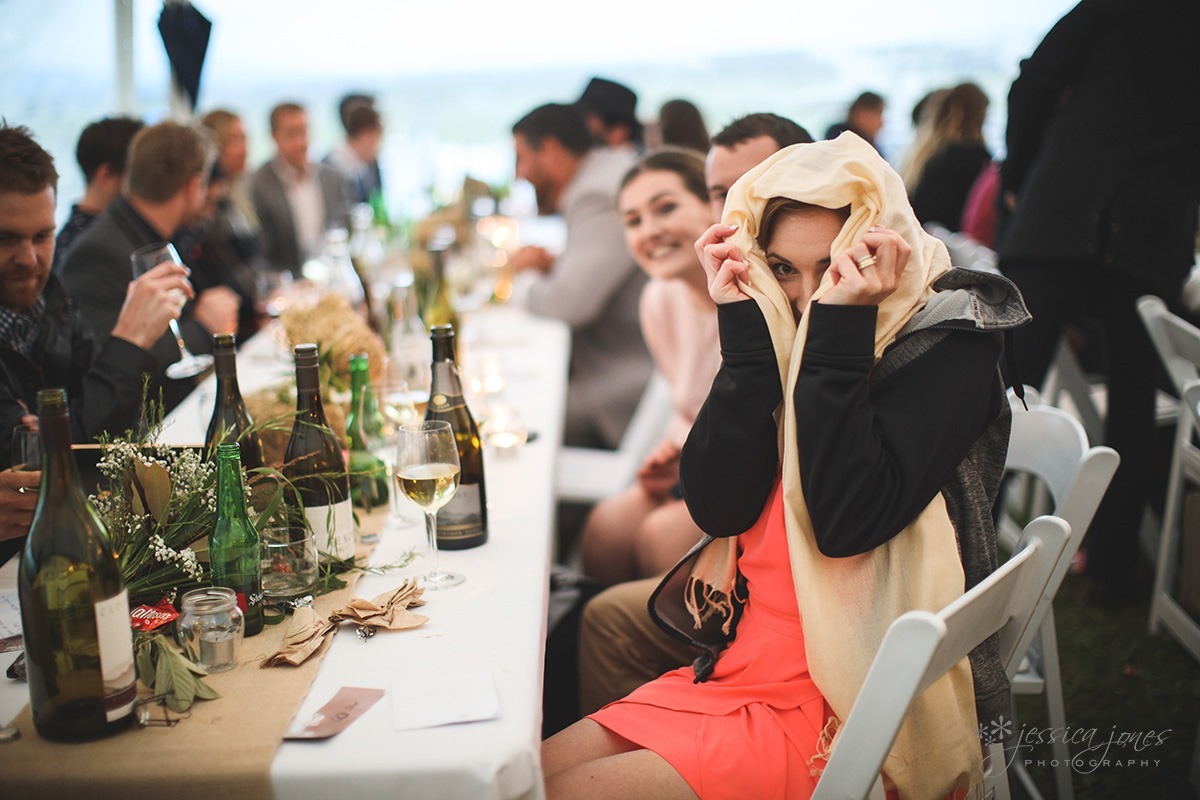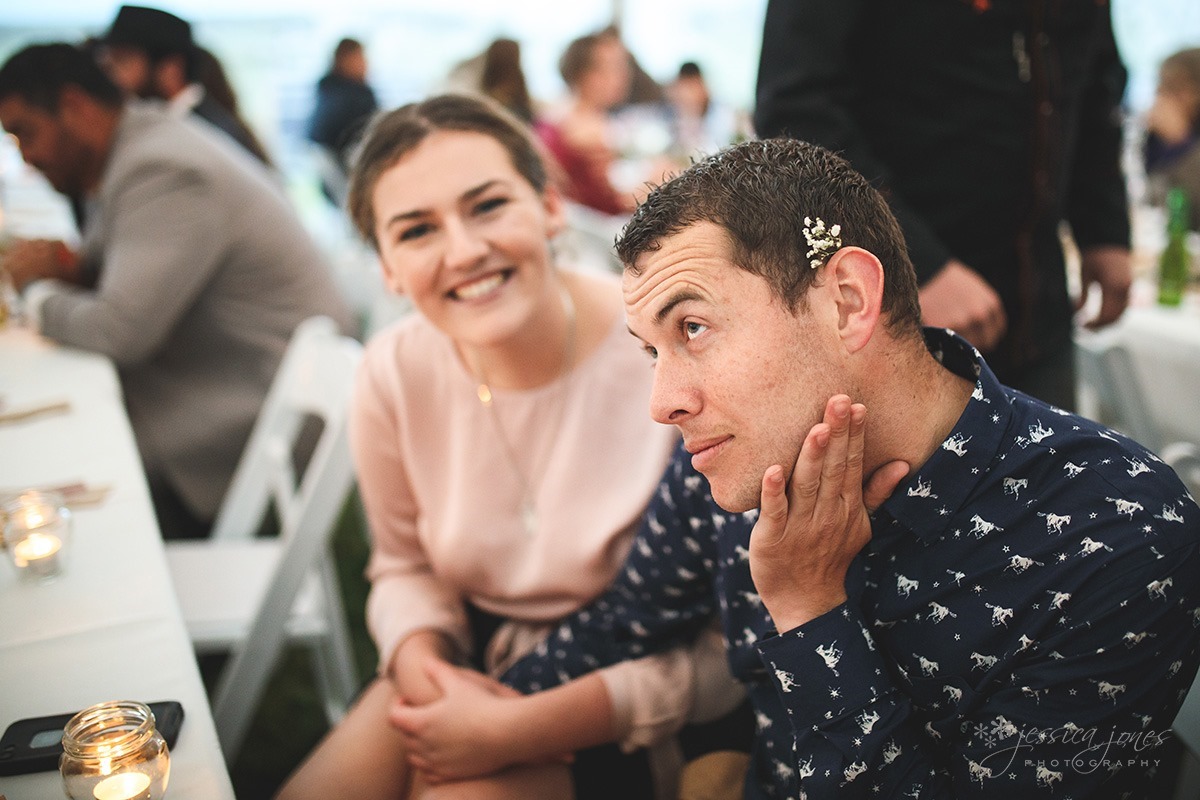 One thing I really loved about this wedding was how real everyone was.  Nothing pretentious, just genuine people having a genuinely good time.  They laughed, they danced, they hung out together.  It was great!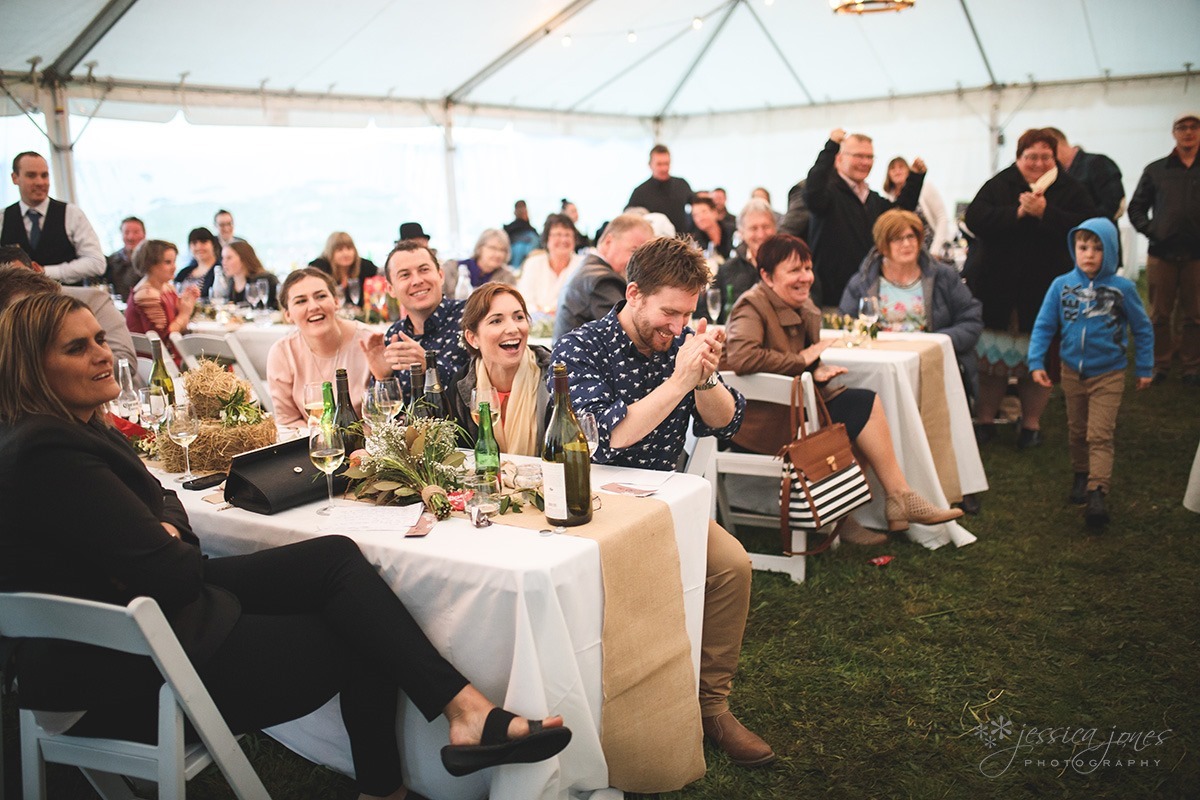 Dancing is a great way to keep warm too!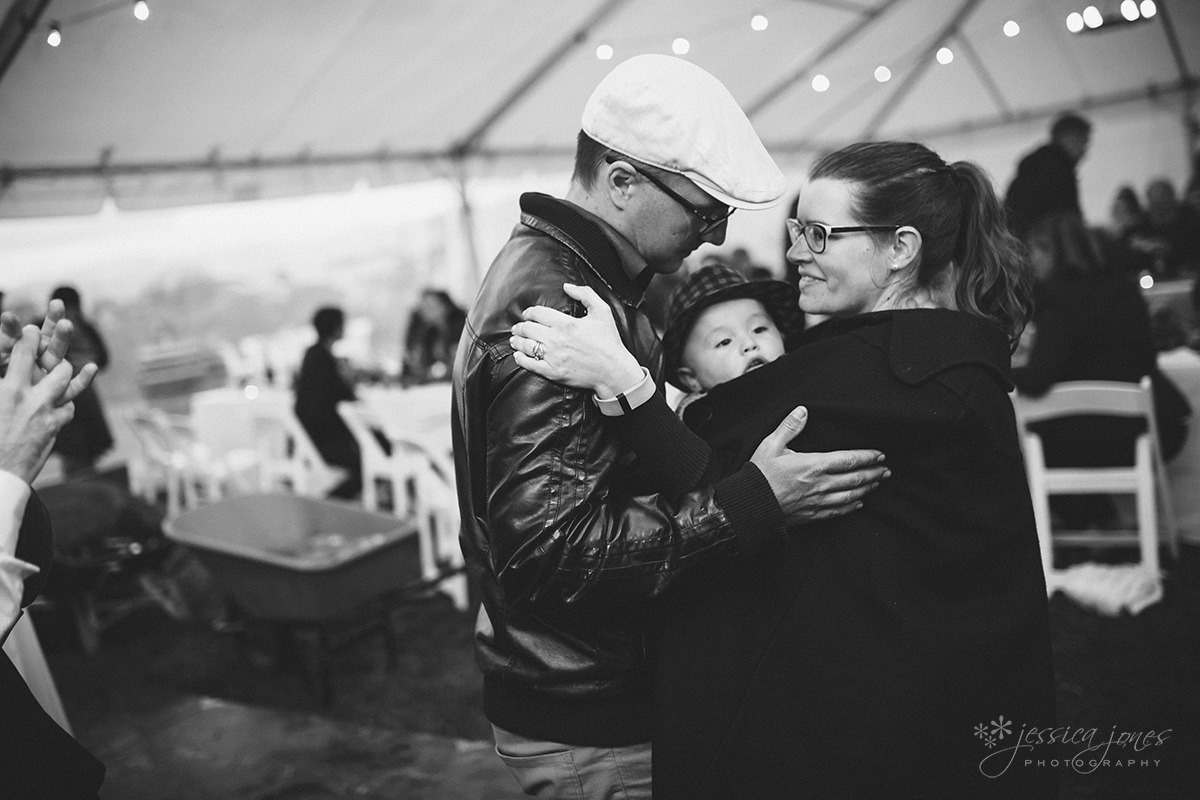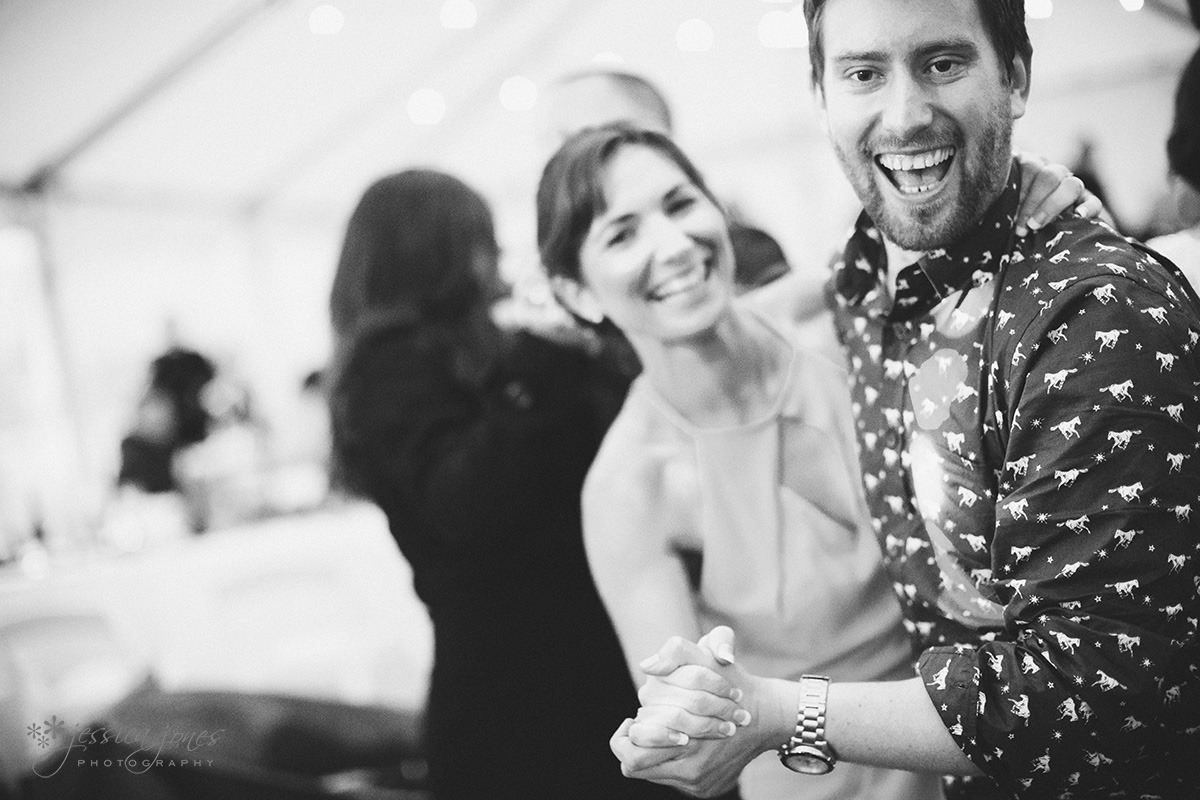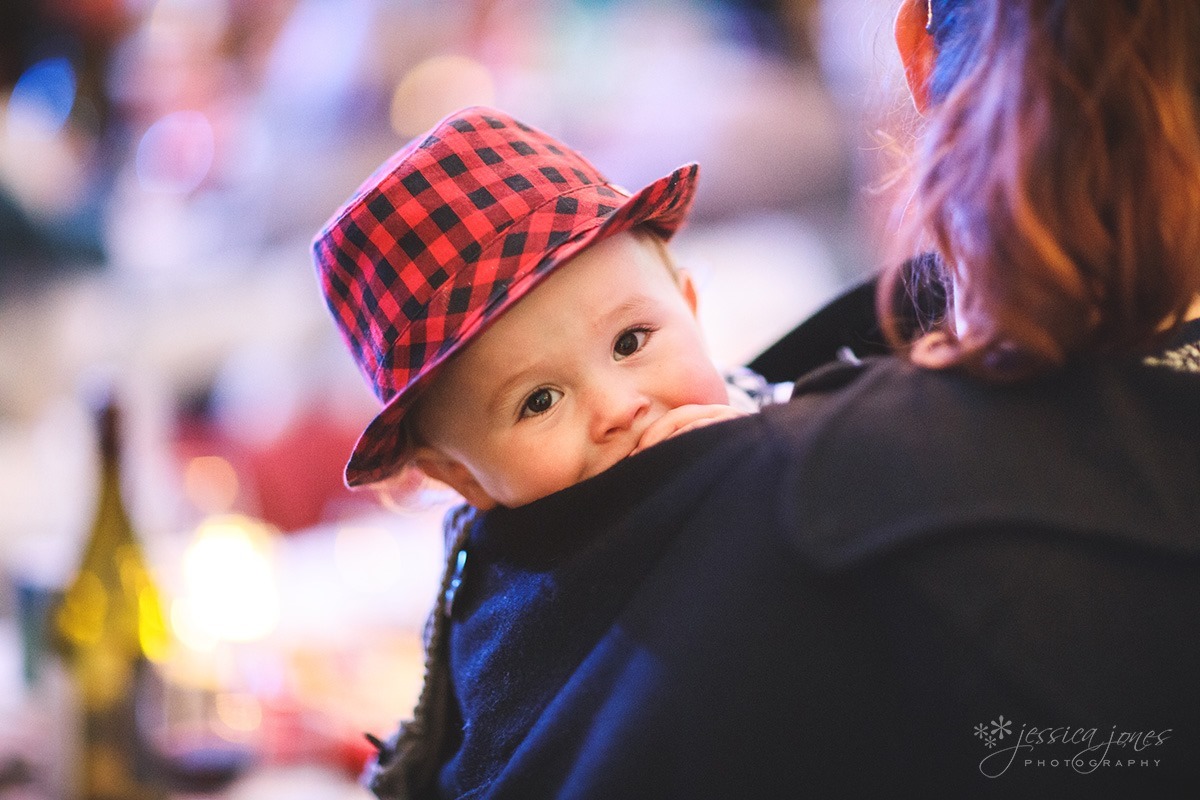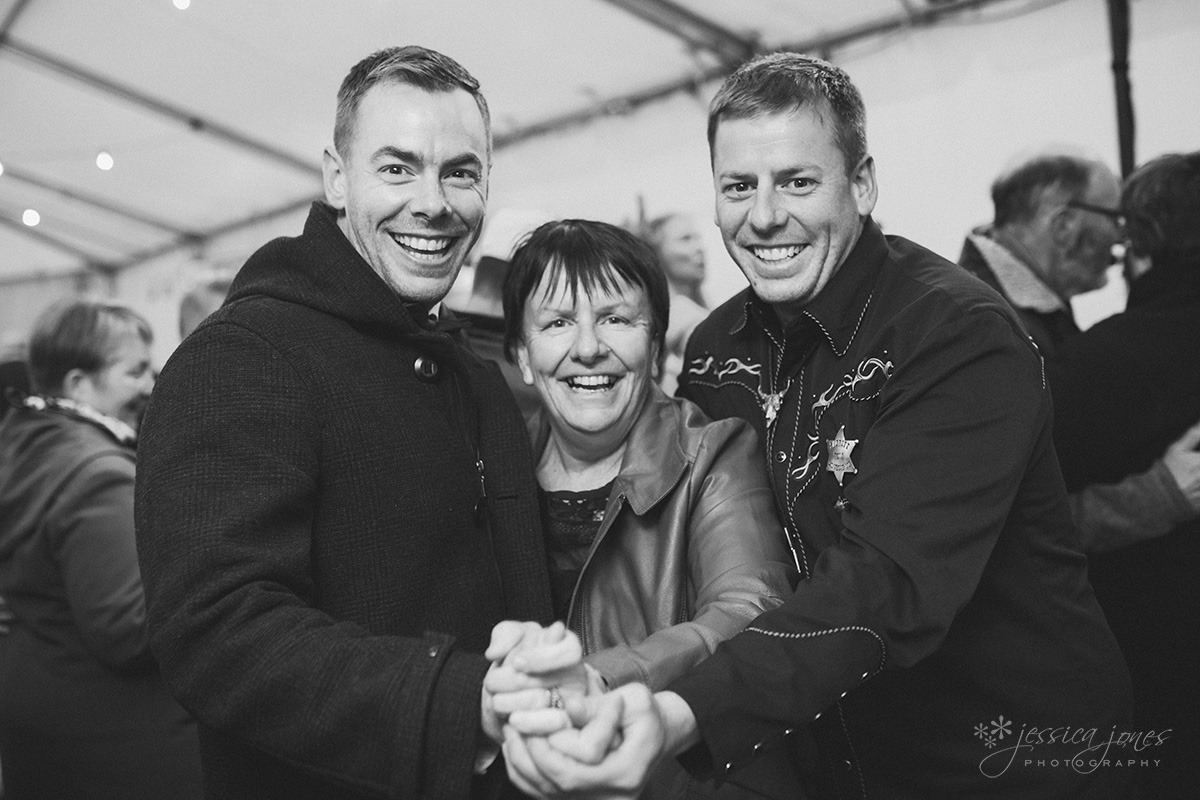 Then it was dessert time.  And were the guests happy about Mr Whippy?  OH YES, they really were!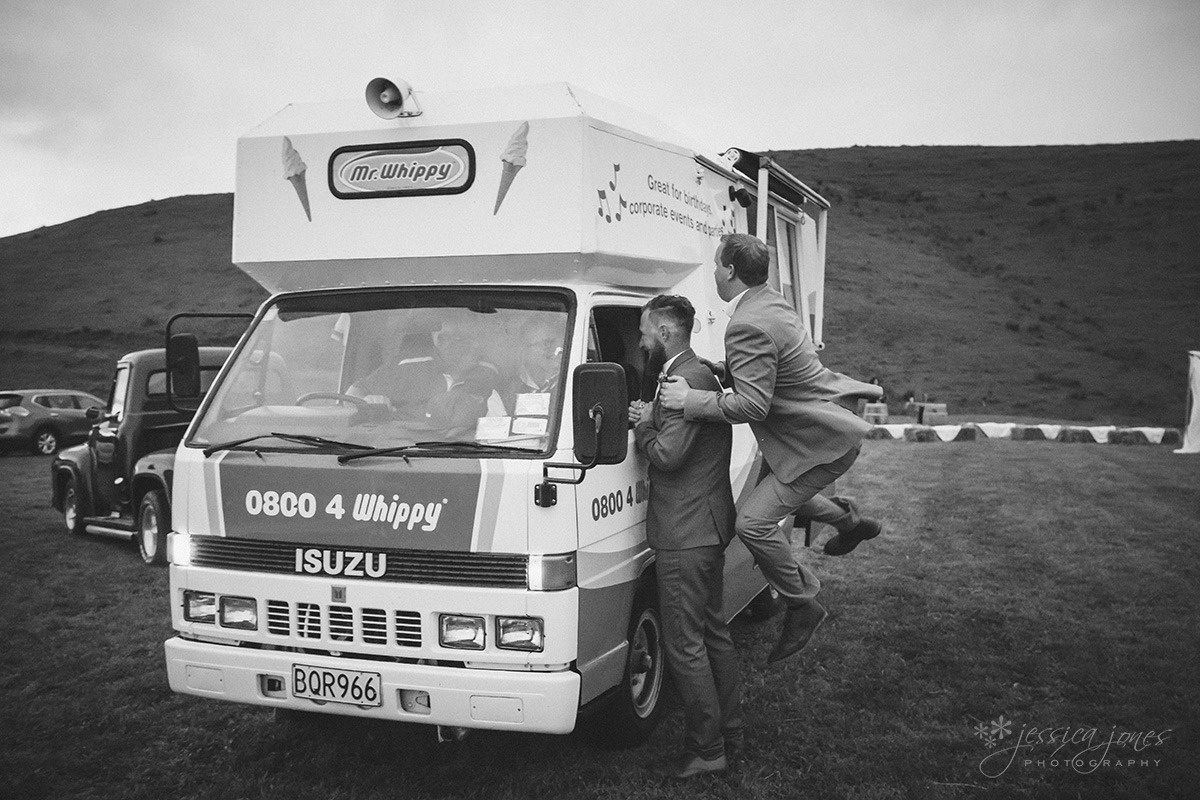 Turns out you're never too 'grown up' for Mr Whippy.  And it's NEVER too cold for ice cream.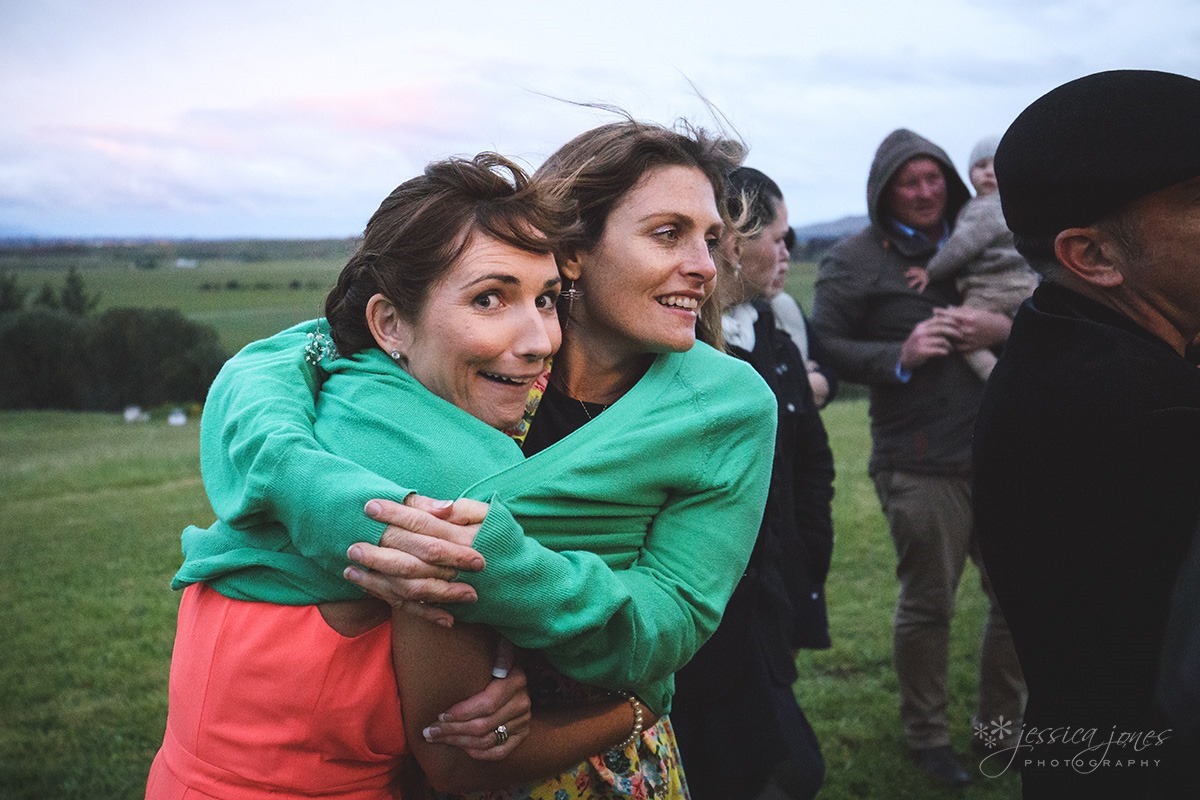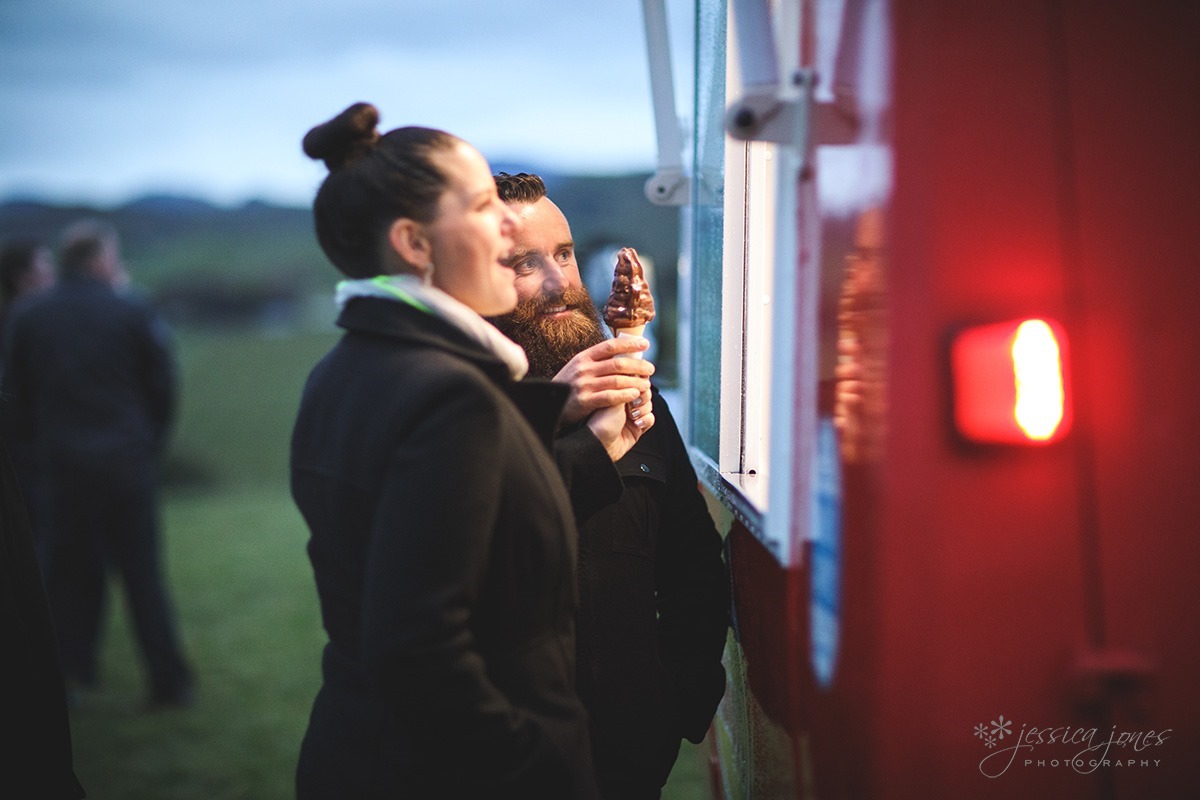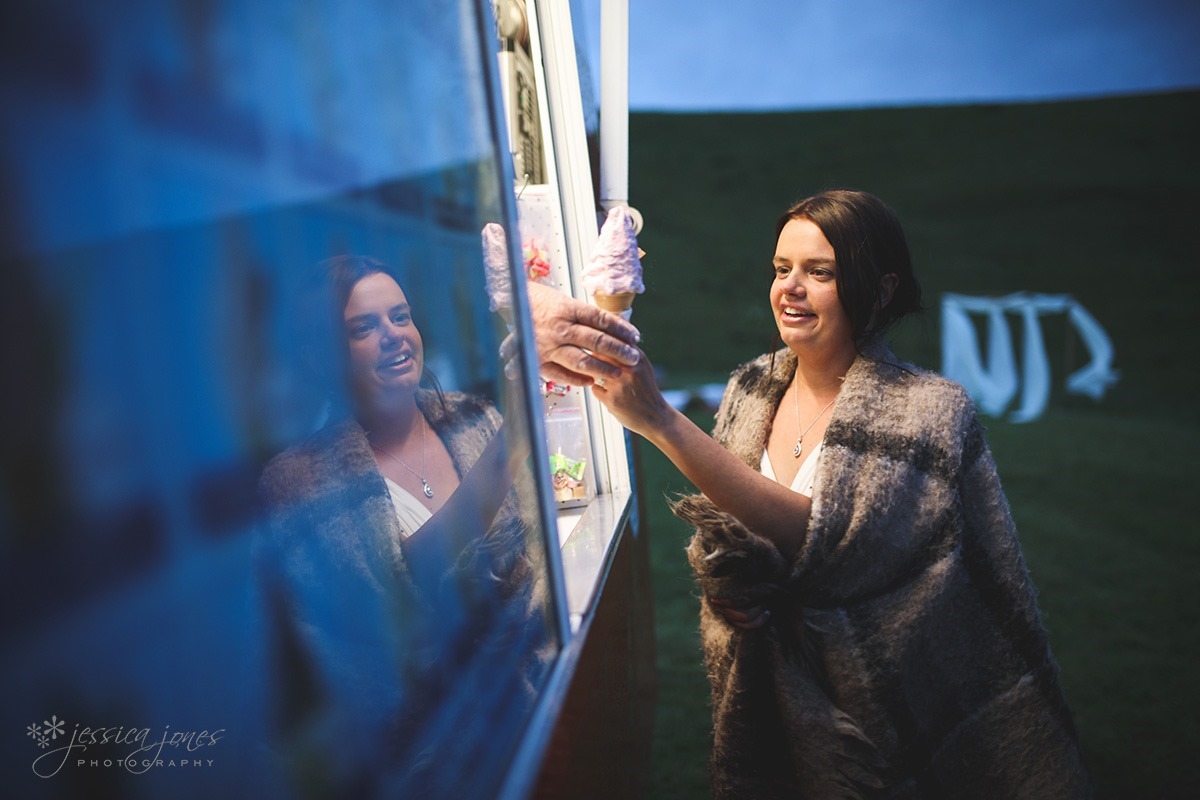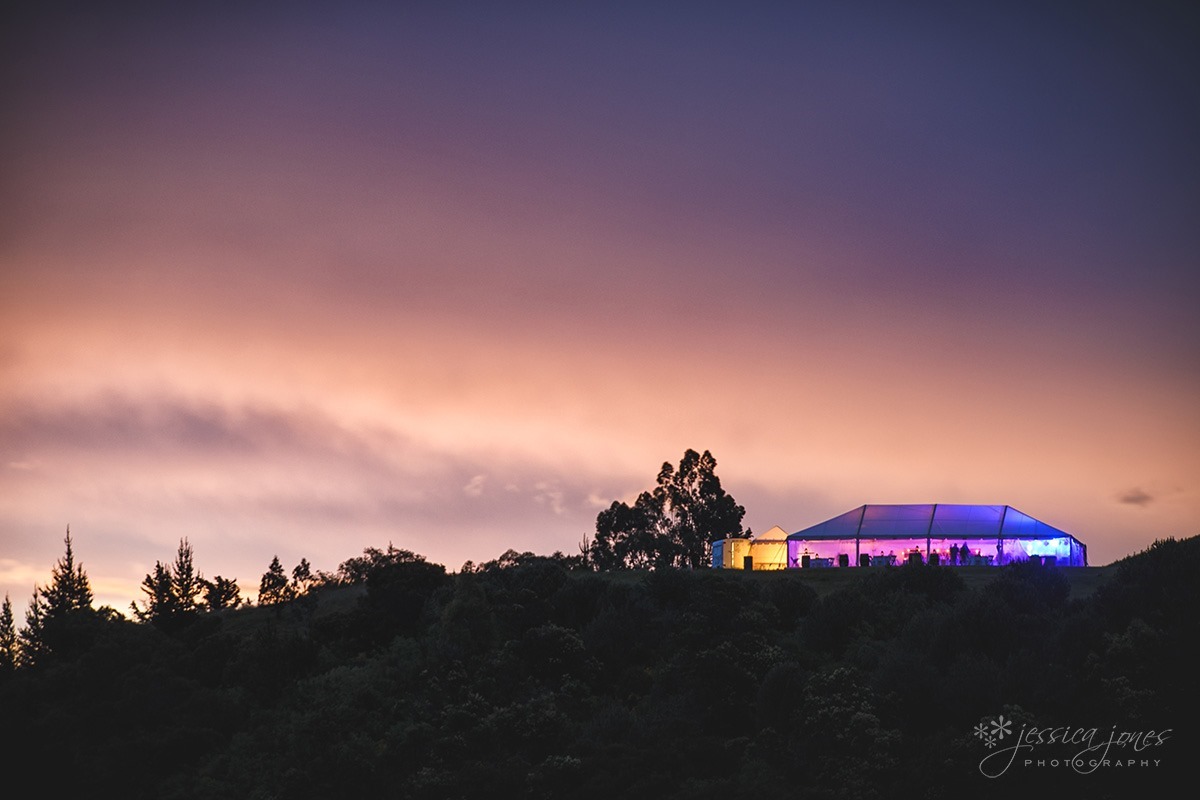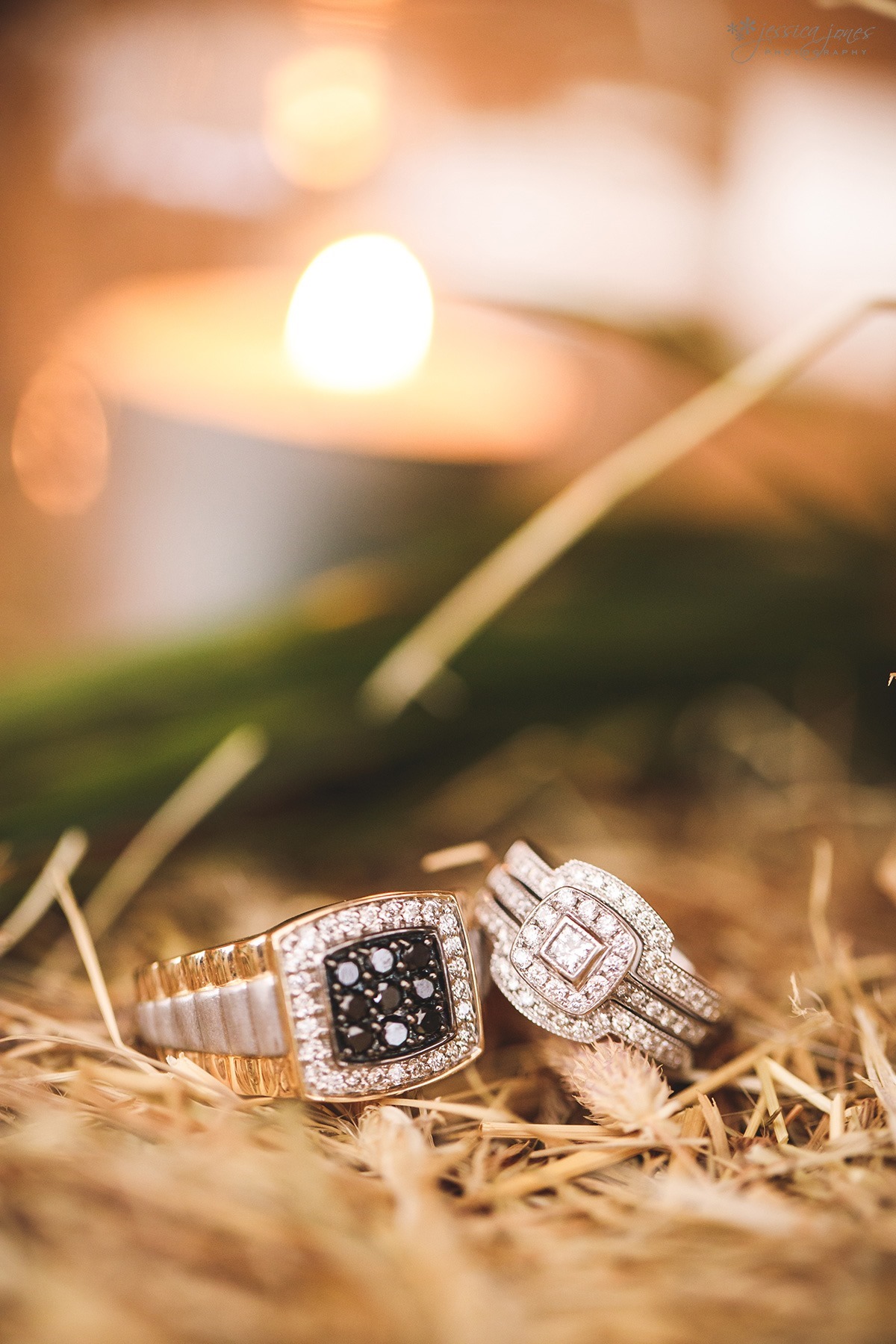 Stacey and Phil, you guys are fabulous.  The way you love each other, the way you adore your pets, the way you made us welcome at your wedding and how you weren't even particularly bothered by the weather.  You guys rock and we absolutely wish you every single happiness for many years to come!